Shopping Cart
Your Cart is Empty
There was an error with PayPal
Click here to try again
Thank you for your business!
You should be receiving an order confirmation from Paypal shortly.
Exit Shopping Cart
Guided Fly and Spey Fishing Trips for Steelhead and Brown Trout with
| | |
| --- | --- |
| Posted on March 18, 2020 at 6:05 PM | |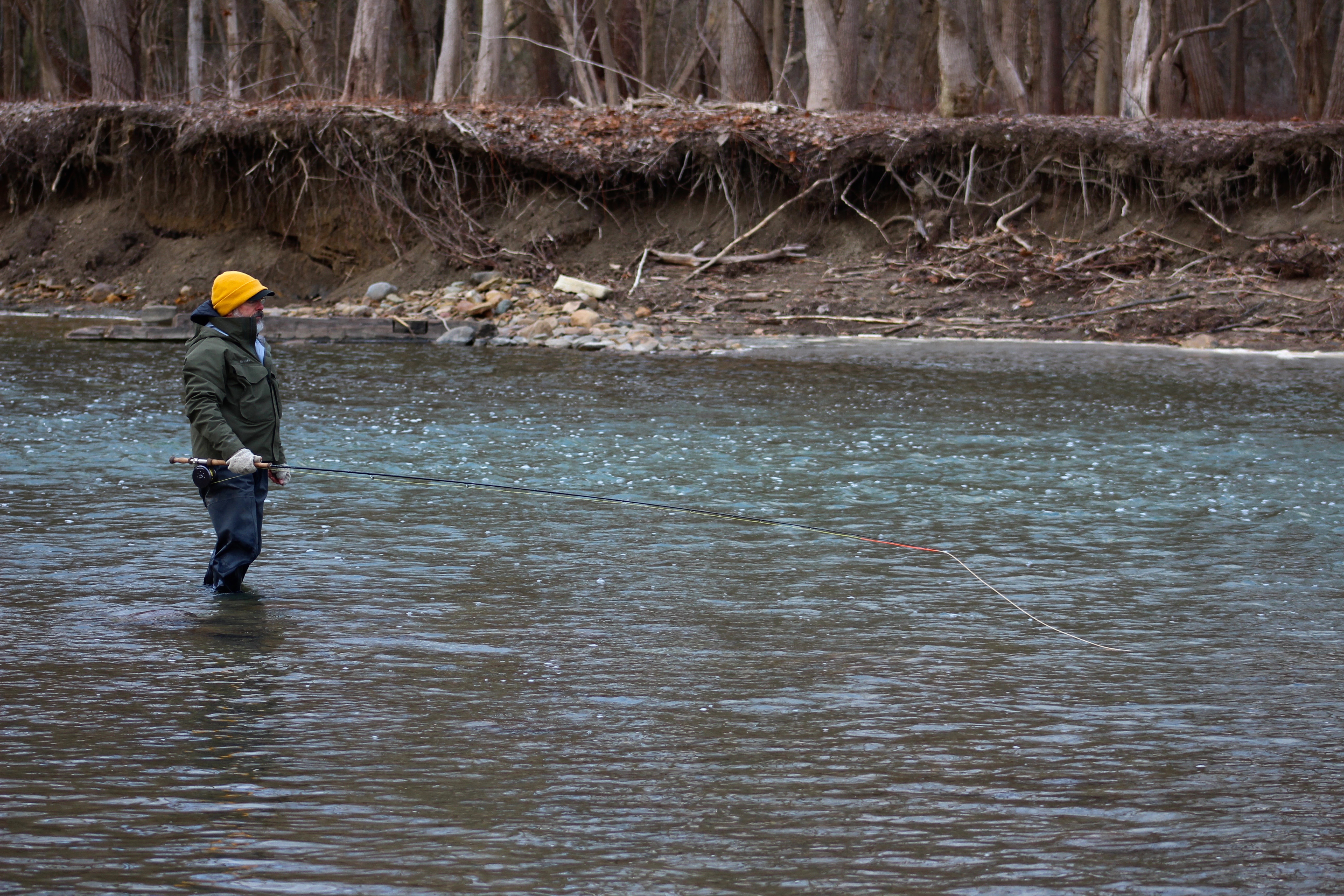 A good dude swinging a good run
What is a good client worth? That's a thought I hadn't thought much on until the last week or so. As those involved in the guide industry all know, finding a good client is making a friend for life. As it relates to fishing, even fishing with a guide we don't always crush them every time, day in day out. Sure we have a lot of good days fishingwise. The vast majority of days we catch. But some days we strike out. It's the nature of the game. The ones that can't accept a bad day for what it is aren't ones you want back. The ones that don't mesh well with your specific guiding style- and there will always be people that simply won't- are learning experiences, so take them as that.
But the good clients are the ones that are along for the ride, those that don't complain when the going gets tough- at least wholeheartedly. Sure they'll bust your balls, but that's all part of the fun. They'll give you shit, you give it right back. Hopefully you catch a few fish along the way, and normally you do. Then at the end of the trip, you'll talk a bit about the next one. What the next few weeks or months might look like. What some other fisheries you hit are. Other target species. Other tactics. And they come back because you probably found a client for life, and that is the goal. Repeat business is the highest compliment in the industry, and those good clients are worth every second of every shitty trip you've ever taken with the shitty clients who complain that simply because they're paying you they're supposed to catch every fish in the river. (Hopefully you won't have many of those). 
So I've been seeing a lot of posts from guides and outfitters urging their clients to still come out and fish with them while we are all in the midst of a frightening pandemic. And I get it, people still need to work, bills still need paid. Spending the day on the water with a couple good clients is probably minimal in terms of risks of exposure. That said, I don't think downplaying what the realities are is helpful, either to my business or to the country as a whole. That's why I've opted for informed decision making- making a common plan with those planning on fishing with me. And it has lead to more cancellations and postponements than I've ever had before.
When I look at my clients, there are some clear similarities- most are at or nearing the age of retirement, and most have to travel either long distances by car or plane to fish with me. They're people that have fished with me for years, some since Alaska. They're people that saw an article and reached out. Most of my people are out of state. As they are traveling, lodging is required. Meals are required. The fact remains that on the two to four day trips that most my repeat clients book, exposure to a number of people, people potentially carrying the virus, is the reality. And age-wise, most of them are in the moderate to high risk categories. So my process has simply been communication. I'm not going to just wipe the whole spring season off the calendar by cancelling everything unless I'm ordered by law to stay home. But good clients are worth the honesty of having an open conversation about risk, and for my business there is elevated risk to fish with me for most of them.
If my guys are dead-set on keeping dates as schedule, then fish we will and probably catch more than our fair share along the way. But for those concerned about traveling, about flying or driving, pumping gas at busy, highway off-ramp stations, about eating meals touched and prepared by others, don't come. We have plenty of time, plenty other days to fish. The last thing I want is to force a trip over someone's own apprehension and risk you catching a potentially life-threatening illness.  
You're worth more than that.
Tight lines on your own fishing, wherever that may take you.
 - D 
Categories: None
/