Shopping Cart
Your Cart is Empty
There was an error with PayPal
Click here to try again
Thank you for your business!
You should be receiving an order confirmation from Paypal shortly.
Exit Shopping Cart
Guided Fly and Spey Fishing Trips for Steelhead and Brown Trout with
| | |
| --- | --- |
| Posted on September 9, 2021 at 8:30 AM | |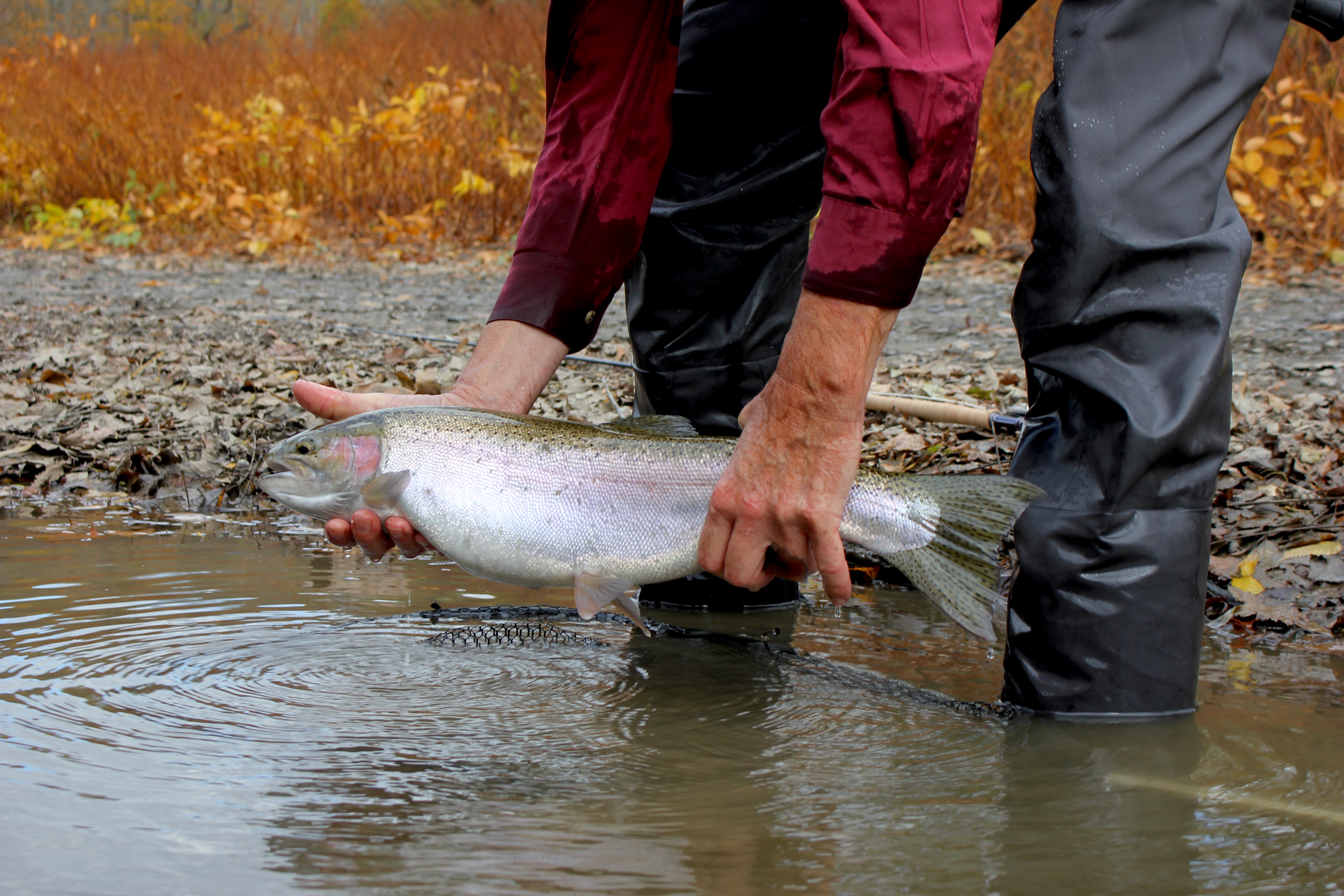 We'll be starting after these guys in a few weeks
It's getting to be that time where more and more my thoughts drift towards fall steelhead. To be fair, theres not really a time when they don't but especially this time of year- the few weeks before the start of the season. Looking forward, though it's difficult to predict with any finite certainty nearly anything about fishing, steelhead fishing especially, there are factors to take into account when creating a forecast of an approaching fishing season. So taking those into account, I've put together my forecast for the fall season along with some news from around the area.
First and foremost, so far this year this is the highest number of verifiable reports of early steelhead in the Ohio rivers that I have ever seen. There were credible reports of finding expired fish (water temperature mortality) all the way back to the first week of August. I expect the same for the New York systems as well. Though it is unfortunate for the fish that have returned so eary, as it is highly likely that only very few or even none will survive at this time, in the larger sense this should be taken as a good sign for the fall fishery. I believe the reason for the early returns are likely two-fold: we have had a very wet summer with periods of much cooler temperatures, and I believe the numbers of steelhead in the lake are very high this year. Those two things put together can explain why so many fish have been seen in the lower stretches of the rivers this early. Again, there are always a handful of early runners, but it has been a long time, if ever, since I've seen this many.
What I point to for high numbers in the lake is the charter captain reports in the eastern and central basin. There have been a number of reports of high numbers of fish up to and over 12 pounds already staging near river mouths. This is a very good sign for what is in store for us, particularly in the size. Another thing I would point to is just how great the fishing was last spring, including for very large fish. This past spring, though we lost all our truly big fish, we hooked and saw more trophy class steelhead than I believe I've seen since perhaps the very early 2000's. For fish to survive and grow that well is indicative of ample forage in the lake, and for the sheer numbers we saw indicates very high survival of young fish. When we get these two phenomena occuring for the spring run, it usually translates over to the next fall run. And even looking back to last fall, we saw a higher number of large male fish. Male fish tend to return earlier to the systems in an attempt to maximize their own spawning potential, meaning the presence of more large males in a fall season can be the first indicator of a period of high returns and larger size fish that potentially lasts multiple seasons. 
Looking around to Lake Ontario, salmon fishing is picking up- particularly in the Salmon River. There are good reports of decent numbers of kings and cohos returning early. Reminds me a bit of 2017. That year we had a great early push of salmon, and that translated into a great fall steelhead run on the Erie creeks. I don't know if that is coincidence or not- it is very possible that the two are not related. However, it does seem that when Erie does well for steelhead, Ontario does very well for salmon and vice versa.
Looking ahead at our weather forecast, we hit another hot stretch next week with temps in the 80's. Hopefully this is the last of that. The way September was shaping up, I was optimistic that we'd have a good mid-late September push of steelhead into the Erie systems, which we still might get after the temps cool again. But with these warm temps coming, it might be another week or two later. At any rate, the temps are supposed to drop down again after this spell. I'm very excited for October to roll around.
Tight Lines,
 -  D  
Categories: News around the area, Steelhead, Great Lakes Fishing
/