Shopping Cart
Your Cart is Empty
There was an error with PayPal
Click here to try again
Thank you for your business!
You should be receiving an order confirmation from Paypal shortly.
Exit Shopping Cart
Guided Fly and Spey Fishing Trips for Steelhead and Brown Trout with
| | |
| --- | --- |
| Posted on March 24, 2021 at 7:50 AM | |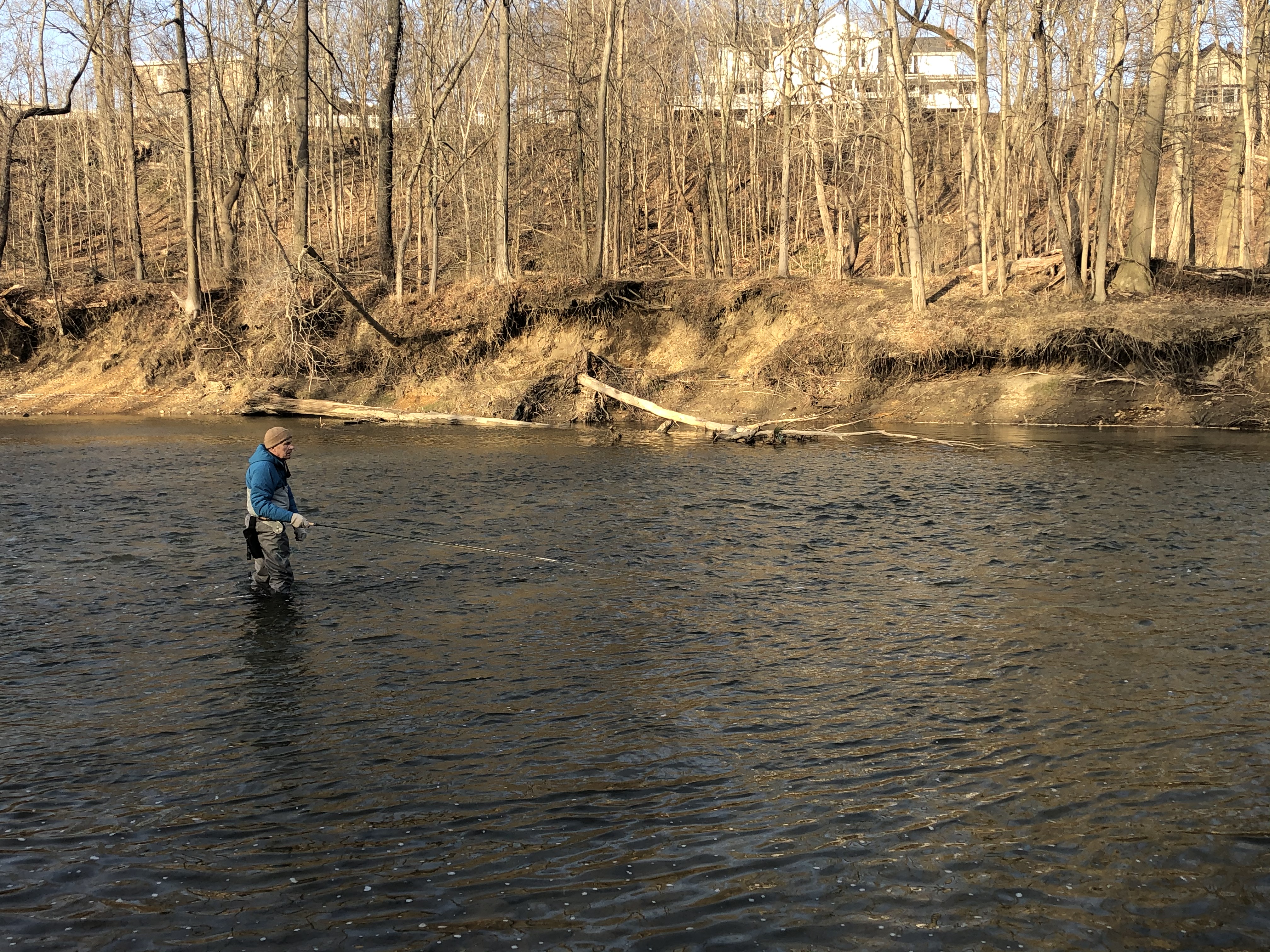 Jim working a really nice run
Well it is definitely that time of year. We're right at peak season on the Ohio steelhead fisheries, with great numbers of fish in most of the systems. If anybody out there is looking to get their feet wet (pun intended) in spey fishing, anytime between now and the end of April would be a great choice. Spey fishing is such a cool form of fishing, but it is a process that one doesn't master instantly. The nice thing about getting out in Ohio is that even new anglers who are just going to be learning the basics and might only get to the point of casting out the full head can really have a great day fishing. Funny enough, more people call me looking to fish the Catt in the spring. When I tell them they should really think about Ohio, they seem surprised. Still seems like for the most part, our fishery is largely under the radar outside our borders. 
Had the pleasure of fishing with Jim a couple days ago. Jim's a solid angler who has fished with many of the greats in steelhead and spey fishing. Listening to him talk about the places he's fished and the people he's bumped into along the way was a treasure. And it was nice from my perspective that he already had more than the foundation down. So my job as far as casting and technique wise was just making minor tweaks. One of the things I tell a lot of anglers who have the basics down on spey fishing but start to lose their cast for one reason or another is simple: start casting cack handed. A signifcant amount of the time, issues with the cast are related to a couple things. Either not using the bottom hand as the driver of the cast, or timing, with improper anchor placement being third.
Anyways, Jim who was casting very nicely at the start of the trip began to have his cast fall apart on him. It can be frustrating. On our second morning, after seeing the same issue creeping up again, I told him to start casting cack handed. Almost instantly his cast was back. The reason for this is simple. When you cast cack handed the bottom hand naturally comes out from the body on the back cast, and because of this on the forward cast you have to clear it out of the way first. This forces you to start the forward cast by driving down with the bottom hand. The other big thing is that because it is a bit awkward, most people don't rush the cast. These two are cures for the biggest two issues in spey casting that I know of. And once that occurs, it's easy to simply say "Hey, why don't you leave the anchor a little farther away from you" or something similar. Boom. Casting's back. It was an old trick I picked up in my Alaska spey days but seeing it work so well with Jim, who is a proficient spey fisherman, was really nice to see. 
As for the fishing, Jim hooked 9 fish in two days, and landed three. But I'd like to talk about one we lost at the net. It's no secret among the anglers fishing in Ohio this year that there are some big fish around. Anyways, Jim set the hook on a fish and it didn't move. My first thought was well he's snagged. But I asked him and he said no it was a fish. Then it started to move. It didn't go crazy, but with Jim putting a lot of side pressure on, the fish just slowly swam up to the middle of the pool. I told him I thought it might be a big fish and that I wasn't sure it knew it's hooked yet. We got nearly all the head back in a minute or two. And then it rolled. My personal biggest fish is a 35" 17-18 pound fish you see at the top of the banner on our home page. I've seen a handful more between 13 and 15 pounds. In the water, this fish look broader than all of them but do to the stained water I couldn't see the head fully or the tail at all. Regardless it was clearly well over 30" and just so wide it was difficult to fathom.
It pulled off about twenty yards, over to the other side of the Grand. We got it back. And it was rolloing out about a rod tip away from us so that I saw it two or three more times. It was a large buck, not dark but a bit colored. As Jim was trying to turn his head and ease him into the net, he got the head pointed the right way. Two or three more feet and it would have been in the net. But the hook popped out and that was all she wrote. Jim was cool with it. He was stoked he got to fight it. His only regret was that we didn't get a picture. Sometimes you lose a fight, that's just how it is. It was a big fish. I know based on the girth alone, we were looking at somewhere low-to-mid-teens. Plus fish will sometimes look shorter and smaller in the water than they really are due to refraction making things appear shallower than they really are. That fish had a legit shot at going 15 or better, but who knows. Until you net them and tape them, it's all just speculation. It was a big fish anyways. I'll probably be thinking about it till the end of the season now. 
Jeff was also up in the area for four days. He hooked a good amount of fish swinging as well. Between what Jim hooked, what Jeff hooked and what I hooked here and there, I think we're somewhere around 45 hookups on the swing in the last four days, landing maybe a third. It's great fishing. And it's Ohio in the spring.
Tight Lines and Good Fishing. I'll leave you with a couple more shots.
  - D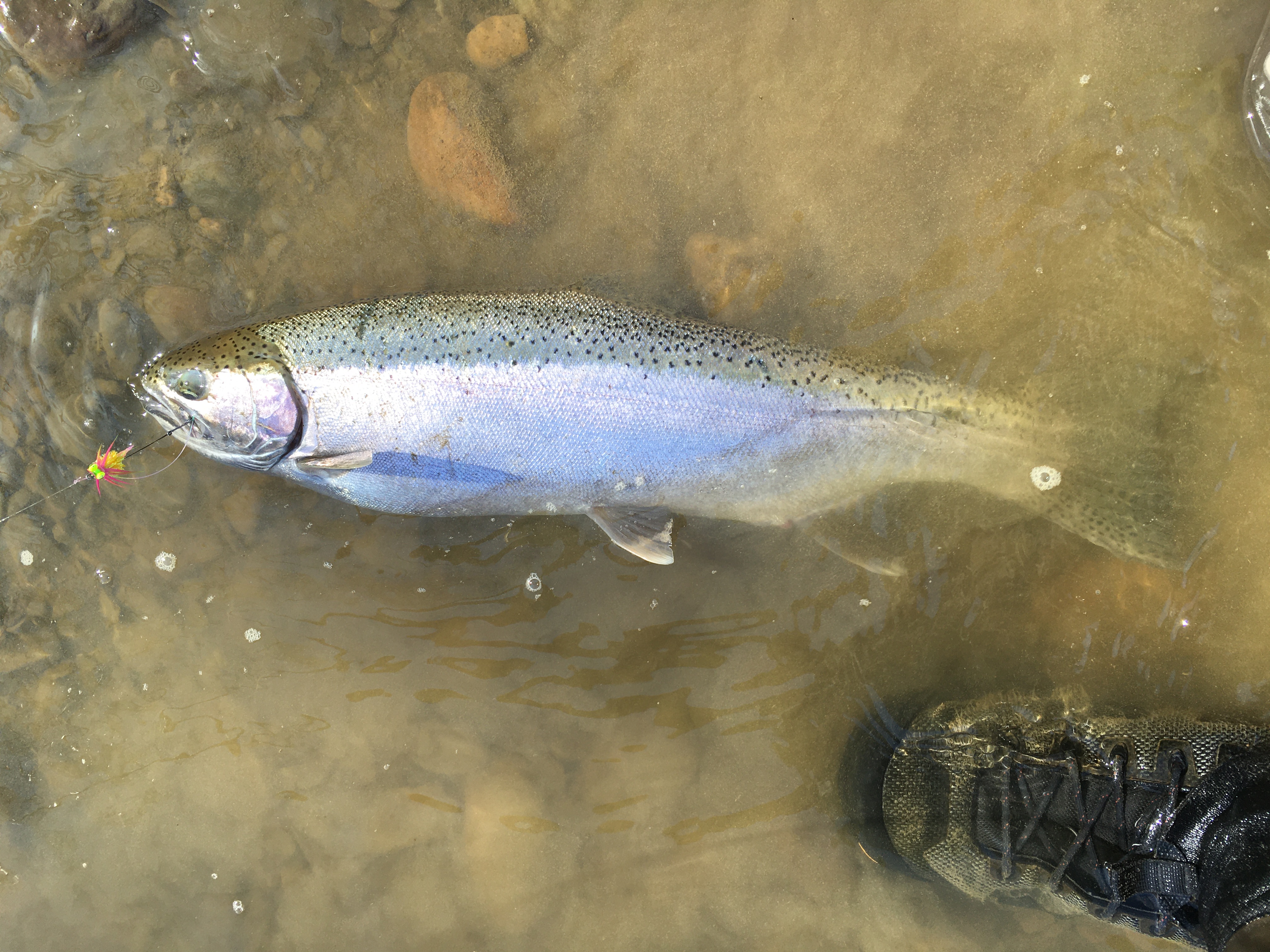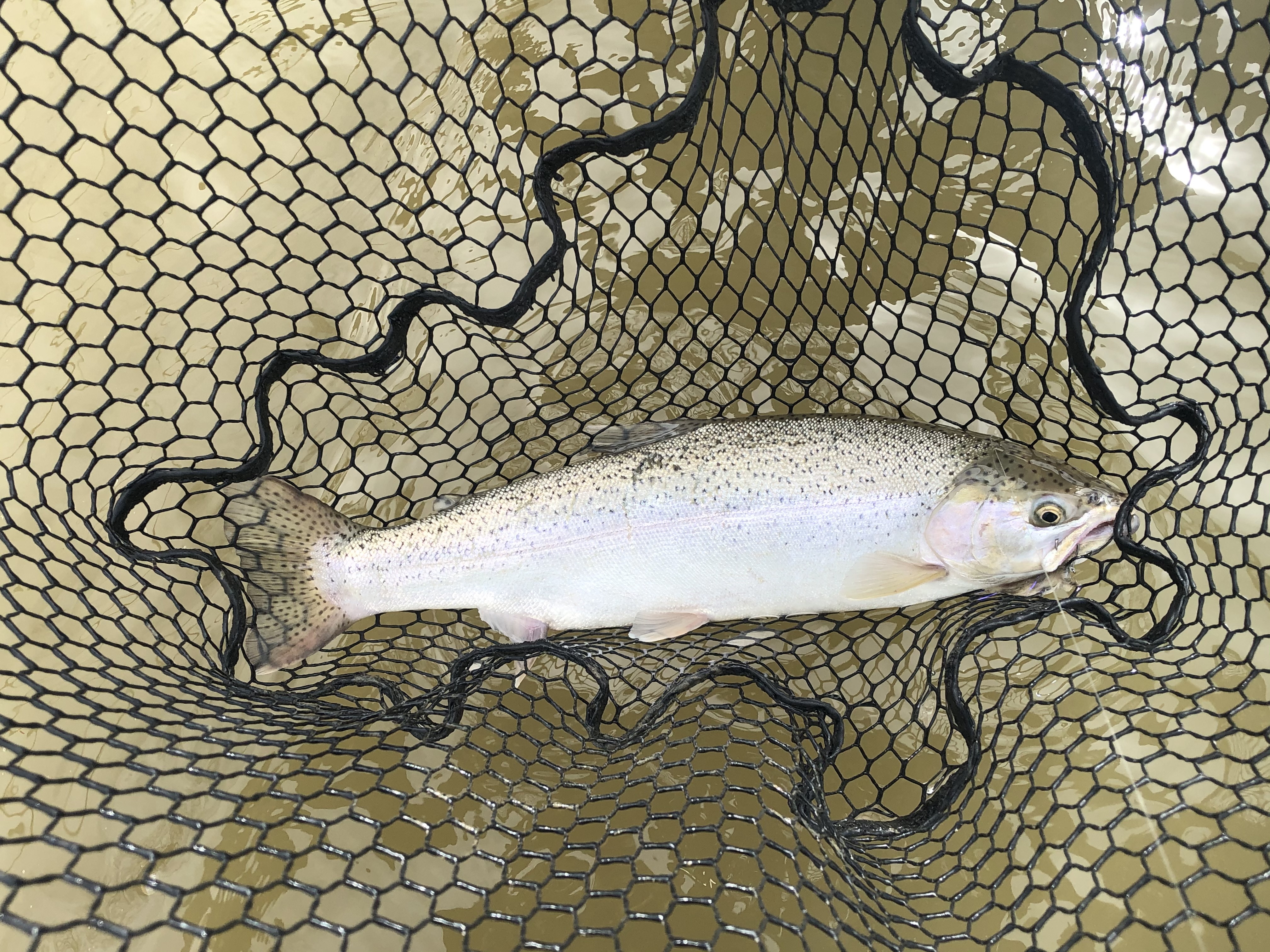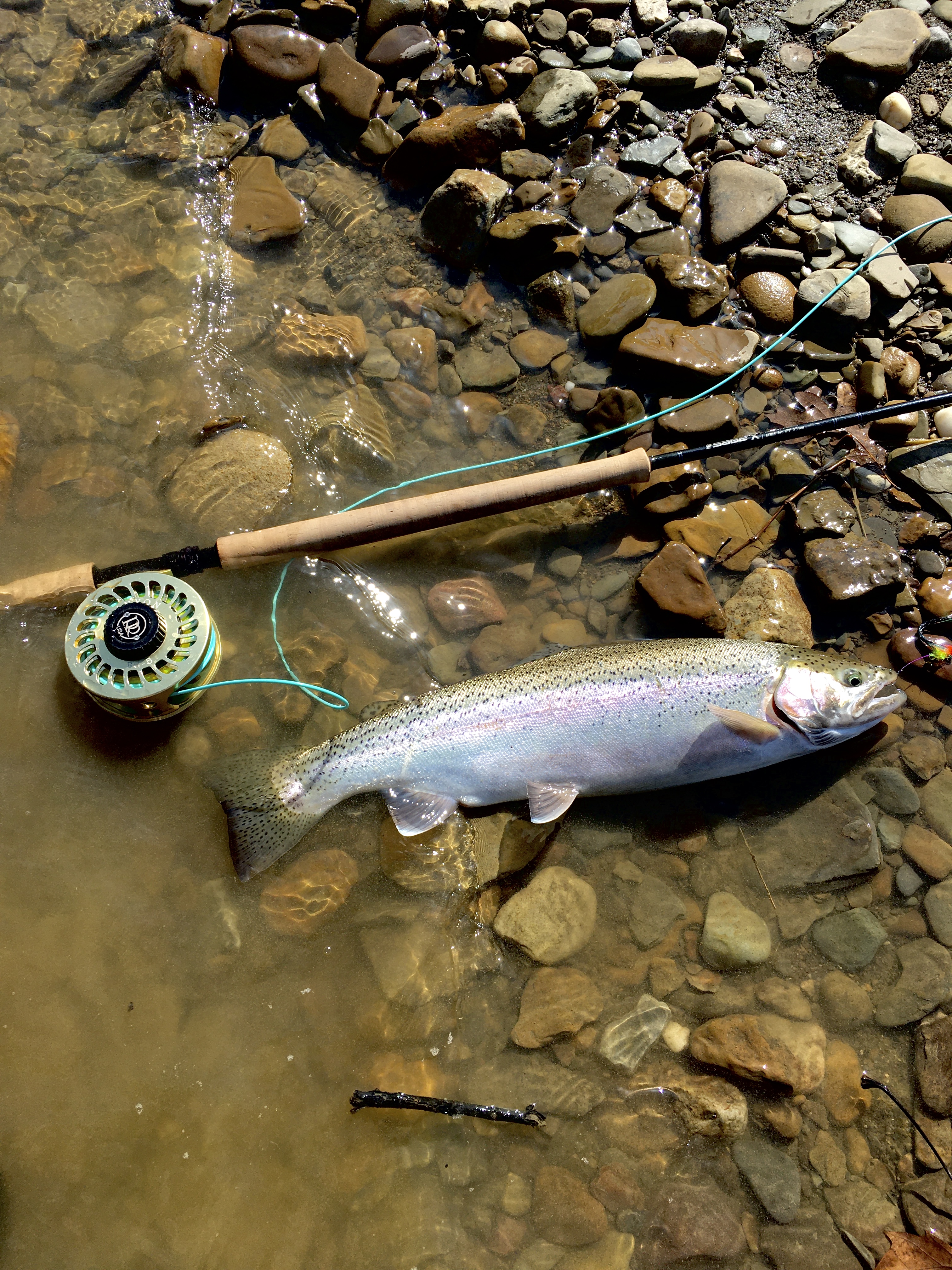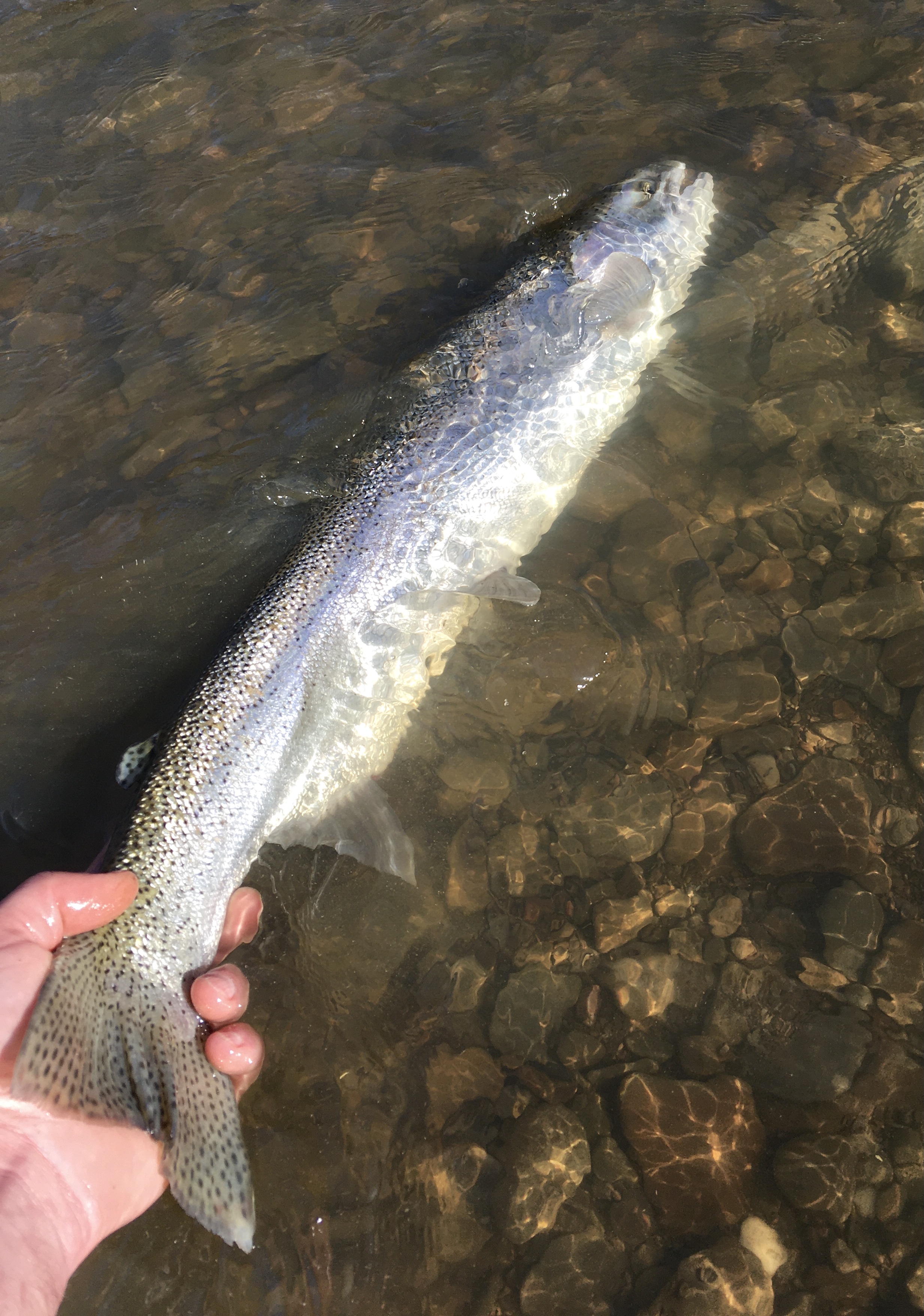 Categories: Spey fishing, Steelhead, Ohio
/