Shopping Cart
Your Cart is Empty
There was an error with PayPal
Click here to try again
Thank you for your business!
You should be receiving an order confirmation from Paypal shortly.
Exit Shopping Cart
Guided Fly and Spey Fishing Trips for Steelhead and Brown Trout with
| | |
| --- | --- |
| Posted on April 30, 2020 at 8:40 AM | |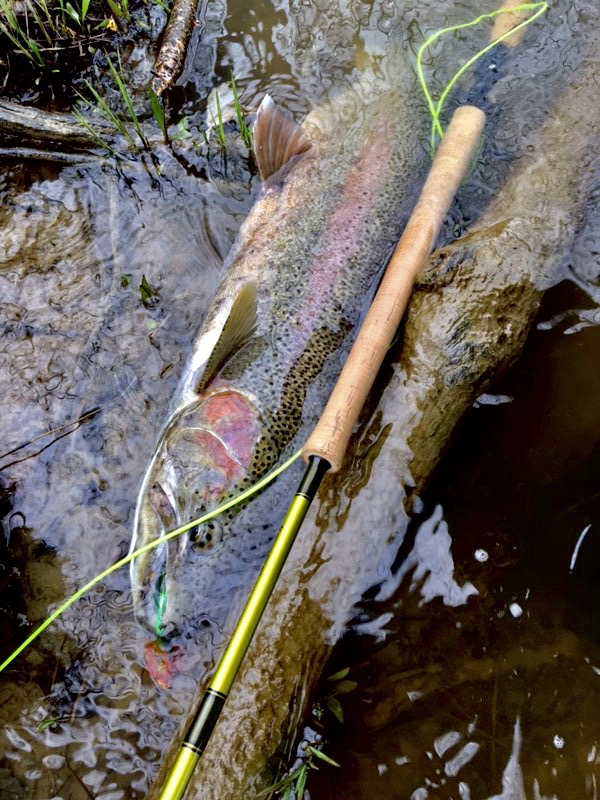 Old man from the sea
It's hard to believe that it's April 30 and we have another season in the books. Like every year, this past season had its highlights and challenges, it's peaks and low points. So like we do, as we reach the end of steelhead season, we like to look back and offer a critical analysis of what we saw, our observations both on and off the water. On the whole, '19-'20 was what we expect fishing-wise. There were not any significant anomalies we saw in fish trends or numbers across the board.
Early in the fall, the Catt fished decently. The flows throughout the month of October were very stable, if a tad low at times. Fish numbers built throughout the month, being sparse in the beginning and growing to numbers I'd say were on the lower side of average, but not alarmingly so. Most days by the second half of October and through November we were finding between a couple and a handful of fish swinging streamers. As usually, the whiskey hangover took most our fish. I don't recall any lights out days where our hookups approached double digits on the swung fly, but it seemed like working water well lead to consistent success.
Honestly I'll take that every time. Those years where we seem to see a handful of crazy days spey fishing in the fall also seem to have more days where we work hard to scratch out a single fish, and maybe not even that. I think this is because to have those crazy fishing days means a higher percentage of the run is entering the system at once. When you find that ball of fish, it's a blast. But they move on, and perhaps there are fewer fish following them up over the next few days or week. A slow and steady stream of fresh fish pushing in seems to lead to more consistency in the long view. All in all, and comparing to how the Catt fished (or didn't fish for that matter) for almost the entire 2018 fall season, 2019 was a blessing.
Whereas fall 2018 was the year of the lake run brown, 2019 was the general mixed bag. Like always, we spent a portion of our time up on the Ontario creeks. Brown numbers were nowhere near what they were in 2018, but the fish were there. It seems like every 5-7 years we just get a mega run of browns. Before 2018, the last year I can remember with a comparable run was 2011, though 2011 if I remember correctly even exceeded it. 2019 was the same steady flow and consistent fishing, most days hooking around a handful of lake runs between two people with steelhead and domestic rainbows in the mix as well.
One thing I did notice on the Ontario creeks was the lower numbers of Pacific Salmon but the higher numbers of Atlantics. Though I don't often fish the Oak, the boys made it over there a few times in late October and early November. Some days they had multiple Atlantic hookups, and I saw a handful on the other creeks throughout the fall as well. I really hope that program continues to develop. The lakes are changing. The forage base is shifting and likely will have a disparaging and disproportionate effect on king salmon. Atlantics and trout are more adaptable than kings, which are nearly solely reliant on alewife as a food source.
Over the winter, we had good fishing. The rivers never really froze up, and many times in January and February there were pleasant days of above average temperatures, great flows, and good fishing. By late February, the bulk of the spring run started. Before then we were finding late fall and winter fish, fish darkened from time in the river. By the end of February we started seeing more chrome, fresh run spring fish. Then the virus hit, almost exactly coinciding with the start of peak spring steelhead. And it was a shame. We had a beautiful spring with very consistent conditions and great numbers of fish. Particularly in the second half of April, I was seeing fish between about 28 and 32 inches fairly consistently in the mix on the big river. Most of the large fish were fresh run hens, a bit of a trend that I've noticed over seasons past- a final push of large female fish.
So here it is the last day of April, and we're turning our focus away from steelhead. I do the first trout trip this weekend to the cabin to scout things out. We will be running trips in May and June, and probably throw some smallmouth in the mix too. Here's hoping that the worst is past us now and we have nothing but good fishing ahead.
Tight Lines,
 - D  
Categories: Great Lakes Fishing, Review, Spey fishing
/