Shopping Cart
Your Cart is Empty
There was an error with PayPal
Click here to try again
Thank you for your business!
You should be receiving an order confirmation from Paypal shortly.
Exit Shopping Cart
Guided Fly and Spey Fishing Trips for Steelhead and Brown Trout with
| | |
| --- | --- |
| Posted on April 27, 2020 at 11:10 AM | |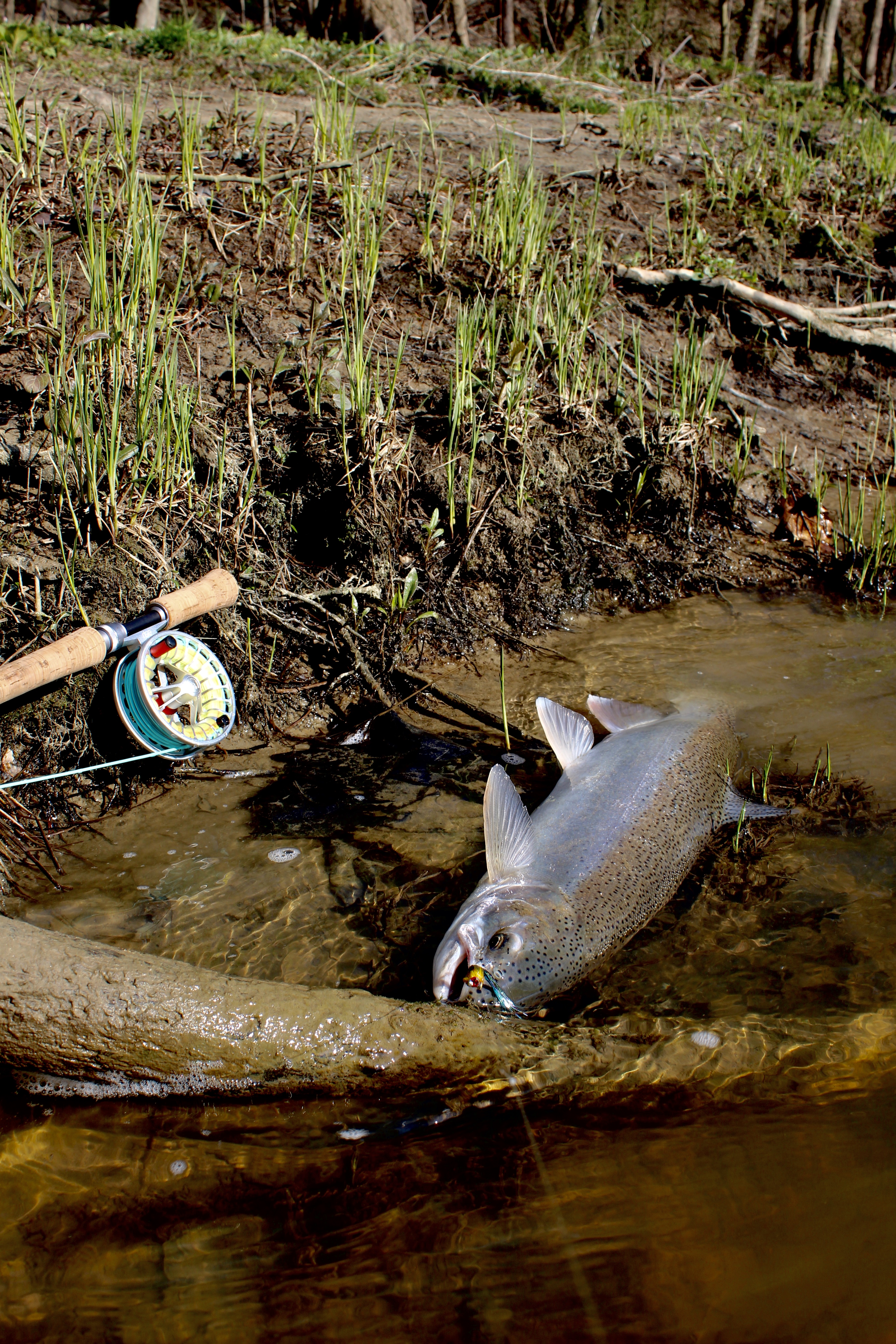 Still some beautiful chrome, pre-spawn fish around
Hard to believe it's gonna be May in a few days. Seems like each year the season passes by quicker and quicker. I might sneak out one more day sometime in the next week or two for steelhead, but we're mostly geared up to do PA trout trips now. For anglers still wanting to catch steelhead, there are still quite a few around. The cold temps recently and decent water flows have kept them in the rivers. By now most fish are spawning or downriver fish. If you're looking for pre-spawn fish, look in the upper half of rivers. Most fish down low are downriver fish. 
Was out a couple days ago. Swung up four, of which two were dime bright, prespawn fish, including one that went 31". Was nice to see some larger fish around, as is usual this time of year. Two of the others were between 27-29". Both fresh, prespawn fish were does. Seems like a trend I've noticed that signals the end of the season is quickly approaching- a last shot of larger female fish that push quickly upriver. The two bucks were colored up and battle scarred. I was about 28 miles upriver. Also swung up a big smallmouth, somewhere around 5 pounds. By the size I'd say was a lake run fish, but usually they don't make it up that far.
I still think my projection last week will hold up. We probably have a couple weeks of decent-good steelheading, and it looks like water levels and temps aren't gonna be an issue. If we start seeing 70's soon, keep an eye out. If the first half of May is like the second half of April, with days fluctuating between the 40's and 60's and intermittent rain, there may even be a decent number of fish around by the third week of the month, though I doubt very many will be fresh, and tired fish and warm water aren't the greatest combination.
Check out some more pics.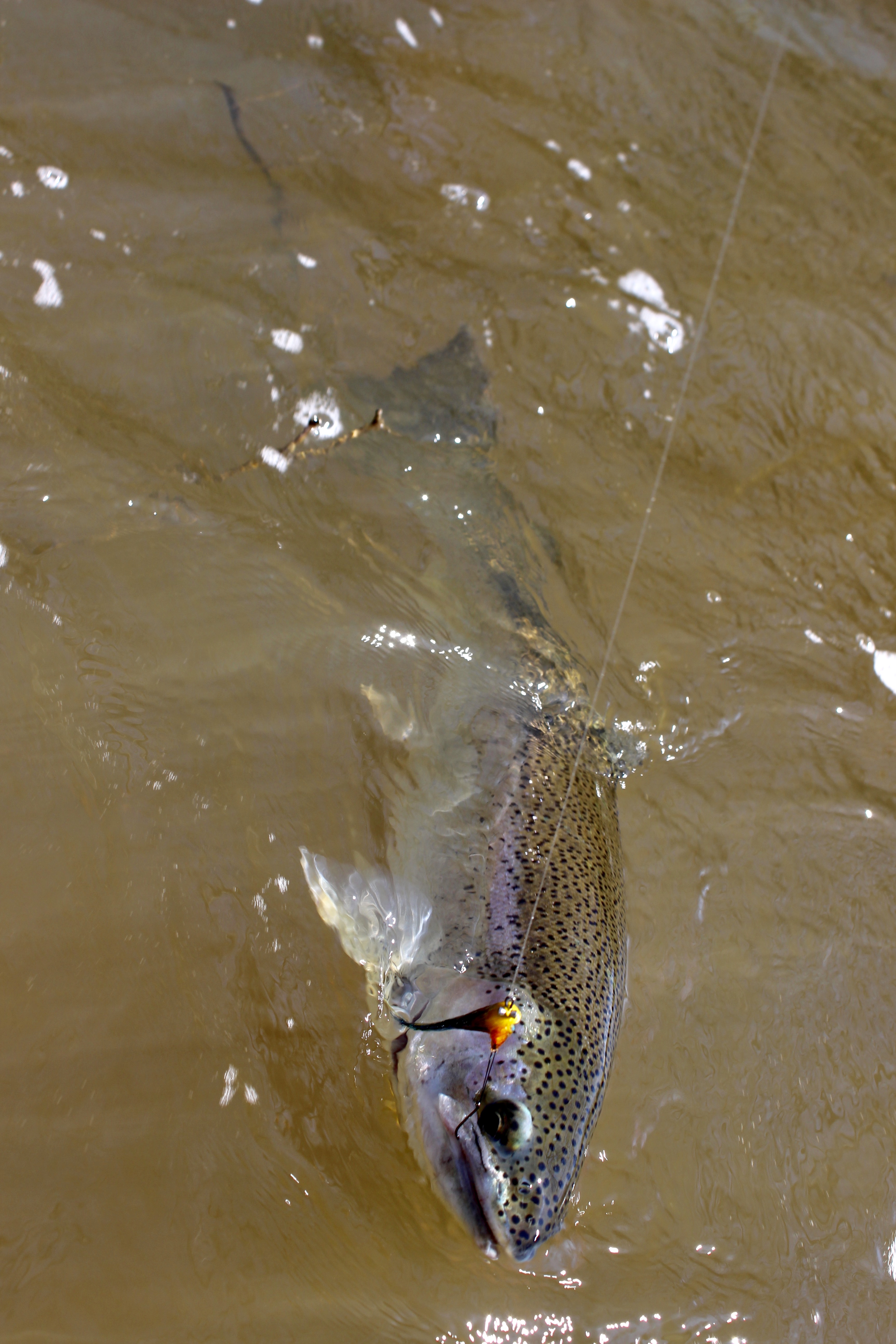 This bright upriver fish was too hot to touch. Easily cleared the water half a dozen times! I just reached down with the hemos and unbuttoned her.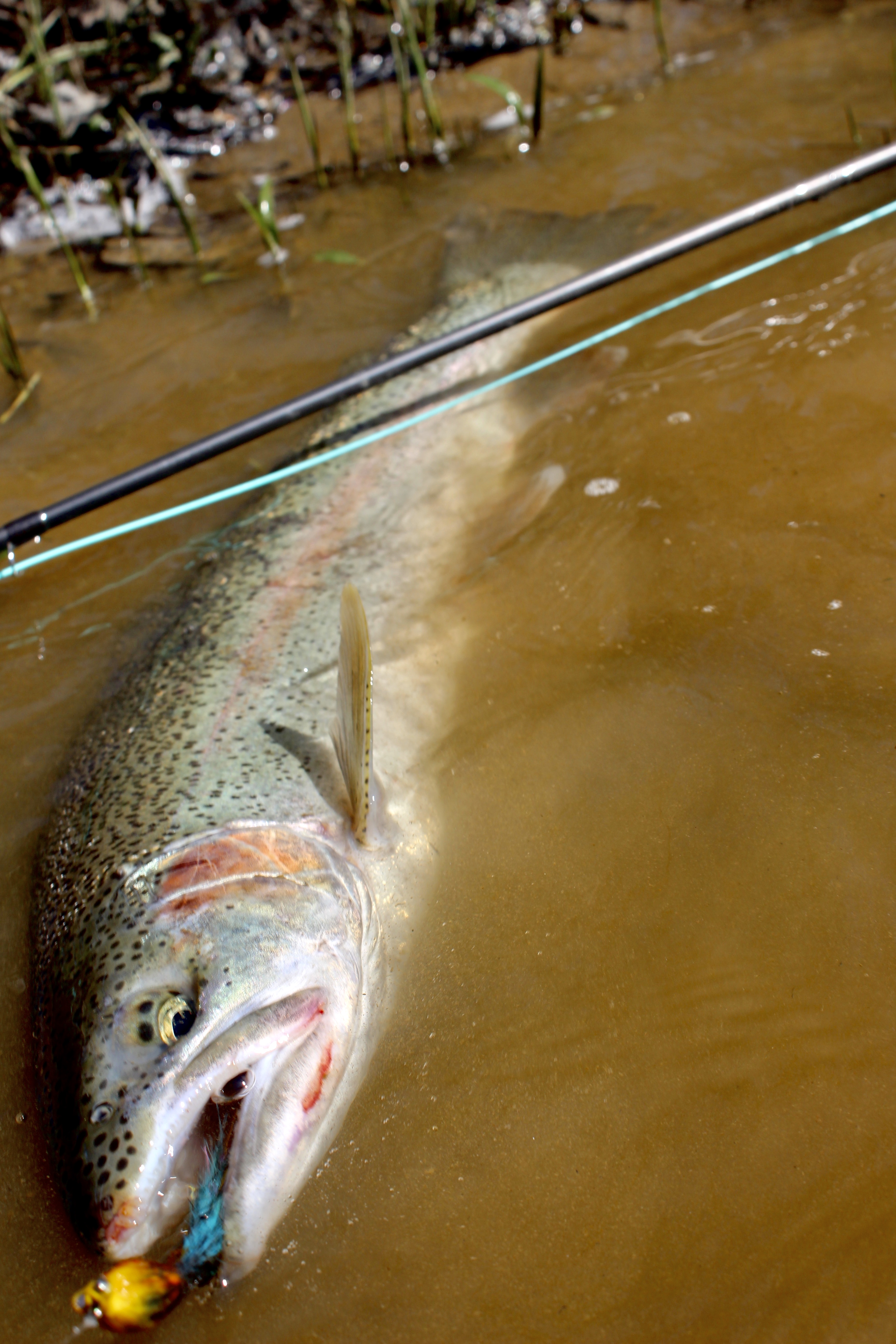 Colored up warhorse of a buck that went airborne with the take. Super cool!
Categories: Spey fishing, Steelhead, Ohio
/