Shopping Cart
Your Cart is Empty
There was an error with PayPal
Click here to try again
Thank you for your business!
You should be receiving an order confirmation from Paypal shortly.
Exit Shopping Cart
Guided Fly and Spey Fishing Trips for Steelhead and Brown Trout with
| | |
| --- | --- |
| Posted on April 6, 2020 at 10:30 AM | |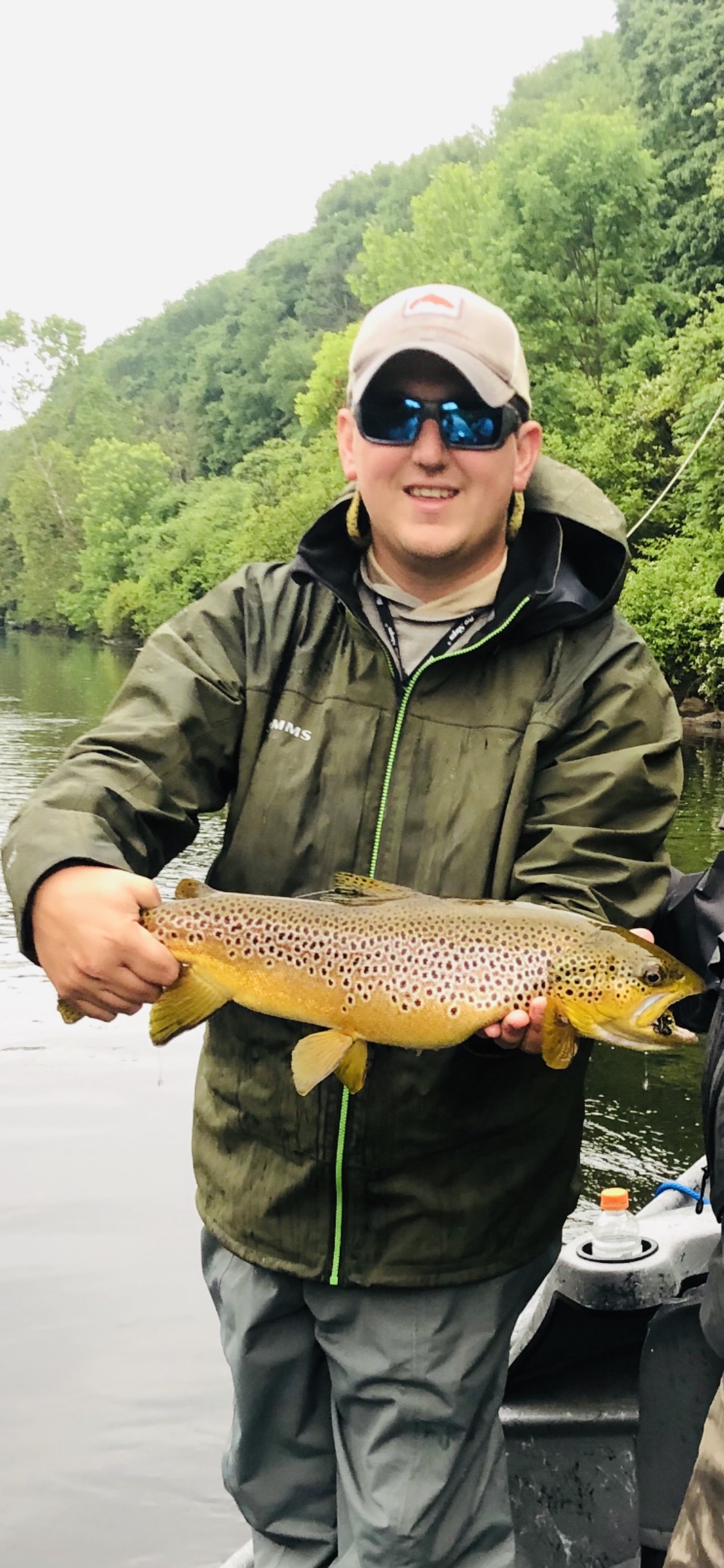 We just love big, wild brown trout. Like this one.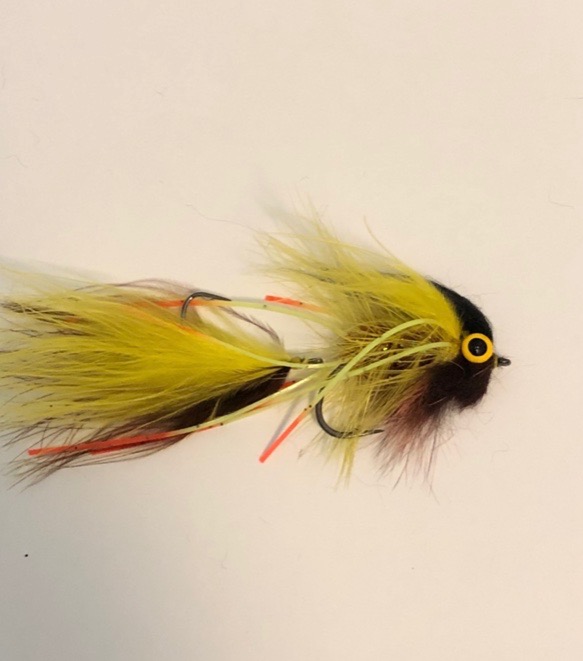 Which is why we tie and fish things like this- the Ry-Snack.
There's simply no other way to say it. Big, wild brown trout are different. While it's fun to catch a bunch of those 8-14" fish, to truly see what your local wild trout stream or river holds, you need to be approaching the game with a different strategy. Enter the Ry-Snack. Named after fellow guide and pattern originator Matt Rysak, this pattern has moved more trout between 18 and 25+ inches than all other patterns I fish... combined. It is a super variable fly that can be tied as either a single or a double. It can be toned down to more subtle and smaller as conditions require. But any we fish it, it is a fish getter. So here's how to tie it.
Step 1:
Tie your stinger hook with a yellow marabou feather and a brown marabou feather stacked. (If you're tying on a single hook, ignore this step and do it in step 3).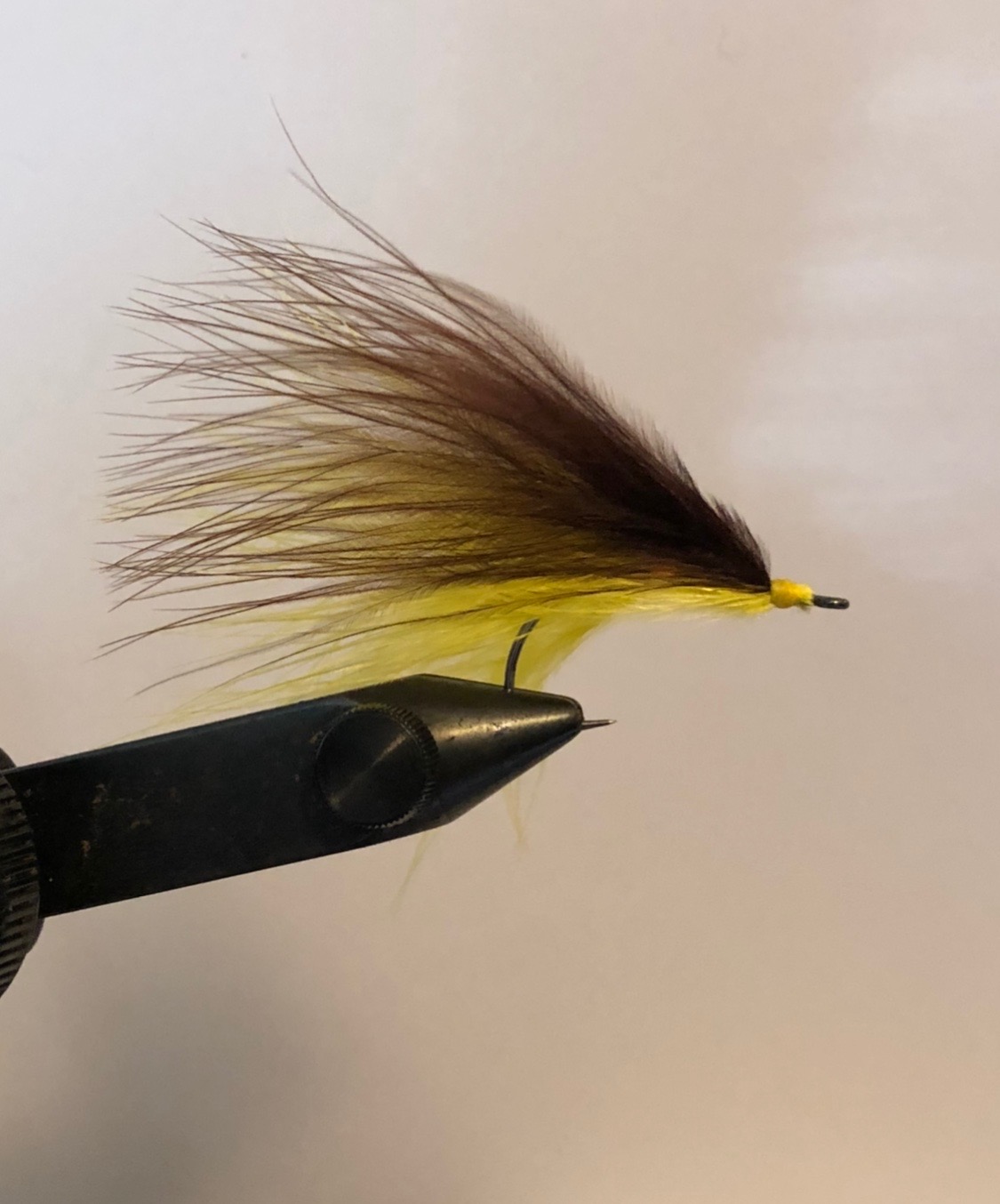 Step 2:
Set up your streamer hook. Tie eyes on the top of the hook so it ride point up. I also heavily weigh the top side with about 8" of .020 or .030 wire layed back and forth on the top.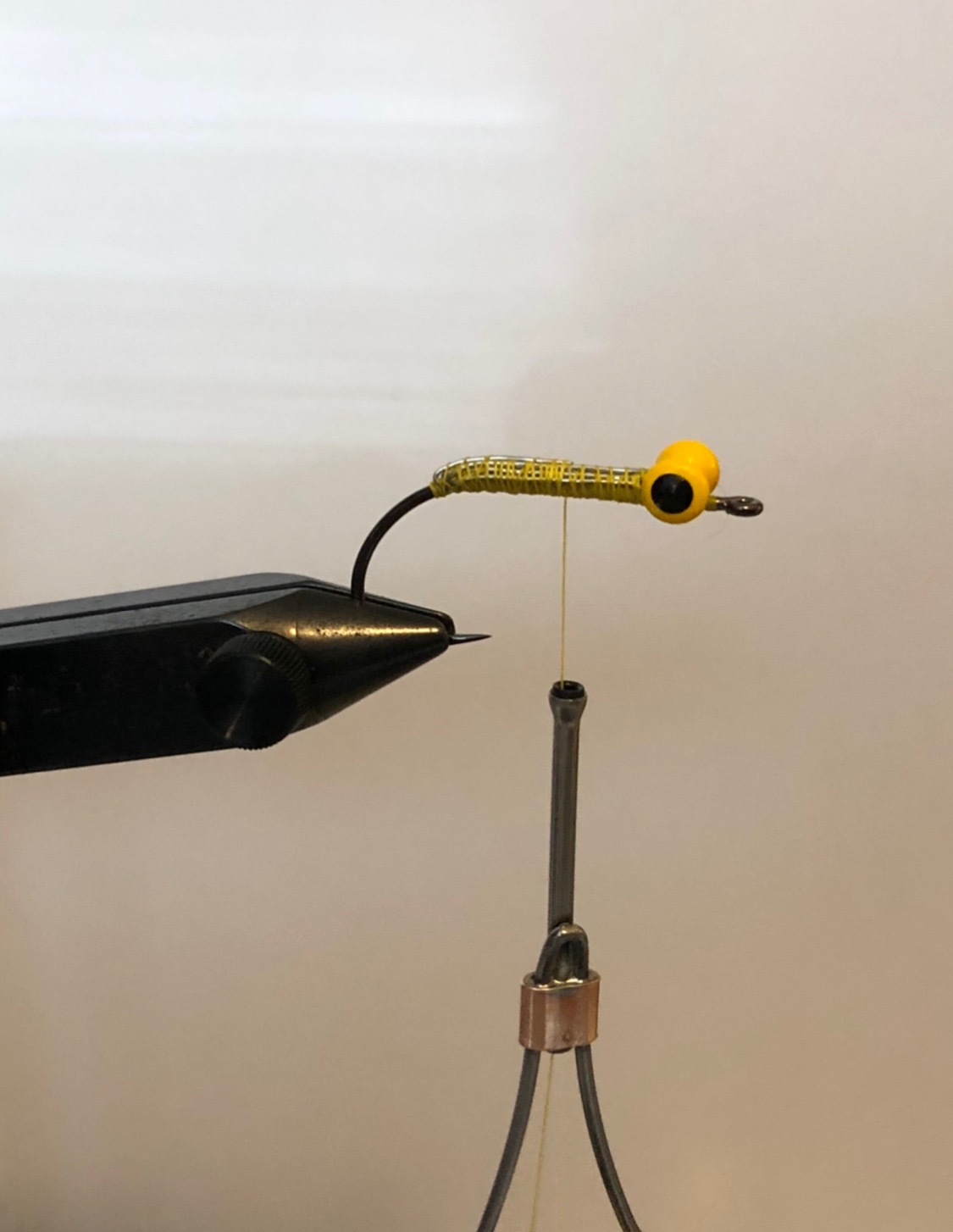 Step 3: 
Tie the stinger hook to the streamer hook. I like to tie the hook points opposite. When I tie the stringer on to the streamer hook, I use 20 lb dacron braid, but any semi-stiff, heavy braid will work.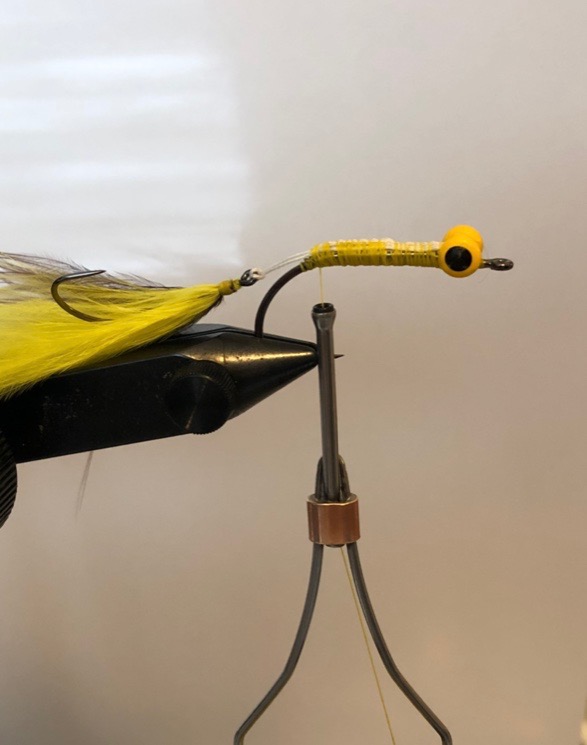 Step 4:
Tie rubber legs, a yellow hackle feather, and brown chenille just above the bend.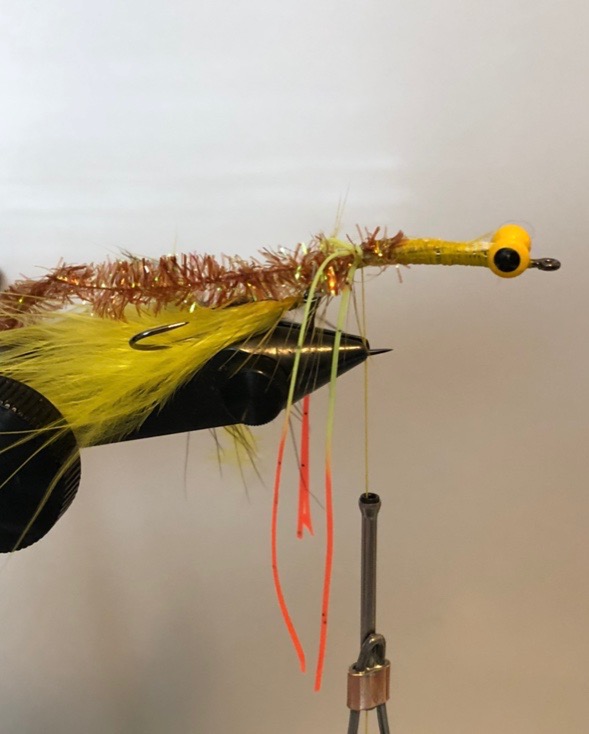 Step 5:
Wrap the chenille up to the eyes. Palmer the hackle feather through it. Tie in a second set of rubber legs.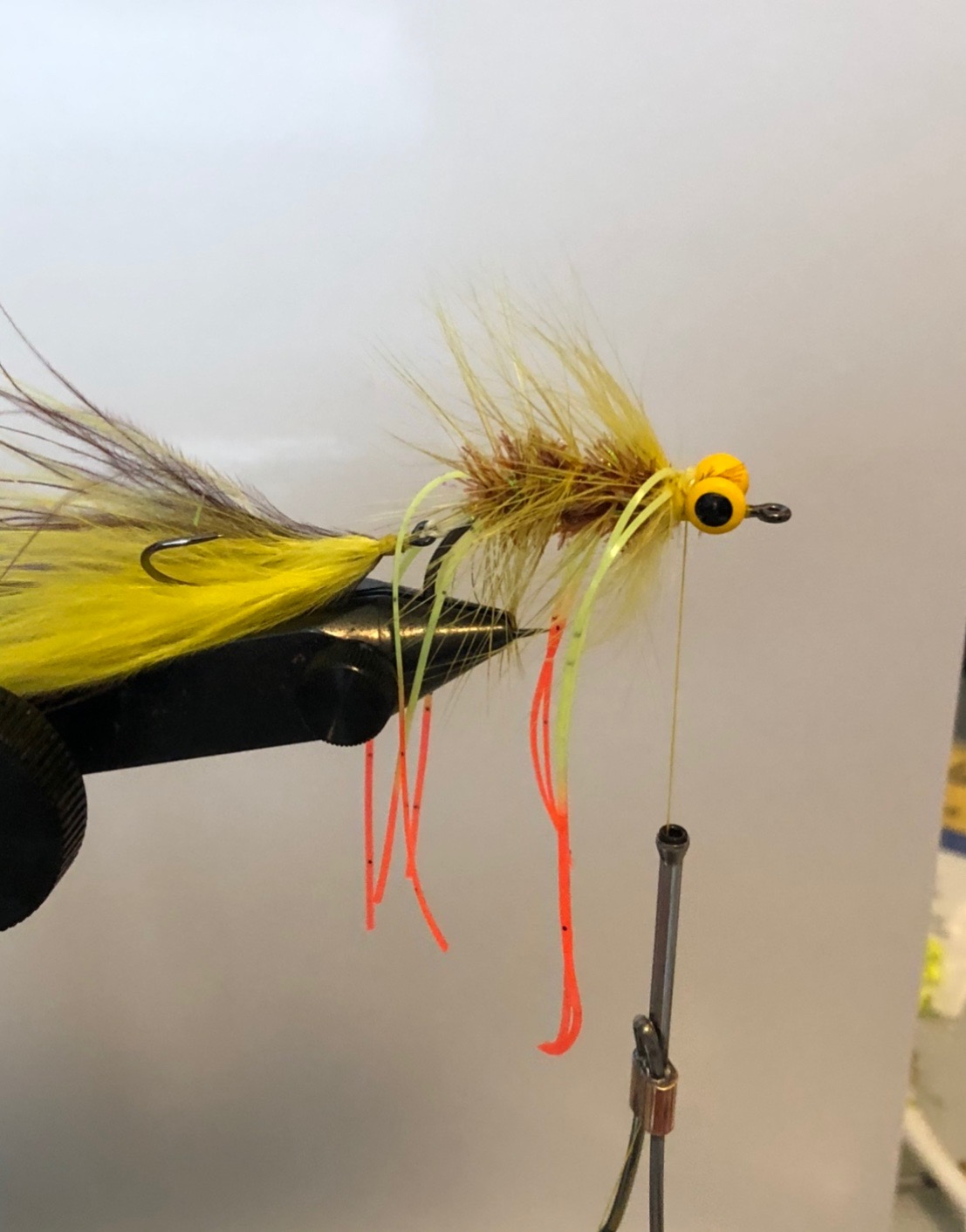 Step 6:
Tie a tuft of yellow marabou right behind the eyes.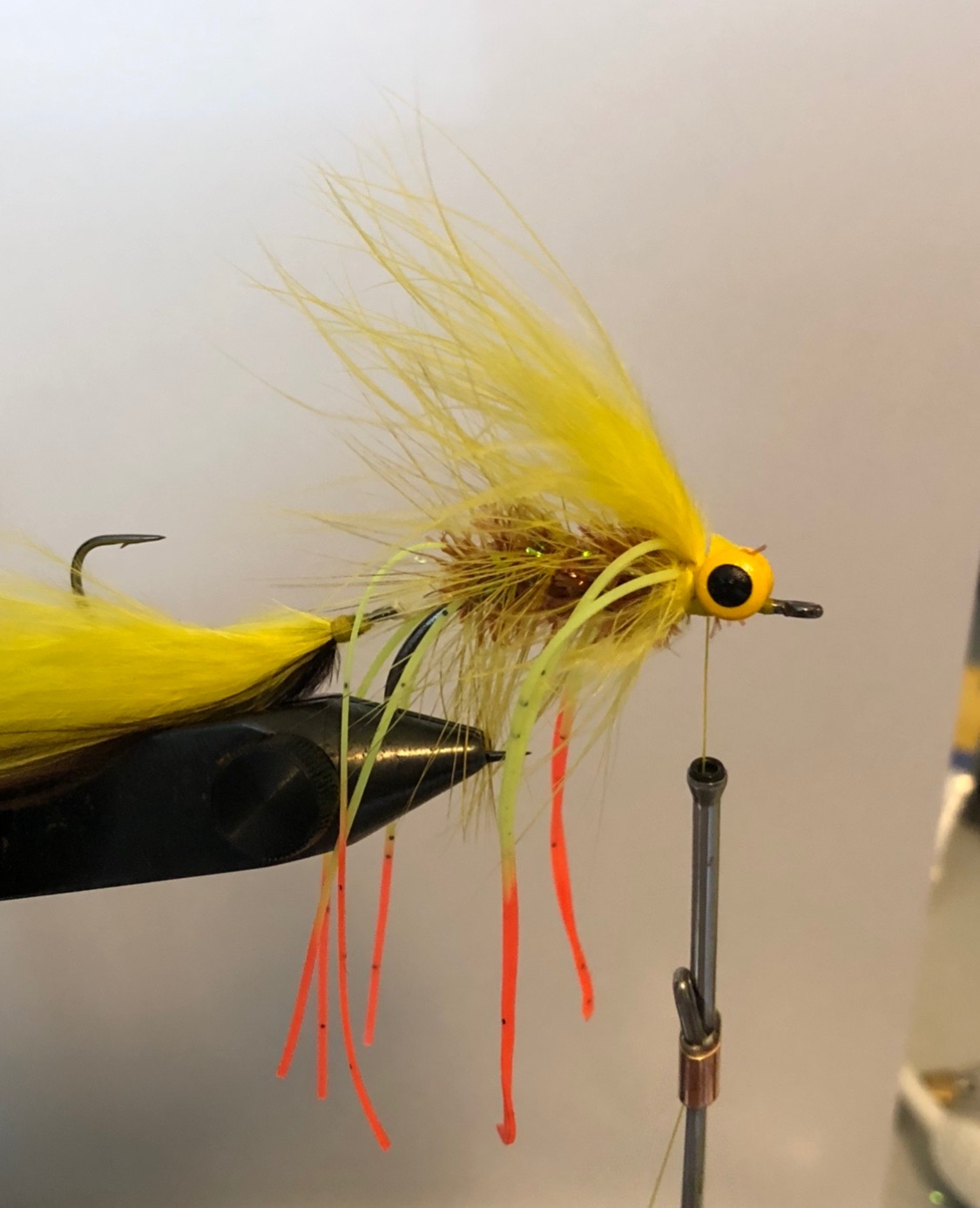 Step 7:
Tie a clump of brown Australian possom fur under the eyes and mold into a head.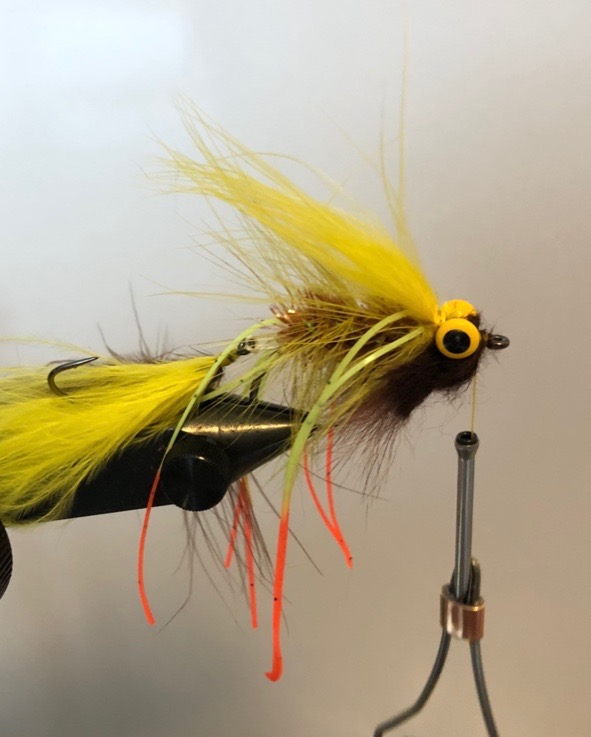 Step 8:
Tie a clump of black laser dubbing over top the eyes to finish the head. Then fish the hell out of it.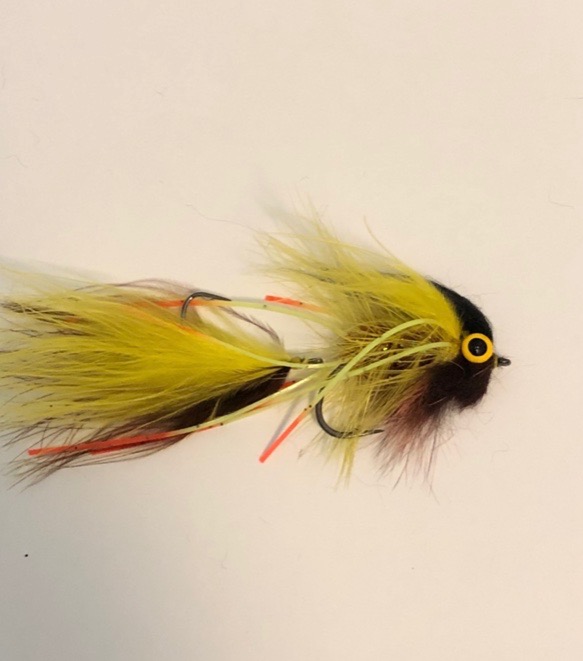 Looking for big, wild browns is always a challenge, but it is a fun one. The reason this pattern catches so many fish for me and the people I fish, is that it is the first pattern I tie on in the morning and I am almost always fishing at least one of my guys with this out of the boat at all times. Brown and yellow is a proven trout killer. So if you're looking to head out to your local wild trout fishery and see just what lurks in the depths out there, pound the banks, the logjams, hit the structure. One day, maybe today, you will see a legit monster. Whether that is an 18-20" fish out of a deep logjam pool where the brookies have noticably disappeared from over the last two or three years, a 22-24" fish out of the river nearby where the locals float tube down in the summer, or the 26-27" + fish out of the waters of the Allegheny or other true trophy trout waters, this pattern might introduce you to your best wild stream trout.







See what's out there! 



















 

Categories: Fly tying, Brown Trout, Tips and tricks

0

/