Shopping Cart
Your Cart is Empty
There was an error with PayPal
Click here to try again
Thank you for your business!
You should be receiving an order confirmation from Paypal shortly.
Exit Shopping Cart
Guided Fly and Spey Fishing Trips for Steelhead and Brown Trout with
| | |
| --- | --- |
| Posted on May 7, 2018 at 8:55 AM | |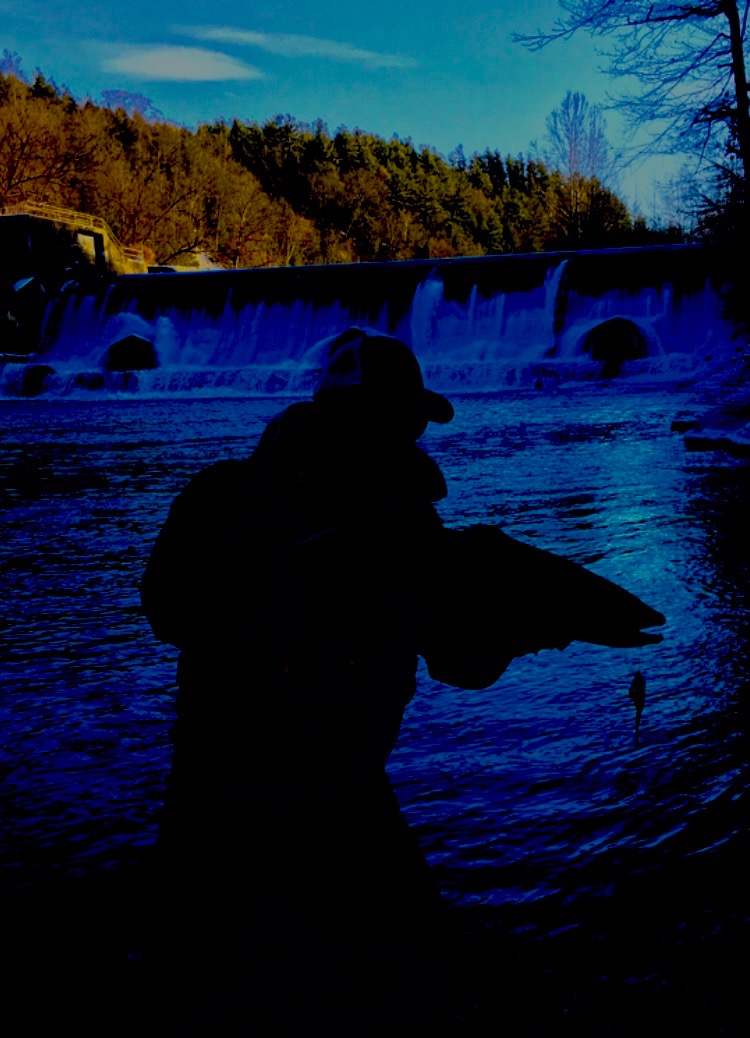 Time to say goodbye for a little while
Well, it's getting to be that time of year again. We still have a lot of steelhead in the rivers, but the water temps are getting significantly above 65 degrees and staying above it for most the day on most of our rivers. That's just too warm to fish steelhead unless we get a cool down, which according to the weather doesn't look too likely. Though there are a few days where the highs are projected to be in the high 50's over the next two weeks, most days are in the upper 60's to upper 70's which means water temperatures will stay in the low to mid sixties, even on cool days, and will spike up even higher on warm ones. So it looks like steelhead season has come to an end.
Looking back over the fall 2017 and spring 2018 season, we had some of the best fishing I've seen in years. The past fall in New York was easily the best steelhead season we've seen in the past four or five years, with the Catt coming into play very early in October and fishing extremely well that entire month. Flows were perfect for swinging dry lines and numbers of fish willing to play were high. Then in November, despite the Catt being out of the picture essentially that entire month, the smaller creeks really came into play with good numbers, despite the early cold snap the second and third week. Over the fall and early winter, we found some very large fish, up to mid-thirties in inches and low-mid teens in weight, especially in December.
Then starting in February, Ohio really started fishing well, with good numbers of fish running on every high water period until the end of April. Though we didn't land any monsters this spring, with the biggest fish being in the thirty inch ranges, we certainly hooked some that were much larger, including on Art hooked one the Chagrin that stayed deep and ran upstream through heavy water and we just could not turn it. It ended up wrapping the line around a big piece of slate and broke us off, but damn it would have been nice to see that fish.
One very pleasant surprise was how well all the Ohio rivers fished this spring. In most springs though we'll have good fishing on all the rivers periodically throughout the spring, there usually is one river that is clearly fishing better than all the rest on a consistent basis. I think it simply has to do with waterflows being prime at the right time as a large school of steelhead are cruising in the lake nearby and decide to run the river. This spring it seemed like each river had roughly equal amounts of fish in them. This is certainly a trend I hope continues as it made for nearly three months of perfect fishing somewhere along the Ohio Lake Erie tributary systems.
Going forward, we're going to be switching to trout and smallmouth, but things are going to quiet down for us a bit, as they normally do between May and early October. We're already seeing some really nice smallies, but want to give the steelhead a chance to drop out before we really start fishing them, as this time of year you can catch a steelhead and a smallmouth on back to back casts. Only problem is water temperature. If you really need to get another steelhead in before the end, please bring a thermometer with you and just be mindful. We've had seven full months of great steelheading already. 
Tight Lines
 - D 
Categories: New York, Ohio, Spey fishing
/