Shopping Cart
Your Cart is Empty
There was an error with PayPal
Click here to try again
Thank you for your business!
You should be receiving an order confirmation from Paypal shortly.
Exit Shopping Cart
Guided Fly and Spey Fishing Trips for Steelhead and Brown Trout with
| | |
| --- | --- |
| Posted on April 29, 2018 at 8:10 AM | |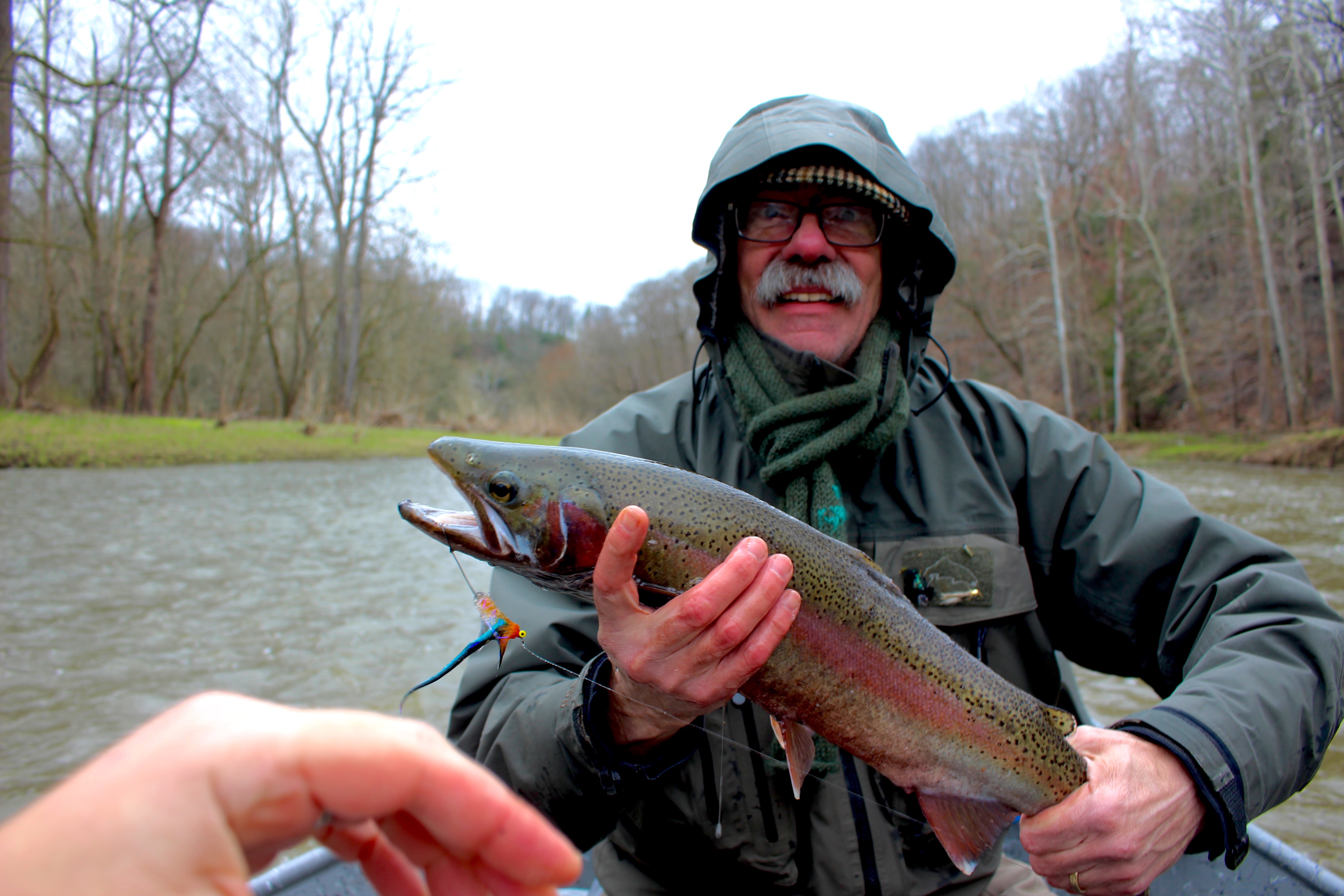 My Dad with a really nice one from yesterday
Finally was able to get out and do a drift on the grand. And surprise surprise, it was canoe and kayak race day. The event had been scheduled for last weekend, but I guess they rescheduled it for yesterday due to a bit of high water. It would seem to me the high water would have made things more fun, but what do I know. We'll get to the race stuff in a bit. Anyways, had a cancellation for yesterday so I called my dad to see if he'd be able to do a trip, and he was. It was his first time in the drift boat, so I knew he was really excited.
Got to the takeout to drop the extra car off and saw signs that the canoe/kayak race had been rescheduled, but only saw a handful of cars so we figured it was probably just a small event this year due to the weather- it was holding at 38 degrees and rainy. Then we got to the launch and it was a shit show. Cars and canoes and kayaks everywhere. It was worse than floating the clarion on memorial day when all the locals come out and float tube it down the river. Snuck around to the back of the park across the river and dragged the driftboat in so we could launch ahead of the floatilla.
Got to the first spot we wanted to swing and dropped the anchor. My dad lost a fish right off the bat, then landed a little guy. The nice thing about swinging from the drift boat is you can slide in where you need to be and swing from the shore to the middle of the river. When we cast while wading, we cast into the middle of the river. This means that the sinktip needs time to get deep, and we usually place the cast in the deepest part of the river. When you cast from a boat to the shore and swing it out into the middle, the swing is fishing instantly due to the tip gradually sinking as the river gets deeper. By the time you're in the middle you're down where the fish are in the water column. Anyways we ended up missing a couple more then landed a good sized dark buck. Then the canoes and kayaks started...
The first wave was only about four or five. So I pulled anchor and pushed down river after they passed. We pushed down a bit to an island and pulled in. And waited for an hour as 100 canoes and kayaks passed by. Now this is where it gets interesting. The float is about 8 1/2 miles. At this point, people are pretty committed as there is no real easy way out. We saw people floating in shorts and t-shirts. Hypothermia is a real thing people. 8 1/2 miles in a kayak if you're pushing it means about an hour to an hour and a half. And that's if you know what you're doing on a boat. Not everyone who passed us did.
At the head of the island is the roughest water on the whole float: the river funnels into a pinch, with a current seam that rips over to river right and directly into the rootwad of a big sycamore and undercut bank. Directly downstream from this about thirty feet is a sweeper tree leaning out from the right too. It's not expert class level by any means but you need to have an idea of what you're doing or you can get into trouble, especially with a canoe where the center of gravity is up higher out of the water.
Anyways while we were there on the island watching all the boats pass, a canoe with two guys in it went over against that sycamore. The guys were thrown into the water, their canoe swamped. The older gentleman tried to stay with his canoe, trying to keep it from going downstream, which is the wrong move. Stay with the canoe, but go with the current. You conserve energy and don't gas yourself. When you struggle and tire in cold water, bad things can happen. We were able to tell him to let his canoe come down to us, where my dad and I dragged it out, flipped it over then made sure he was alright. His son, was able to wade his way out higher up the riffle. Thankfully we were there and some people from the metroparks were there to make sure they were ok, and it looks like they brought a spare change of clothes. If these guys were floating by themselves, they could have been in serious trouble.
Our Ohio rivers are not technical rivers to float by any means, and they don't have the class III and IV rapids like some of the Alaskan rivers I worked on. But you can still get into trouble. At the very least you should have some idea how to manage a canoe or kayak, especially when the water and air are cold. We all were new floating rivers and managing boats in the current at one point. But it's just common sense to start small and progress as your skill improves. Go out with more experienced paddlers or rowers, of if you can't learn in the summer when flows are lower and getting wet doesn't mean significant risks of hypothermia.   
As for the rest of the fishing, we missed one more and picked one more nice colored fish up near the end of the float. Three for seven swinging from the drift boat all on the whiskey hangover, and a rescue operation. Pretty eventful Saturday.
Tight Lines and Be Safe Out There,
 - D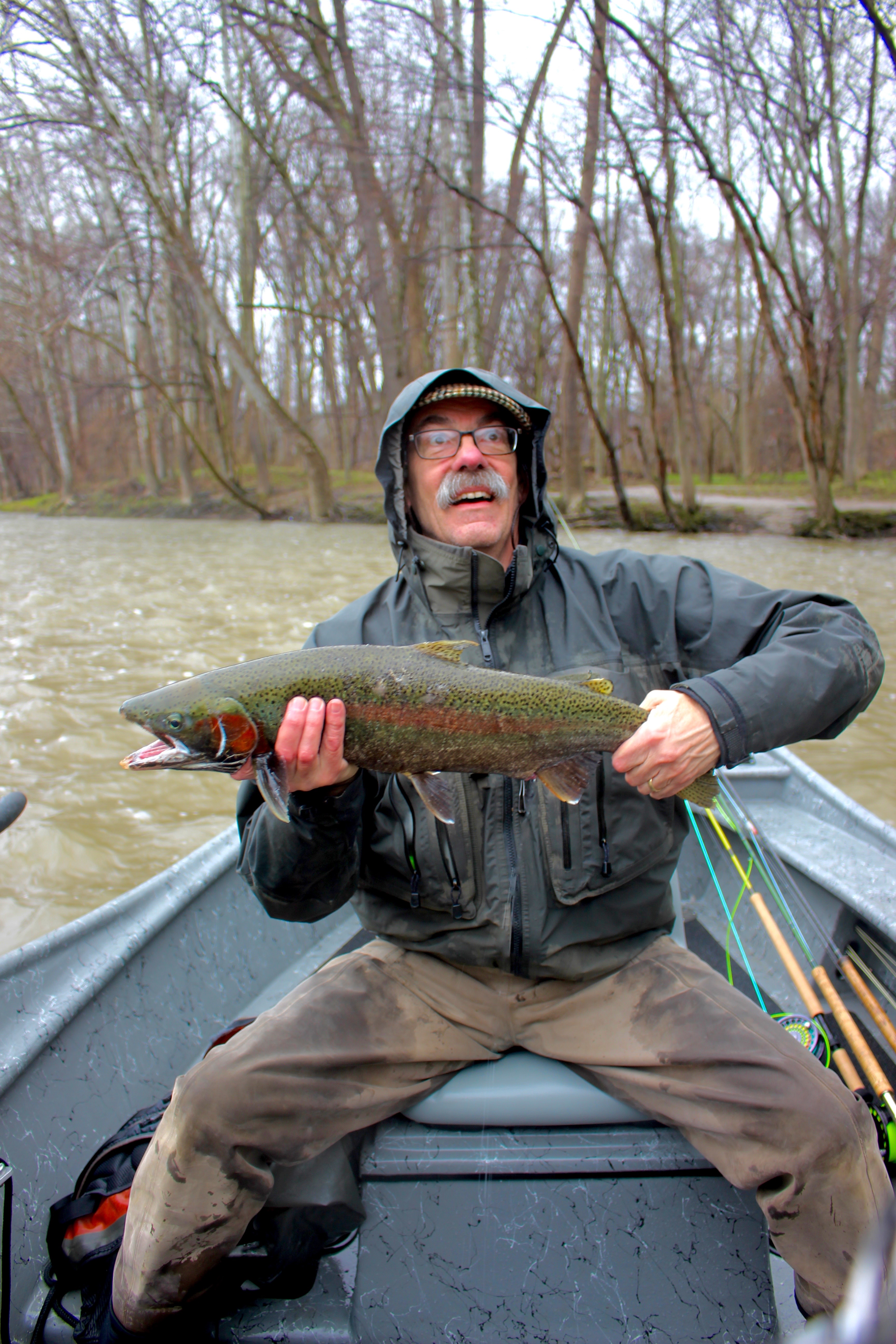 My Dad with a nice dark fish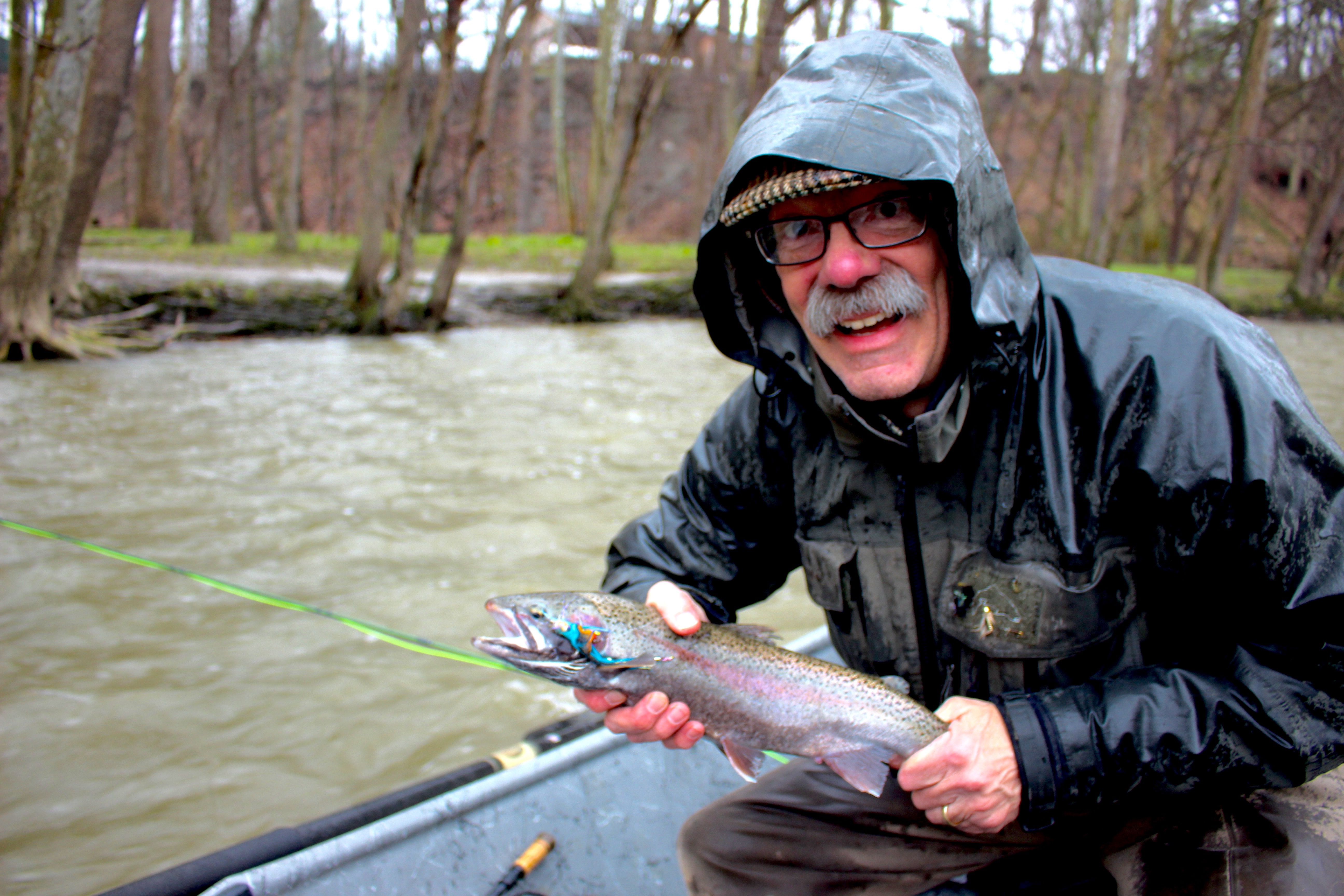 Little guy for the first of the day
Categories: Steelhead, Driftboat/Raft Fishing, Ohio
/