Shopping Cart
Your Cart is Empty
There was an error with PayPal
Click here to try again
Thank you for your business!
You should be receiving an order confirmation from Paypal shortly.
Exit Shopping Cart
Guided Fly and Spey Fishing Trips for Steelhead and Brown Trout with
| | |
| --- | --- |
| Posted on October 1, 2017 at 9:50 AM | |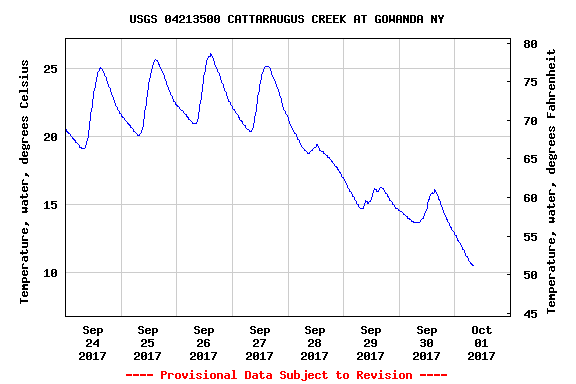 What a difference a week makes!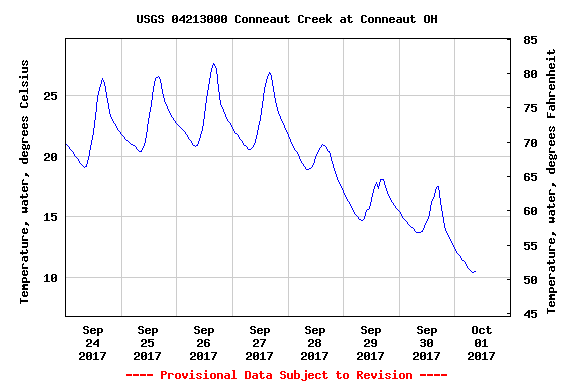 On Conneaut too
Well, as promised we finally have seen the end of the two and a half week heat wave. And thank god. We had three days in those two and a half weeks that were over 88 degrees. Yuck. Give me 55-60 and rainy any day. Looking ahead in the forecast, we have a couple days projected to hit the upper 70's but most days are in the 60's. After such a mild and moderatly wet summer, the second half of September just felt brutal. From September 10- September 27th I just wanted to hole up in my basement and tie flies till the weather broke haha.
But that's in the past now. Hopefully we won't hit 80 again until 2018. Anyways, looking ahead at the upcoming season, things are looking good. Even with the hot dry weather, we had a decent amount of fish pushing in for how early it was. I expect this weather change with rain in the forecast will really bring in a solid run. The creeks in the area are all on the lower side as we speak. The Catt is right about 180 CFS, Conneaut is at 10 CFS, the Grand is at 16 CFS and Chagrin is around 40 CFS. Based on this, it's pretty easy to see that the Catt has the best groundwater flow of the south side Lake Erie creeks, and like usual it is holding the most fish right now. The smaller creeks are all low and gin clear. But they do have some fish in the deeper ledge pools.
If you head out now, it's a fun time to fish smaller weighted nymphs or streamers like beadhead woolly buggers on long leaders (15 feet or so) tapered down to 6 or 8 pound fluoro. It's a cool approach and can be fished either upstream and stripped back down to you or downstream on a swing. You can even use it in really slow pools by dropping it in, letting the fly sink to towards the bottom and then twitching your rod tip with short small twitches to bring the fly back up again. It's cool because if done correctly and with a stealthy approach, you can watch the fish chase down the fly and eat it. If you do fish the smaller creeks, right now is not the time to fish a thingamabobber. Any large surface distrubance is going to scatter holding fish.
As for some news, it looks like in August the project agreement for dam modification of Scoby Dam on the Cattaraugus was signed. I'm pretty excited by this. There should be a huge increase in natural reproduction once the project is completed. And wild fish are even more likely to come up to or near the surface to take a fly. So ya, pretty stoked. Looks like the project is in the design phase now and is set to be completed between June and December 2021. Only four years... 
Check out this article for more info:
Finally, the good fishing around the entire Great Lakes has continued. The Salmon River barely saw any interruption of it's salmon run with the heat wave. Starting to see some pics of steelhead and more pics of browns with the odd atlantic in the mix as well. Some really big salmon being caught too- like mid thirties. From other reports, looks like the good fishing in Lake Michigan has translated to good fishing in the rivers. They also look like good numbers with big fish. 
Should be a fun fall.
Tight Lines,
 - D   
Categories: Steelhead, News around the area, New York
/