Shopping Cart
Your Cart is Empty
There was an error with PayPal
Click here to try again
Thank you for your business!
You should be receiving an order confirmation from Paypal shortly.
Exit Shopping Cart
Guided Fly and Spey Fishing Trips for Steelhead and Brown Trout with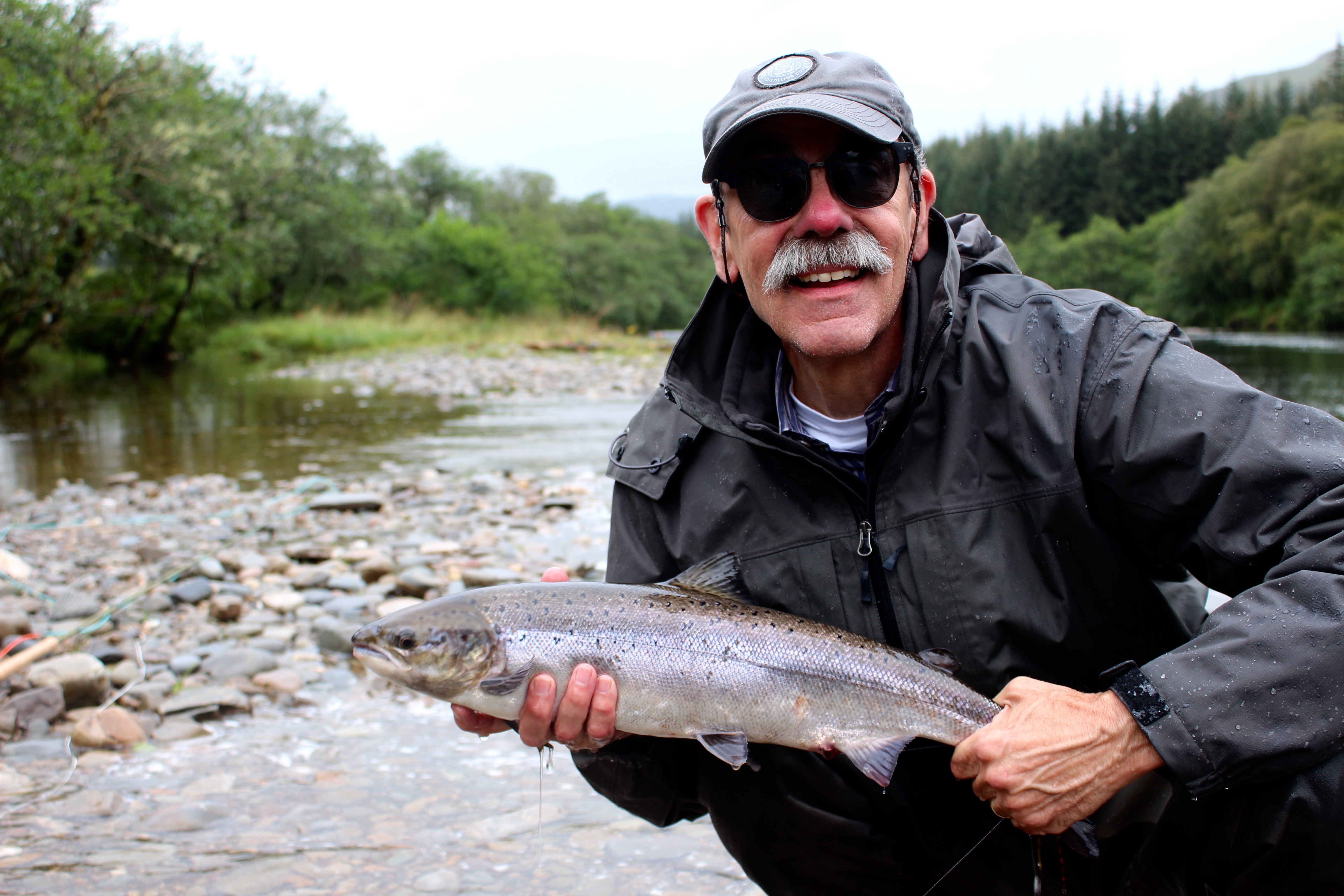 My dad with a beautiful wild atlantic salmon!
Went to visit my sister over in Scotland last week with my family. Not really a fishing trip but you better believe I was going to bring a few rods. Fished the Tay one day and a smaller Western Highlands river another morning. Boy what a place! Where we fished the Tay it was big wide salmon river, with long pools and tailouts that fished a floating line and small spey flies well. We watched anglers fishing from the boats with ghillies catch a few but from the shore we didn't have any luck with the salmon. After a good bit of no action, I put on a tip and a whiskey hangover and did manage to swing up a small pike which I was told on the way out was very rare on the river. Surprise surprise the hangover found another victim.
But then one other morning we had a few hours to kill before a falconry demonstration (which was unreal by the way) and we snuck out to a river close to where we were staying. When we met up with the ghillie, I told him we only had like two hours and he put us in the spot. Right off the bat I found a beautiful little wild brown trout. Then a while later I saw a fish roll on the inside of a seam where my dad was working his way through the head of. A short while later his rod bent under the weight of a fish that was not a pike or brown trout. After a bit of a battle, he played the fish in close enough where I could tail it for him. It was what would be considered a grilse in ballpark of five or six pounds, but it was a wild atlantic that passed over no less than three waterfalls up to about eight feet tall to meet us in the pool. And it was magnificent.
Looking ahead, with the end of summer nearing our headlights, we're now well into fall bookings for what should be a good season. There are lots of big browns being caught in Lake O right now, and it wont be long until steelhead start finding their way into the Catt and other Lake Erie creeks. Should be a great season!
Tight Lines
 - D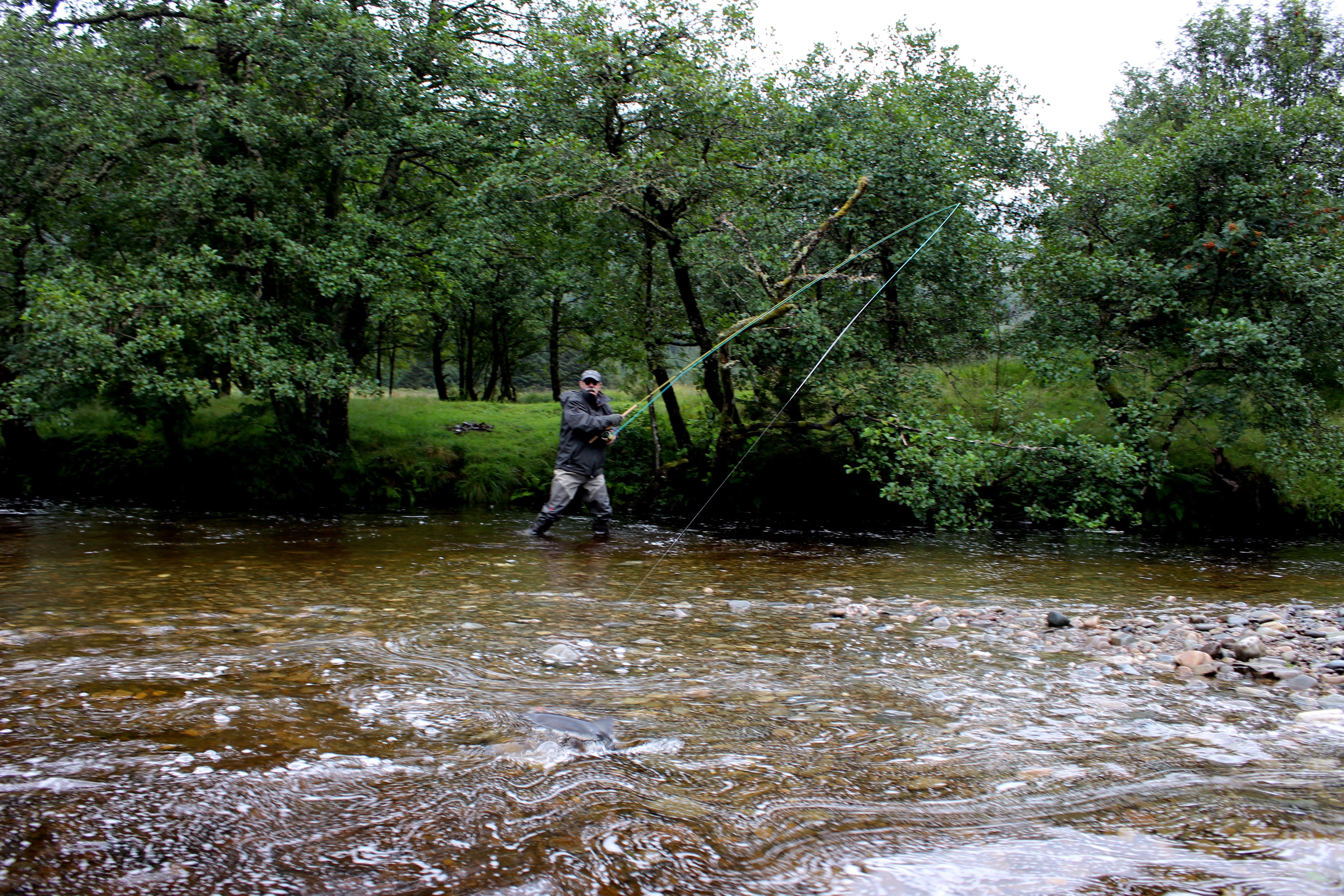 Dad fighting his atlantic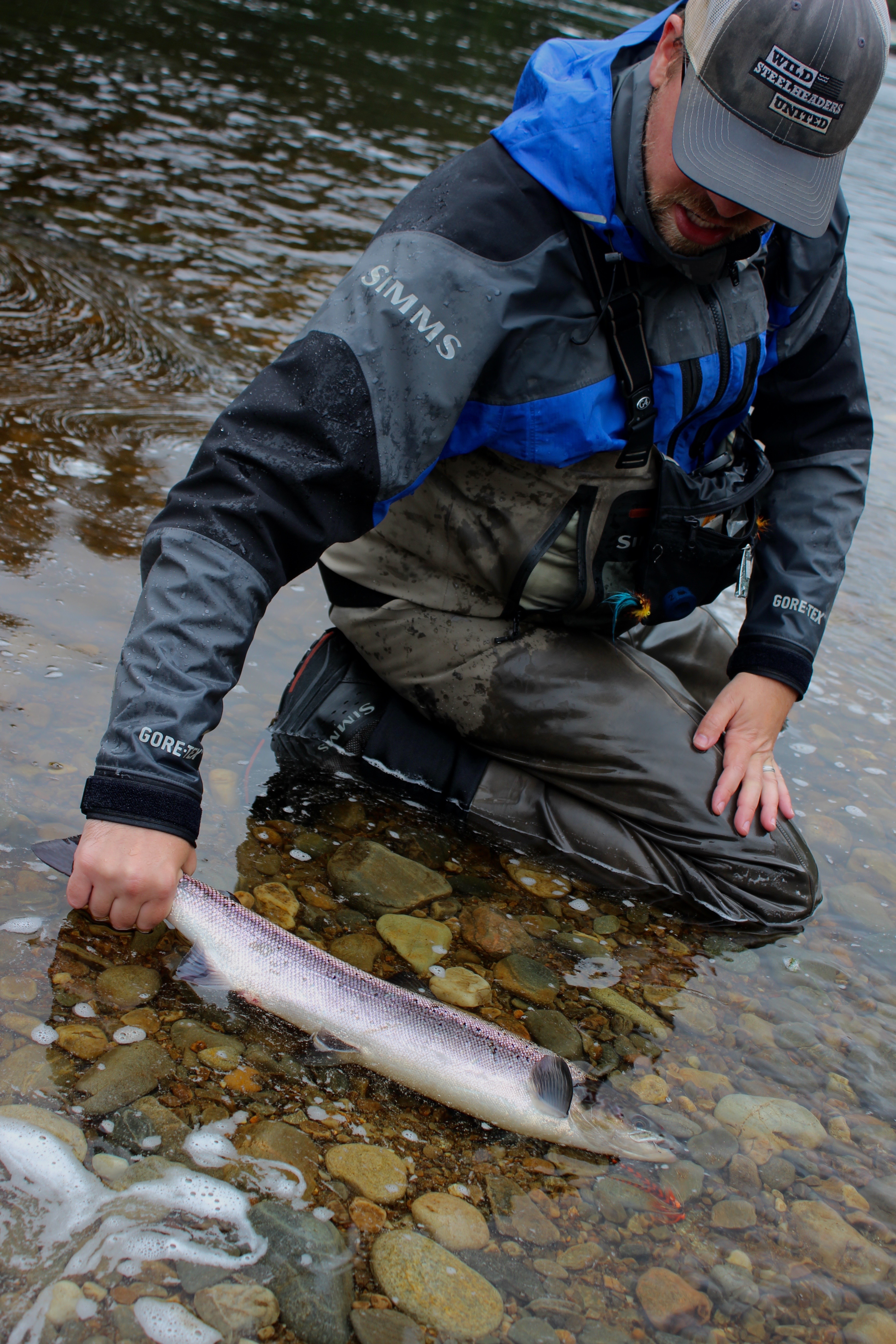 Tailing the salmon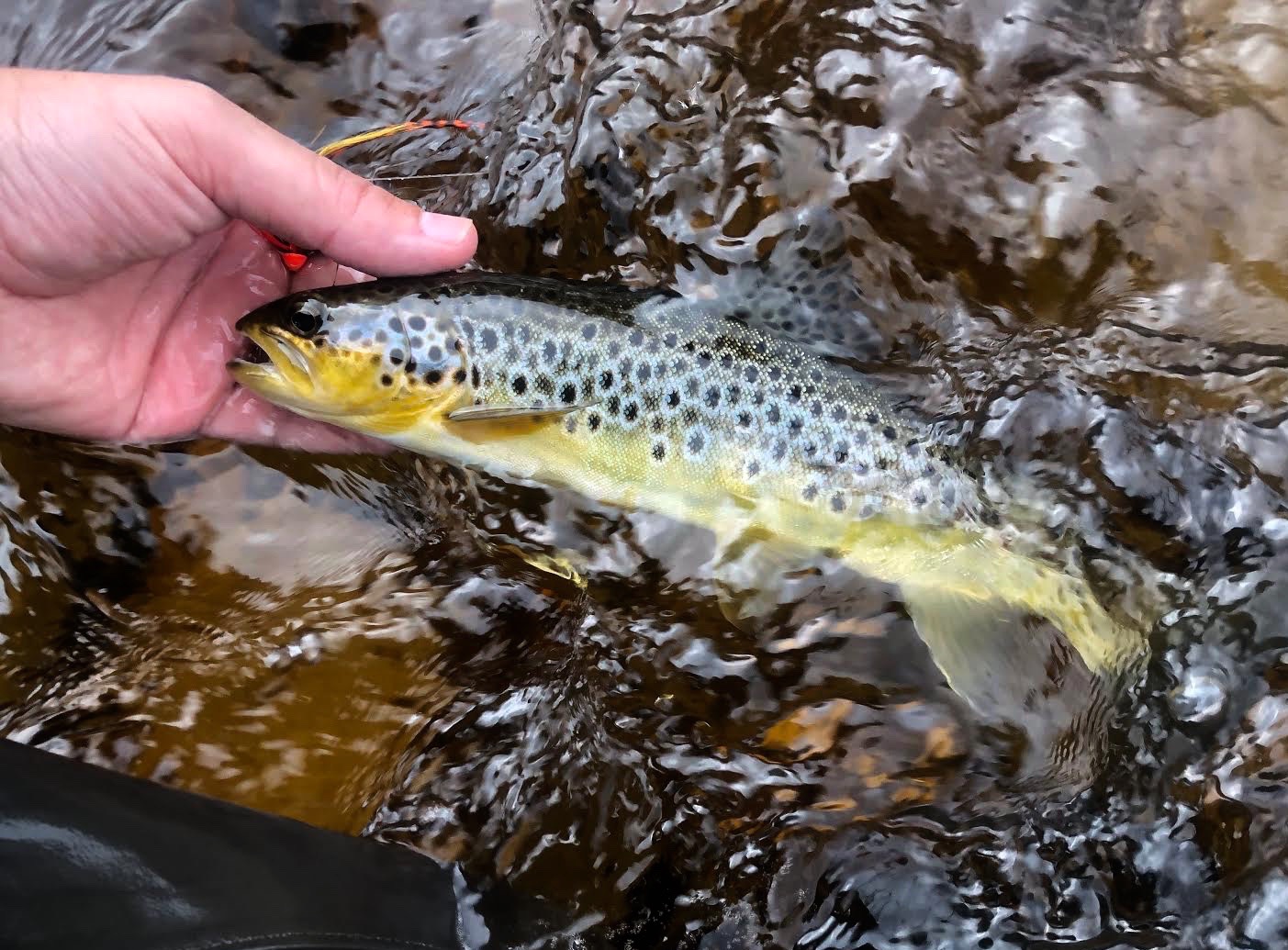 My brown trout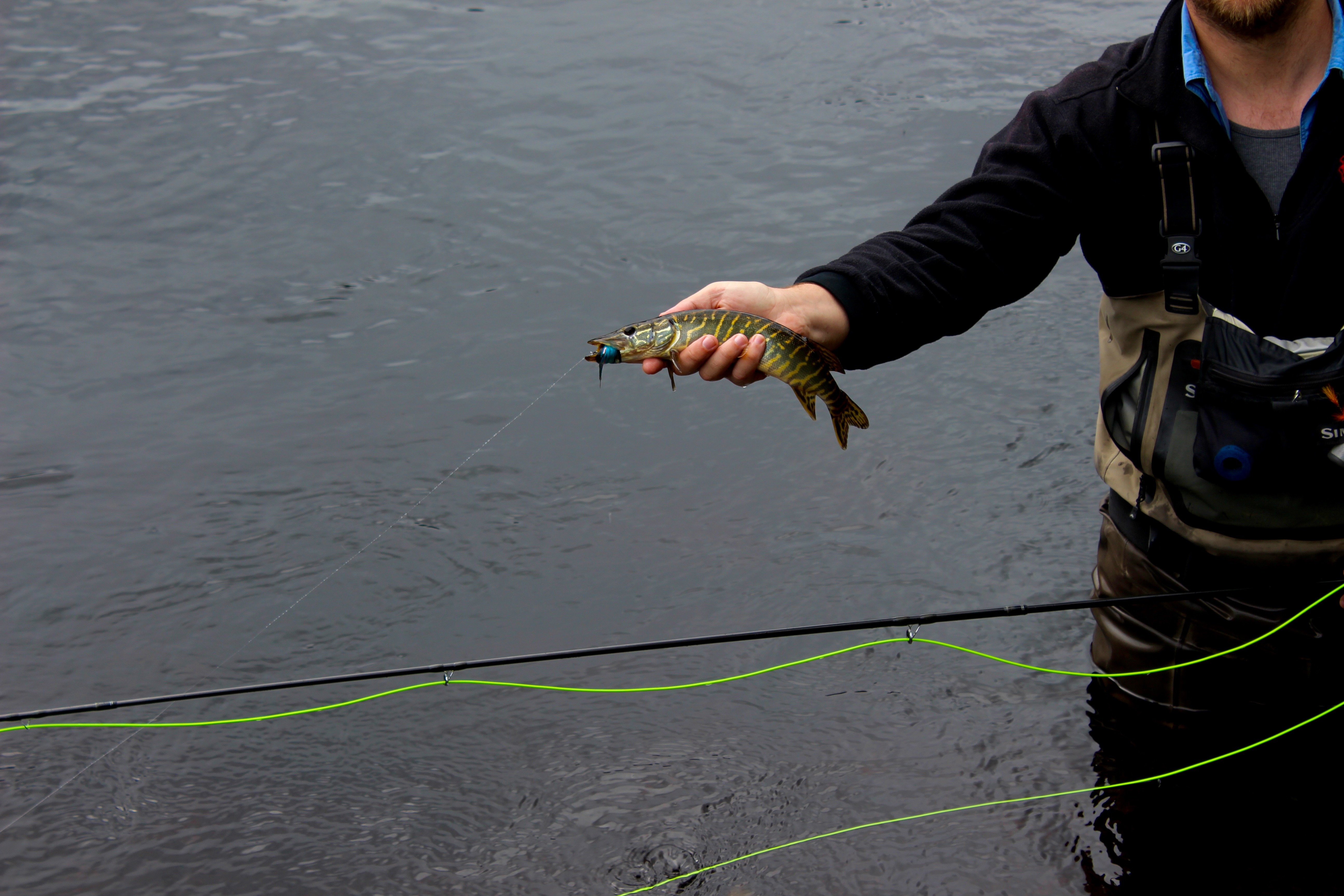 Pretty pike from the Tay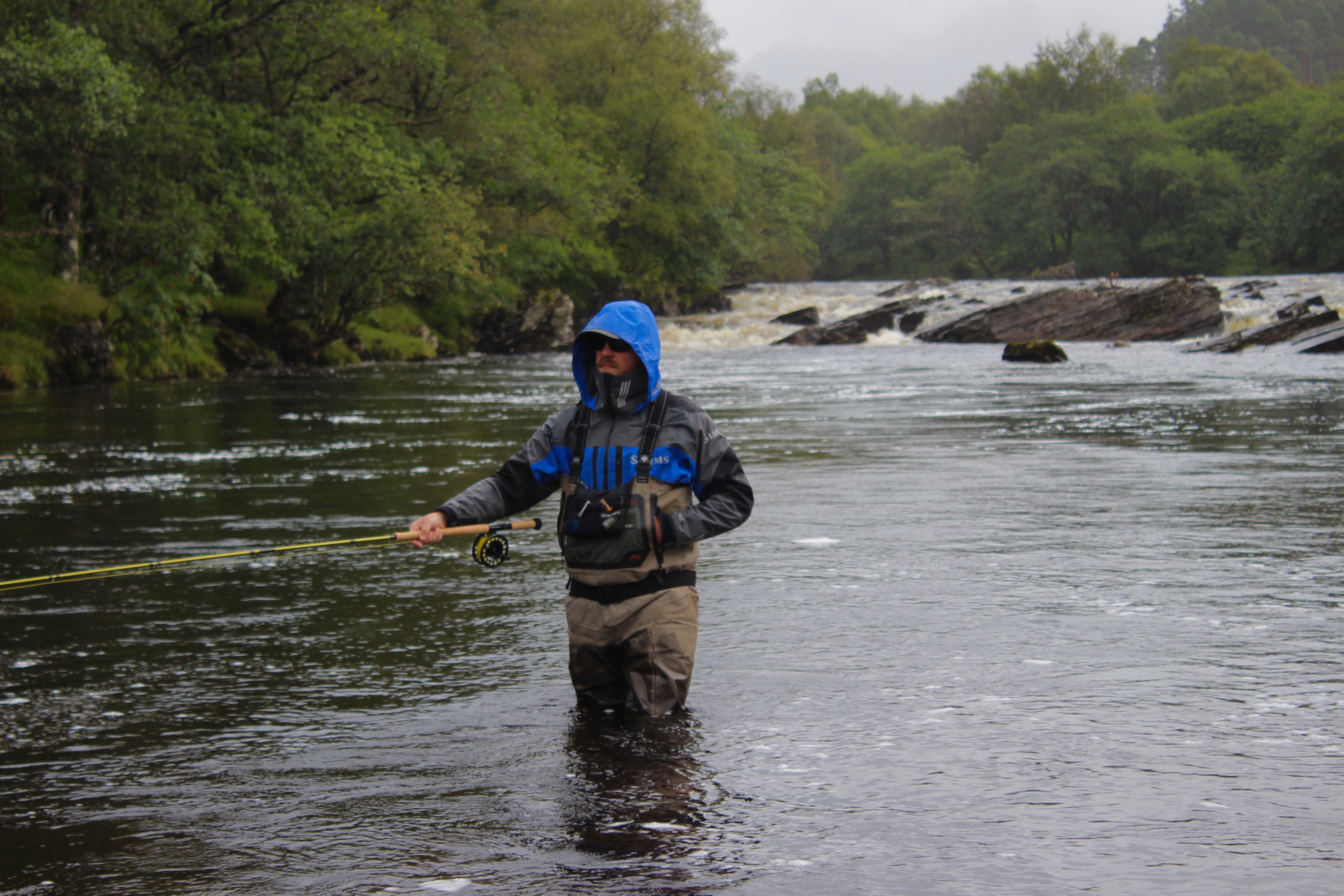 The money pool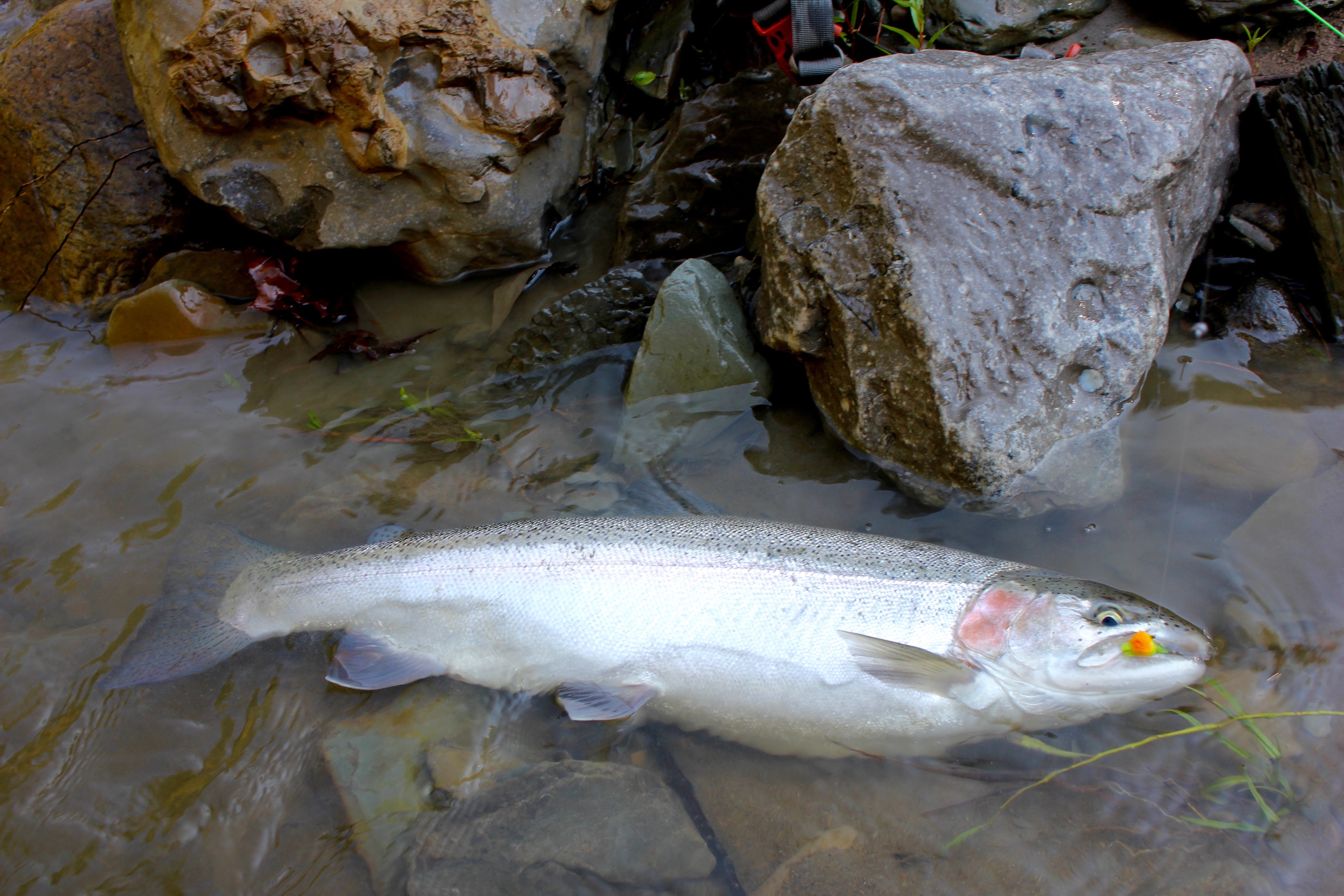 Nice chromer!
Both Matt and I have been out hitting the water over recently. Matt has been hitting the Erie creeks well I spent the last couple days fishing salmon. And we've even got a couple floats done as well. There are fish in all the creeks and rivers now, but last night we got hit pretty hard by another weather system. The smaller creeks have been on the lower side all fall so far, with most fish predominantly found in the lower reaches. The Catt has been pretty much flooded since October 1, with the exception of a couple windows where fishable conditions existed though none for longer than a few hours. Pretty bummed about that because it means we're probably not gonna get a floating line season this year on the Catt. But I wouldn't be surprised if we have a lot of fish to play with swinging tips when she drops down.
Hopefully things will start to dry out now as even the small creeks are high and muddy now. This should bring in a lot of fish into the rivers and creeks! Look for good fishing as the water drops!
Tight Lines and enjoy the pics!
 - D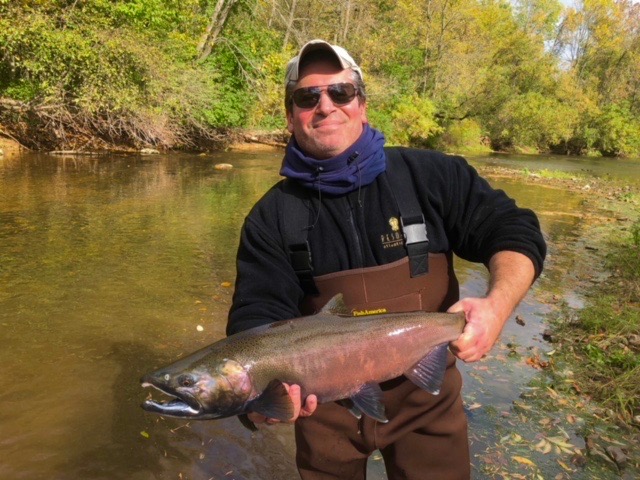 Pretty little coho buck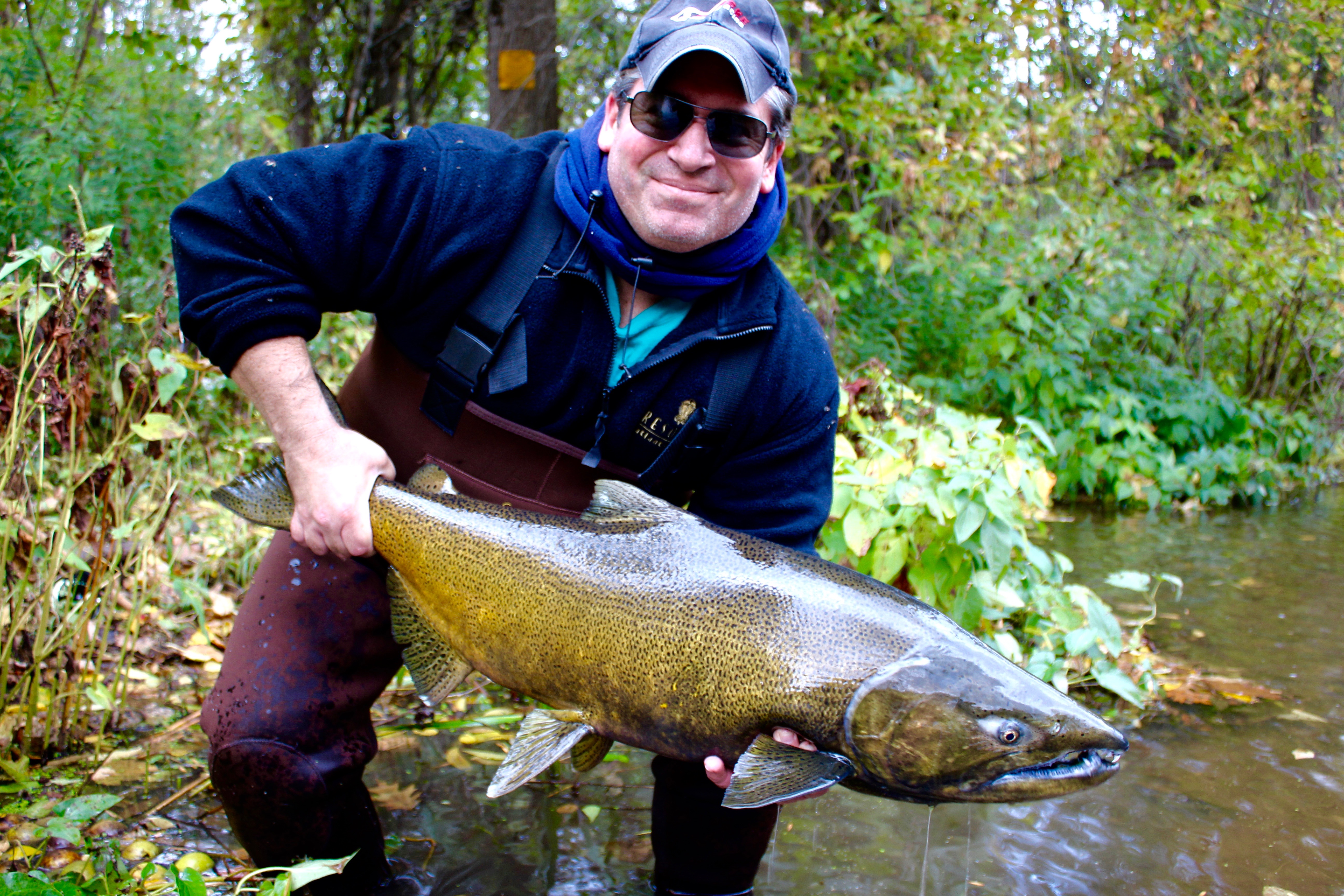 There are some good sized kings around!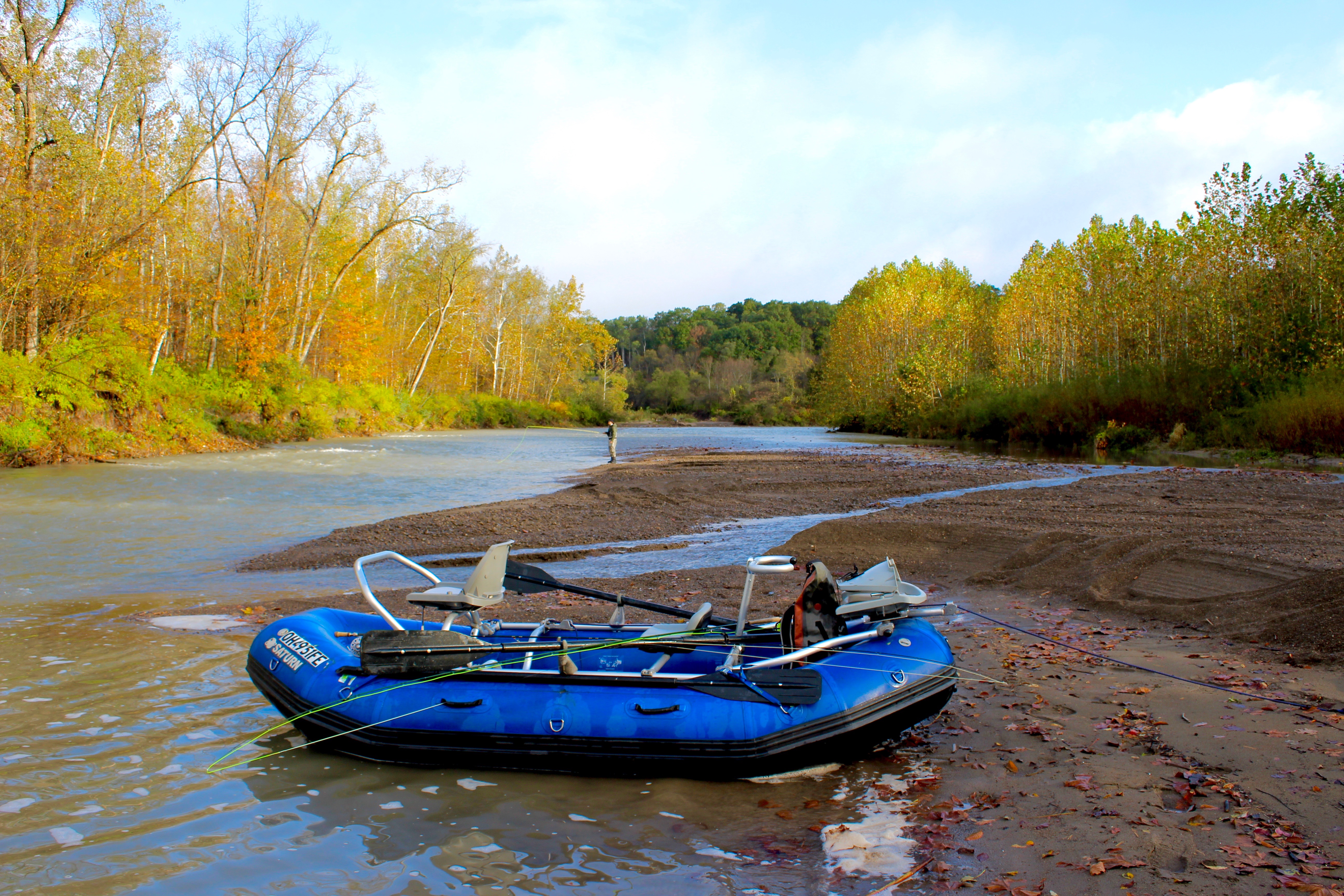 Fun with the raft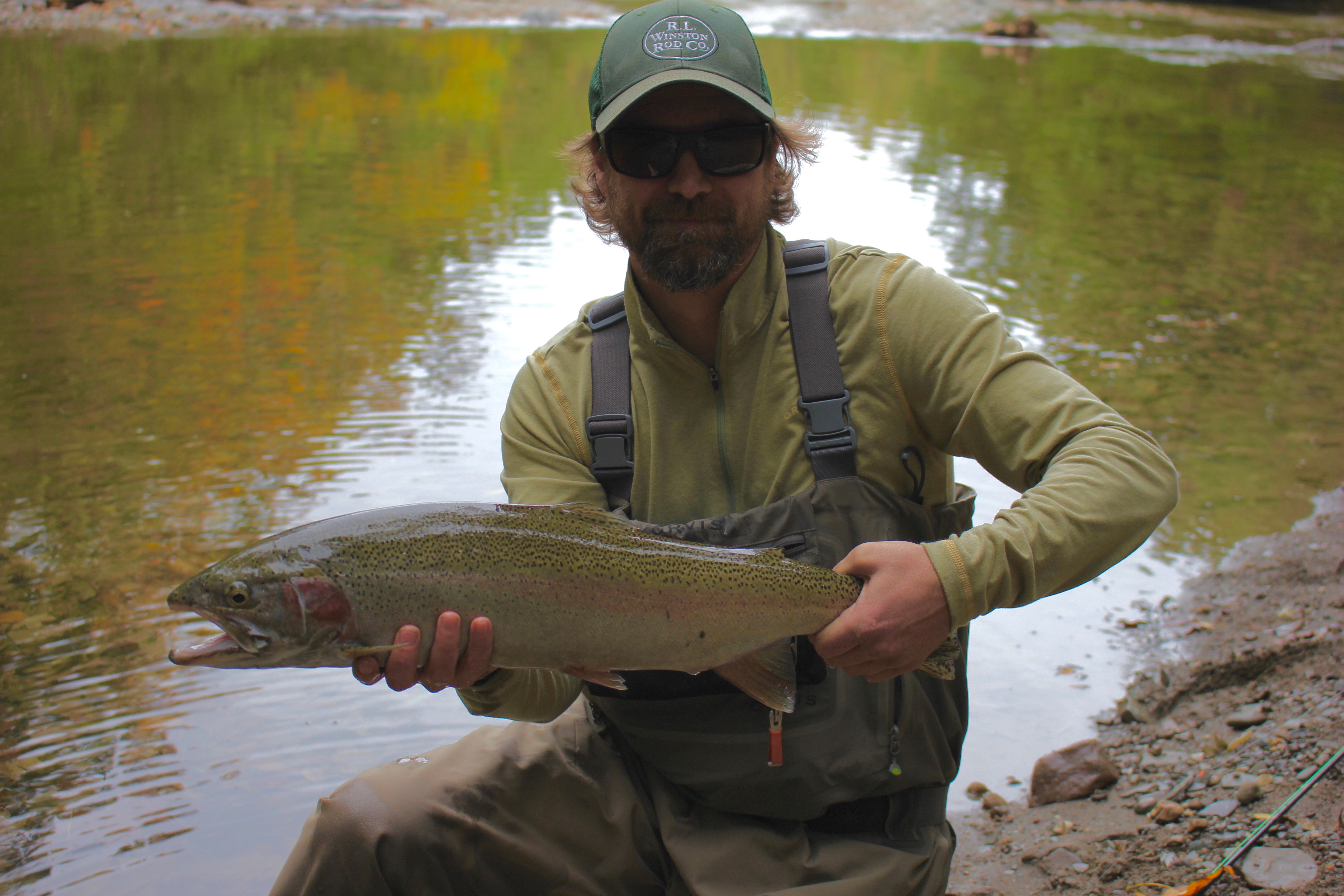 Matt with a fresh fish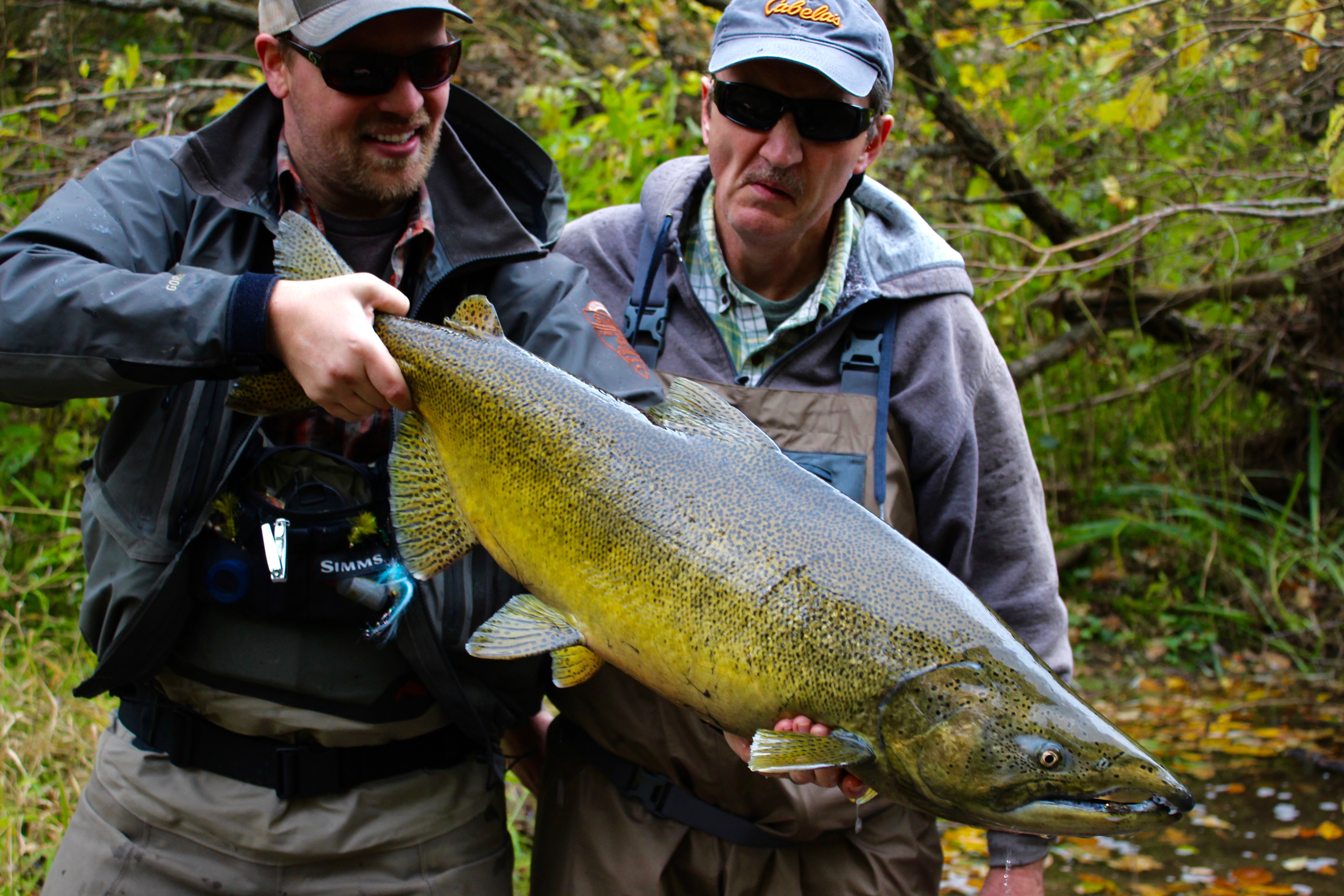 Another big king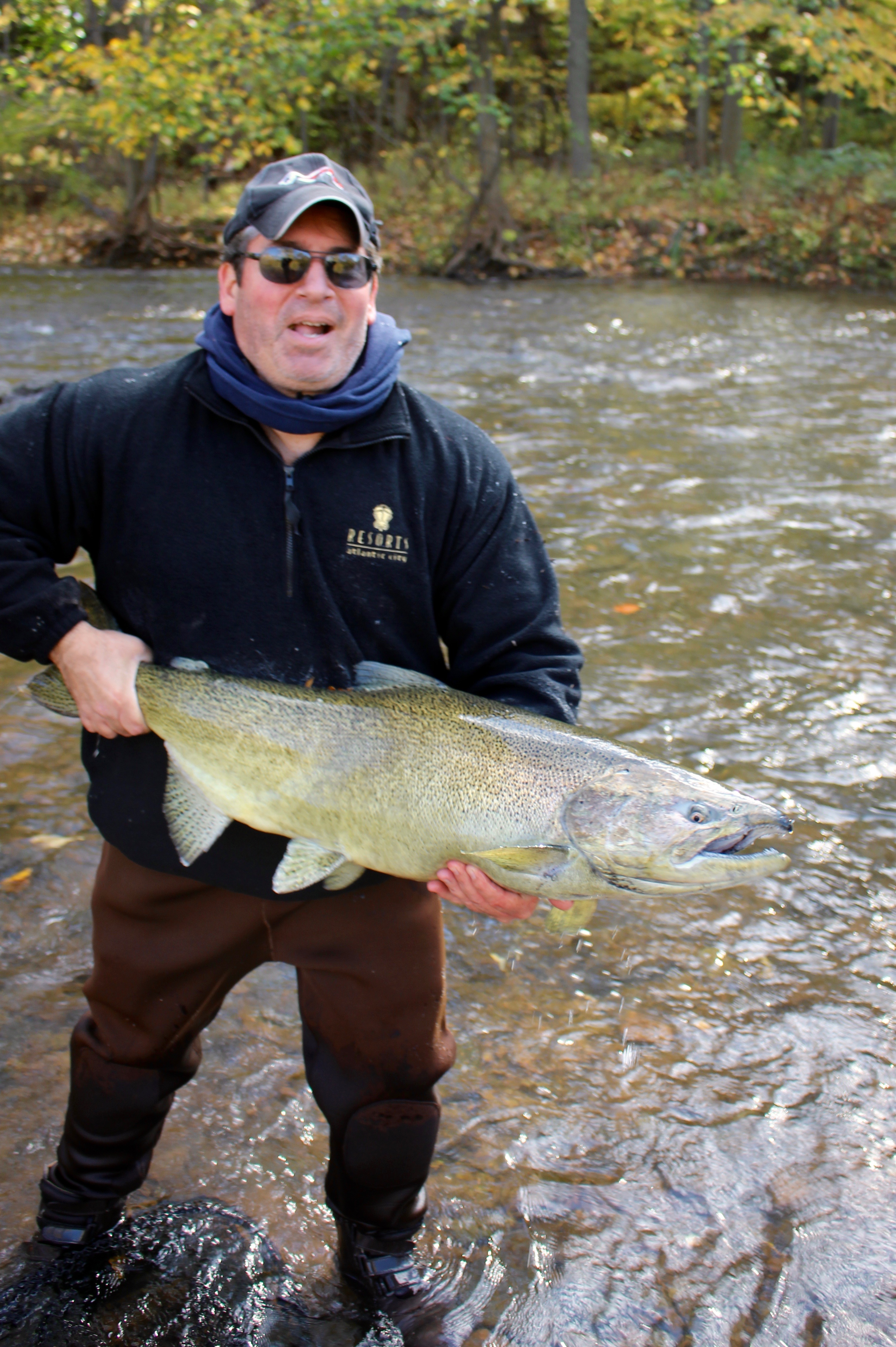 Still lots of big, fresh salmon in the Western New York creeks
Just finished a few days on the Ontario tribs. Fishing was hot. Tons of nice fresh kings still moving in, fishable numbers of browns, and though not actually steelhead, a good amount of lake run domestic rainbows too. Domestics are pretty easy to tell from steelhead in that when they enter the creeks from the lake, they have the traditional red cheek and stripe like a red band rainbow does, and are not chrome like the washington steelhead strains that are used. Plus domestics usually spawn from late October through early January, and we definitely saw females digging. If I remember correctly the domestics New York uses originated from upper Columbia river stock so there may be anadromy in the genes, but it's tough to tell for certain.
Anyways, fished with father and son team Mo and Jim and though we were really trying to find browns, there were just a lot of fresh kings pushing in so we spent a good amount of time with them. We did get some really nice browns too, but the run is really just starting with how dry the beginning of the month was. Then Justin came back up to fish with me, again targeting browns. First day he caught the grand slam of king, coho, rainbows, and browns. Justin did well on the trout, even landing a 30" fat hen brown that probably went 12-13 pounds or so from her girth. So in all, great fishing. 
Check out the pics and tight lines,
 - D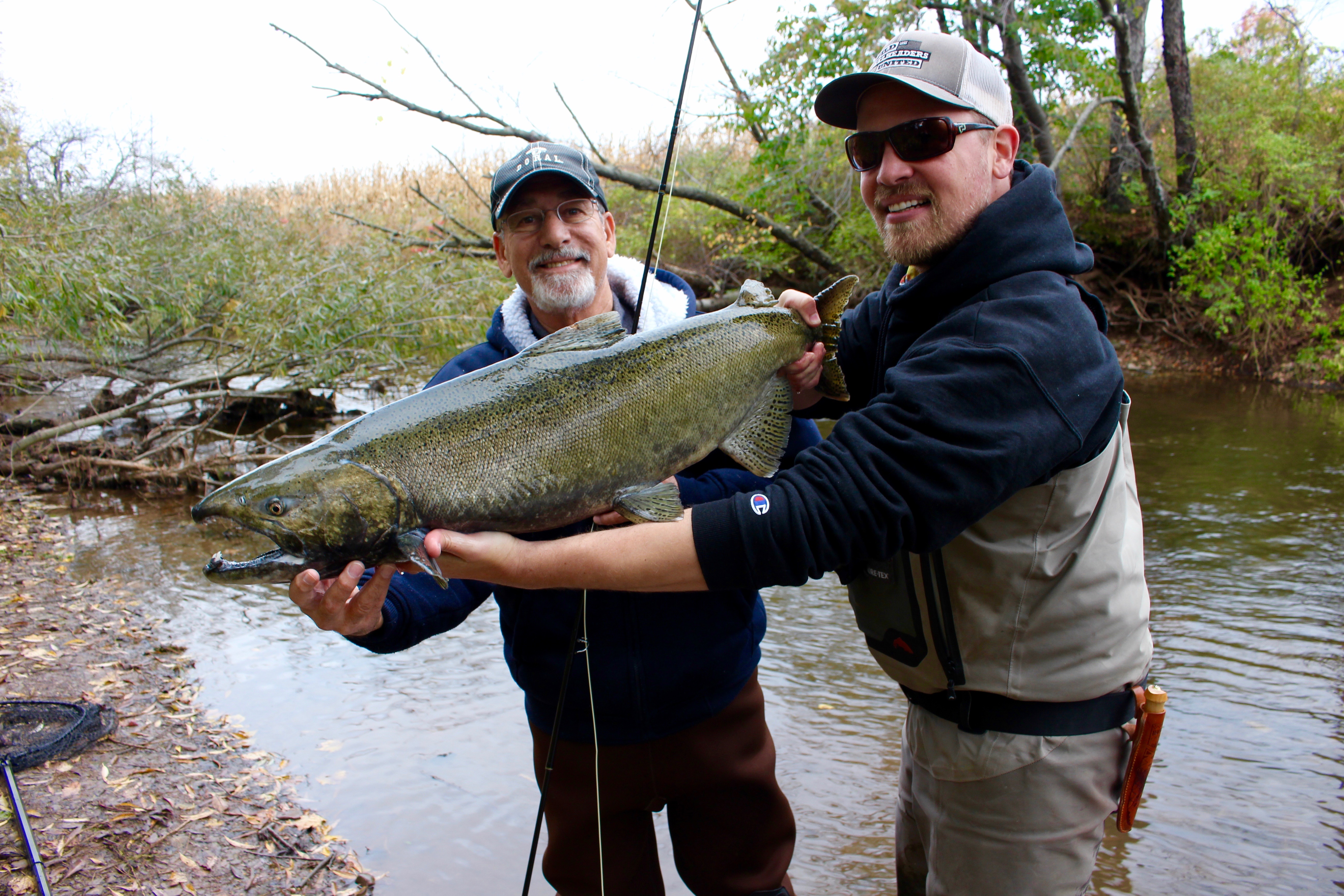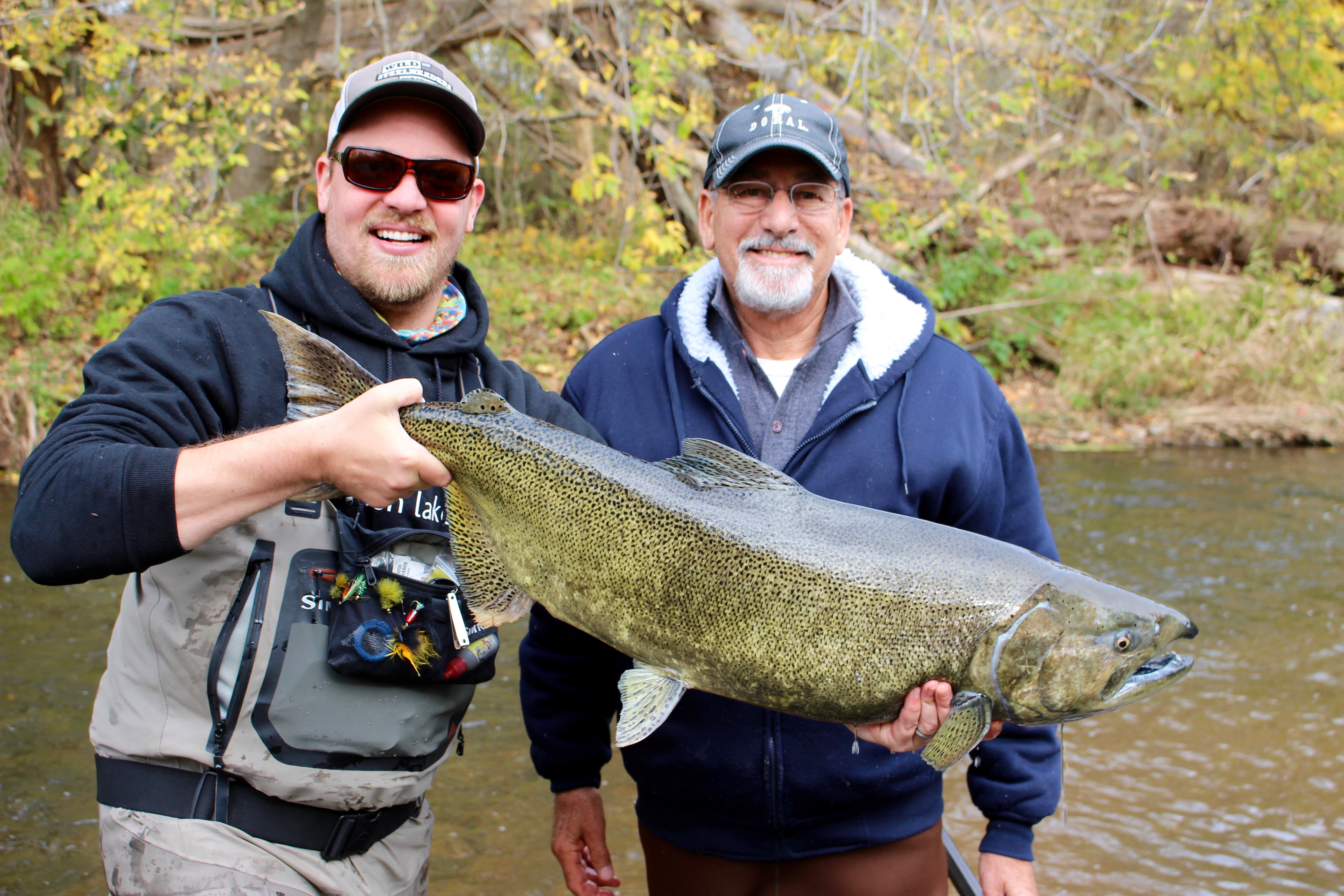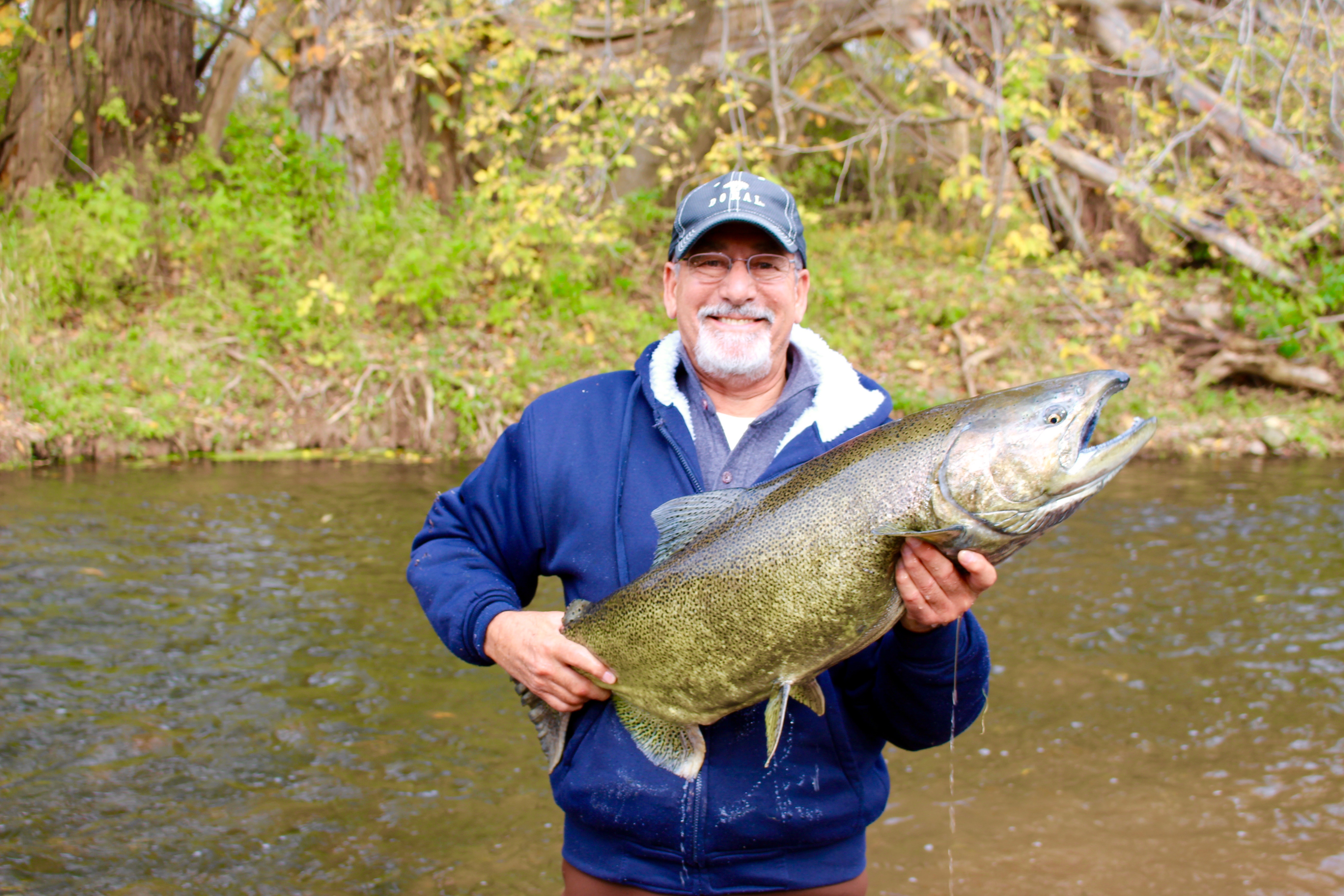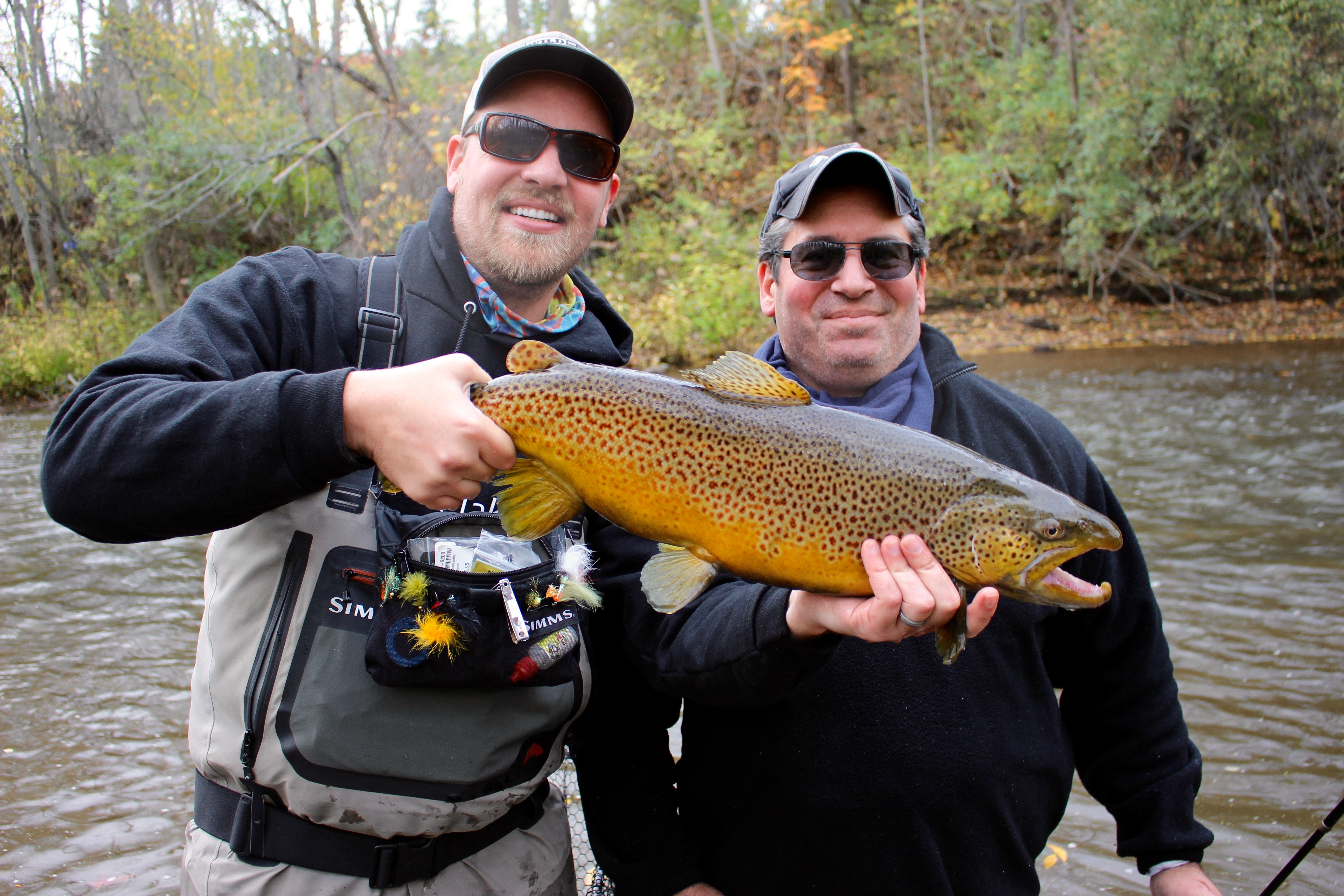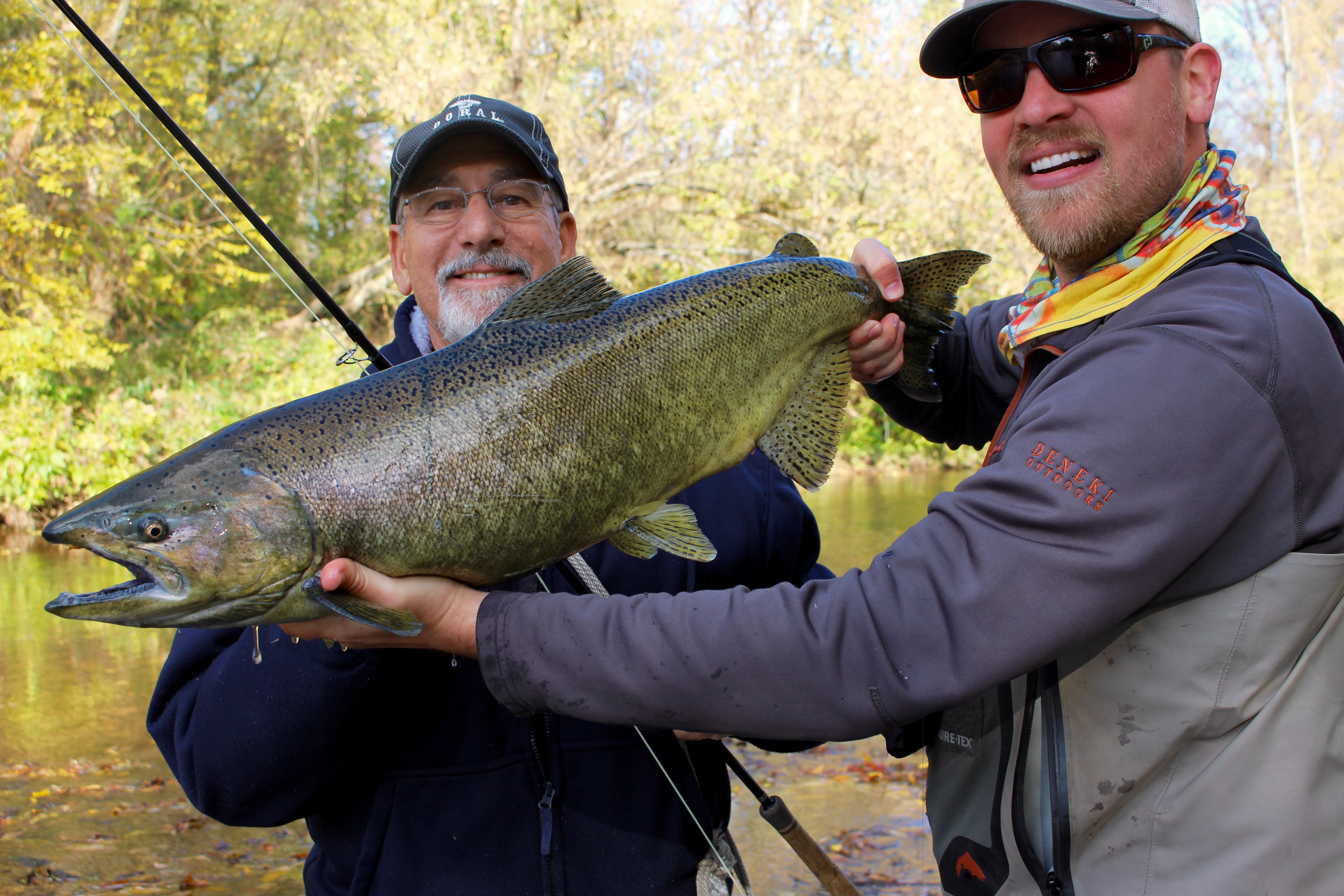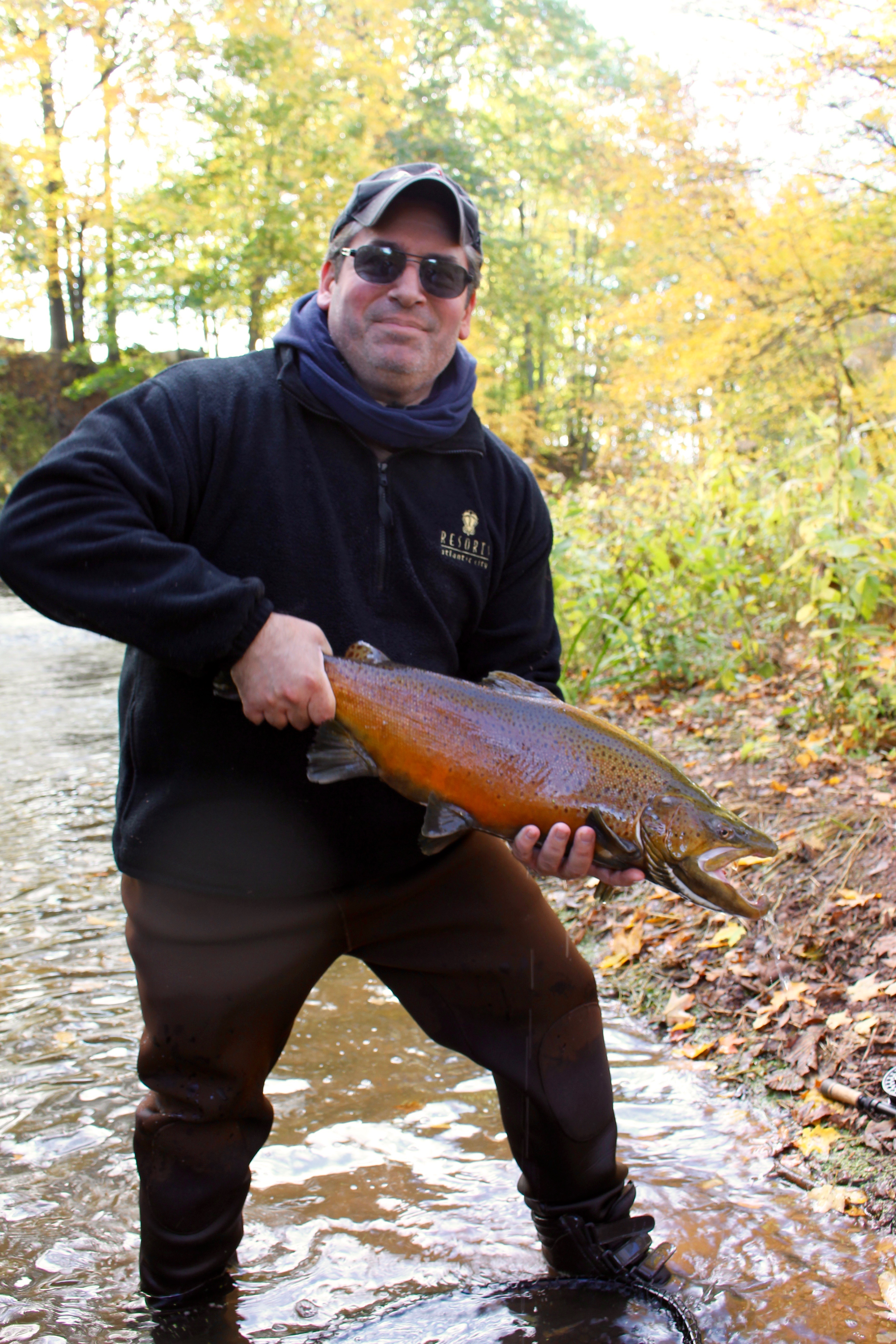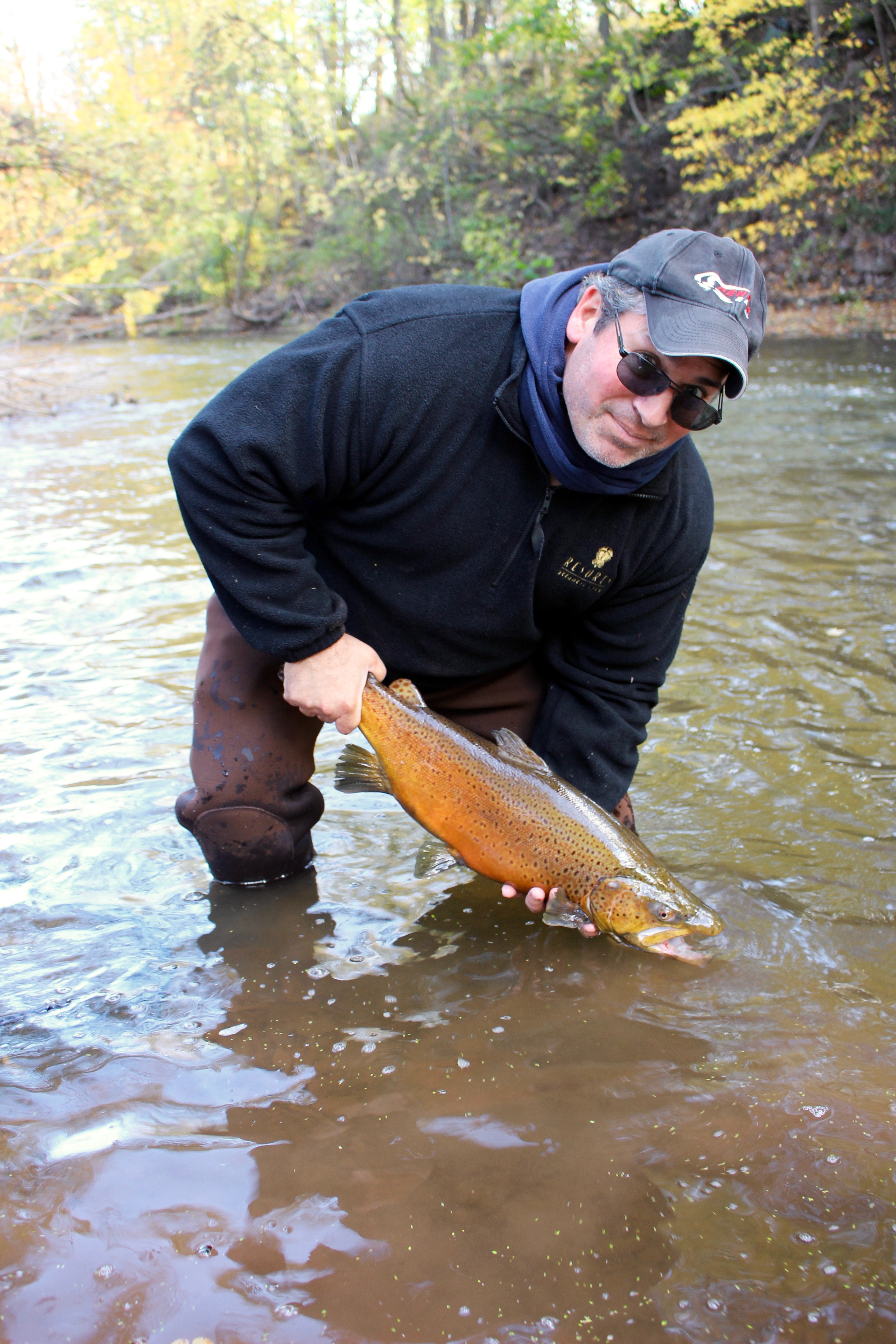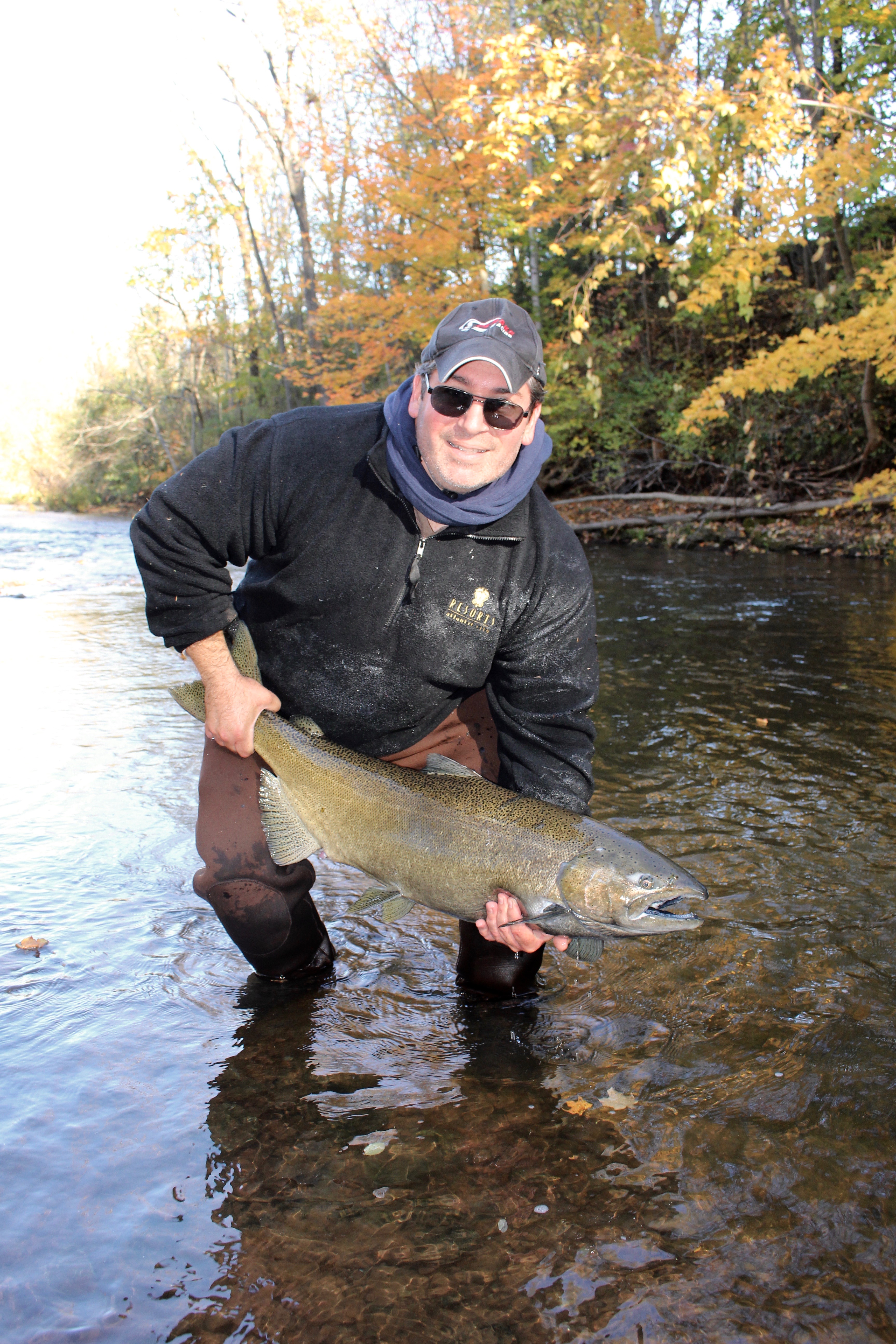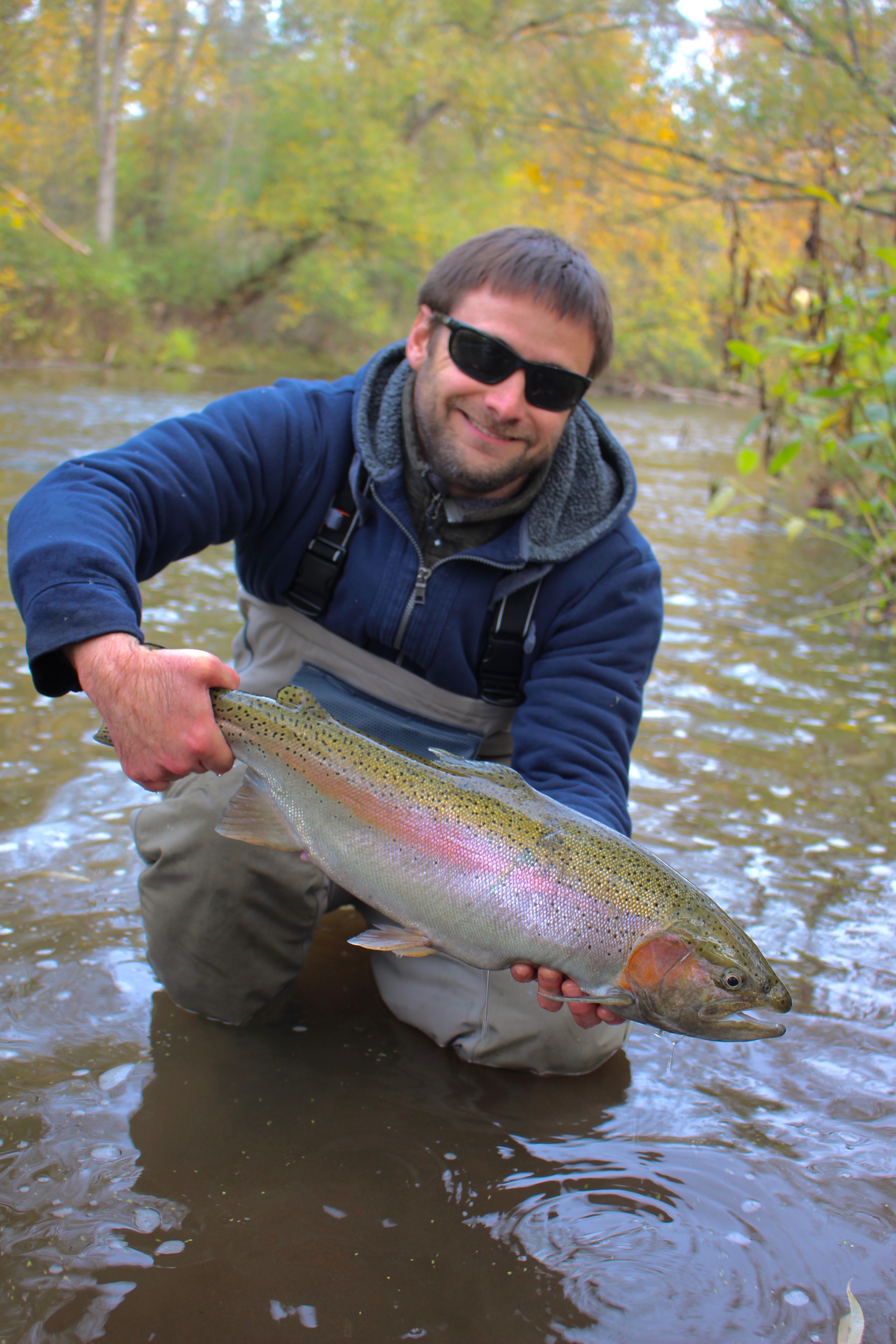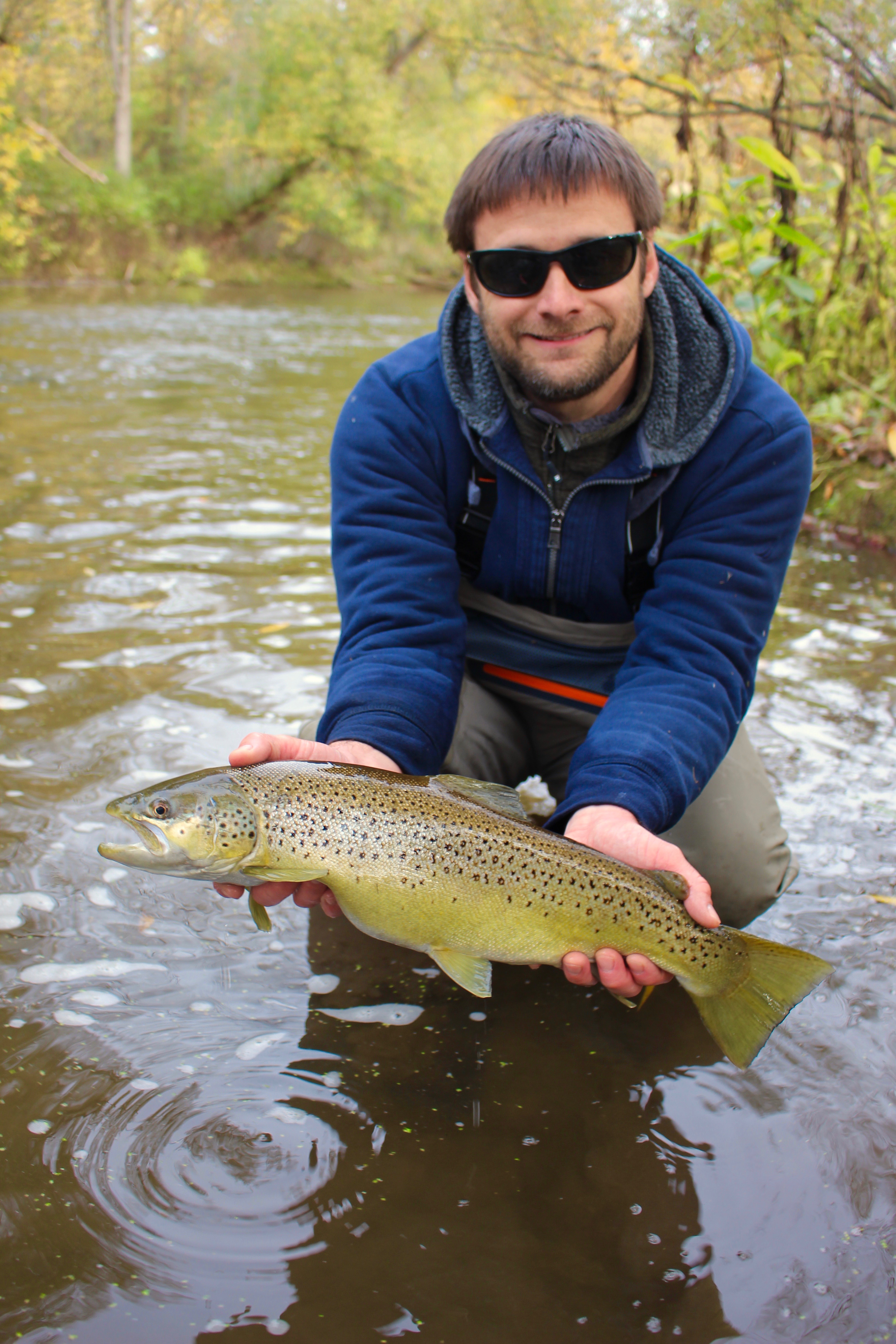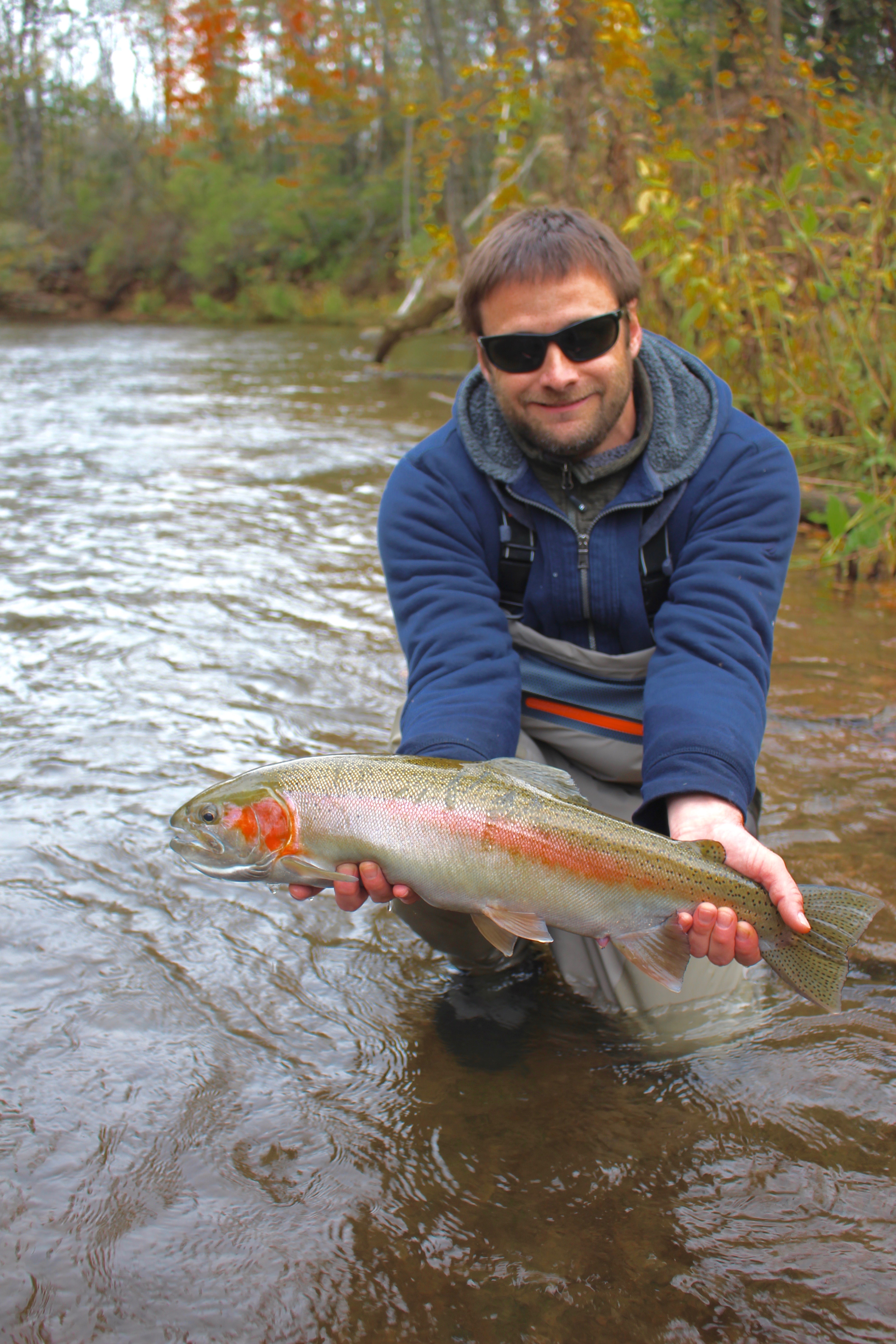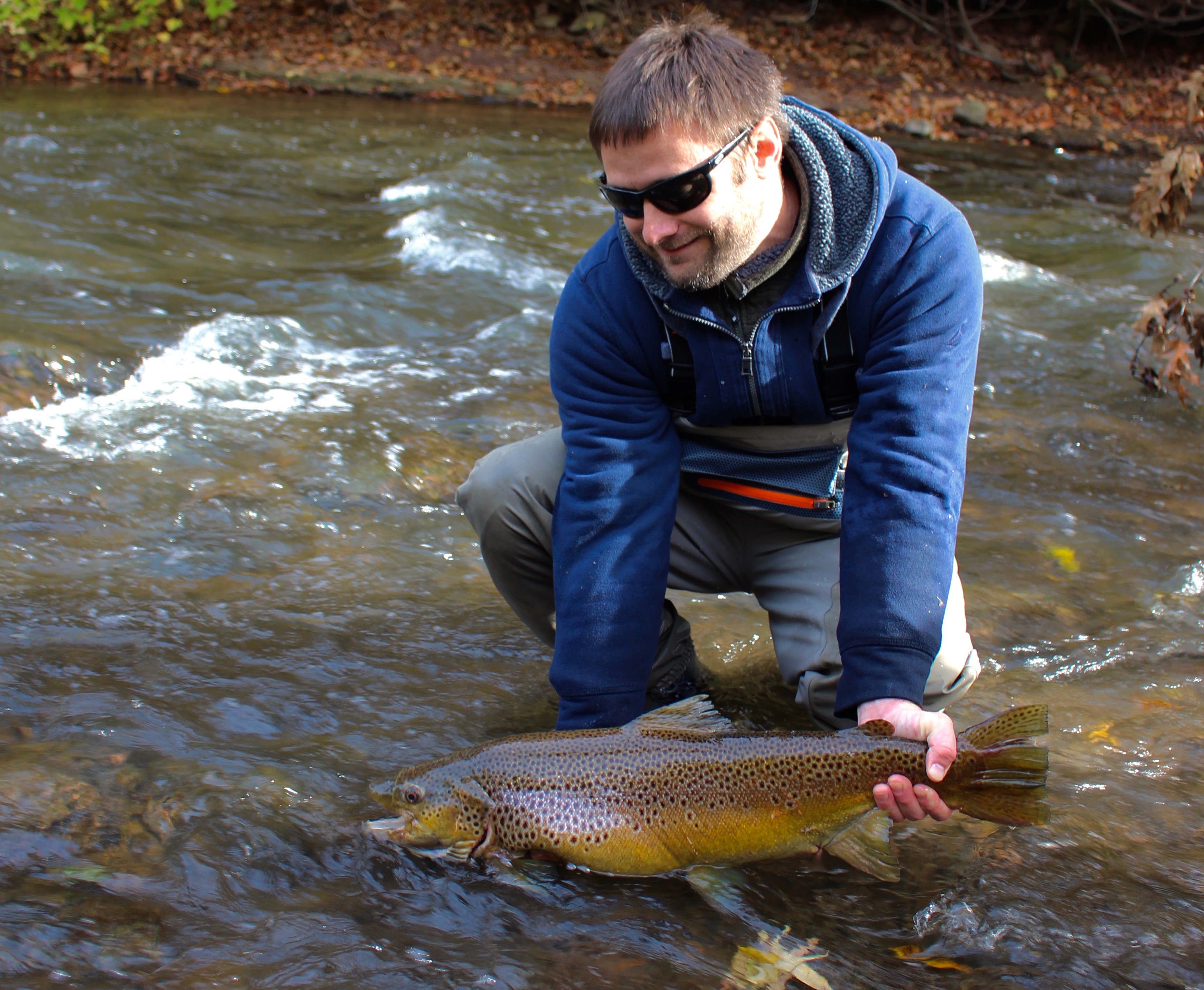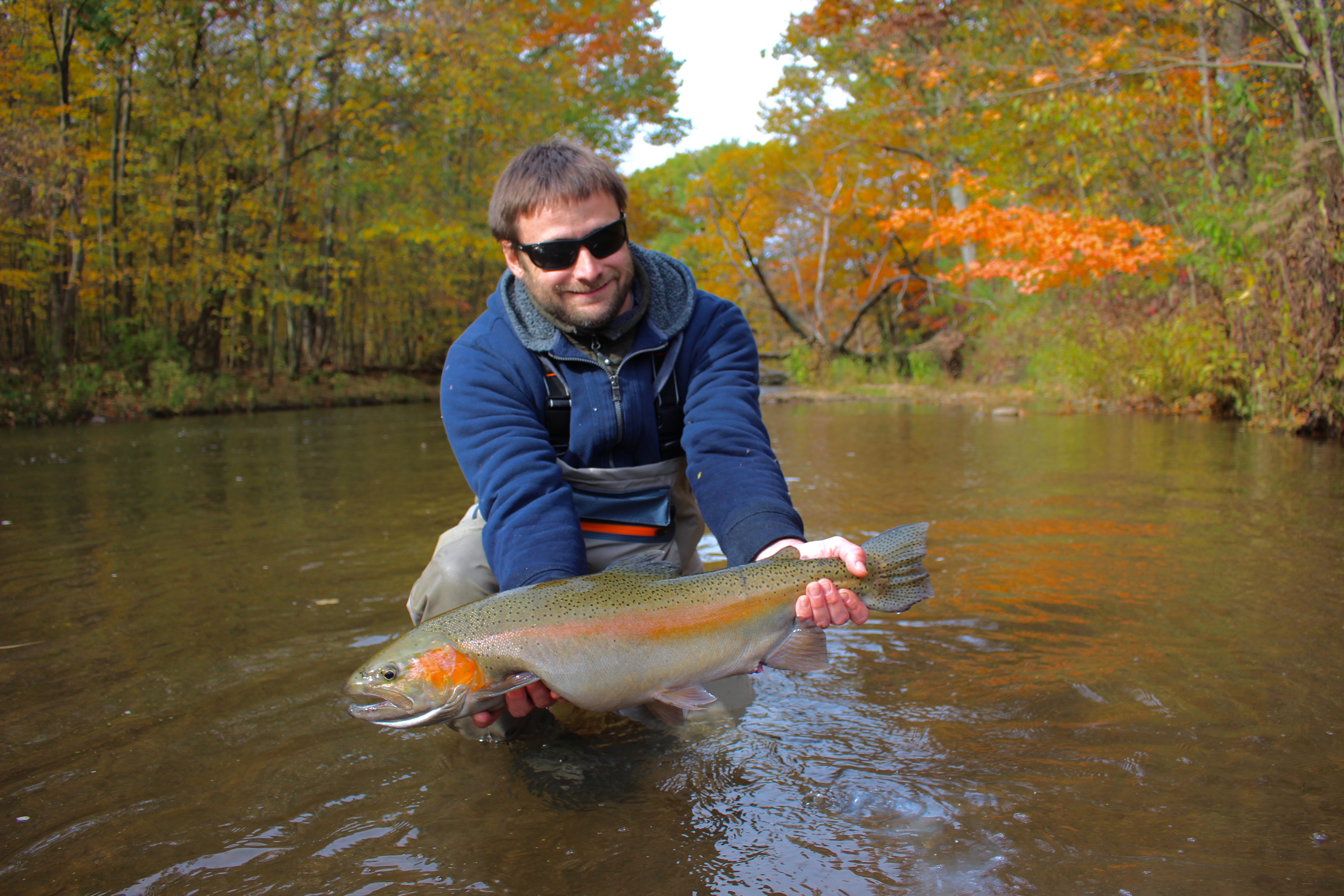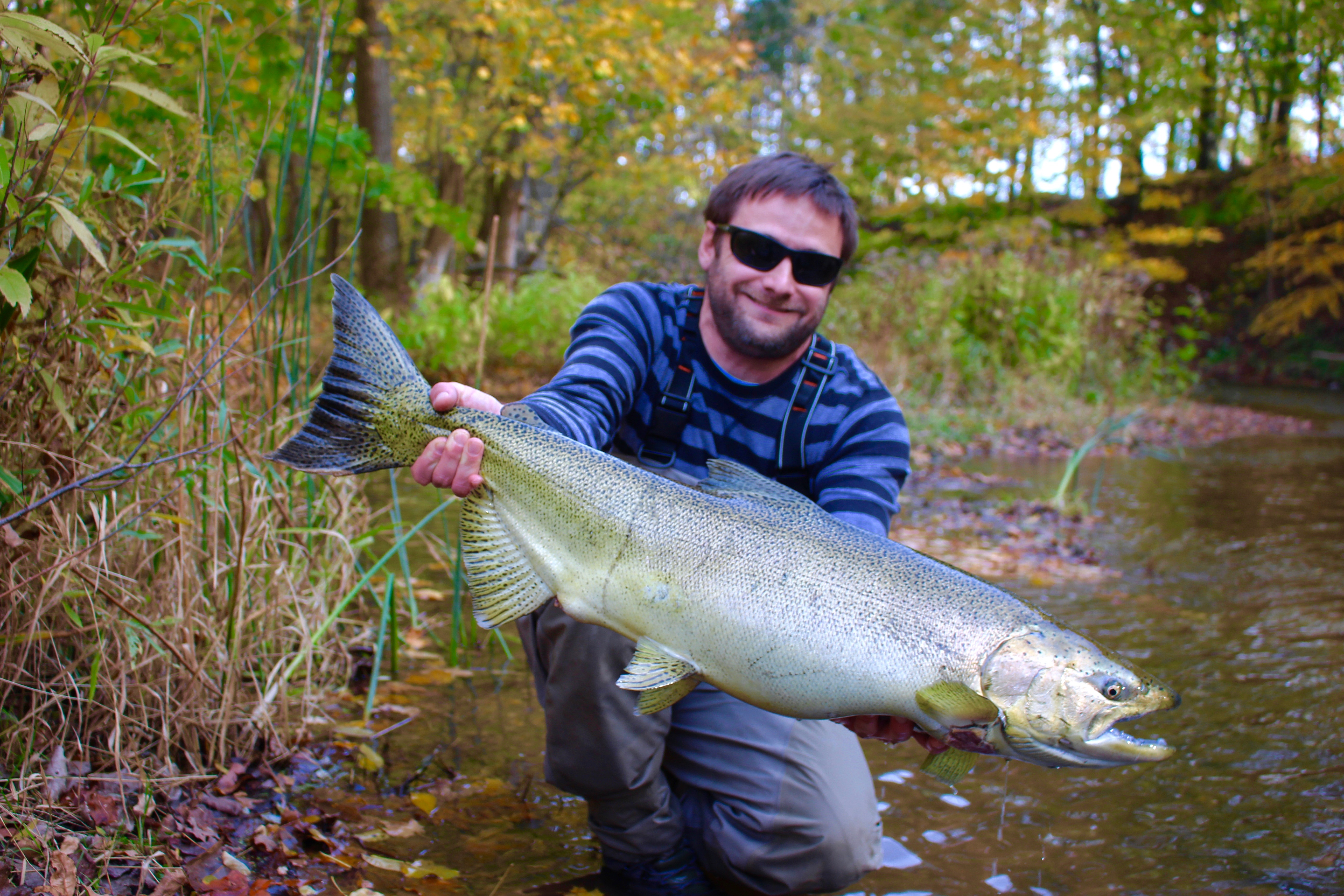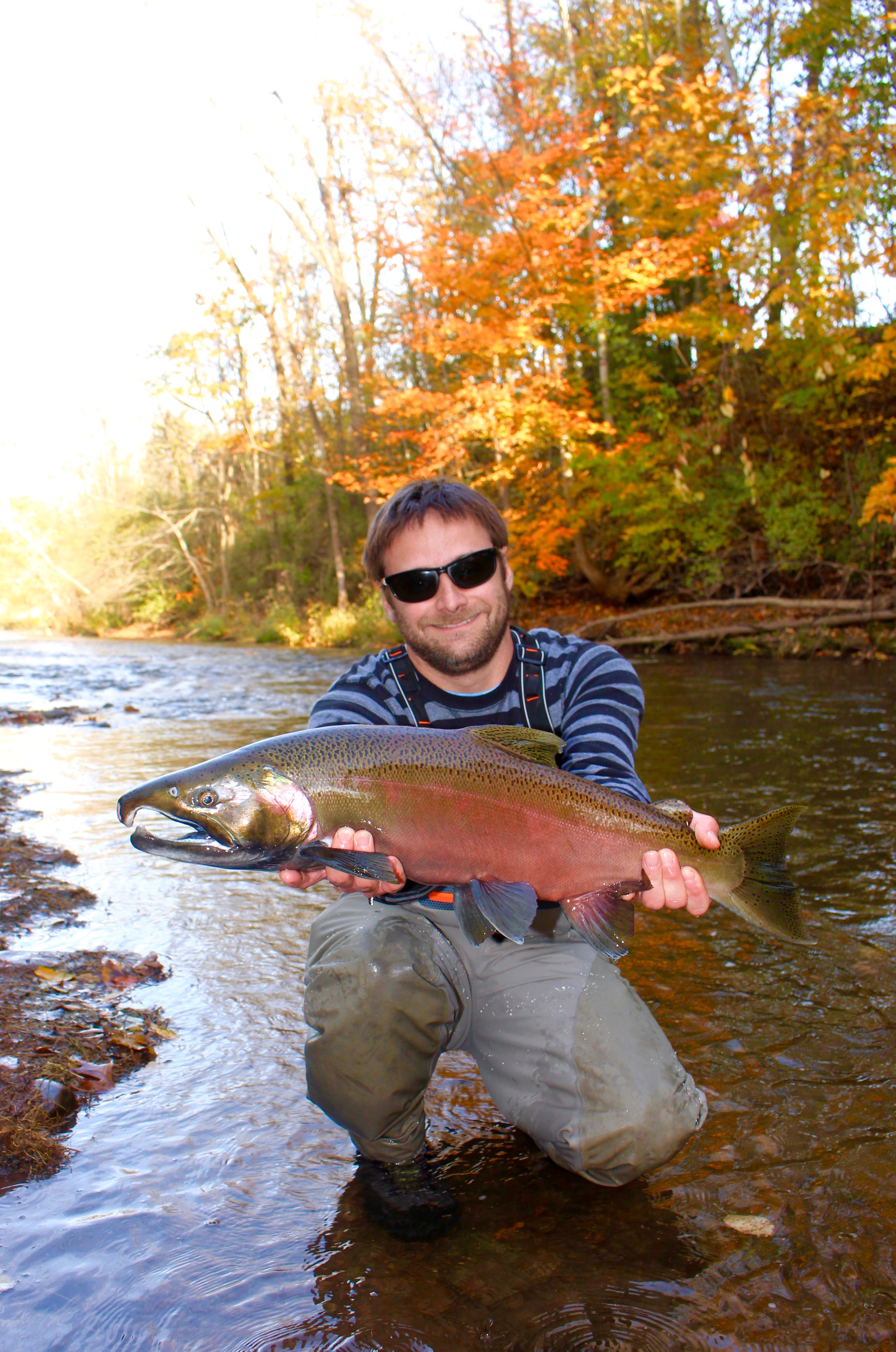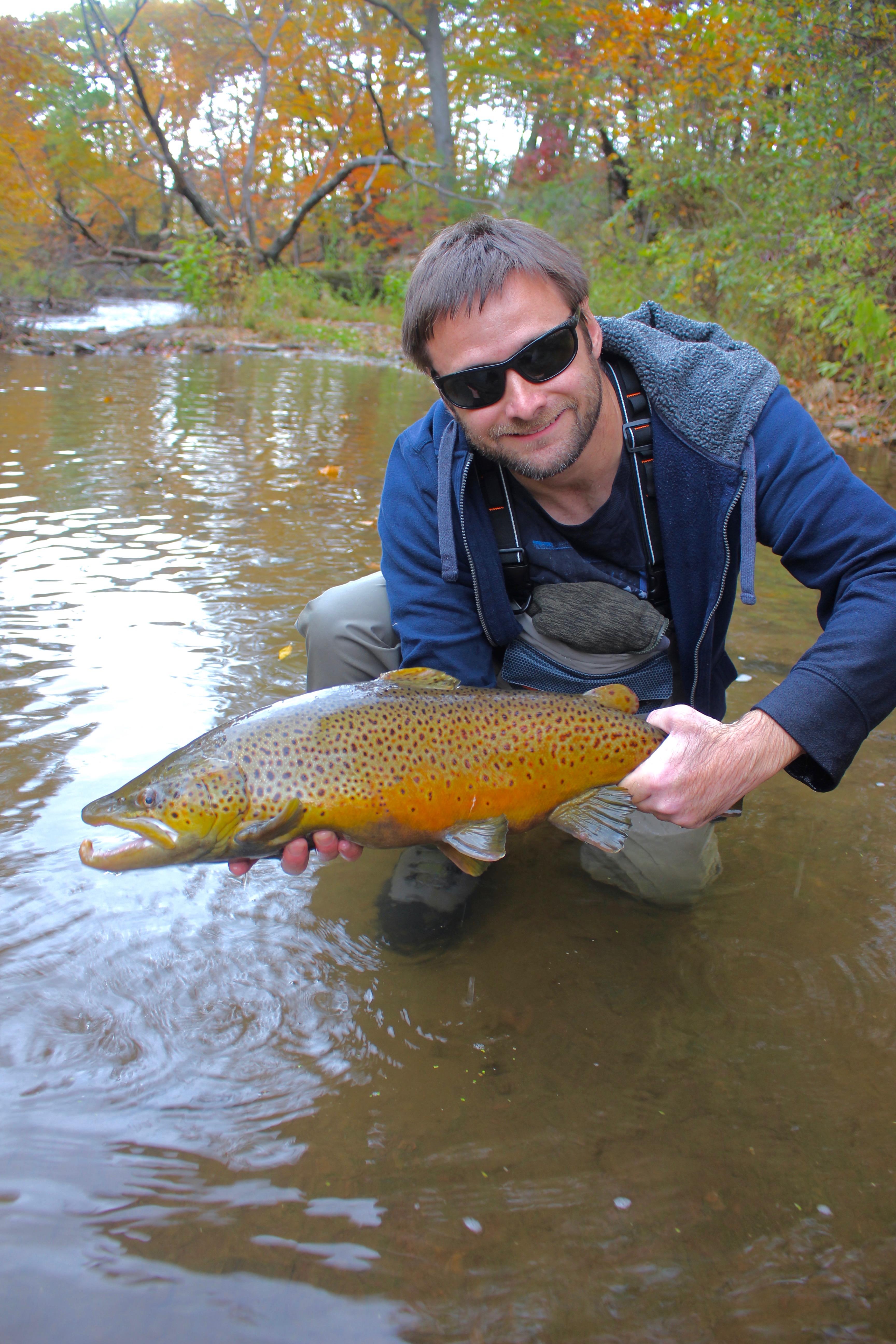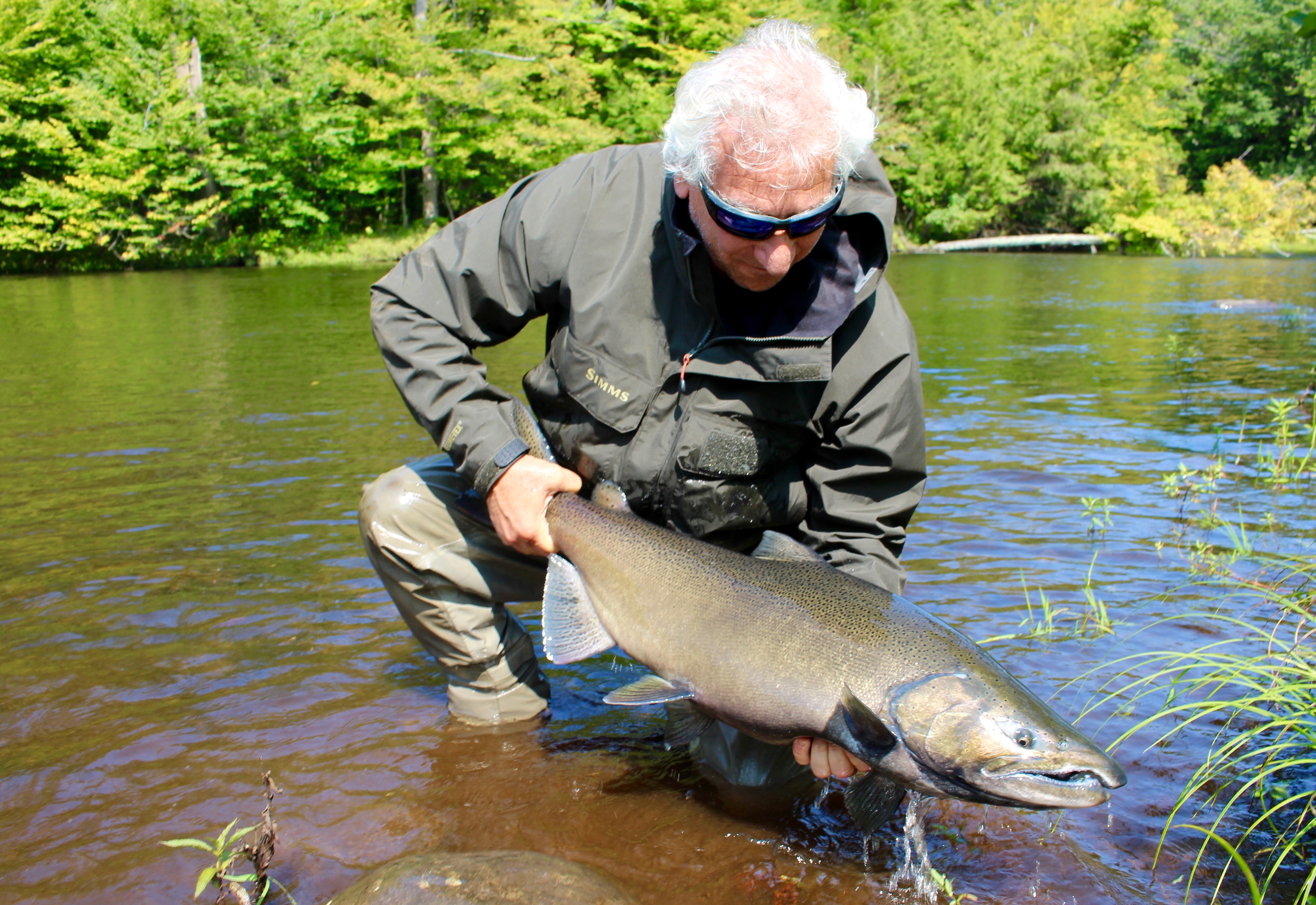 A good sized salmon from the recent salmon trip
Let me start this by saying I'm not a scientist, only an interested individual who spends a great deal of time on the water trying to understand and looking into aspects of fishing that really interest me. With that said, I have a pretty good understanding of many of the issues facing the future of the Great Lakes cold water fisheries, particularly king salmon. By now it is no secret that the 2017 Lake Ontario and her tributaries salmon season has been one of the best if not the best season in recent memory, both in numbers of fish and in size of fish captured. And this is not just limited to Lake Ontario, either. All you have to do is look catch rates from the two big salmon producers- Lake Michigan and Lake Ontario- and it is a no brainer. A 42 pound king was caught out of Lake Michigan in August. A 39 pounder was reeled in on Lake O. The Salmon River has seen the largest run of early fish, some of them well over 30 pounds, returning between the first two weeks of September than any season I can remember. On September 8 when we were fishing, there was large numbers of fish all the way up to the Upper Flies Only Zone.
And people are really, really excited by it. For good reason. Last salmon season was a bit of a bust. Lower numbers and low water made it challenging but fish were there. To be sure, I'm excited about the fishing that's going in in Lake Ontario and the tributaries too. But I'm also pretty concerned. The reason I'm concerned is that with all these big salmon around, they're eating a lot of baitfish. Alewives in particular. And the population has taken a really big hit recently. As I write this, the cold winters of 2013-14 and 2014-15 resulted in very few young of the year fish being produced. To be sure the back to back warm winters of 2015-16 and the record warm 2016-17 resulted in high production (especially 16-17), right now the alewife population in Lake O is made up of predominantly year class 1, 2, and 5 fish. And of those, it is the year class 5 that are the ones especially needed to spawn. In fact female alewives don't usually mature until year 4 or 5, though males mature a bit early (usually 3 or 4).
What this means is that there is likely only one year class of sexually mature and productive alewives in Lake O right now. And there are a lot of big, hungry salmon. And those warm winters of 15-16 and 16-17 didn't only help out the alewives. Smolt survival through the first winter in the lakes during that time was likely equally high. I suspect the next couple years will also have good salmon fishing. But the result of this really good salmon fishing means that more fish will be fighting for fewer alewives (the primary food source for kings). Those year 1,2 and 5 classes are the targets of the  salmon. And like I said, there seem to be quite a lot of them around.
So when the foraging for bigger alewives becomes difficult, as will likely occur in the next year or so once the numbers of year 5 alewives continue to drop, you can bet the farm that the salmon will start keying in on the smaller classes even more. The salmon will end up needing to eat more smaller alewives to make up for the lost larger meals. And this starts what in statistics is called a positive feedback system (though only positive in name as it only amplifies the problem). The salmon need to exert more energy to catch and eat more smaller alewives resulting in their need to eat more smaller alewives to make up for the energy lost hunting down and eating the last meal. Sort of a catch 22: by needing to target smaller meals, they will need to eat ever more increasing small meals to replace energy exerted.
Once this occurs, it is very difficult for a population of prey species to replace the individuals that have been eaten, let alone expand a low population to higher numbers. And this appears to be where we are, or will be very soon with Lake O alewives. If any more proof is needed, all you have to do is look at the salmon crash in Lake Huron that really hit in 2004. Until about 2001, salmon numbers and size were stable, but not alewife populations. In fact 2001 was a banner year for size and numbers. Within a few years afterwards, king salmon virtually disappeard from the lake. 
While Lake O is very different that Lake Huron, some things remain similar. Predator and prey populations need to be balanced. If a man made system, such as stocking, is attempting to do so, then it must understand outside influences such as natural reproduction. It has only been in the last five years that wild reproduction of king salmon was really evaluated in Lake O, and the results were startling: lakewide roughly 50% of all kings are naturally reproduced, in the Salmon River that number is more like 75%. With all that natural reproduction going on, is it still necessary to stock that many kings?
While they sure are a blast to catch, are we allowing the kings to eat themselves out of house and home? Nature will find a balance, and if we are not careful, it may be a balance we don't like. One of the first signs will be emaciated adult kings showing up in increasing numbers. It will be sporadic at first- a few here, a few there over the course of a season. Then a more as time goes on, until the problem becomes impossible to ignore any longer. That's the way it went for Lake Huron. Check out some of these pics of starving kings from before the crash: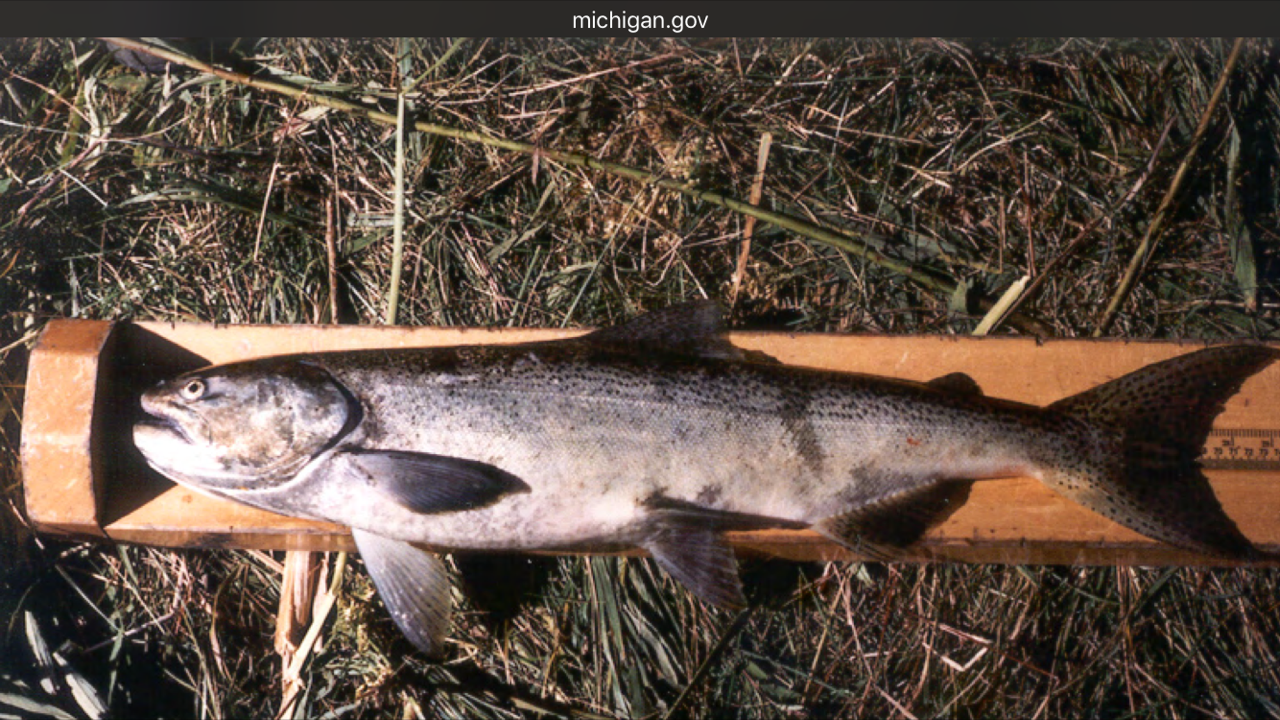 and: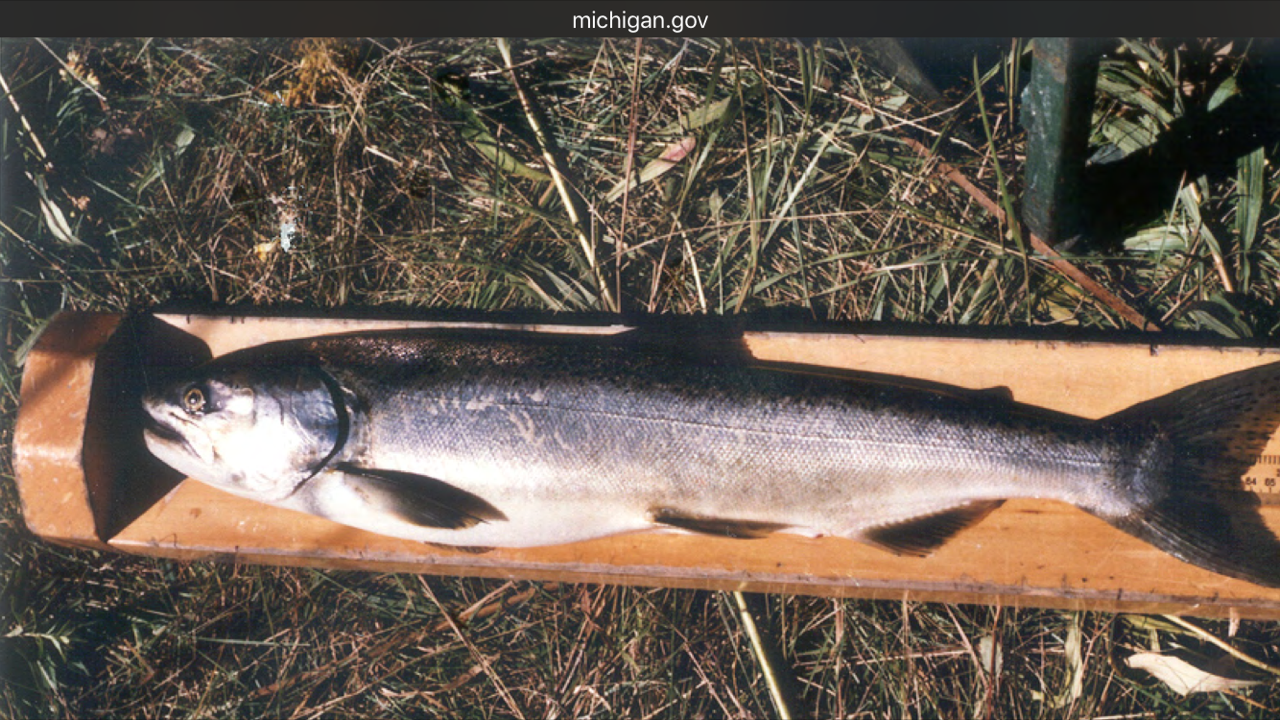 Big heads and tails, but hungry kings. Photos from Michigan DNR.
Those are pics are from back in the early 2000's. I saw a picture that got my attention yesterday: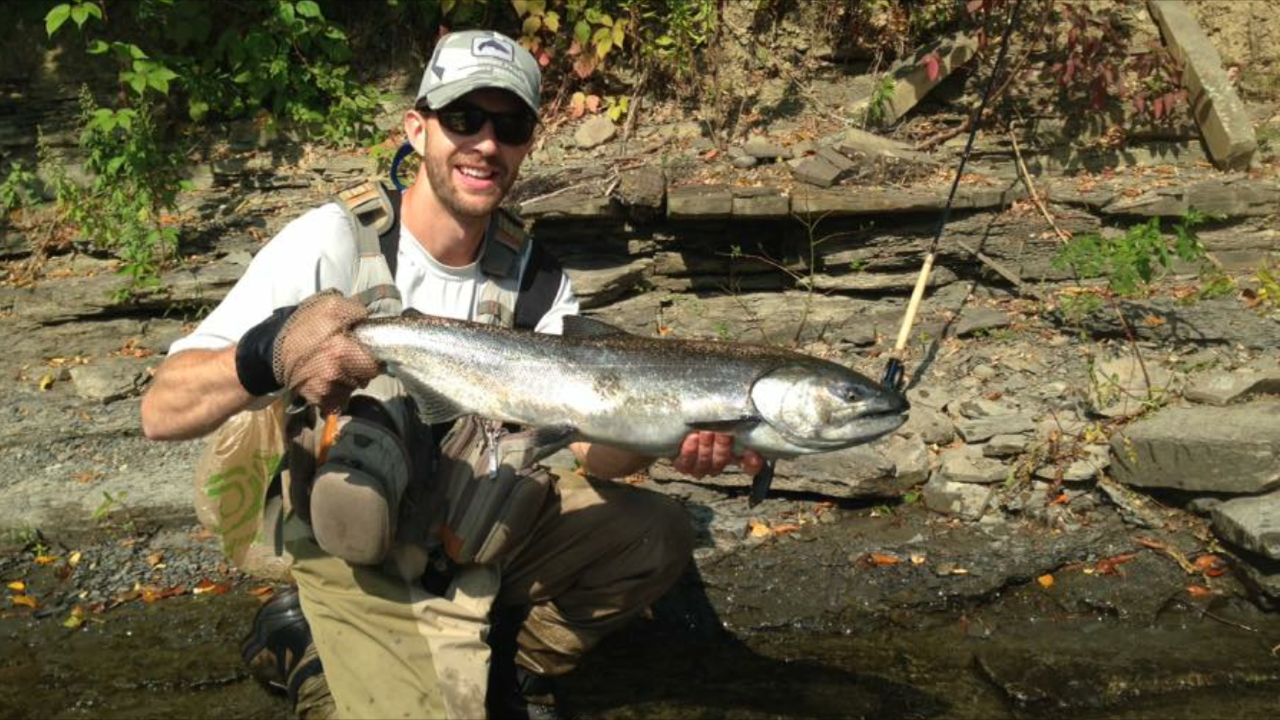 That's Garrett Brancy from Douglaston Salmon Run holding a fresh run chrome king. All I could think of was how much it reminded me of those hungry Lake Huron salmon. Though hopefully it was simply a fish that really, really sucked at hunting while out in the big, open water, it still makes me nervous.
The Lakes are changing. The water is cleaner. Alewife populations are low all the way through. If given the choice I'd rather fish for fewer, bigger fish than more smaller ones. And the problem with planning for the more smaller ones is it's easy for uncertainties such as hard winters to disrupt a plan. We can all suffer through a bum salmon year if a harsh winter kills more smolts than expected. Does it suck? Of course. But we tighten our belts and make it through.
But a few harsh winters, or maybe even just one, can spell doom for a prey population if there are too many predators around. Maybe we don't even need the harsh winters if there are just way too many mouths to feed. It'd be a shame to see the big kings go. And this current salmon fishing makes me nervous. I hope I'm wrong.
Tight lines guys,
 - D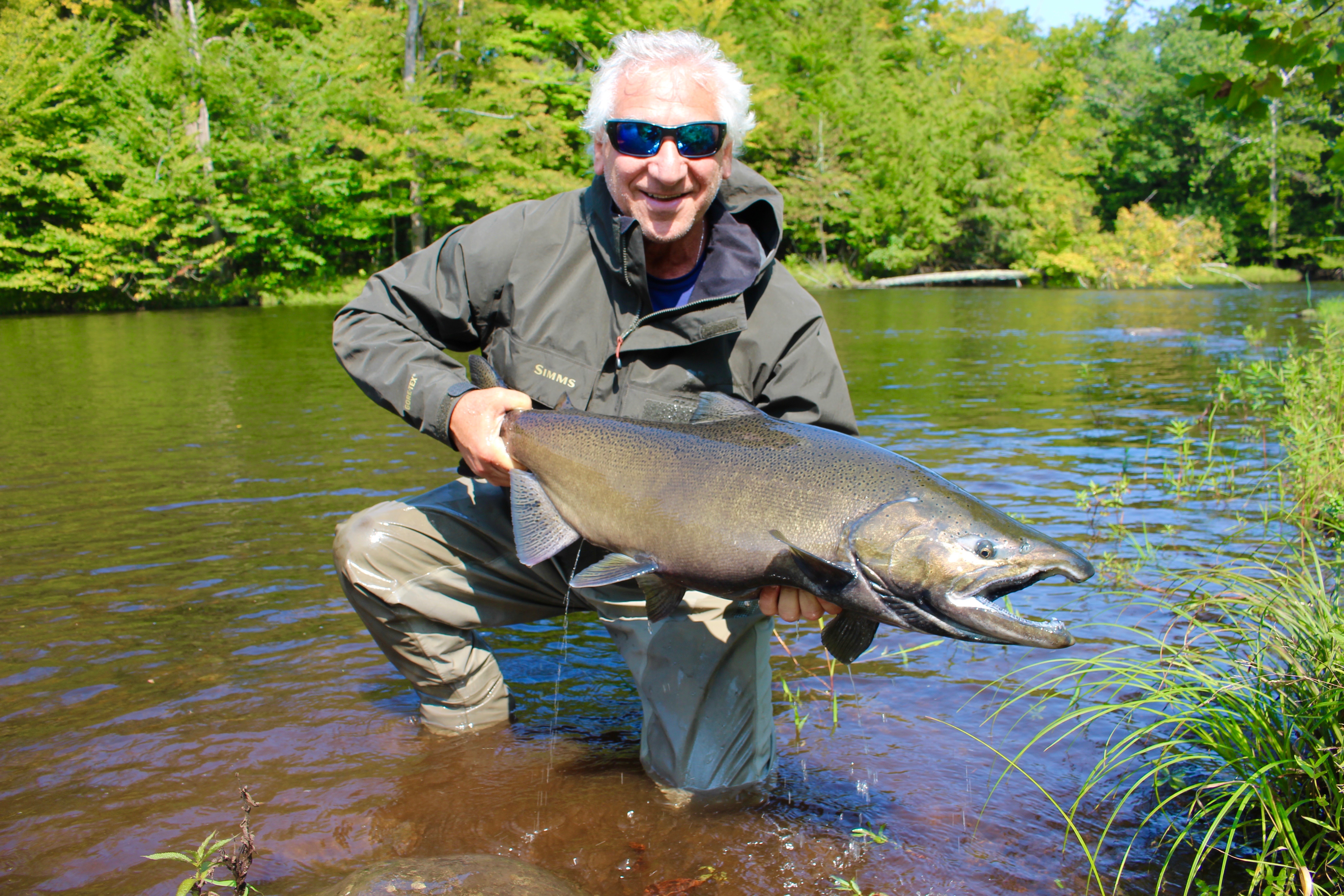 Art with a toad Salmon River king
Well for anyone who has fished with me or has read this blog, it may come as no surprise that I put an emphasis on maximizing the quality of the experience and not necessarily focusing purely on fish numbers. While it's nice to be able to do both, and frequently it can be accomplished, if fish numbers was all I cared about, I'd be a bait fisherman. To put this in perspective, I just got back from several days of fishing kings on the Salmon River in upstate New York. Right now, there are a ton of fish in the river for this early in the season, but the majority of those fish are lower in the river. And the word has gotten out that there is a good early push, so the lower river is seeing some heavy fishing pressure but also really good fishing. 
That's just not really my scene. While we did fish Douglaston a few mornings before the number of anglers allowed jumped up to 250 from 65, even 65 people over two and a half miles felt a bit crowded but handleable. When we were low we had some vicious early run king takes and fights that kicked our asses, but it came at the expense of solitude with nature. So in the afternoon, we decided to jump all the way up to the upper flys only water. And it was the right choice.
I had figured that the fish that had pushed in in the high water release over labor day would have had no problem getting upriver over the course of a week with all the rain that we've had to keep water levels between 350 and 700 cfs- great for fish migration. So I was not surprised to see a fair number of fresh kings rolling in my favorite pool on the river. What did surpise me was that there was only one other angler that had decided to fish the area and he was clearly targeting stream trout.
Art swung his way through the head and gut with a three inch pink and black string leech before feeling the telltale heavy take of an aggressive fish. Don't let anyone tell you that you can't target kings in the rivers with good sized streamers. What puts salmon off the bite more than anything is pressure. But if you have well rested fish, they will take a swung fly. The fight was a twenty minute tug of war that the salmon won when the hook pulled out.
On our last day, we decided to forego the lower river completely and spent the whole day in the UFZ at our money hole. We hooked several and landed a nice 25 pound fresh king that walloped the fly as it was quartering downstream on a short, tight swing. I even hooked two, but none of mine stuck. In all we hooked a dozen fresh run tackle busting kings over the course of the trip, which this early in the season usually would be something to brag about by itself. But perhaps even more, half of those hookups came swinging to beautiful water with at most one person in sight. Fishing to fresh and aggressive salmon in solitude on the Salmon River is more of a reward than mindlessly hooking a bunch of fish in a crowd. What a trip.
Tight lines and enjoy the rest of the pics,
 - D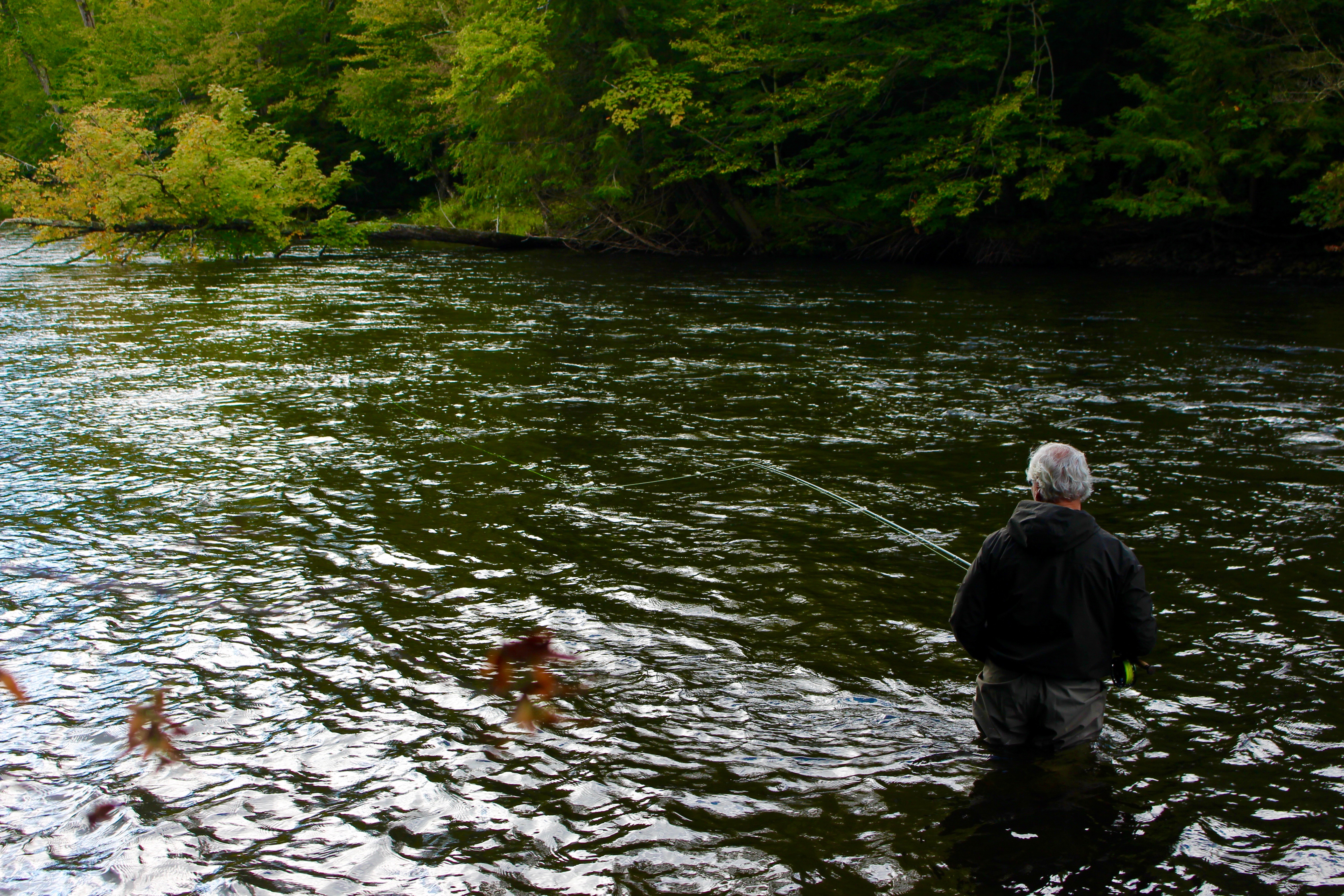 Swinging my favorite run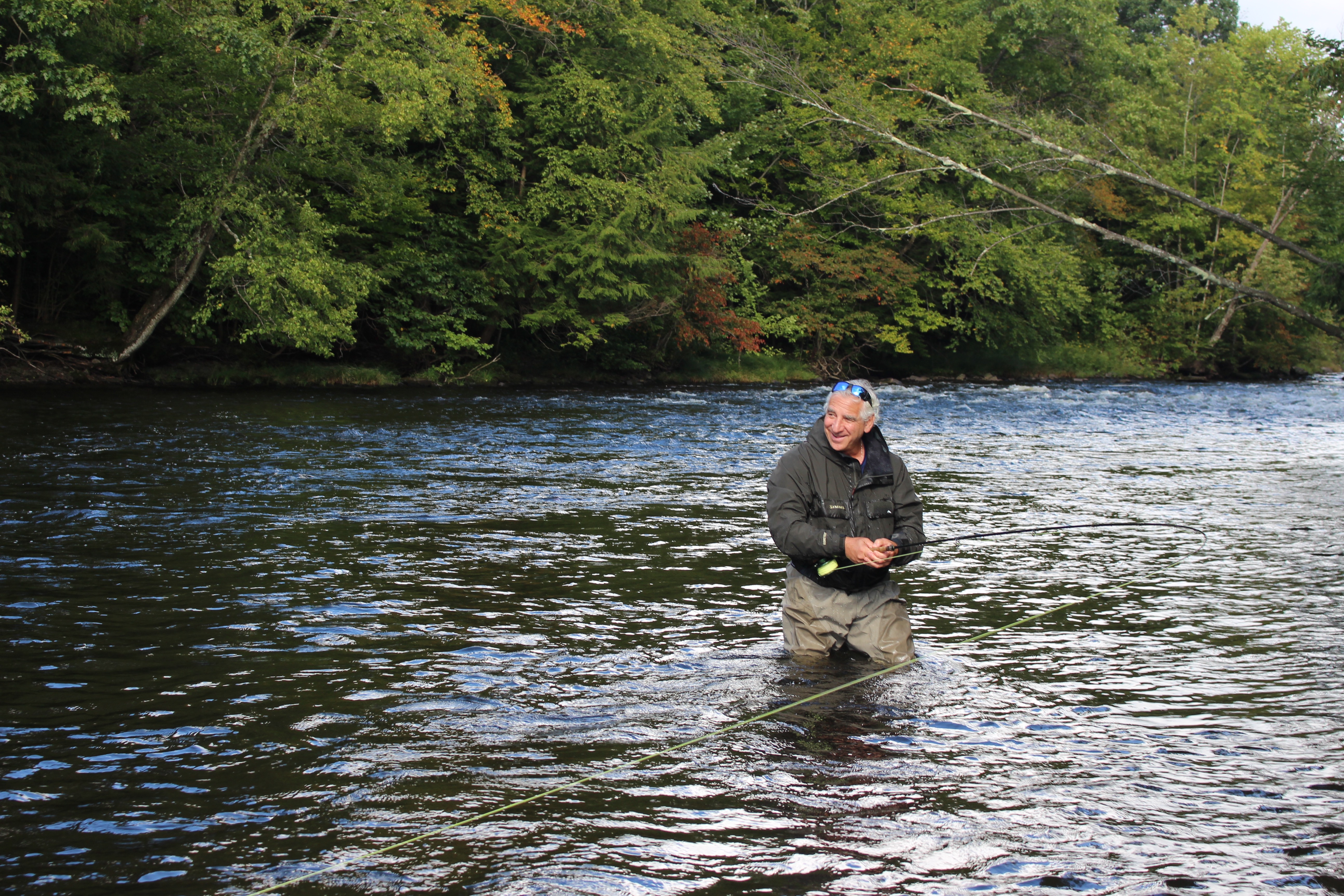 Art fighting a monster king on a spey rod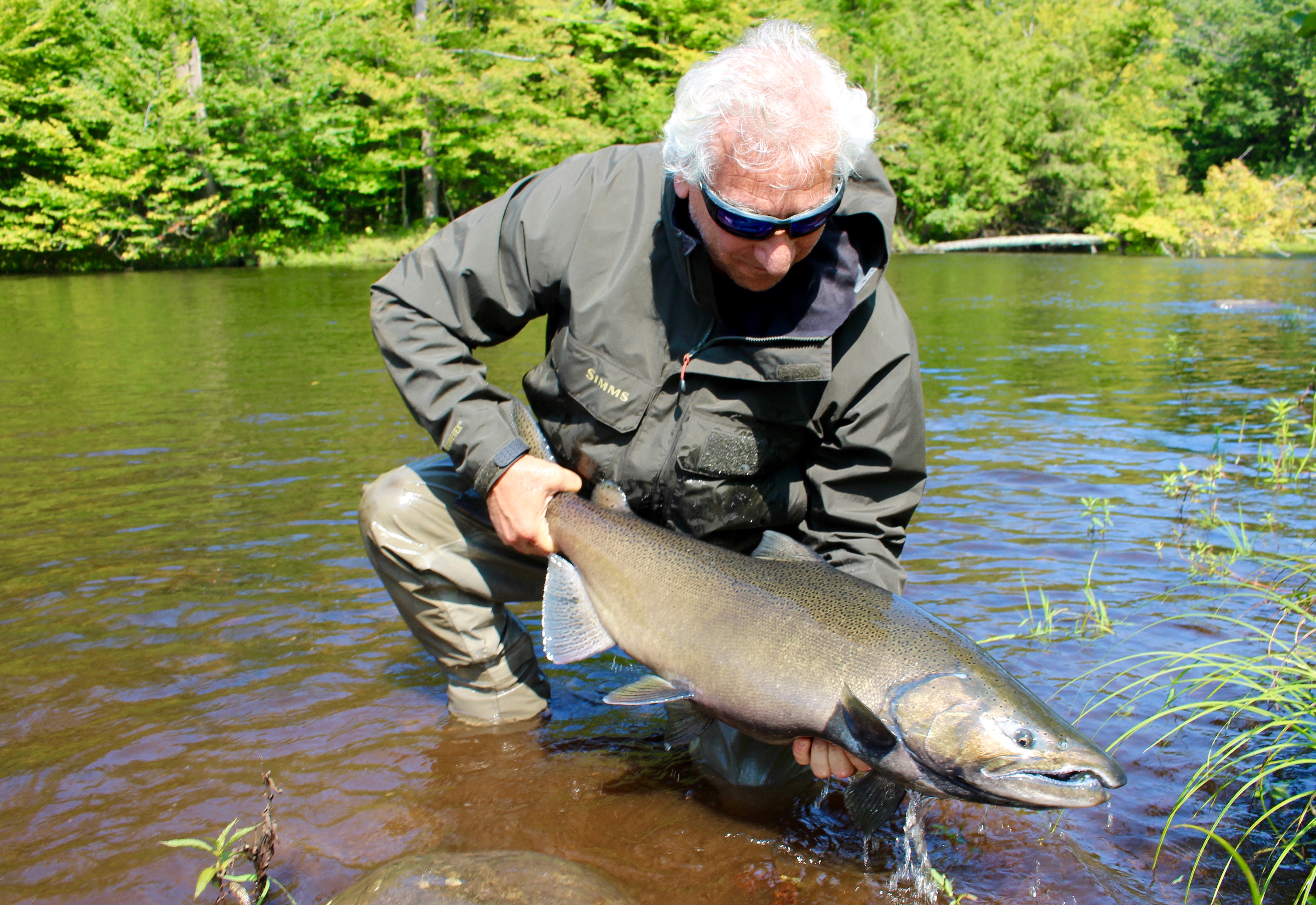 Fresh king salmon
/