Shopping Cart
Your Cart is Empty
There was an error with PayPal
Click here to try again
Thank you for your business!
You should be receiving an order confirmation from Paypal shortly.
Exit Shopping Cart
Guided Fly and Spey Fishing Trips for Steelhead and Brown Trout with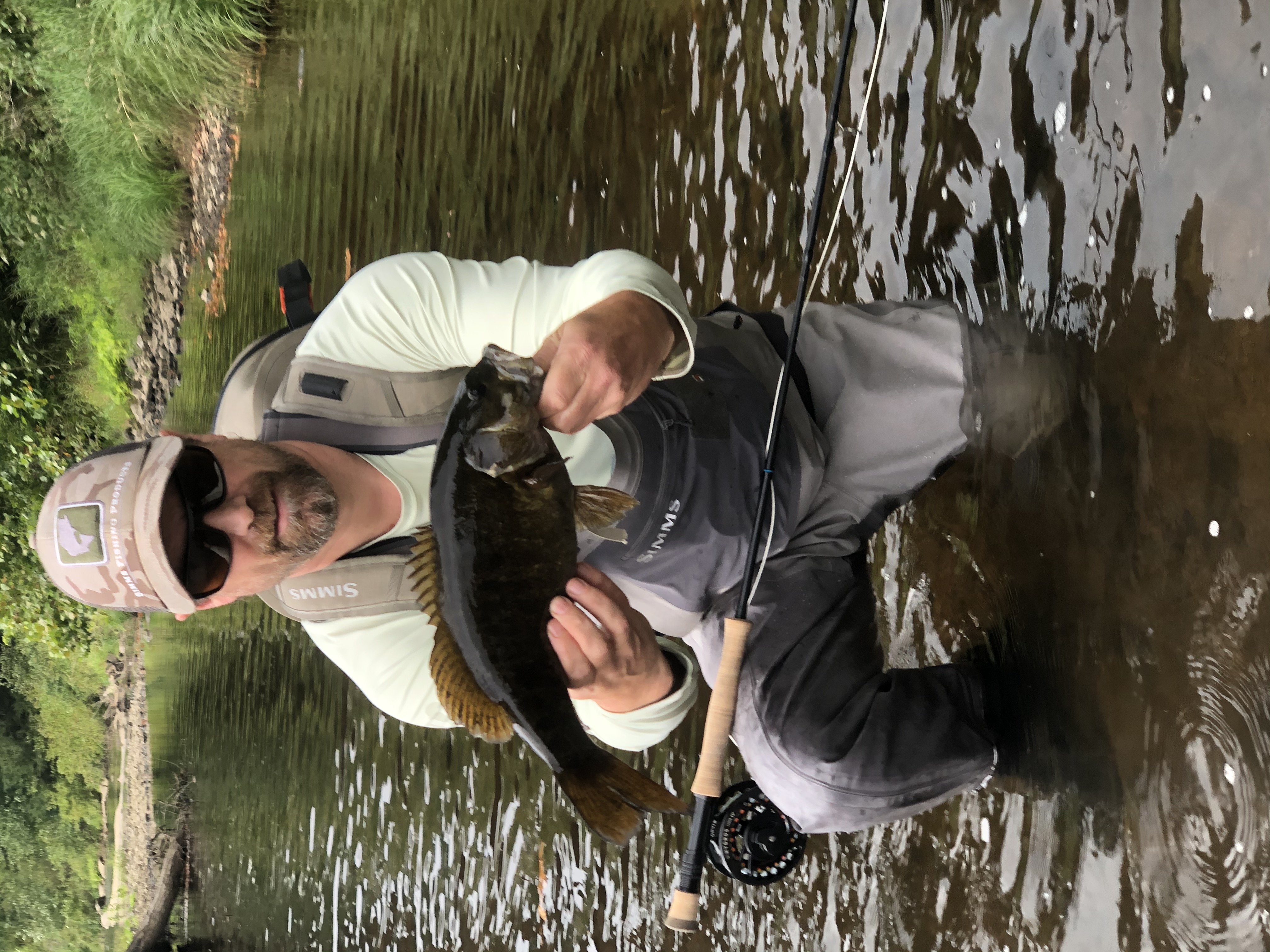 Matt with a solid smallie
As I sit and write this, the morning temperature was 44 degrees. You can just feel it in the air, that regardless what season the calendar says it is, fall is here. The heavy dew on the grass, the crisp morning air that stings your hands a bit. It's just all good stuff. With the change in the seasons, our thoughts are changing too, from stream trout and smallmouth to our favorite target- steelhead.
We spent the last few days playing around with PA smallies and trout. They're still there and still eating. But the trip we just took will probably be the last of the season for them. All around the river temperatures are starting to dip, though most remain low and clear. We could use a few days of steady rain, the soaking kind not the runoff kind, to get things moving. We had a wet start to the summer, but since about mid-July we've been pretty dry, and the rain we did get came in big, pounding spurts. In some cases, inches of rain fell over the course of an hour or two. Glad we get the rain, but when it comes like that it just washes off. We need slow and steady rain for two days. 
On the PA trip we had fun. We hooked smallmouth swinging trout speys, stripping streamers, and popping bugs. They really are a fun little fish and it's pretty clear why many anglers are showing them love now. We didn't find any huge ones, but we saw a few fish up to around 17" or so. Also found a partial hellbender skeleton which was super cool. Havent seen an alive one, but finding the skeleton was awesome. As for the trout, they're still acting trouty even in low water. Again nothing huge, but the biggest went to about 21"- a solid wild brown anywhere. 
As for steelhead, getting a few reports of early runners. I havent been out to check it out just yet but like most seasons this time of year I expect there to be a couple poking around the lower reaches of creeks. Looking ahead, we have a scattering of days forecasted to get into the low-mid seventies over the next two weeks. That kind of sunny day can get the creeks and rivers up into the mid to upper sixties. If you go out, fish early and keep a thermometer with you. I say it every year, cut your fishing short if you see 65 degrees. These fish are too cool to be caught only once.
As for a fall forecast, over the last few years we've been seeing a trend of fewer fall steelhead. Not that the fishing has been bad, just that the numbers we've seen were on the lower end of the average spectrum. I think that's probably what we have in store again consisent fishing throughout the season with drawn out runs. So far this fall things are running low. September has been very dry for most the area. We just got a small shot of rain, and we have rain in the forecast so hopefully things will be picking up. Hopefully we see that first good push happening any day now.
Its about time to get out there and take a look.    
Tight Lines,
 - D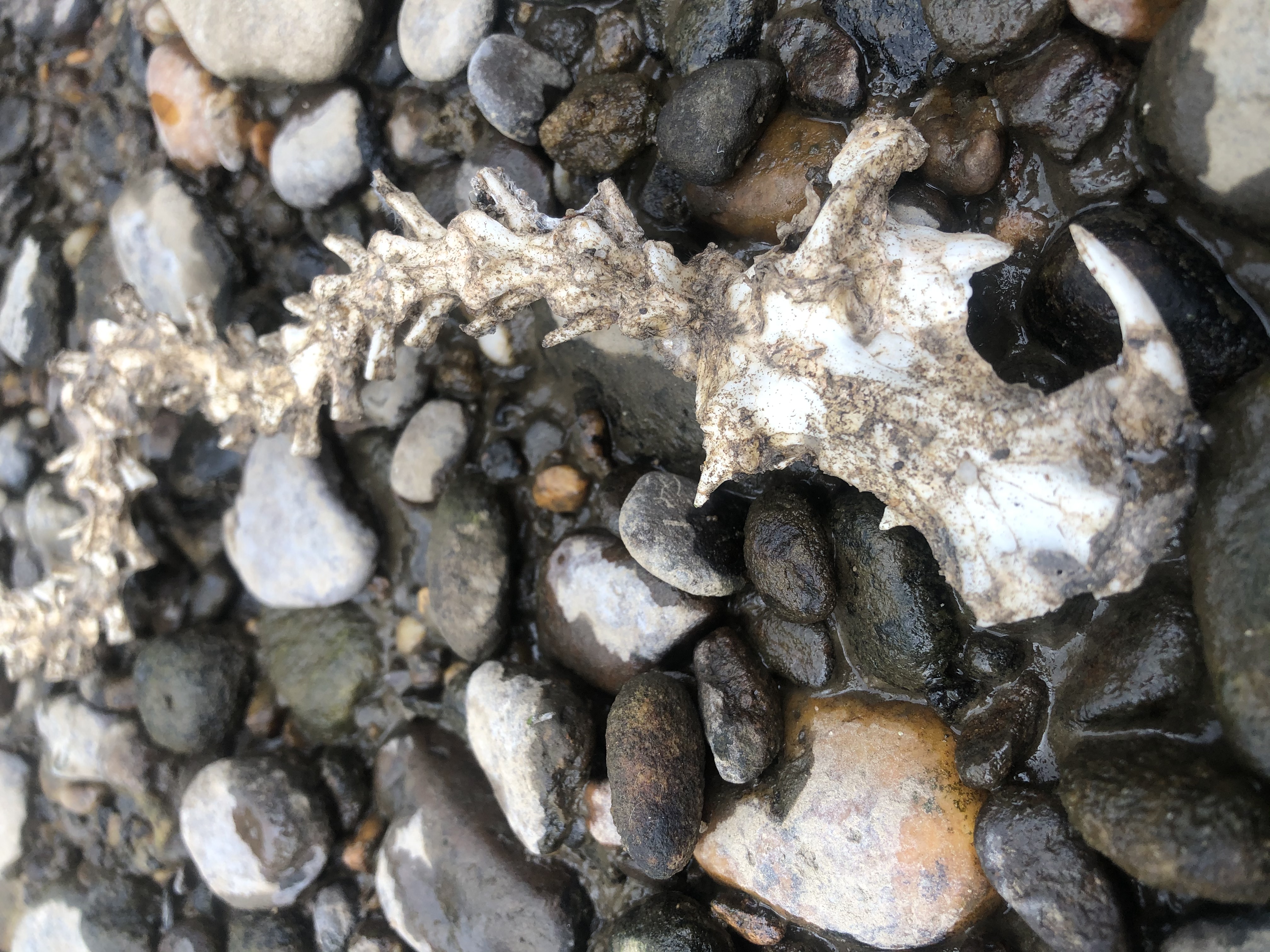 Hellbender skeleton I found recently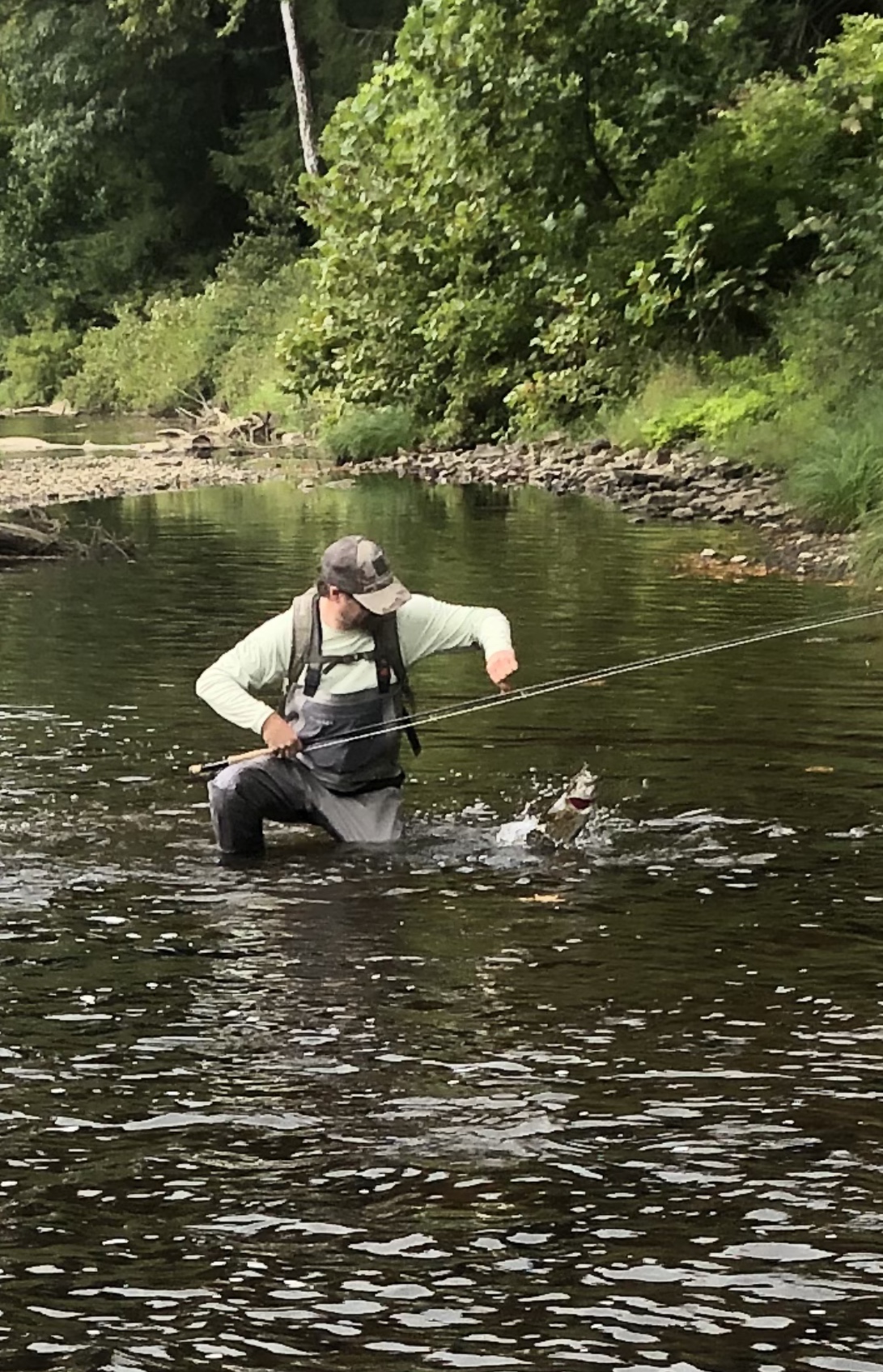 Matt wrangling his smallmouth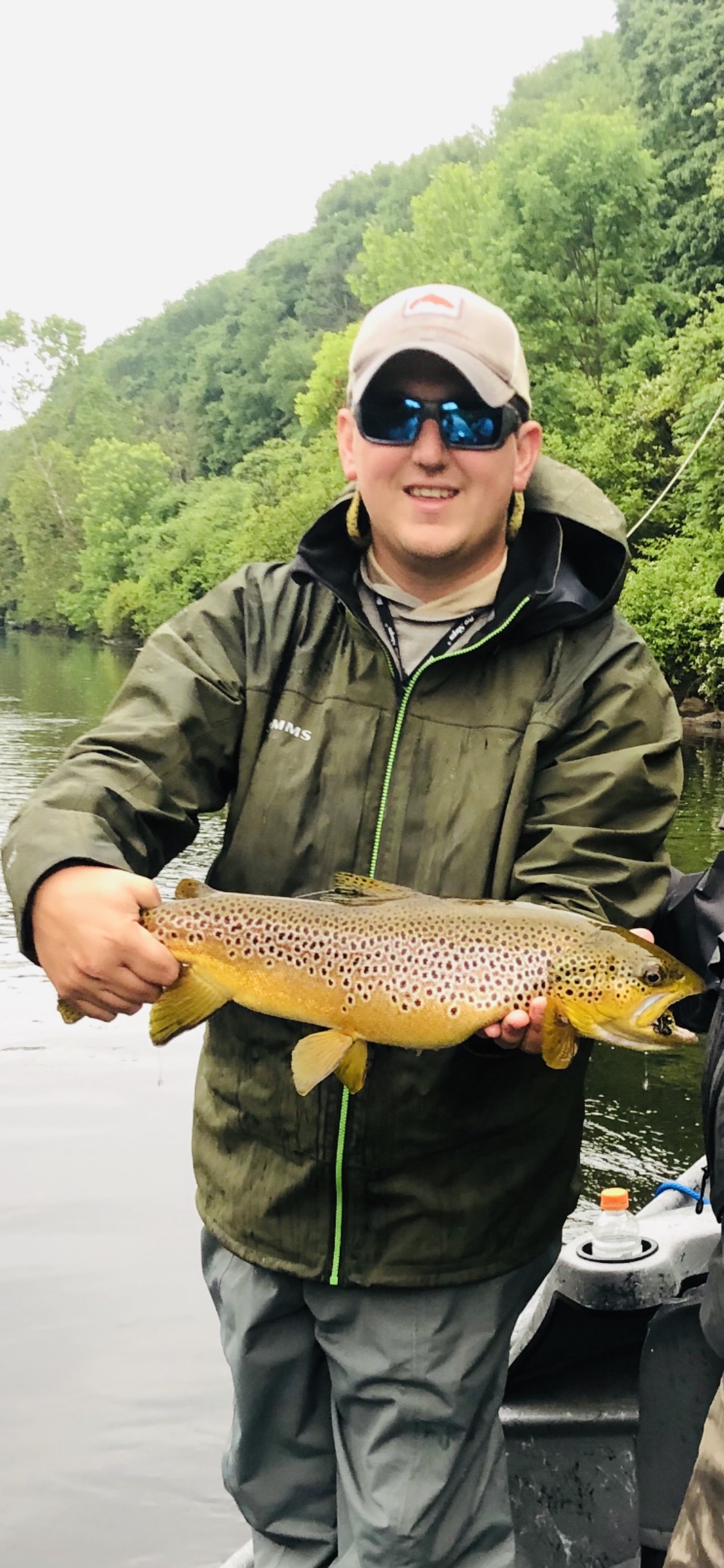 Kyle with a nice 23" wild Pennsylvania brown trout!
Well the fishing remains very good! Central PA wild trout are still fishing very well with all the water. Fishing streamers to undercut banks and overhanging vegetation is producing great fish up over twenty inches, and we're moving much bigger ones. Lake run smallmouth have slowed down over the last week or two. Prior to that the fishing was very good when the rivers were dropping and clearing. Looking ahead, if we keep having intermittent thunderstorms to keep the flows up we probably have another 3 weeks or so of good streamer fishing. I expect the smallies to be finishing up here fairly quickly.
Tight Lines,
 - D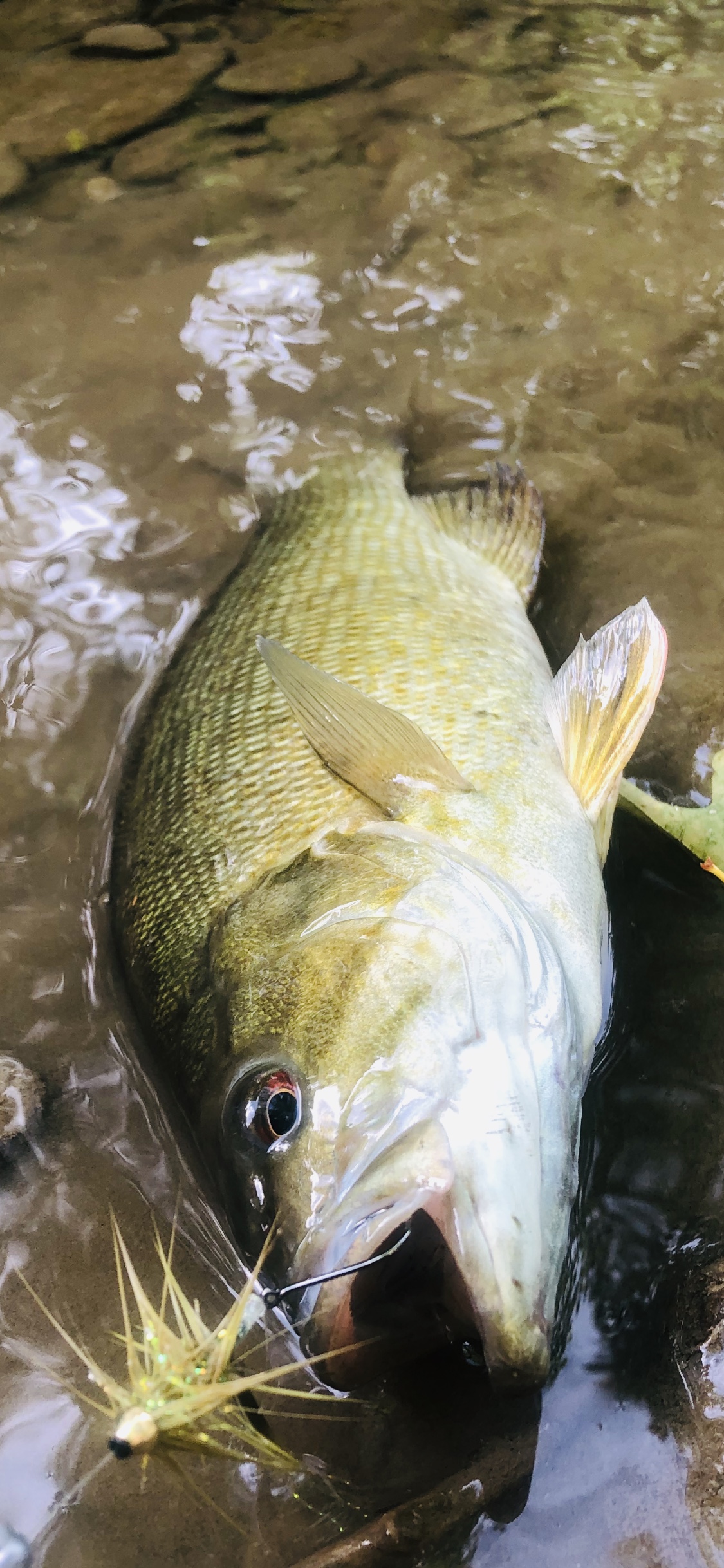 Nice smallie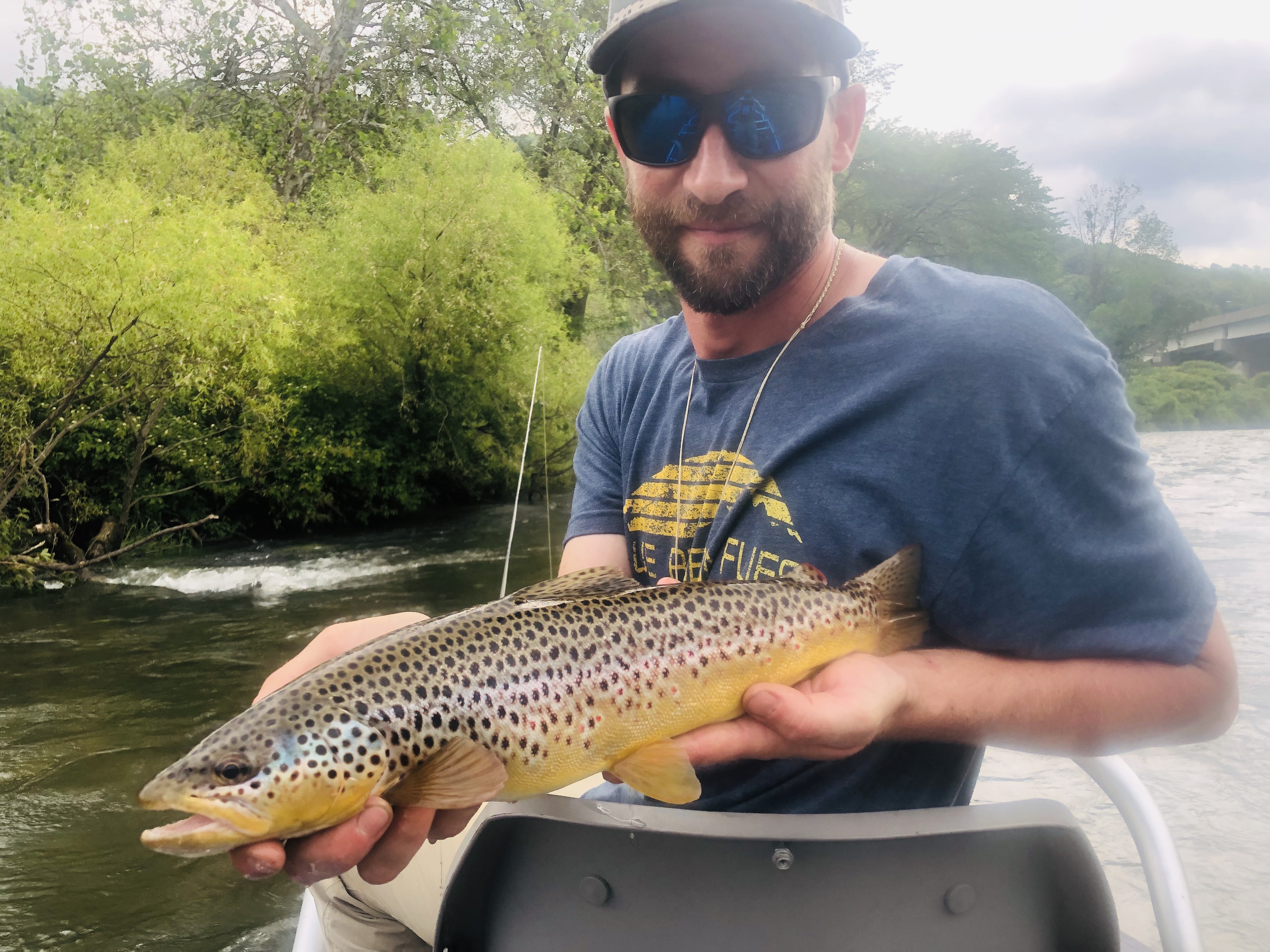 Jeff with a pretty brown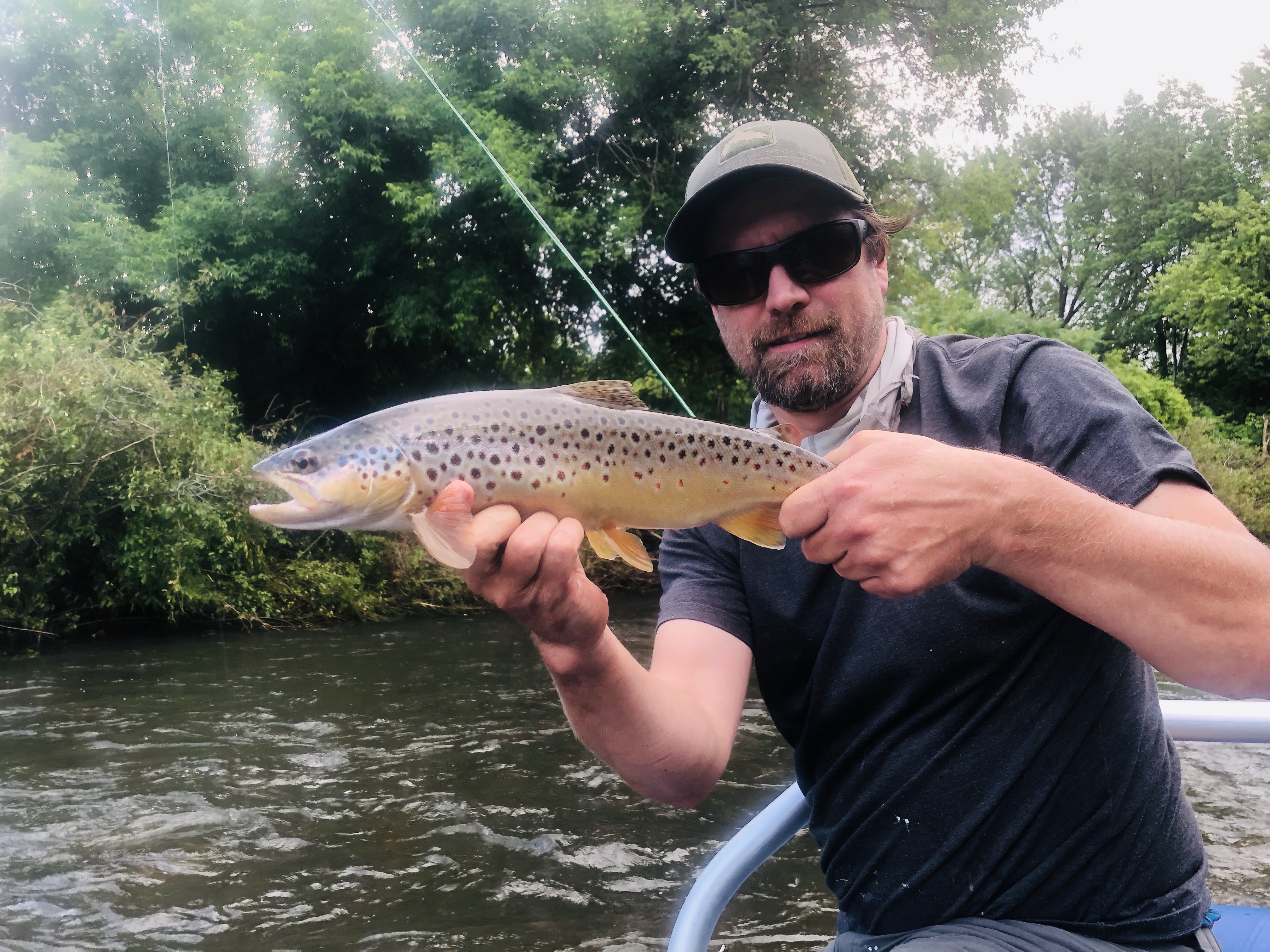 Matt with a nice upper teens fish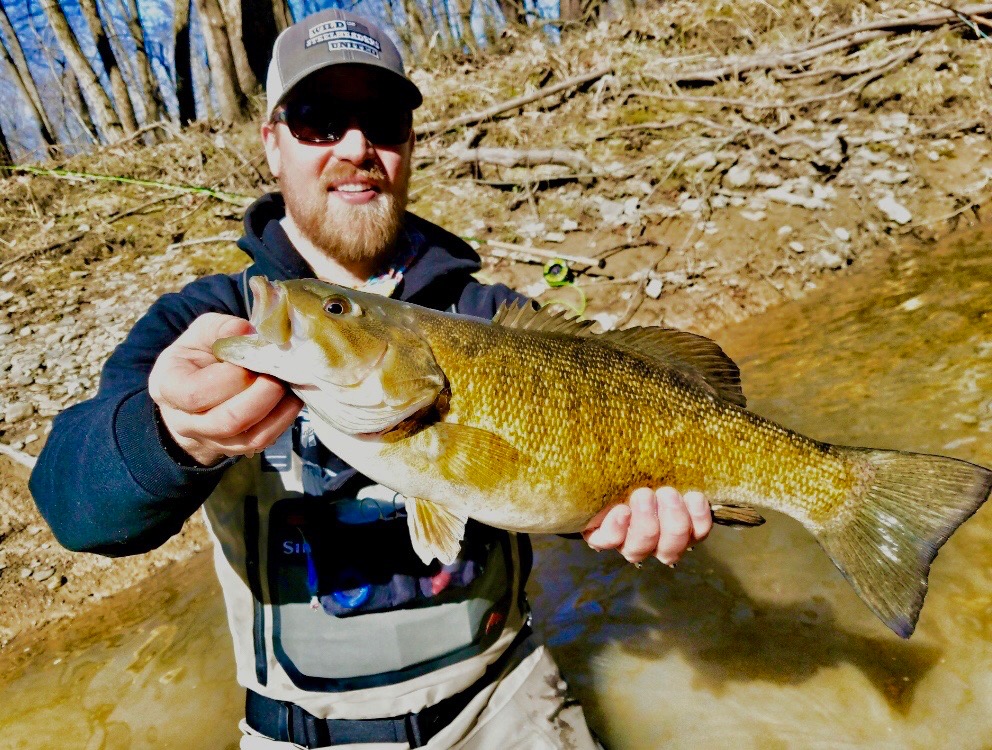 That time for giant smallmouth!
Well we found the first smallmouth of the season. That means one thing: the end of steelhead season is in sight. Though looking at the forecast and how things are progressing, I think we still have a few weeks left, and the rain and cool temps should bring in at least one more push of fresh fish, days are numbered. But don't get too down on yourselves just yet. Smallmouth are super fun targets to swing for, and will take pretty much the same patterns with the same techniques. These lake run smallies usually run 3-5 pounds, but can tip the scales even bigger than that! And they put up a great fight! So if you haven't started targeting these awesome fish, May and June is a great time!
Tight Lines,
 - D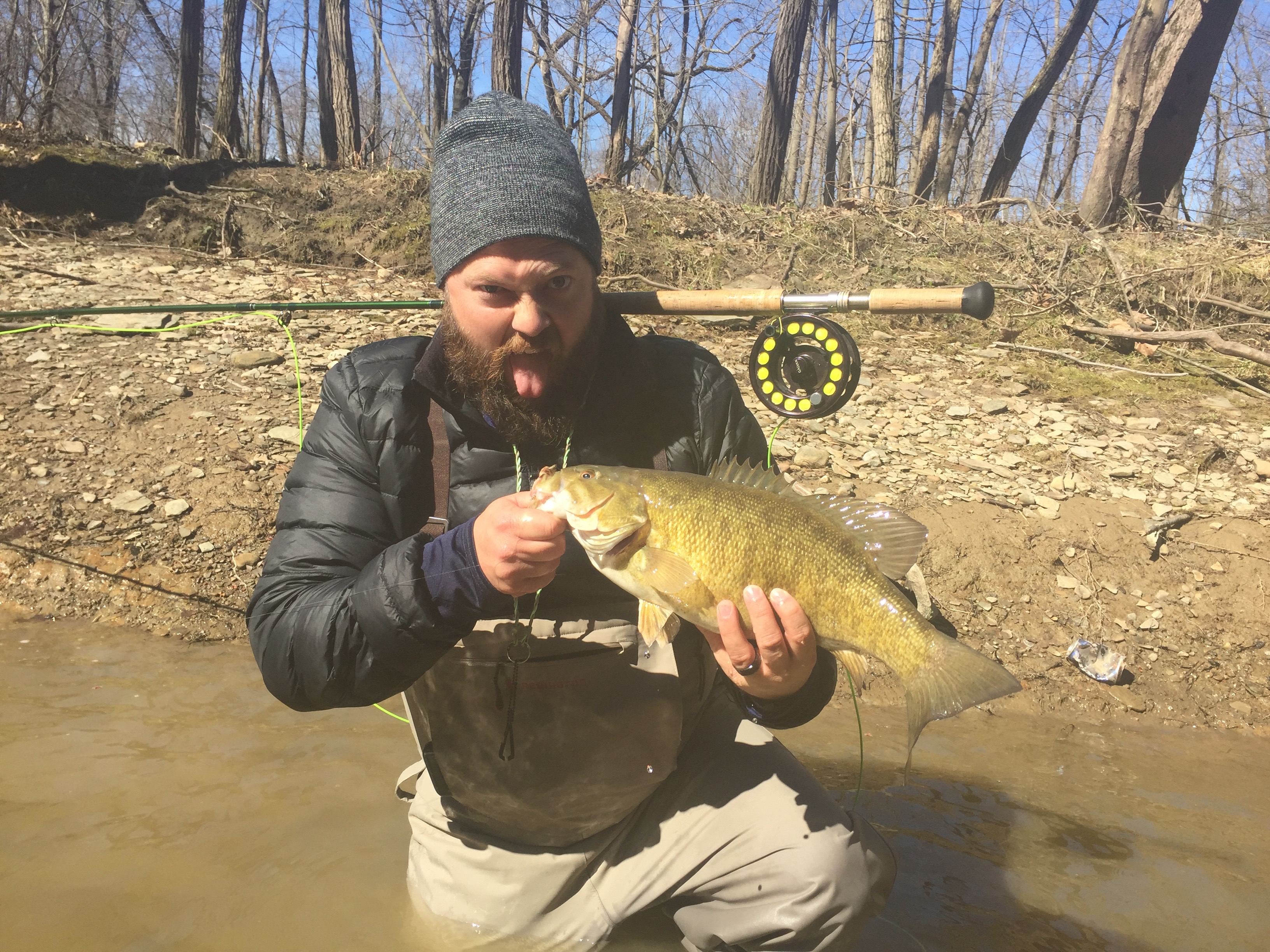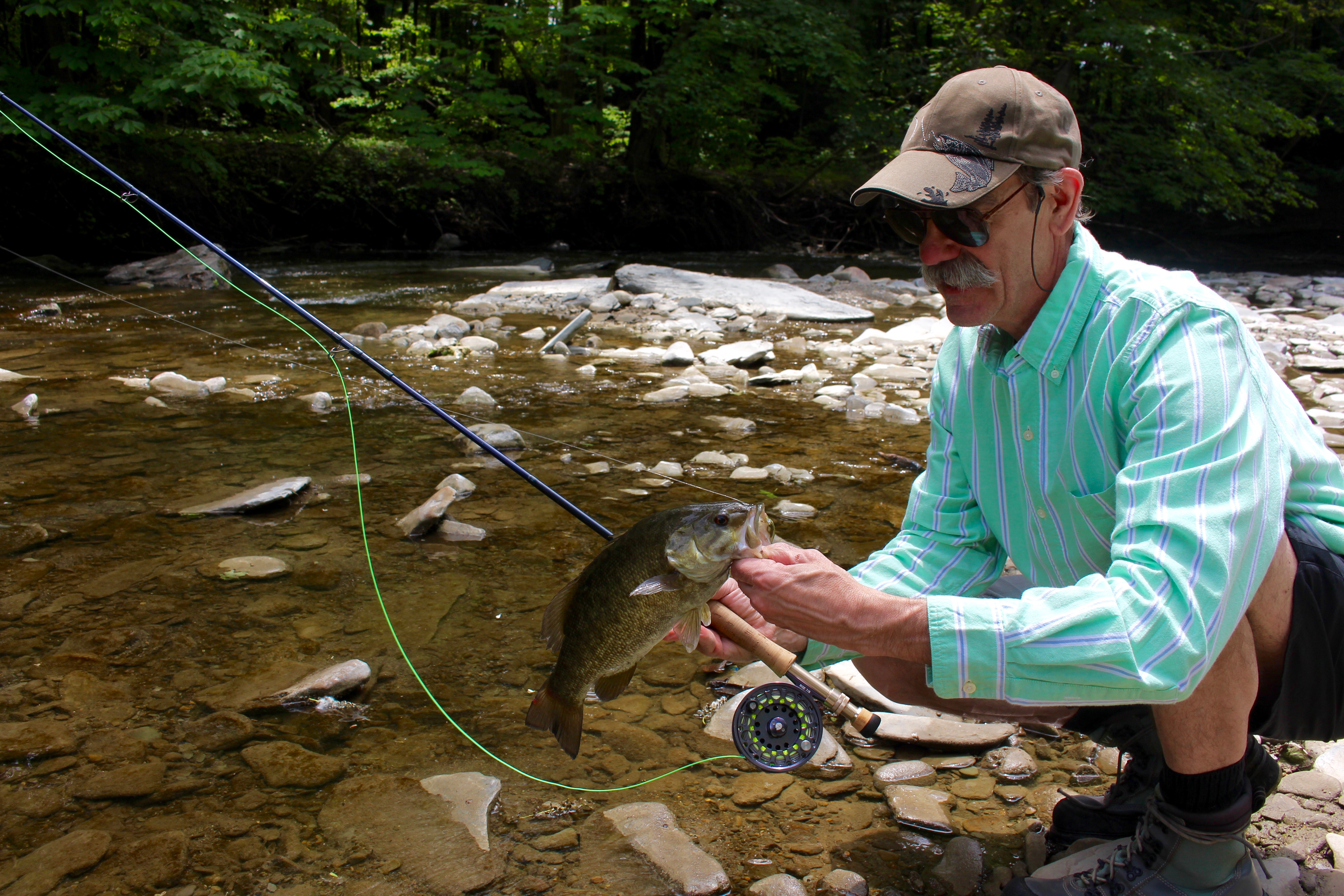 A typical smallie
Well the smallmouth fishing is really, really good right now. Took a little bit longer to get heated up than expected due to the cold temps for the first half of May, but now the rivers and creeks in the area all are pretty loaded with bronzebacks. And boy are they just a ton of fun. Though we really like hitting the big water with the big rods, and smallies with eat a swung fly just as well as a steelie will, don't overlook the smaller creeks. These creeks can be full of 3-5 pound smallies, with virtually zero fishing pressure. 
On the small creeks, it is truly a challenge as the clear water means you need to make a stealthy approach, long cast, and fish the right presentation. But man is it just too cool to watch these fish turn and chase down a streamer. Don't be afraid to throw some big patterns, even in the clear water. Yesterday we had a good fish eat a big whiskey hangover in a creek that was about 10 feet wide. The fly was fished on a direct upstream cast, then stripped back down.
So if you're looking for some fun in the off season, grab a 6 weight and give us a call. We should be fishing smallies until mid July.
Tight lines and enjoy the rest of the pics.
  - D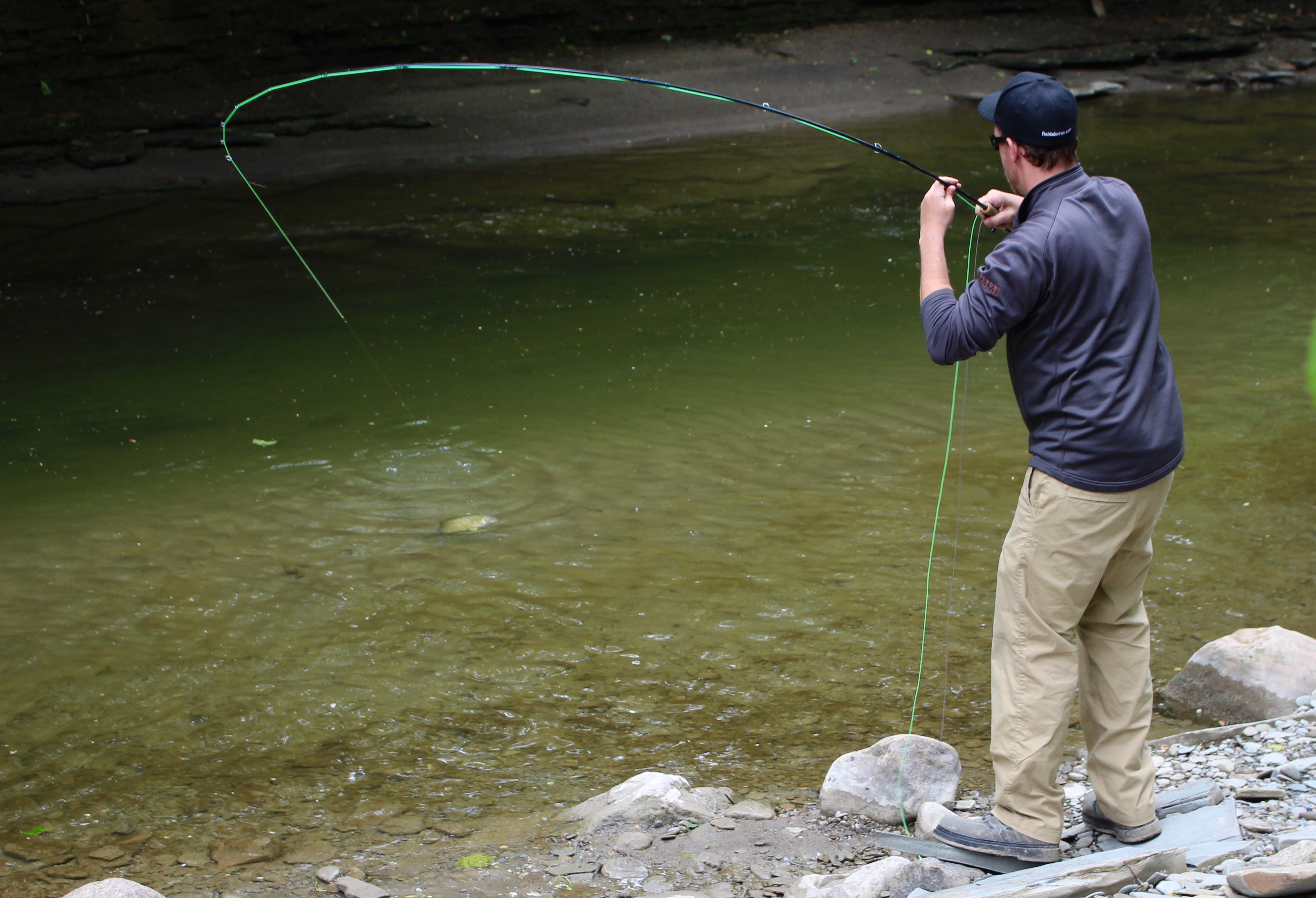 Hooked up!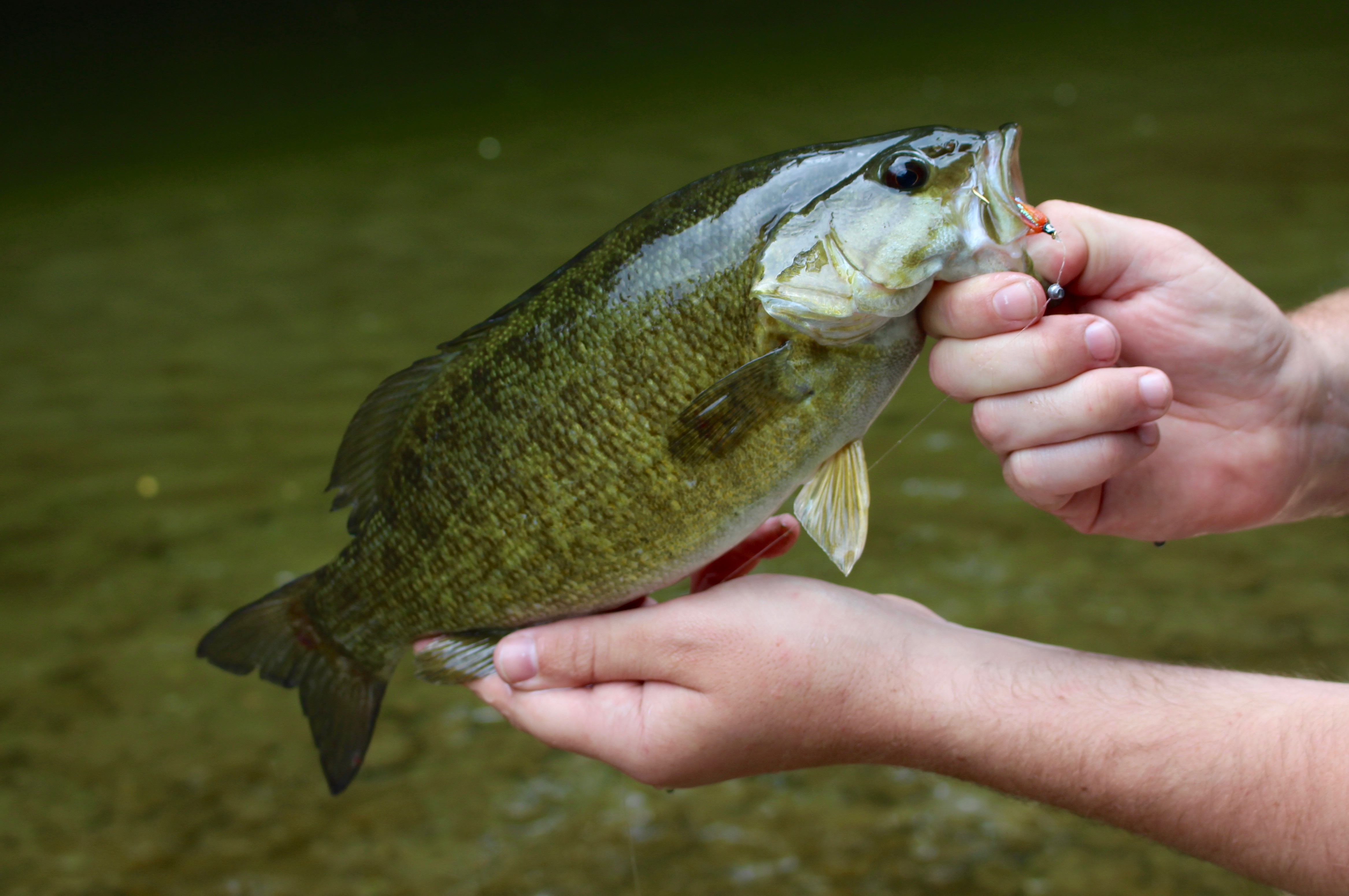 Typical smalljaw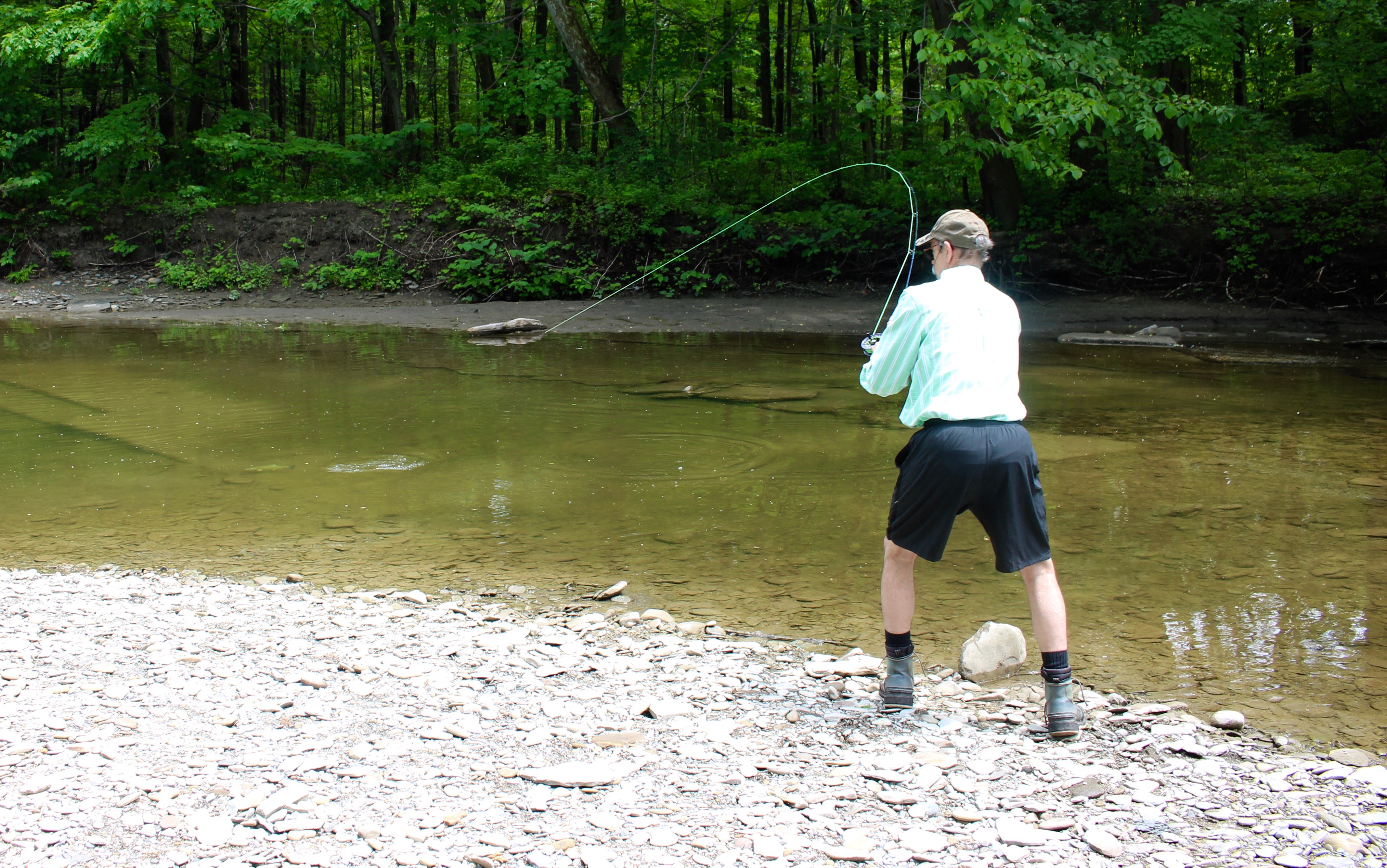 Dr. Tim in on the action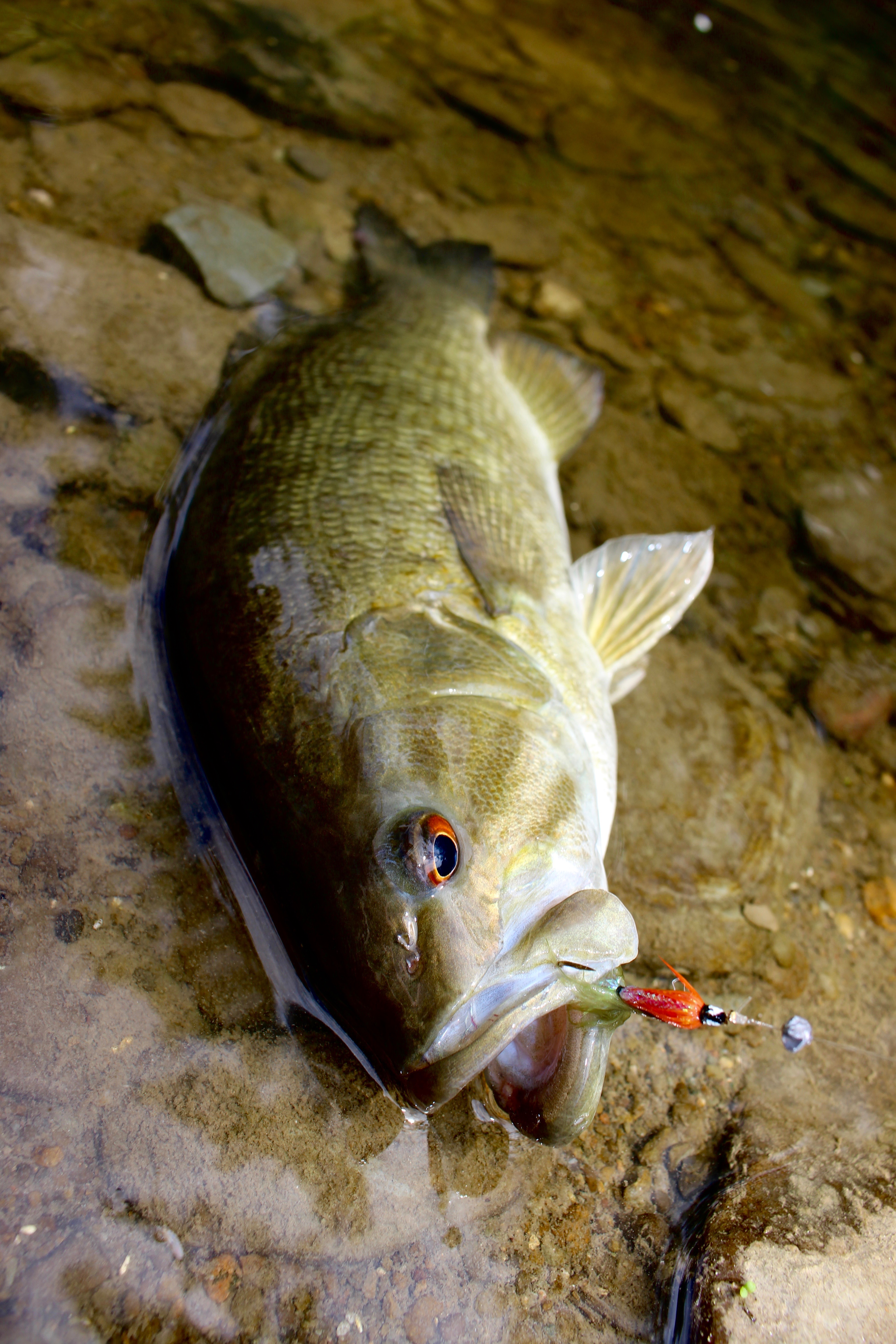 Cookie-cutter!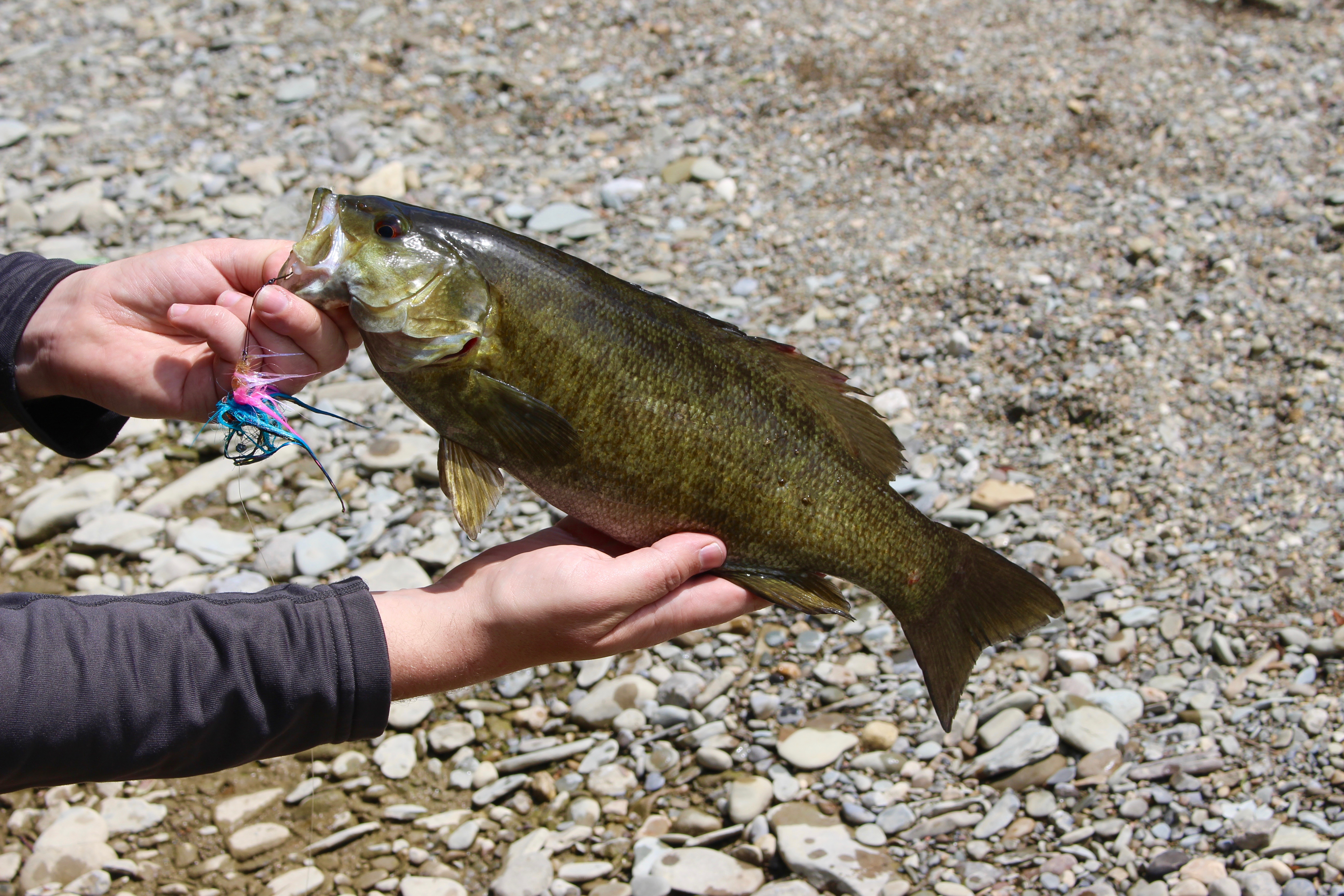 On the hangover
/