Shopping Cart
Your Cart is Empty
There was an error with PayPal
Click here to try again
Thank you for your business!
You should be receiving an order confirmation from Paypal shortly.
Exit Shopping Cart
Guided Fly and Spey Fishing Trips for Steelhead and Brown Trout with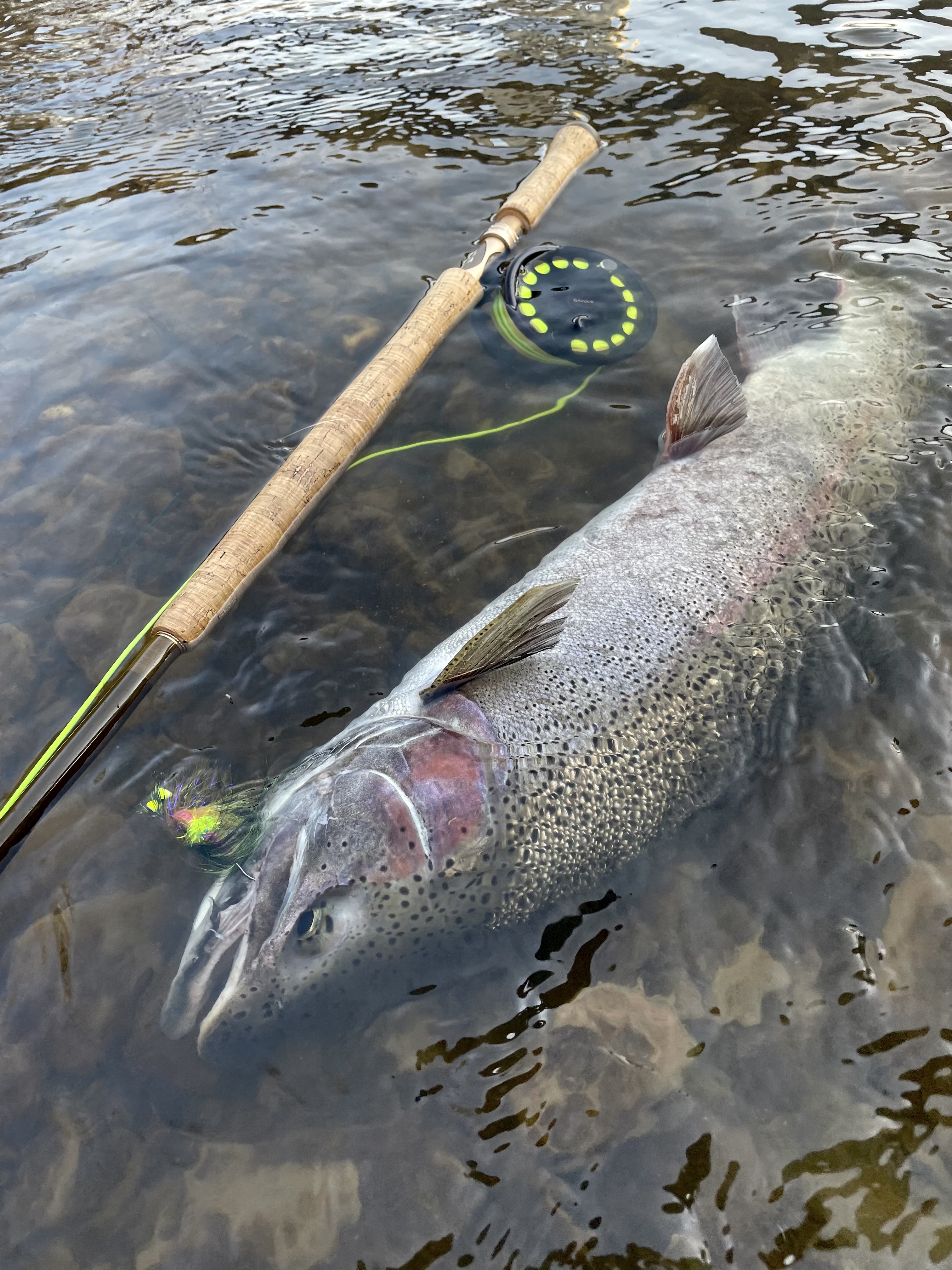 Gonna be a little while before we see these guys again
Well it's getting to be about that time. One more steelhead season in the books. Looking ahead at the weather, we still have some rainy and cool temps for the next week or two. So if you're really itching to find one last fish, I'm sure at least a few will still be around. But the numbers of fresh fish running is dropping and more and more the fish we are finding are down river fish. All in all, it was a great season and the last couple of weeks were epic. Saw a good number of fish over 30" as well with our biggest being a perfect bright fish that I caught that was somewhere in the low-mid teens. She smashed the fly and jumped half a dozen times in a row. It was everything you could ever want in a fish, and I was grateful for my opportunity to connect. I didn't get a picture of her, but that's a story for another day.
On a separate note, starting to see some really quality smallmouth. Like always this time of year, they really make their presence known and should be around until mid-late June. If you're looking for a lot of action on the spey rod without the nasty weather that usually coincides with steelhead fishing, a smallie trip should be in your differential. And as always, PA trout will get us out and about over the next couple months. But for now it's time to say goodbye to steelhead. 
Tight Lines,
 - D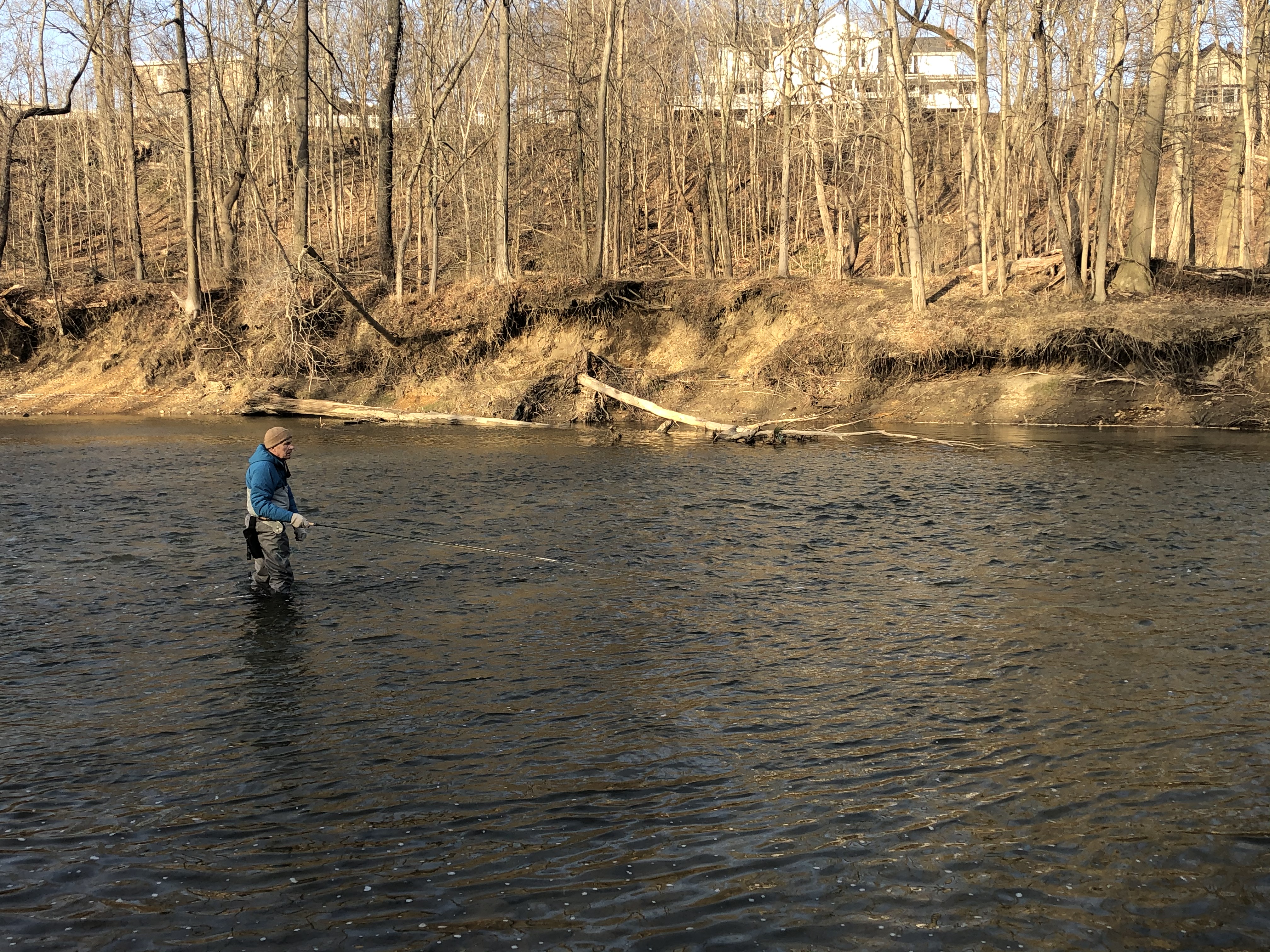 Jim working a really nice run
Well it is definitely that time of year. We're right at peak season on the Ohio steelhead fisheries, with great numbers of fish in most of the systems. If anybody out there is looking to get their feet wet (pun intended) in spey fishing, anytime between now and the end of April would be a great choice. Spey fishing is such a cool form of fishing, but it is a process that one doesn't master instantly. The nice thing about getting out in Ohio is that even new anglers who are just going to be learning the basics and might only get to the point of casting out the full head can really have a great day fishing. Funny enough, more people call me looking to fish the Catt in the spring. When I tell them they should really think about Ohio, they seem surprised. Still seems like for the most part, our fishery is largely under the radar outside our borders. 
Had the pleasure of fishing with Jim a couple days ago. Jim's a solid angler who has fished with many of the greats in steelhead and spey fishing. Listening to him talk about the places he's fished and the people he's bumped into along the way was a treasure. And it was nice from my perspective that he already had more than the foundation down. So my job as far as casting and technique wise was just making minor tweaks. One of the things I tell a lot of anglers who have the basics down on spey fishing but start to lose their cast for one reason or another is simple: start casting cack handed. A signifcant amount of the time, issues with the cast are related to a couple things. Either not using the bottom hand as the driver of the cast, or timing, with improper anchor placement being third.
Anyways, Jim who was casting very nicely at the start of the trip began to have his cast fall apart on him. It can be frustrating. On our second morning, after seeing the same issue creeping up again, I told him to start casting cack handed. Almost instantly his cast was back. The reason for this is simple. When you cast cack handed the bottom hand naturally comes out from the body on the back cast, and because of this on the forward cast you have to clear it out of the way first. This forces you to start the forward cast by driving down with the bottom hand. The other big thing is that because it is a bit awkward, most people don't rush the cast. These two are cures for the biggest two issues in spey casting that I know of. And once that occurs, it's easy to simply say "Hey, why don't you leave the anchor a little farther away from you" or something similar. Boom. Casting's back. It was an old trick I picked up in my Alaska spey days but seeing it work so well with Jim, who is a proficient spey fisherman, was really nice to see. 
As for the fishing, Jim hooked 9 fish in two days, and landed three. But I'd like to talk about one we lost at the net. It's no secret among the anglers fishing in Ohio this year that there are some big fish around. Anyways, Jim set the hook on a fish and it didn't move. My first thought was well he's snagged. But I asked him and he said no it was a fish. Then it started to move. It didn't go crazy, but with Jim putting a lot of side pressure on, the fish just slowly swam up to the middle of the pool. I told him I thought it might be a big fish and that I wasn't sure it knew it's hooked yet. We got nearly all the head back in a minute or two. And then it rolled. My personal biggest fish is a 35" 17-18 pound fish you see at the top of the banner on our home page. I've seen a handful more between 13 and 15 pounds. In the water, this fish look broader than all of them but do to the stained water I couldn't see the head fully or the tail at all. Regardless it was clearly well over 30" and just so wide it was difficult to fathom.
It pulled off about twenty yards, over to the other side of the Grand. We got it back. And it was rolloing out about a rod tip away from us so that I saw it two or three more times. It was a large buck, not dark but a bit colored. As Jim was trying to turn his head and ease him into the net, he got the head pointed the right way. Two or three more feet and it would have been in the net. But the hook popped out and that was all she wrote. Jim was cool with it. He was stoked he got to fight it. His only regret was that we didn't get a picture. Sometimes you lose a fight, that's just how it is. It was a big fish. I know based on the girth alone, we were looking at somewhere low-to-mid-teens. Plus fish will sometimes look shorter and smaller in the water than they really are due to refraction making things appear shallower than they really are. That fish had a legit shot at going 15 or better, but who knows. Until you net them and tape them, it's all just speculation. It was a big fish anyways. I'll probably be thinking about it till the end of the season now. 
Jeff was also up in the area for four days. He hooked a good amount of fish swinging as well. Between what Jim hooked, what Jeff hooked and what I hooked here and there, I think we're somewhere around 45 hookups on the swing in the last four days, landing maybe a third. It's great fishing. And it's Ohio in the spring.
Tight Lines and Good Fishing. I'll leave you with a couple more shots.
  - D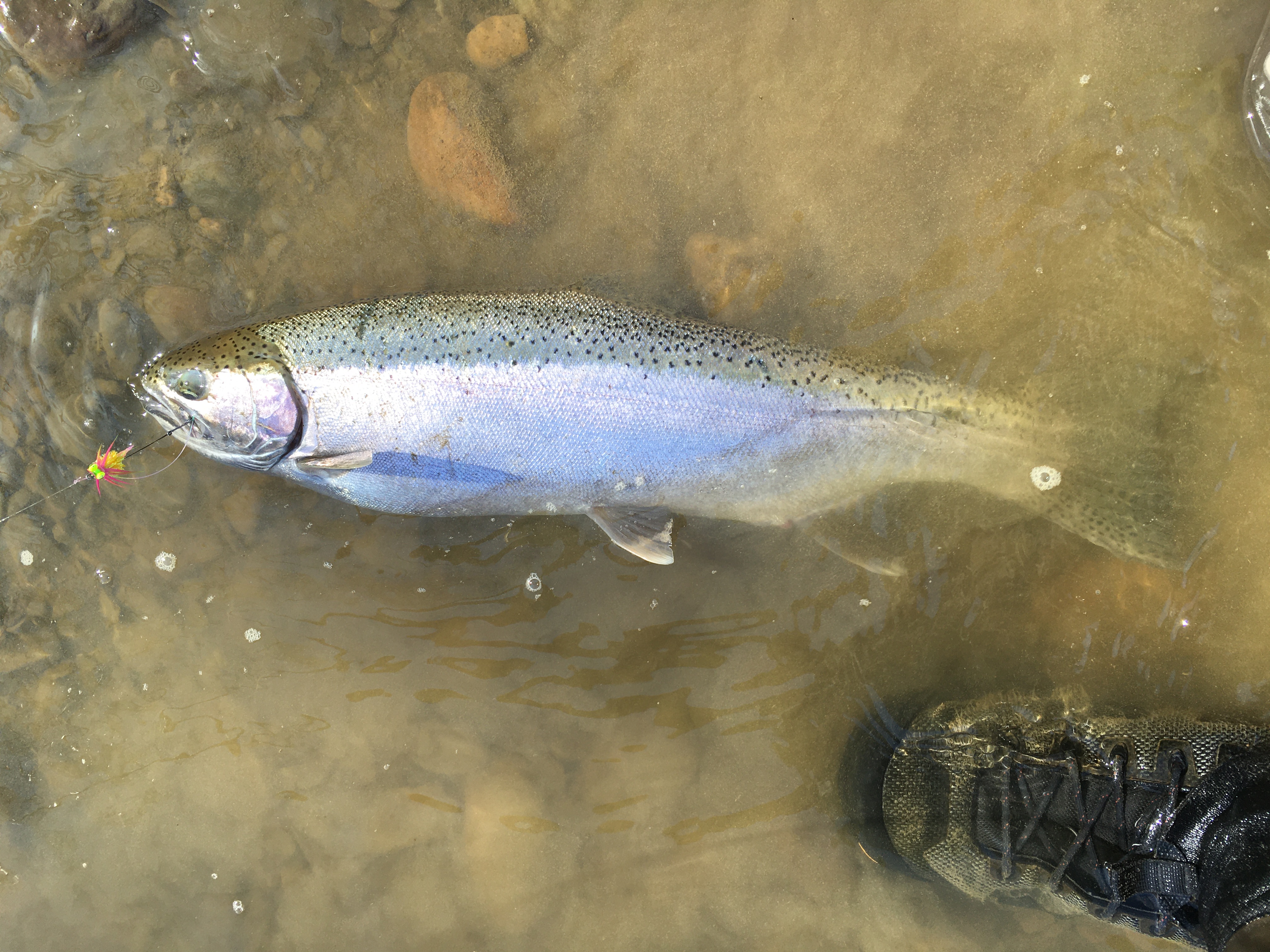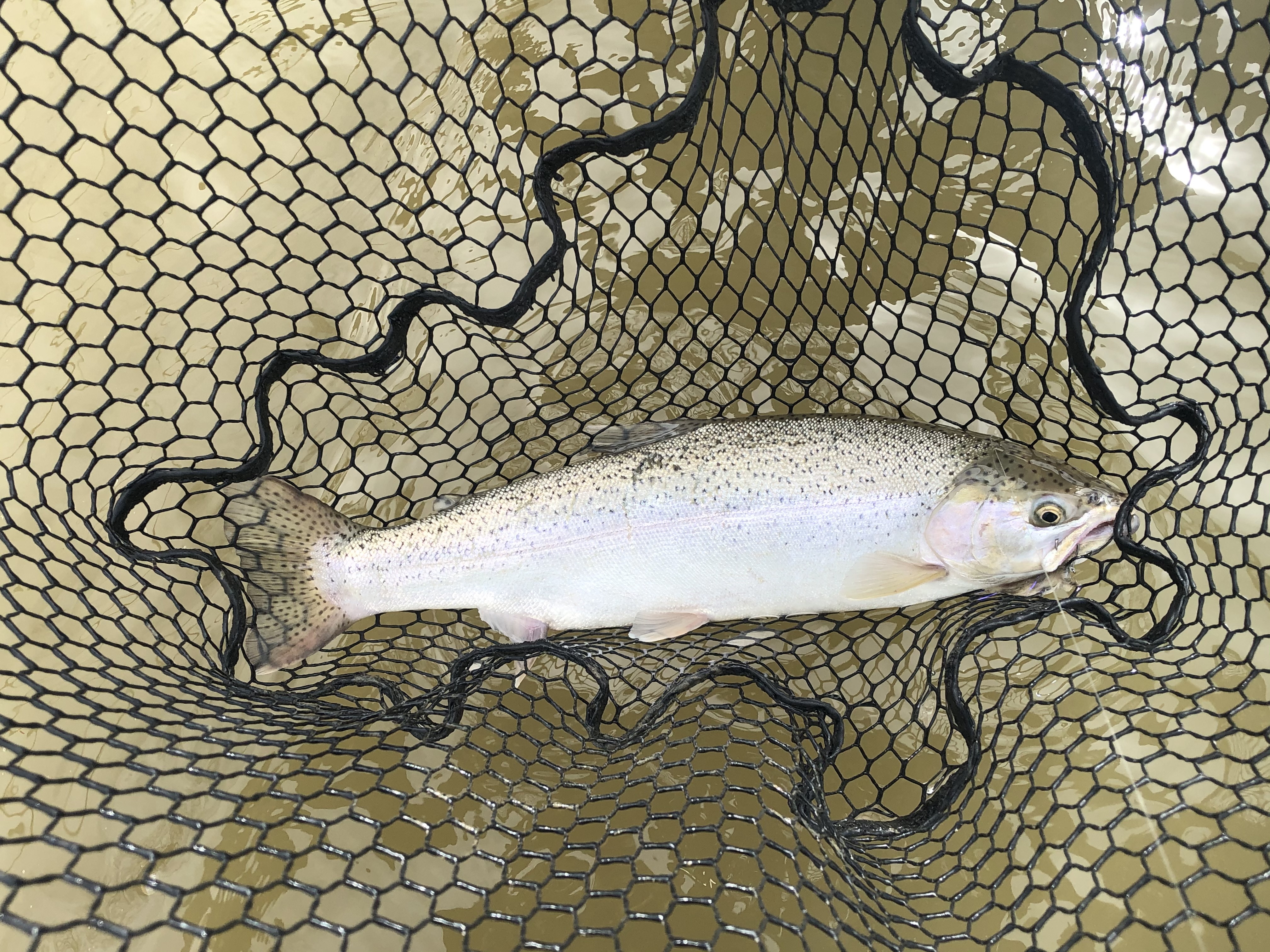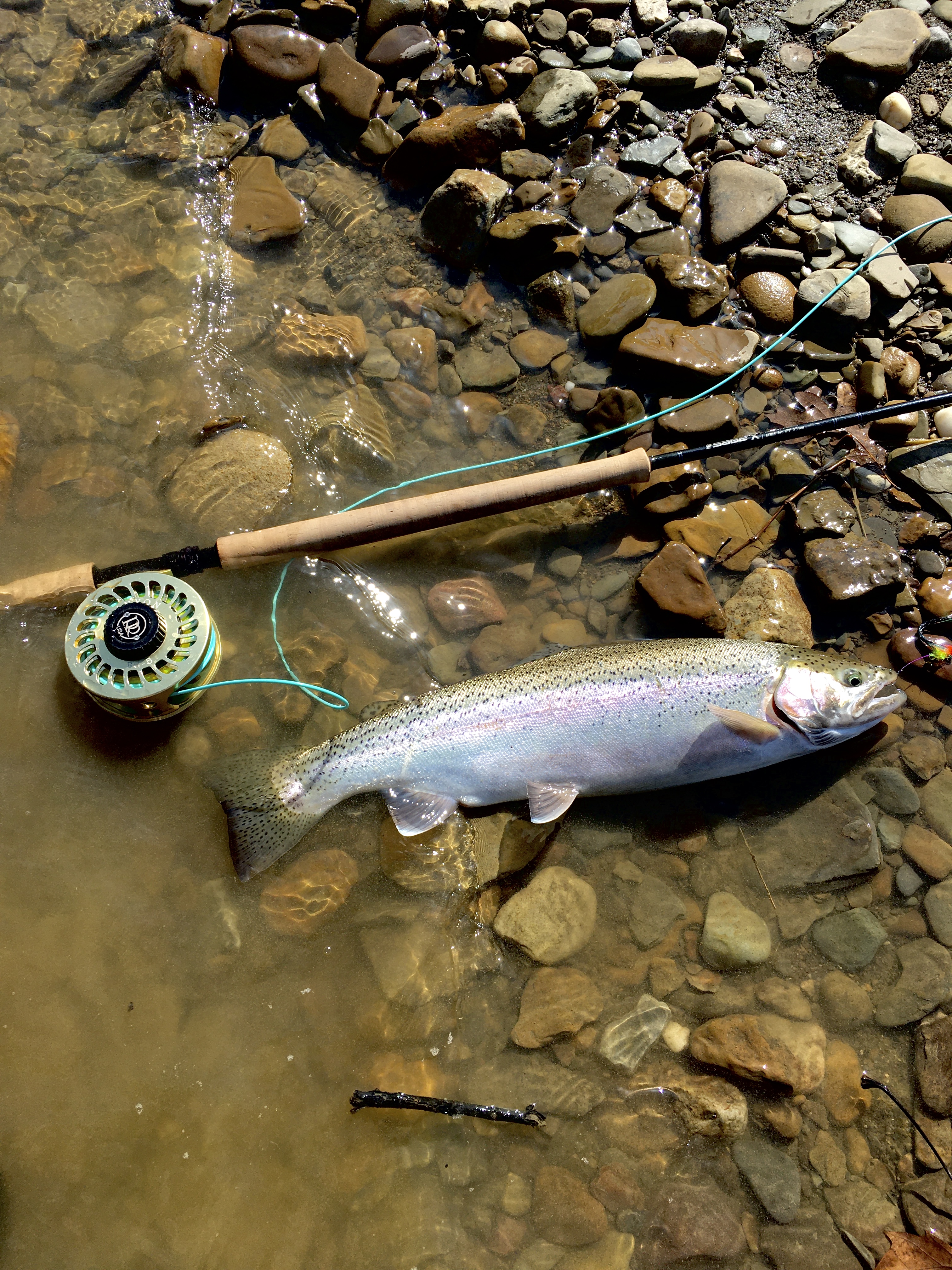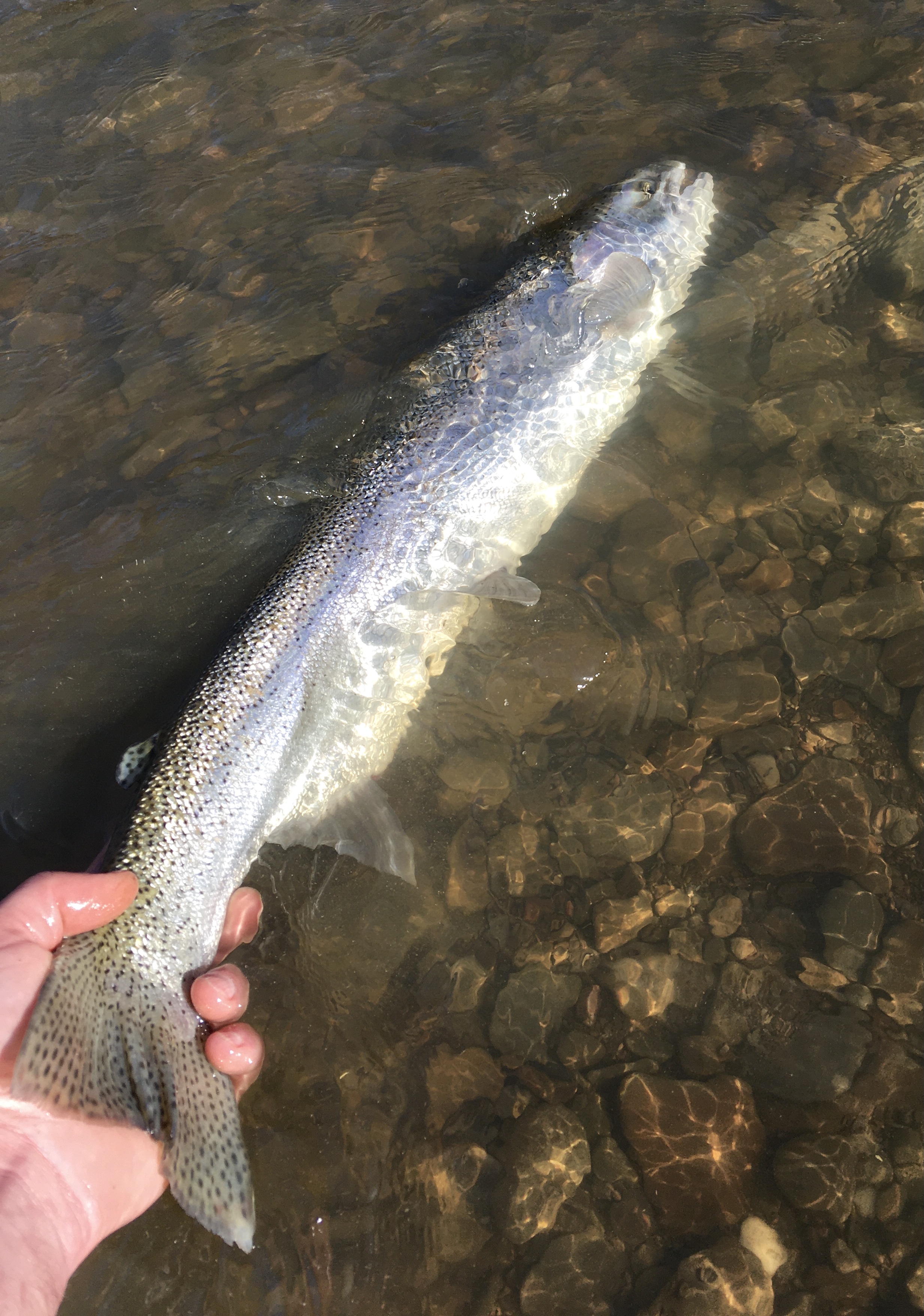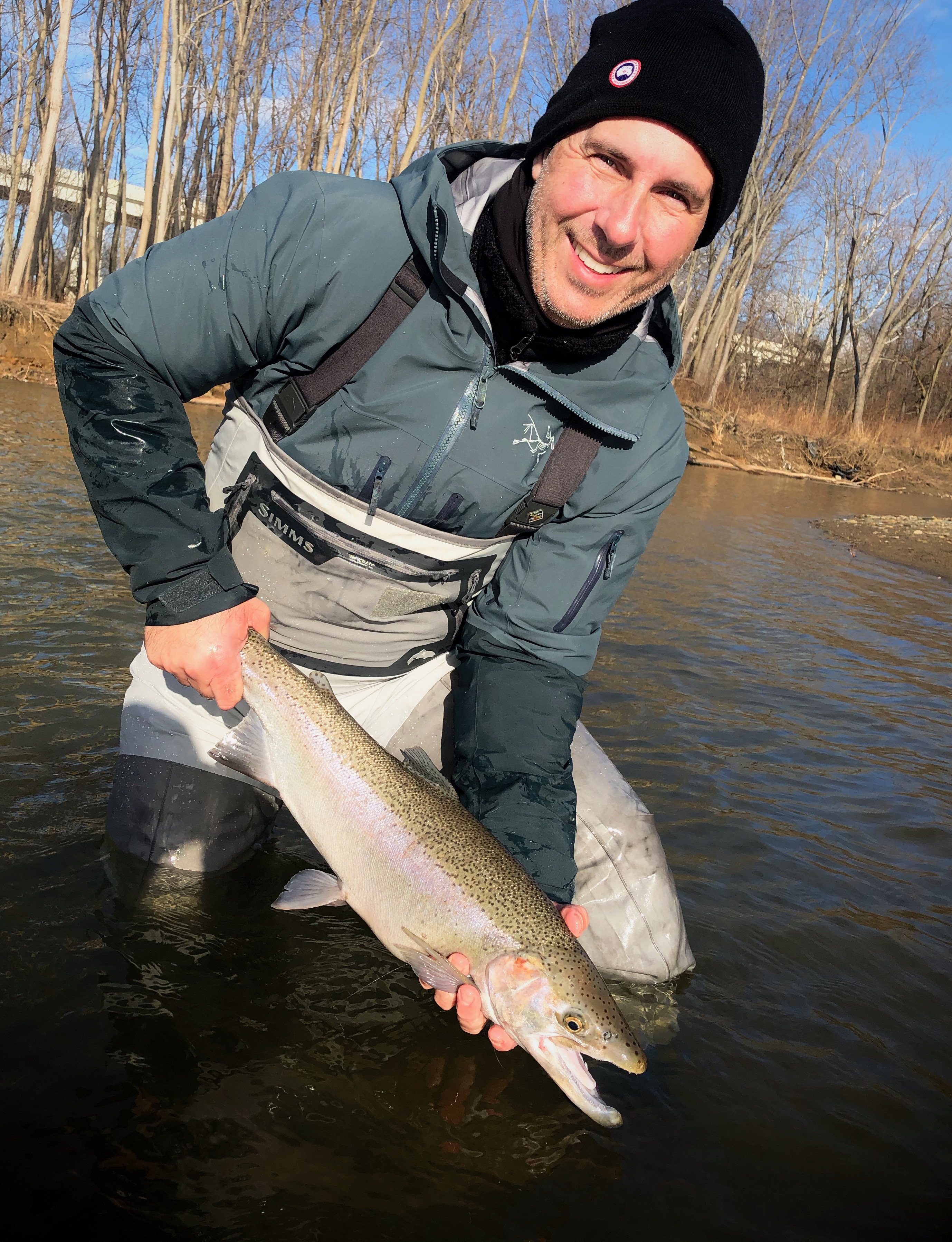 Gary holding the first spring steelhead after ice out!
Well it's official! It is spring steelhead time! We had about 5-6 weeks of solid winter where most of our rivers froze up. But that all changed about a week- 10 days ago with a combination of warmer temps and rain that broke things free! We patiently waited for the spike in flows to recede, wondering what was in store for us. And when it did, our suspicions were confirmed. While the spey fishing was still a bit of a challenge with the colder flows, we found a few willing takers. Things should only improve as the weather warms.
If you haven't already, get on the phone with us to reserve your spot. We don't have a ton of days left, so reach out to us when you can.
 - D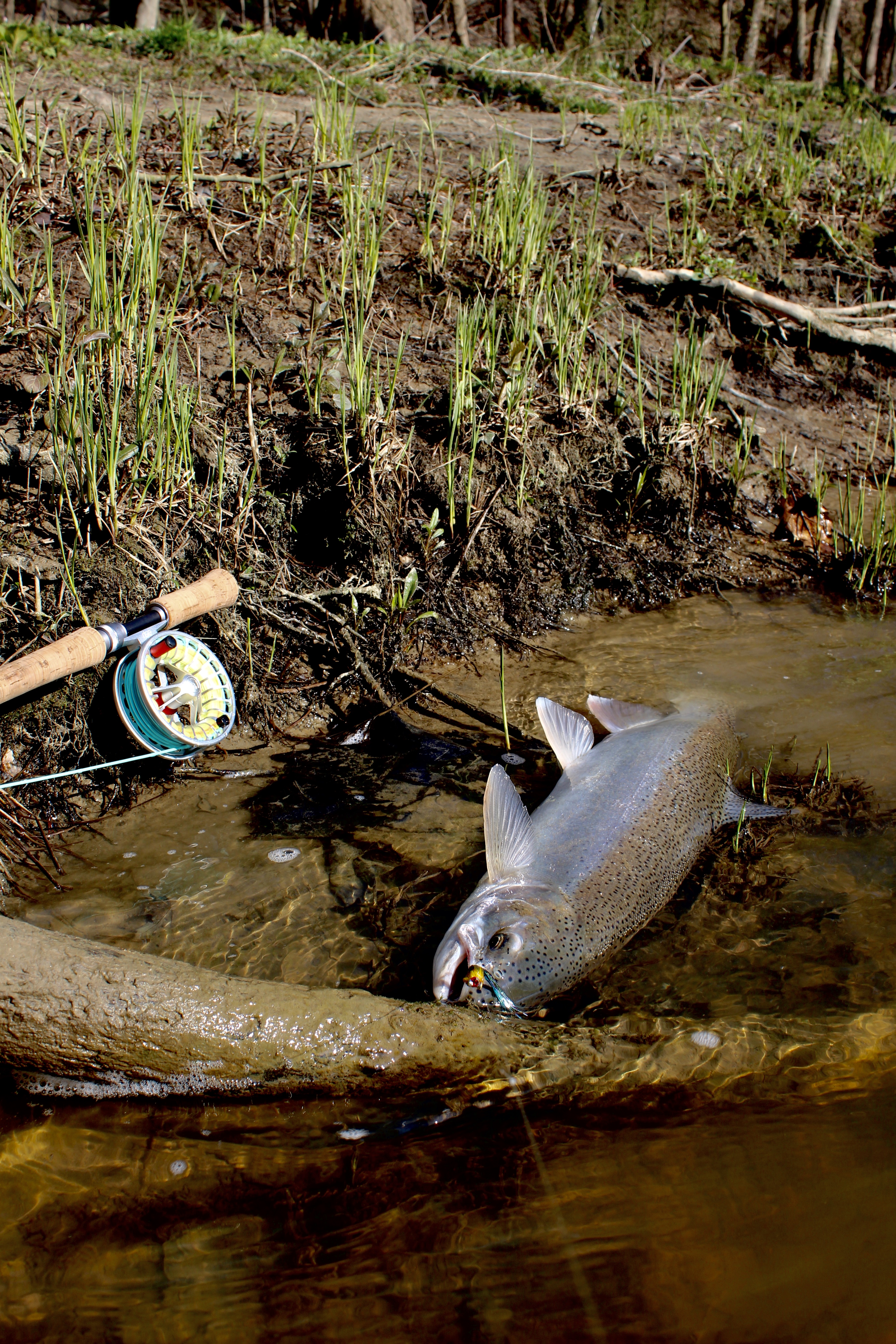 Still some beautiful chrome, pre-spawn fish around
Hard to believe it's gonna be May in a few days. Seems like each year the season passes by quicker and quicker. I might sneak out one more day sometime in the next week or two for steelhead, but we're mostly geared up to do PA trout trips now. For anglers still wanting to catch steelhead, there are still quite a few around. The cold temps recently and decent water flows have kept them in the rivers. By now most fish are spawning or downriver fish. If you're looking for pre-spawn fish, look in the upper half of rivers. Most fish down low are downriver fish. 
Was out a couple days ago. Swung up four, of which two were dime bright, prespawn fish, including one that went 31". Was nice to see some larger fish around, as is usual this time of year. Two of the others were between 27-29". Both fresh, prespawn fish were does. Seems like a trend I've noticed that signals the end of the season is quickly approaching- a last shot of larger female fish that push quickly upriver. The two bucks were colored up and battle scarred. I was about 28 miles upriver. Also swung up a big smallmouth, somewhere around 5 pounds. By the size I'd say was a lake run fish, but usually they don't make it up that far.
I still think my projection last week will hold up. We probably have a couple weeks of decent-good steelheading, and it looks like water levels and temps aren't gonna be an issue. If we start seeing 70's soon, keep an eye out. If the first half of May is like the second half of April, with days fluctuating between the 40's and 60's and intermittent rain, there may even be a decent number of fish around by the third week of the month, though I doubt very many will be fresh, and tired fish and warm water aren't the greatest combination.
Check out some more pics.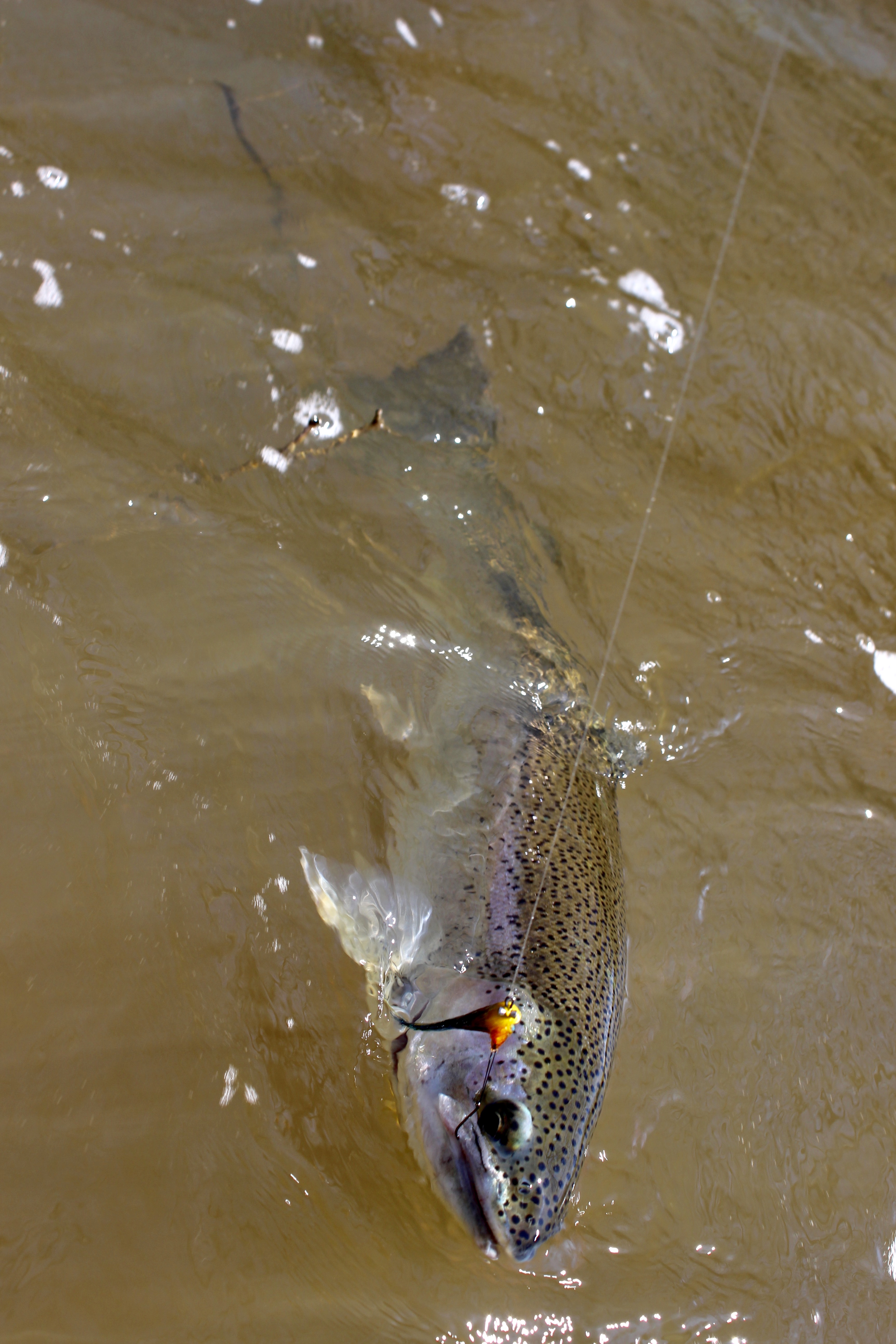 This bright upriver fish was too hot to touch. Easily cleared the water half a dozen times! I just reached down with the hemos and unbuttoned her.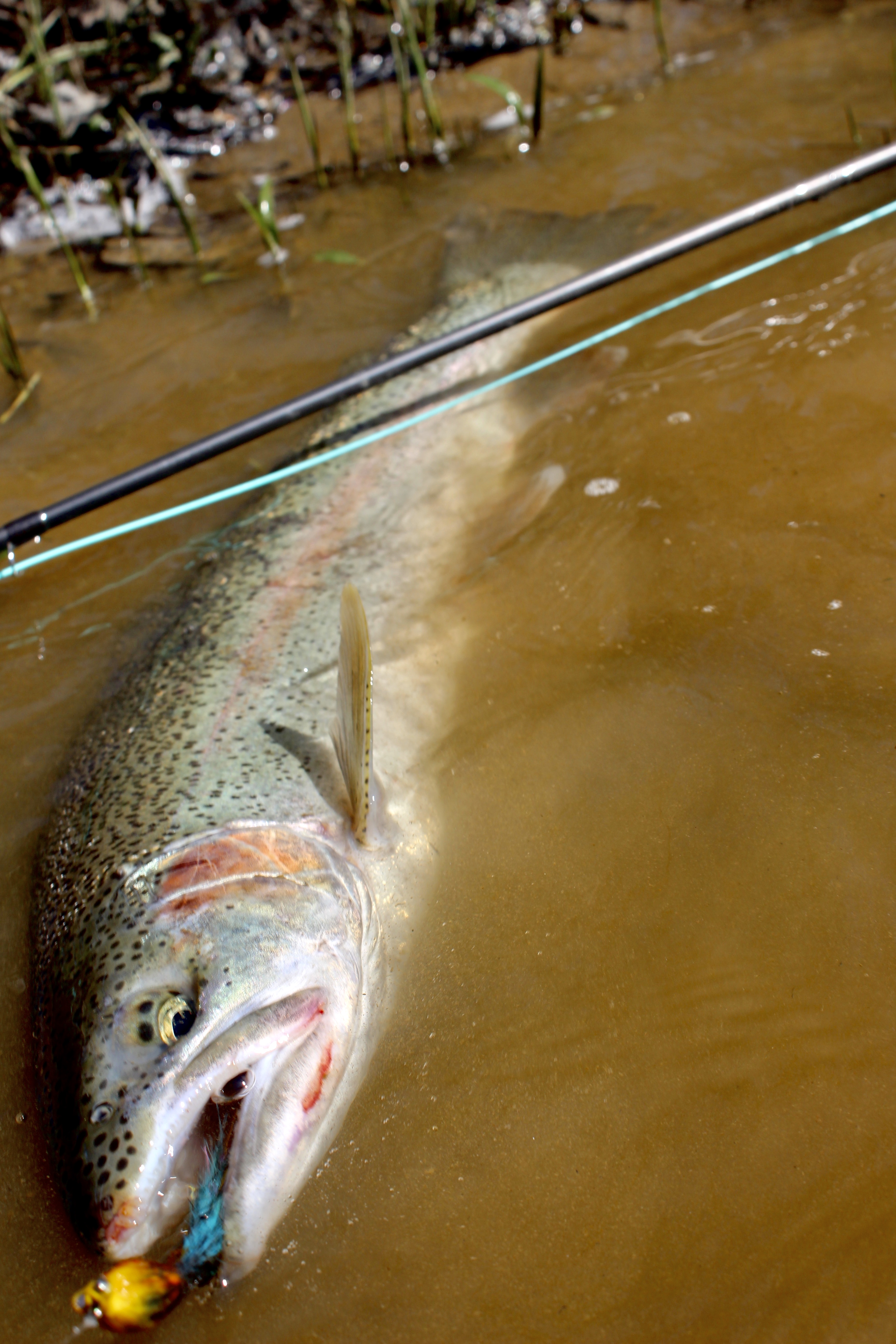 Colored up warhorse of a buck that went airborne with the take. Super cool!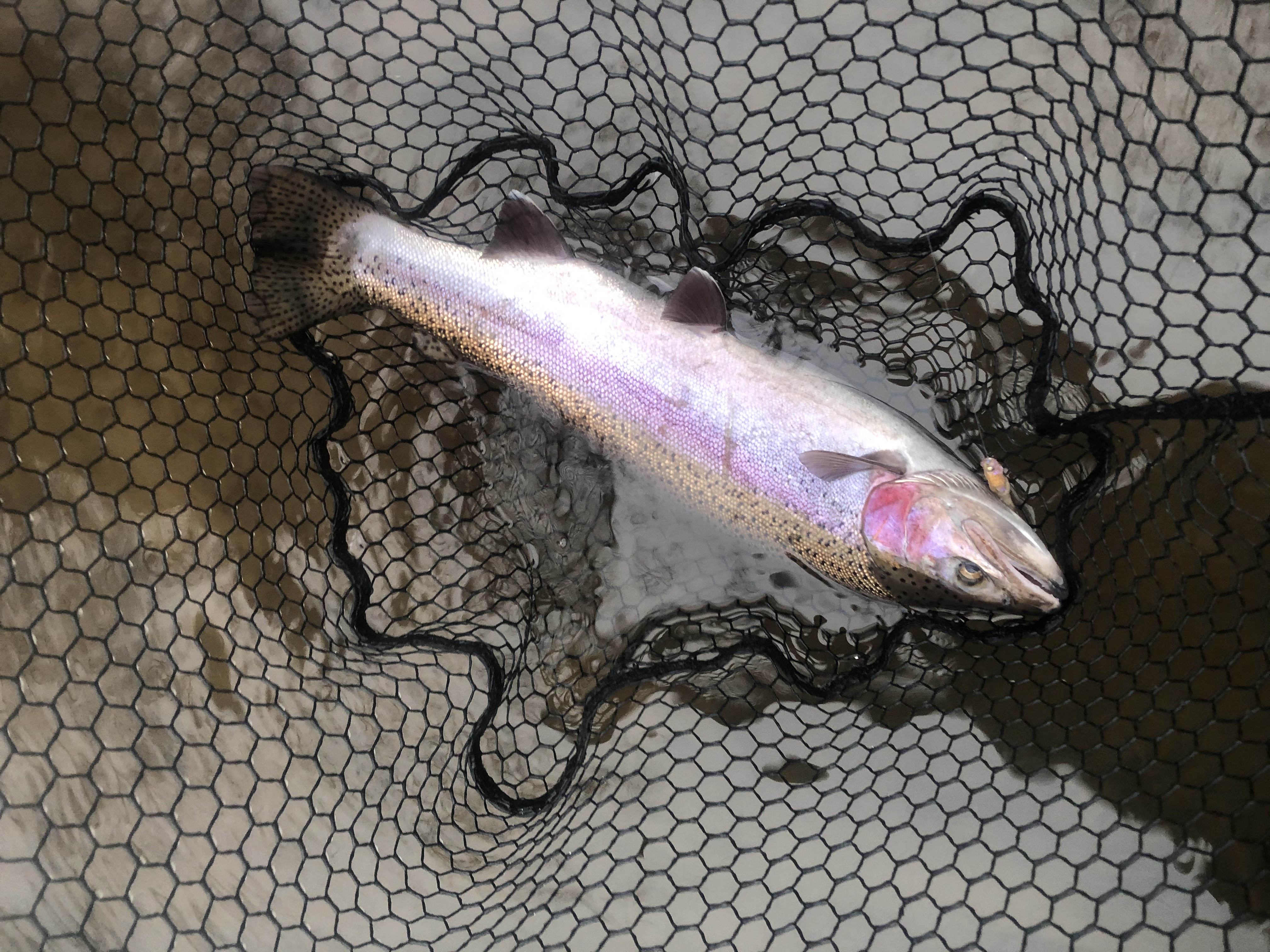 Love the colors this time of year
Hard to believe it's already 2020! I know this is a few weeks late, but as we roll into the new year, I like to take a look at what the old one had to offer. All in all, 2019 was a great year! Spring fishing was consistent on the Ohio rivers, starting very early on with good runs coming in during warmer periods of January and February, and fishing very well all the way through early may. It seemed like the overall size of the fish was slightly down, most the fish we found were between four and six pounds, but there were some bruisers in the mix like always.
One really nice thing about 2019 were the late spring and early summer wild browns in central PA. It had been quite some time since I had given any of the wild browns any love. But starting in early May and continuing all through June, we were having great streamer fishing for trout up to around 24", and saw some much bigger ones! I'm already thinking about trout season haha.
Like most years, from July-September, we quieted down as we started planning and preparing for the upcoming fall season. It was a time spent tying, scouting, and juggling multiple other engagements. But soon enough October rolled around. Early on, the Catt was low though not troublingly so. She still had enough water for fish to move through, but the lower flows definitely resulted in a bit of a delay. Until about the third week of the month, fish were spread out and working the water well was key. By the end of the month, however, we were finding good numbers and that continued on throughout the rest of the season. The nice thing was that on the whole, we had a lot of days to fish the Catt this fall, which is such a relief compared to the essential blank that was the year before.
The Ontario creeks fished moderately well in the fall as well. We did not have as strong a brown run as the year before. Most days were somewhere between two and four fish swinging, which is still very good. Just last year spoiled us for sure. One really nice thing about the Ontario creeks this year was the number of Atlantic salmon around. There's usually a few that we see in the mix of fish, but last year was the best numbers I think I've ever seen. I really hope that program keeps evolving and progressing. It would be nice to see Ontario develop a good Atlantic fishery like the ones in the upper lakes.
Looking ahead to 2020, we are already having great fishing. Fresh steelhead are running the Ohio rivers as we speak, and their numbers will build as winter turns to spring. Based on what I'm seeing, I'm pretty excited for peak season. Matt and Jeff will be back out here working with me from late March through late April. Right now Matt is out in Park City, Utah fishing the Provo, and Jeff is back on the east coast chasing stipers. Check out the pics they sent me.
In addition, in a couple months Flyfishers Guide to Steelhead Alley, a book I was asked to write, comes out. Pretty excited to see the finished product. It's part technique guide and part stream guide, so I think it has something for everyone. And I've decided to donate any of my author royalties to Trout Unlimited for the Snake River Dam Removal efforts. So pick up a book and check it out! Should be available end of February/early March-ish.
Tight Lines,
 - D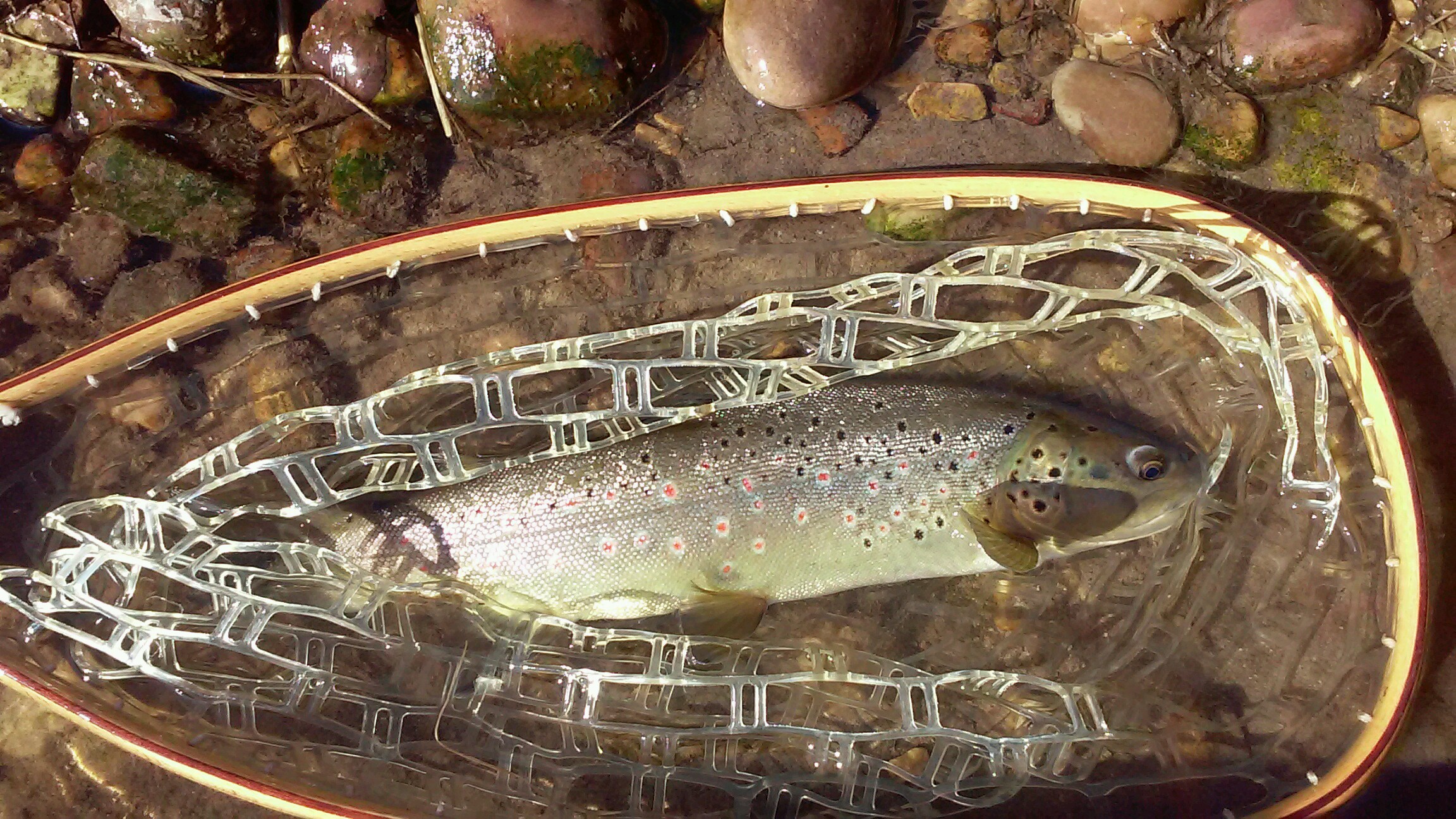 Matt's recent Provo River brown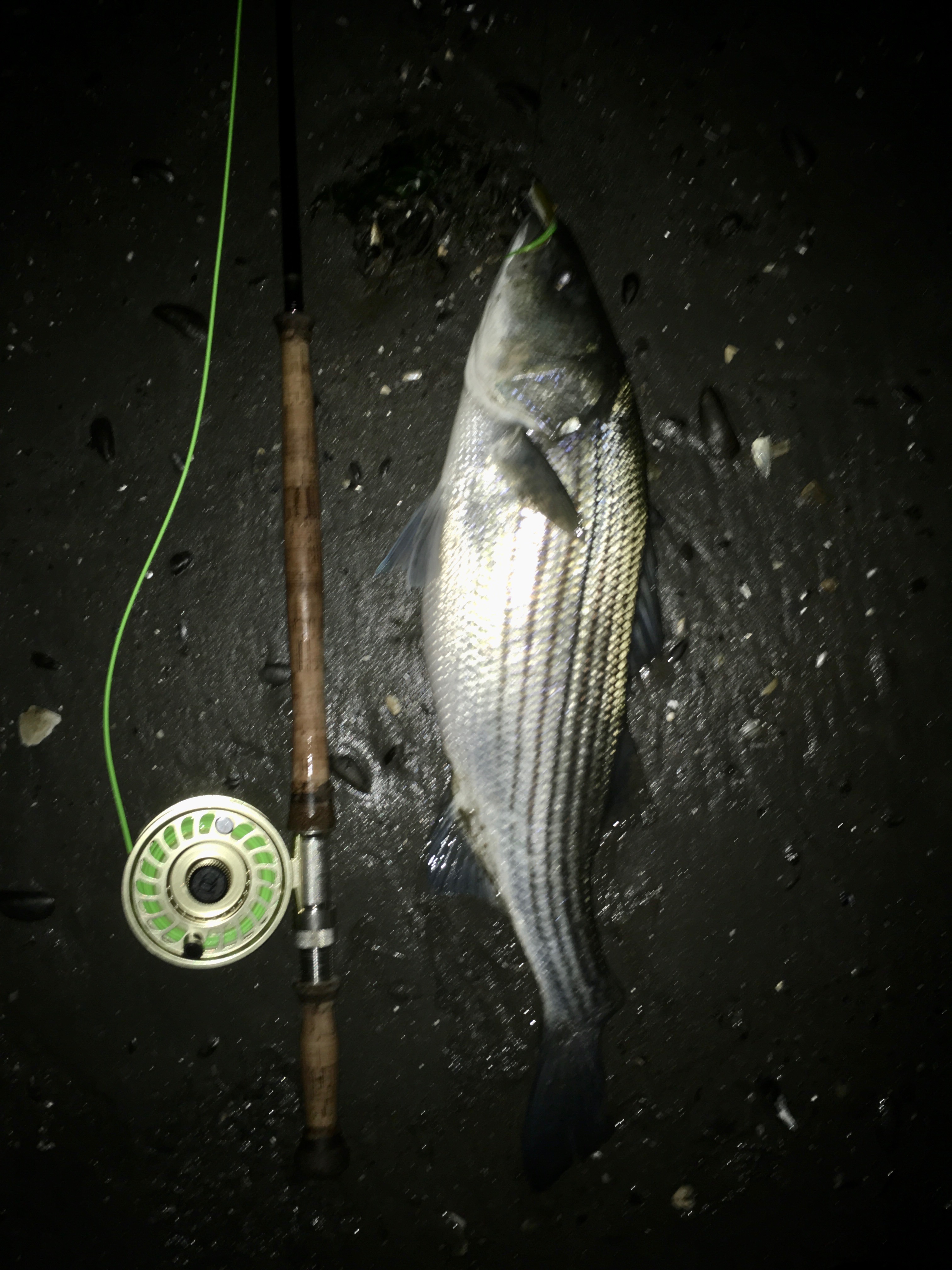 A striper Jeff caught fishing jetties in the surf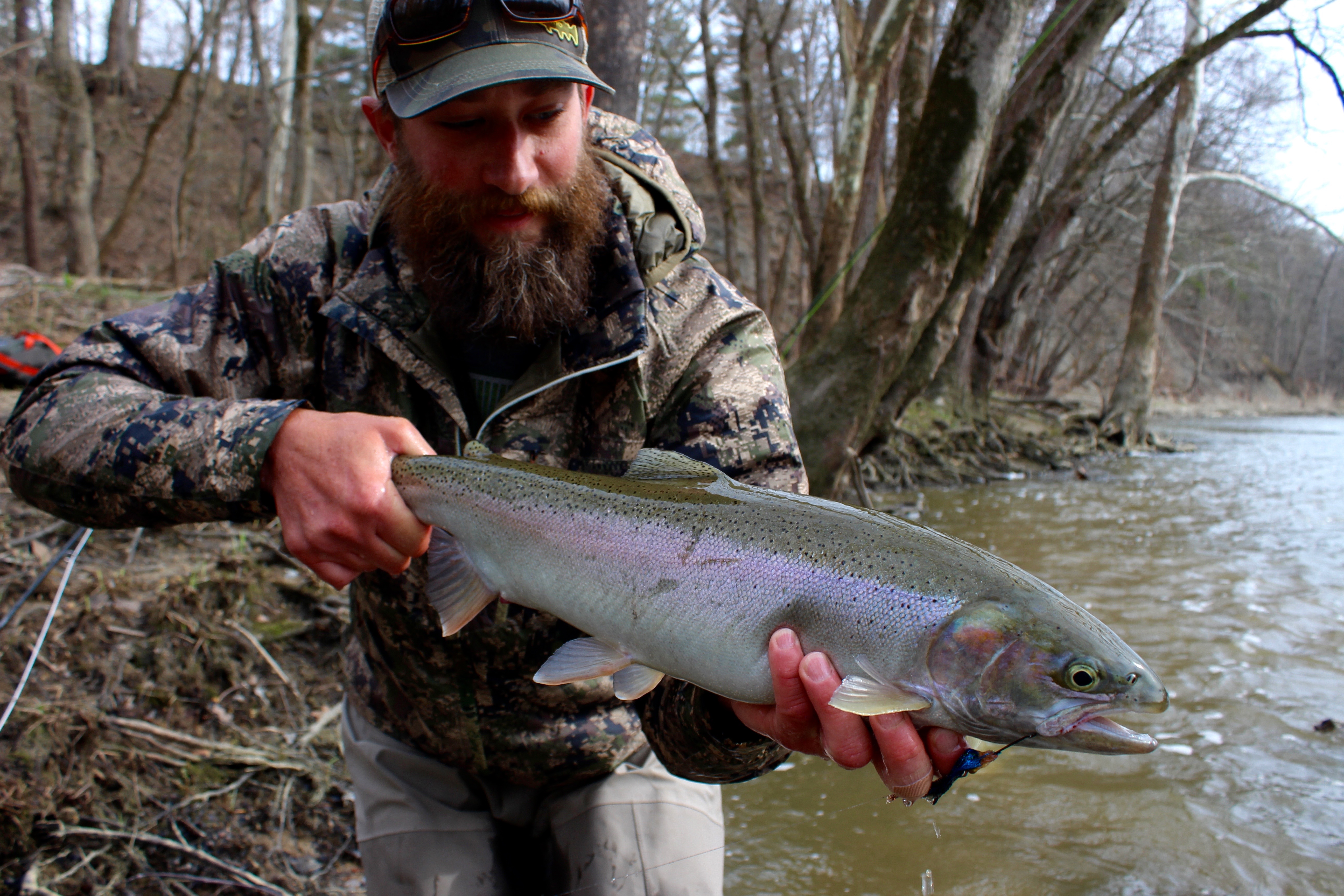 There are still good numbers of fresh steelhead running the Ohio rivers
Ohio has been fishing very well over the last two weeks. We had a decent amount of rain the last day of March that pushed in a good run of fresh fish into all major tributaries, then again last night we had another system move through with rain and low temps. This should extend the season an extra week or two. I expect good fishing as the water drops again, with what will probably be the last significant push of fresh fish of the spring. Based on what I'm seeing, I'd expect all but the largest tributaries to be wrapping things up by the end of the month, as these late runners are usually quick in the rivers. The biggest rivers in the area will probably continue to fish until about the second week of May, water temperatures permitting. This is based on the ratio of fresh fish to drop backs that we're seeing. On the big river that ratio is about 60/40 dropbacks to fresh, while everywhere else is more like 80/20. We still have some excellent fishing ahead, but the '18-'19 steelhead season is nearing the end. Going forward it will be important to keep a thermometer for taking water temperatures on those warmer afternoons. Get out there and enjoy it while you can. Won't be long till it's the smallie show.
Tight Lines,
 - D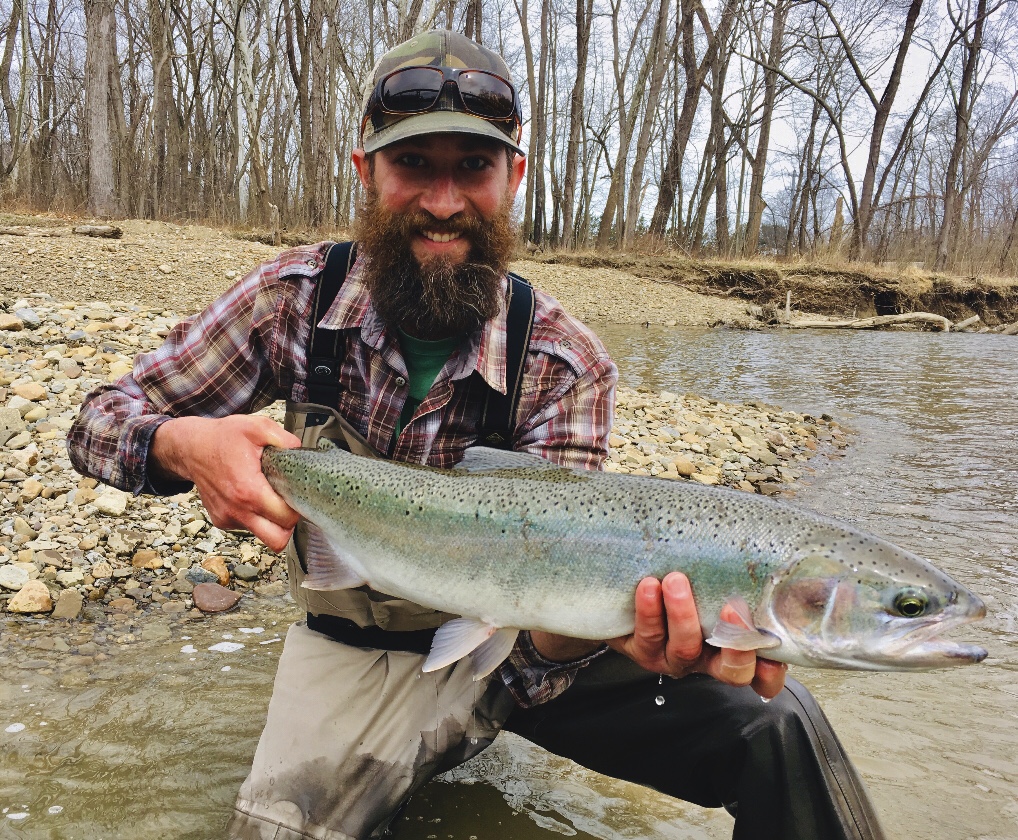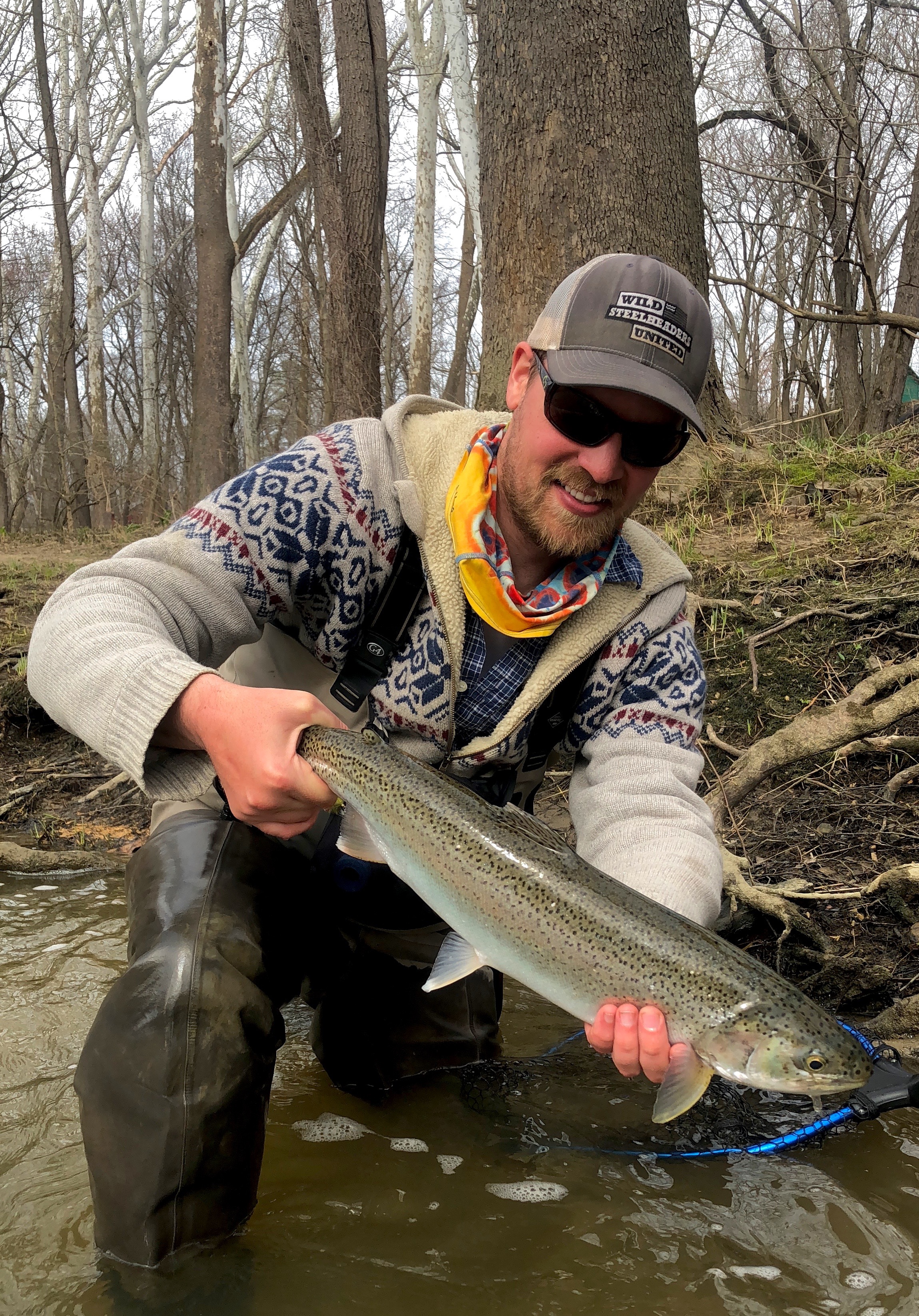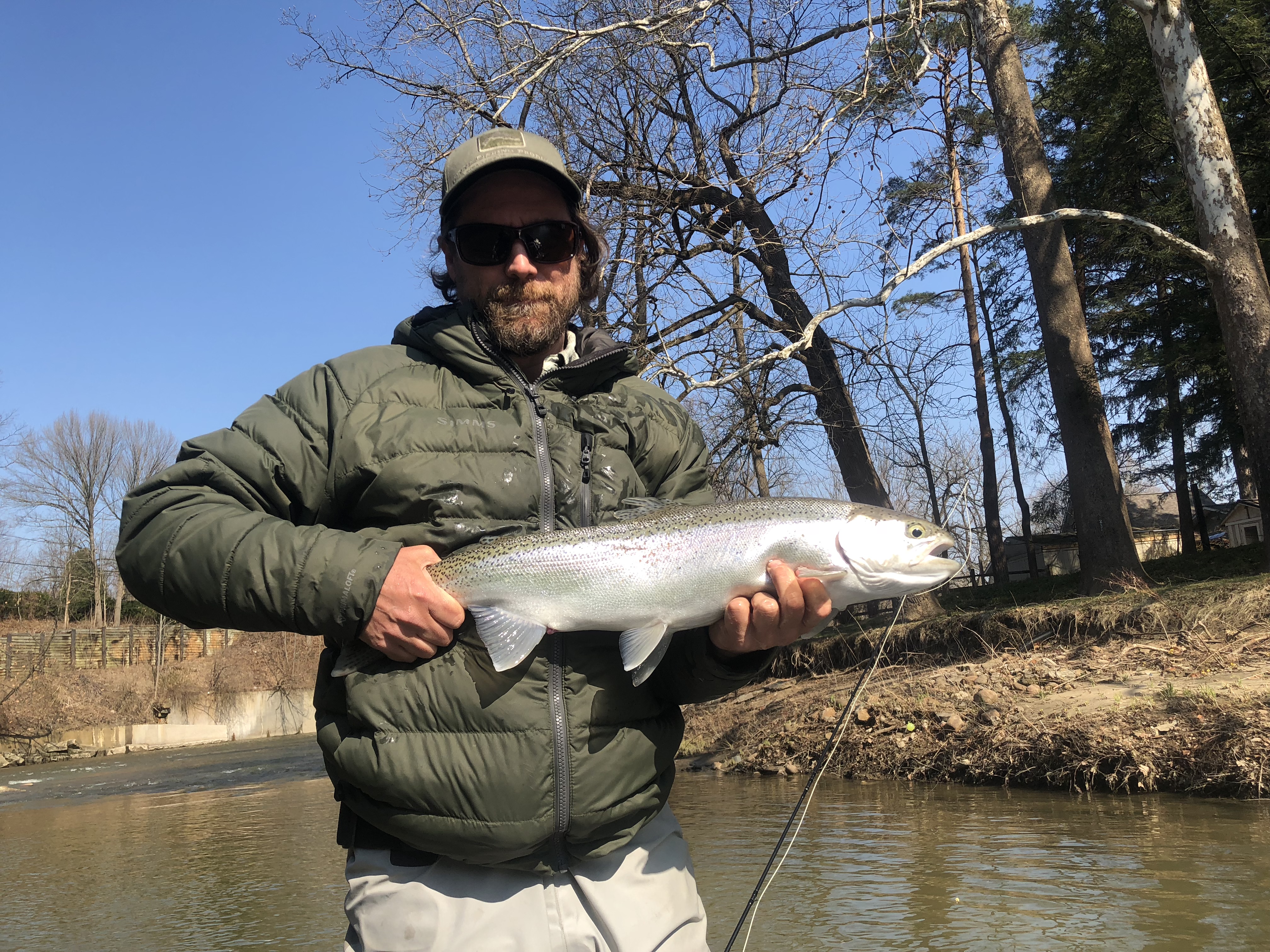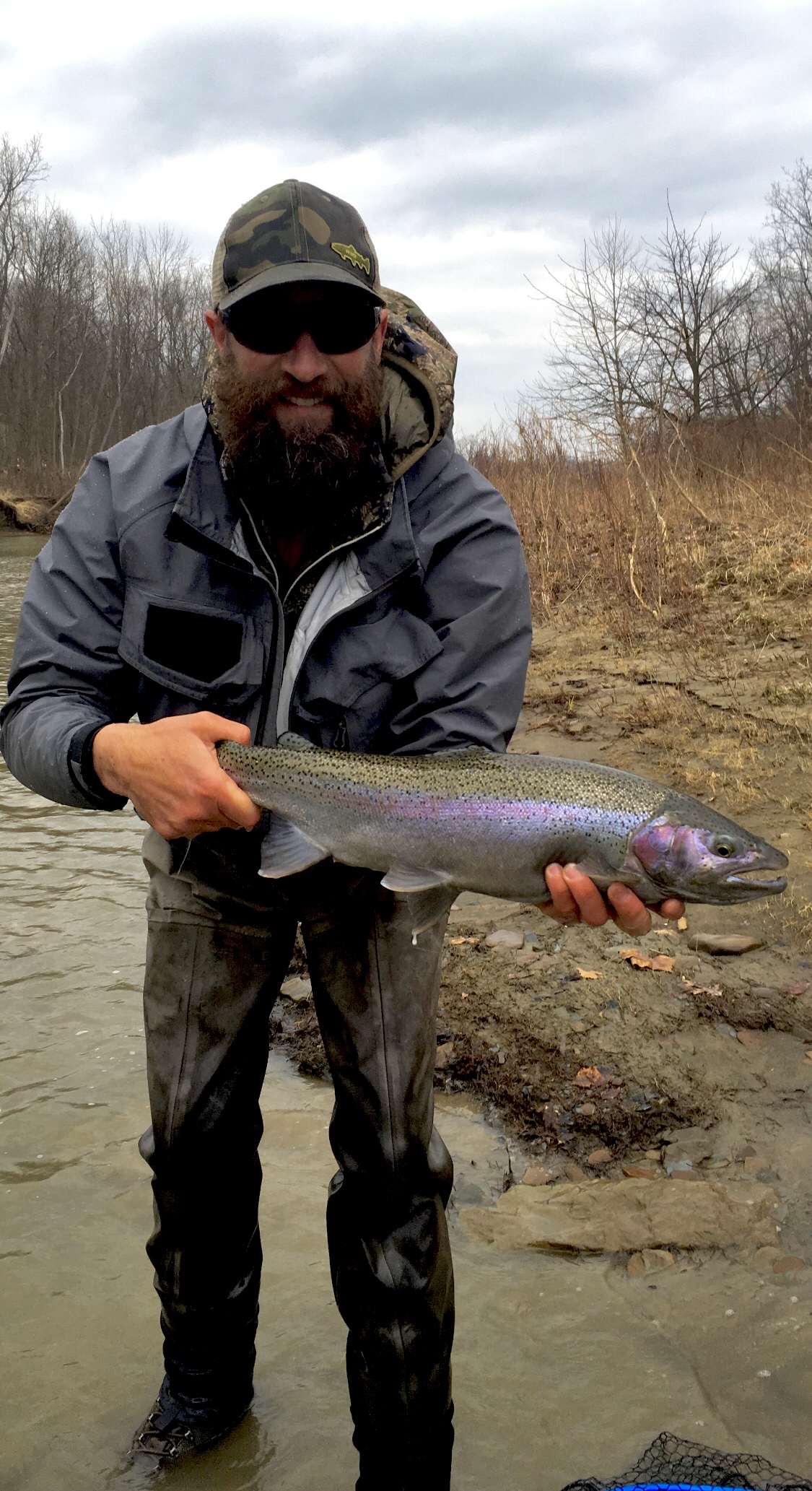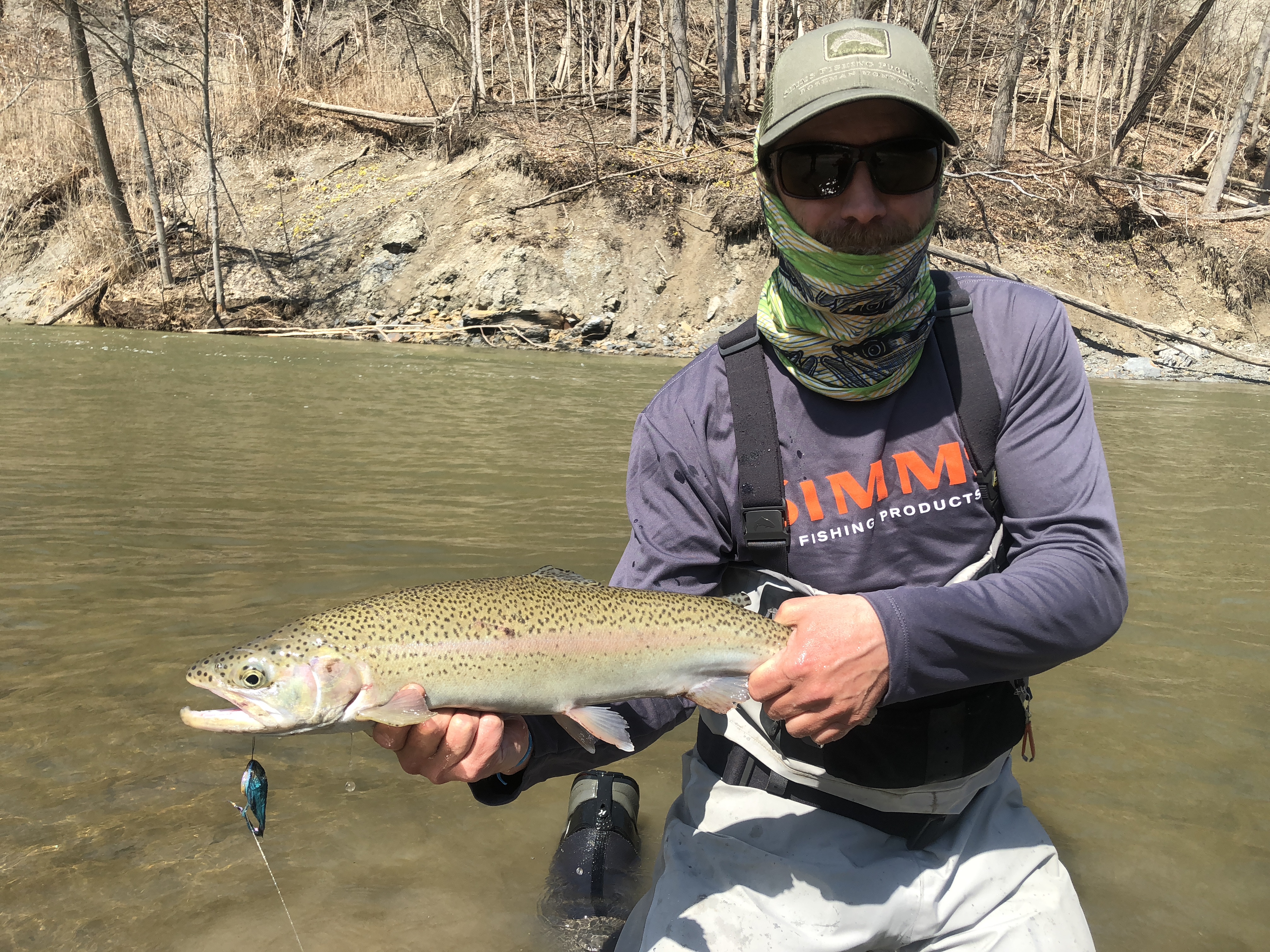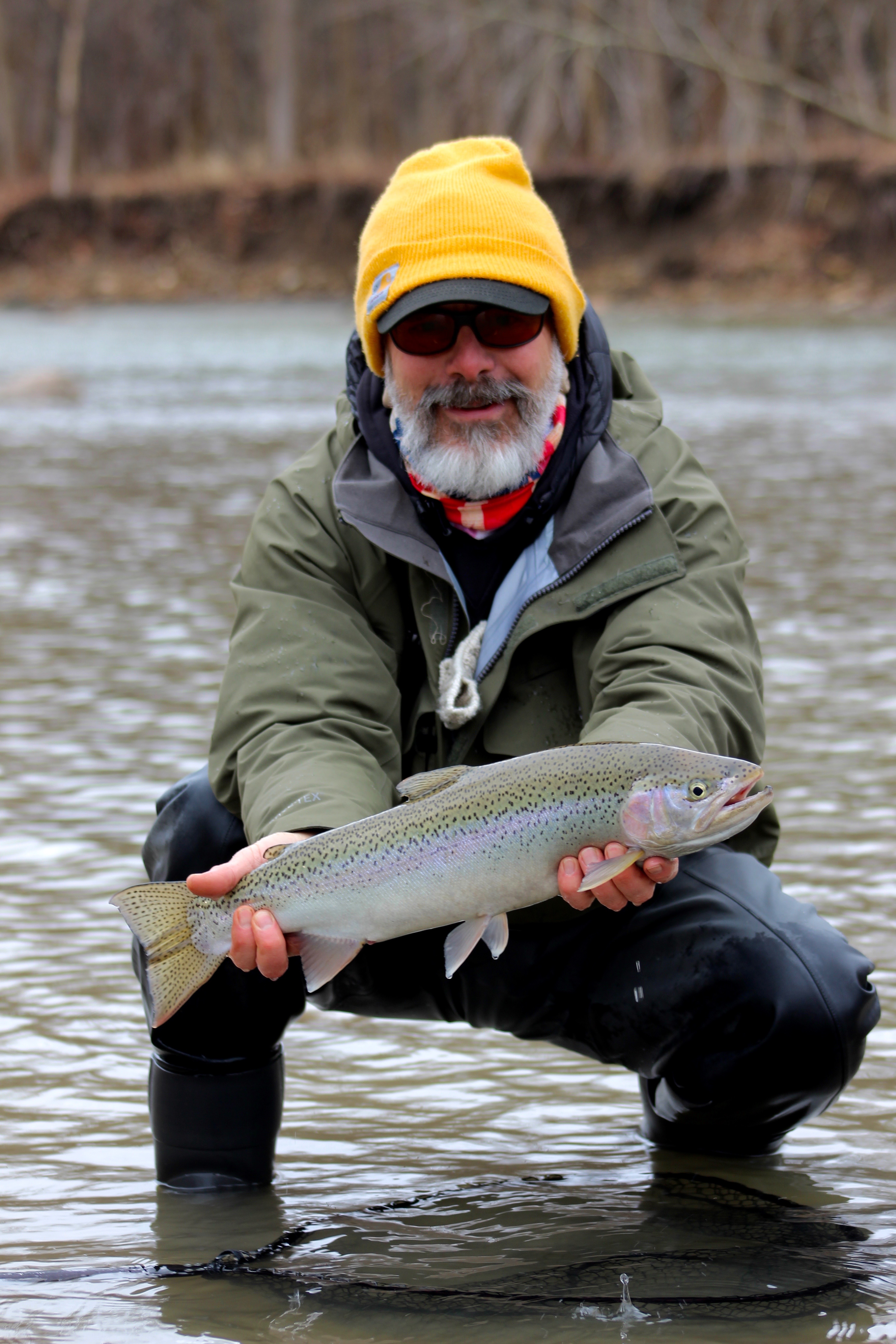 John with a really nice swing fish
Spent the weekend fishing with John again, and we just had too much fun. This '18-'19 steelhead season has been weird. In the fall it was all water. Everyday was rainy, the Catt was out of the pic. Now in the spring, when we usually see the most water due to rain and snowmelt, everything is super low. Go figure! But it isn't preclusive of success, and we caught our fair share of fish. In fact judging by the looks of the people we saw fishing around us, we might have caught their fair share of fish too haha.
The focus, as it usually is when fishing with me, was spey fishing. Towards the end of the trip on the last morning John's casting was really coming together, and he had a good couple hours were most of his casts were tight loops out to 60 feet or so. Impressive for a guy with only a couple days time working a two hander! As a result of his progress he landed an absolute stunner of a buck. Not big but beautiful. We fished both the Chagrin and the Grand. The Chagrin is gin clear and if we don't get meaningful rain it may fall below 100 CFS. The Grand has some flow right now but again it's still very low considering what is normal this time of year. All in all, John landed four swinging and lost about as many. We did a little indicator fishing too, and he picked up another half dozen or so, and hooked many more. Not bad for a weekend of fishing!
Tight Lines,
 - D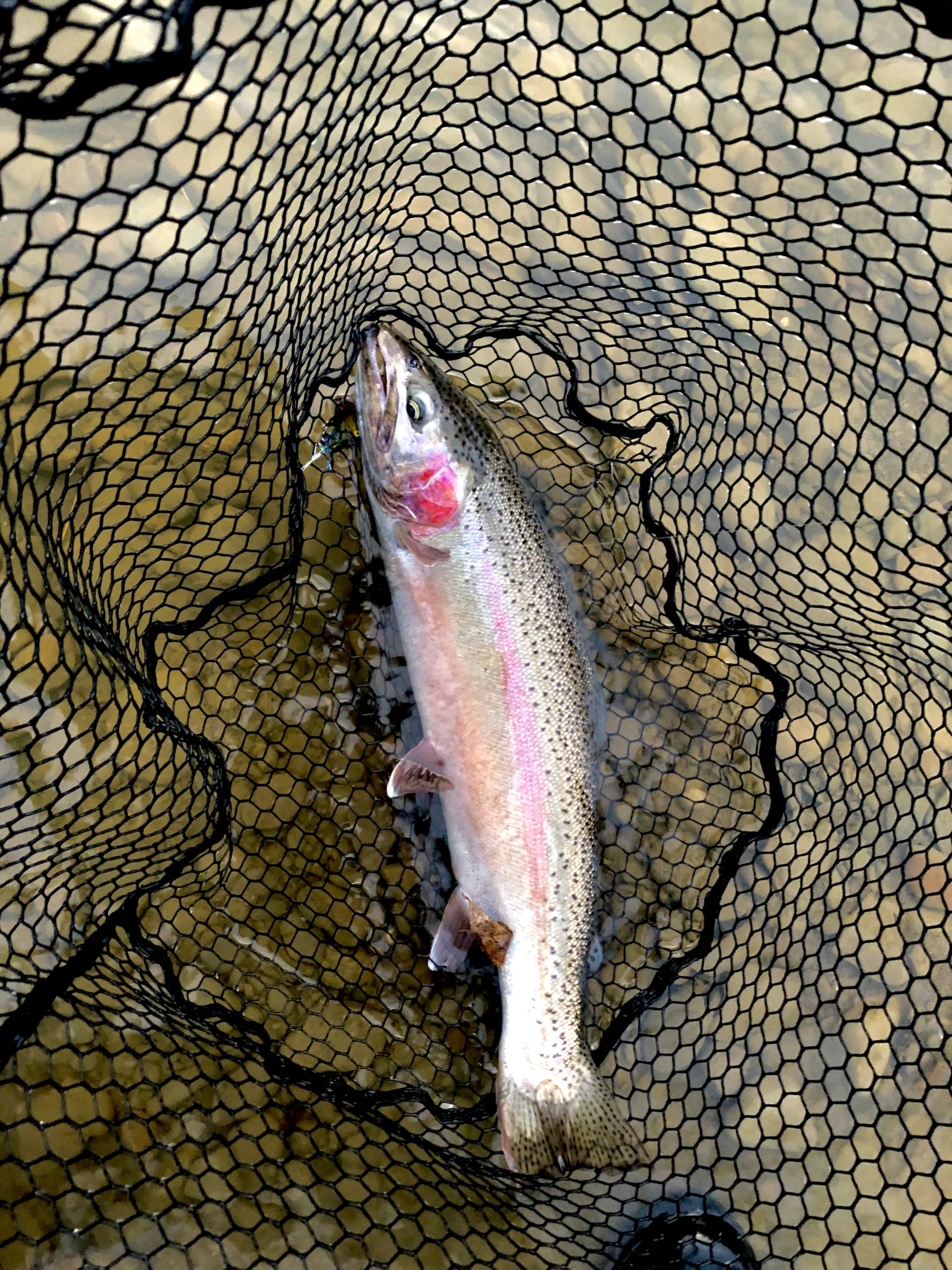 Gorgeous little buck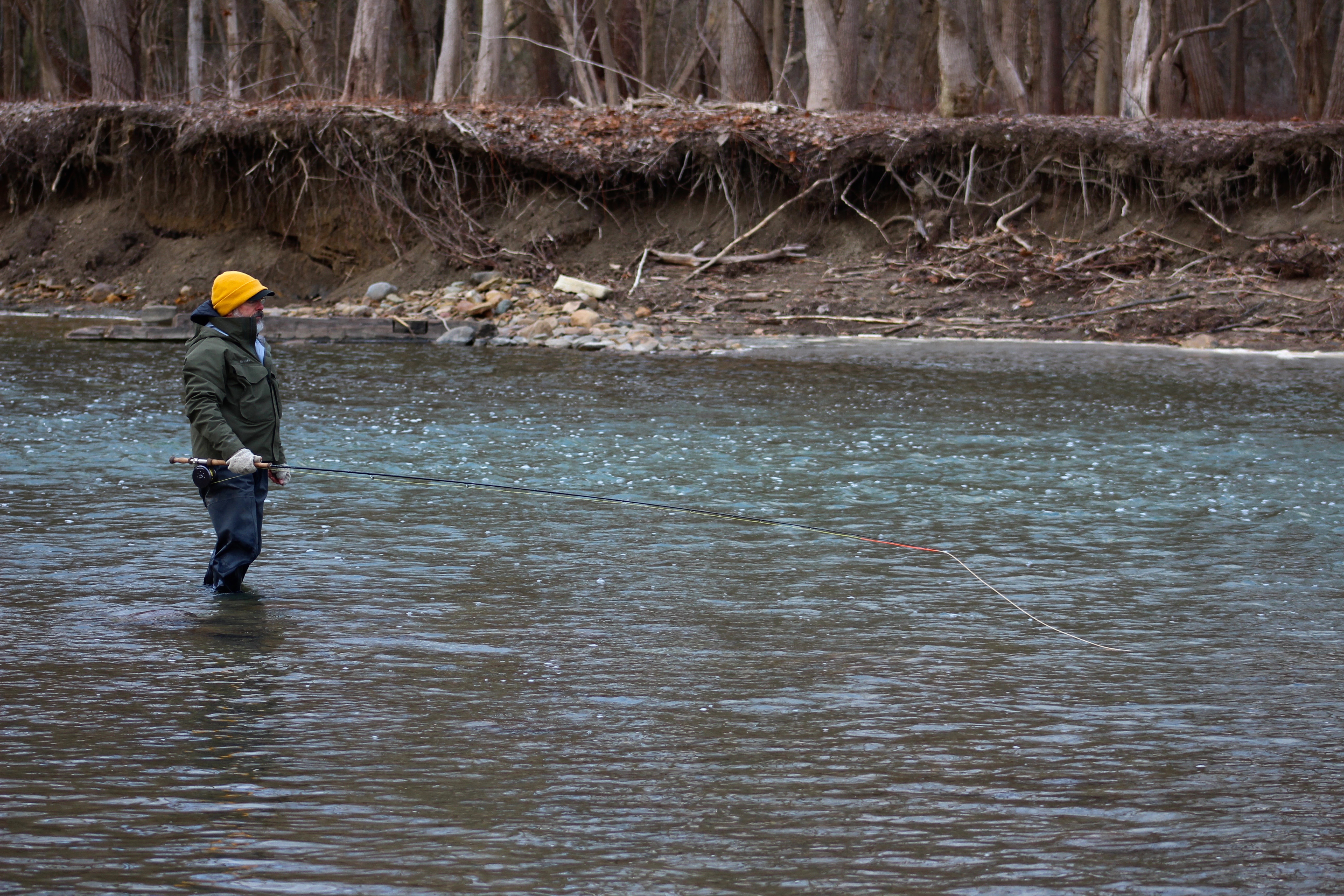 John working a run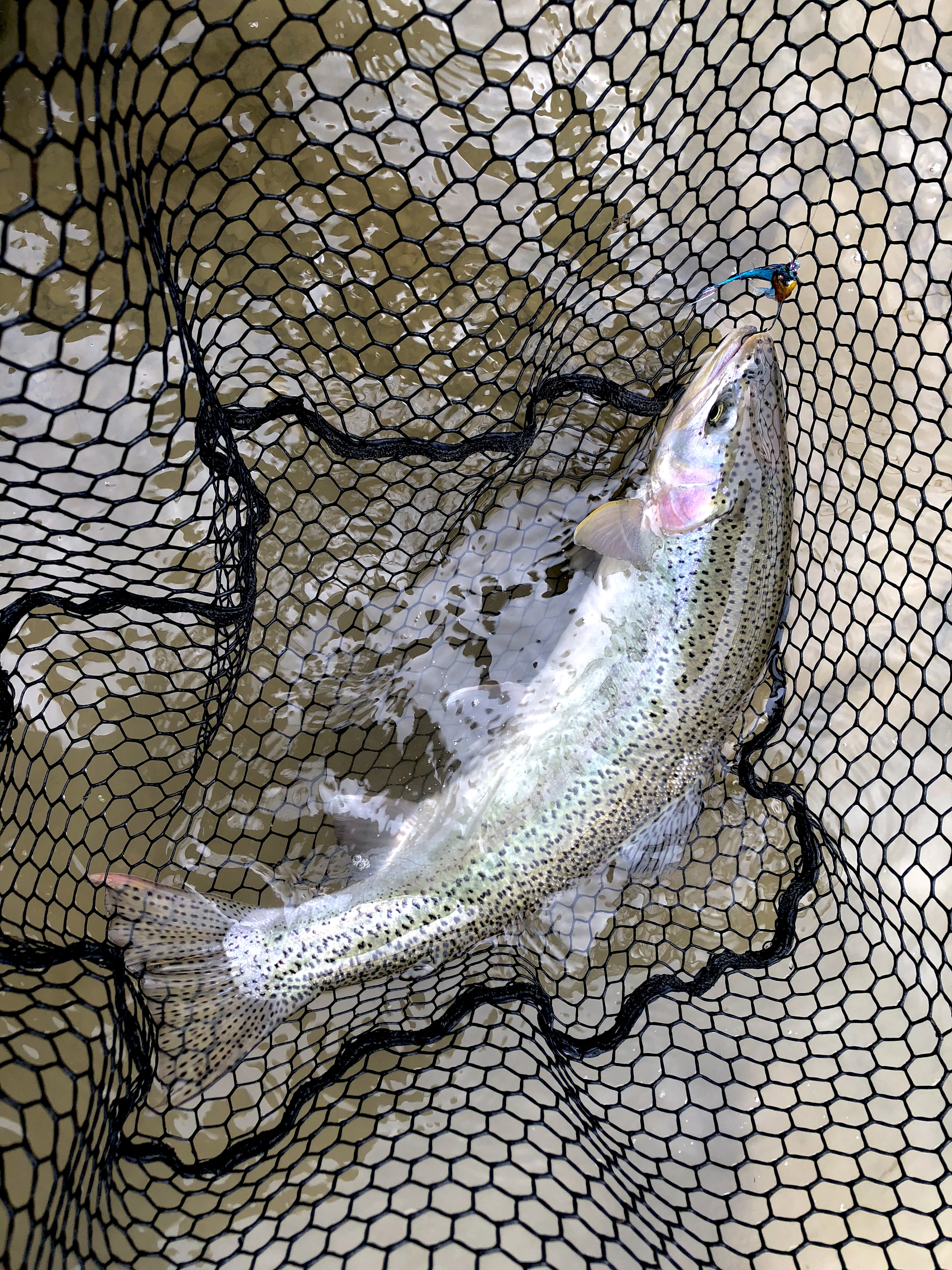 Another pretty swing fish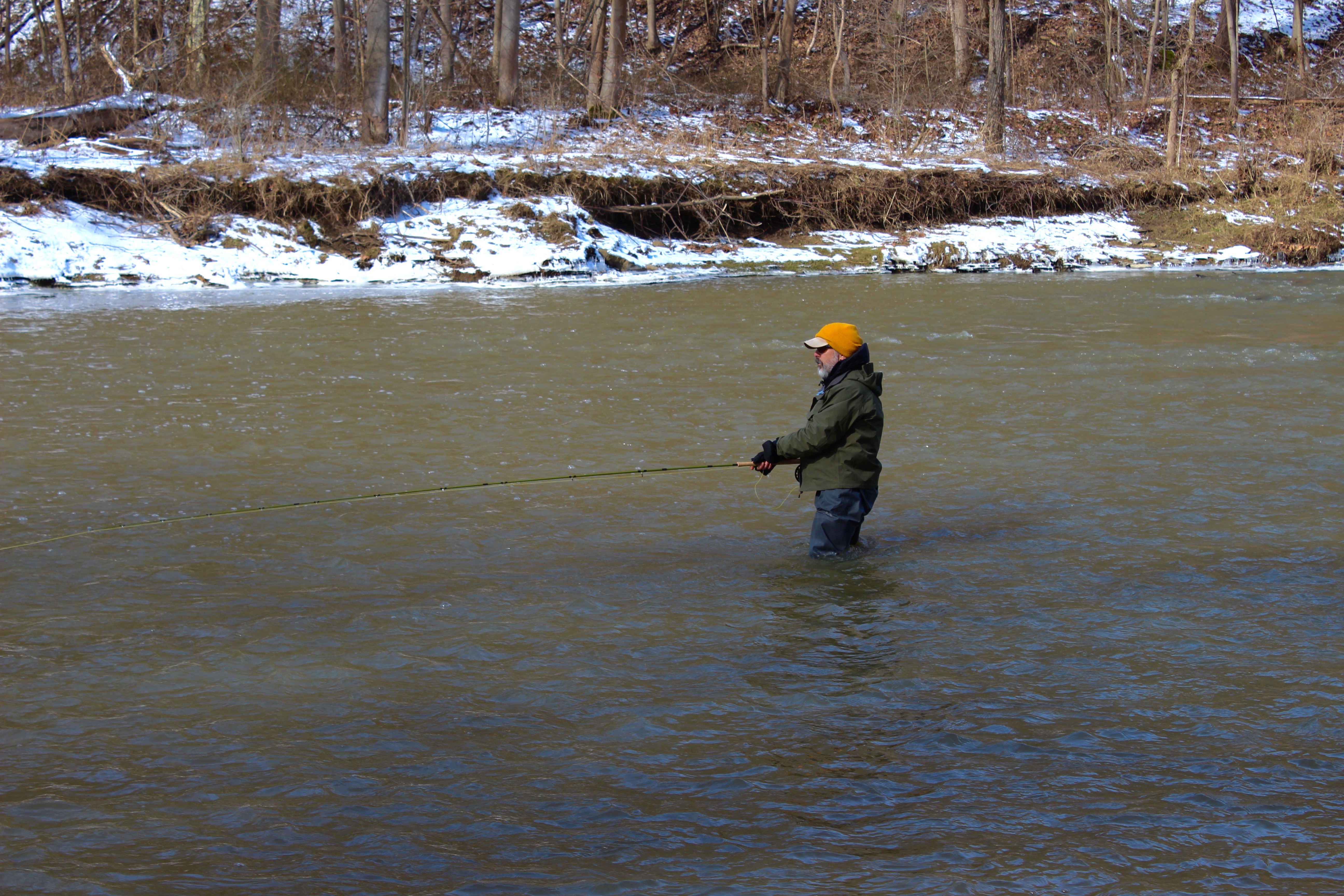 Swinging a good run on the Grand!
Got out with John for some spey fishing a few days ago on the Grand. John drove in from PA to get his feet wet in the spey game, and he picked it up really quickly. Our first stop of the morning was over on the Chagrin, but it was slush central. I figured there would be some, but it was coming through pretty heavy and there was just no way to get a line in until it burned off. So we jetted over to the Grand to fish the big water, and the upper river was slush free!
Spent the rest of the morning working some really good runs. About an hour into it we had a great grab but the fish simply didnt connect, then about an hour later we hooked a nice fish but lost it during the fight. I didn't take a water temperature, but I can tell you it would have been around 33 degrees or so. The two fish that grabbed were both in the slow winter water, though the fish we lost looked like a fresher fish when it came up. Nice to see the spring fish getting up that high.
After that we went to a mid river run that has changed quite a bit recently. The wind picked up and the sun went away making it really cold and blustery. Iced guides became a problem again. Kept at it until about 5 in the afternoon but didn't get a third chance. All in all though for winter swinging on the Grand two grabs and one hookup is a good day! Won't be long now until we start really seeing numbers!  
Tight Lines,
 - D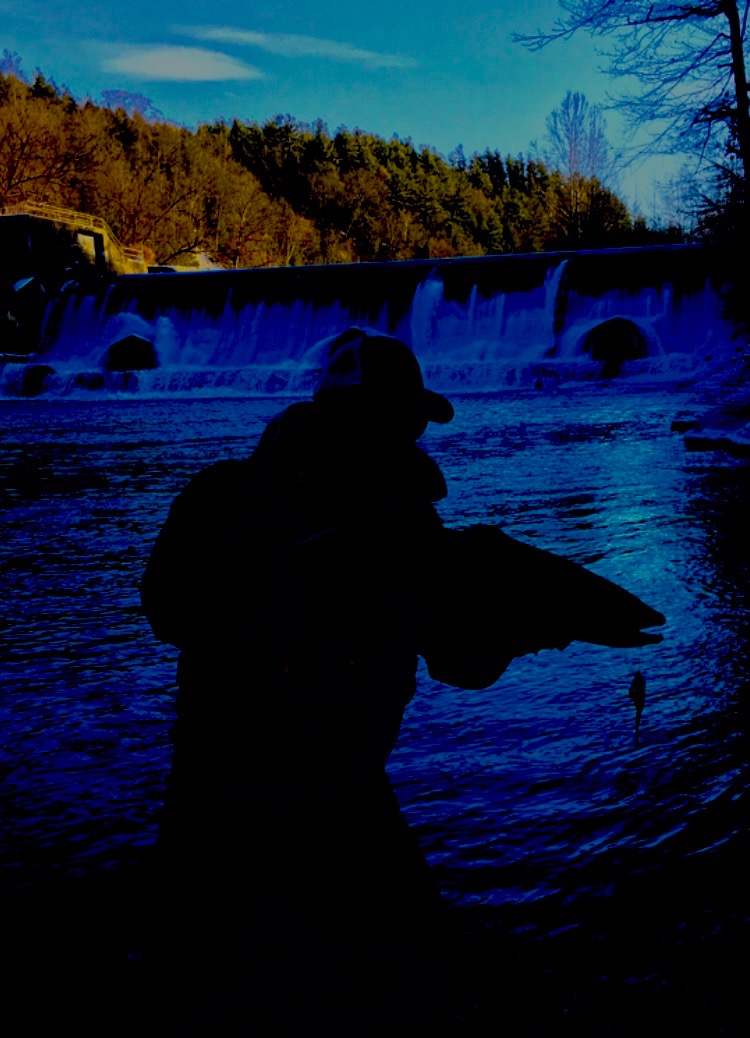 Time to say goodbye for a little while
Well, it's getting to be that time of year again. We still have a lot of steelhead in the rivers, but the water temps are getting significantly above 65 degrees and staying above it for most the day on most of our rivers. That's just too warm to fish steelhead unless we get a cool down, which according to the weather doesn't look too likely. Though there are a few days where the highs are projected to be in the high 50's over the next two weeks, most days are in the upper 60's to upper 70's which means water temperatures will stay in the low to mid sixties, even on cool days, and will spike up even higher on warm ones. So it looks like steelhead season has come to an end.
Looking back over the fall 2017 and spring 2018 season, we had some of the best fishing I've seen in years. The past fall in New York was easily the best steelhead season we've seen in the past four or five years, with the Catt coming into play very early in October and fishing extremely well that entire month. Flows were perfect for swinging dry lines and numbers of fish willing to play were high. Then in November, despite the Catt being out of the picture essentially that entire month, the smaller creeks really came into play with good numbers, despite the early cold snap the second and third week. Over the fall and early winter, we found some very large fish, up to mid-thirties in inches and low-mid teens in weight, especially in December.
Then starting in February, Ohio really started fishing well, with good numbers of fish running on every high water period until the end of April. Though we didn't land any monsters this spring, with the biggest fish being in the thirty inch ranges, we certainly hooked some that were much larger, including on Art hooked one the Chagrin that stayed deep and ran upstream through heavy water and we just could not turn it. It ended up wrapping the line around a big piece of slate and broke us off, but damn it would have been nice to see that fish.
One very pleasant surprise was how well all the Ohio rivers fished this spring. In most springs though we'll have good fishing on all the rivers periodically throughout the spring, there usually is one river that is clearly fishing better than all the rest on a consistent basis. I think it simply has to do with waterflows being prime at the right time as a large school of steelhead are cruising in the lake nearby and decide to run the river. This spring it seemed like each river had roughly equal amounts of fish in them. This is certainly a trend I hope continues as it made for nearly three months of perfect fishing somewhere along the Ohio Lake Erie tributary systems.
Going forward, we're going to be switching to trout and smallmouth, but things are going to quiet down for us a bit, as they normally do between May and early October. We're already seeing some really nice smallies, but want to give the steelhead a chance to drop out before we really start fishing them, as this time of year you can catch a steelhead and a smallmouth on back to back casts. Only problem is water temperature. If you really need to get another steelhead in before the end, please bring a thermometer with you and just be mindful. We've had seven full months of great steelheading already. 
Tight Lines
 - D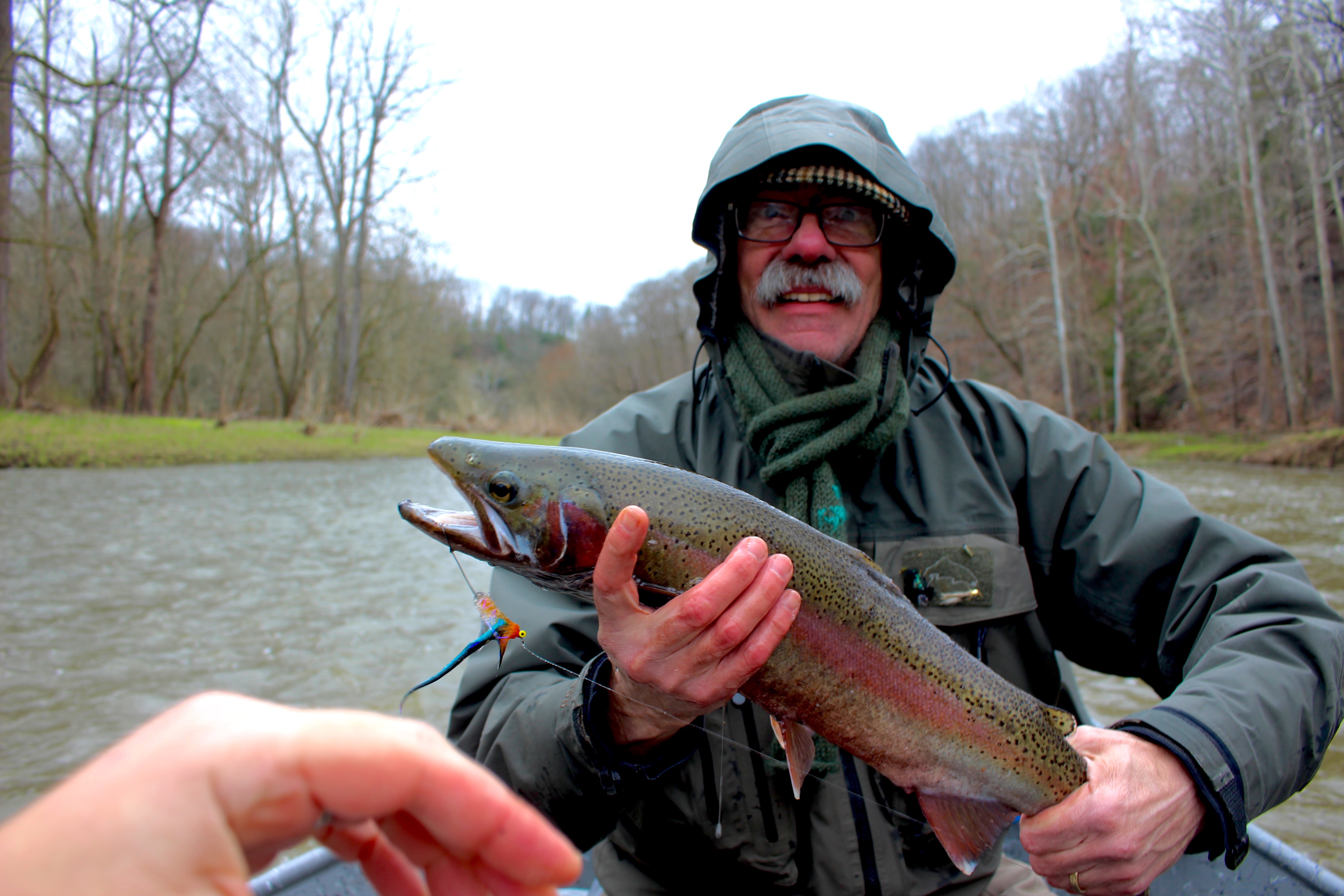 My Dad with a really nice one from yesterday
Finally was able to get out and do a drift on the grand. And surprise surprise, it was canoe and kayak race day. The event had been scheduled for last weekend, but I guess they rescheduled it for yesterday due to a bit of high water. It would seem to me the high water would have made things more fun, but what do I know. We'll get to the race stuff in a bit. Anyways, had a cancellation for yesterday so I called my dad to see if he'd be able to do a trip, and he was. It was his first time in the drift boat, so I knew he was really excited.
Got to the takeout to drop the extra car off and saw signs that the canoe/kayak race had been rescheduled, but only saw a handful of cars so we figured it was probably just a small event this year due to the weather- it was holding at 38 degrees and rainy. Then we got to the launch and it was a shit show. Cars and canoes and kayaks everywhere. It was worse than floating the clarion on memorial day when all the locals come out and float tube it down the river. Snuck around to the back of the park across the river and dragged the driftboat in so we could launch ahead of the floatilla.
Got to the first spot we wanted to swing and dropped the anchor. My dad lost a fish right off the bat, then landed a little guy. The nice thing about swinging from the drift boat is you can slide in where you need to be and swing from the shore to the middle of the river. When we cast while wading, we cast into the middle of the river. This means that the sinktip needs time to get deep, and we usually place the cast in the deepest part of the river. When you cast from a boat to the shore and swing it out into the middle, the swing is fishing instantly due to the tip gradually sinking as the river gets deeper. By the time you're in the middle you're down where the fish are in the water column. Anyways we ended up missing a couple more then landed a good sized dark buck. Then the canoes and kayaks started...
The first wave was only about four or five. So I pulled anchor and pushed down river after they passed. We pushed down a bit to an island and pulled in. And waited for an hour as 100 canoes and kayaks passed by. Now this is where it gets interesting. The float is about 8 1/2 miles. At this point, people are pretty committed as there is no real easy way out. We saw people floating in shorts and t-shirts. Hypothermia is a real thing people. 8 1/2 miles in a kayak if you're pushing it means about an hour to an hour and a half. And that's if you know what you're doing on a boat. Not everyone who passed us did.
At the head of the island is the roughest water on the whole float: the river funnels into a pinch, with a current seam that rips over to river right and directly into the rootwad of a big sycamore and undercut bank. Directly downstream from this about thirty feet is a sweeper tree leaning out from the right too. It's not expert class level by any means but you need to have an idea of what you're doing or you can get into trouble, especially with a canoe where the center of gravity is up higher out of the water.
Anyways while we were there on the island watching all the boats pass, a canoe with two guys in it went over against that sycamore. The guys were thrown into the water, their canoe swamped. The older gentleman tried to stay with his canoe, trying to keep it from going downstream, which is the wrong move. Stay with the canoe, but go with the current. You conserve energy and don't gas yourself. When you struggle and tire in cold water, bad things can happen. We were able to tell him to let his canoe come down to us, where my dad and I dragged it out, flipped it over then made sure he was alright. His son, was able to wade his way out higher up the riffle. Thankfully we were there and some people from the metroparks were there to make sure they were ok, and it looks like they brought a spare change of clothes. If these guys were floating by themselves, they could have been in serious trouble.
Our Ohio rivers are not technical rivers to float by any means, and they don't have the class III and IV rapids like some of the Alaskan rivers I worked on. But you can still get into trouble. At the very least you should have some idea how to manage a canoe or kayak, especially when the water and air are cold. We all were new floating rivers and managing boats in the current at one point. But it's just common sense to start small and progress as your skill improves. Go out with more experienced paddlers or rowers, of if you can't learn in the summer when flows are lower and getting wet doesn't mean significant risks of hypothermia.   
As for the rest of the fishing, we missed one more and picked one more nice colored fish up near the end of the float. Three for seven swinging from the drift boat all on the whiskey hangover, and a rescue operation. Pretty eventful Saturday.
Tight Lines and Be Safe Out There,
 - D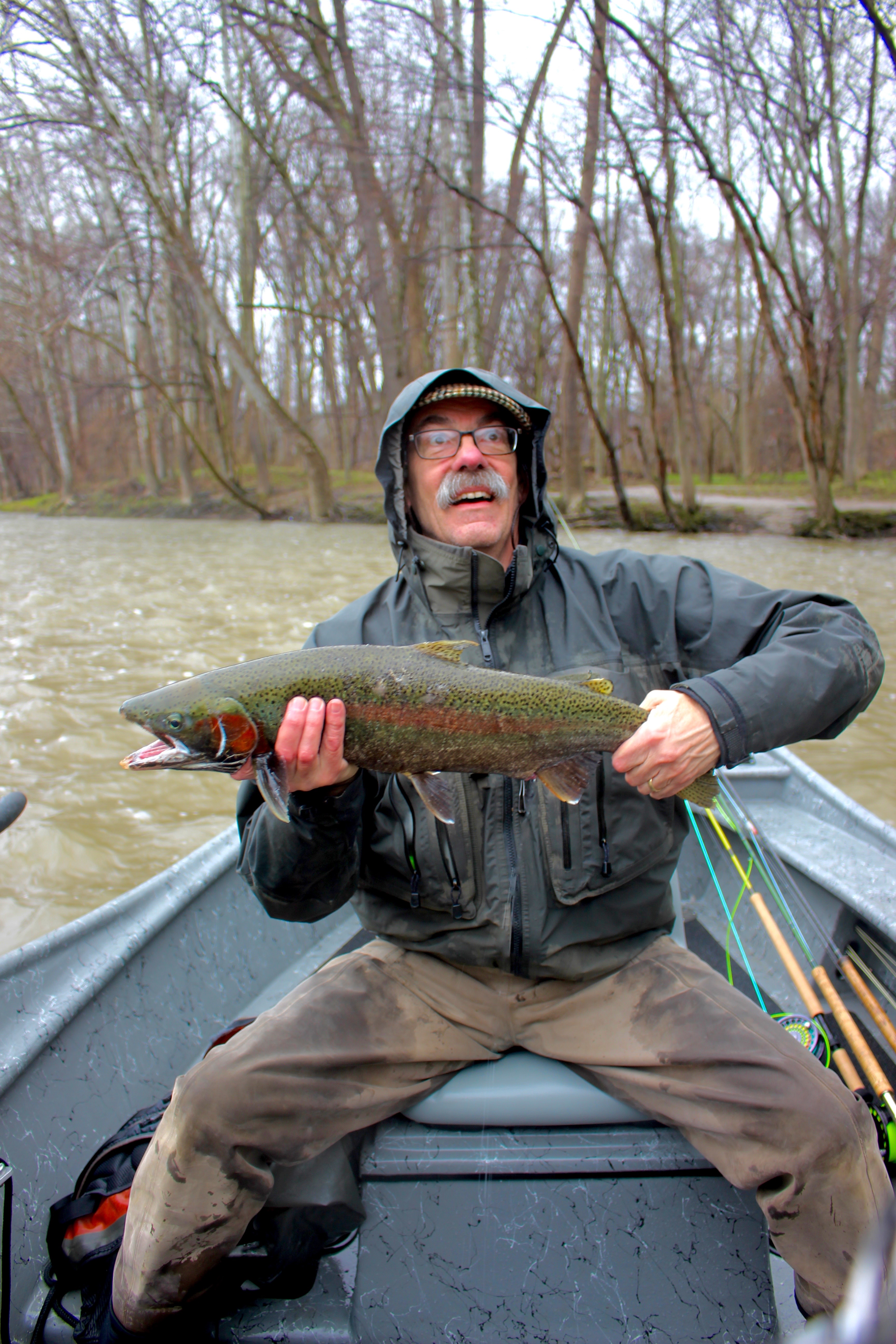 My Dad with a nice dark fish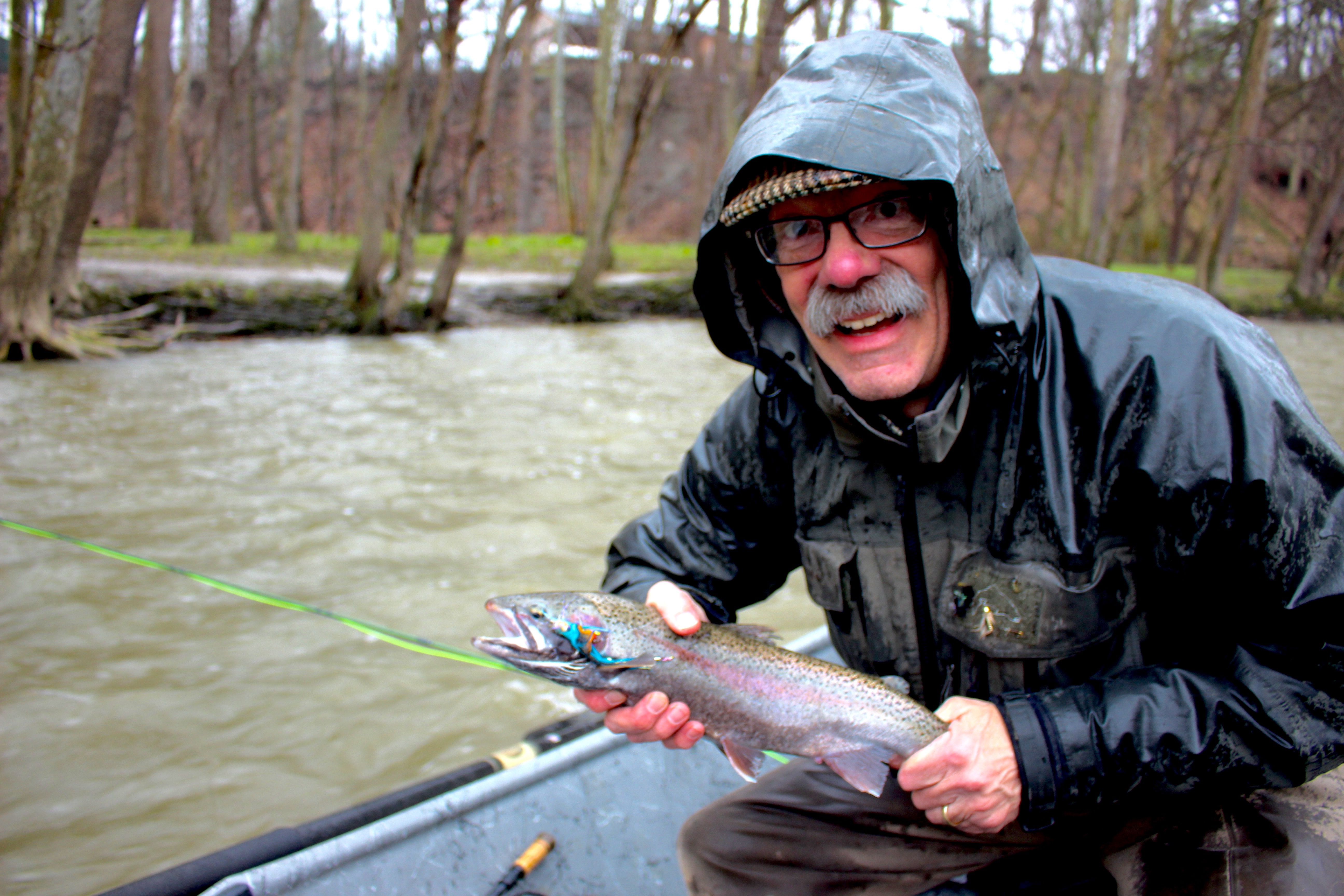 Little guy for the first of the day
/