Shopping Cart
Your Cart is Empty
There was an error with PayPal
Click here to try again
Thank you for your business!
You should be receiving an order confirmation from Paypal shortly.
Exit Shopping Cart
Guided Fly and Spey Fishing Trips for Steelhead and Brown Trout with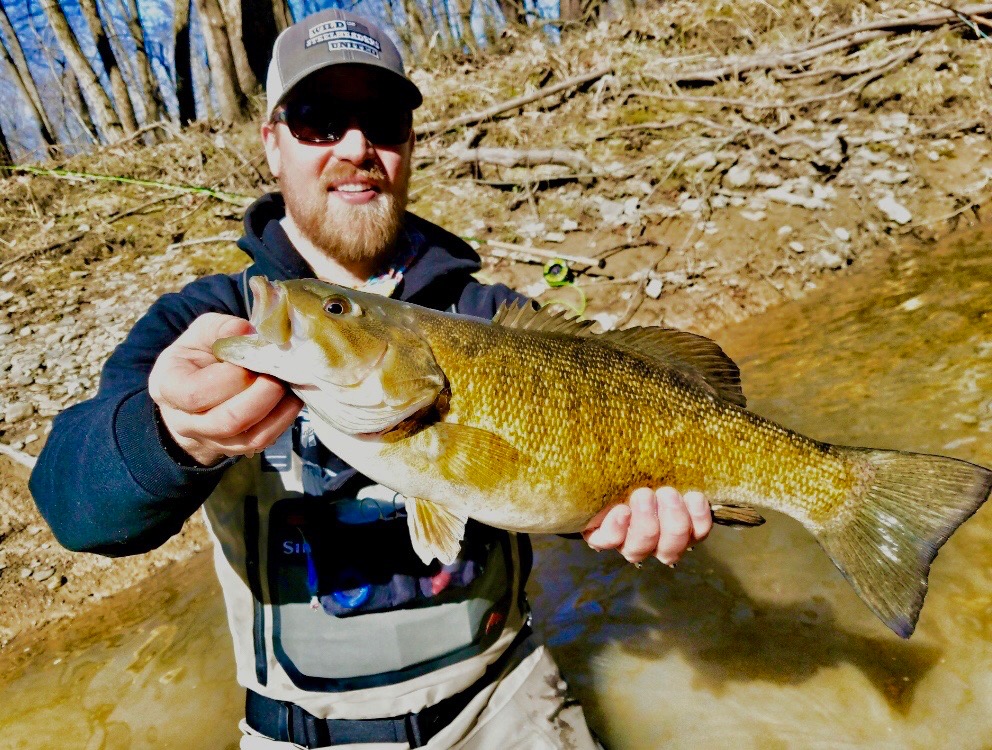 That time for giant smallmouth!
Well we found the first smallmouth of the season. That means one thing: the end of steelhead season is in sight. Though looking at the forecast and how things are progressing, I think we still have a few weeks left, and the rain and cool temps should bring in at least one more push of fresh fish, days are numbered. But don't get too down on yourselves just yet. Smallmouth are super fun targets to swing for, and will take pretty much the same patterns with the same techniques. These lake run smallies usually run 3-5 pounds, but can tip the scales even bigger than that! And they put up a great fight! So if you haven't started targeting these awesome fish, May and June is a great time!
Tight Lines,
 - D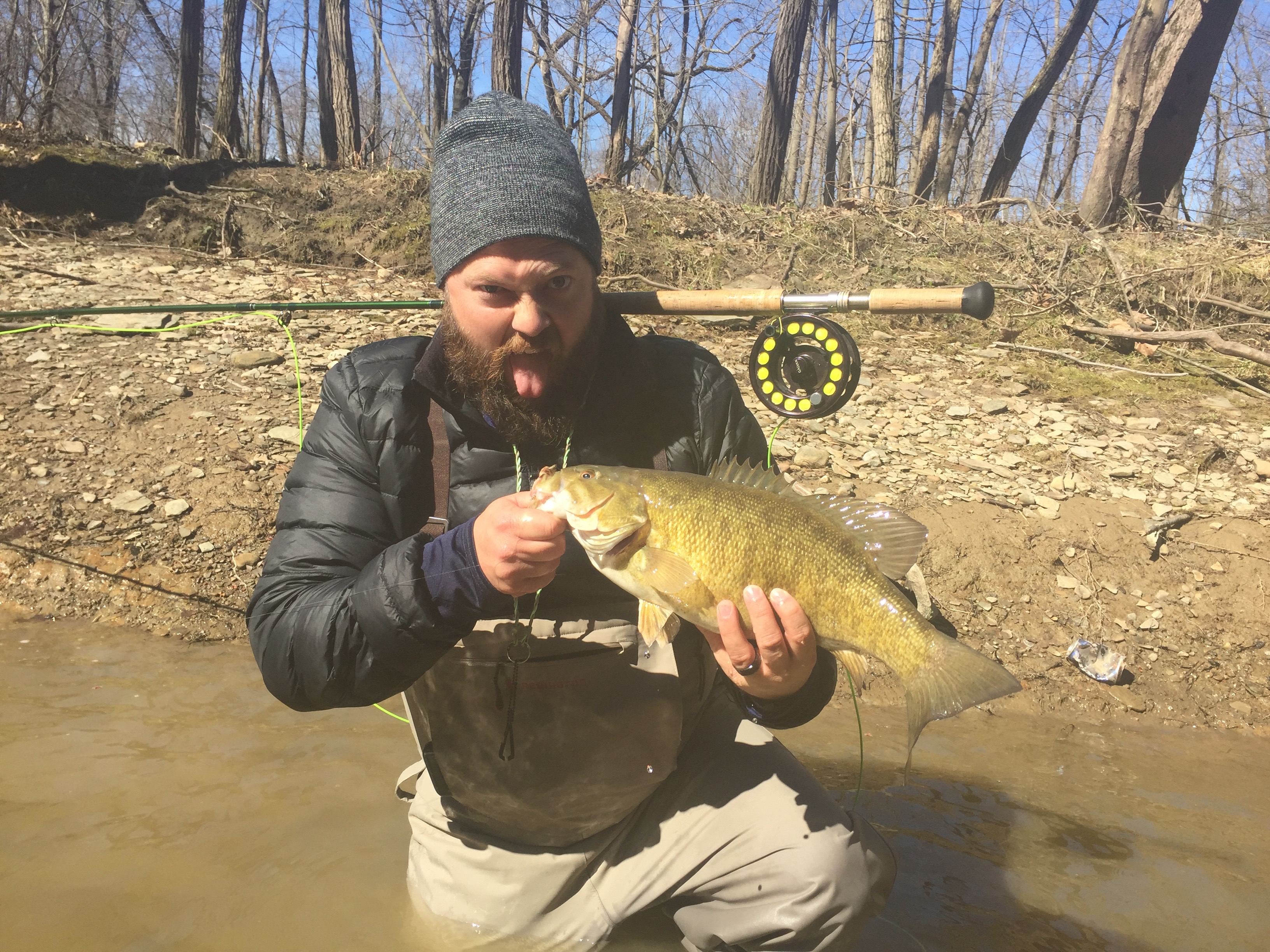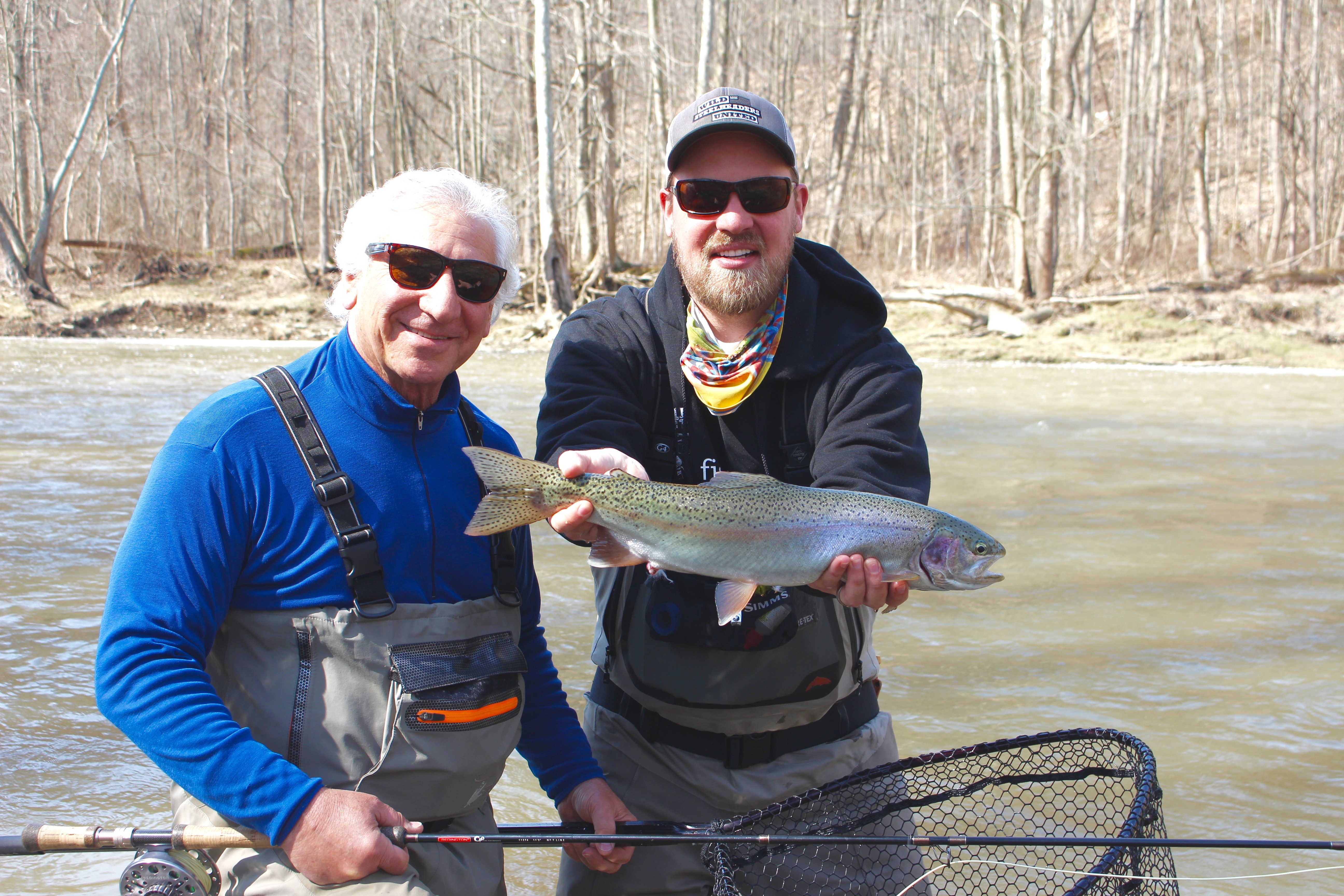 Art with a nice one on the Grand river
The Ohio Steelheading has been very good this week.With fish caught on the swing and egg paterns.The weather has been all over the place but the fish are still bitting! This last week was a really nice tour of the all the east side drainages and we caught fish in every single main watershed east of Cleveland- including on the mainstem Grand despite the lower visibility. We should still have three, maybe four good weeks left of steelheading!
Good Fishing,
Matt-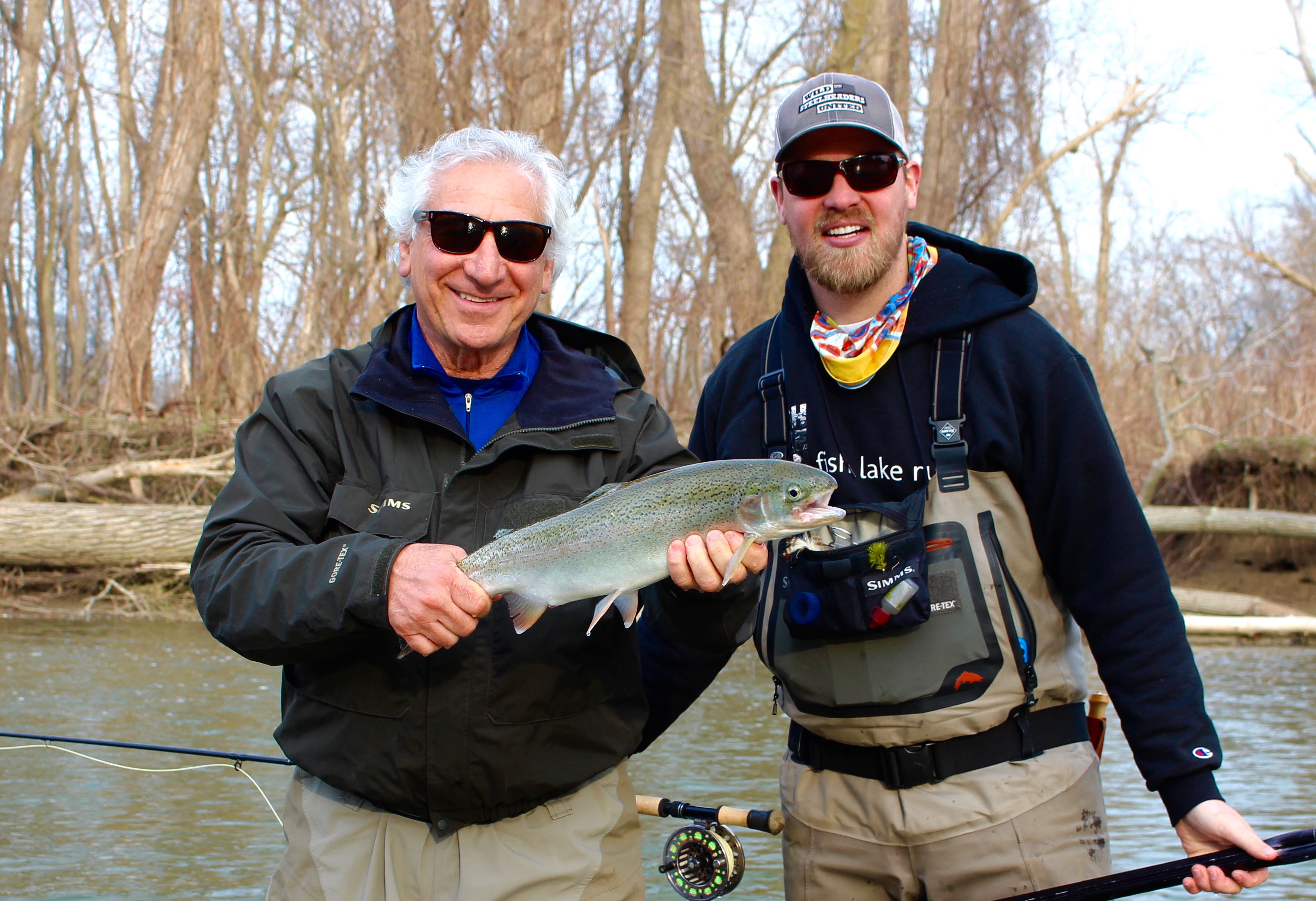 Art with one from the Chagrin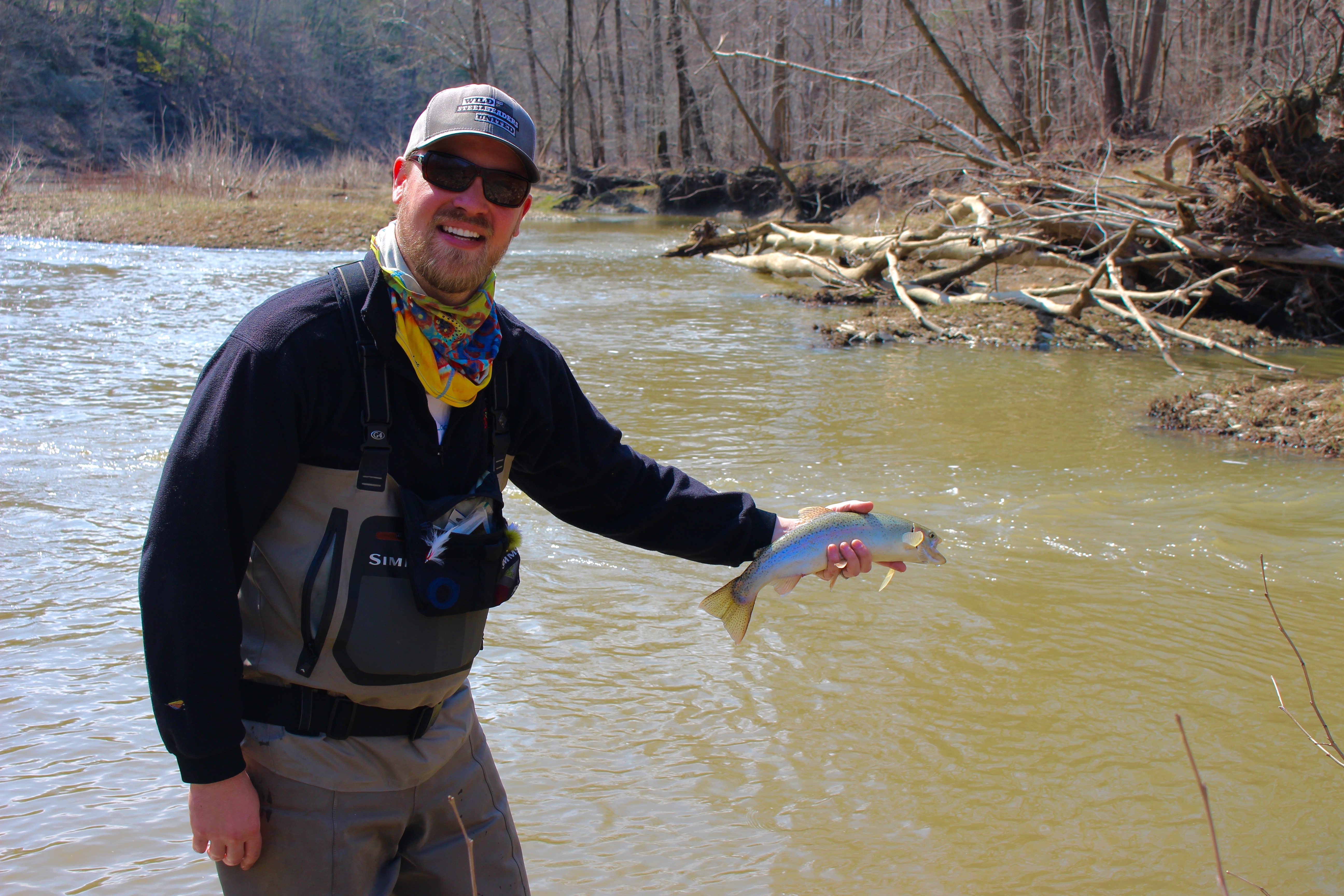 Daren with one from the Grand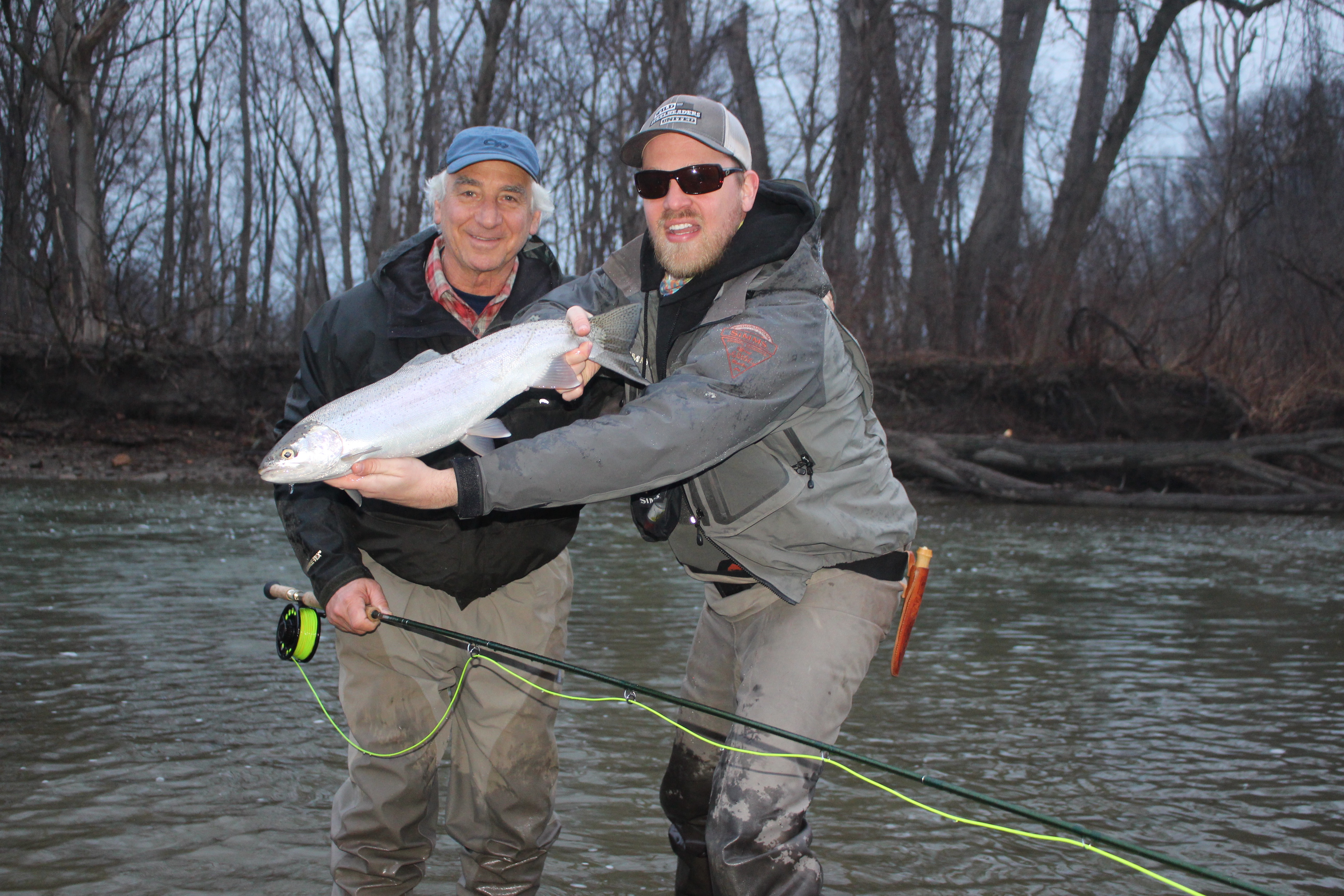 Art with a bar of chrome on the swing
We are at peak season, but still running a couple weeks behind schedule. This means a couple things. We're still seeing a TON of fresh fish pushing in, and we havent seen too many post spawn. Based on this, we should get an extra week or two of the season!!! As I write this, all of the Ohio systems are fishing, and with good numbers of fish present. The Grand is still colored but if you put some time, you can find a fish or two. Everything else is hot. This morning, in three casts we swung up three fish- landing two!!! And it didn't stop there. So get out while you can folks. There are still a ton of fish to be had.
Tight Lines,
 - D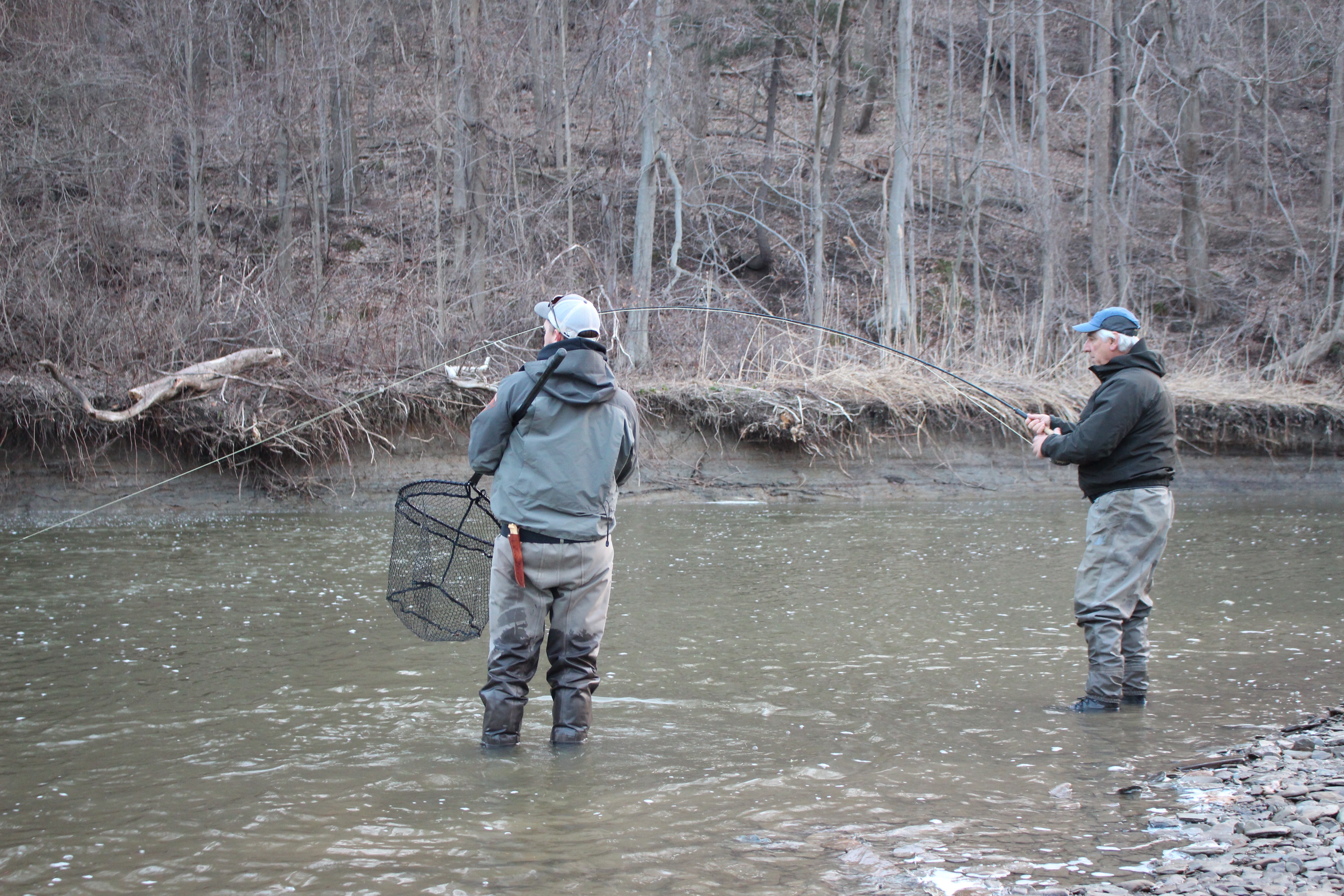 Art putting the wood to a nice one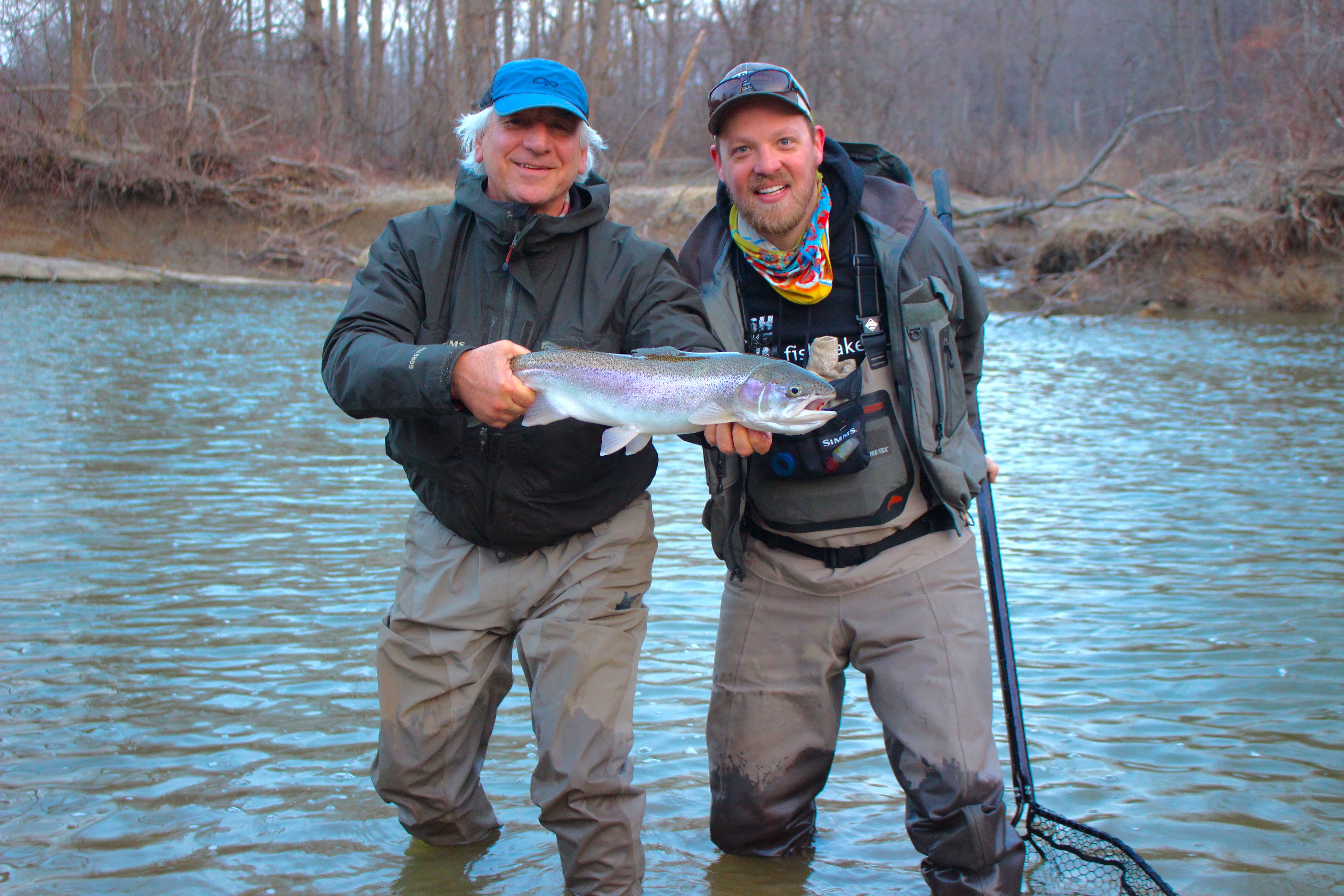 The result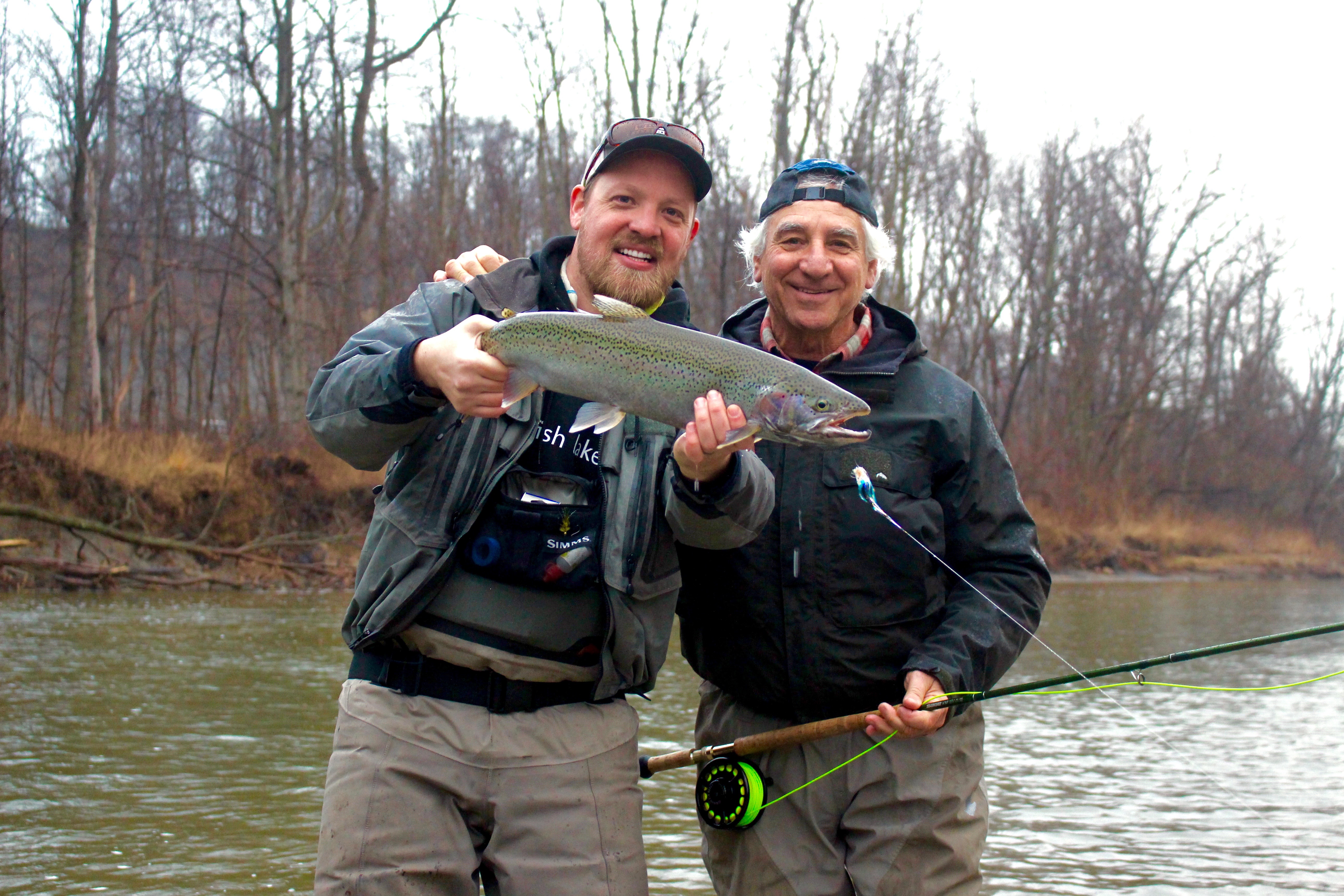 Yes, that's a whiskey hangover in his mouth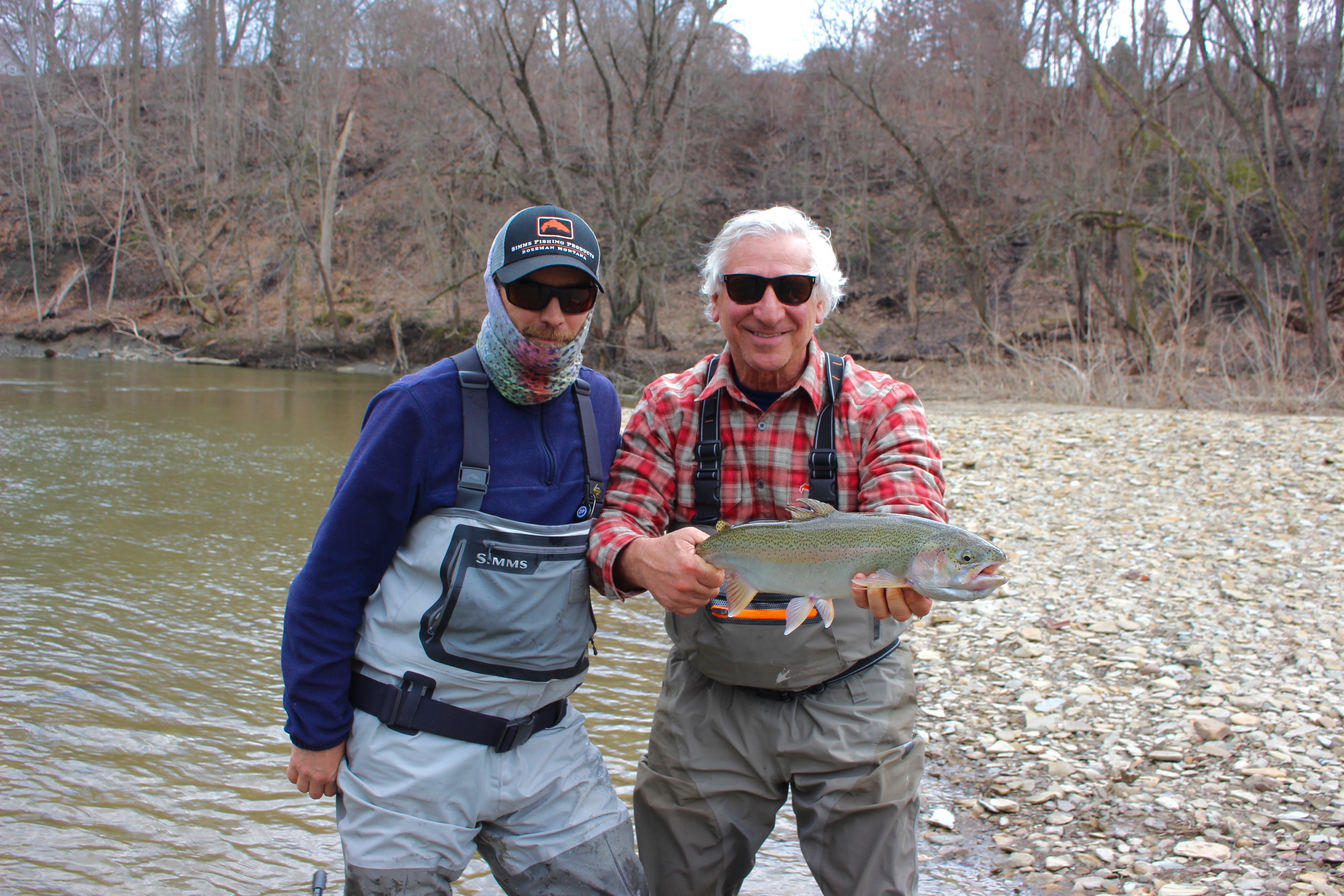 Art and Matt with a good one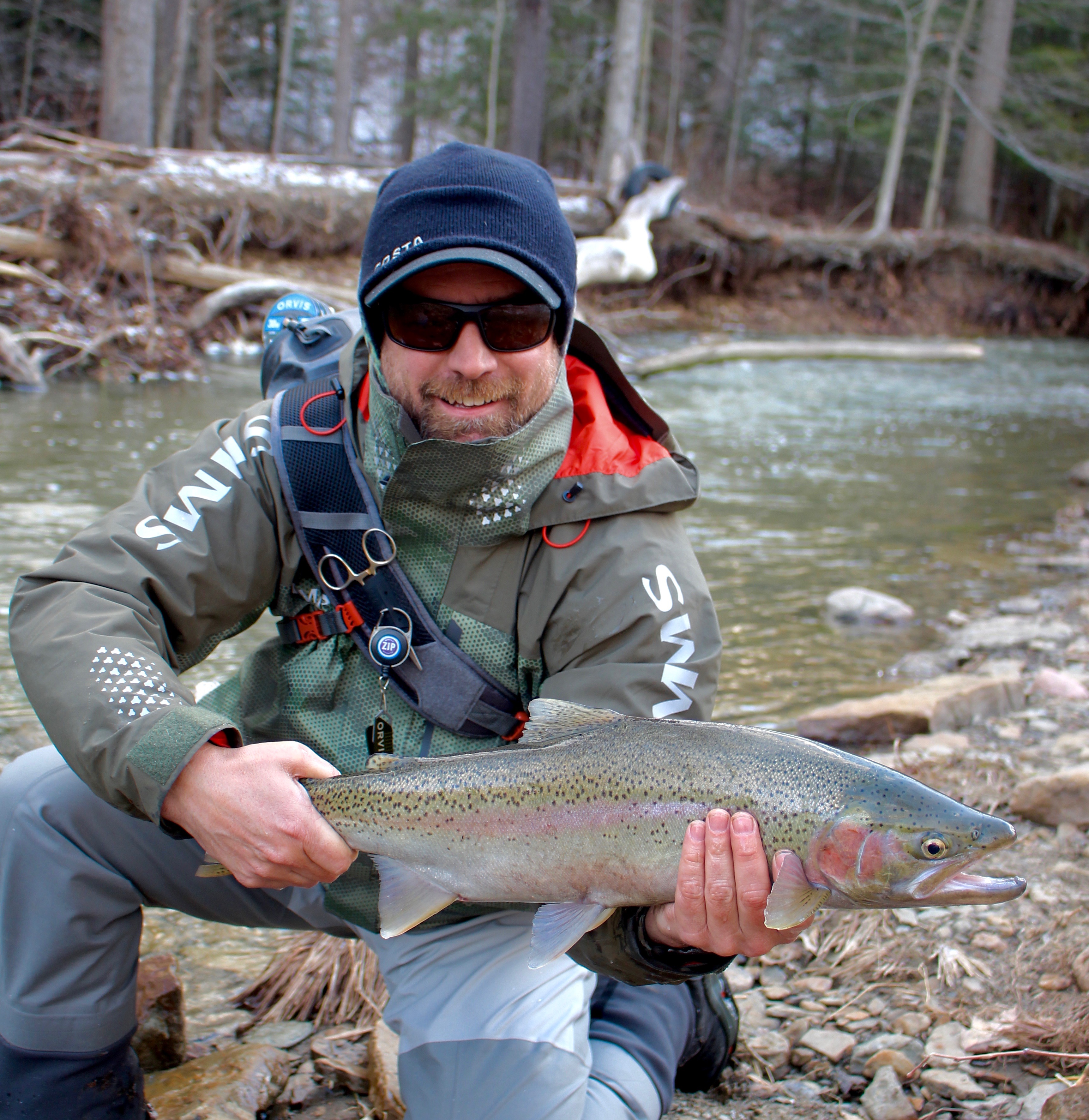 Matt with a nice one
The high water is dropping and the fish are in! After high water for the last two weeks, the major rivers are back in play and fresh fish are moving in. There are high numbers in all the usual spots. Starting to see some suckers mixed in with the steelhead, so that's a sign to get on it while you can. But the swinging remains great and I expect us to have great fishing for about the next three to four weeks or so.
Tight Lines,
 - D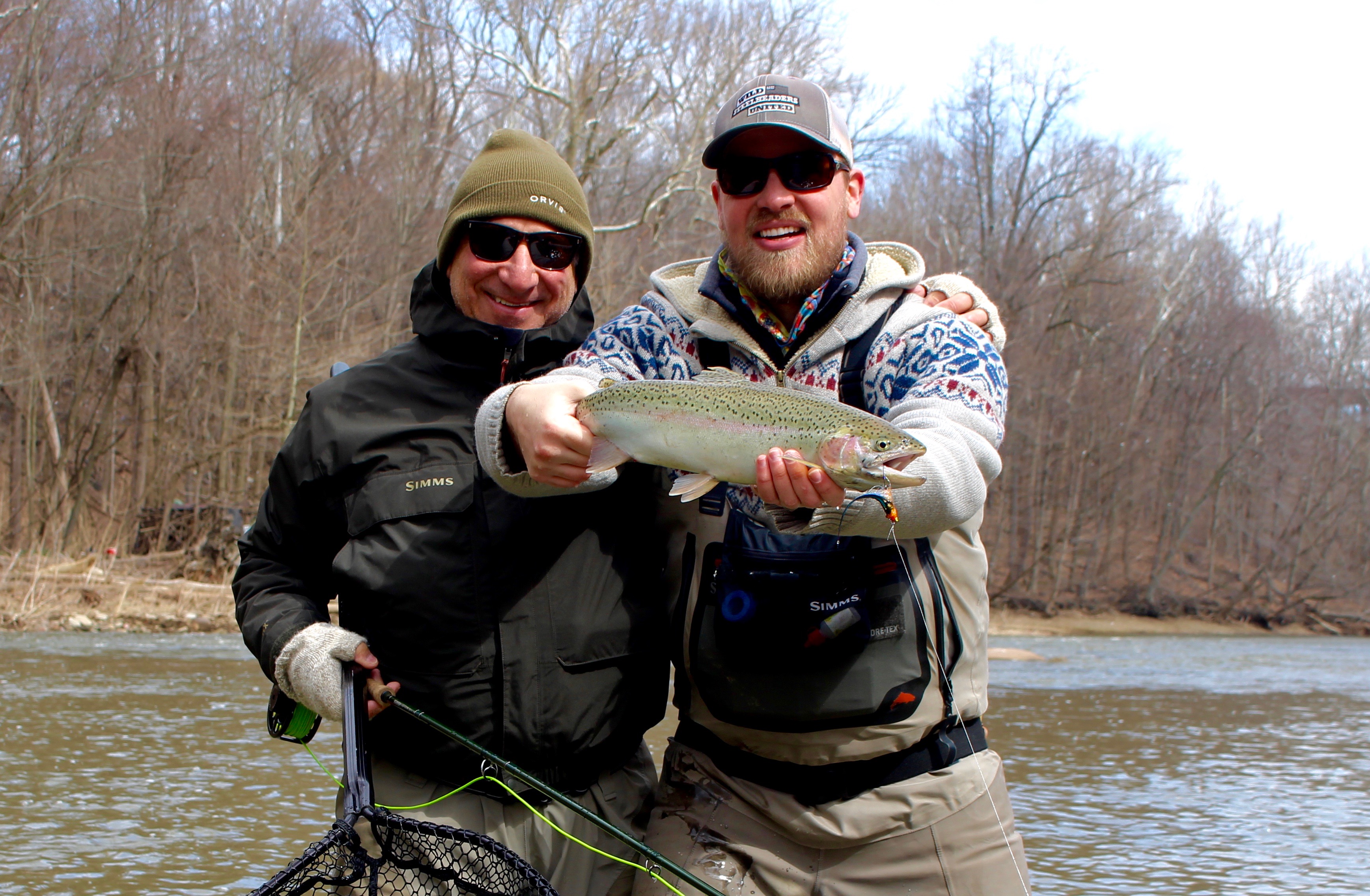 Art with a nice one swinging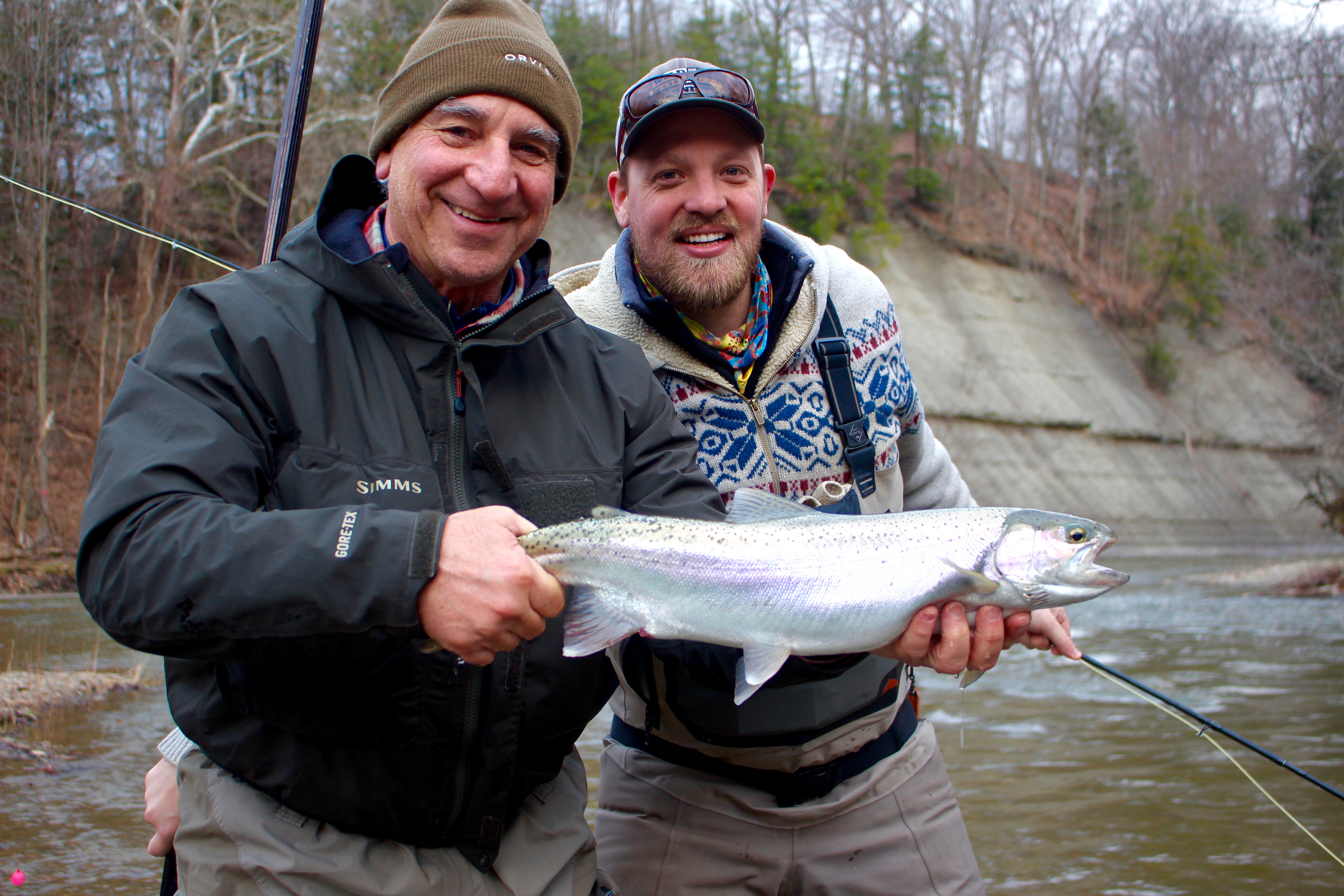 It might not be sunny, but better get your glasses out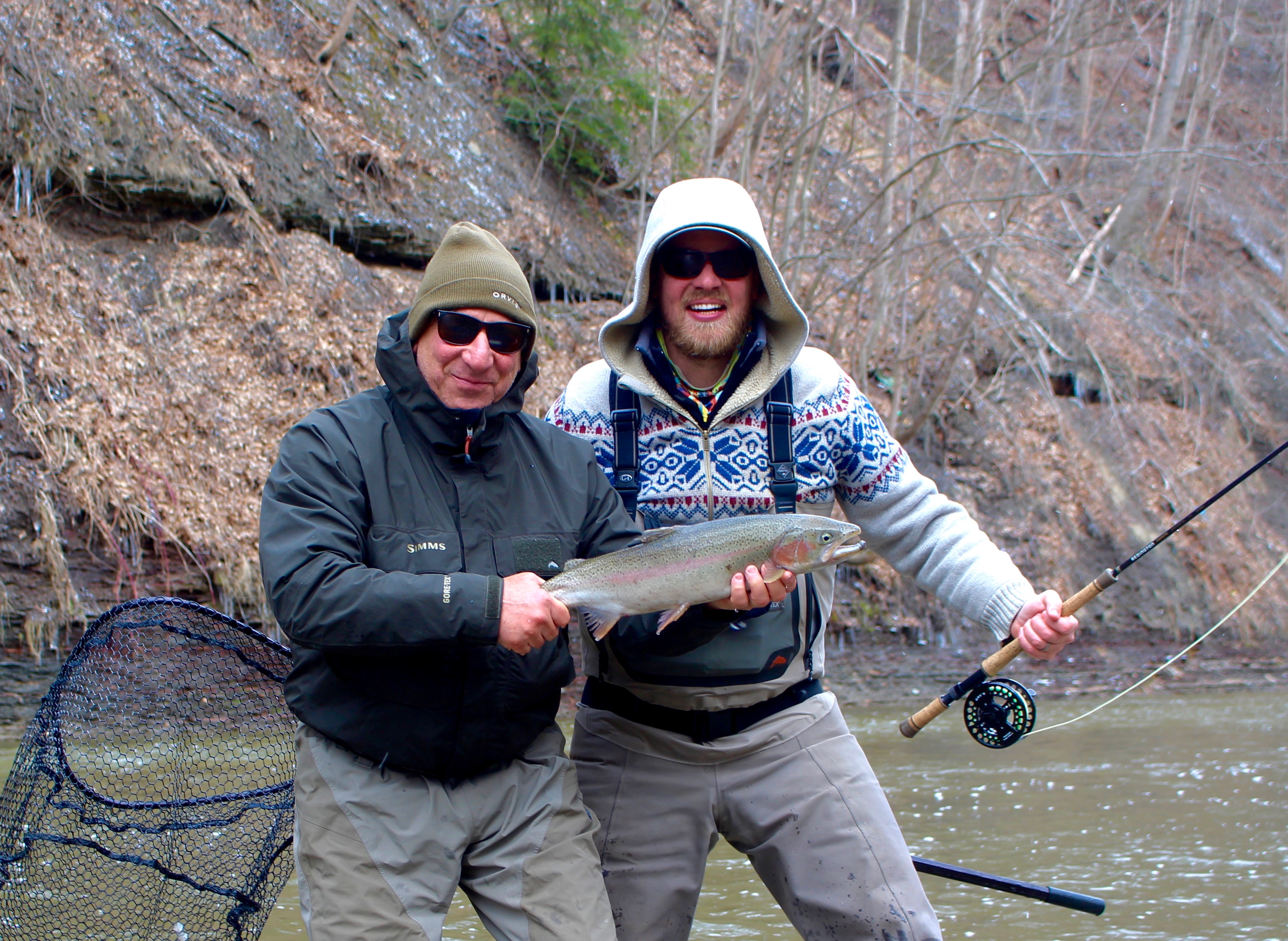 A nice buck that surprised us in a spot we weren't expecting to find one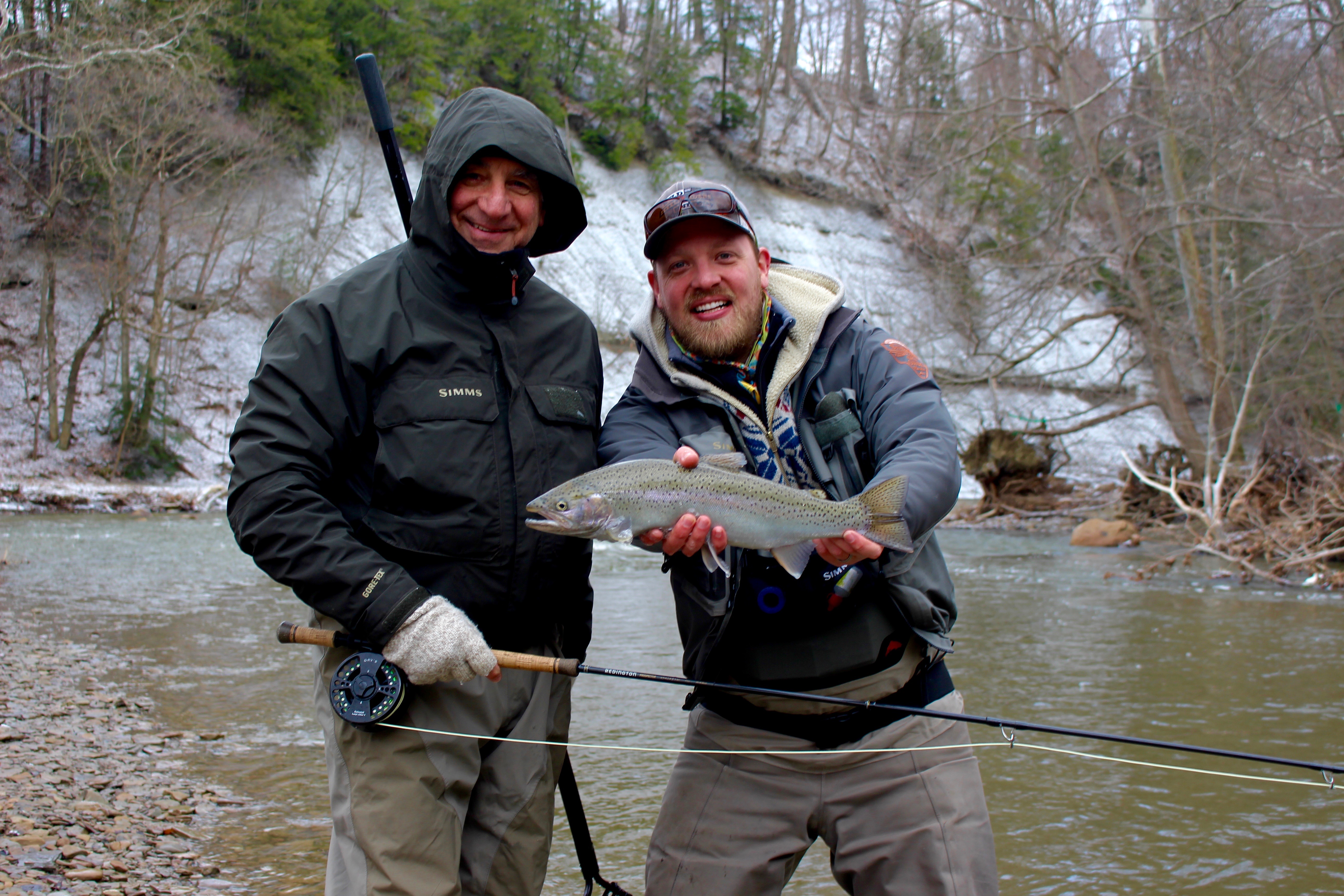 Right after a snow squall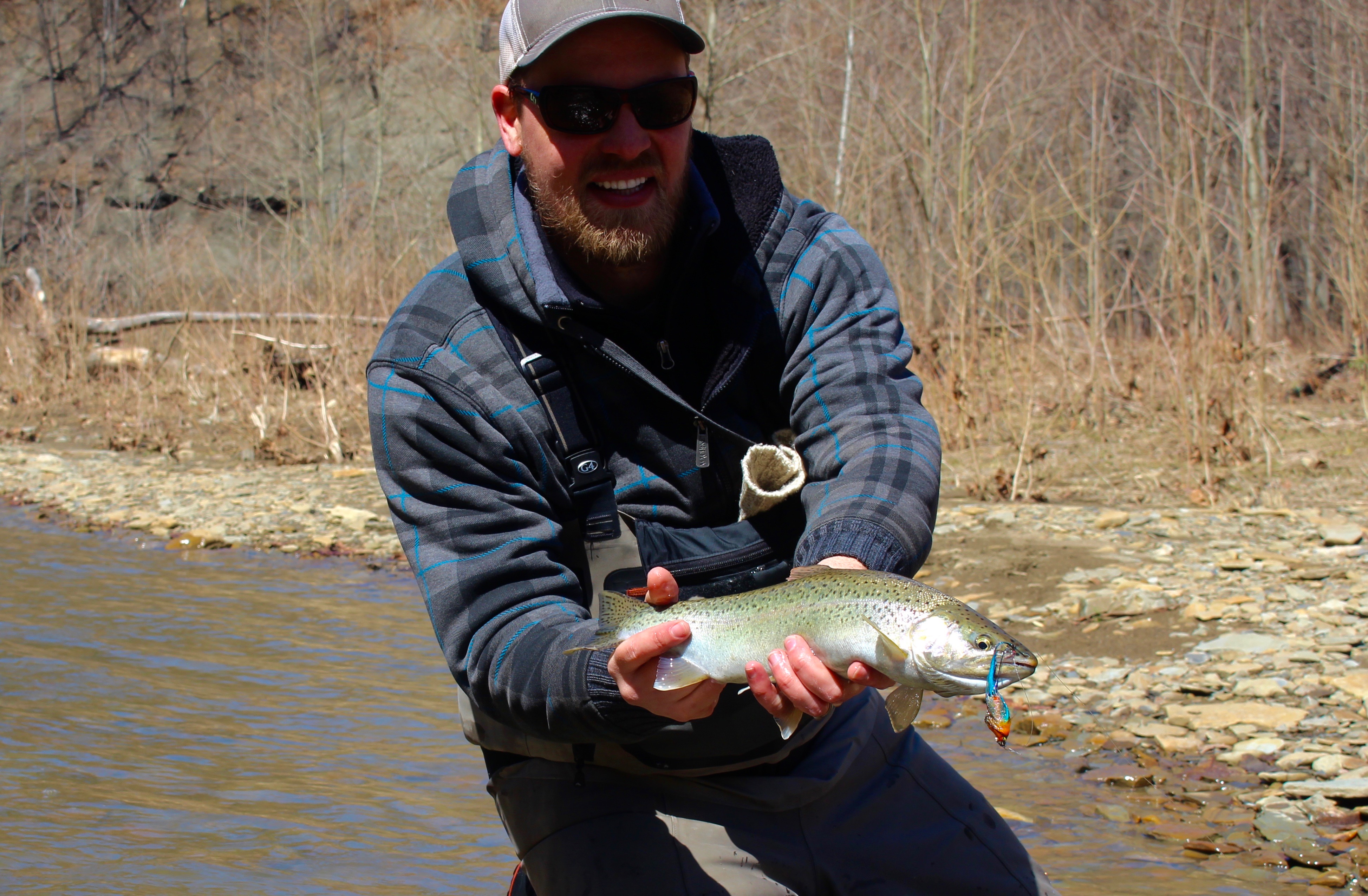 I even swung up a little guy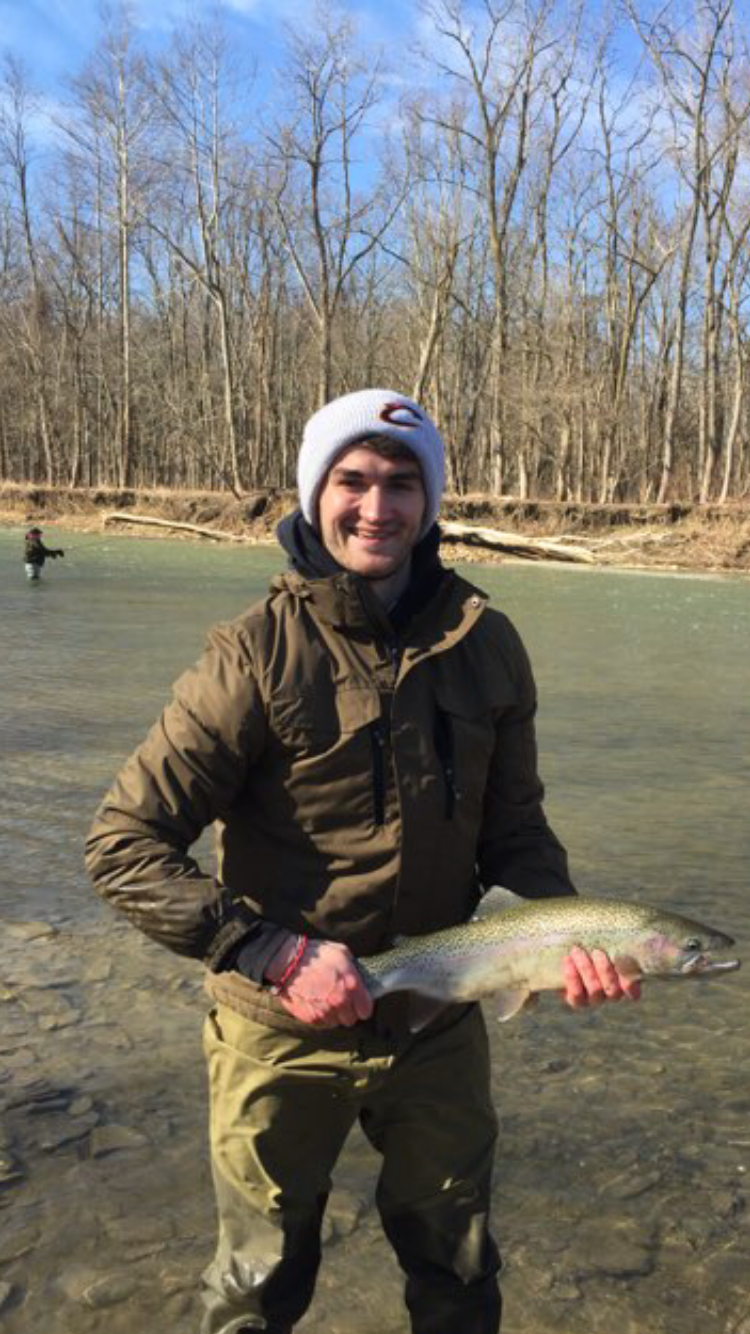 Austin with one of the many he caught recently
Had a blast with Austin and his mom, Jenn Haines. Fishing is getting red hot, as we are currently at peak season. Expect the great fishing to continue for the next four- five weeks, maybe a bit longer depending on the weather. Right now we are getting some rain, that will make things a bit muddy for a few days. When it drops back into shape, though, I expect a fresh push of fish, all eager to eat a fly.
Tight Lines,
 - D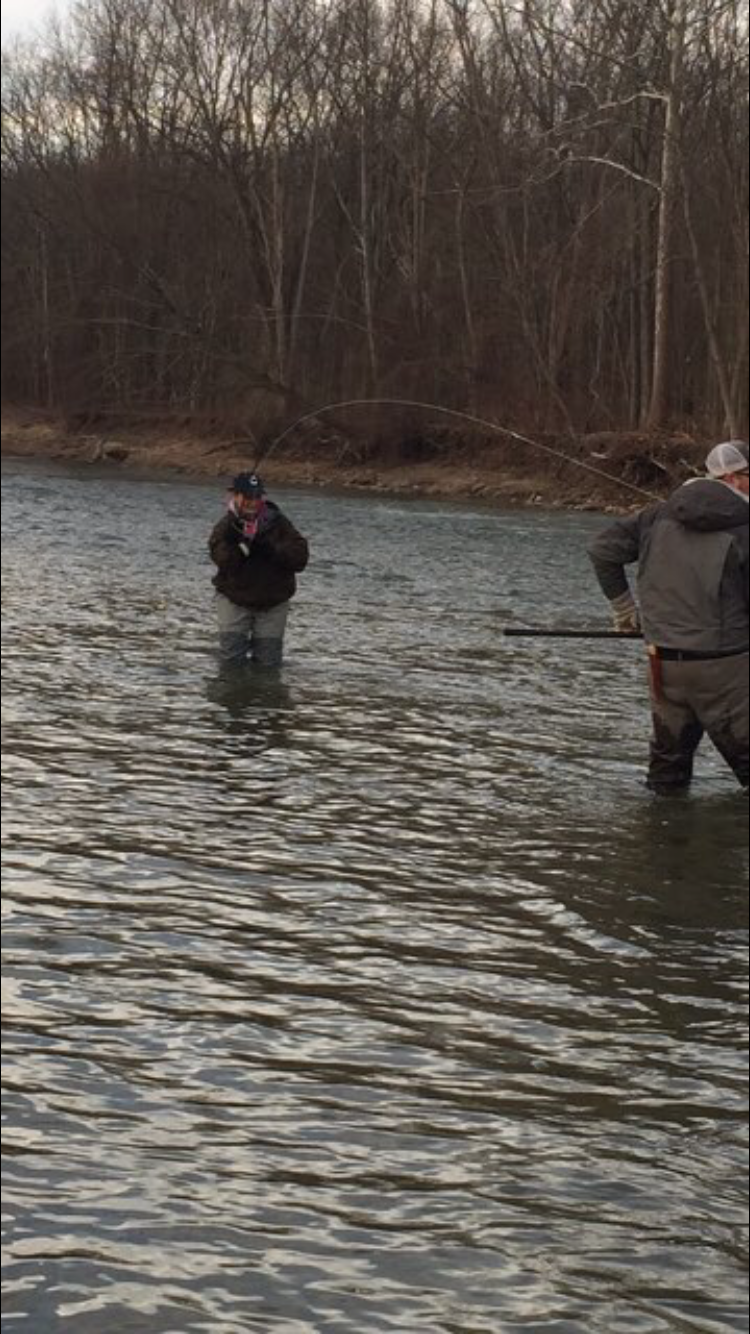 Jenn fighting a good one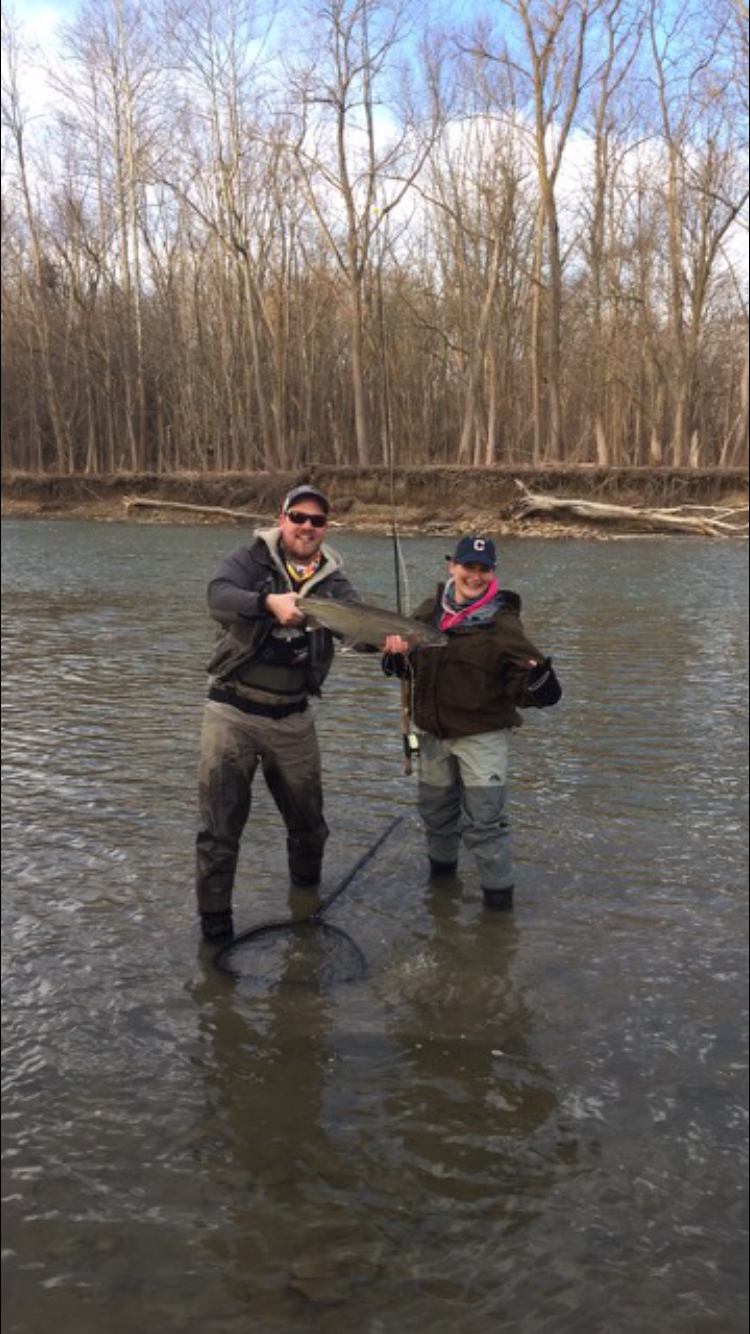 Landed!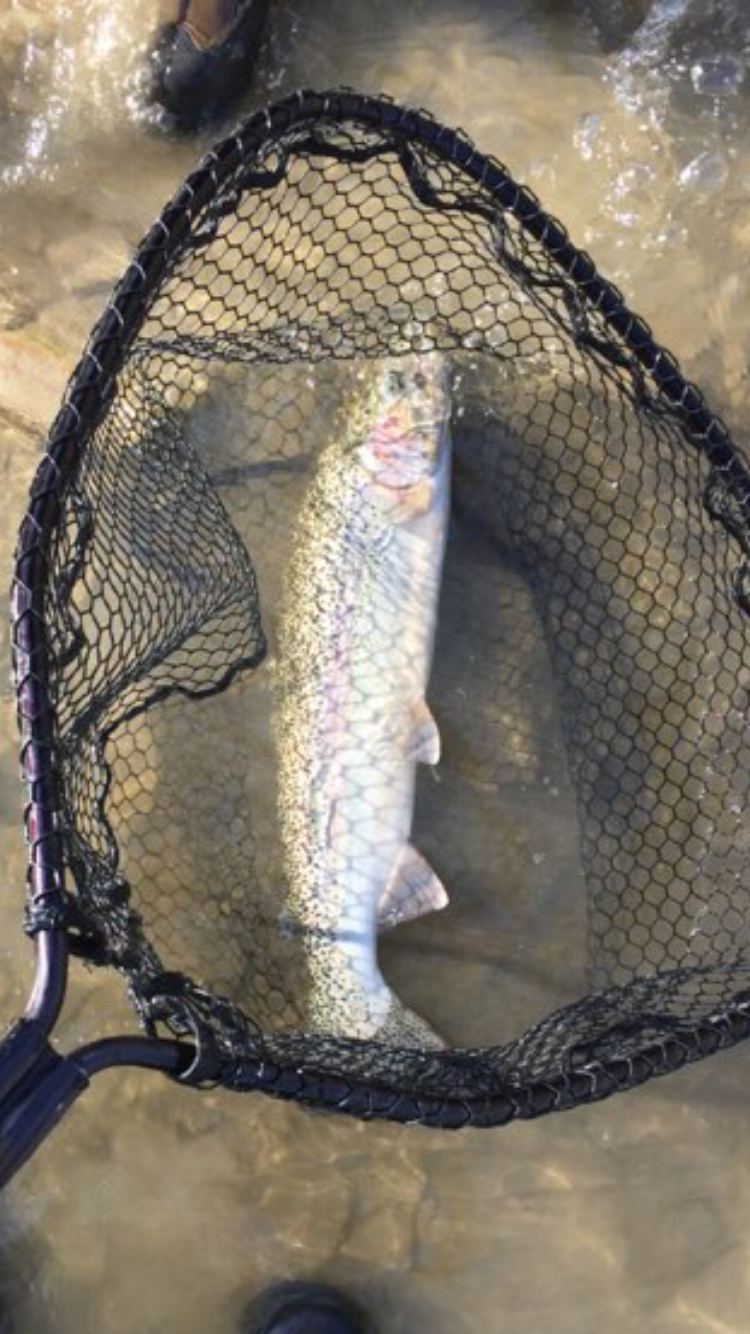 Another of Austin's in the net!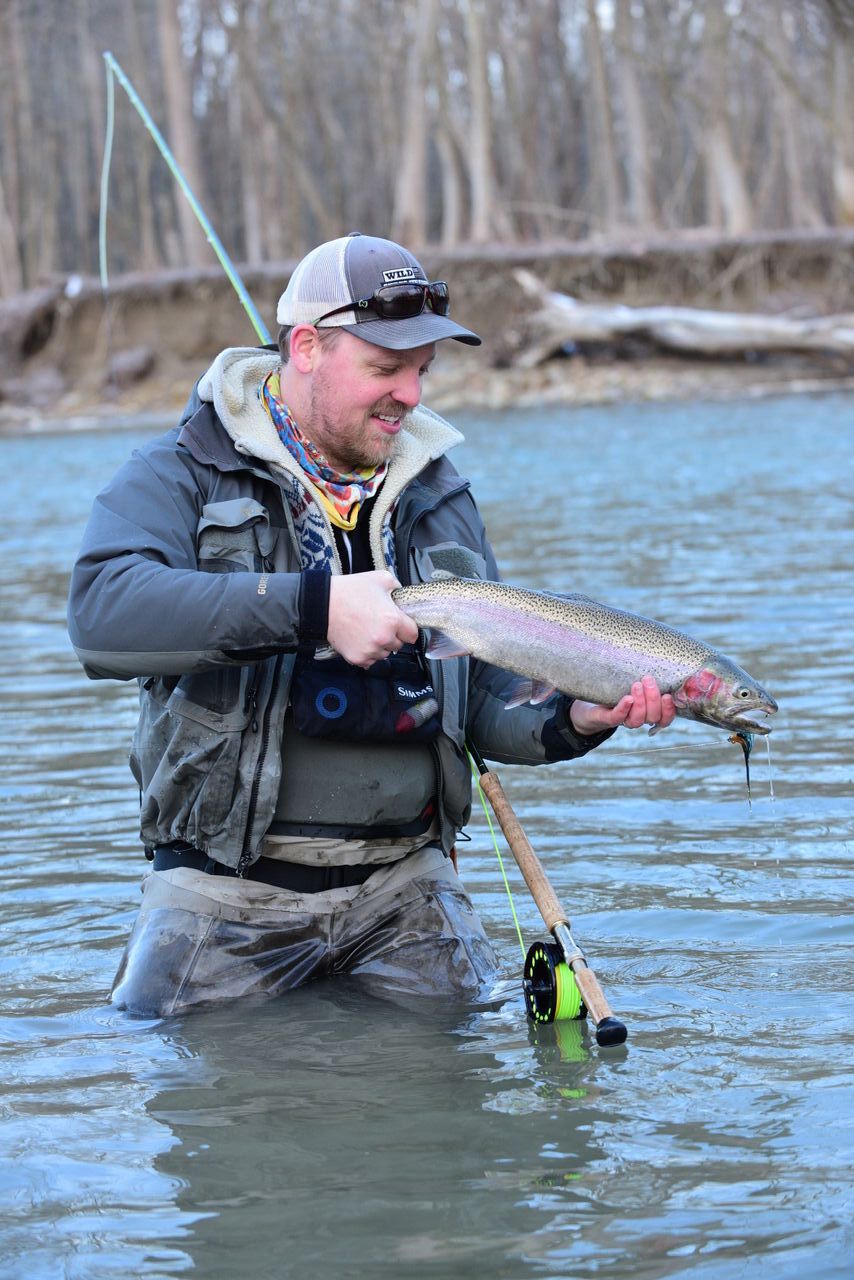 Tons of fun over the last couple days
Over the past week, the fishing has been hot. With the exception of Conneaut, all the creeks and rivers are higher than what would usually be considered optimum flow, but it's from snow melt meaning the visibility is there- even on the Grand. As of writing this, the Grand is at roughly 1800 cfs, but she still has more than a foot of vis. Over the weekend she was at 1200 and had about 18"- right about what would usually be considered good fishing. Anyways, went out to a couple favorite spots and swung up some nice fish, and lost a few more. Didn't land any monsters, all around 26" or so, but did lose some fish that had more weight. Sometimes it's just luck of the draw. But still, everything looks like we are shaping up for an excellent month an a half.
 - D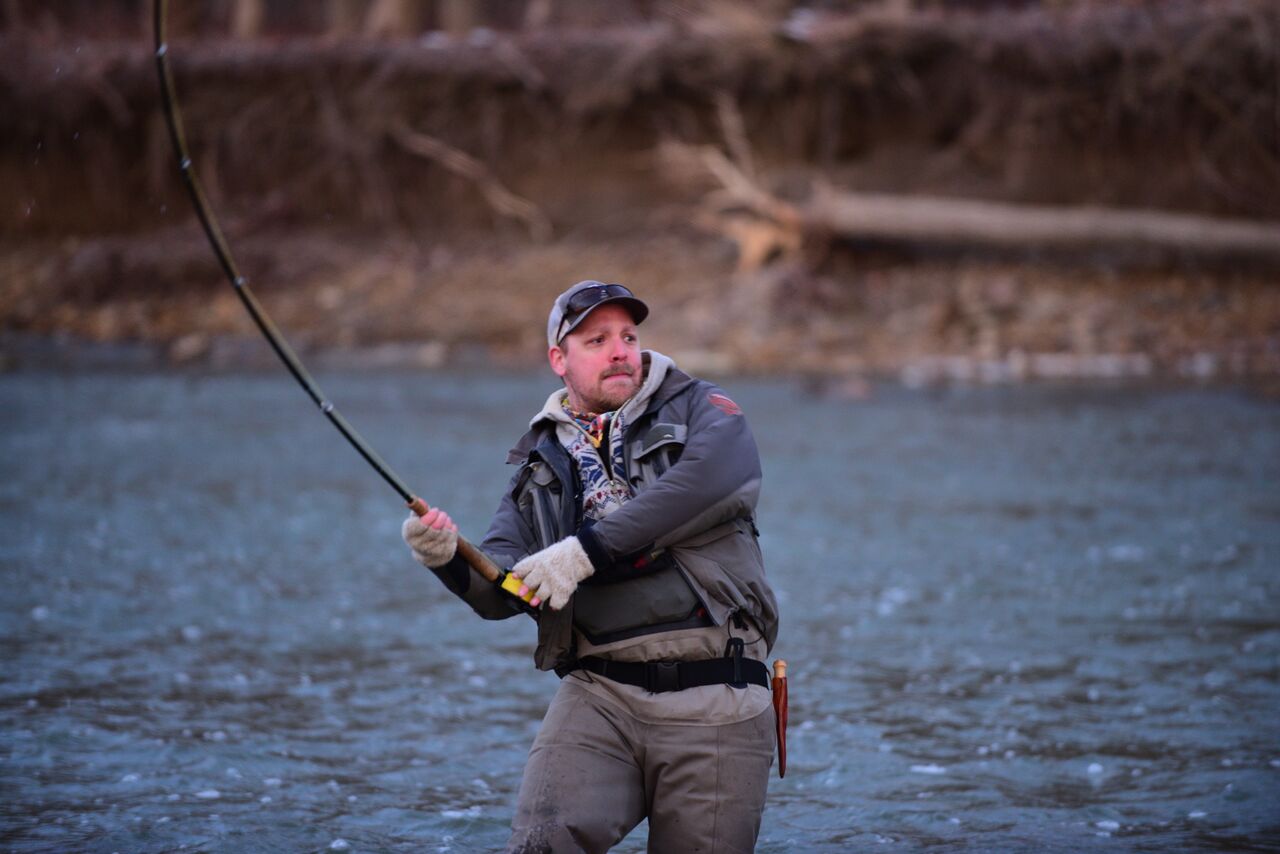 Locked on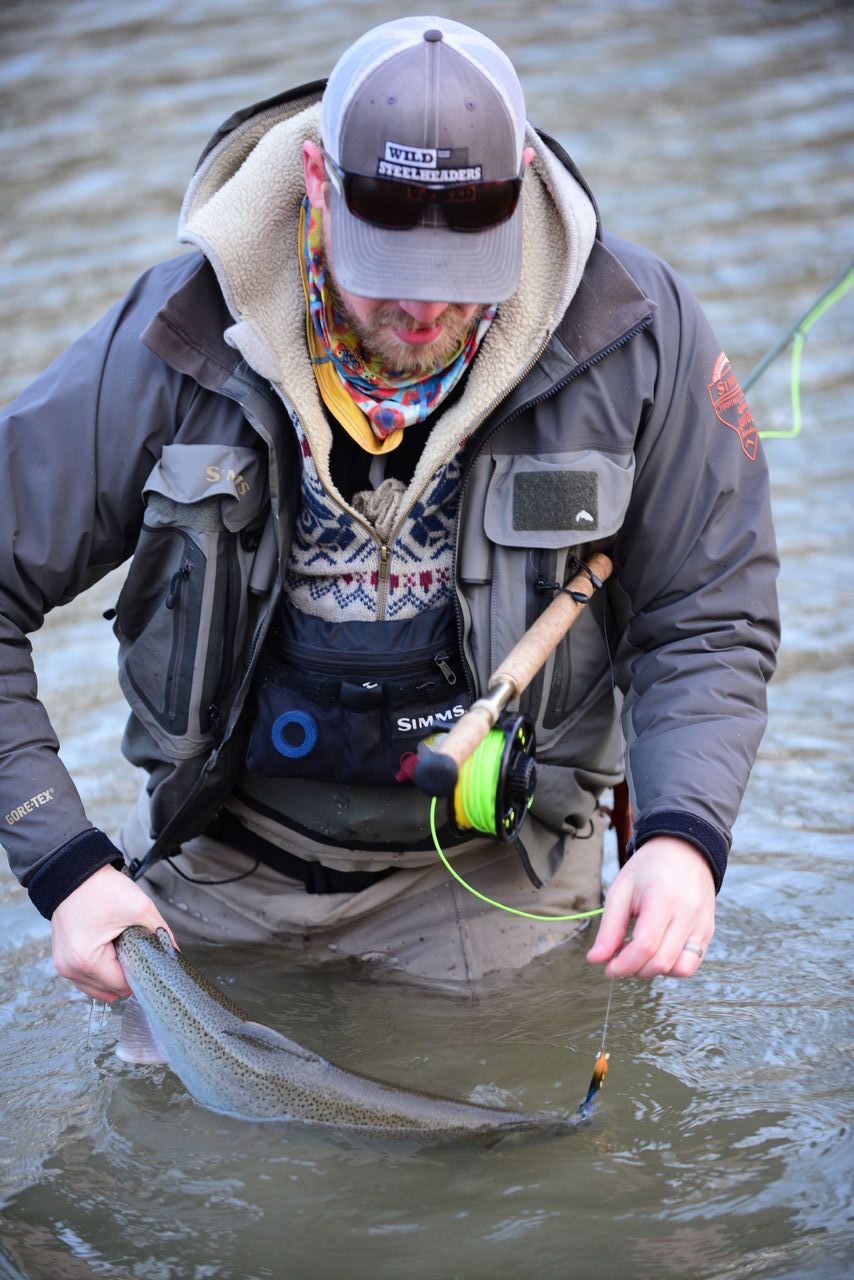 Another on the hangover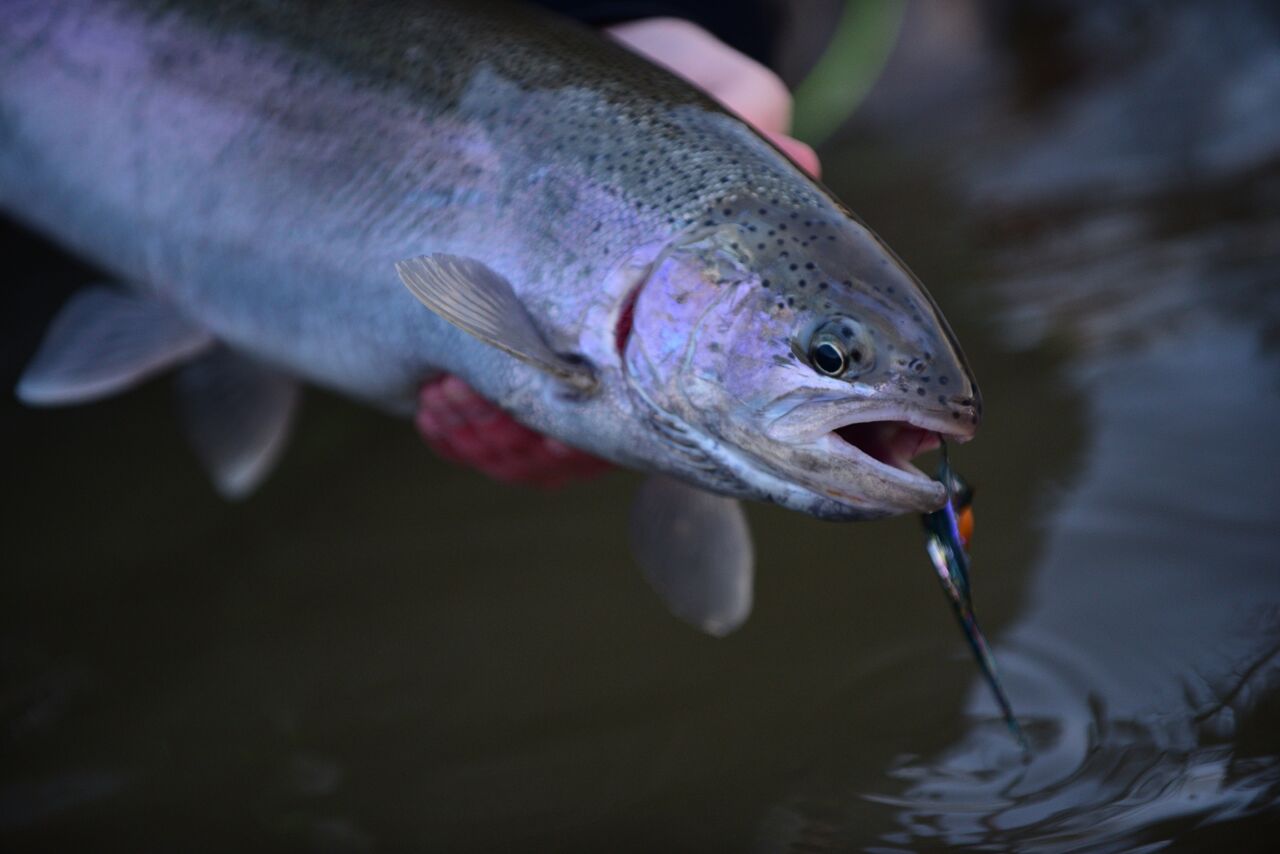 Pretty little doe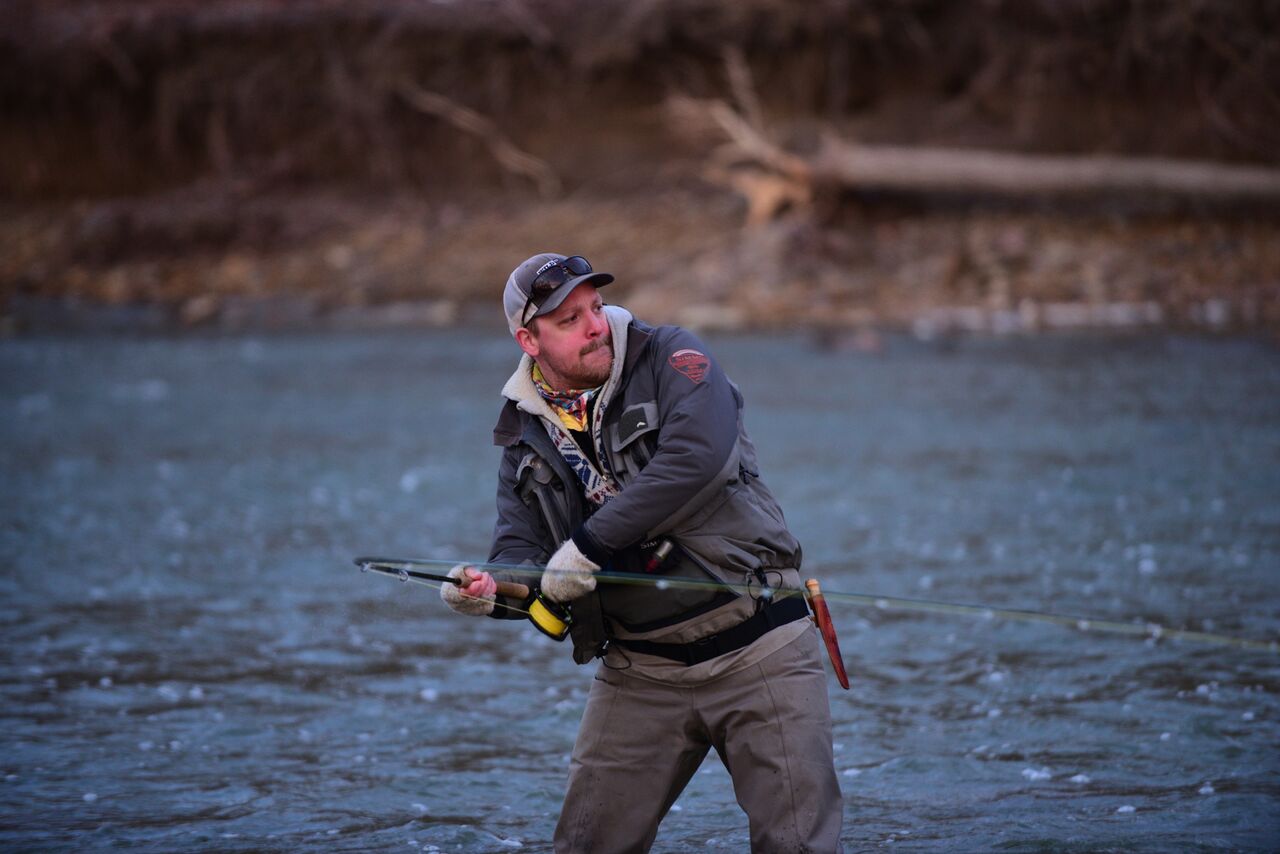 Low rod angles = successful fights on spey rods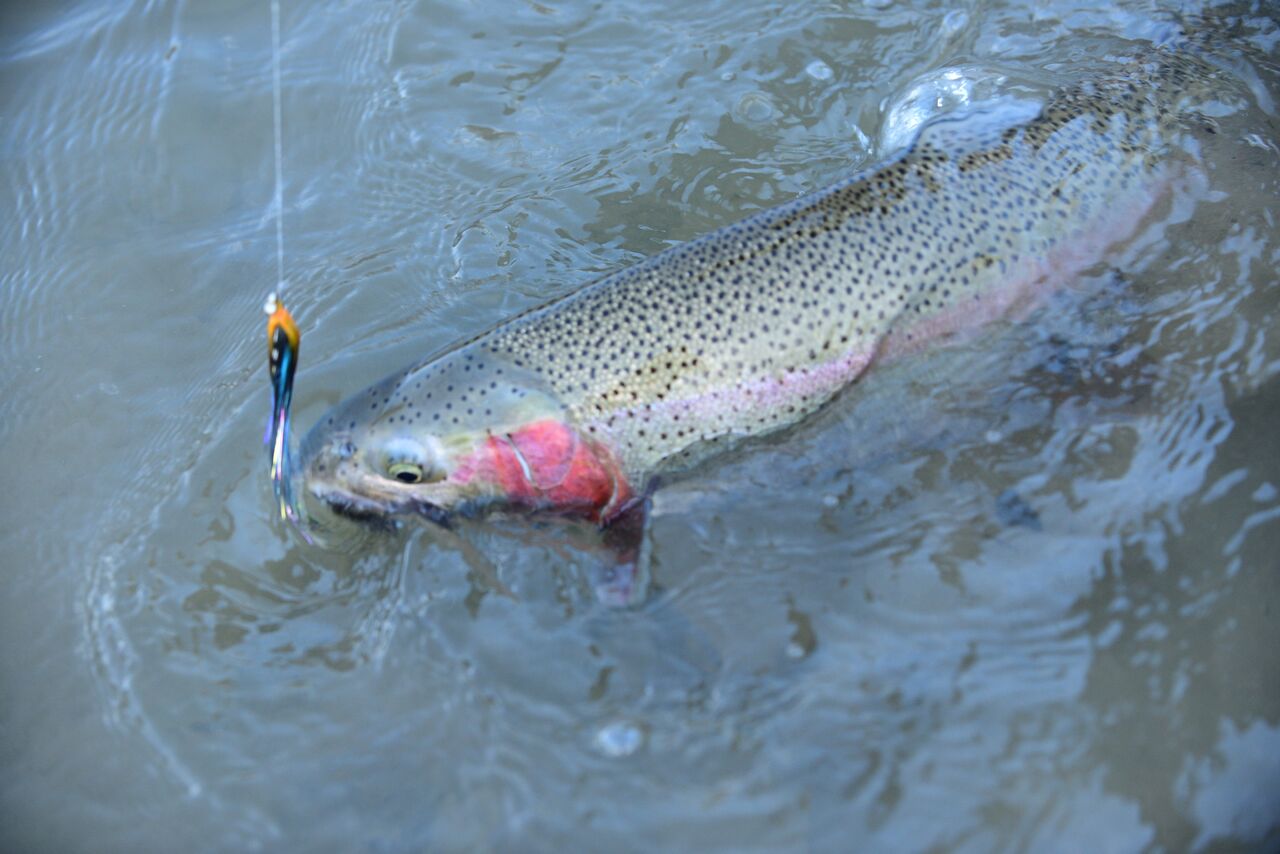 Nicely colored buck
Cool shot of the hike in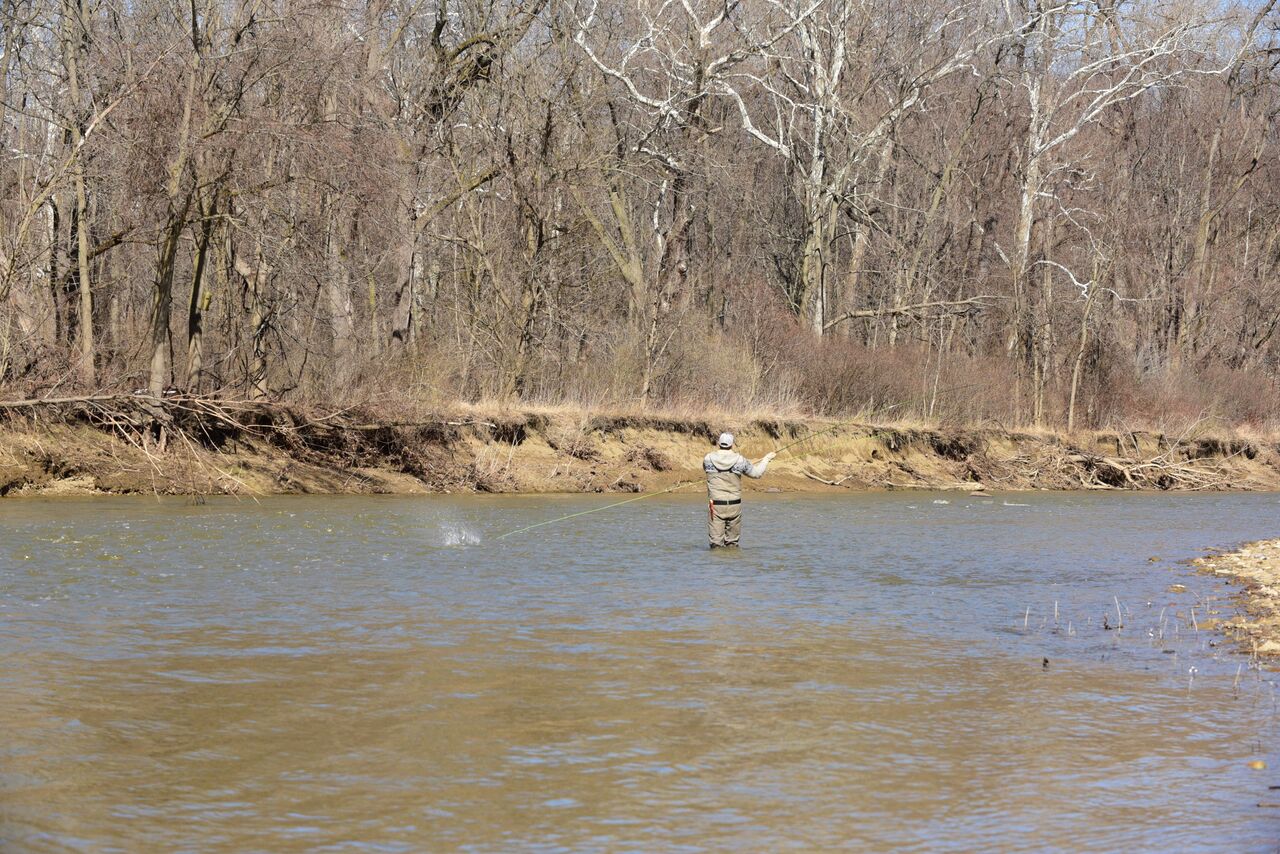 Swinging a good run on the Grand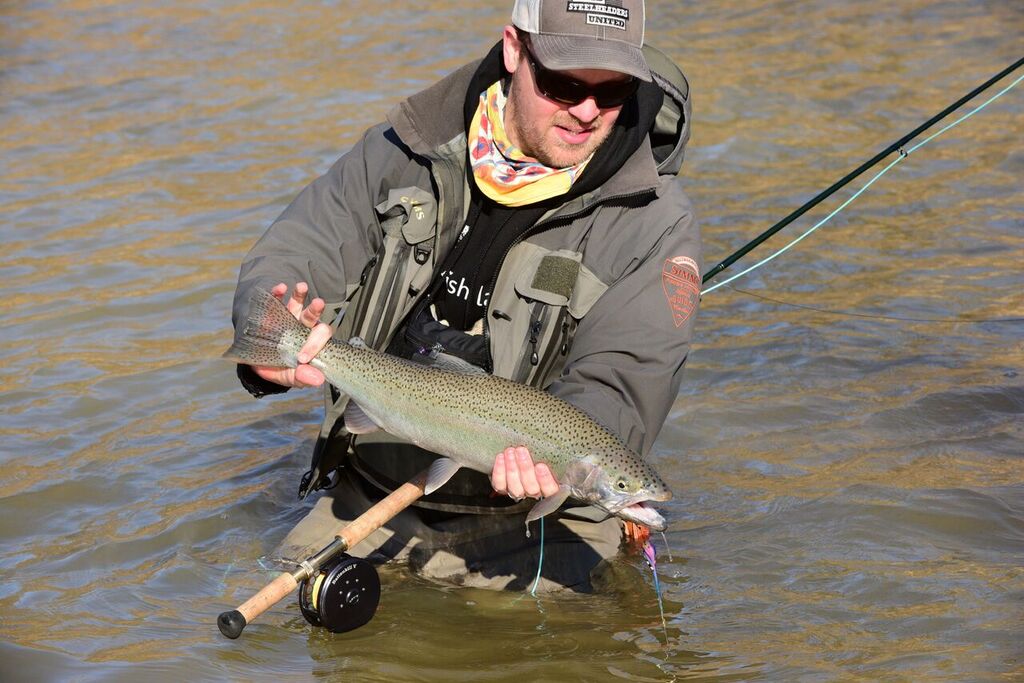 Nice Ohio Steelhead
Sorry for the lack of posts for the past few weeks, but I've been working on a lot of administrative and permitting headaches to make sure that we are all set for the upcoming spring and fall. Glad to say that is just about done. Anyways, took a writer for a fly fishing mag out for a couple days of Ohio swinging. Water was up and off colored but we were able to find a nice fish willing to eat my big favorite- the whiskey hangover. He was super impressed with our fishery and I'll keep you guys posted on the article! Then at the end of the trip while giving him a spey casting lesson, he found a GIANT ONE! Haha, check out the pics.
 - D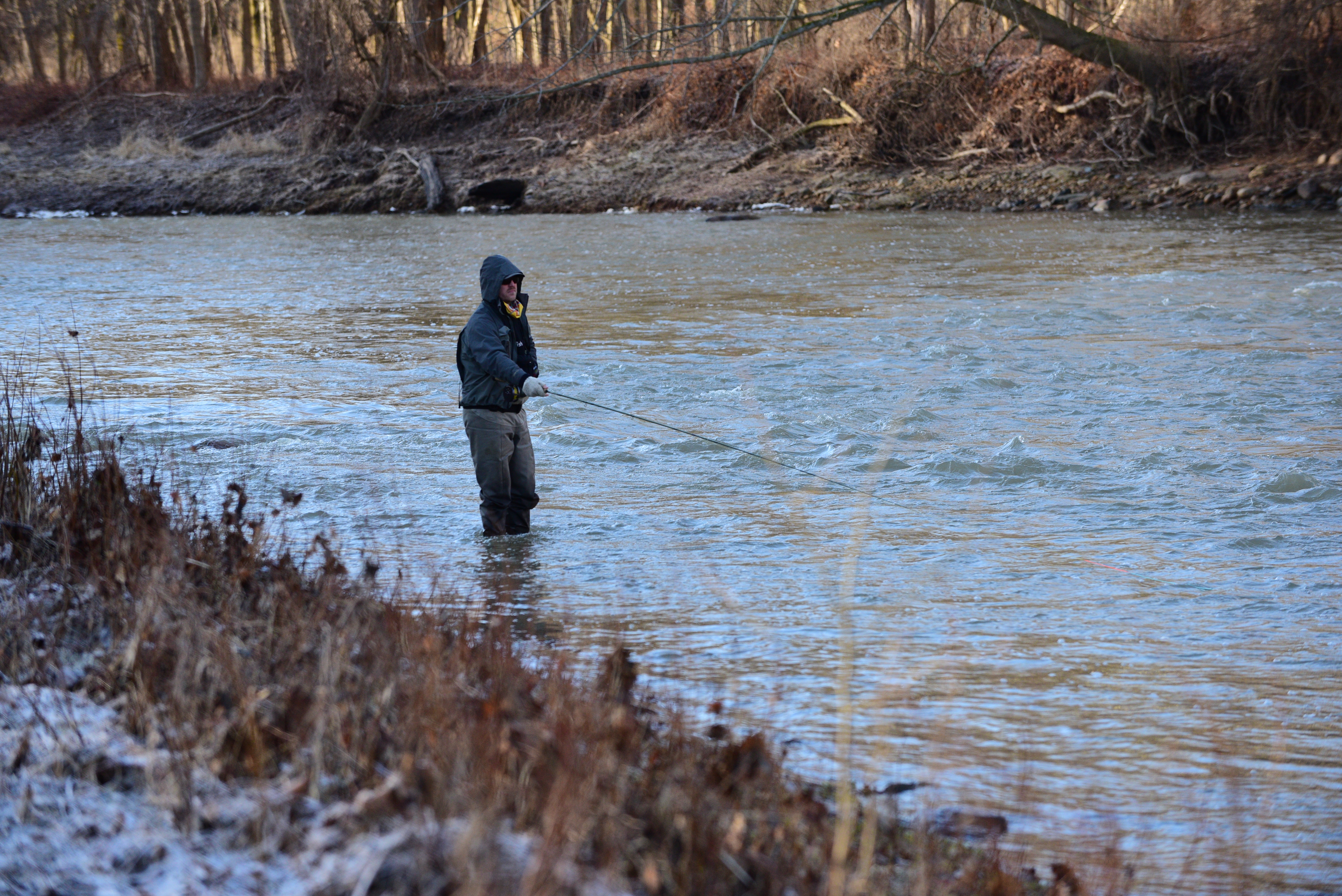 Early morning in a favorite run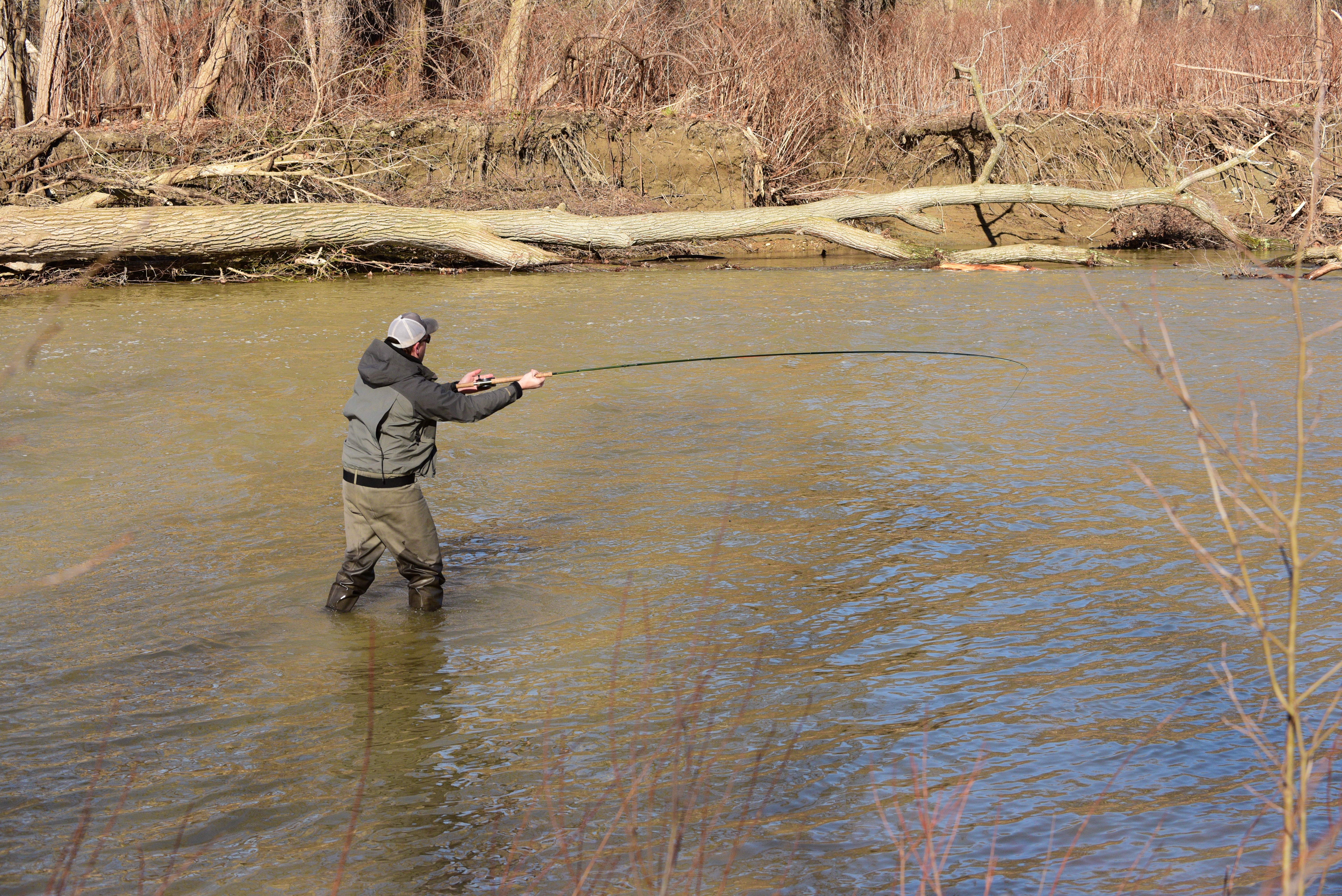 Palmin' the reel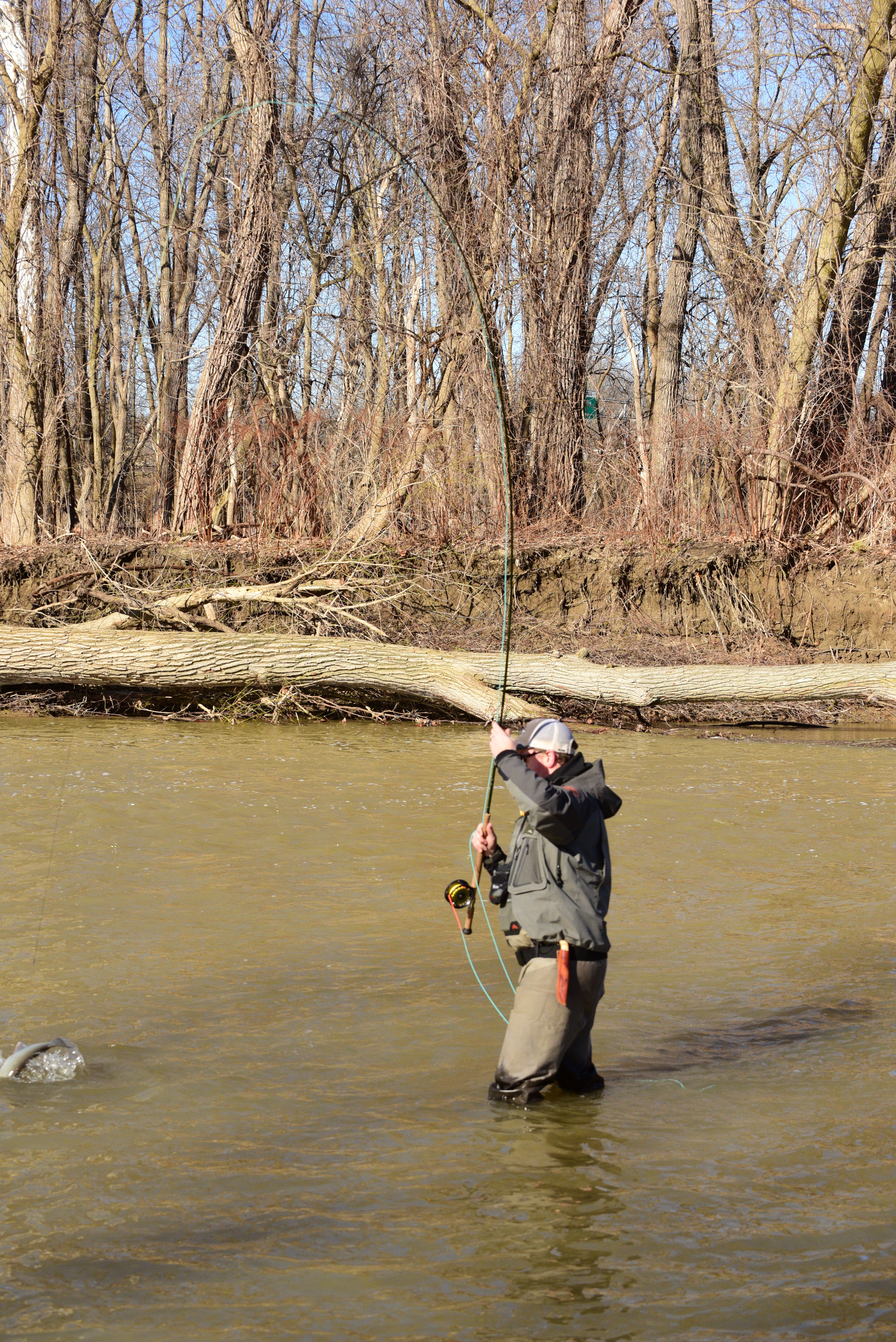 Almost ready to tail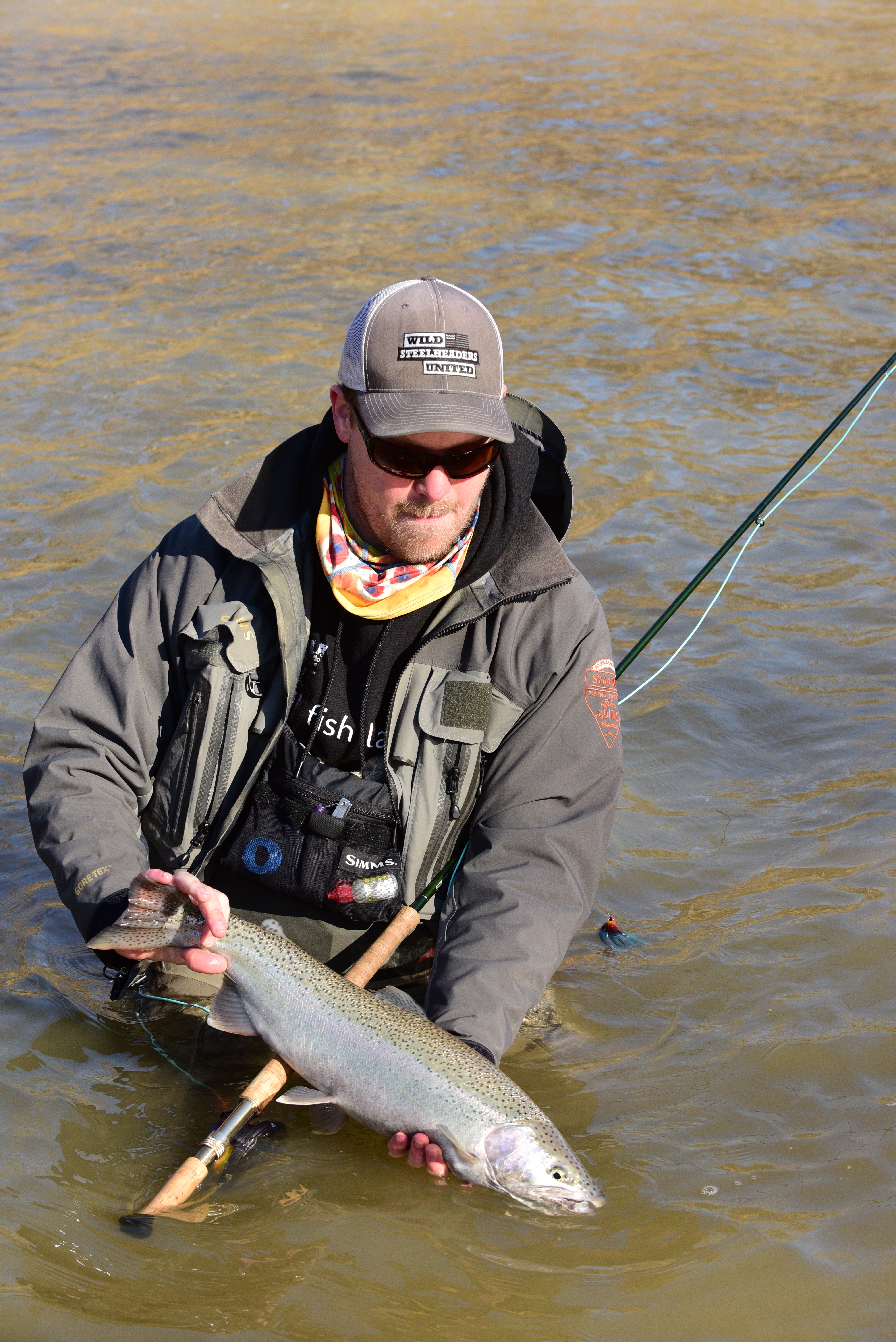 Another good shot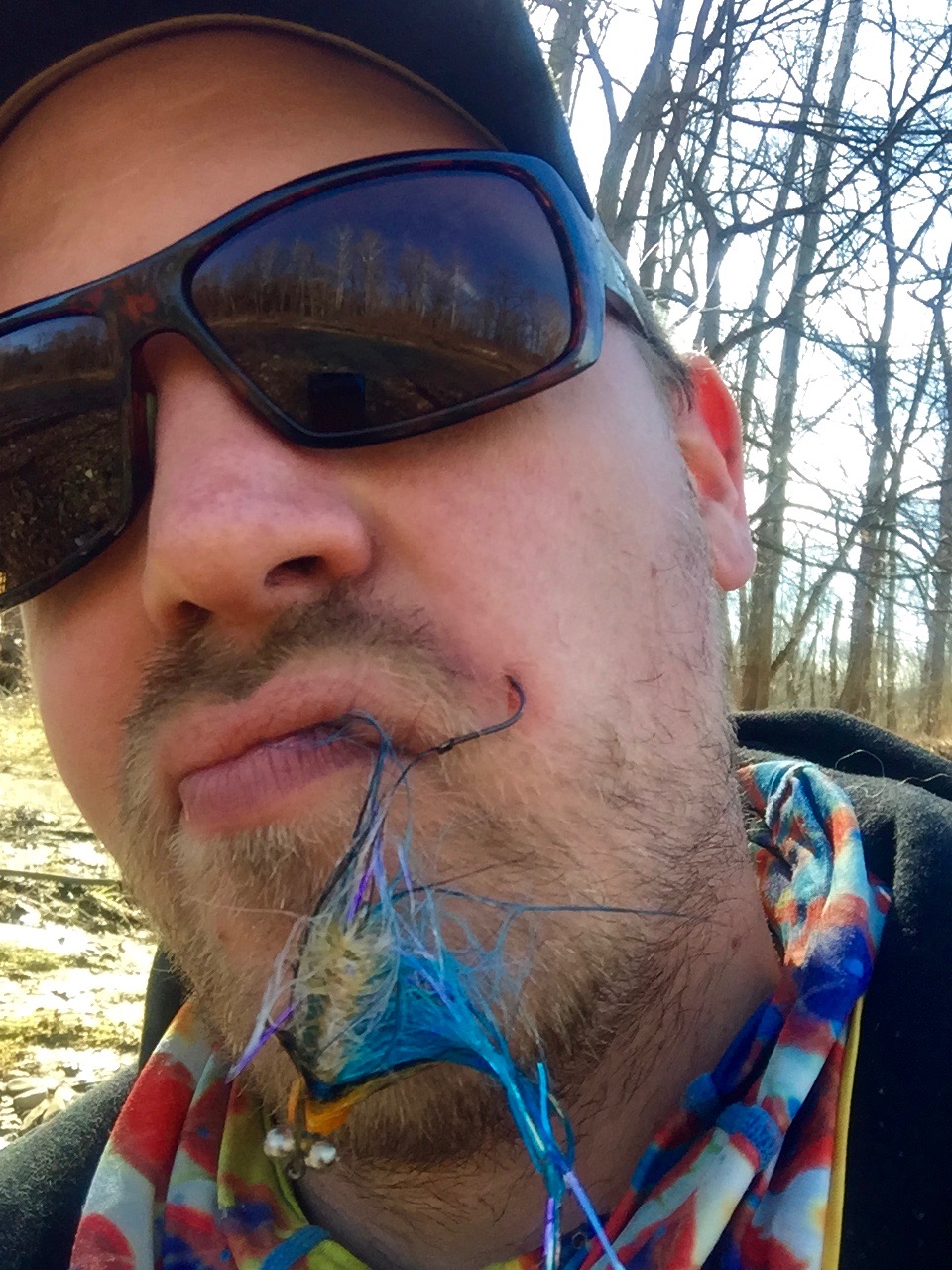 The hangover finds another victim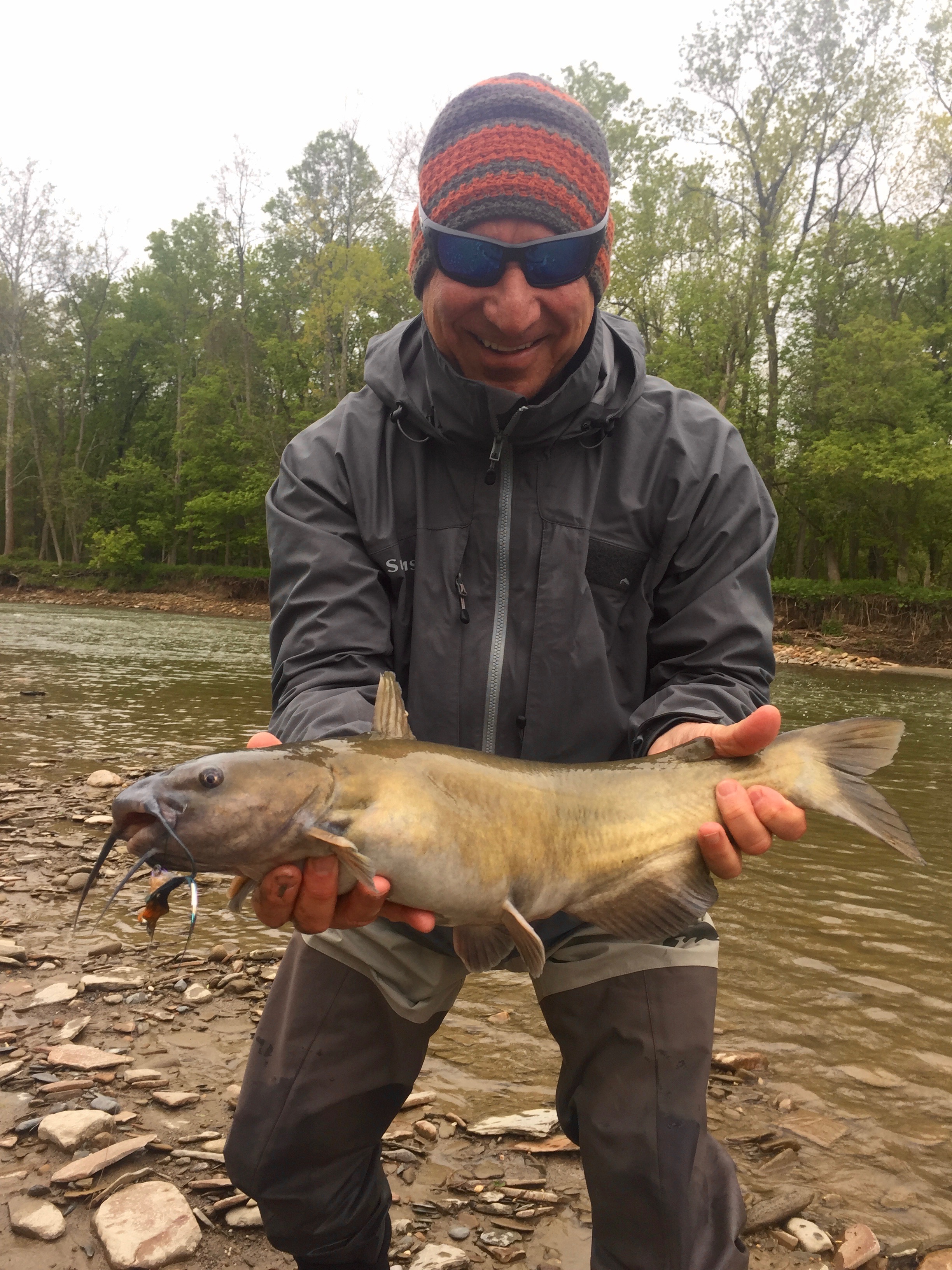 A fat channel cat that took the whiskey hangover
Well Art came back up to fish with me over the last couple days to make up for an April trip that had to be rescheduled. The target species of the trip was intended to be smallmouth, but they proved a little hard to find. Where as April was generally warm and causing things to run a week or two ahead of schedule, May has been cool and wet. It felt more like steelhead weather than smallmouth weather for sure. 
First day we fished hard, on both the Grand and the Chagrin, and ended up swinging up a catfish and losing a toad smallmouth. Next day we floated the upper Grand. Had intended to float the lower river but theres been some construction down low that I guess is closing off river access to boats. Fished all day hard on the upper river and found resident smallmouth, but nothing big, and even then the bite was waaaayyyyyy slow. On the last day we wade fished the lower Grand. Ended up swinging up two steelhead, but couldn't find a smallie to save our lives. But still the steelhead were a nice find and kept us interested. Looks like the forecast now is sunny and warm for the next week or so. This should get the smallies moving around again.
Check out the rest of the pics. 
Tight Lines
  - D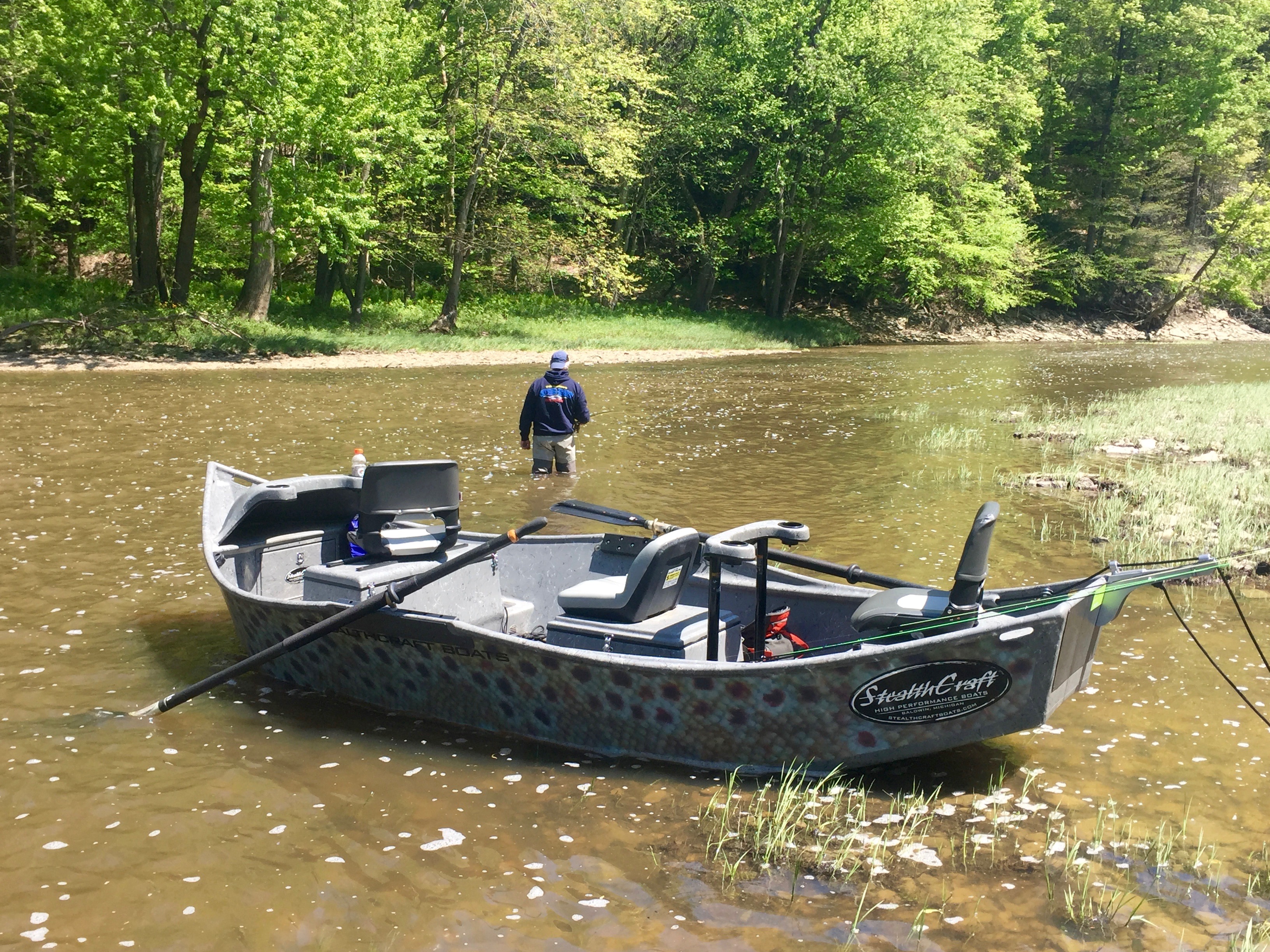 Parked to swing the Grand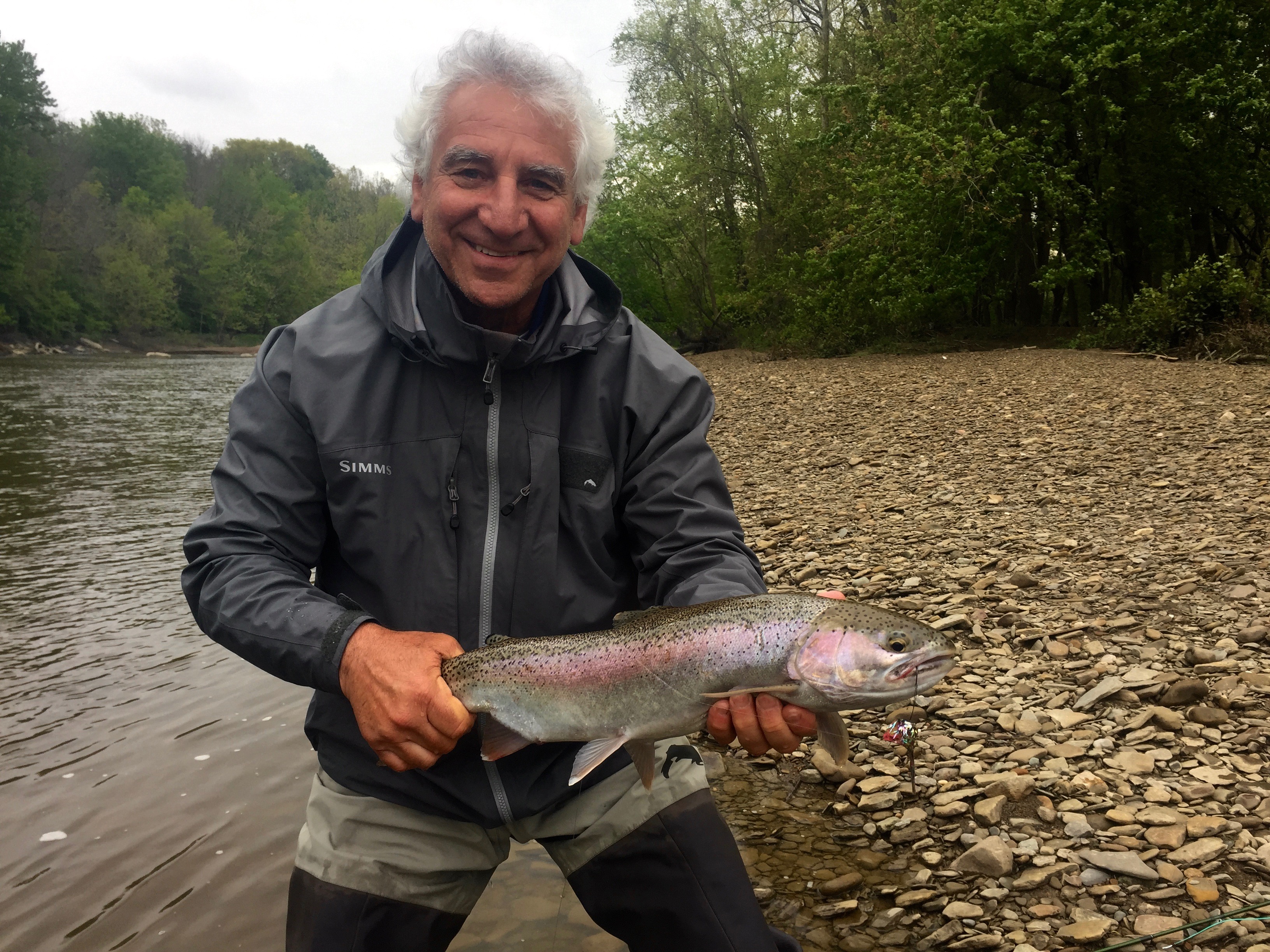 Late steelhead on the Grand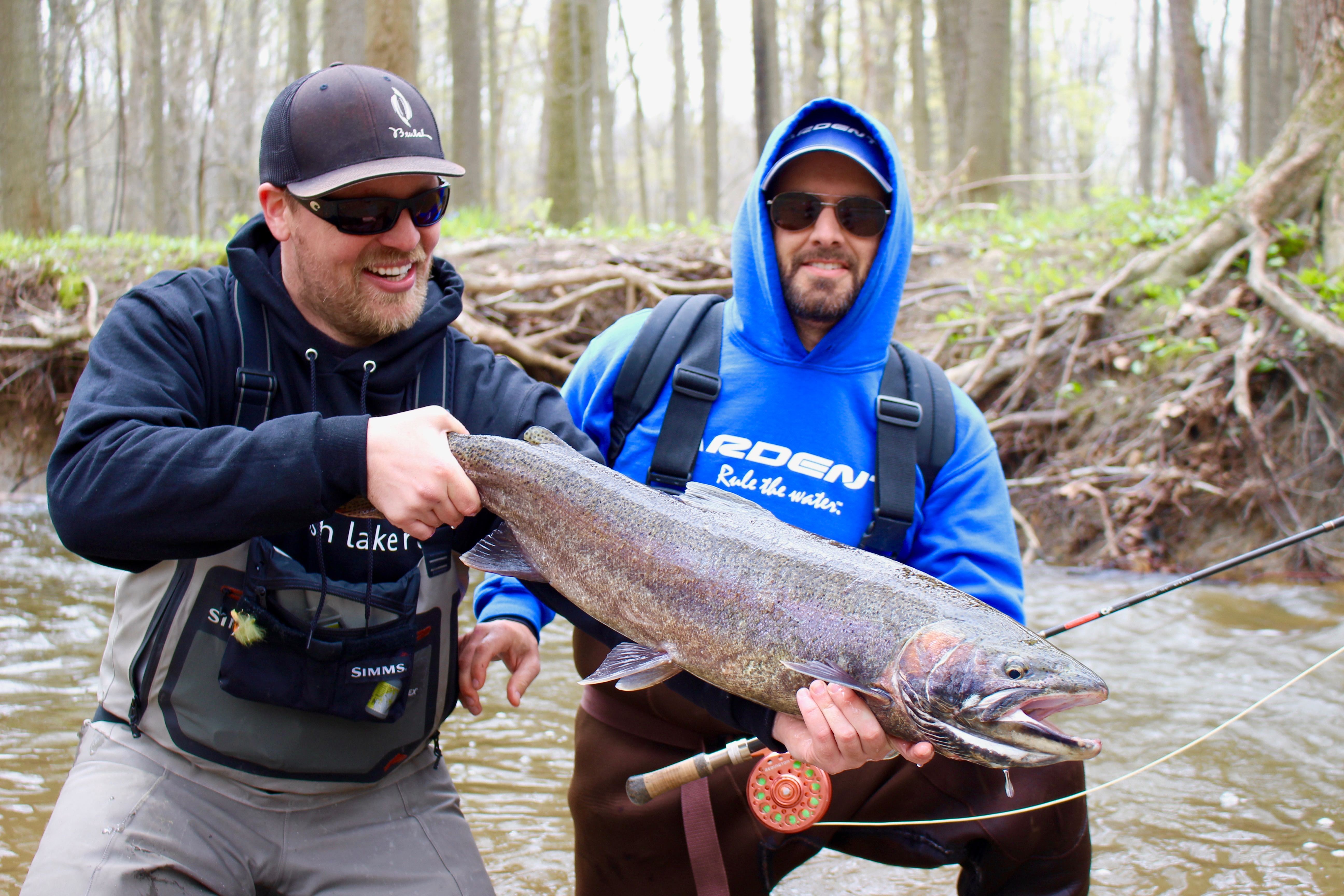 34" and 15 pounds of steel for Chris on his first day fly fishing steelhead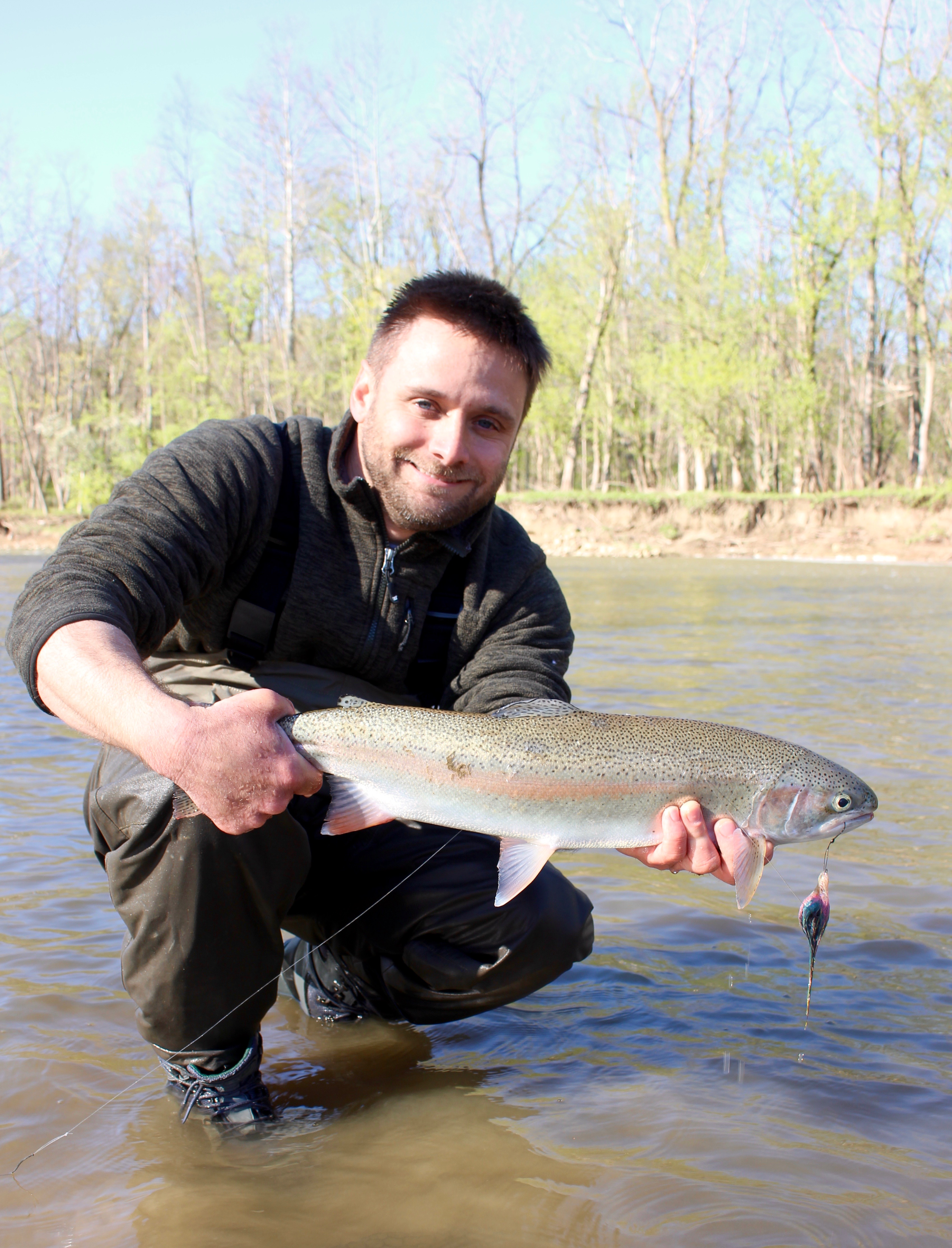 Justin with his first swinging spey rods
Well, I've been saying it all spring. We're seeing a big fish year. Fished with Justin and Chris the last few days and we netted 3 over 30" and the big one was 34" and 15 pounds or so. Damn, it's nice to finally put one of those bigger fish in the net. We've been hooking them up pretty consistently throughout the spring, but landing them has been a different matter. Certaintly looks like those back to back mild winters are paying off in terms of fish size. Can't wait to see what the fall fish look like! Last fall an angler showed be a pic of a 36" he caught a few days before, and it was every bit of that. We might see a record broken this fall.
We're still seeing good numbers of fish. Most are finishing spawning or already dropping back, but swinging the streamers yesterday resulted in some fresh run chrome fish. Nice to still see a trickle of fresh fish coming in. But their numbers are very limited. Things are running about 2 weeks ahead of schedule. I generally have decent steelheading till sometime in the second week of May. This year it's looking like we're getting pretty close to the last week or so, with more fish dropping out each day. But man oh man, what a spring. We were fishing pretty consistently from the last week of February on. Lots of fish. Hooked a number in that low-mid teens or better, and finally got one to the net. Hard to beat. Yesterday, also found the first smallie of the year. I'm sure they've been in for a while, but I've been fishing the mid and upper parts of the rivers. It's a sign of more good things to come.
Not long now till I start really thinking of bass. Enjoy the rest of the pics, and tight lines.
  - D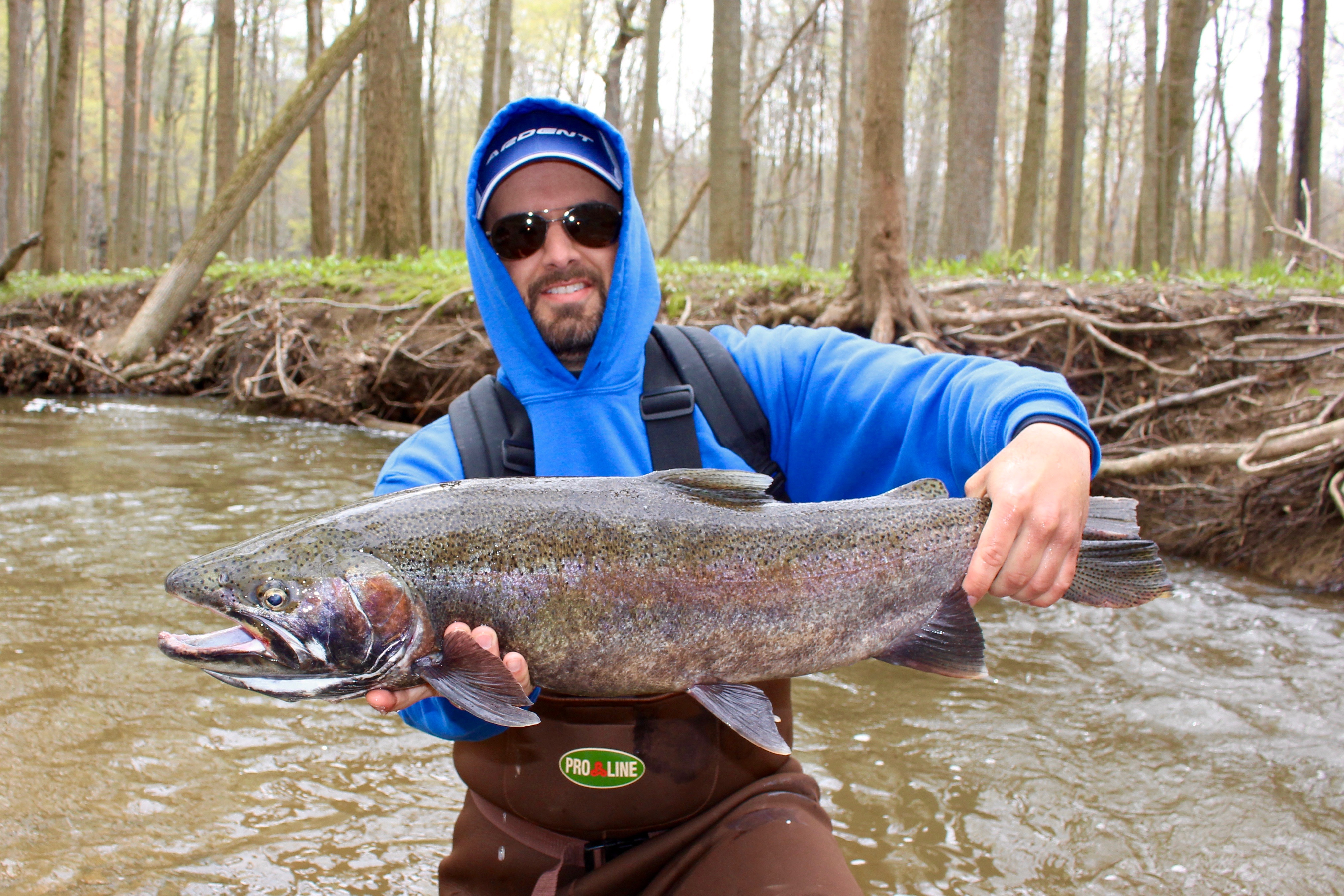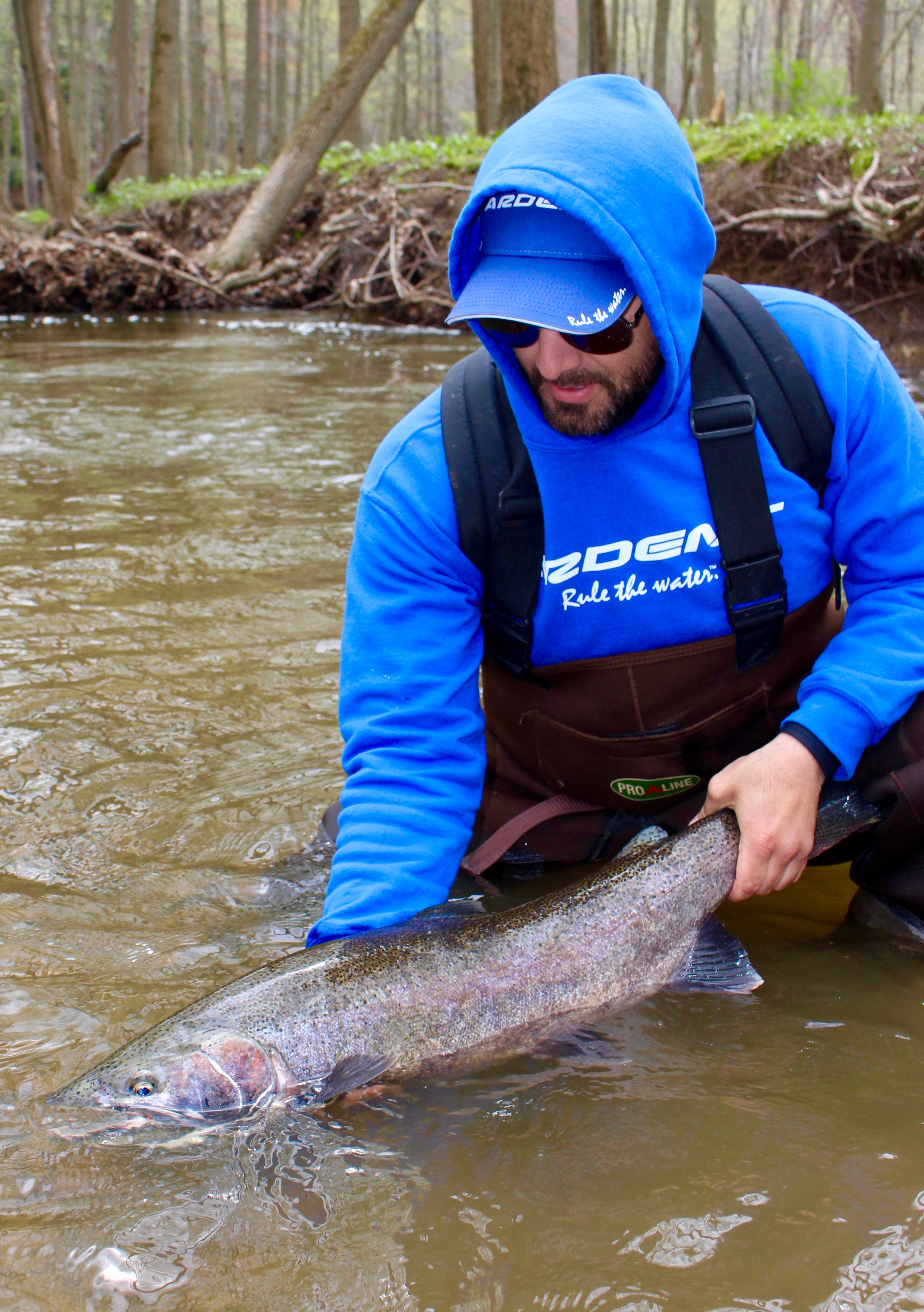 Another couple shots of Chris' giant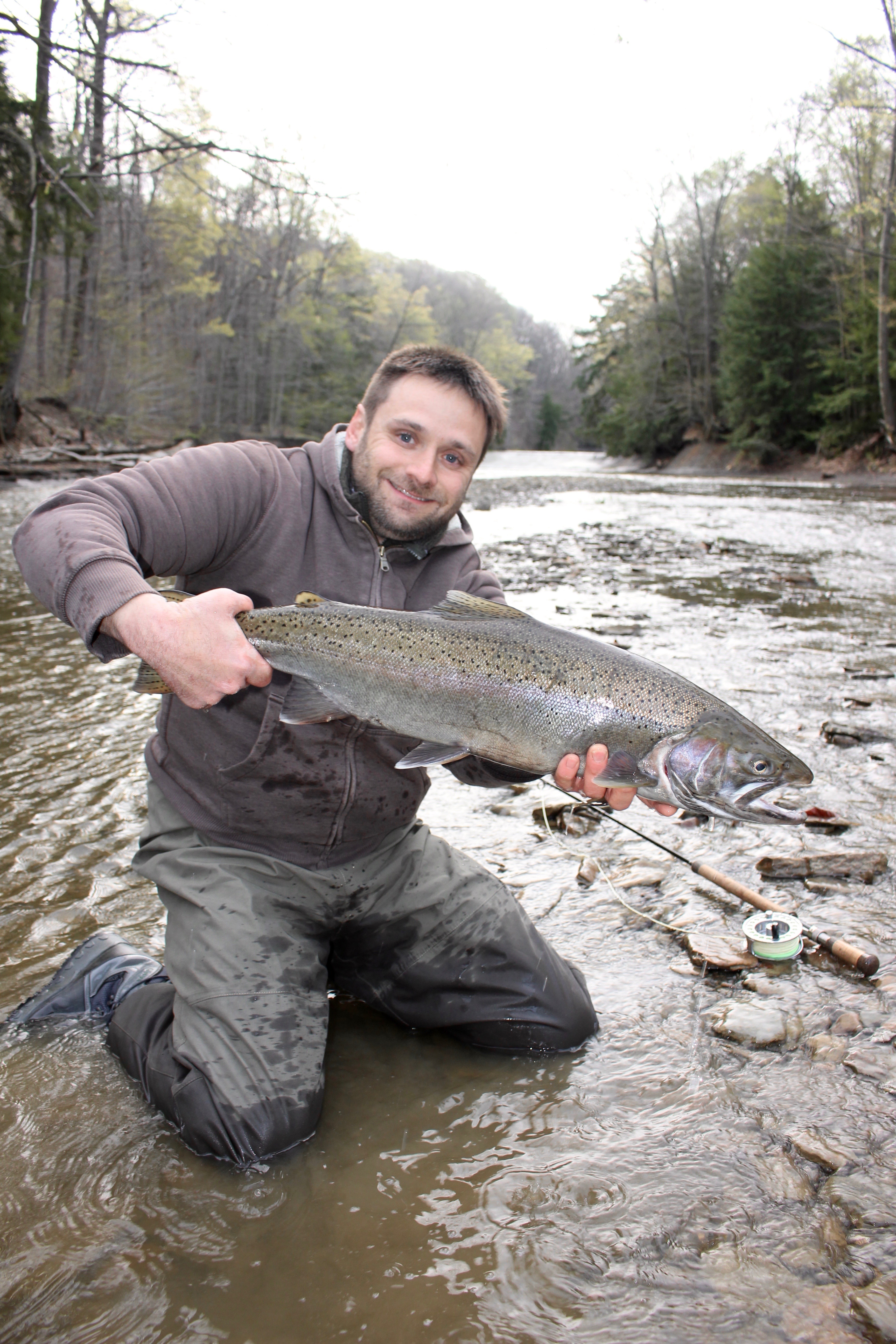 Justin with one of the 30's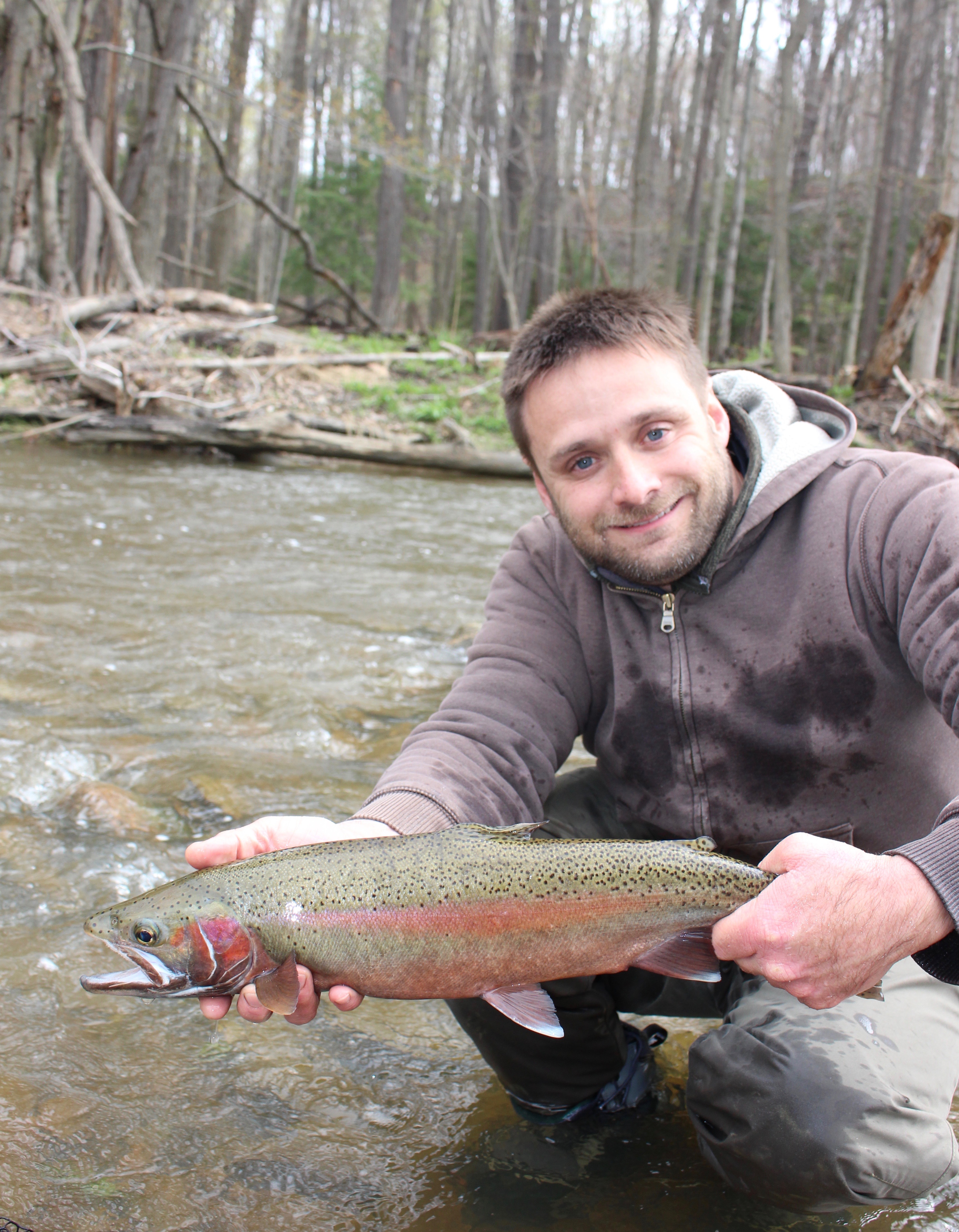 Justin with an absolutely stunner little buck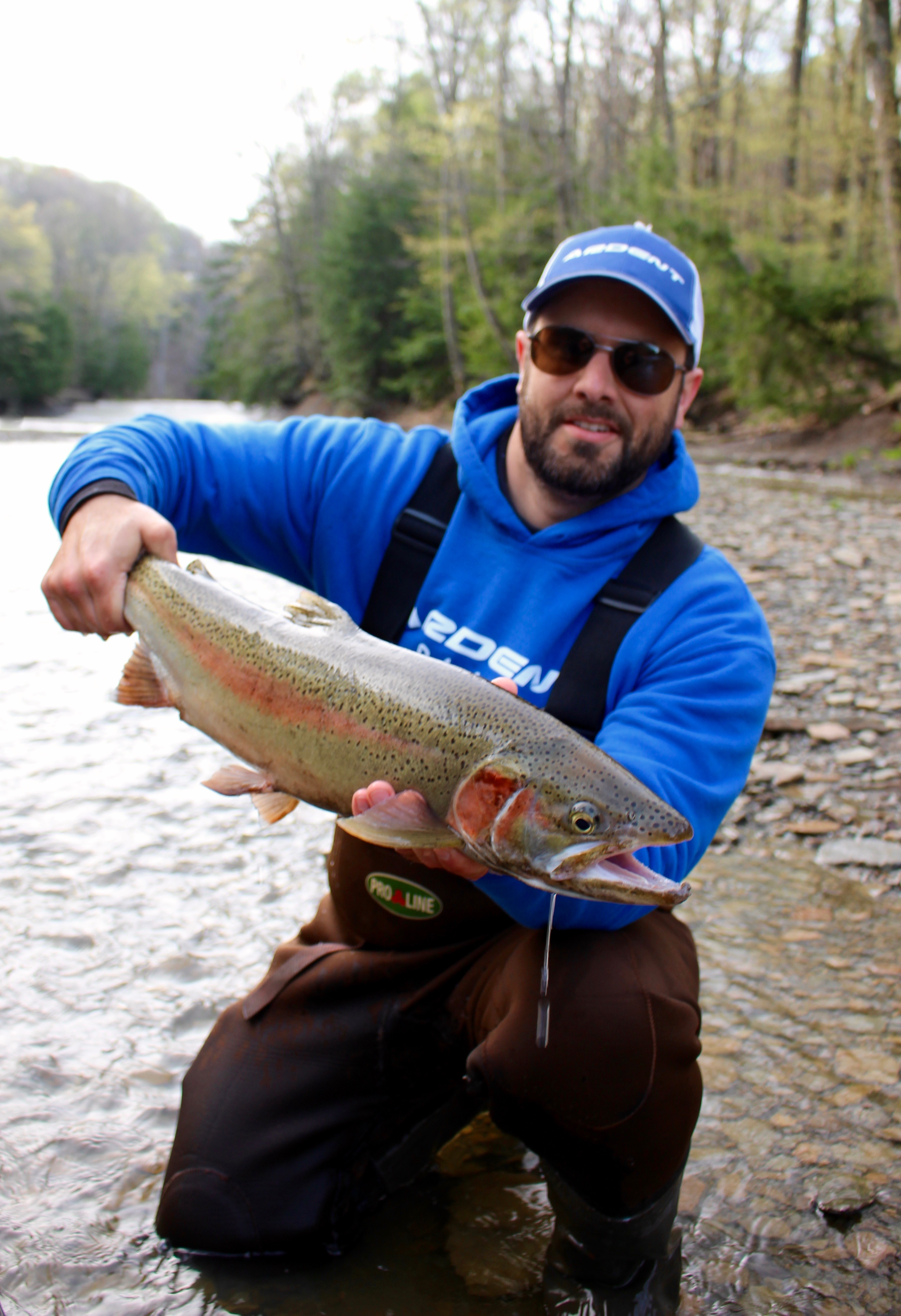 Chris got his own colored up fish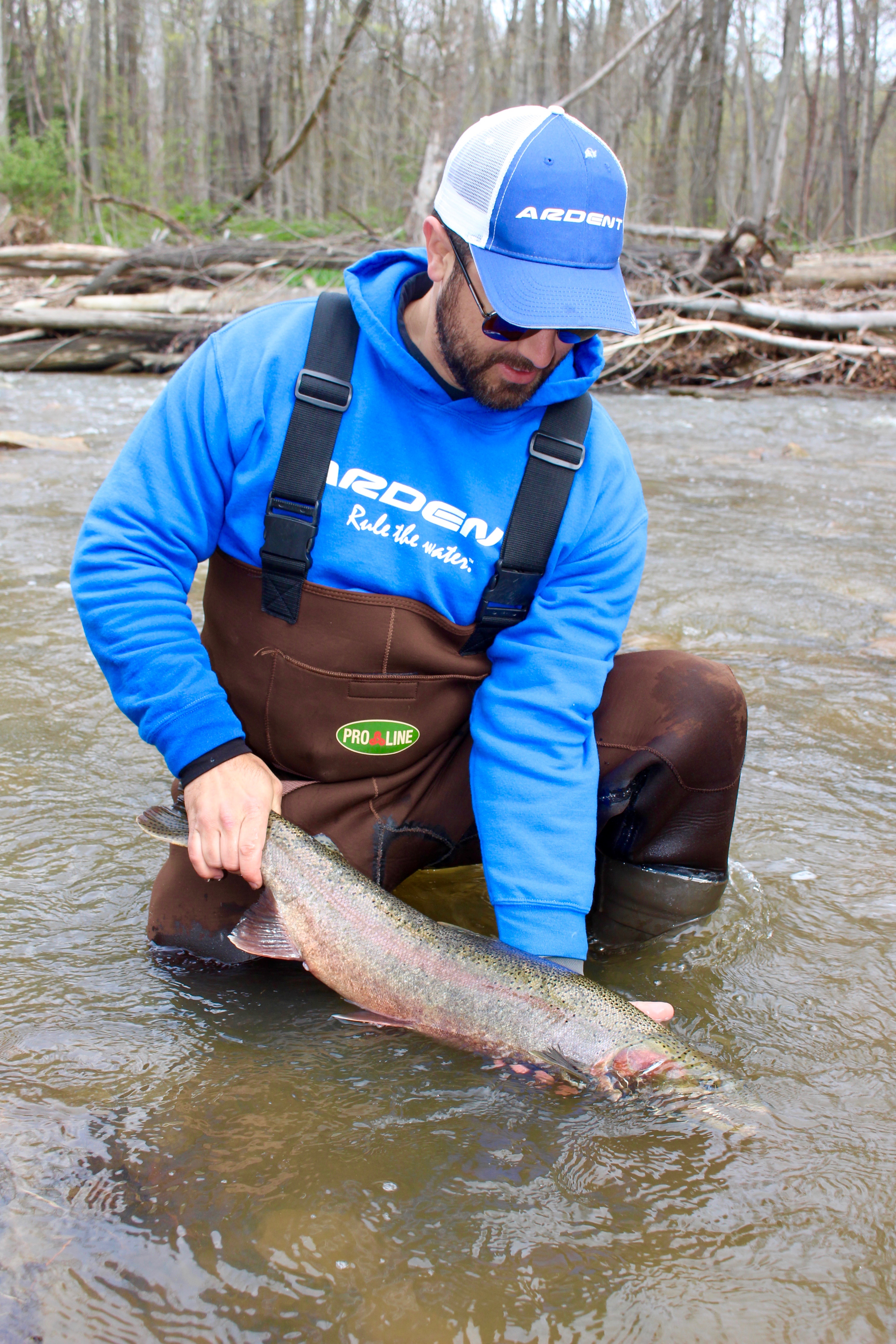 Chris with another colored up buck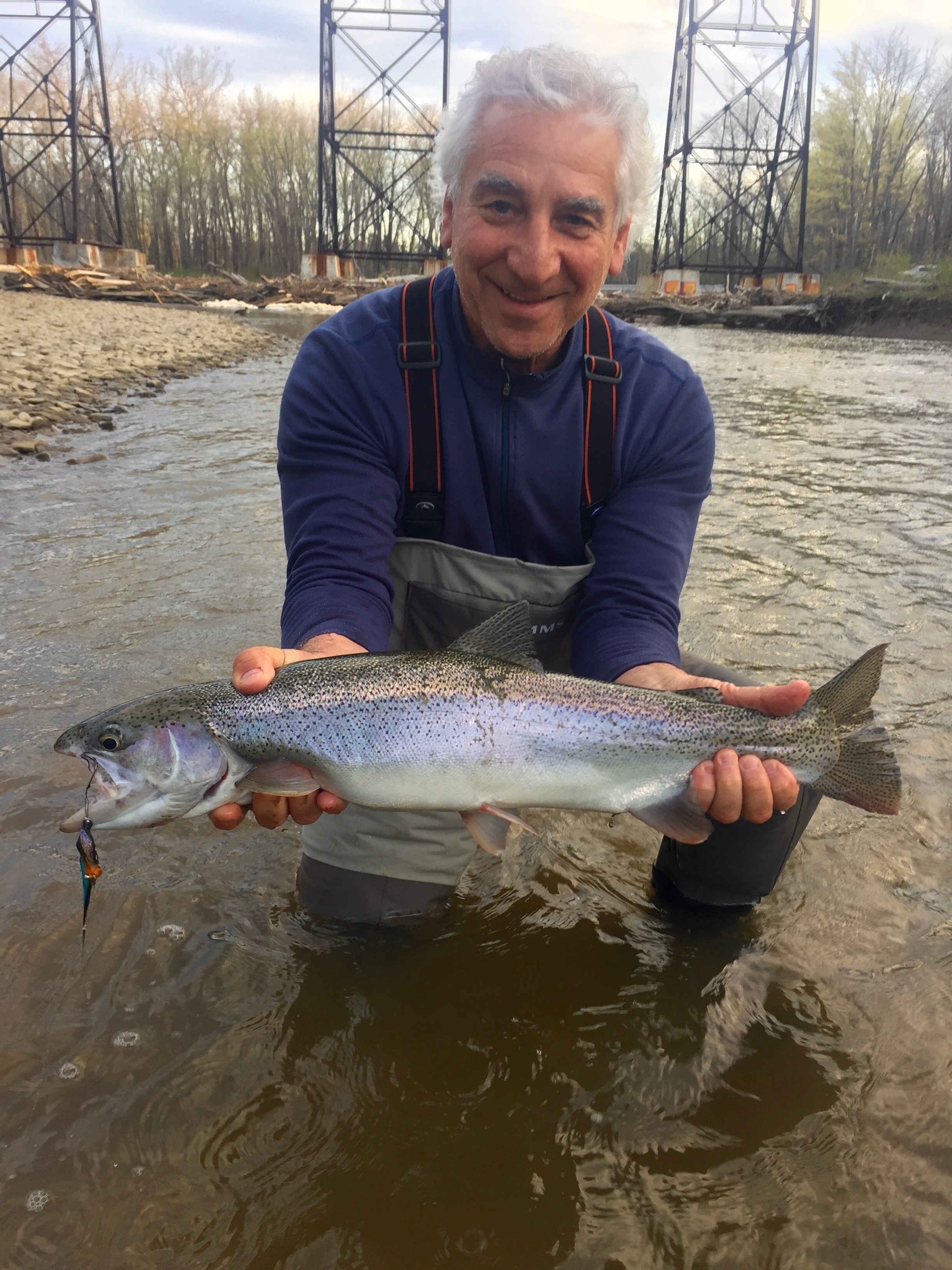 Art with his second fish on a spey rod!
Here in Ohio, spring steelhead is a beautiful thing! And right now we're experiencing some EPIC fishing! Had the spring Sandler trip with Art and his daughter Leyla over the last three days, and to put it simply, we crushed them. We still have a large amount of fish in our rivers, most are actively spawning fish, or dropbacks, but we are still finding a few chrome freshies. I expect not to see many more as our season is winding down out here. 
It was Lee's first trip up this way to fish with me, and she probably landed 10-15 fish over two days. Art stayed an extra day to fish, so I thought it'd be really neat to focus his last day on spey fishing- and we were not disappointed. Within fifteen minutes he was into his first fish on the spey rod! He ended up swinging up 4 from the Grand yesterday, and losing a couple more. I even got in on the action and swung up 2! Always a great day when I get a chance to fish with good friends! Our fish were caught on the hangover, the flash, and the destroyer. Old standards for sure, but some of the best fly patterns I have ever come up with. Word of caution for fishing this time of year- be careful about water temperatures. On Sunday and Monday I started to get readings in the low 60's on my thermometer. It's important to take a reading every so often, and if you see 65 call it a day.
Enjoy the rest of the pics.
  - D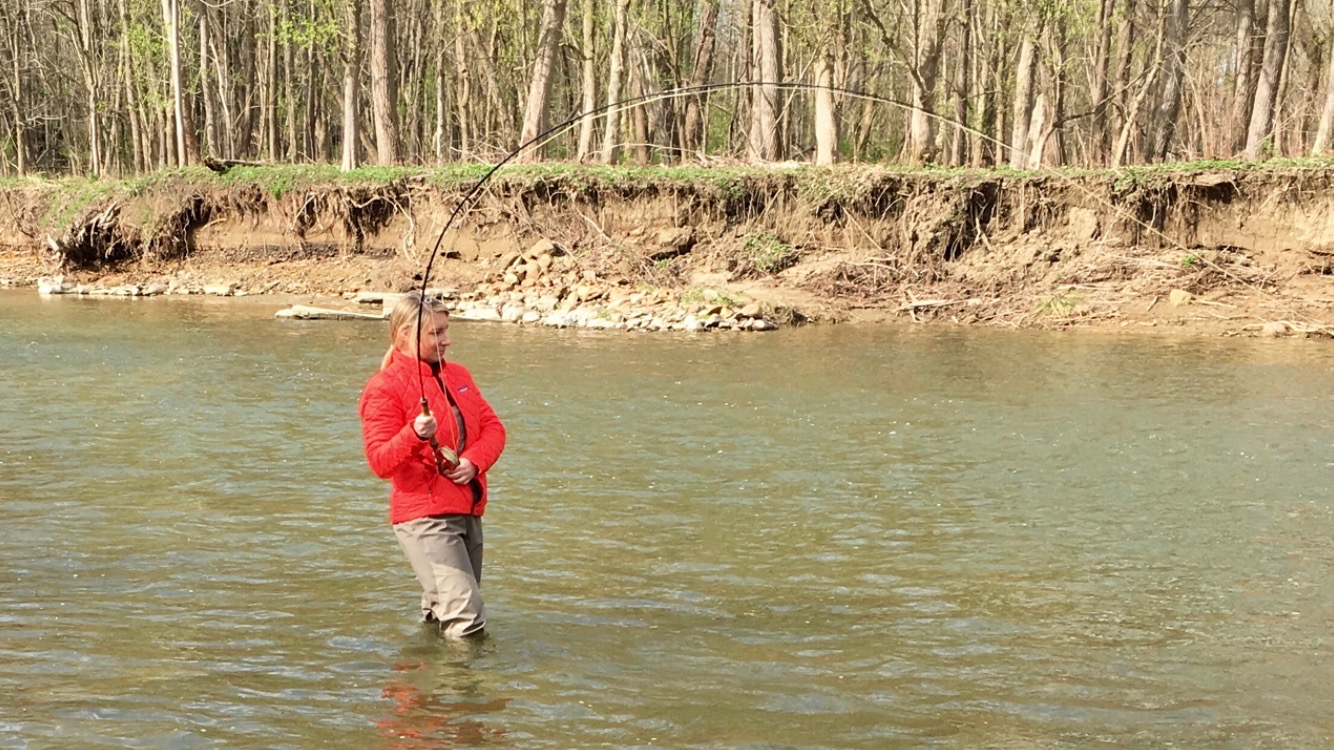 Lee putting the wood to a good steelhead!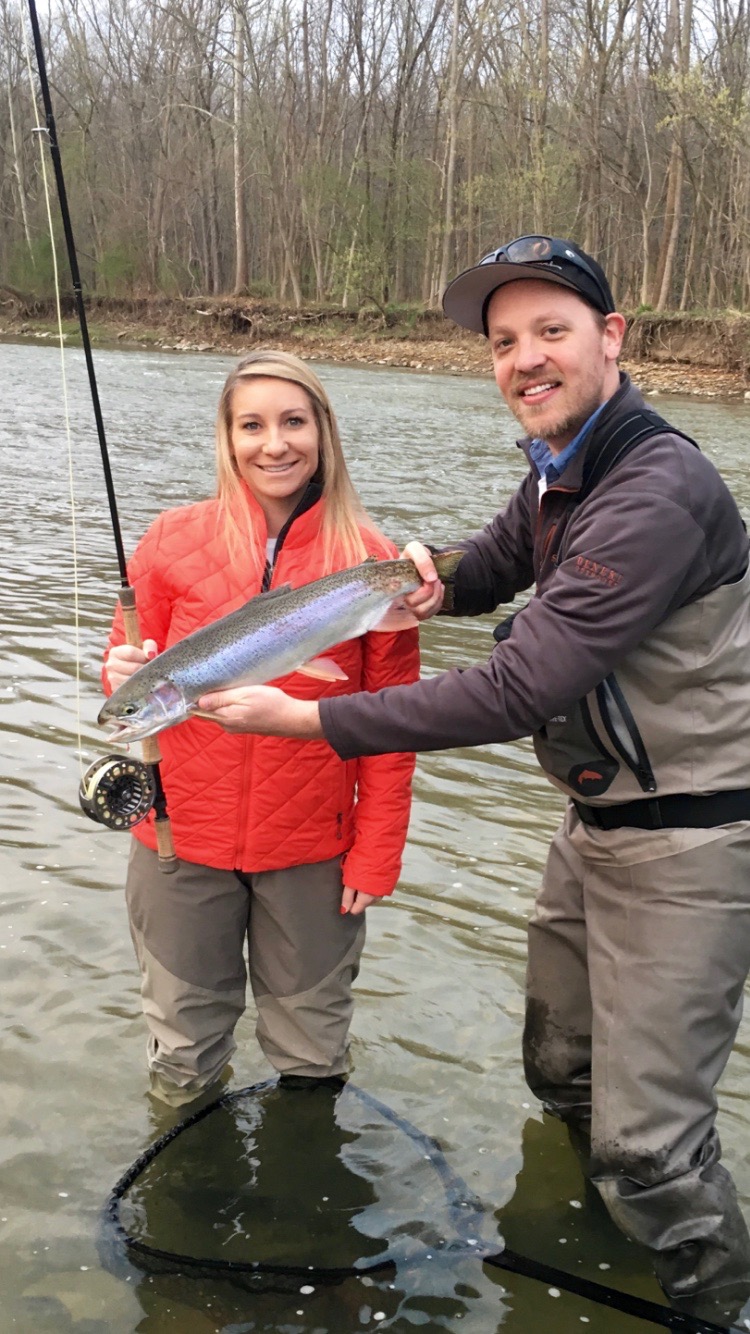 Nice fish!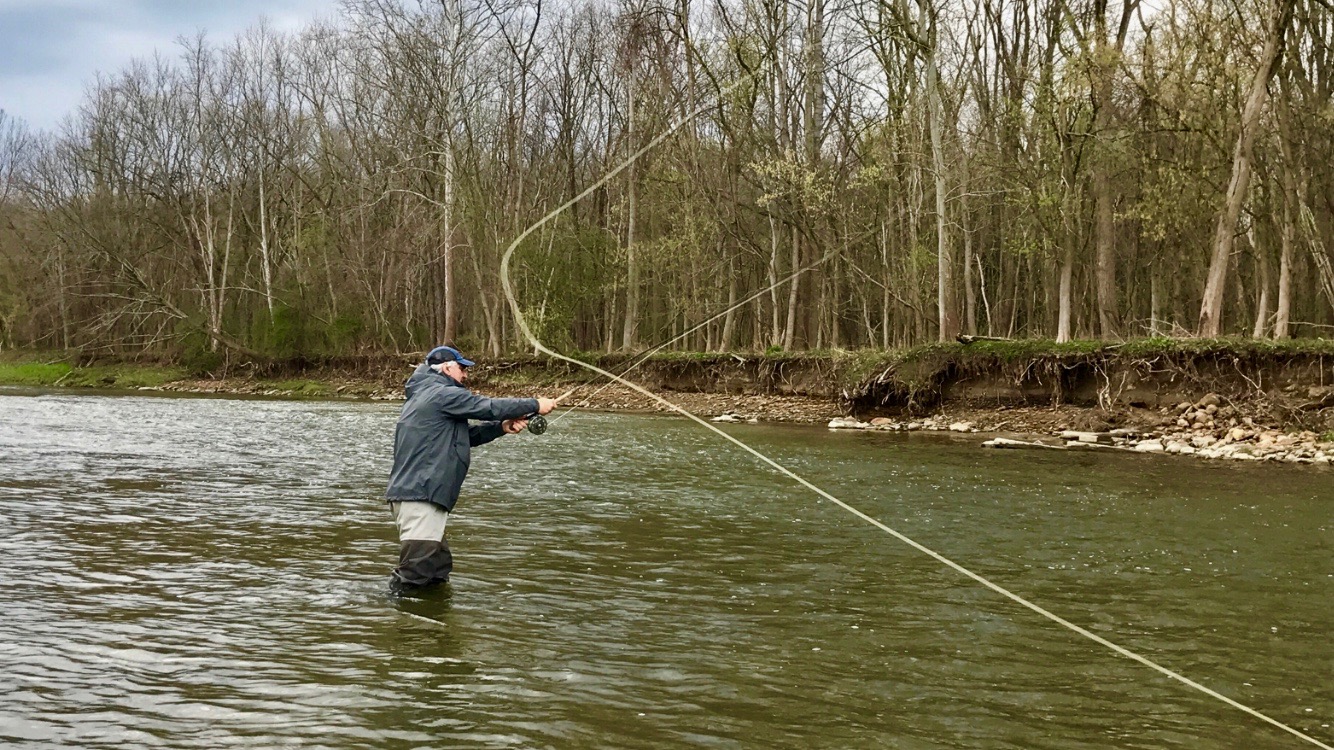 Art tearing into a D loop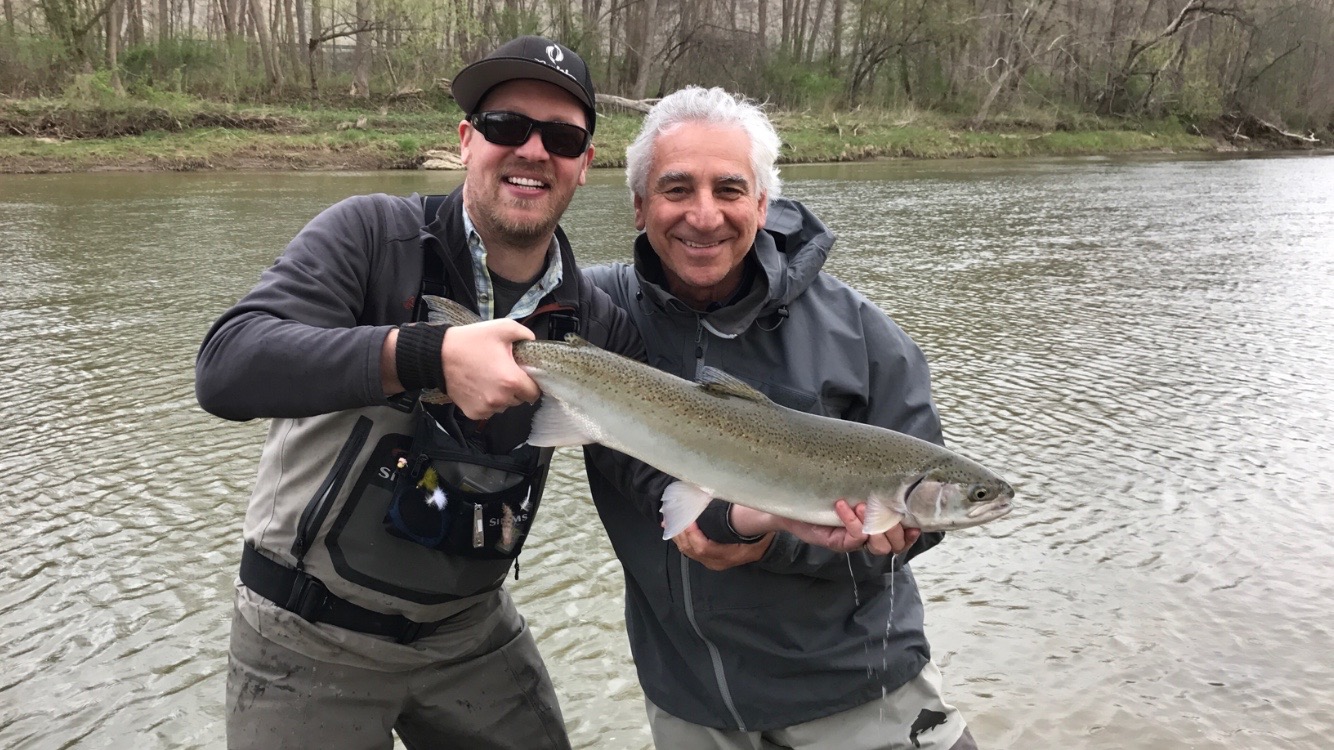 Art with a solid Ohio steelhead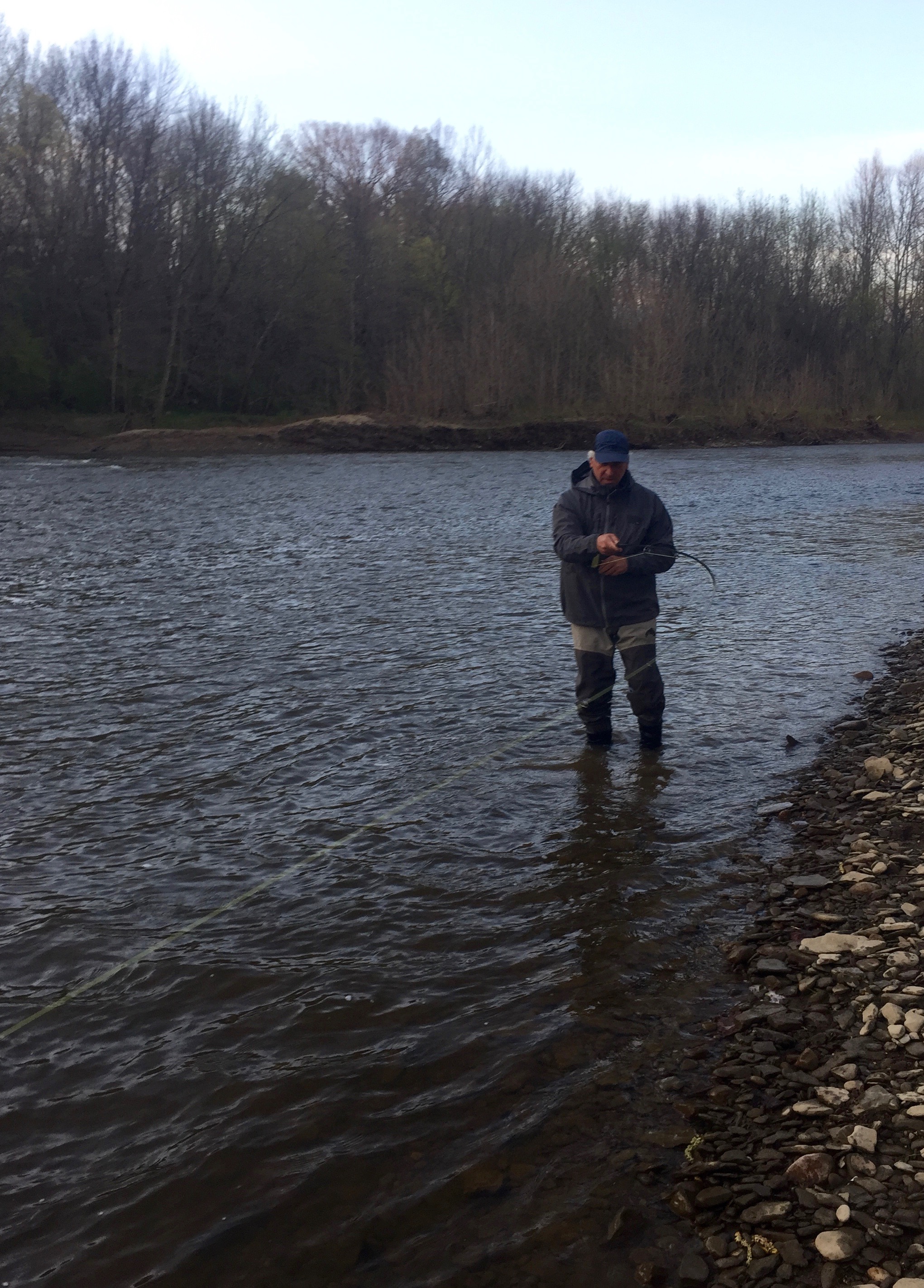 Art battling his first on the spey rod!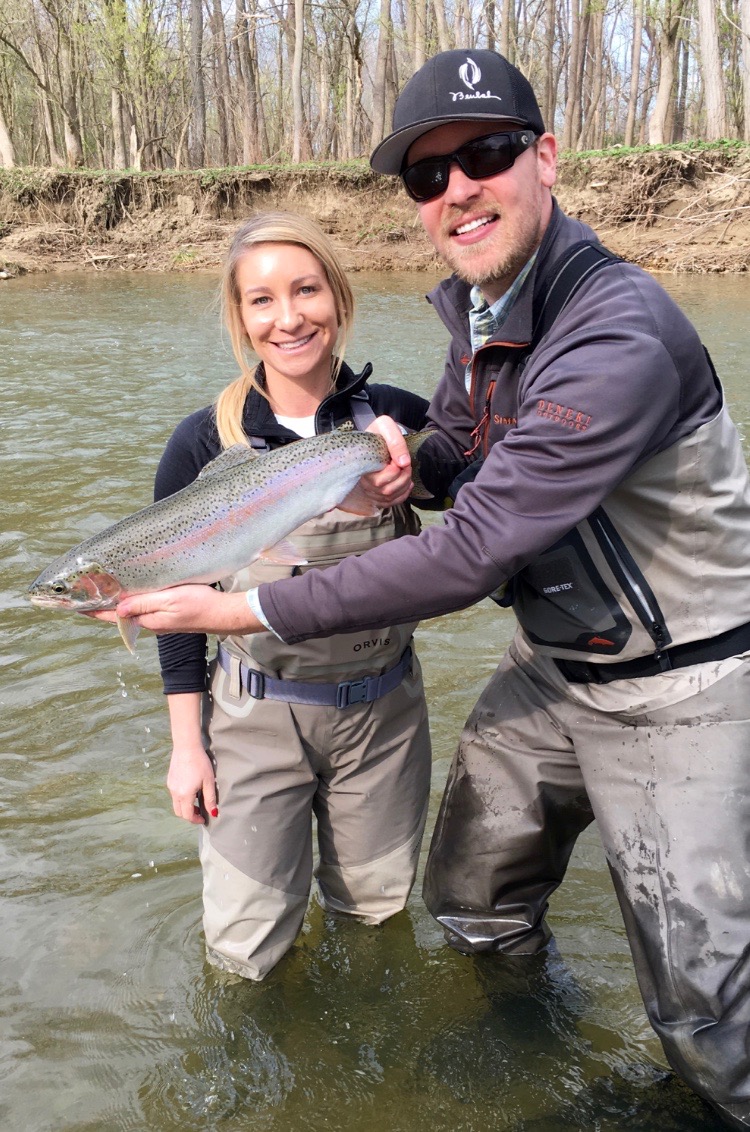 Lee and I with a pretty fish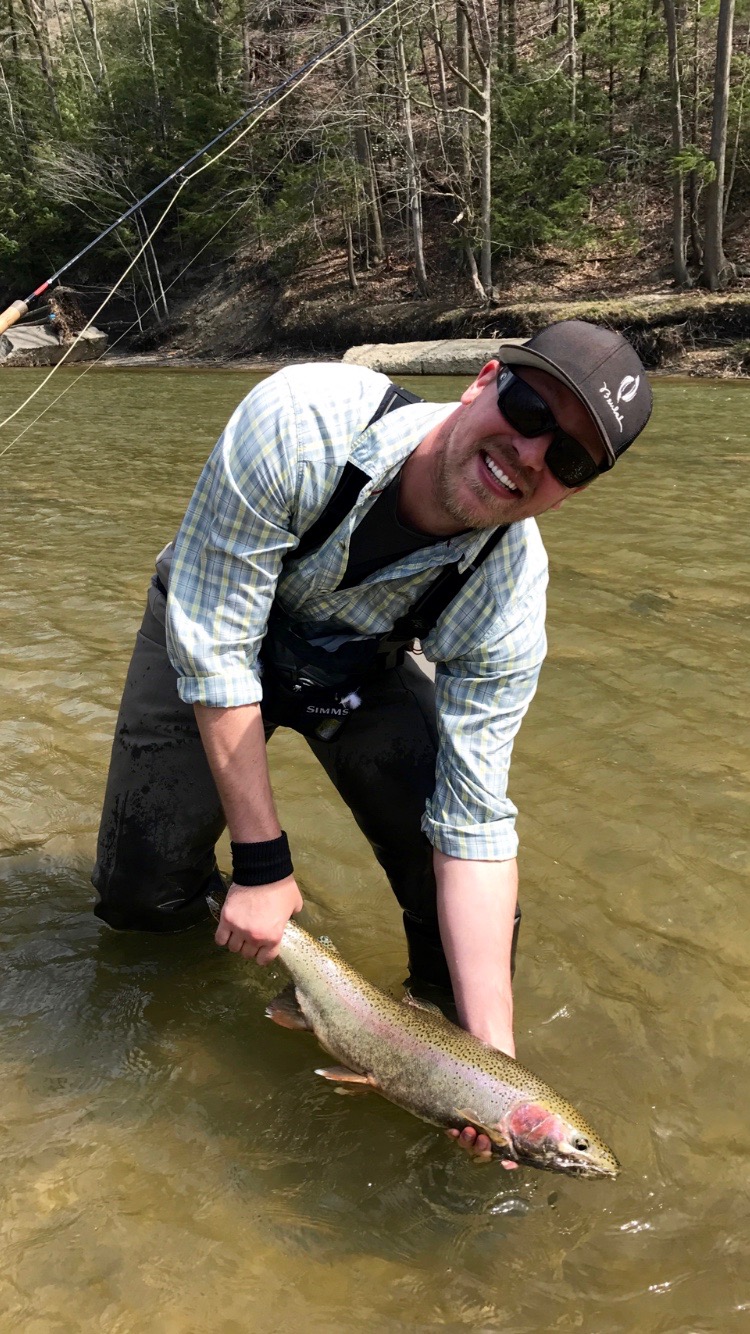 One of the few I caught over the weekend
/