Shopping Cart
Your Cart is Empty
There was an error with PayPal
Click here to try again
Thank you for your business!
You should be receiving an order confirmation from Paypal shortly.
Exit Shopping Cart
Guided Fly and Spey Fishing Trips for Steelhead and Brown Trout with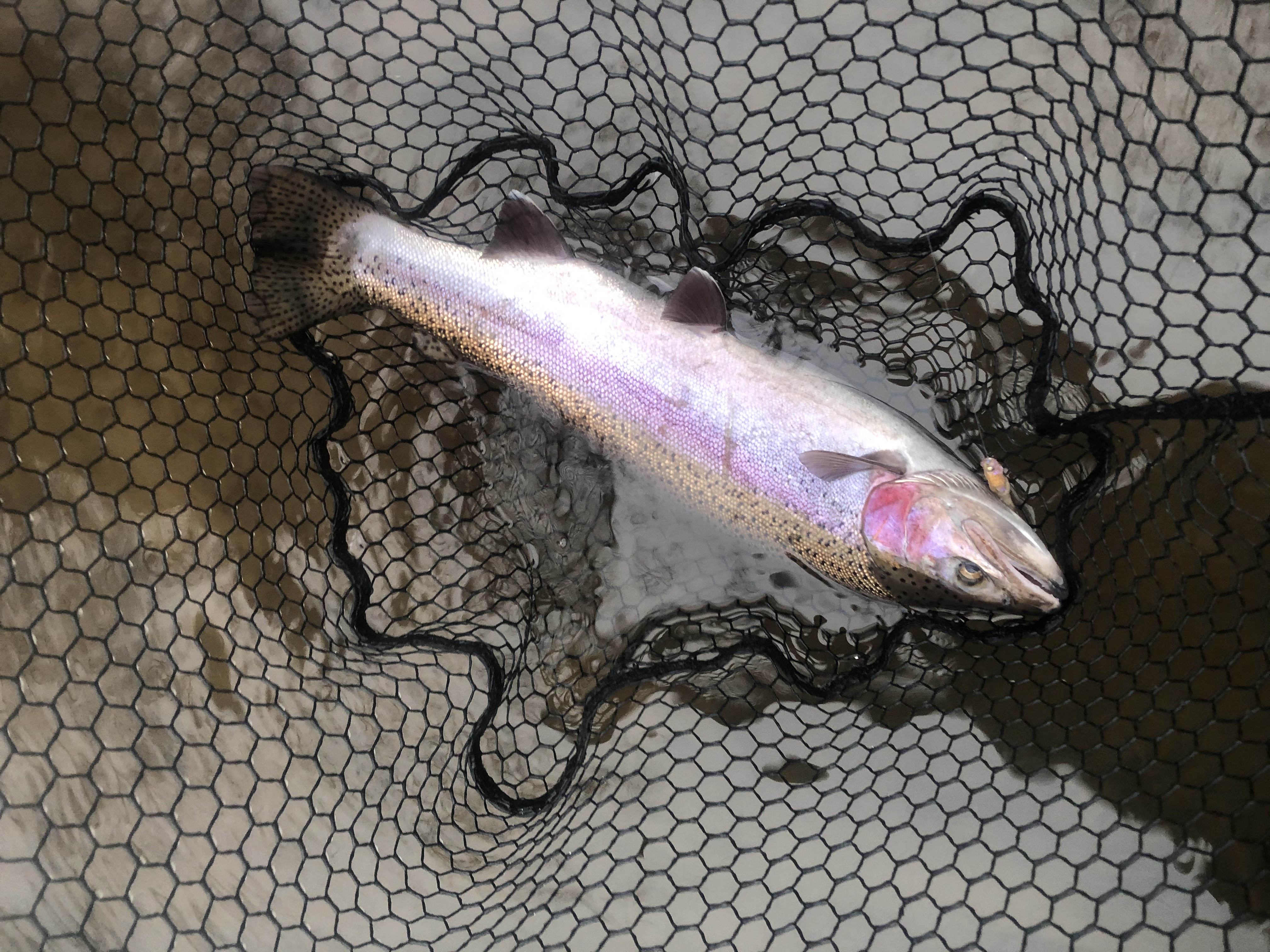 Love the colors this time of year
Hard to believe it's already 2020! I know this is a few weeks late, but as we roll into the new year, I like to take a look at what the old one had to offer. All in all, 2019 was a great year! Spring fishing was consistent on the Ohio rivers, starting very early on with good runs coming in during warmer periods of January and February, and fishing very well all the way through early may. It seemed like the overall size of the fish was slightly down, most the fish we found were between four and six pounds, but there were some bruisers in the mix like always.
One really nice thing about 2019 were the late spring and early summer wild browns in central PA. It had been quite some time since I had given any of the wild browns any love. But starting in early May and continuing all through June, we were having great streamer fishing for trout up to around 24", and saw some much bigger ones! I'm already thinking about trout season haha.
Like most years, from July-September, we quieted down as we started planning and preparing for the upcoming fall season. It was a time spent tying, scouting, and juggling multiple other engagements. But soon enough October rolled around. Early on, the Catt was low though not troublingly so. She still had enough water for fish to move through, but the lower flows definitely resulted in a bit of a delay. Until about the third week of the month, fish were spread out and working the water well was key. By the end of the month, however, we were finding good numbers and that continued on throughout the rest of the season. The nice thing was that on the whole, we had a lot of days to fish the Catt this fall, which is such a relief compared to the essential blank that was the year before.
The Ontario creeks fished moderately well in the fall as well. We did not have as strong a brown run as the year before. Most days were somewhere between two and four fish swinging, which is still very good. Just last year spoiled us for sure. One really nice thing about the Ontario creeks this year was the number of Atlantic salmon around. There's usually a few that we see in the mix of fish, but last year was the best numbers I think I've ever seen. I really hope that program keeps evolving and progressing. It would be nice to see Ontario develop a good Atlantic fishery like the ones in the upper lakes.
Looking ahead to 2020, we are already having great fishing. Fresh steelhead are running the Ohio rivers as we speak, and their numbers will build as winter turns to spring. Based on what I'm seeing, I'm pretty excited for peak season. Matt and Jeff will be back out here working with me from late March through late April. Right now Matt is out in Park City, Utah fishing the Provo, and Jeff is back on the east coast chasing stipers. Check out the pics they sent me.
In addition, in a couple months Flyfishers Guide to Steelhead Alley, a book I was asked to write, comes out. Pretty excited to see the finished product. It's part technique guide and part stream guide, so I think it has something for everyone. And I've decided to donate any of my author royalties to Trout Unlimited for the Snake River Dam Removal efforts. So pick up a book and check it out! Should be available end of February/early March-ish.
Tight Lines,
 - D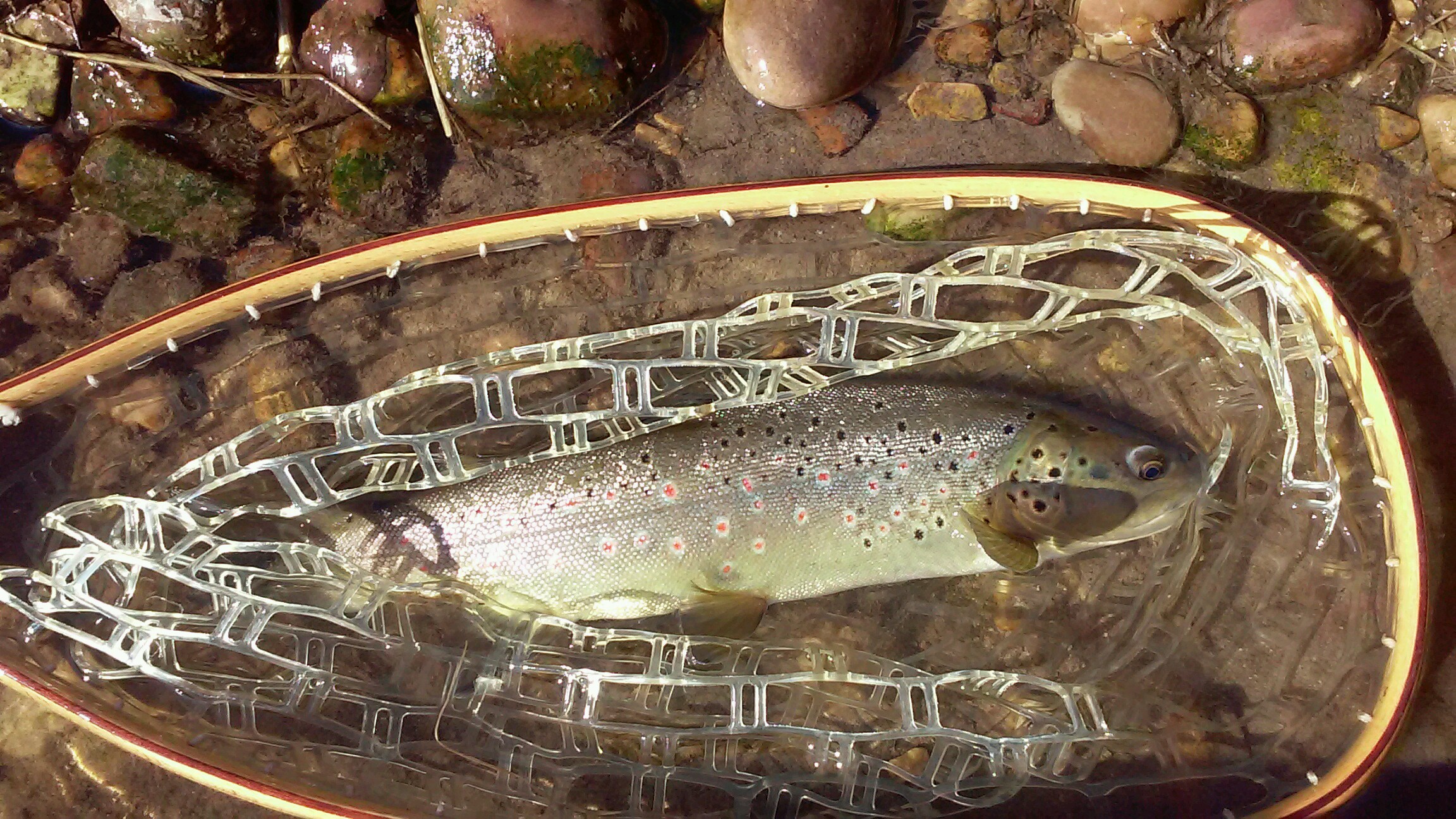 Matt's recent Provo River brown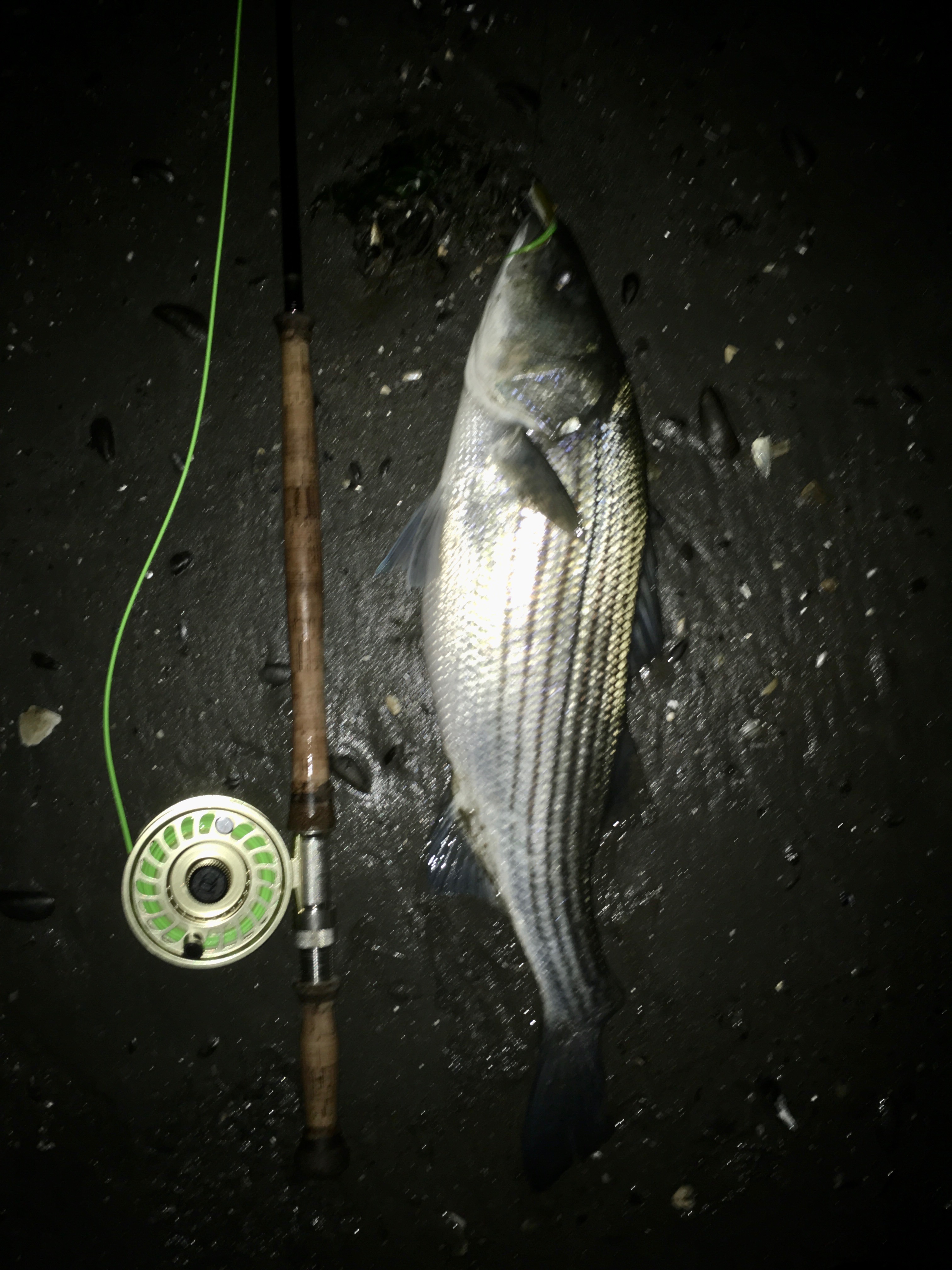 A striper Jeff caught fishing jetties in the surf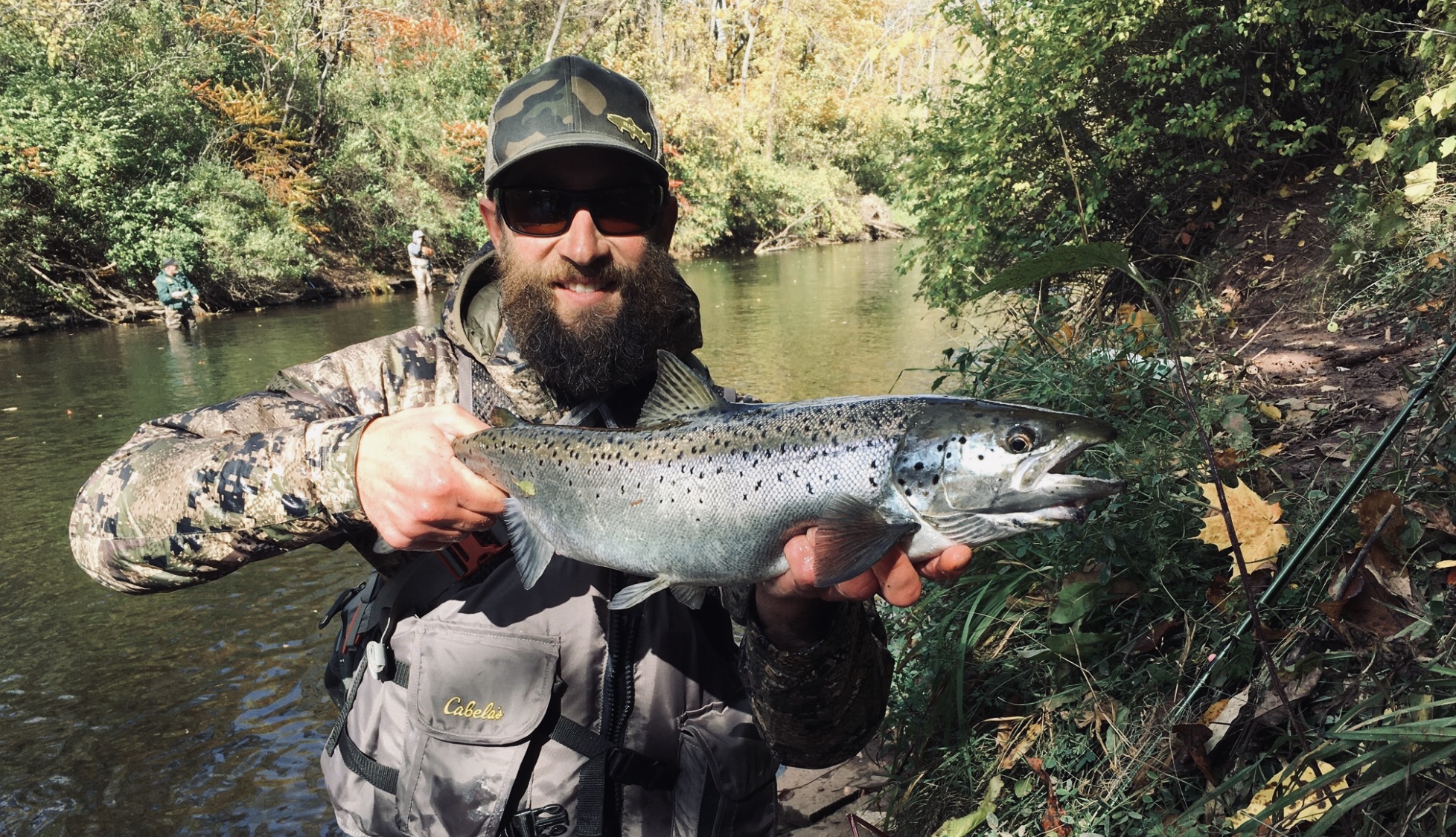 Jeff with a sweet Atlantic salmon!
The fishing this past week has ranged from very productive to working for a few fish as water levels have fluctuated from lower and clearer to high and stained. The Catt has fished on an off over the past week, with a weather system that came through Tuesday dropping about a half an inch of rain and muddying up the water for a few days. When it dropped, fish the fish in the river from before pushed up and fresh fish pushed into the lower stretch.
The smaller creeks all saw at least a little push on the high water, and fish can be found throughout each of them, though numbers still seem a bit lower than normal for this time of year. I attribute this to the low water and warm temperatures that persisted until about the second week of the month. Based on what I'm seeing, it seems like we're running a week or two behind schedule, which makes sense considering the foregoing.
The Ontario creeks all have fish in them, some more than others. The larger systems like the Oak and 18 Mile have the most due to the more consistent waterflows this fall. We have been pleasantly surprised by the numbers of Atlantics around this fall. Usually we see a couple darting around in the rivers each fall, but this year seems like there are a lot more around. That's really nice to see, and I hope that New York really develops this program. The kings seem to be struggling a bit, and I'm concerned that my predictions from September 2017 about an imbalanced predator-prey population are going to really manifest themselves in the next two or three years. Alewife populations are still really low and there have been a lot of mouths to feed over the past two years. The silver lining in that is with less king salmon, it seems the Atlantics are starting to flourish. But only time will tell.
Anyways, to sum it all up, the fishing is decent but not great. It should be getting better with each passing weather system that moves through, but the Catt will likely become more hit or miss as is usual this time of year. And I'm optimistic to see what the future holds.
Tight Lines.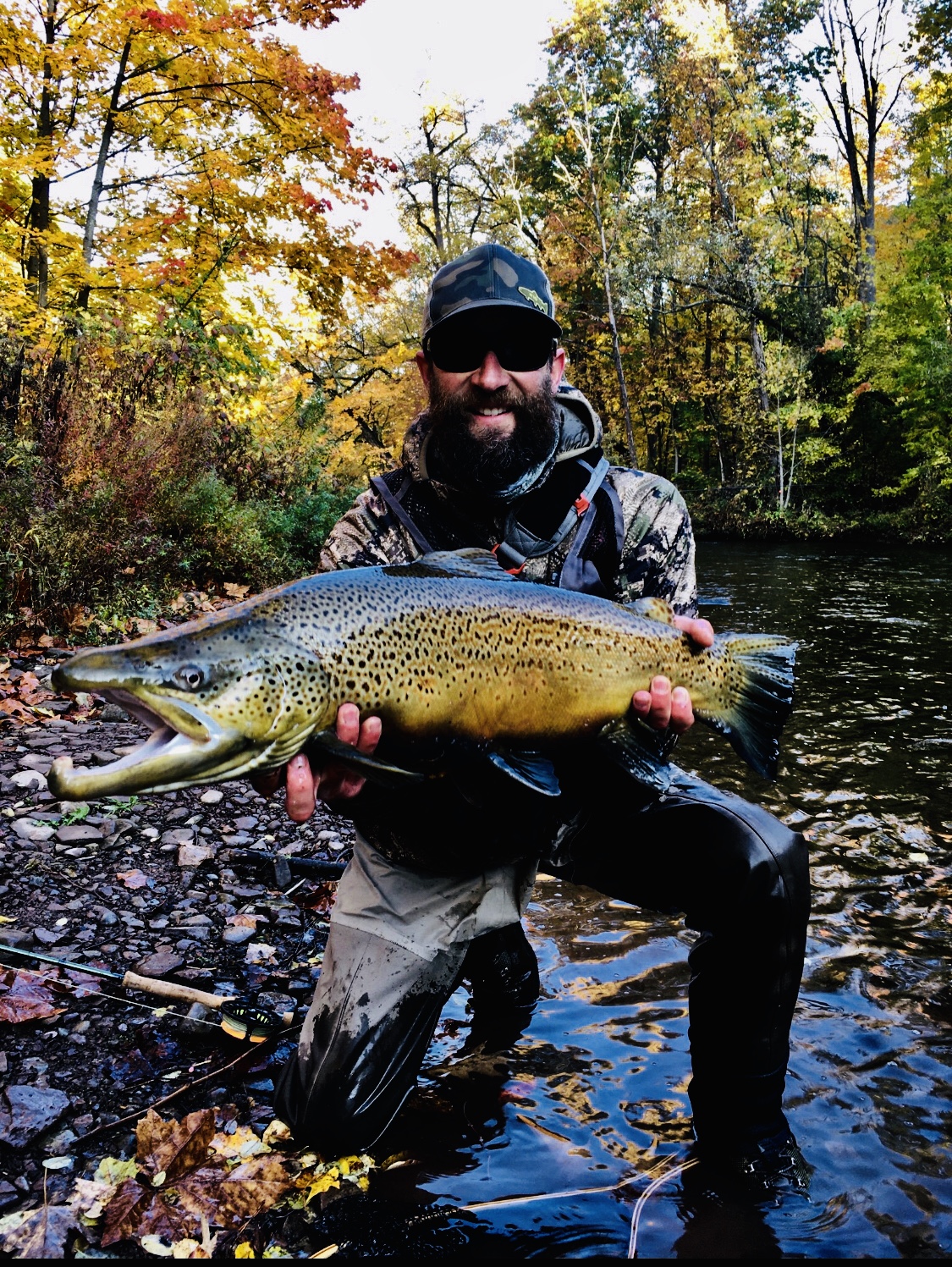 Monster brown!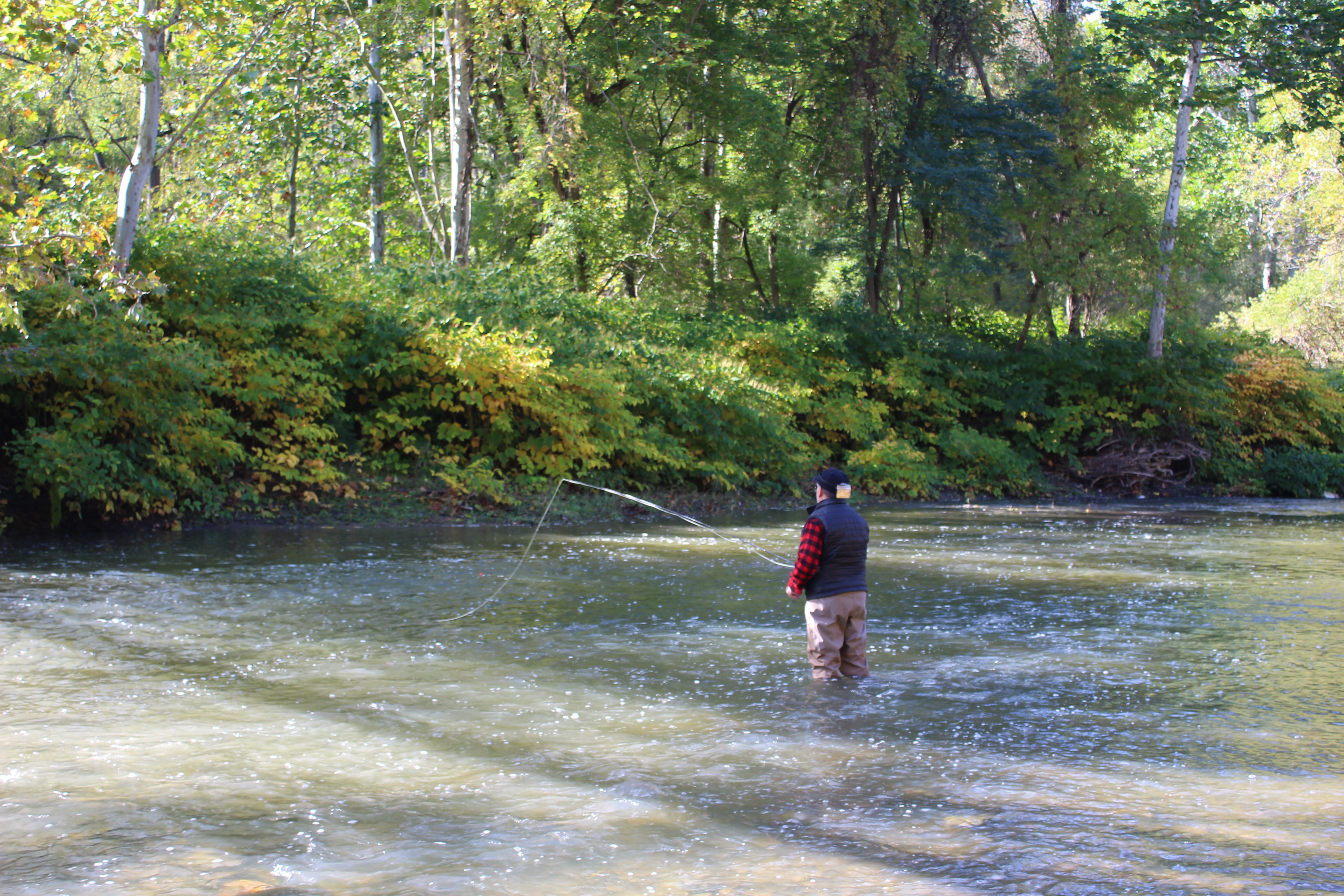 Working a run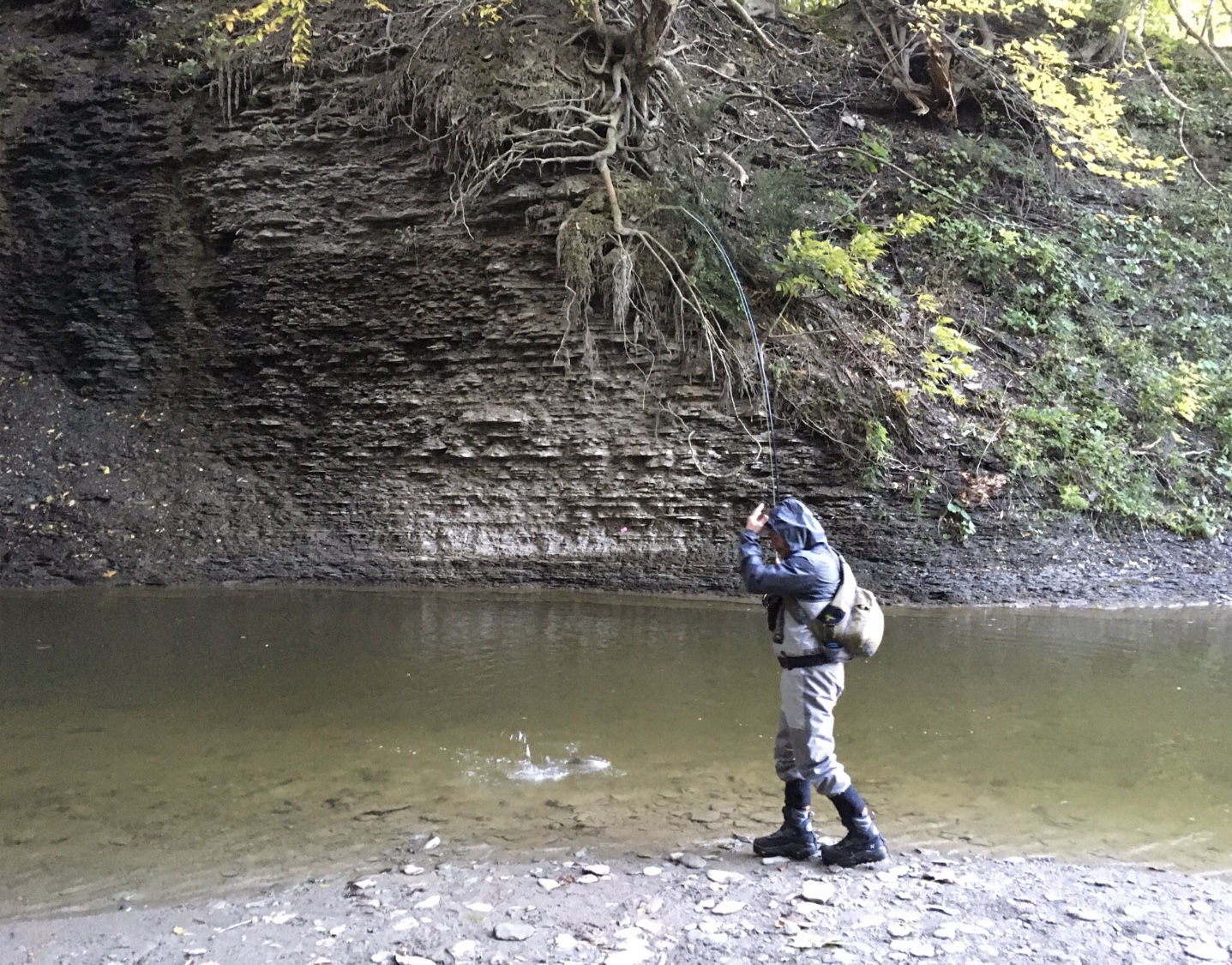 Hooked up!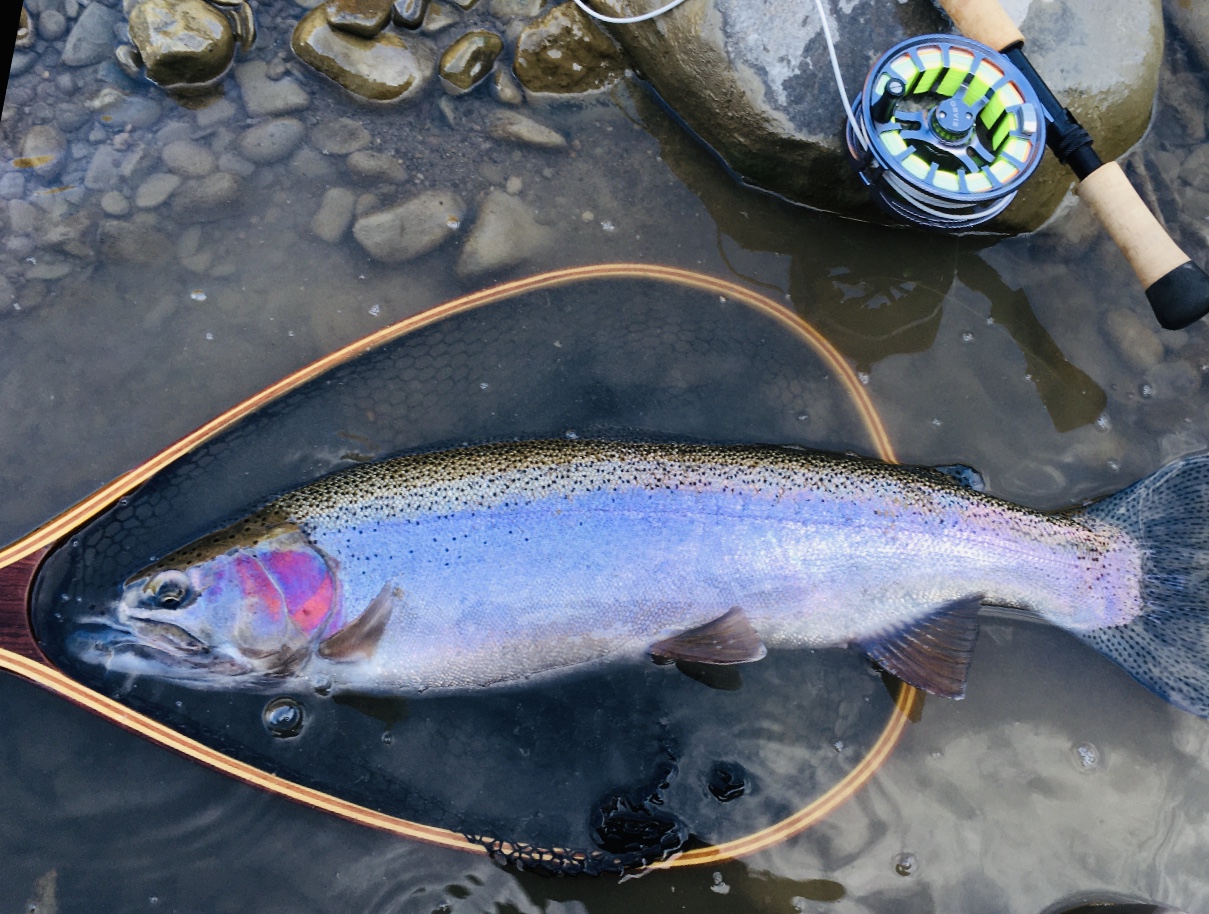 The beauty of fall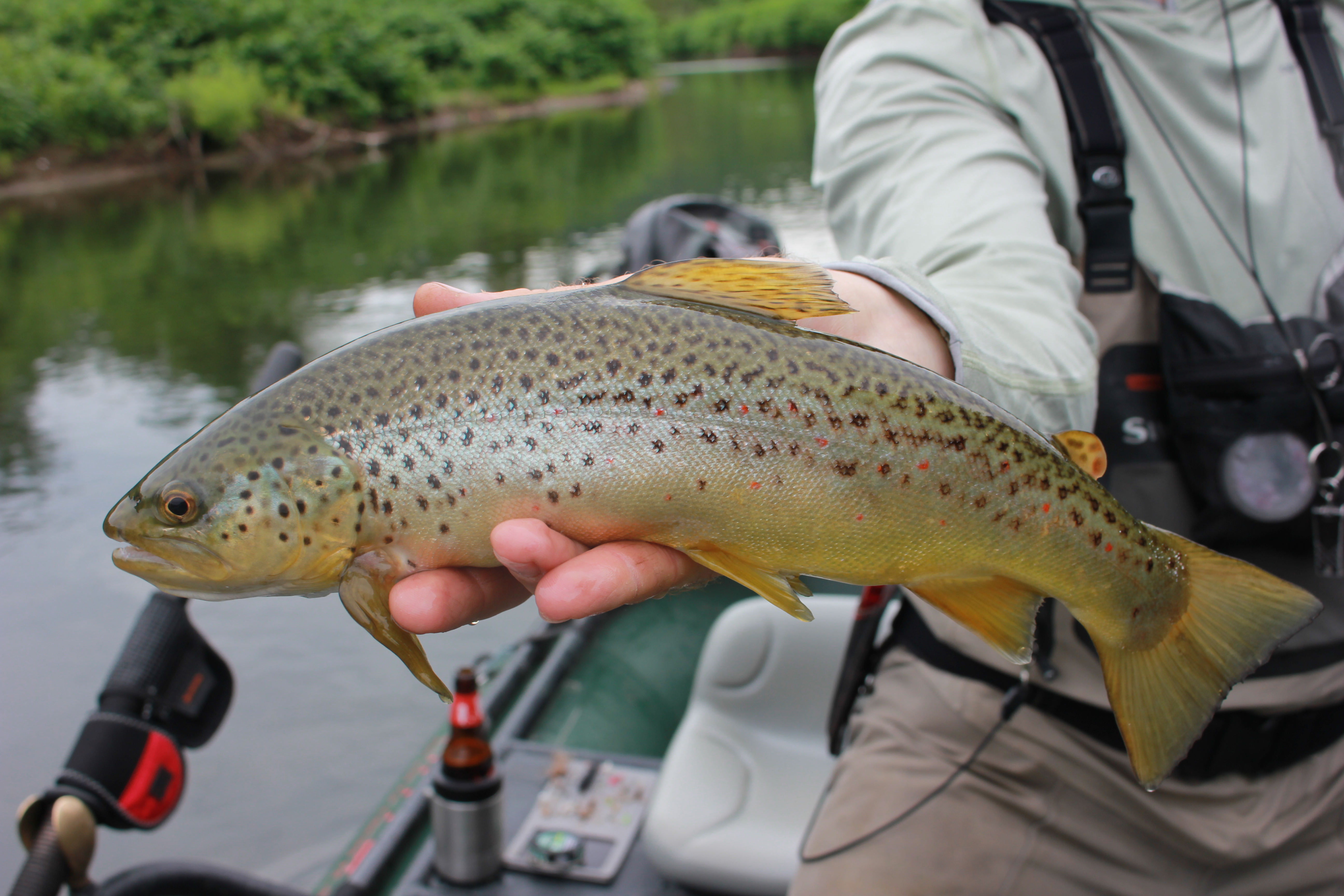 Our new guide Matt and a buddy a buddy of his getting after the some nice West Branch D trout!
Well sorry for the radio silence, but I've had to put out a number of fires all over the place! Haha. So smallmouth season this year was pretty much a write off for me. Pretty bummed about that, but hey sometimes we're not always in the driver's seat! But you know what I'm not bummed about? Some really nice trout Matt has been getting into on West Branch of the Deleware! He and a buddy or two of his were up there for a few days working up some really nice fat wild trout. Thats what we like to see!
Anyways, to give a quick update, smallmouth are finishing up their run into the creeks and rivers. We usually see most fish back into the lake by the 4th of July, maybe a straggler here and there afterward. With the hot temps projected over the week, though they are considered a warm water gamefish, I have a feeling most will be more comfortable in 8-15 feet of water near rock piles haha. So untill next end of April, see ya later smallies!
But now brings me to the fun part. We're starting to put the pieces together for our fall season already. Hard to believe. It's only July, right? Well over the past week and a half, a number of our old clients called looking for good peak season dates, and we're starting to get hit with new anglers looking for thier first FLR trip! If peak season on the Catt (October 15- November 21) is on your mind, I'd suggest giving us a call and talking about options sooner rather than later. We've already taken some bookings and are tentatively holding others waiting on confirmation. So hard to believe that this year, now is the time to think about it!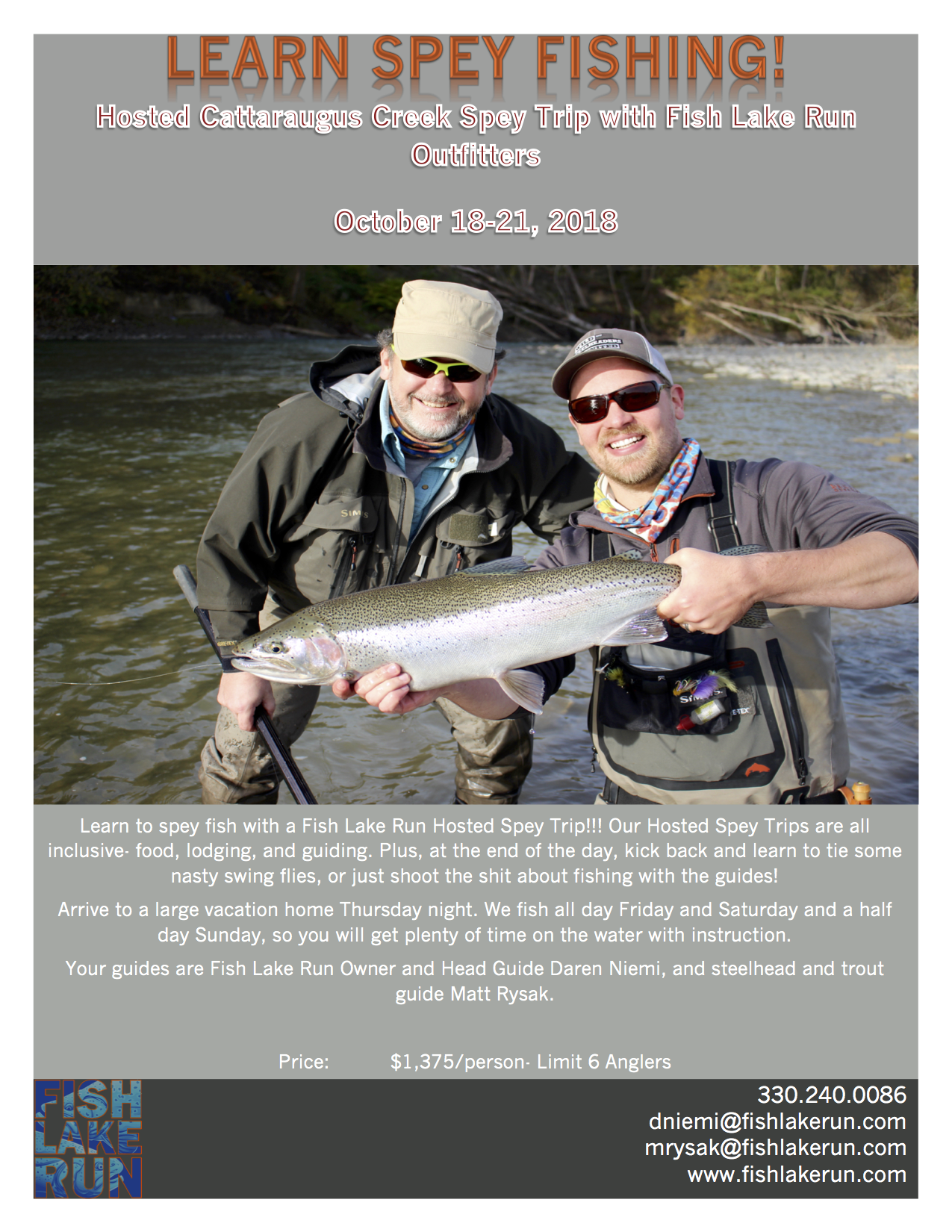 Finally, we're starting to get some lock downs on the Spey Hosted trip from October 18-21. We still got four available slots, but with how much interest we've had this early for the fall season, I can't guaranteed how long those last spots will be available. So if you want to spend two and a half days of on the water guided instruction, three nights lodging including nightly fly tying demos and shooting the shit spey style with some of the best guides in the region, give us a call!
As always, 
Tight Lines
 -D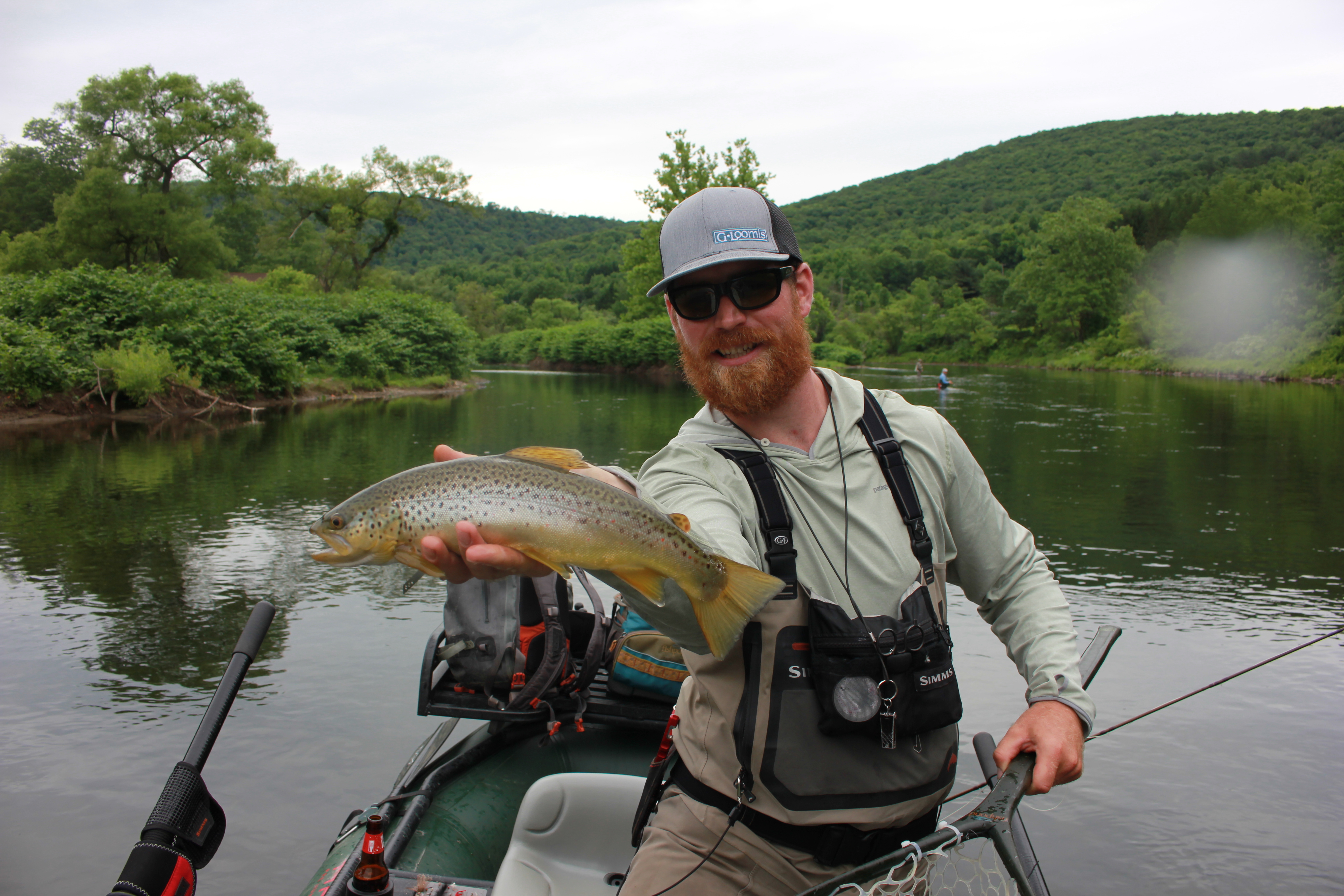 Another Deleware beauty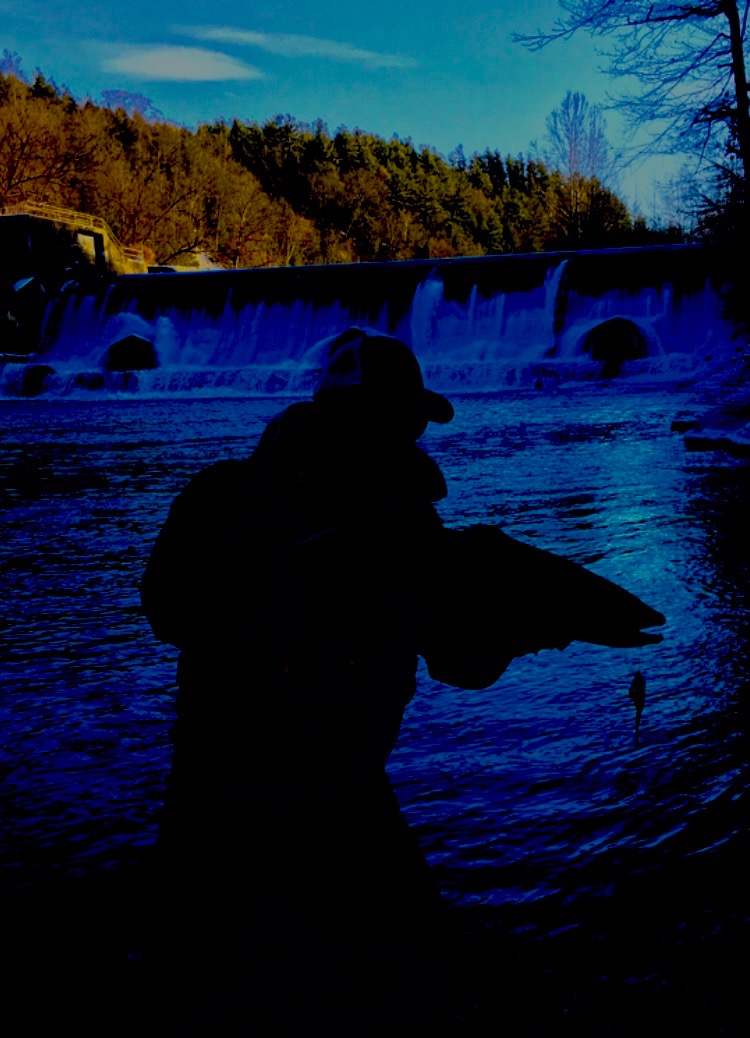 Time to say goodbye for a little while
Well, it's getting to be that time of year again. We still have a lot of steelhead in the rivers, but the water temps are getting significantly above 65 degrees and staying above it for most the day on most of our rivers. That's just too warm to fish steelhead unless we get a cool down, which according to the weather doesn't look too likely. Though there are a few days where the highs are projected to be in the high 50's over the next two weeks, most days are in the upper 60's to upper 70's which means water temperatures will stay in the low to mid sixties, even on cool days, and will spike up even higher on warm ones. So it looks like steelhead season has come to an end.
Looking back over the fall 2017 and spring 2018 season, we had some of the best fishing I've seen in years. The past fall in New York was easily the best steelhead season we've seen in the past four or five years, with the Catt coming into play very early in October and fishing extremely well that entire month. Flows were perfect for swinging dry lines and numbers of fish willing to play were high. Then in November, despite the Catt being out of the picture essentially that entire month, the smaller creeks really came into play with good numbers, despite the early cold snap the second and third week. Over the fall and early winter, we found some very large fish, up to mid-thirties in inches and low-mid teens in weight, especially in December.
Then starting in February, Ohio really started fishing well, with good numbers of fish running on every high water period until the end of April. Though we didn't land any monsters this spring, with the biggest fish being in the thirty inch ranges, we certainly hooked some that were much larger, including on Art hooked one the Chagrin that stayed deep and ran upstream through heavy water and we just could not turn it. It ended up wrapping the line around a big piece of slate and broke us off, but damn it would have been nice to see that fish.
One very pleasant surprise was how well all the Ohio rivers fished this spring. In most springs though we'll have good fishing on all the rivers periodically throughout the spring, there usually is one river that is clearly fishing better than all the rest on a consistent basis. I think it simply has to do with waterflows being prime at the right time as a large school of steelhead are cruising in the lake nearby and decide to run the river. This spring it seemed like each river had roughly equal amounts of fish in them. This is certainly a trend I hope continues as it made for nearly three months of perfect fishing somewhere along the Ohio Lake Erie tributary systems.
Going forward, we're going to be switching to trout and smallmouth, but things are going to quiet down for us a bit, as they normally do between May and early October. We're already seeing some really nice smallies, but want to give the steelhead a chance to drop out before we really start fishing them, as this time of year you can catch a steelhead and a smallmouth on back to back casts. Only problem is water temperature. If you really need to get another steelhead in before the end, please bring a thermometer with you and just be mindful. We've had seven full months of great steelheading already. 
Tight Lines
 - D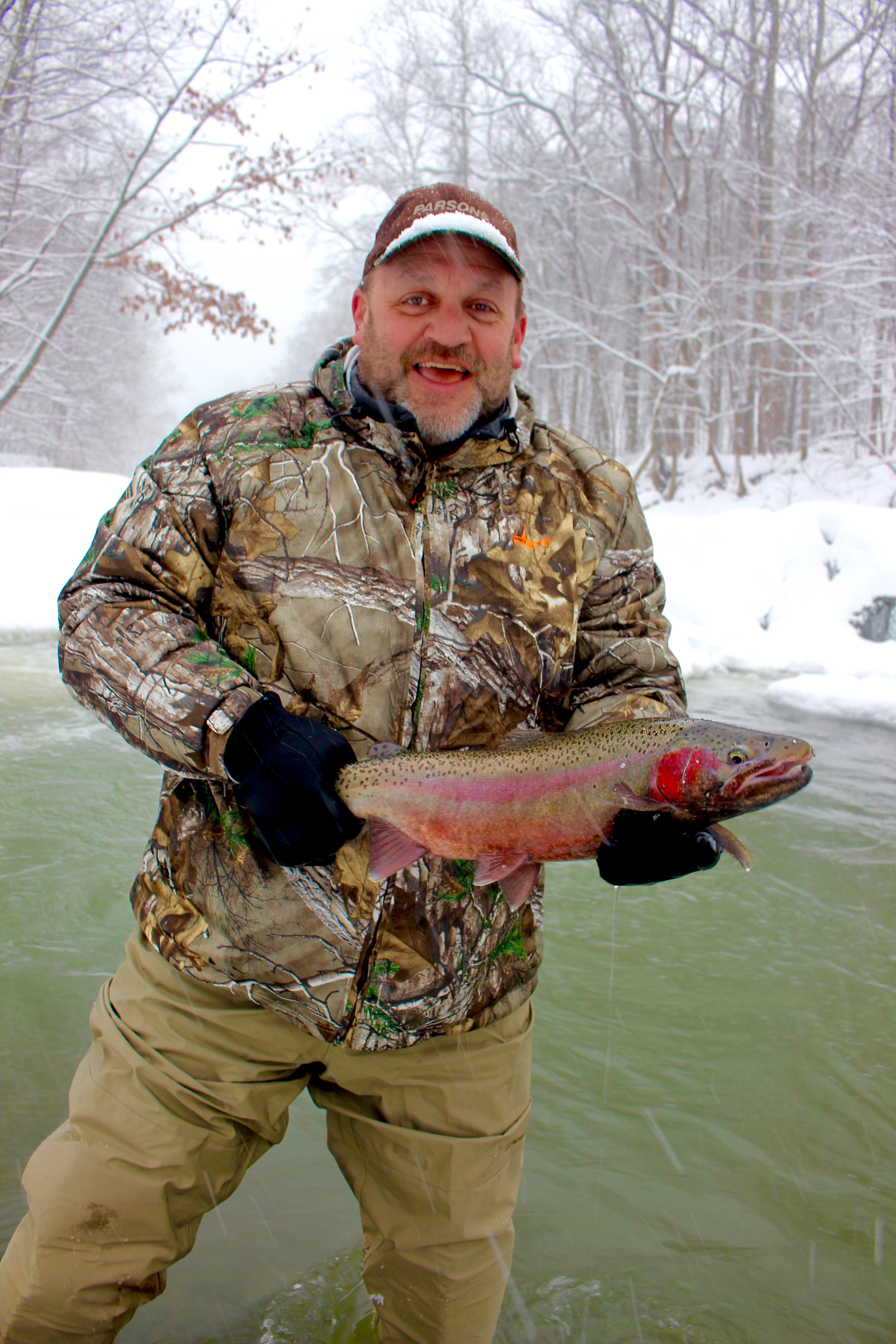 Greg with a gorgeous buck!
Spent the past couple days fishing with Greg and Kyle from West Virginia. They came all the way up to fish in a blizzard! We had around 15" of lake effect snow fall on us on Saturday haha. Anyways despite the less that hospitable weather, the fish were more than willing participants. Spent a couple days fishing to a nice mix of fresh and colored up fish. Landed more than our fair share and lost many more. No monsters to the net, but did lose some bigger fish. Shelf ice is starting to be a problem, but the forecast is calling for temps in the 40s and rain, so that should wash everything out.
All in all, still really good fishing!
Tight lines and enjoy the rest of the pics
 - D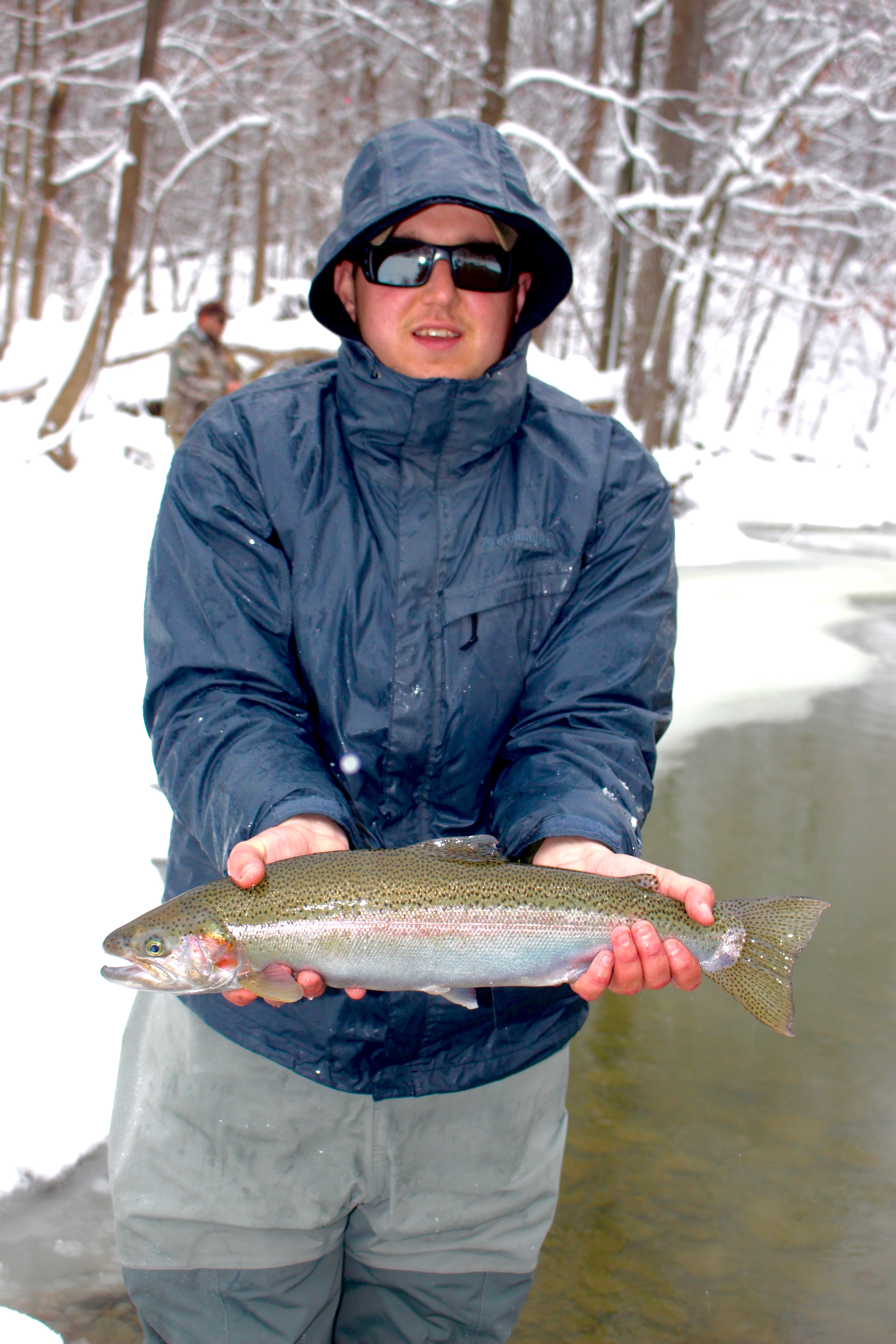 Kyle with a chromer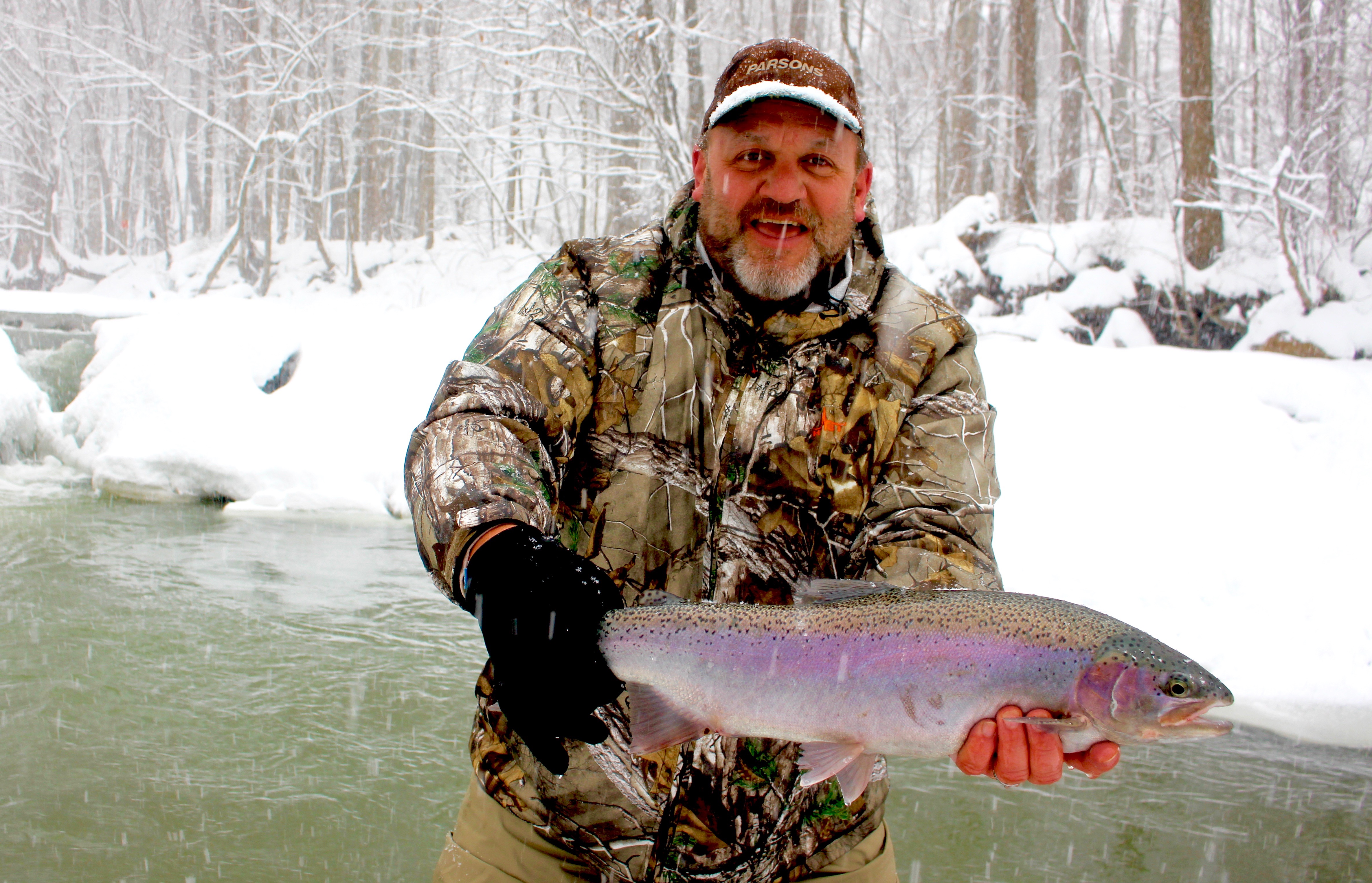 Greg with a girthy hen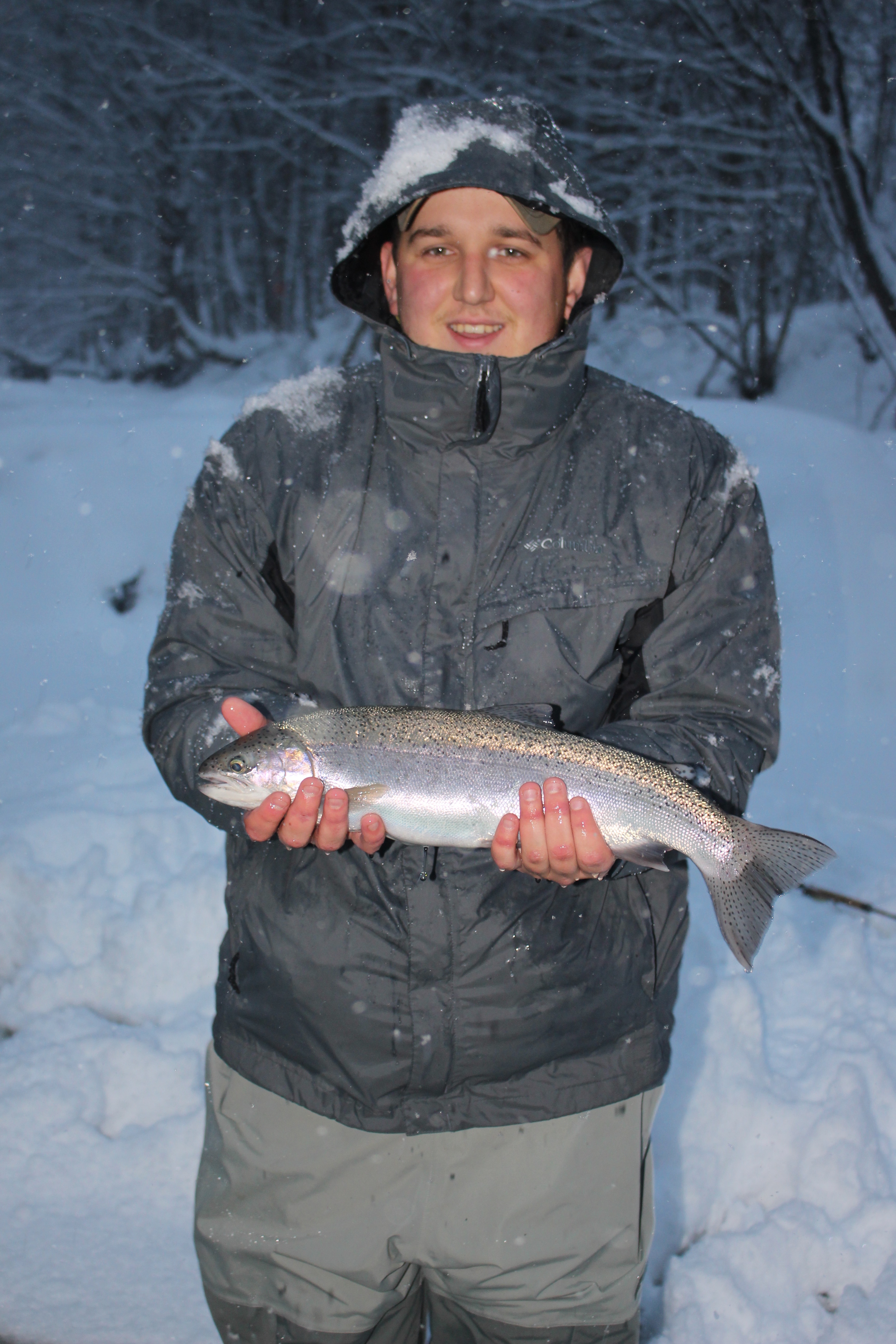 Kyle with another fresh run beauty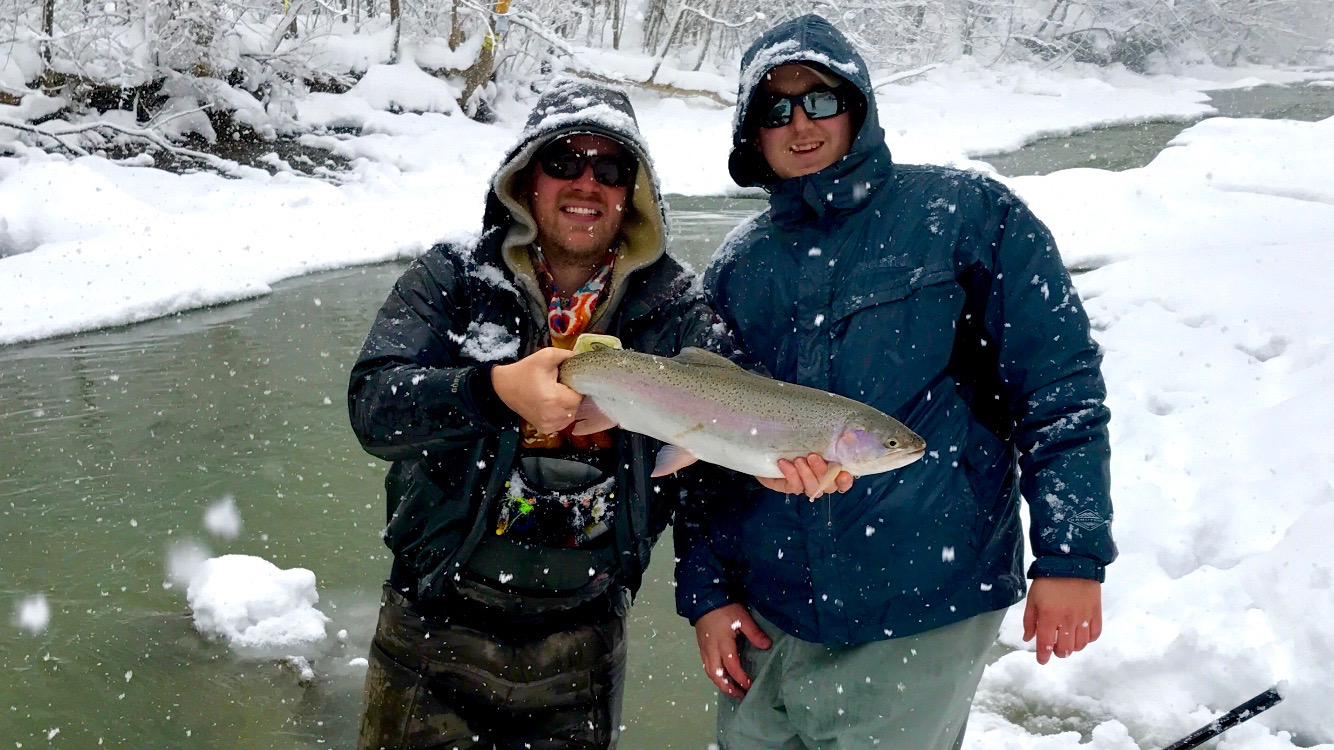 Fishing in the snow!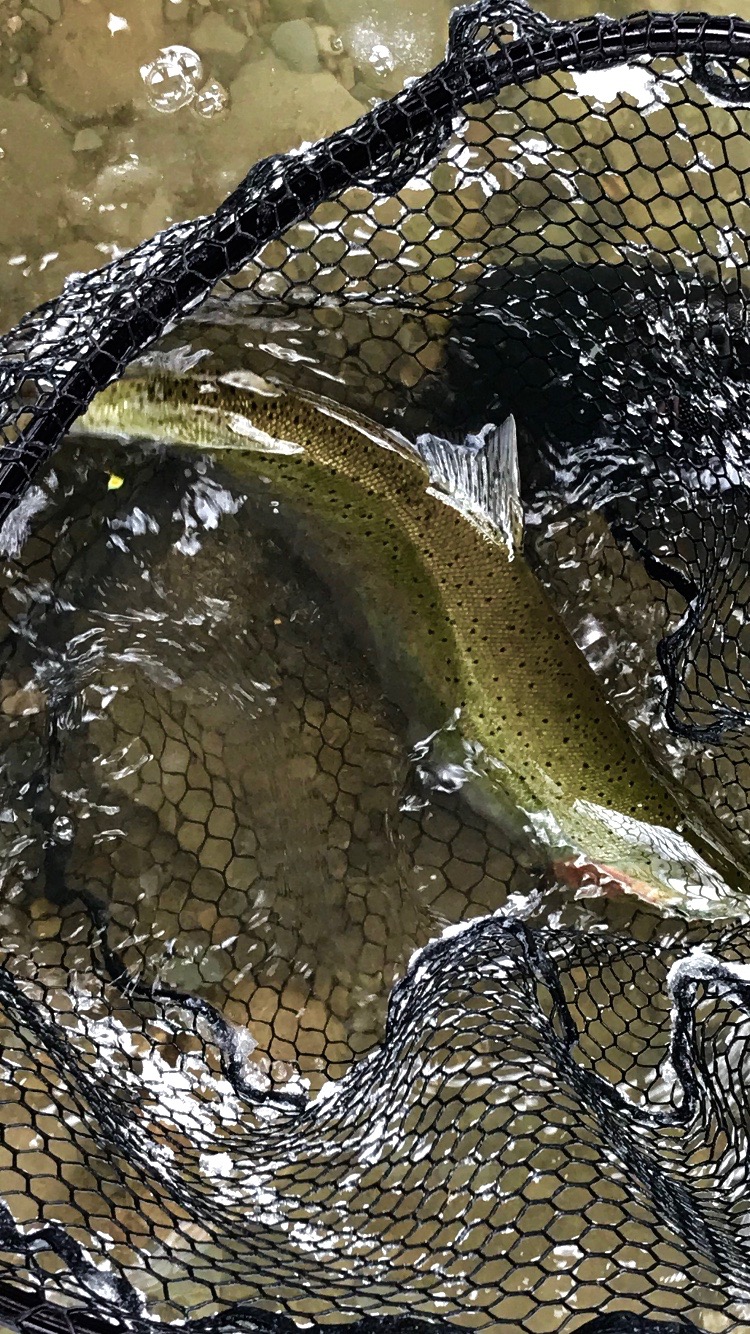 Cool net shot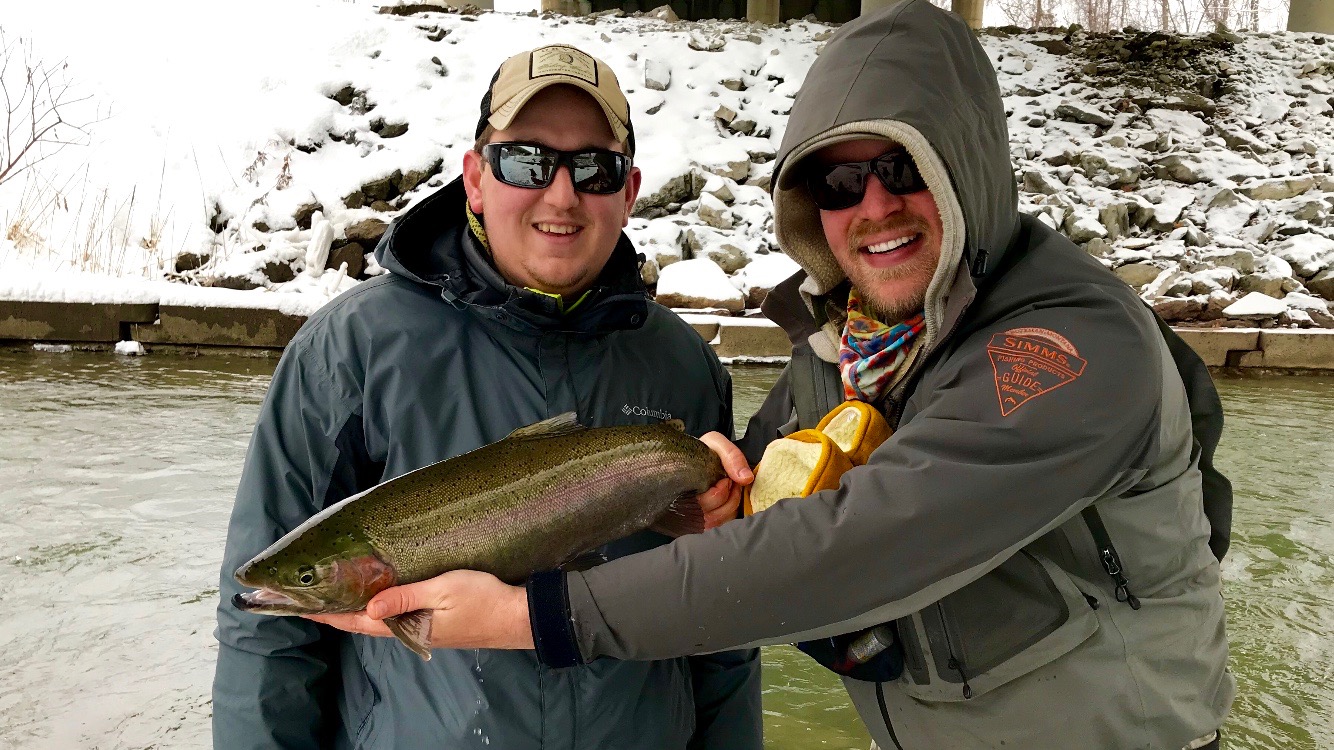 Beauty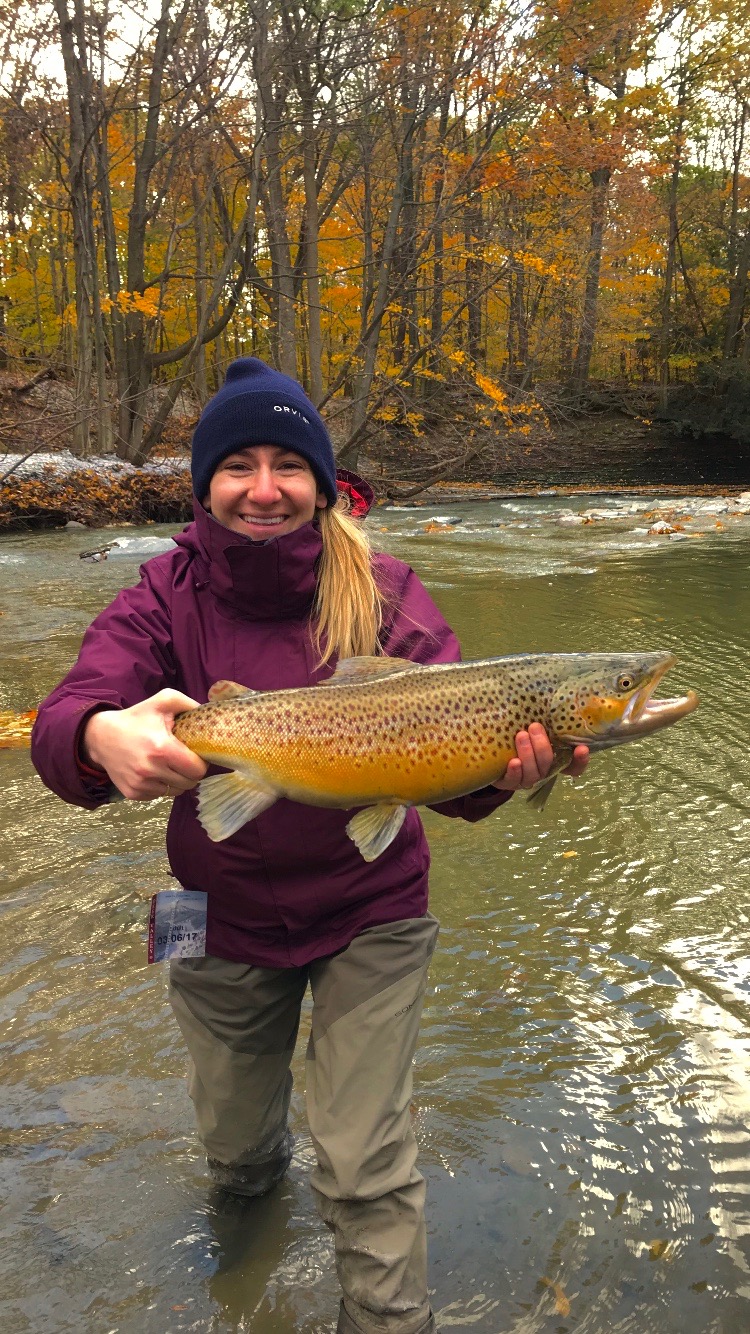 Jess with a nice brown in 20 degree temps 
Well we had a ton of water a week ago Sunday. Many of the creeks changed around quite a bit. Then the bottom fell out of the temperature. On Friday it was 18 degrees at 3 pm. But we were still finding fish. Art and Jess joined me for three days and we caught a nice mix of steelhead and browns. Some bigger fish are in mix as well. Looks like we should have good fishing through the rest of the year, weather permitting. On a seperate note, I apologize for the upcoming radio silence that will last a few weeks. My wife and I bought a house and are right in the middle of moving everything, so that's gonna be eating up quite a bit of my time. But get out there, the fishing is good!
Tight Lines,
 - D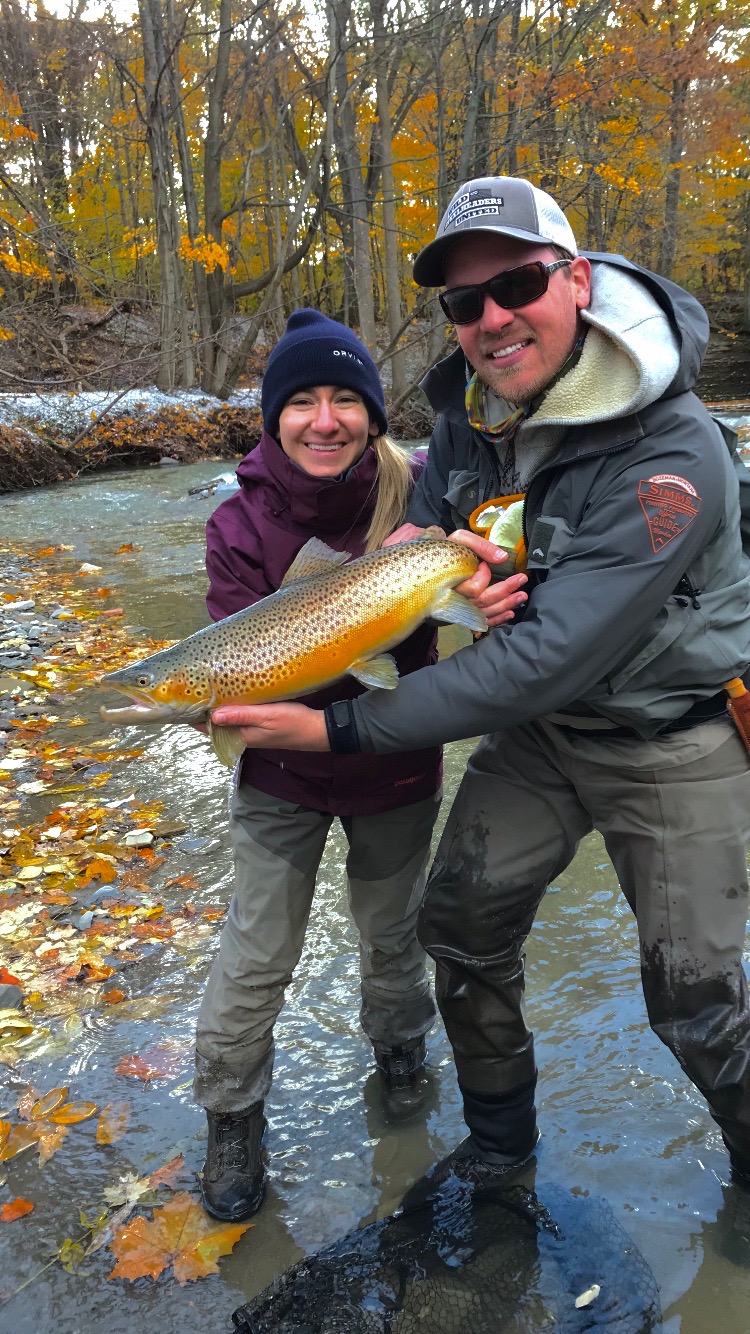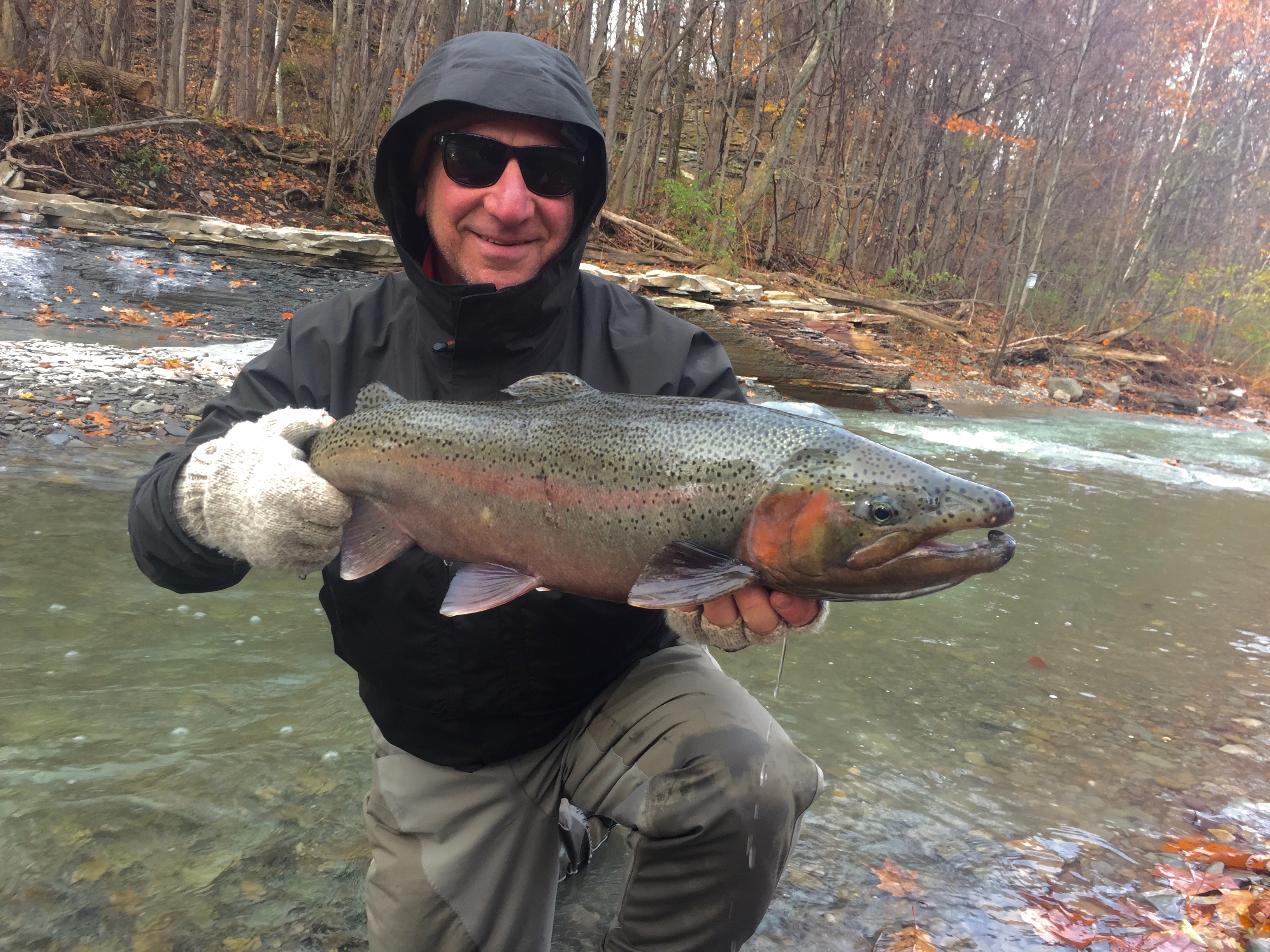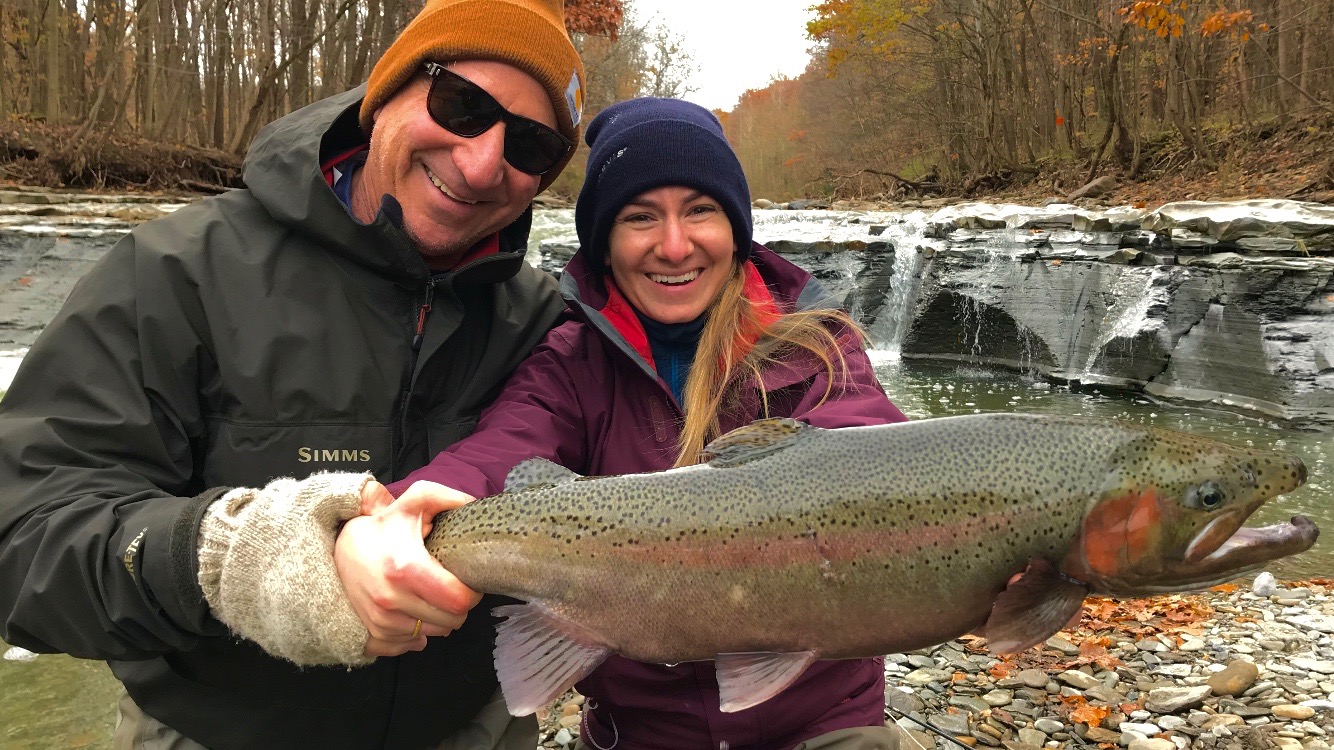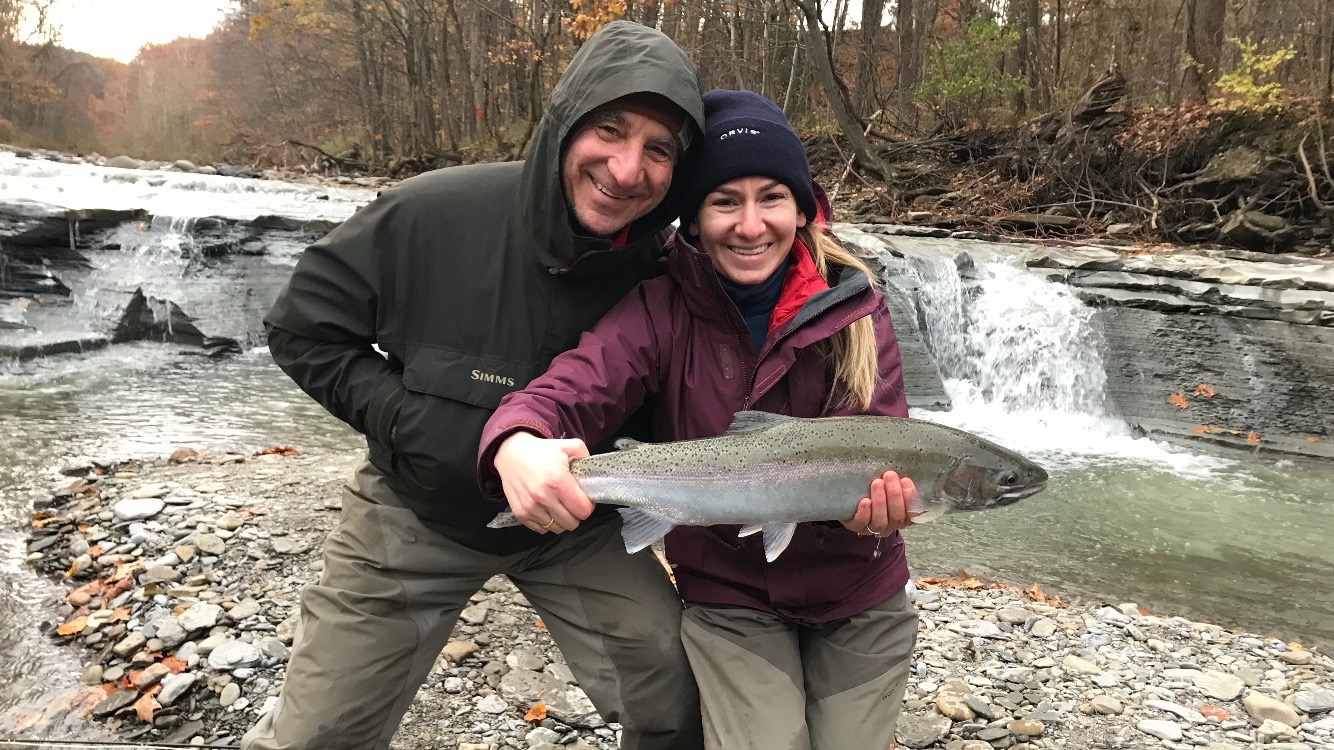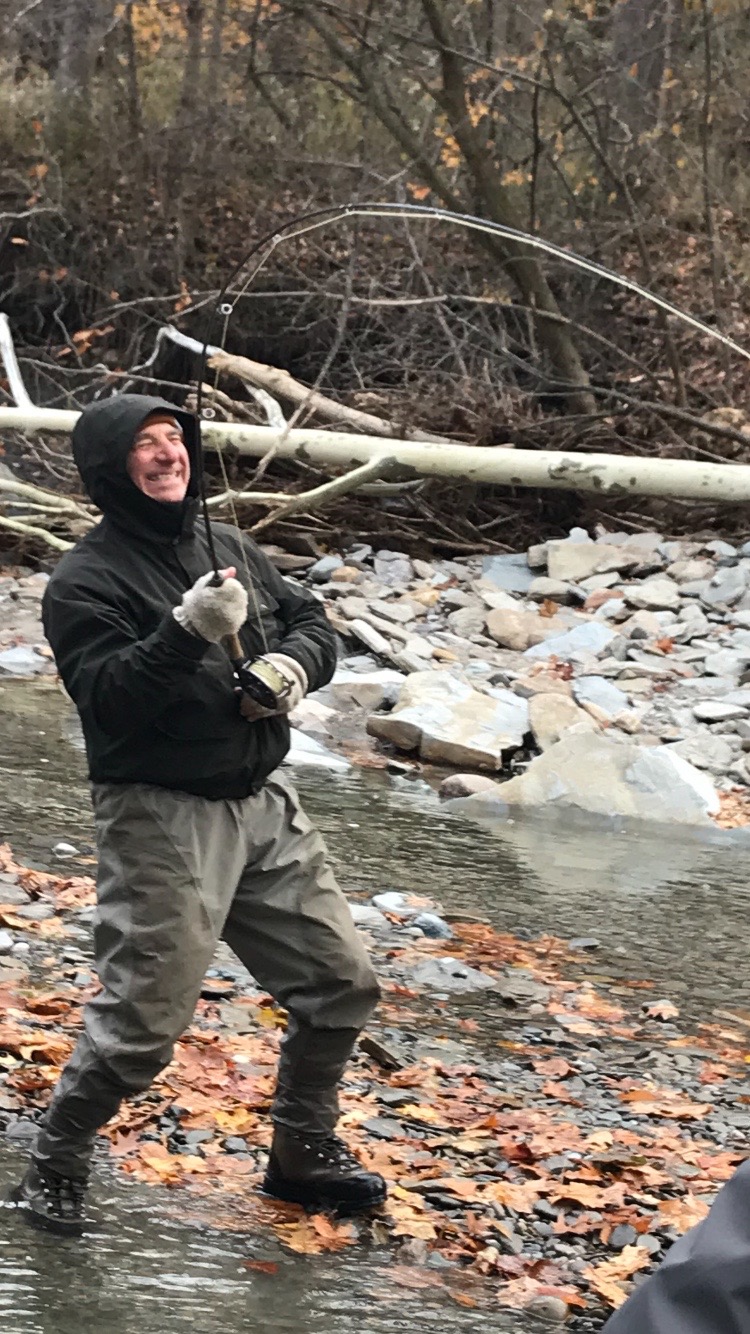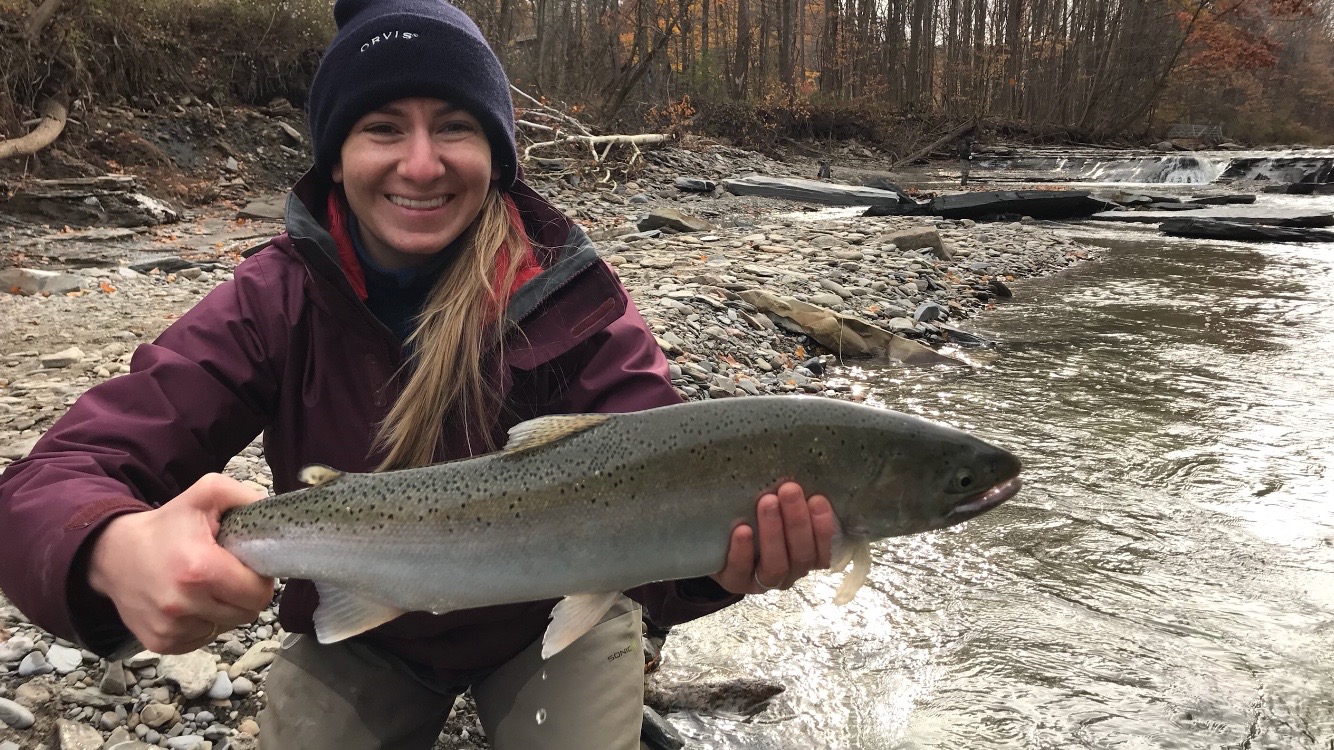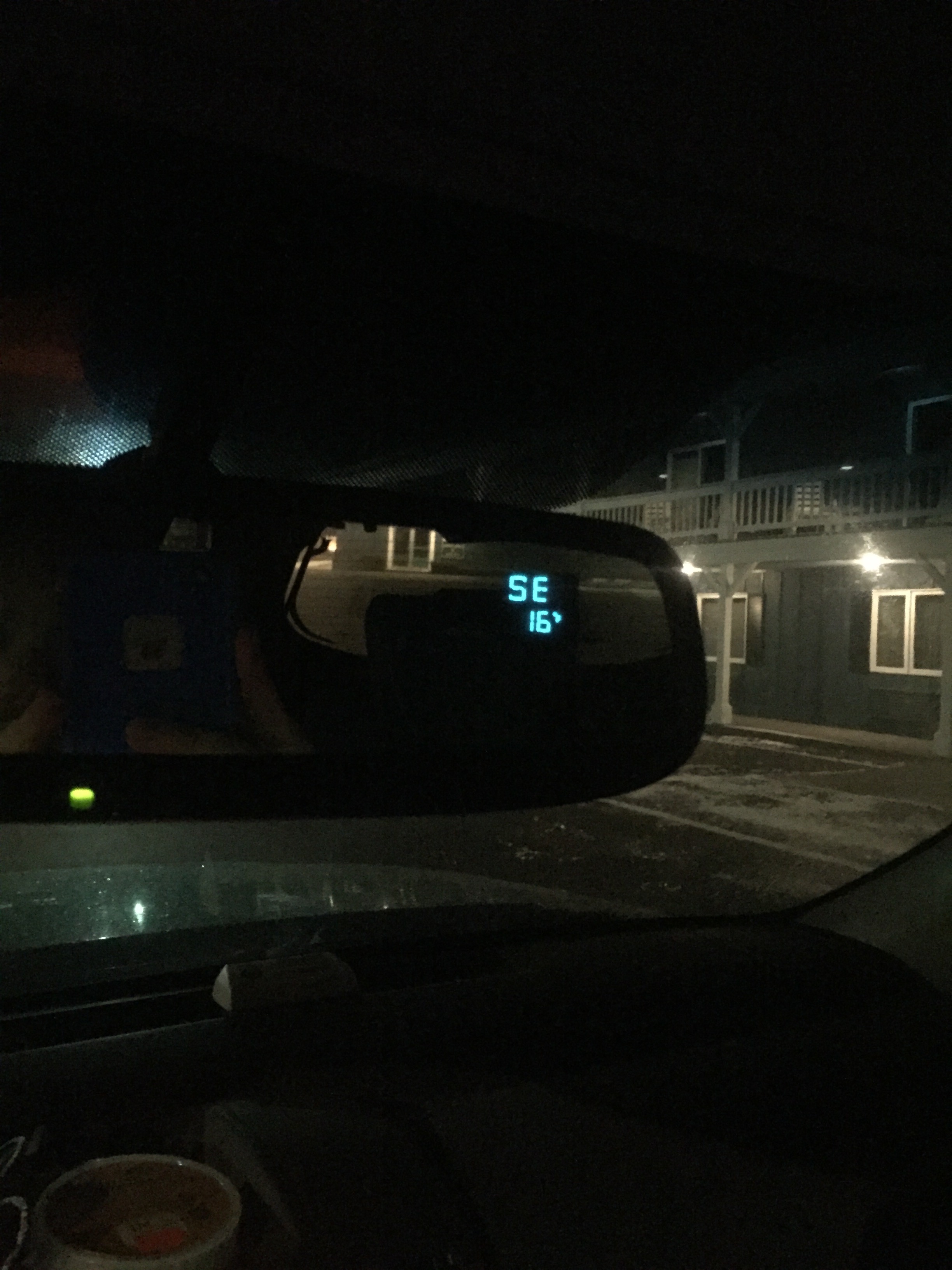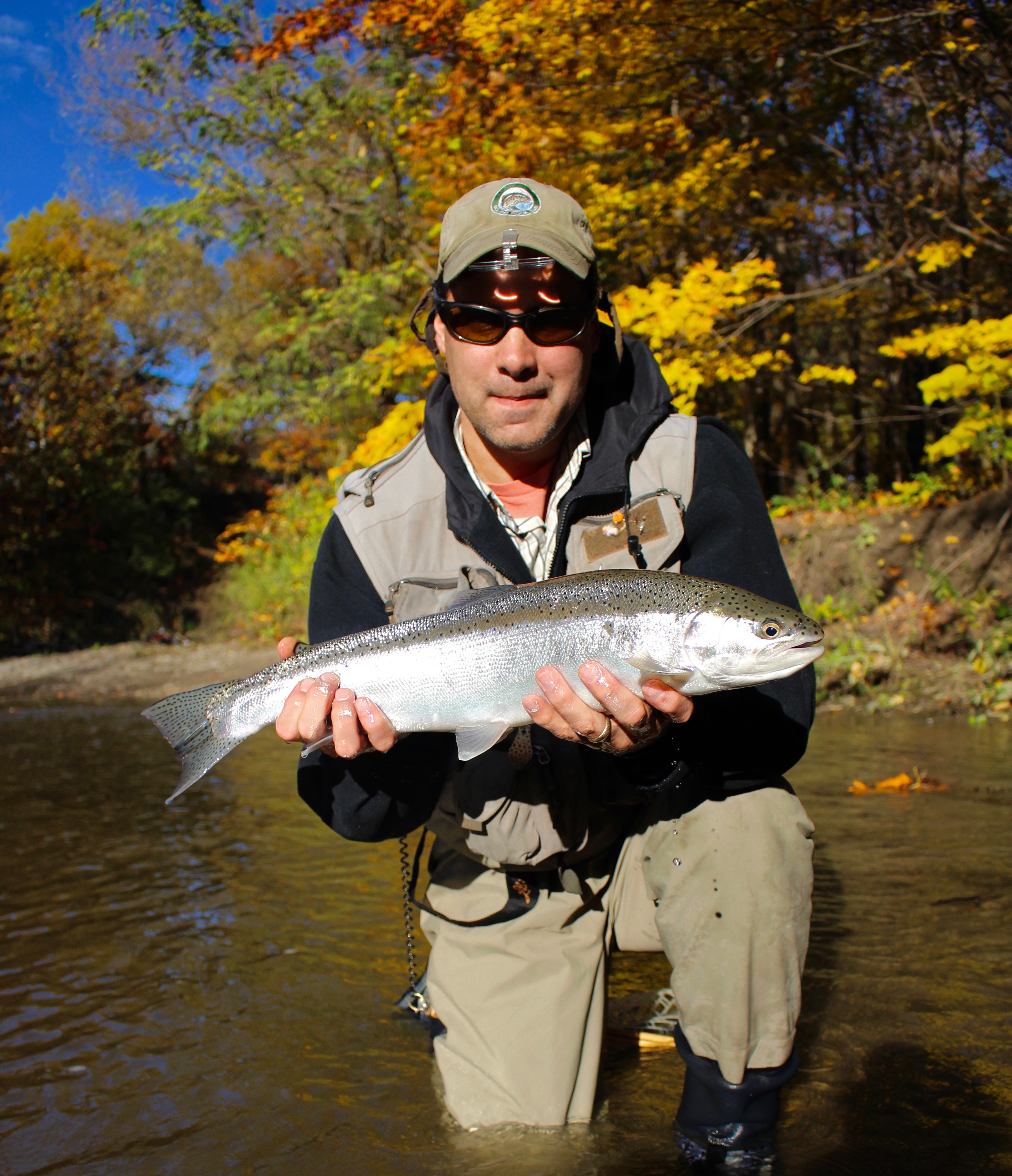 Brad with a fresh run fish!
Well after a dry October, we are more than making up for it in the first week of November. As I write this every creek from Cleveland to Rochester is probably blown out. Rainfall yesterday exceeded 2" in certain locations. But Saturday was a good day, especially the afternoon as the creeks were dropping and clearing. Fished with Brad Wetzel and we were able to get into some nice chrome fish full of spunk. Look for the smaller creeks to fish in the next day or so. The Catt broke 20,000 cfs last night so she is out of the picture for a long while. But when the creeks drop, they should be full!
Tight Lines,
 - D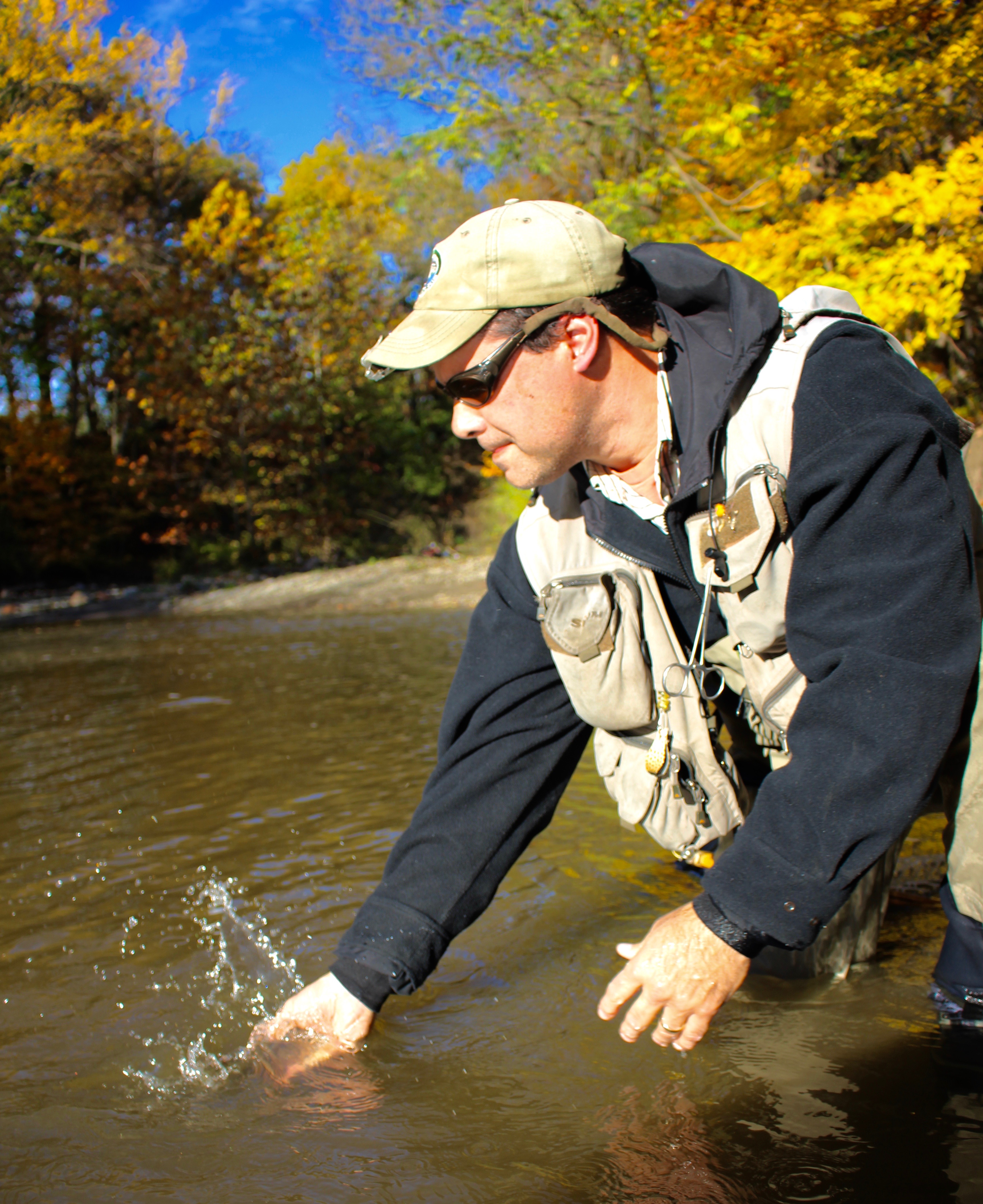 Nice release!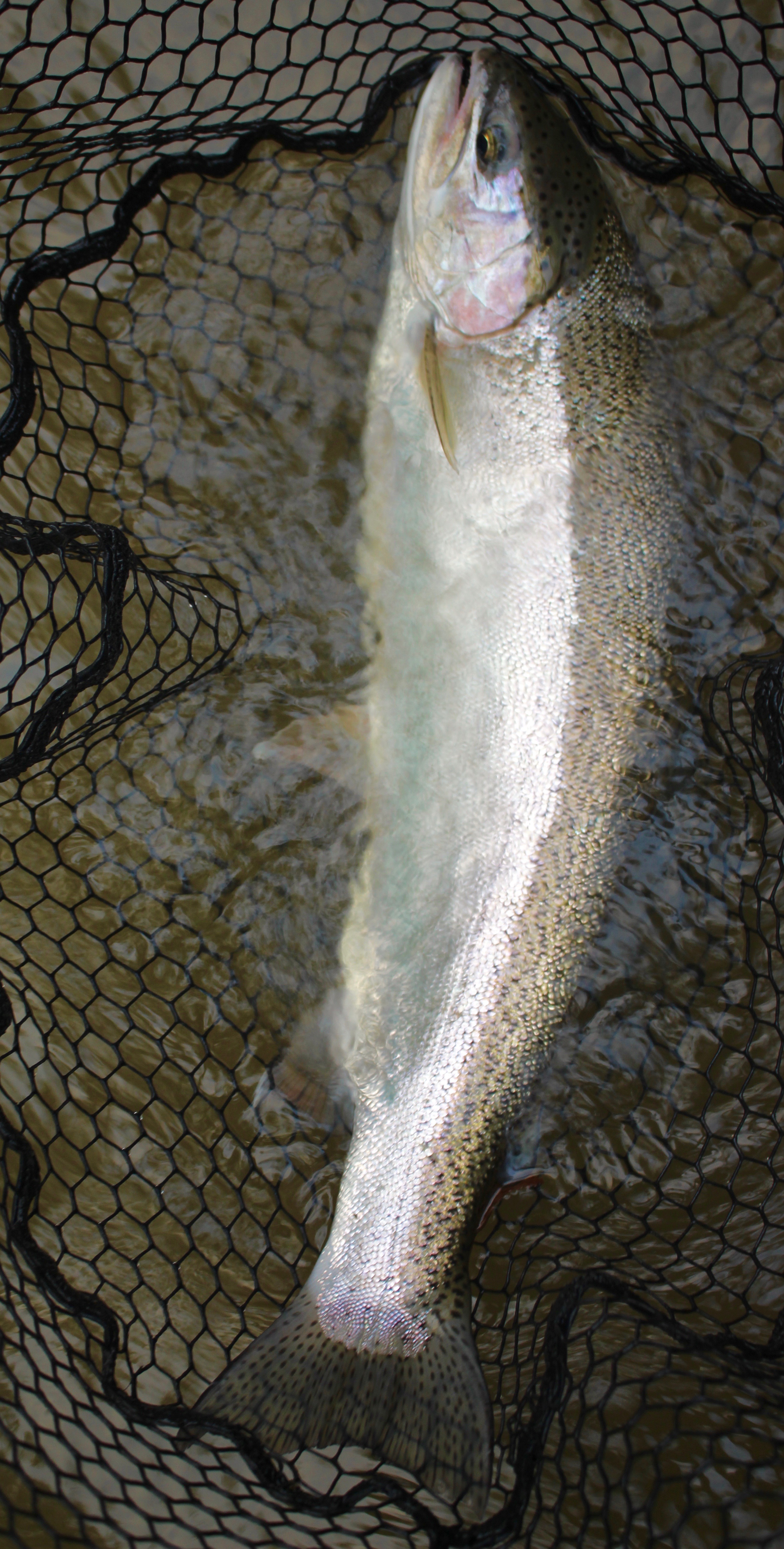 Net shot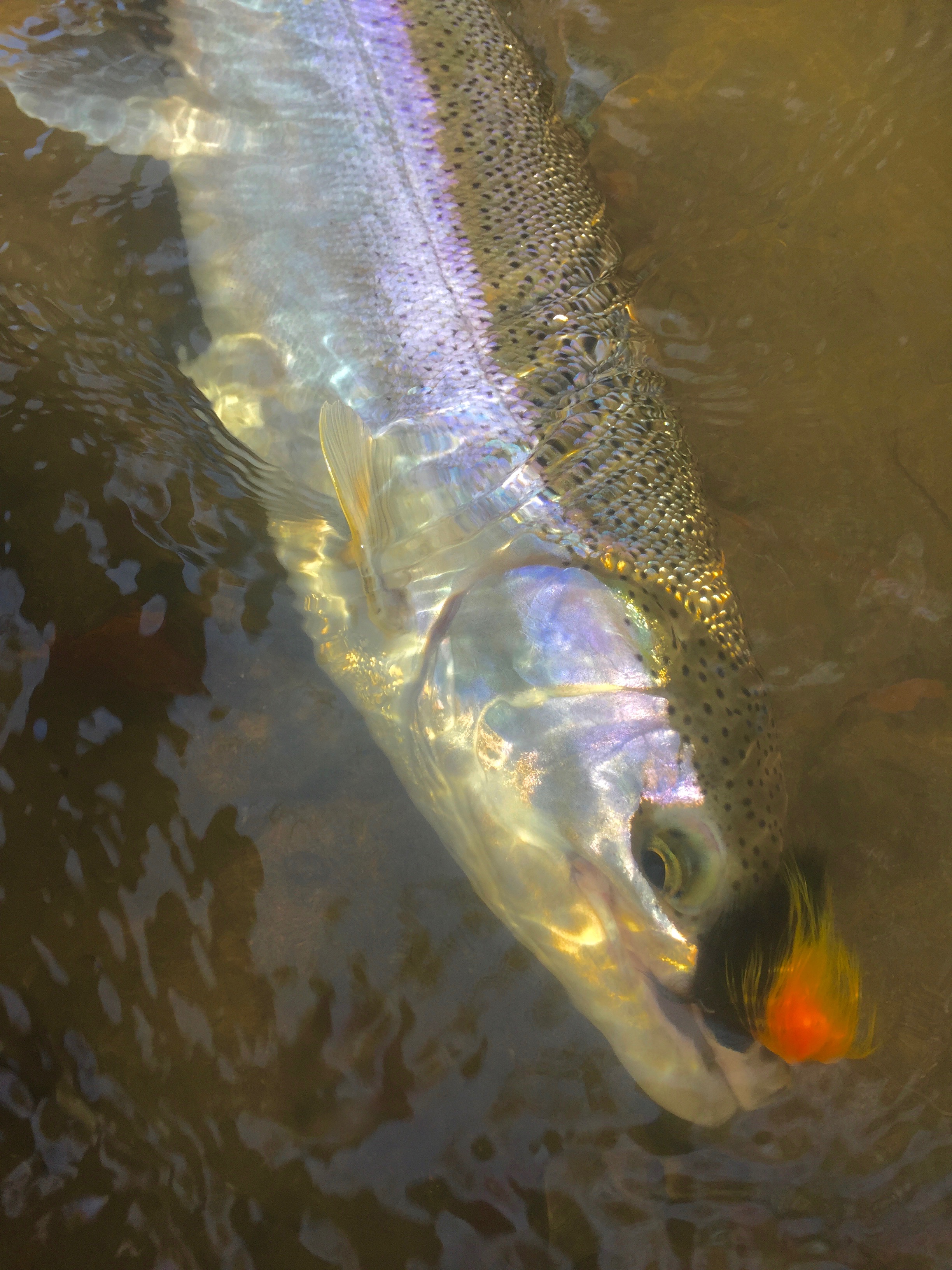 Even swung one up in a tight funny corner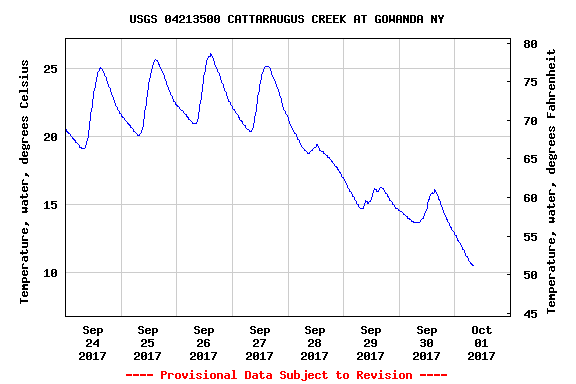 What a difference a week makes!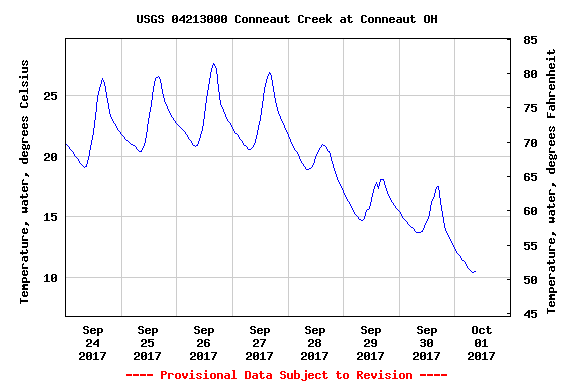 On Conneaut too
Well, as promised we finally have seen the end of the two and a half week heat wave. And thank god. We had three days in those two and a half weeks that were over 88 degrees. Yuck. Give me 55-60 and rainy any day. Looking ahead in the forecast, we have a couple days projected to hit the upper 70's but most days are in the 60's. After such a mild and moderatly wet summer, the second half of September just felt brutal. From September 10- September 27th I just wanted to hole up in my basement and tie flies till the weather broke haha.
But that's in the past now. Hopefully we won't hit 80 again until 2018. Anyways, looking ahead at the upcoming season, things are looking good. Even with the hot dry weather, we had a decent amount of fish pushing in for how early it was. I expect this weather change with rain in the forecast will really bring in a solid run. The creeks in the area are all on the lower side as we speak. The Catt is right about 180 CFS, Conneaut is at 10 CFS, the Grand is at 16 CFS and Chagrin is around 40 CFS. Based on this, it's pretty easy to see that the Catt has the best groundwater flow of the south side Lake Erie creeks, and like usual it is holding the most fish right now. The smaller creeks are all low and gin clear. But they do have some fish in the deeper ledge pools.
If you head out now, it's a fun time to fish smaller weighted nymphs or streamers like beadhead woolly buggers on long leaders (15 feet or so) tapered down to 6 or 8 pound fluoro. It's a cool approach and can be fished either upstream and stripped back down to you or downstream on a swing. You can even use it in really slow pools by dropping it in, letting the fly sink to towards the bottom and then twitching your rod tip with short small twitches to bring the fly back up again. It's cool because if done correctly and with a stealthy approach, you can watch the fish chase down the fly and eat it. If you do fish the smaller creeks, right now is not the time to fish a thingamabobber. Any large surface distrubance is going to scatter holding fish.
As for some news, it looks like in August the project agreement for dam modification of Scoby Dam on the Cattaraugus was signed. I'm pretty excited by this. There should be a huge increase in natural reproduction once the project is completed. And wild fish are even more likely to come up to or near the surface to take a fly. So ya, pretty stoked. Looks like the project is in the design phase now and is set to be completed between June and December 2021. Only four years... 
Check out this article for more info:
Finally, the good fishing around the entire Great Lakes has continued. The Salmon River barely saw any interruption of it's salmon run with the heat wave. Starting to see some pics of steelhead and more pics of browns with the odd atlantic in the mix as well. Some really big salmon being caught too- like mid thirties. From other reports, looks like the good fishing in Lake Michigan has translated to good fishing in the rivers. They also look like good numbers with big fish. 
Should be a fun fall.
Tight Lines,
 - D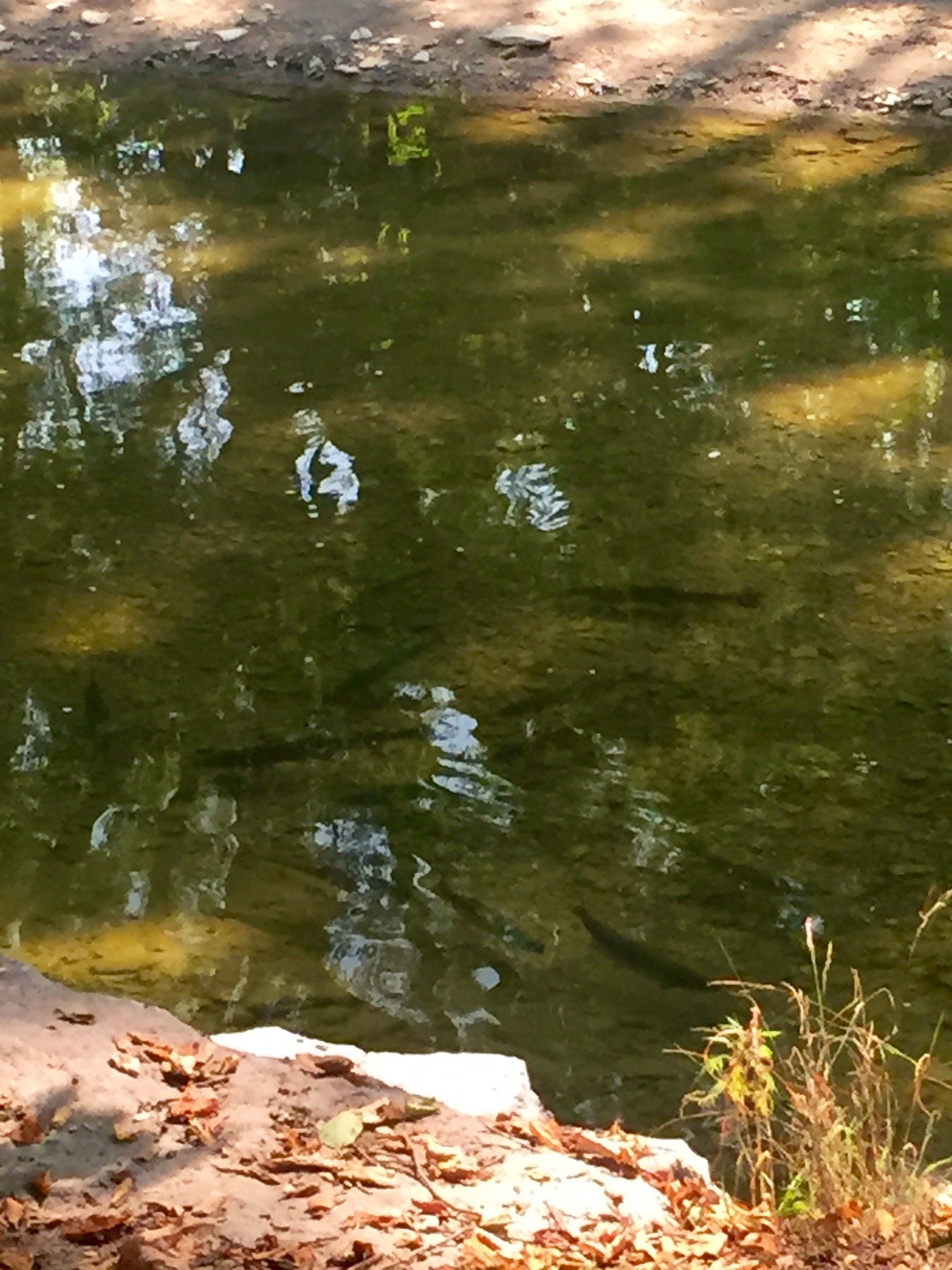 Check out this fresh pod of 2 and 3 lake year fish
Well took Steph and Piper out to the lake to check things out. We stopped at a couple smaller creeks. These smaller creeks generally flow a bit cooler than most of the bigger rivers due to the better canopy coverage. Still the water temperatures ranged from 68-73 degrees- way too warm to fish steelhead. 
Saw a total of 27 steelhead spread out in the lower pools of the creeks. One pod had 15 fish in it. Plus there was a lot of fish out in the surf chasing bait. I'd see the shiners getting kicked out into the air by swirls. Of the fish I saw, all but 2 were 2 and 3 lake year fish, fish that ran between 5 and 10 pounds. The biggest fish looked to be between 10 and 12 and he was a bruiser male that swam right in front of me in the clear water.
This is good for a number of reasons. Again, usually the first push we see is 1 and 2 lake year fish that run 2 to 6 pounds or so. My guess is the fish that I saw were the first part of the second push of fish. Again, this means that when the water and air temps cool off here mid next week and we get a little water, it might be worthwhile to check out the middle sections of the rivers. That first push of smaller fish generally runs pretty hard and fast upriver, and I'm guessing those were the fish I saw rolling in the pools around labor day. So they should be making it upriver, and away from most of the fishing pressure for a little while. This is fun because you can get into some really fun fishing for aggressive fish with relatively light fishing pressure, and those first run fish are generally really aggressive and can be caught all through the water column if thats the way you want to fish.
Not to harp on it, but it is really, really hot out there right now.  The catt hit 78 in Gowanda today. That is a lethal level for adult steelhead for short term exposure (6 hours). Now that is surface temperature and the bottom of the bigger pools will run cooler, but it's just not the time to fish. It gets cooler in four days. As I was leaving one spot, I saw a guy and a girl walking in with fishing rods. With water between 68-73 degrees, it is really easy to play a fish to death.
But on to my prediction for the fall. We had back to back warm winters. The salmon have really thrived in Lake Ontario and Lake Michigan due to good bait. There is no reason to believe that the bait in Lake Erie fared any worse, and from what I've seen last spring (fish up to 15 pounds) and the fish I saw today, I'd guess that we're in for a good fall season. Seeing those bigger fish this early is a really good sign. We generally see the biggest fall fish in the Erie creeks run in November and December. Last fall I saw a pic of a 36" fish caught out of a Lake Erie though our overall numbers were lower, and last spring we caught a 34". What this means is that with the bait available, fish should have grown pretty well over the summer. So keep your eyes open for a good fall run this year with good sized fish in the mix.
And give them till next weekend to start fishing for them again. We're almost done with the heat.
Check out some of the other pics I took: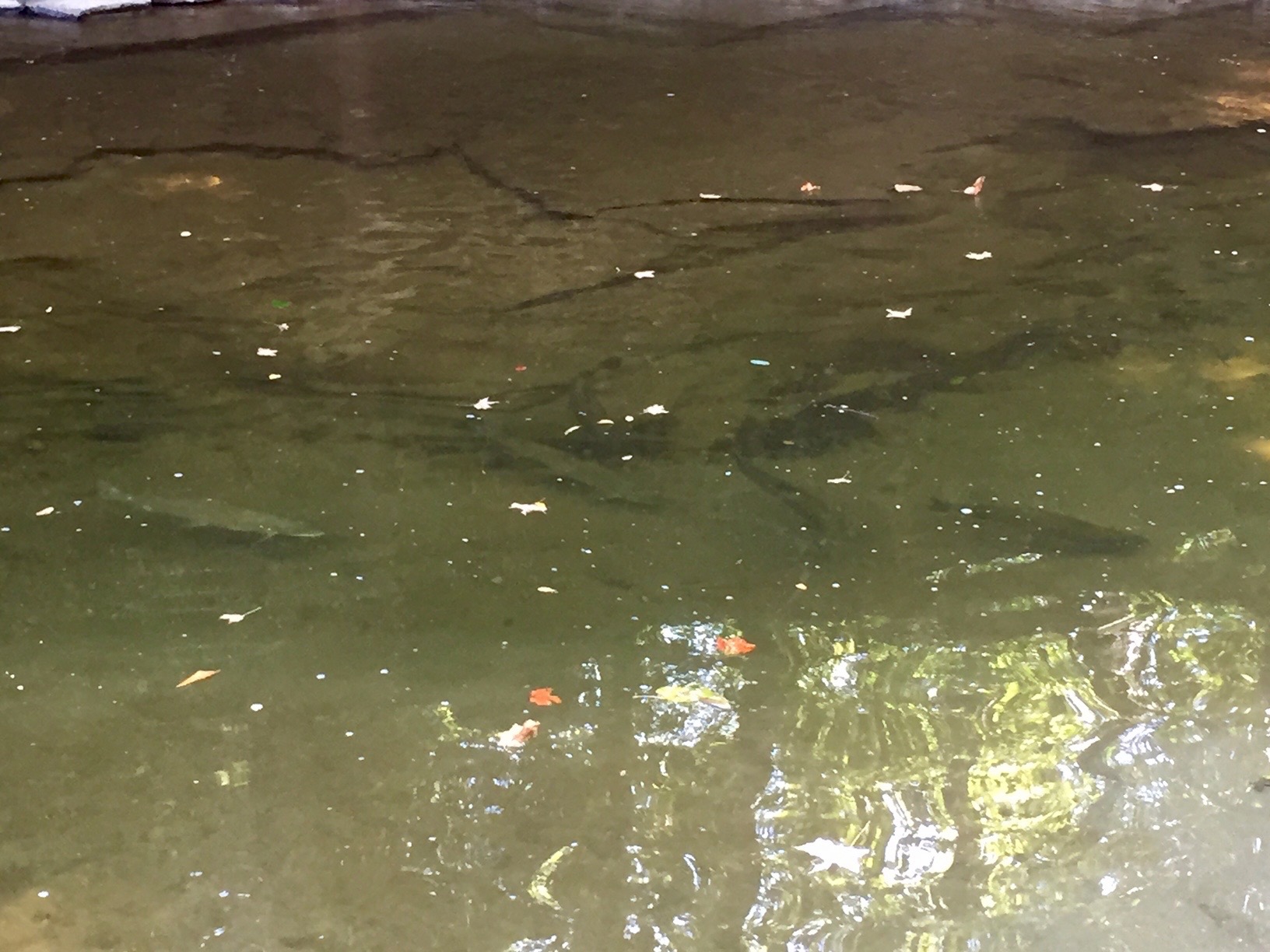 Nice couple fish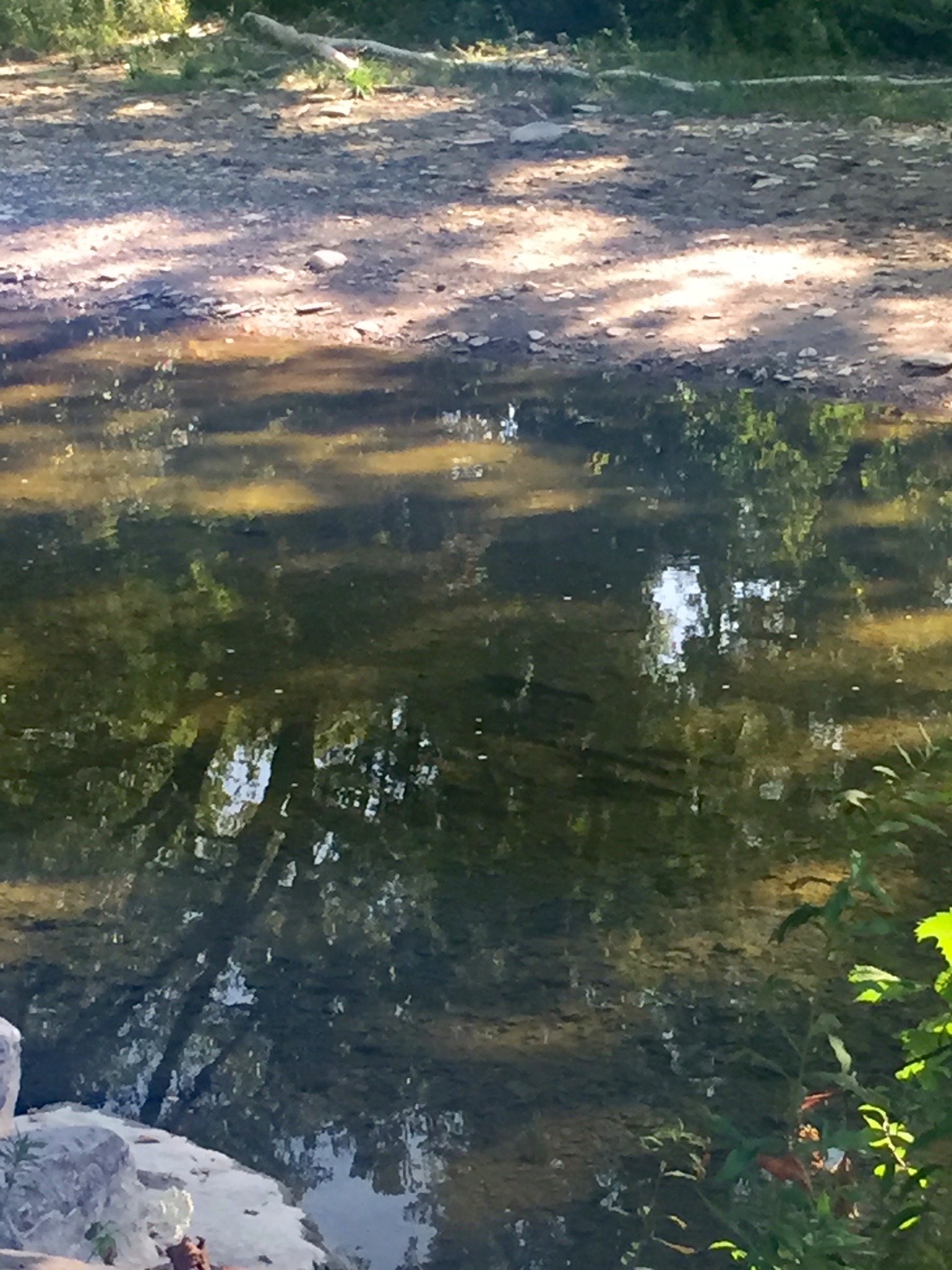 Good pod 
Tight lines
 - D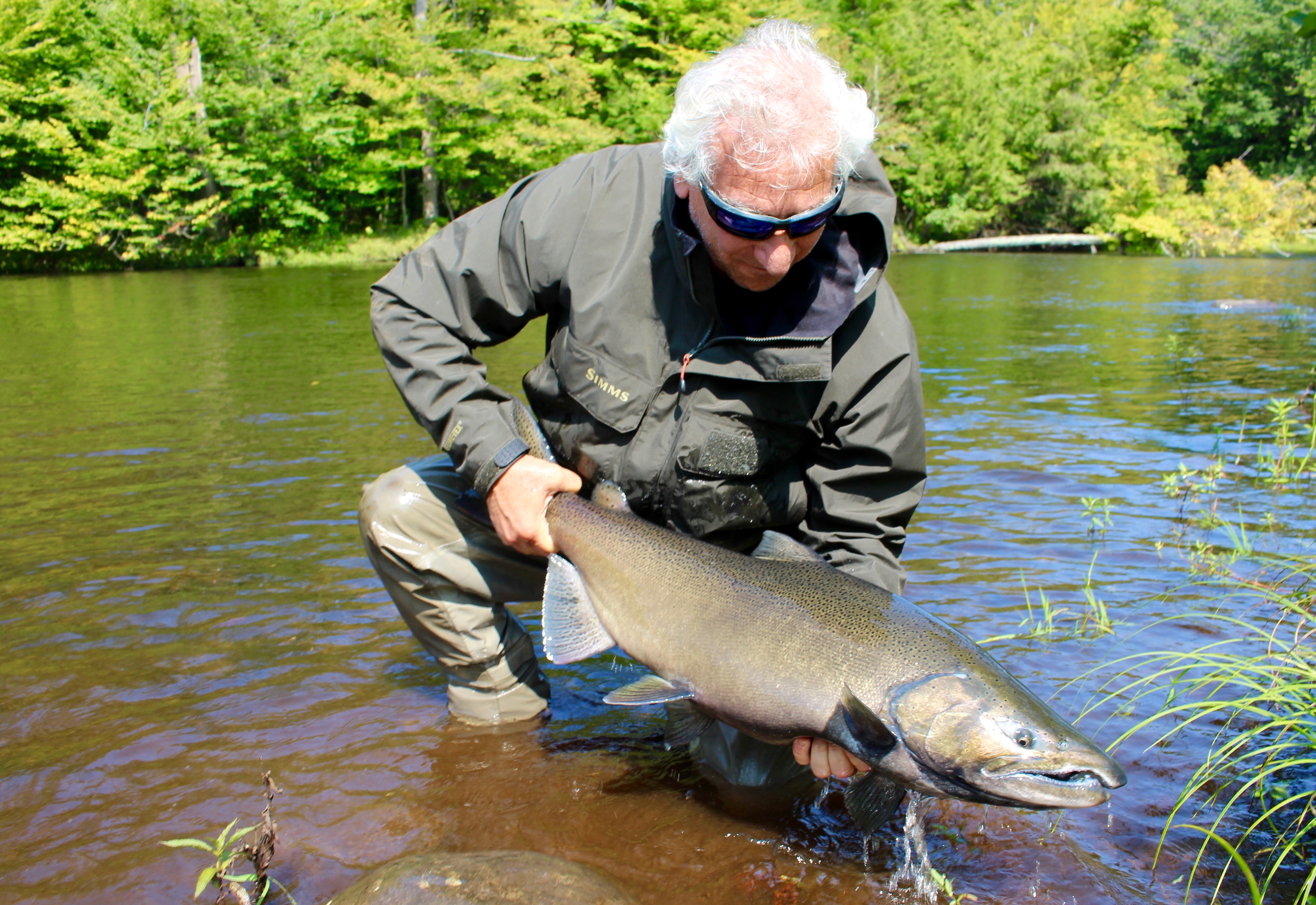 A good sized salmon from the recent salmon trip
Let me start this by saying I'm not a scientist, only an interested individual who spends a great deal of time on the water trying to understand and looking into aspects of fishing that really interest me. With that said, I have a pretty good understanding of many of the issues facing the future of the Great Lakes cold water fisheries, particularly king salmon. By now it is no secret that the 2017 Lake Ontario and her tributaries salmon season has been one of the best if not the best season in recent memory, both in numbers of fish and in size of fish captured. And this is not just limited to Lake Ontario, either. All you have to do is look catch rates from the two big salmon producers- Lake Michigan and Lake Ontario- and it is a no brainer. A 42 pound king was caught out of Lake Michigan in August. A 39 pounder was reeled in on Lake O. The Salmon River has seen the largest run of early fish, some of them well over 30 pounds, returning between the first two weeks of September than any season I can remember. On September 8 when we were fishing, there was large numbers of fish all the way up to the Upper Flies Only Zone.
And people are really, really excited by it. For good reason. Last salmon season was a bit of a bust. Lower numbers and low water made it challenging but fish were there. To be sure, I'm excited about the fishing that's going in in Lake Ontario and the tributaries too. But I'm also pretty concerned. The reason I'm concerned is that with all these big salmon around, they're eating a lot of baitfish. Alewives in particular. And the population has taken a really big hit recently. As I write this, the cold winters of 2013-14 and 2014-15 resulted in very few young of the year fish being produced. To be sure the back to back warm winters of 2015-16 and the record warm 2016-17 resulted in high production (especially 16-17), right now the alewife population in Lake O is made up of predominantly year class 1, 2, and 5 fish. And of those, it is the year class 5 that are the ones especially needed to spawn. In fact female alewives don't usually mature until year 4 or 5, though males mature a bit early (usually 3 or 4).
What this means is that there is likely only one year class of sexually mature and productive alewives in Lake O right now. And there are a lot of big, hungry salmon. And those warm winters of 15-16 and 16-17 didn't only help out the alewives. Smolt survival through the first winter in the lakes during that time was likely equally high. I suspect the next couple years will also have good salmon fishing. But the result of this really good salmon fishing means that more fish will be fighting for fewer alewives (the primary food source for kings). Those year 1,2 and 5 classes are the targets of the  salmon. And like I said, there seem to be quite a lot of them around.
So when the foraging for bigger alewives becomes difficult, as will likely occur in the next year or so once the numbers of year 5 alewives continue to drop, you can bet the farm that the salmon will start keying in on the smaller classes even more. The salmon will end up needing to eat more smaller alewives to make up for the lost larger meals. And this starts what in statistics is called a positive feedback system (though only positive in name as it only amplifies the problem). The salmon need to exert more energy to catch and eat more smaller alewives resulting in their need to eat more smaller alewives to make up for the energy lost hunting down and eating the last meal. Sort of a catch 22: by needing to target smaller meals, they will need to eat ever more increasing small meals to replace energy exerted.
Once this occurs, it is very difficult for a population of prey species to replace the individuals that have been eaten, let alone expand a low population to higher numbers. And this appears to be where we are, or will be very soon with Lake O alewives. If any more proof is needed, all you have to do is look at the salmon crash in Lake Huron that really hit in 2004. Until about 2001, salmon numbers and size were stable, but not alewife populations. In fact 2001 was a banner year for size and numbers. Within a few years afterwards, king salmon virtually disappeard from the lake. 
While Lake O is very different that Lake Huron, some things remain similar. Predator and prey populations need to be balanced. If a man made system, such as stocking, is attempting to do so, then it must understand outside influences such as natural reproduction. It has only been in the last five years that wild reproduction of king salmon was really evaluated in Lake O, and the results were startling: lakewide roughly 50% of all kings are naturally reproduced, in the Salmon River that number is more like 75%. With all that natural reproduction going on, is it still necessary to stock that many kings?
While they sure are a blast to catch, are we allowing the kings to eat themselves out of house and home? Nature will find a balance, and if we are not careful, it may be a balance we don't like. One of the first signs will be emaciated adult kings showing up in increasing numbers. It will be sporadic at first- a few here, a few there over the course of a season. Then a more as time goes on, until the problem becomes impossible to ignore any longer. That's the way it went for Lake Huron. Check out some of these pics of starving kings from before the crash: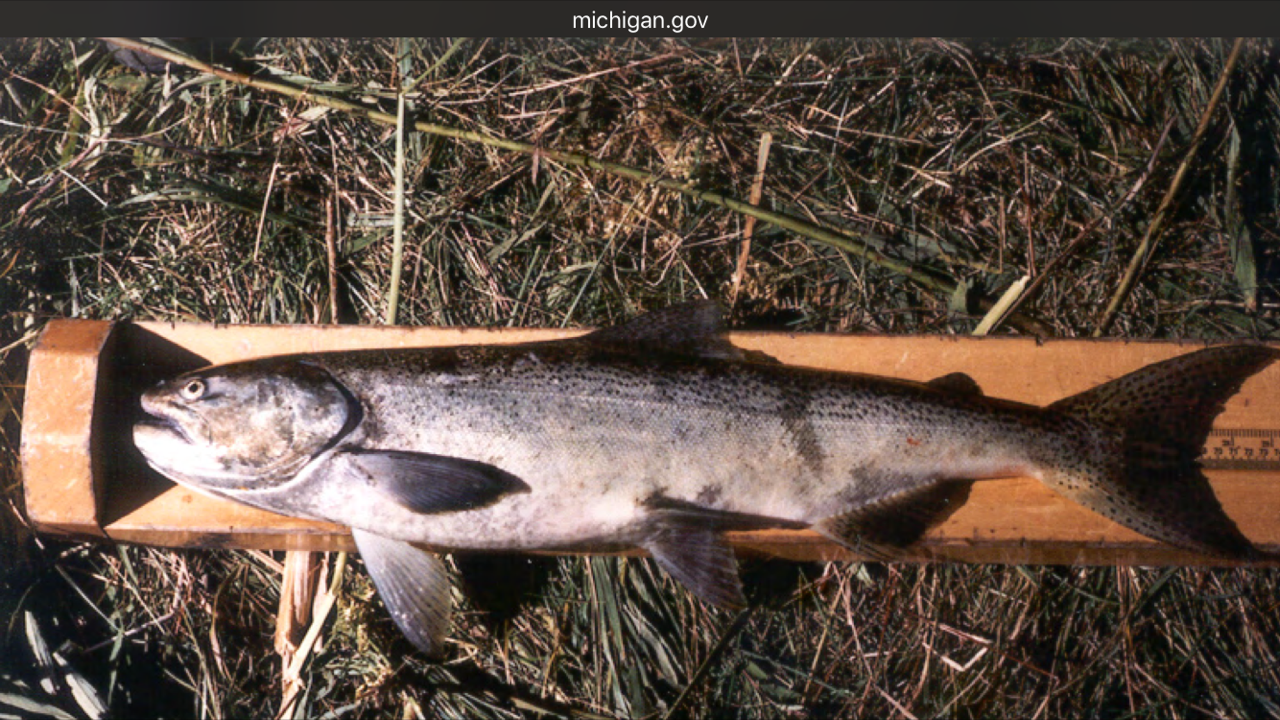 and: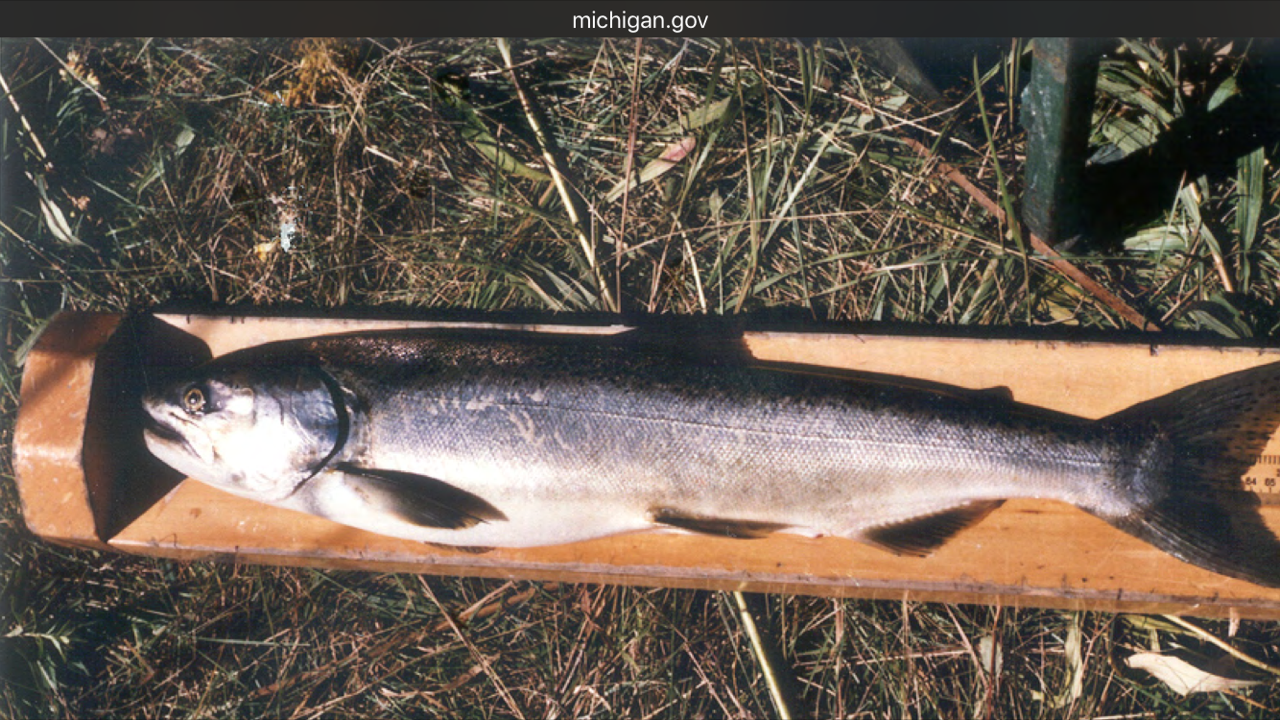 Big heads and tails, but hungry kings. Photos from Michigan DNR.
Those are pics are from back in the early 2000's. I saw a picture that got my attention yesterday: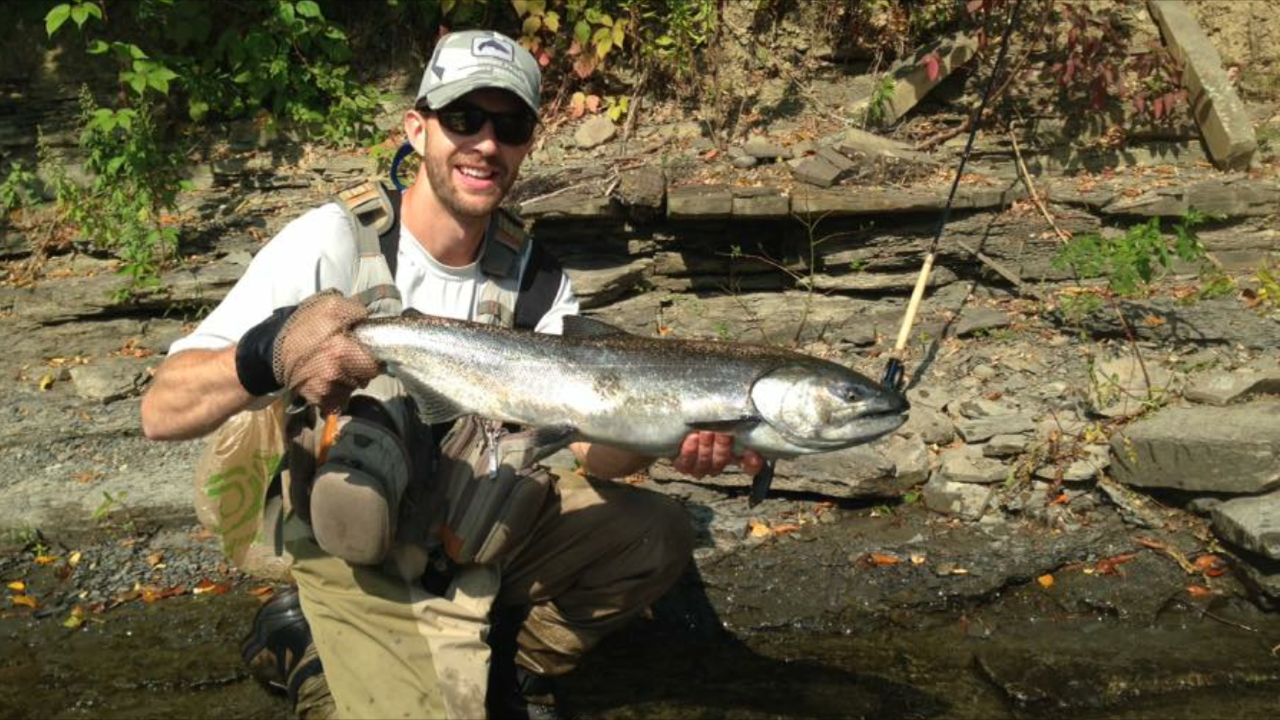 That's Garrett Brancy from Douglaston Salmon Run holding a fresh run chrome king. All I could think of was how much it reminded me of those hungry Lake Huron salmon. Though hopefully it was simply a fish that really, really sucked at hunting while out in the big, open water, it still makes me nervous.
The Lakes are changing. The water is cleaner. Alewife populations are low all the way through. If given the choice I'd rather fish for fewer, bigger fish than more smaller ones. And the problem with planning for the more smaller ones is it's easy for uncertainties such as hard winters to disrupt a plan. We can all suffer through a bum salmon year if a harsh winter kills more smolts than expected. Does it suck? Of course. But we tighten our belts and make it through.
But a few harsh winters, or maybe even just one, can spell doom for a prey population if there are too many predators around. Maybe we don't even need the harsh winters if there are just way too many mouths to feed. It'd be a shame to see the big kings go. And this current salmon fishing makes me nervous. I hope I'm wrong.
Tight lines guys,
 - D   
/