Shopping Cart
Your Cart is Empty
There was an error with PayPal
Click here to try again
Thank you for your business!
You should be receiving an order confirmation from Paypal shortly.
Exit Shopping Cart
Guided Fly and Spey Fishing Trips for Steelhead and Brown Trout with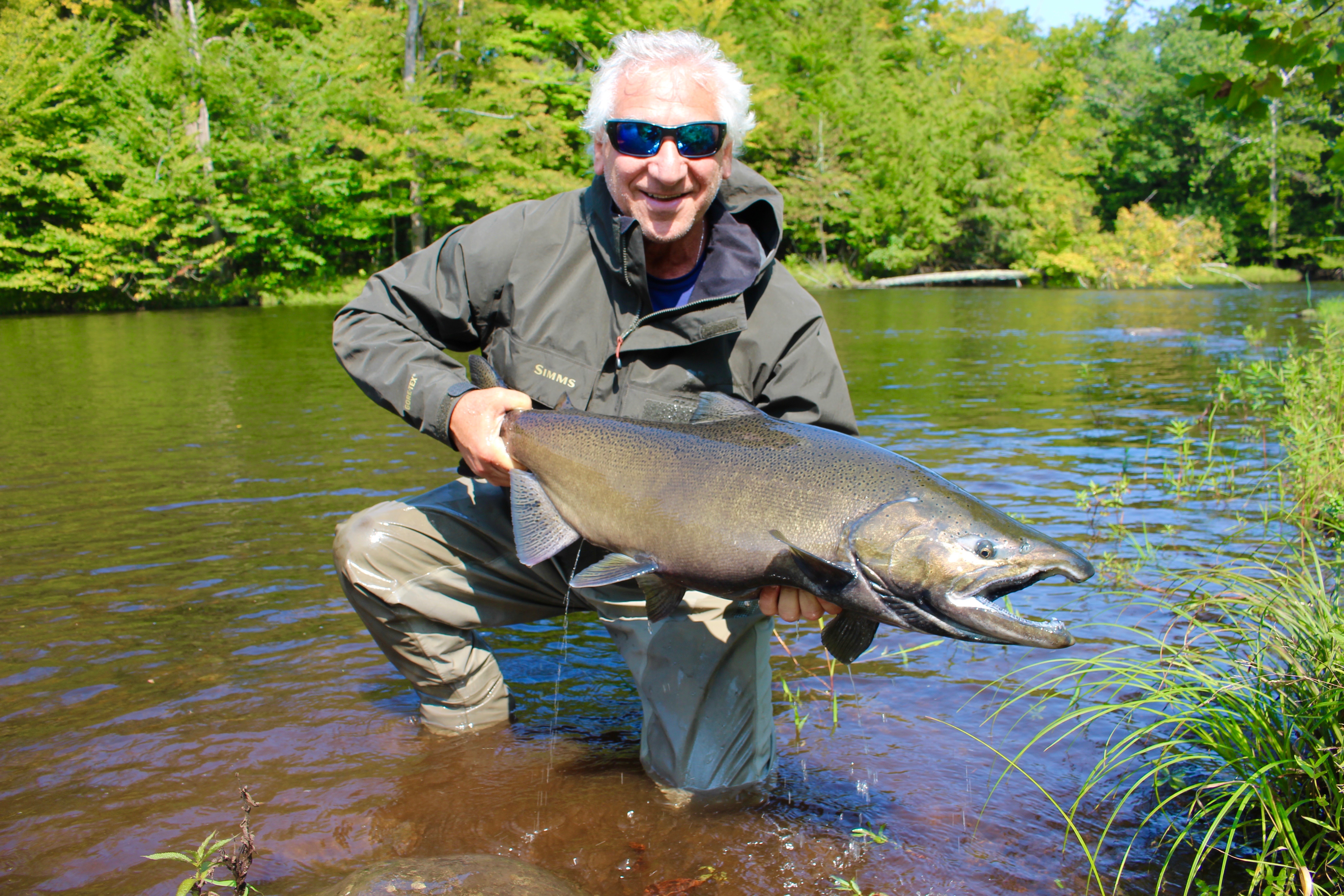 Art with a toad Salmon River king
Well for anyone who has fished with me or has read this blog, it may come as no surprise that I put an emphasis on maximizing the quality of the experience and not necessarily focusing purely on fish numbers. While it's nice to be able to do both, and frequently it can be accomplished, if fish numbers was all I cared about, I'd be a bait fisherman. To put this in perspective, I just got back from several days of fishing kings on the Salmon River in upstate New York. Right now, there are a ton of fish in the river for this early in the season, but the majority of those fish are lower in the river. And the word has gotten out that there is a good early push, so the lower river is seeing some heavy fishing pressure but also really good fishing. 
That's just not really my scene. While we did fish Douglaston a few mornings before the number of anglers allowed jumped up to 250 from 65, even 65 people over two and a half miles felt a bit crowded but handleable. When we were low we had some vicious early run king takes and fights that kicked our asses, but it came at the expense of solitude with nature. So in the afternoon, we decided to jump all the way up to the upper flys only water. And it was the right choice.
I had figured that the fish that had pushed in in the high water release over labor day would have had no problem getting upriver over the course of a week with all the rain that we've had to keep water levels between 350 and 700 cfs- great for fish migration. So I was not surprised to see a fair number of fresh kings rolling in my favorite pool on the river. What did surpise me was that there was only one other angler that had decided to fish the area and he was clearly targeting stream trout.
Art swung his way through the head and gut with a three inch pink and black string leech before feeling the telltale heavy take of an aggressive fish. Don't let anyone tell you that you can't target kings in the rivers with good sized streamers. What puts salmon off the bite more than anything is pressure. But if you have well rested fish, they will take a swung fly. The fight was a twenty minute tug of war that the salmon won when the hook pulled out.
On our last day, we decided to forego the lower river completely and spent the whole day in the UFZ at our money hole. We hooked several and landed a nice 25 pound fresh king that walloped the fly as it was quartering downstream on a short, tight swing. I even hooked two, but none of mine stuck. In all we hooked a dozen fresh run tackle busting kings over the course of the trip, which this early in the season usually would be something to brag about by itself. But perhaps even more, half of those hookups came swinging to beautiful water with at most one person in sight. Fishing to fresh and aggressive salmon in solitude on the Salmon River is more of a reward than mindlessly hooking a bunch of fish in a crowd. What a trip.
Tight lines and enjoy the rest of the pics,
 - D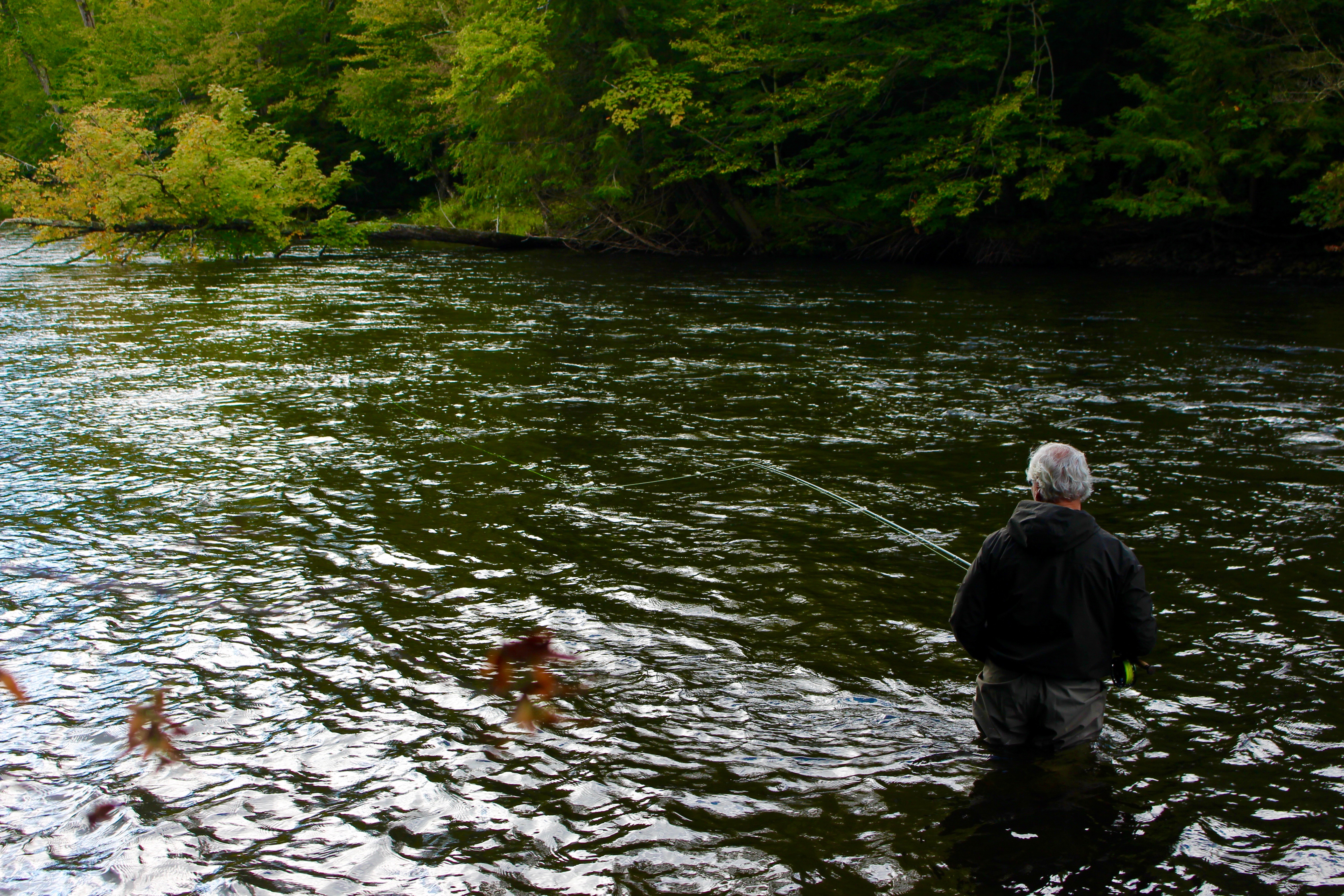 Swinging my favorite run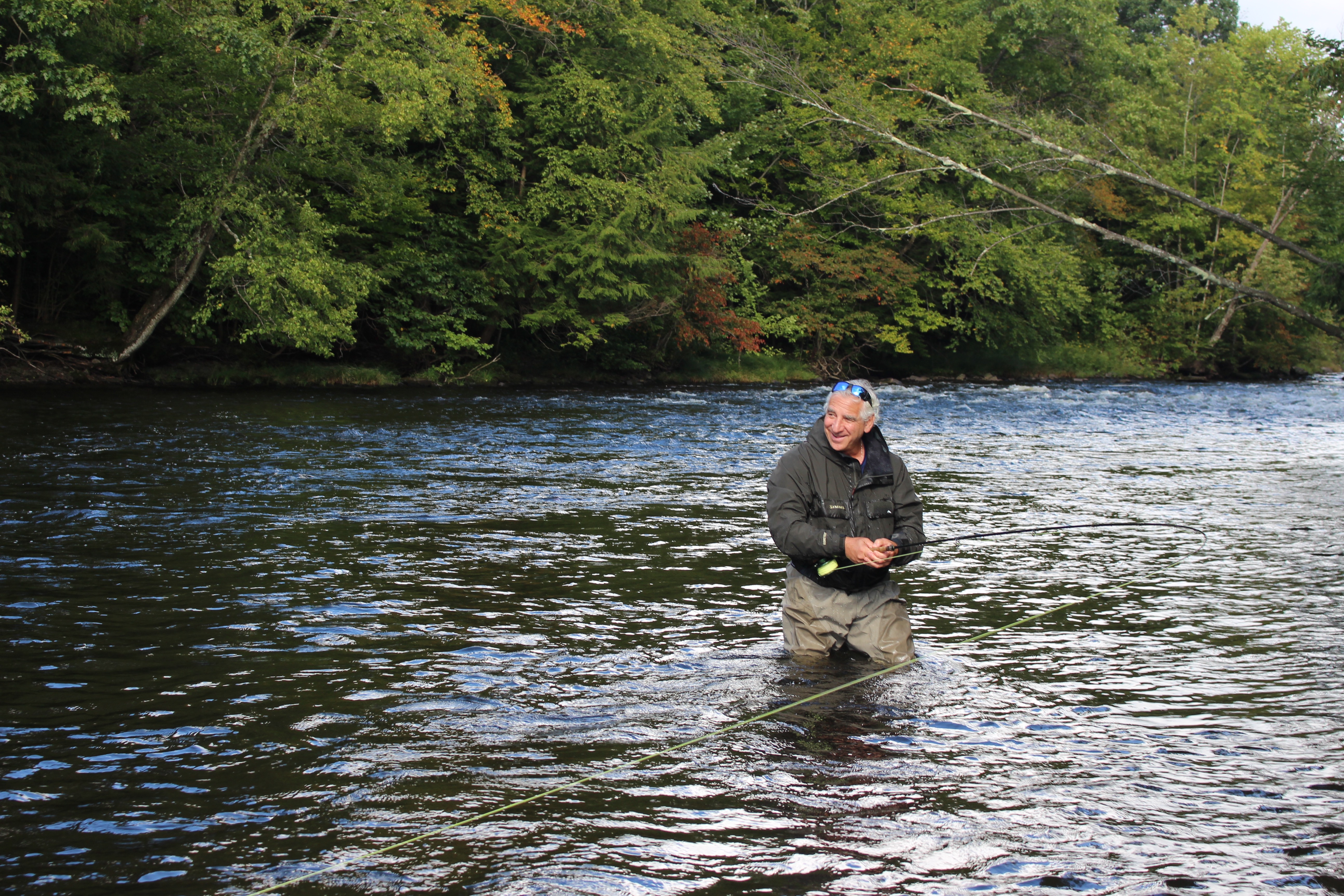 Art fighting a monster king on a spey rod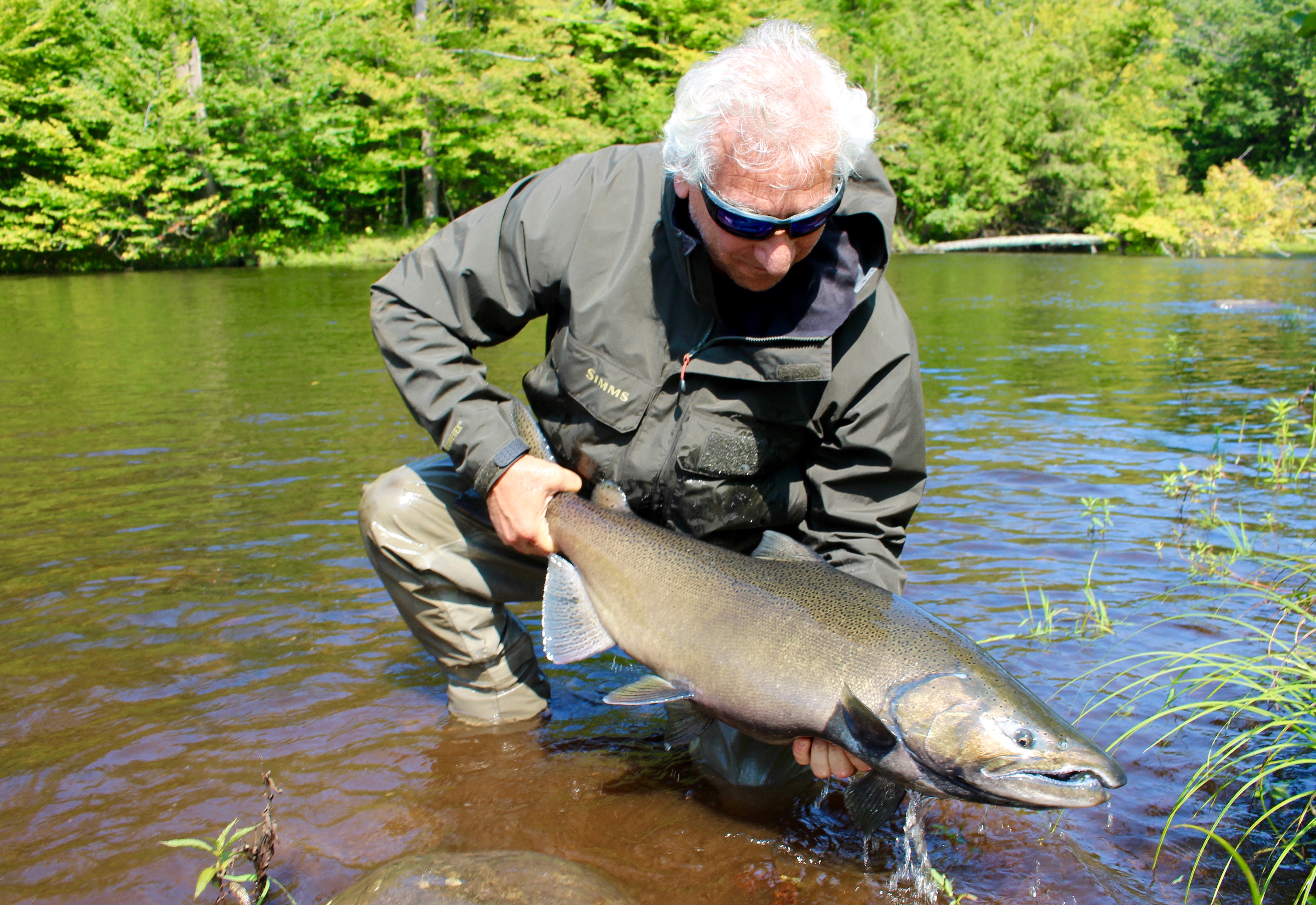 Fresh king salmon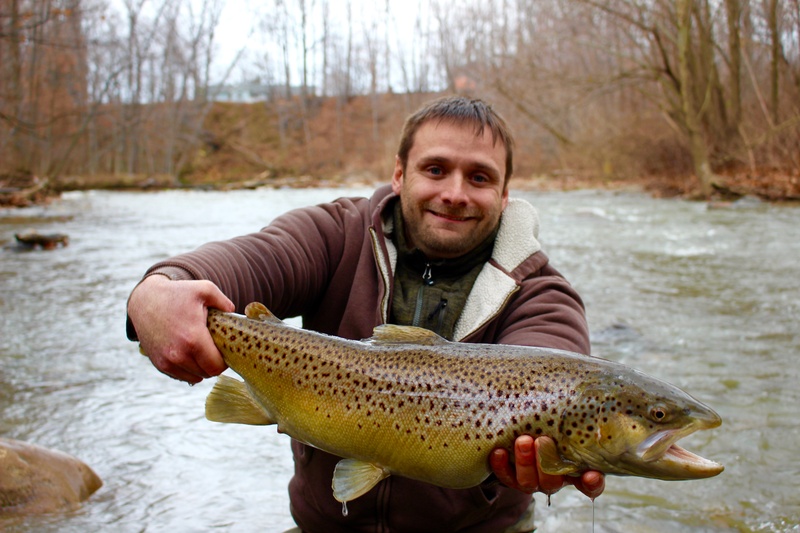 Check out Justin with a toad Lake Erie brown!
Well we are still finding a bunch of quality fish! The Catt is out of the picture for a while, but the other area creeks have good flows and decent amounts of fish. Just got back from spending a few days fishing with Justin from Jersey. The first day, the water visibility on the smaller creeks was between 8 and 10 inches. Not great, but if you know where the fish hold in high colored water you can still do pretty well. I'll give you a hint- look for slow water out of the main current, and often times right next to the shore. We bounced around a few creeks and ended up going 3 for 7 on some quality steelhead, including hooking some fish up to around 12 pounds! Always a lot of fun in higher flow.
Next day we again started at the same spot and hooked up a few more steelhead, putting a couple half pounders in the net. After a while, I walked over to Justin to talk over our options. The spot we had been fishing gets hit pretty good, and it seemed to be going off the bite. The whole trip, Justin was talking about browns, so though Lake Erie creeks don't have as reliable a brown run as Lake Ontario creeks do, we decided to check out the lower end of a creek that will get some browns every year. As Justin had to be heading back to Jersey that afternoon, we only planned to fish until between noon and 1. We got to the lower spot at about eleven o'clock and saw there were a couple cars, but by no means super busy, and we burned some water until we had a whole stretch to ourselves.
The water visibility was about a foot and a half, getting right into that prime range, but still colored up enough that to be successful you have to really work the water well. And Justin did just that. As we were getting down to the wire in terms of fishing time, we started to work a boulder lined tailout of a long run. In front of the first boulder, Justin set the hook and a slab brown, somewhere between 7 and 8 pounds, flashed in the murky water. As quickly as we were hooked up, the line slackened and the fish disappeared into the eddies.
Fearing that I had blown my chance at putting a quality lake run brown in the net for Justin, I stood there. Justin asked if there was anything he could have done differently, but truth is there really wasnt. It's just all part of the game. Sometimes you win, sometimes you lose. But I told him where there are one, there are more. And we kept fishing the boiling water. As we got further and further down, my dismay that I had truly lost my shot at showing him just what quality fish we have grew. Until we reached the last few boulders... where he set the hook and the water exploded. Bigger than the one we lost, a thick fish rolled and fought near the top, boiling the water. After a few minutes that felt like days, Justin turned her head into the net. There lying at the bottom of my rubber mesh lay a beautiful 28" hen brown, thick with eggs and pushing 10 pounds. The time was 12:13. Down to the wire for sure. After pictures and watching his personal best brown swim back into the murk, Justin turned to me and said "I think that's a good one to call it a day on." Mission accomplished.
Tight lines, and enjoy the other pics!
 - D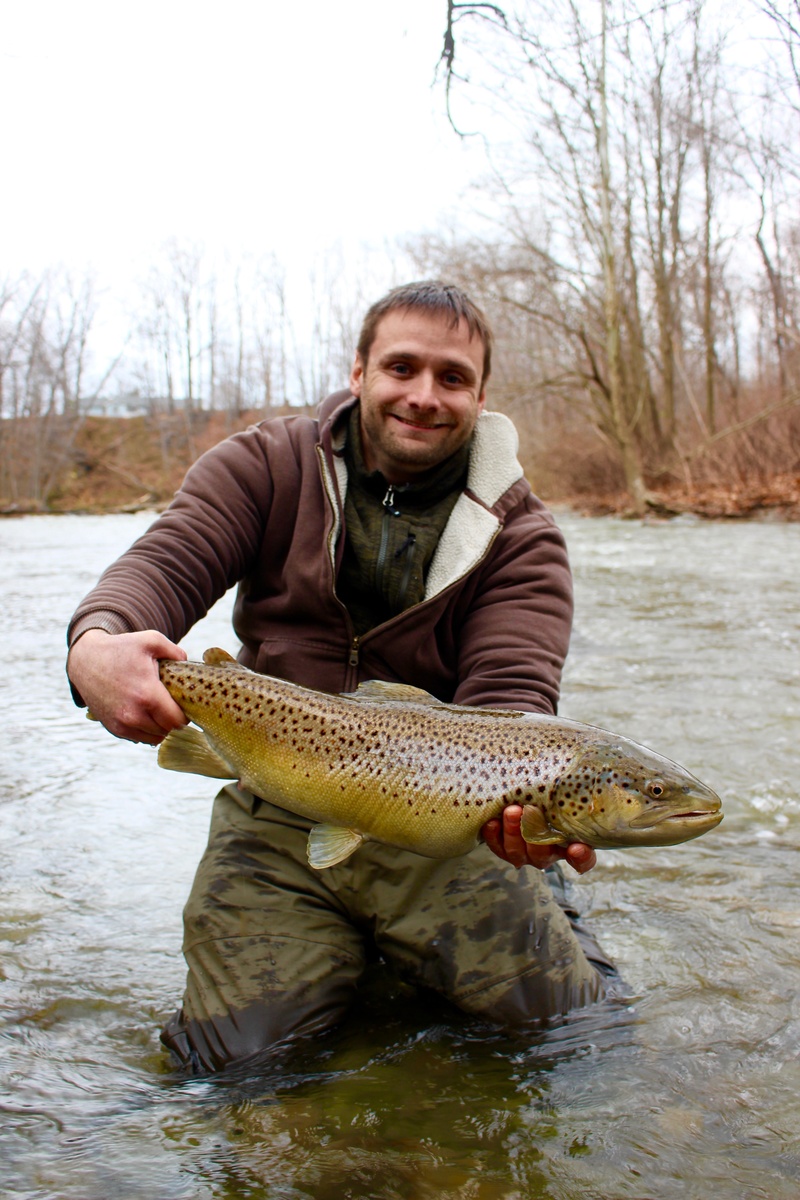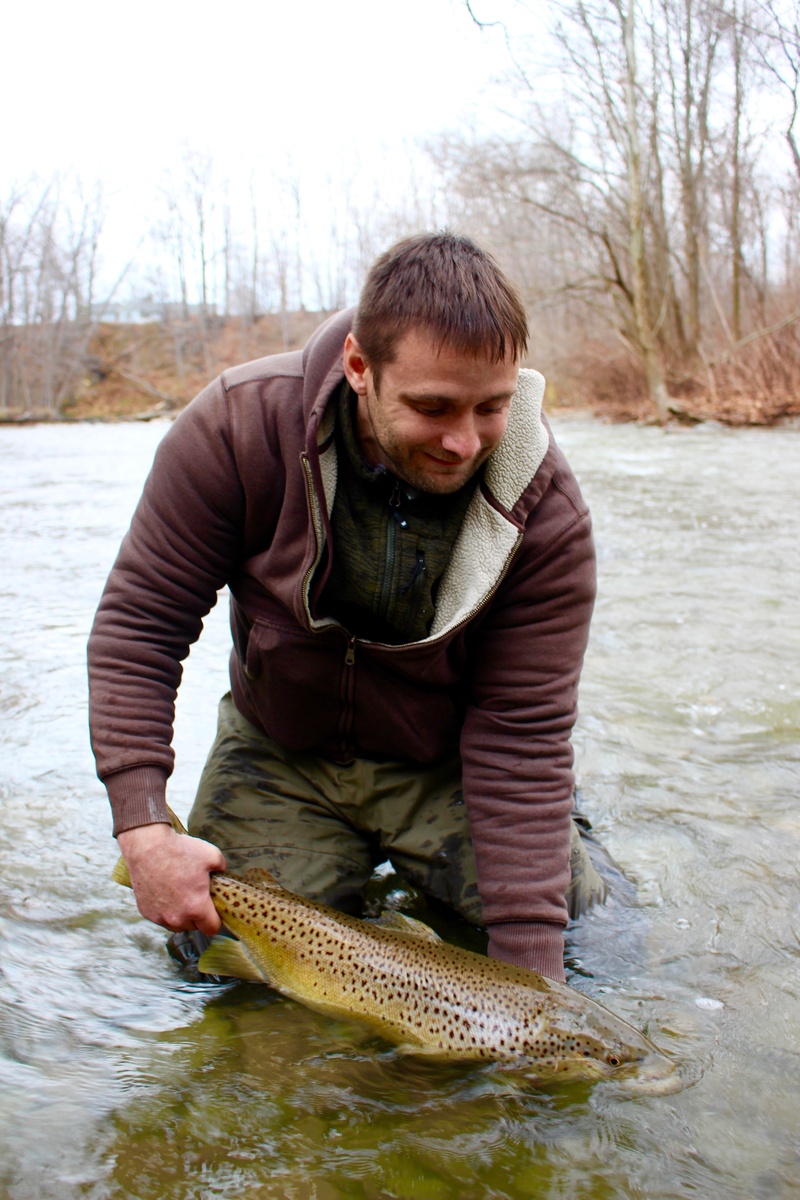 Another couple of the brown!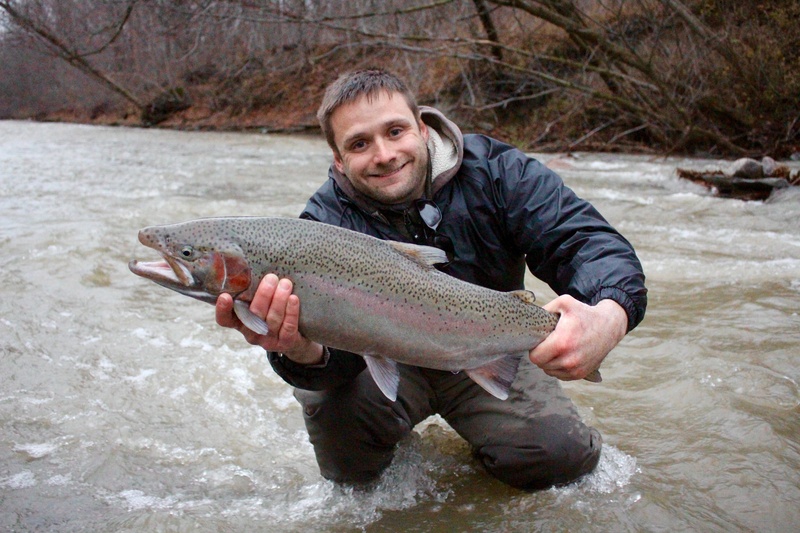 Justin's first steelhead!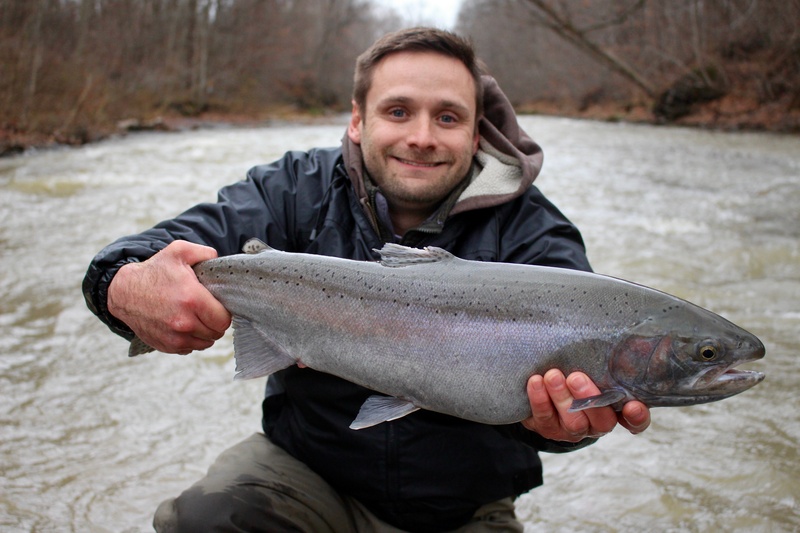 Chrome bullet! 

Some fat fish are in!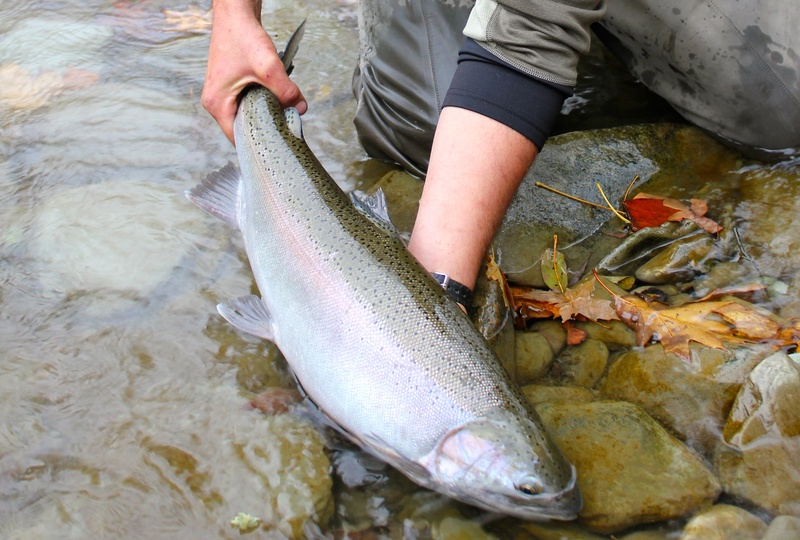 Another girthy steelhead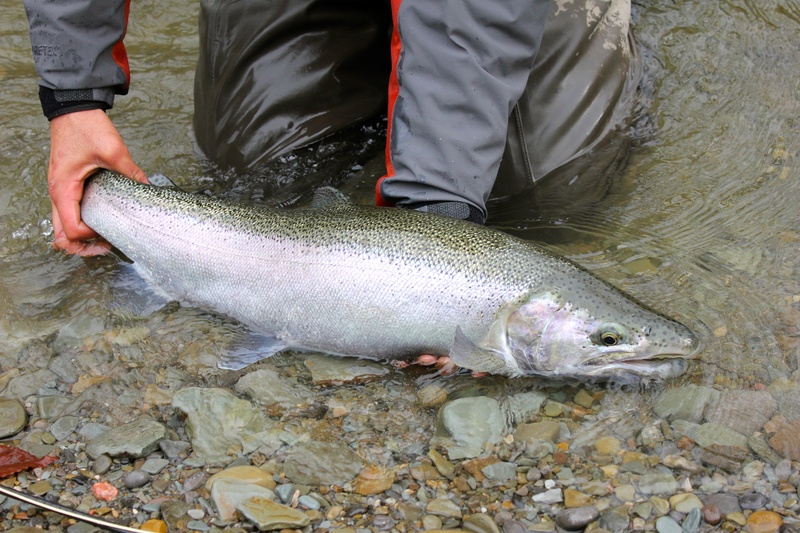 Check out this Washington strain fish!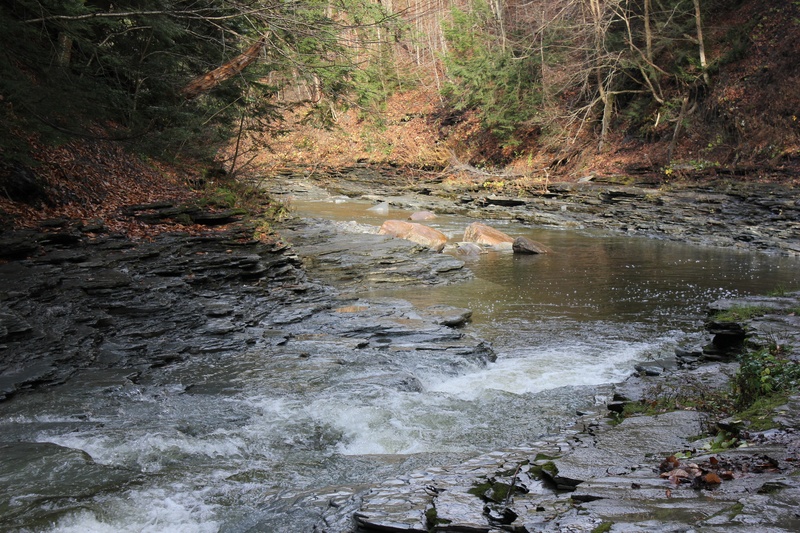 Taking a trip up to the headwaters is a beautiful way to explore
The past week or so has produced some of the steadiest action of the season. Multiple hookups are the norm with fish running 6-9 pounds and fat! The Catt has been bumping around 500-600 cfs, and carrying a moderate to heavy stain. When the color allows, swinging big dark streamers with a good profile on a tip can produce some solid yanks. The trick to fishing the higher and stained water is to pick your spots. Fish will be moving, even when the water appears less than prime. Look for soft inside seams above and below heavy water. One common mistake I see in these water conditions is fishing too heavy a tip and casting too far. Fish are gonna hug the bank in water with visibility between 10 and 15 inches. Fish a lighter tip than you would normally be expecting to in the high water, and don't cast too much into the running line, as you won't effectively cover the water holding fish. If water visibility falls below 10 inches, it might be a better idea to check out the smaller creeks in the area. Though far from prime conditions, 10 inches is about my cutoff. 
If you do get out, fish are spread throughout the entire system on the Catt, though still the water between Gowanda and the lake is holding the most. In another week or two, I'd expect the fish to be fairly evenly spread out all the way to Springville. If you want to check out the smaller creeks, it may be worth your while to get up higher in the system. Fish shoot up those creeks really fast with good flows, and we've had solid rain on and off for the past week or so. This keeps the water fluctuating between the verge of unfishable and prime flows- perfect for fish migration. The Ontario creeks have a solid push of browns and more than a few salmon kicking around. The Erie creeks have good numbers of steelhead and to a lesser extent browns. There are even some scattered salmon in the mix in Erie which always makes for an interesting surprise.
Tight Lines
 -D
/