Shopping Cart
Your Cart is Empty
There was an error with PayPal
Click here to try again
Thank you for your business!
You should be receiving an order confirmation from Paypal shortly.
Exit Shopping Cart
Guided Fly and Spey Fishing Trips for Steelhead and Brown Trout with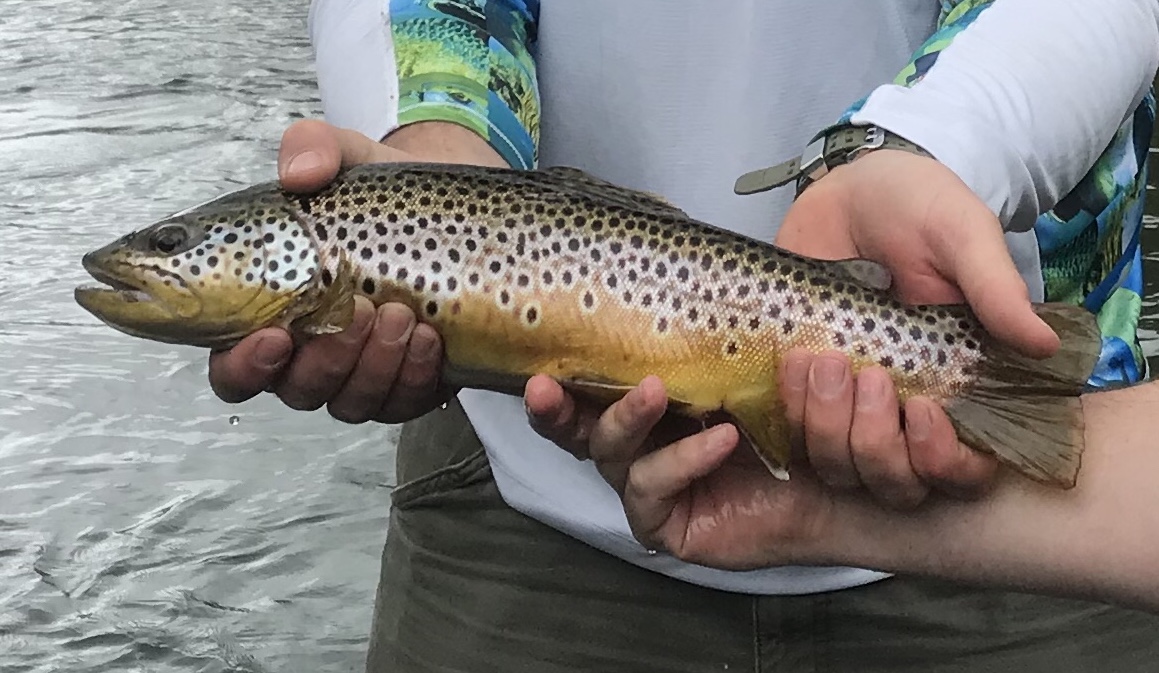 Just a run of the mill trout
Trout fishing in North-Central PA watersheds has been very consistent over the past several weeks, with good numbers of fish ranging from 12-20" and maybe just a bit more. In early June, evening hatches produced excellent action with a mix of March Browns, Sulphers, Light Cahills, and even a few Hendricksons around, along with some drakes and a ton of caddis. The spinner falls seemed to bring up the biggest trout, and at times long stretches of many of the systems we fish were boiling with trout feeding aggressively.
As of now, the water is warming to sustained highs in the upper 60's and even low 70's on many of the trout systems, as we approach the brunt of the warm summer weather. Picking your moments to fish carefully from now to the end of summer becomes the game. Early mornings will have the best water temperatures, though bugs are more active in the evening, the same time when water is the warmest. Look for cooling trends in the weather to fish the summer evening hatches and remember that for stream trout, water of 67-68 degrees or above should not be fished.
Other options this time of year include resident smallmouth bass found in many of the same trout drainages. These guys are a blast and in lower summer flows tossing poppers around rockpiles or log jams can bring out the smallies in a hurry. Wild brook trout streams also provide summer angling opportunities. Most of these are small, mountain creeks with good canopy and steep drainages that rarely see 60 degrees, let alone 70. 
Tight Lines,
 - D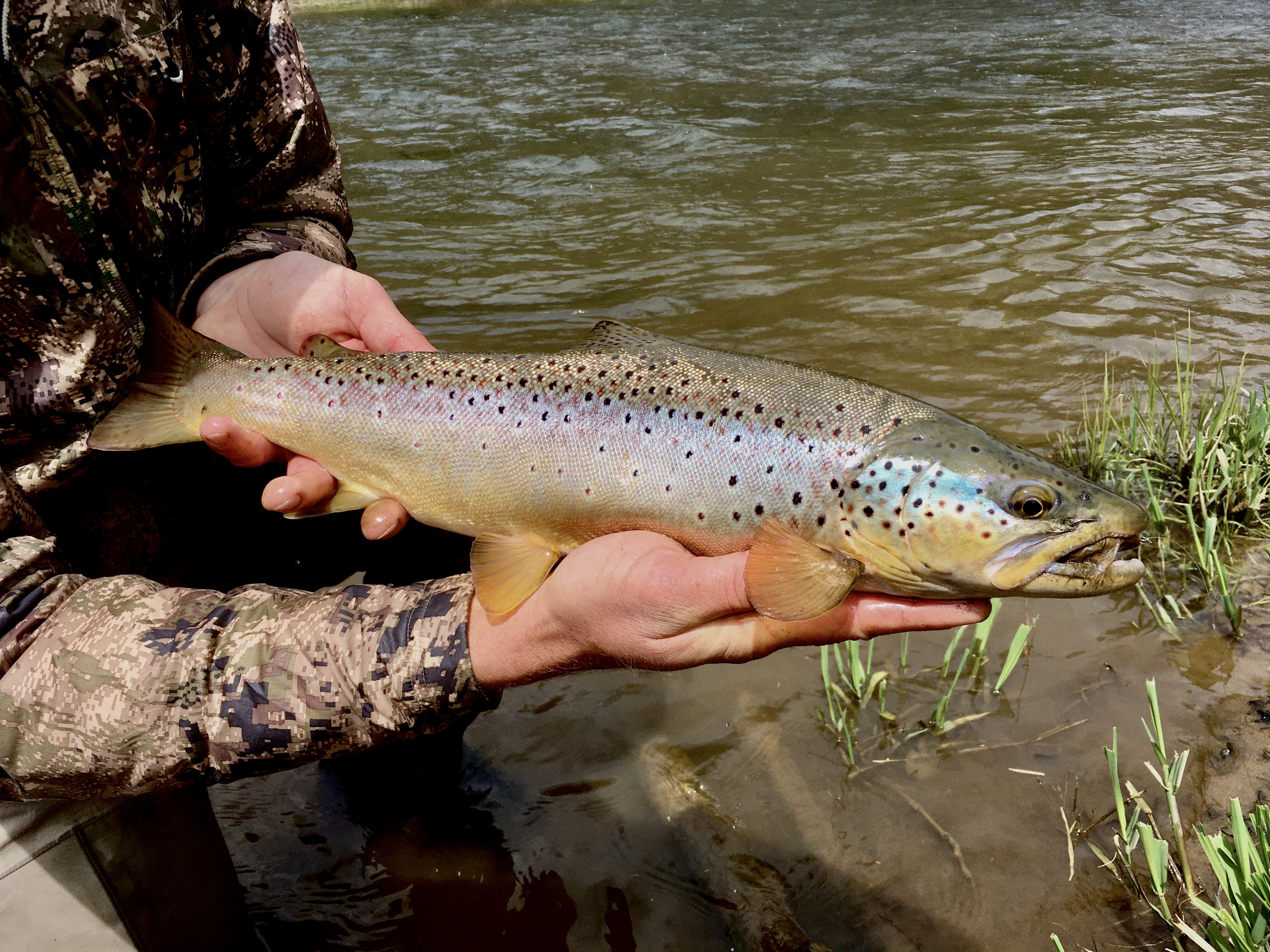 An obviously stream-born fish
I've been asked before on numerous occassions whether or not wild trout are truly different than stocked fish, and my answer has always been resondingly yes. In nature and appearance, wild fish are different and should be held to a different standard. I've seen anglers post pictures of giant trout with worn fins from a creek that, if left to its own devices, would struggle to produce even an upper teens fish. I've heard anglers brag of fifty fish days from single pools that without man's hand should hold in total perhaps ten fish scattered throughout. I've driven past lines of cars parked next to a stream because the hatchery truck was just there a day or two ago. These are the obvious answers to the question. But it might not be the only perspective to use.
Fishing wise, I find that streams that offer wild trout fish better throughout the year, season in season out. There's a reason to it. Stocked trout, particulary stocked catchable adults, are a put and take fishery. The hatchery truck puts them in. Anglers, including feathered ones and other predators, take them. And the stream is once again largely barren. When the state stocks even high numbers of catchable fish in a stream that isn't protected by catch and release regulations or gear restrictions, it doesn't take long for the stocked fish to vanish.
While it is true that long term holdover trout can take up residence in a stream, even a system that experiences heavy pressure, and offer some fishing opportunities once the bulk of the fish are removed, there are fewer of these fish than the wild trout densities in even moderately productive wild streams. All you need to do to confirm this is fish a stretch of stocked trout water in late June or early July, water that looks on the surface very productive to trout. Rocky bottomed, in-river structure, feeding lanes, perhaps even bugs coming off in the evenings. The only thing that's missing is the trout.
Wild stream trout, however, need to maintain resident populations sufficient enough to populate a watershed, meaning that in systems where wild trout are, wild trout are present somewhere in the system every day throughout the year. They offer fishing opportunities long after the the local stocked systems peter out from catch and kill. This is what truly makes these systems special, and worth protecting- the wild fish in these systems are worth more swimming in the river than frying in a pan. Though it is true that without the stocking efforts, opportunities for fishing trout in our general region would be more limited, places where trout are thriving without stocking efforts adds to overall angling opportunity. This is what truly makes wild trout different than a stocked fish- they live in the watersheds that are healthy enough to provide productive, though perhaps challenging, angling year round, not simply in the days or weeks after the hatchery truck drove by.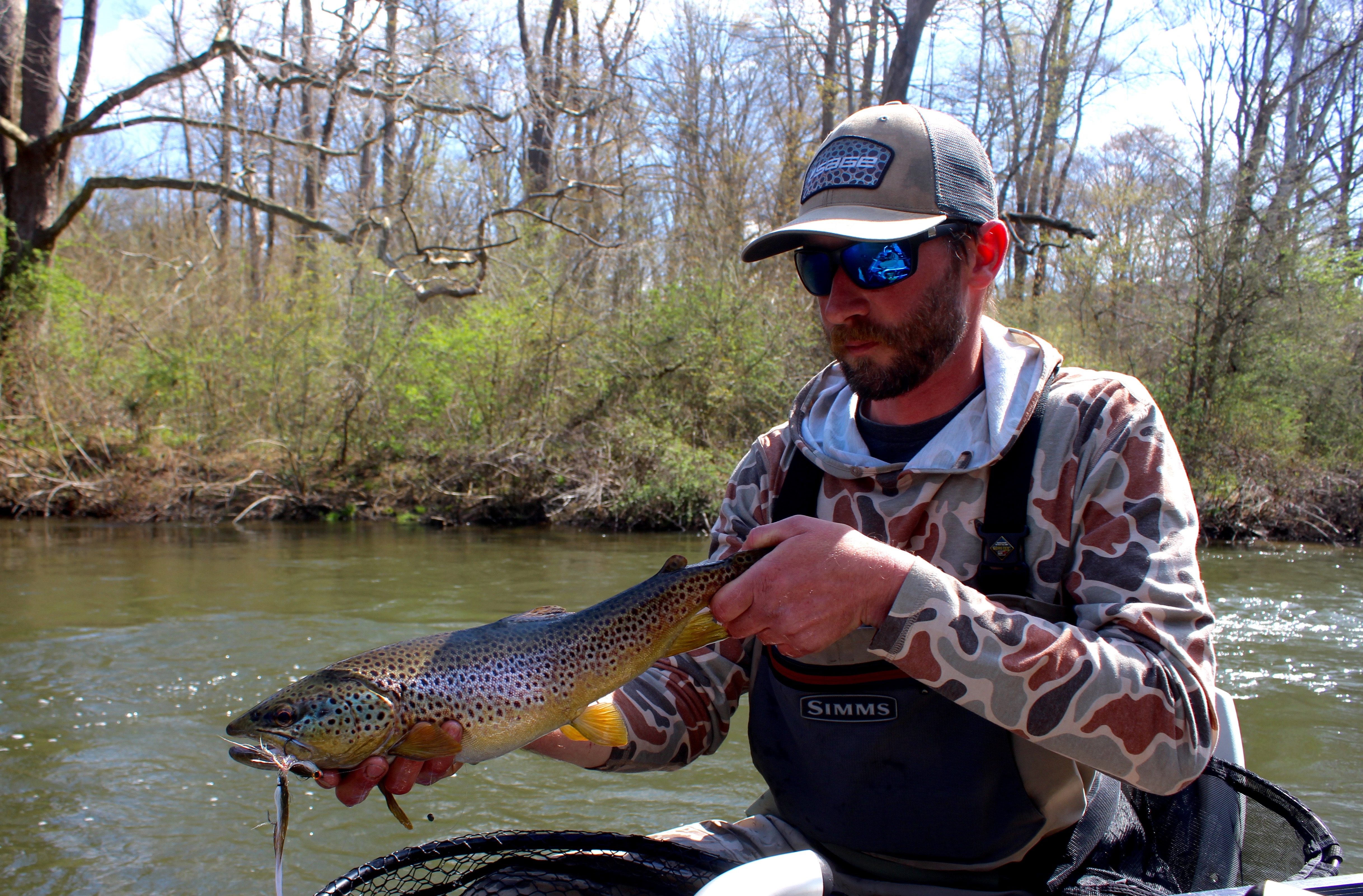 Solid low-20's on meat
Got everything opened up at the PA cabin over the weekend and hit the river hard. It was worth it. The trout were acting trouty. Throwing the big stuff we moved probably fifty good sized fish. Lots of follows. Lots of swipes. Some real nice eats. Saw three bears on the river (didn't get a picture as it was a quick sighting unfortunately). I even caught two nice ones- one wading the first evening I was up there and a second that broke my rod on the hookset. Jeff and Matt all stuck really nice fish, including a couple really good rainbows. We'll be running trout trips in May and June. God I love trout fishing.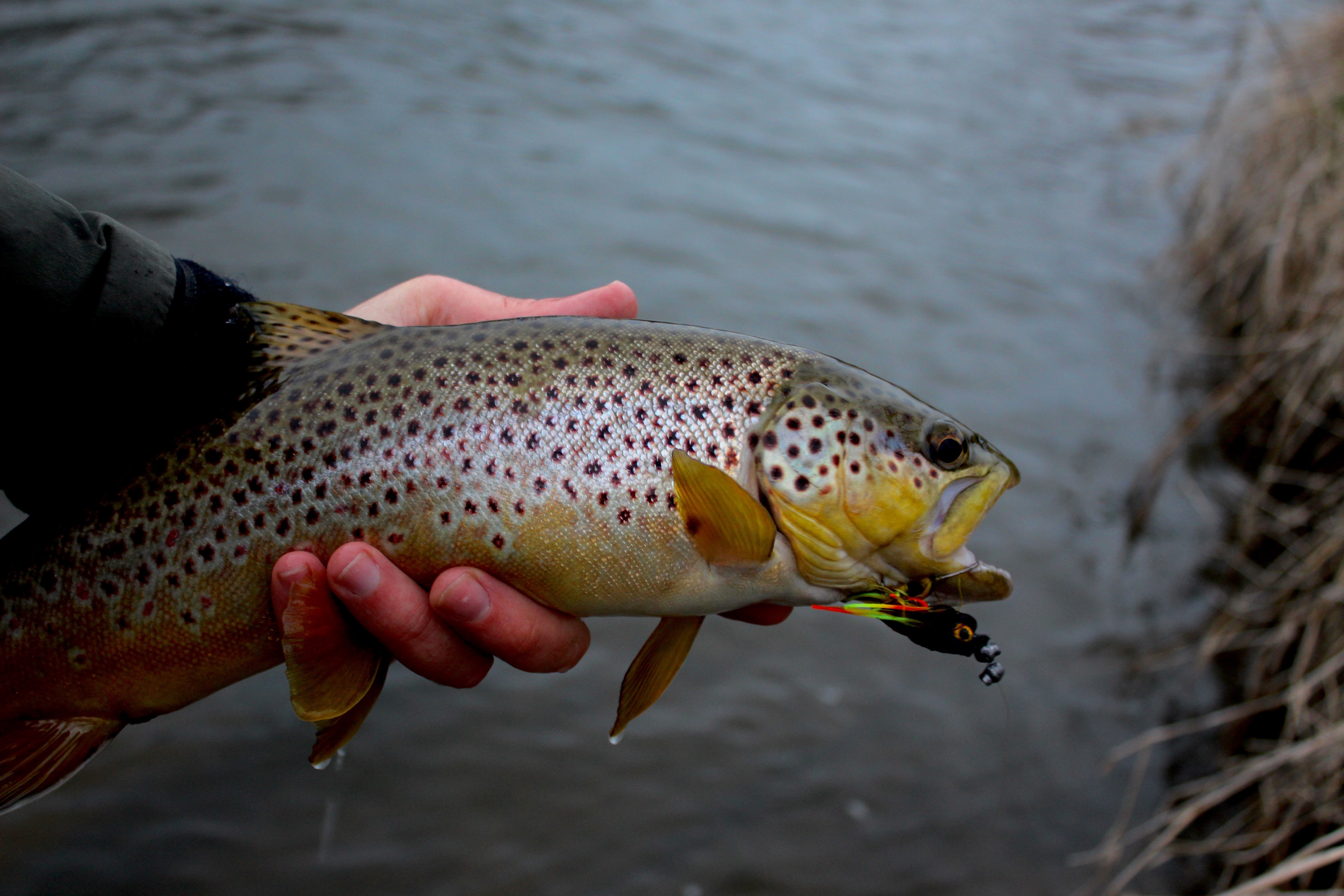 Good one on a double Ry-Snack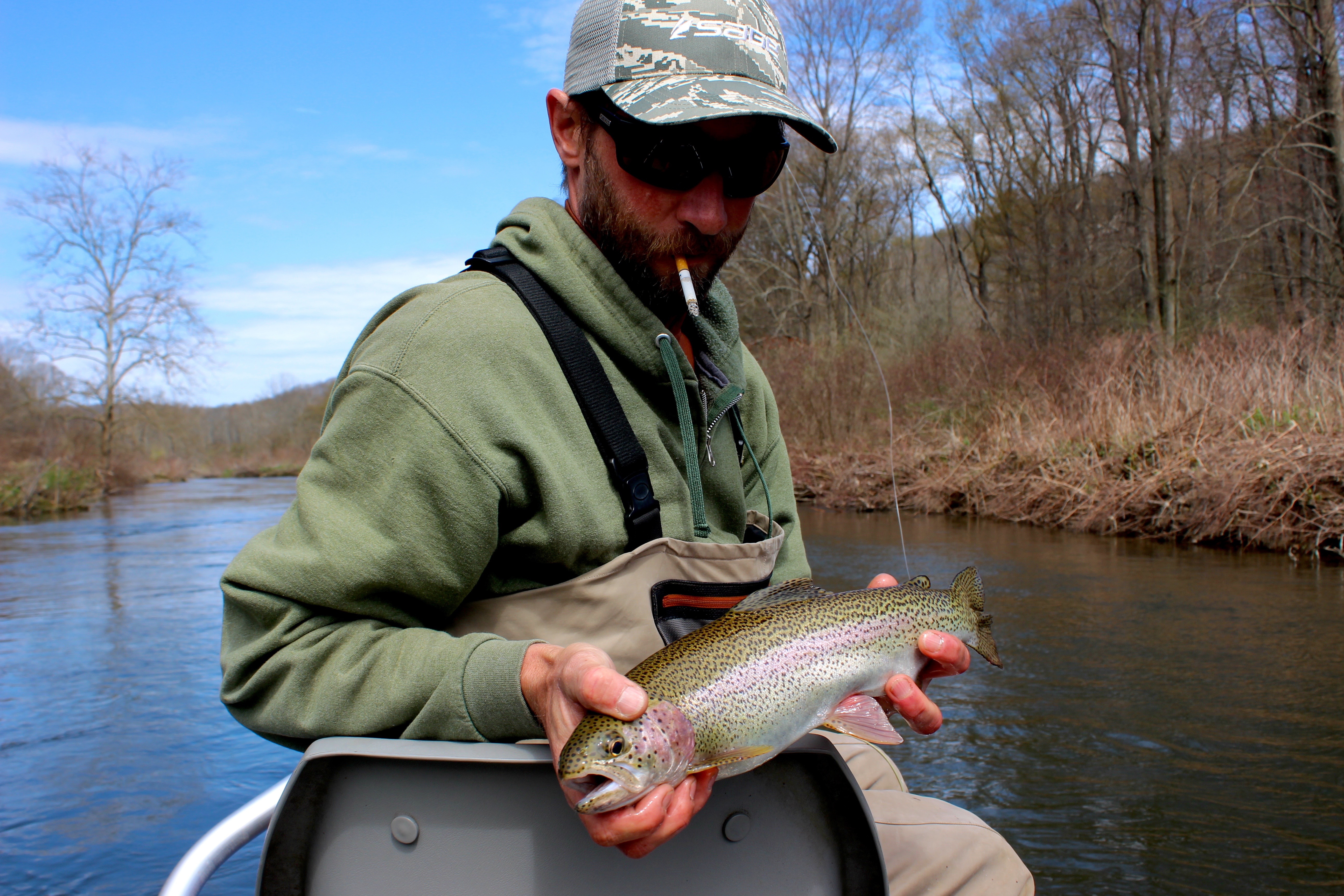 Rainbow close to 20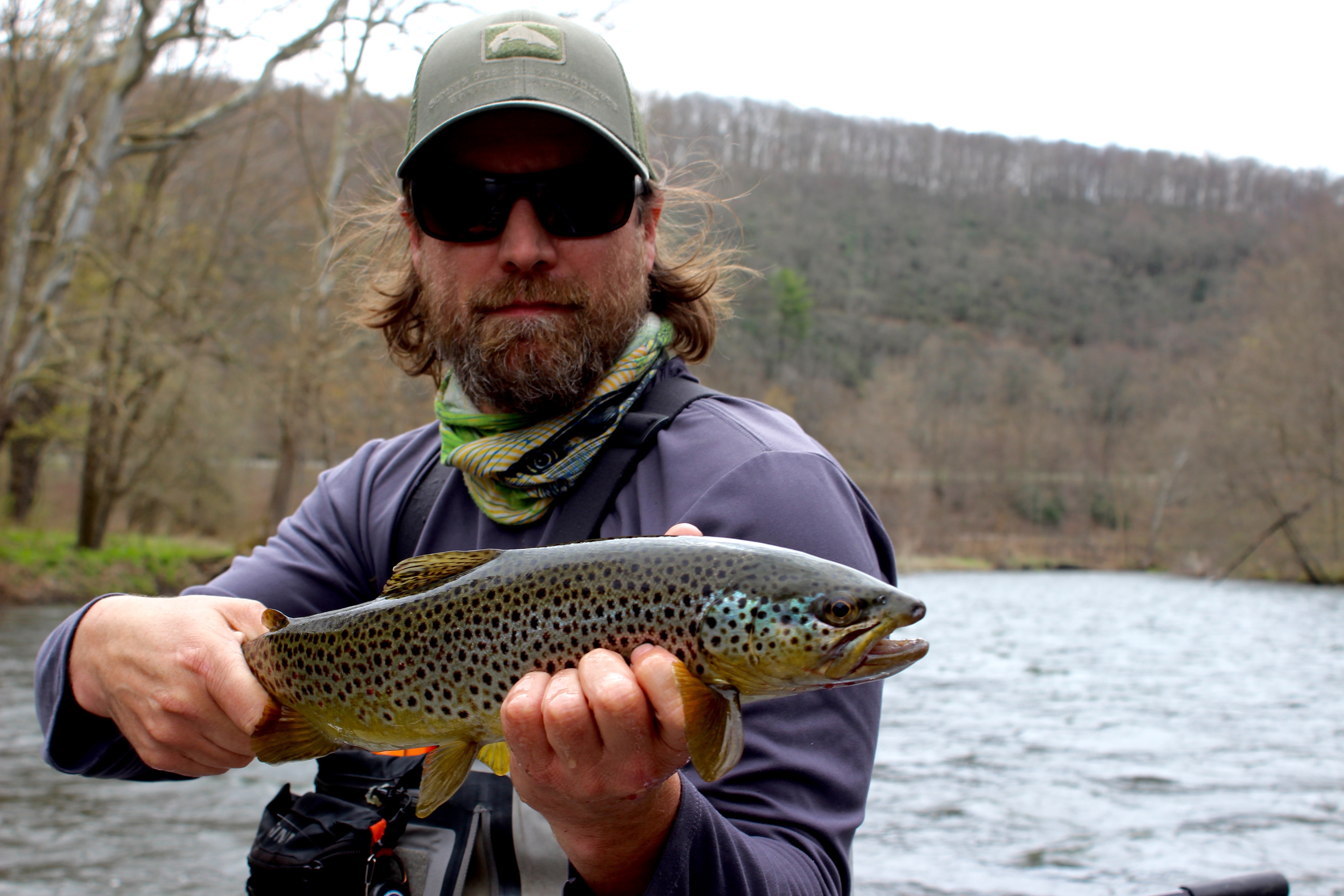 Matt with a pretty brown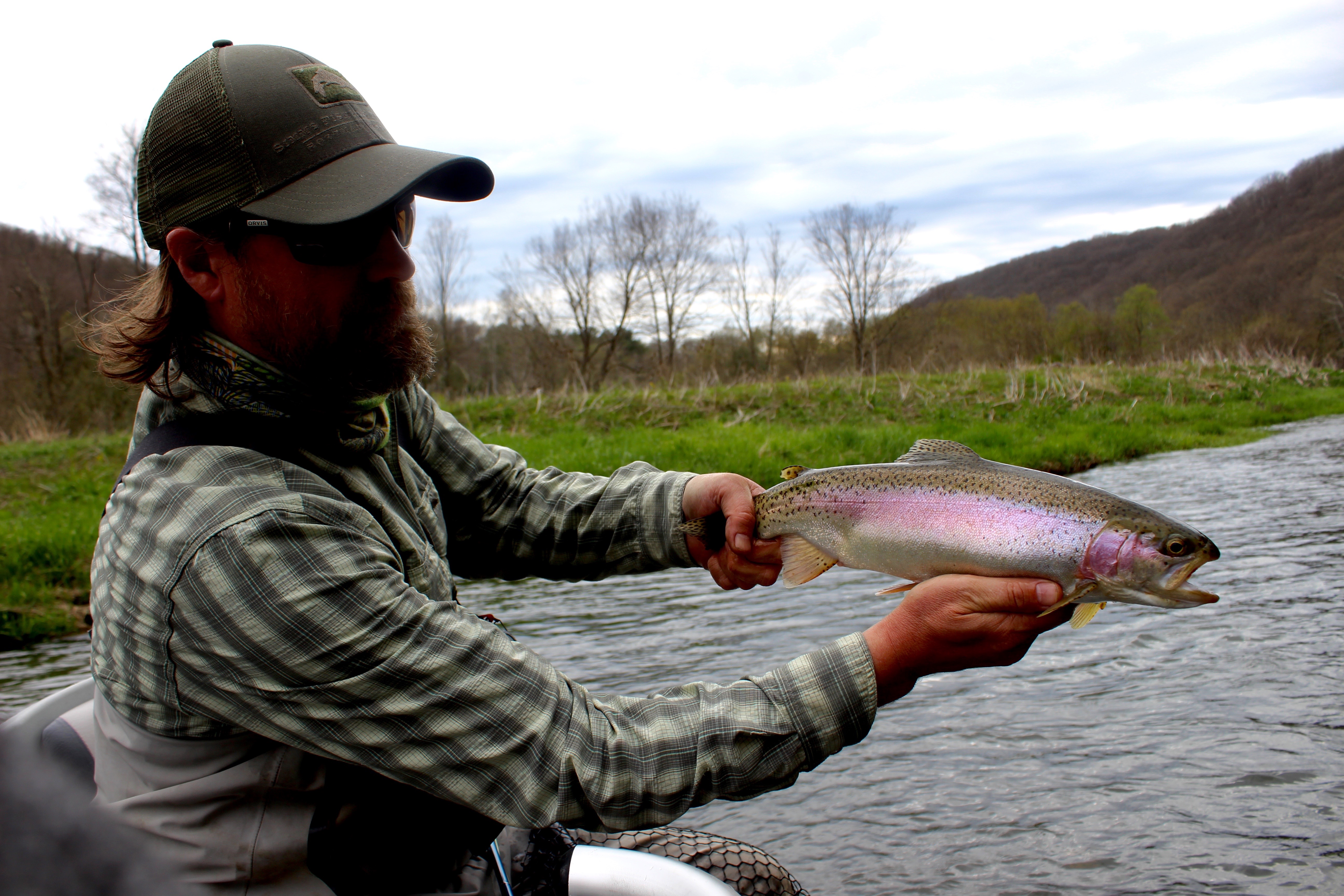 And a solid rainbow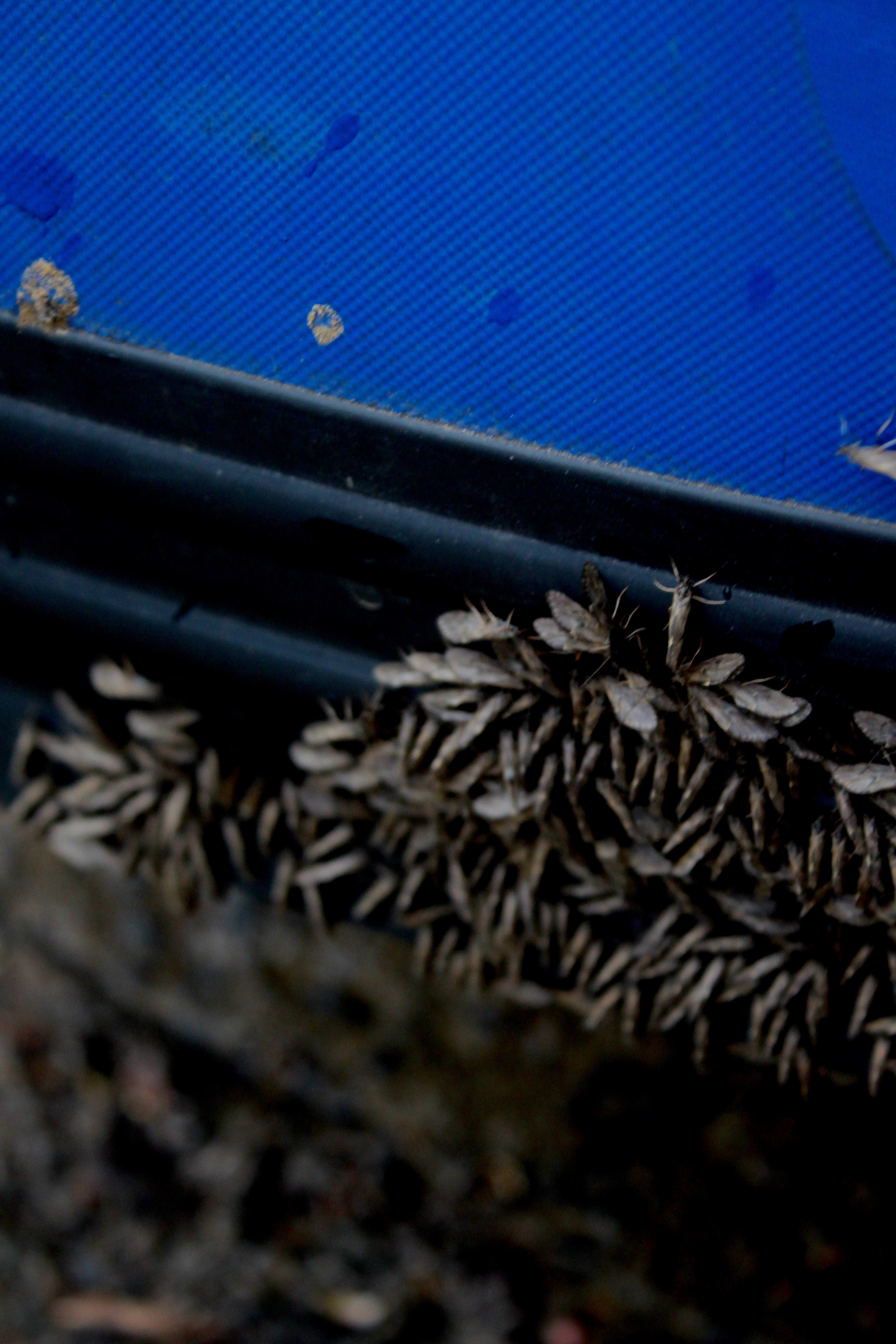 We floated through a snowstorm of caddis and picked up some hitchhikers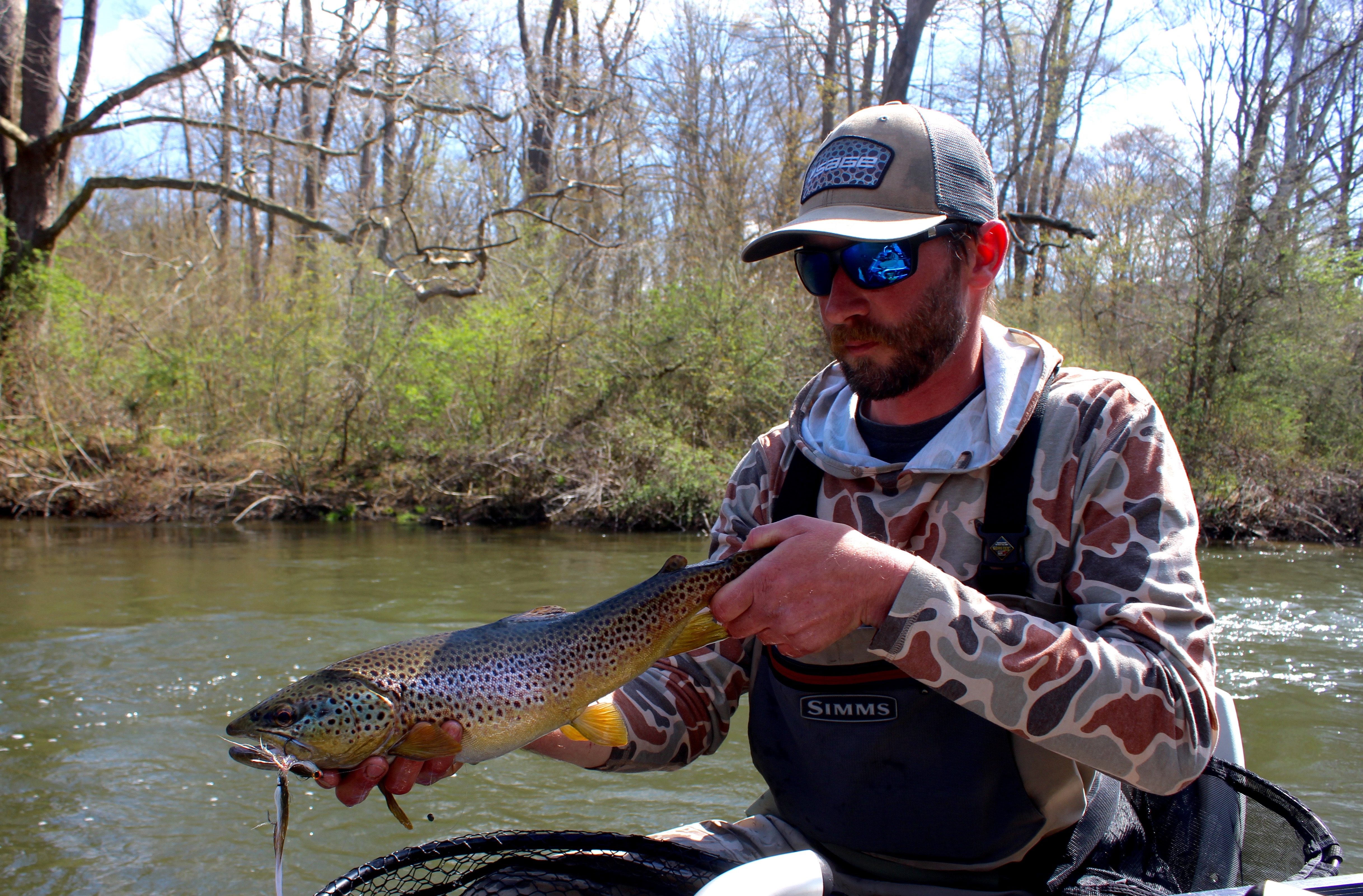 Jeff stuck the biggest fish on a double deceiver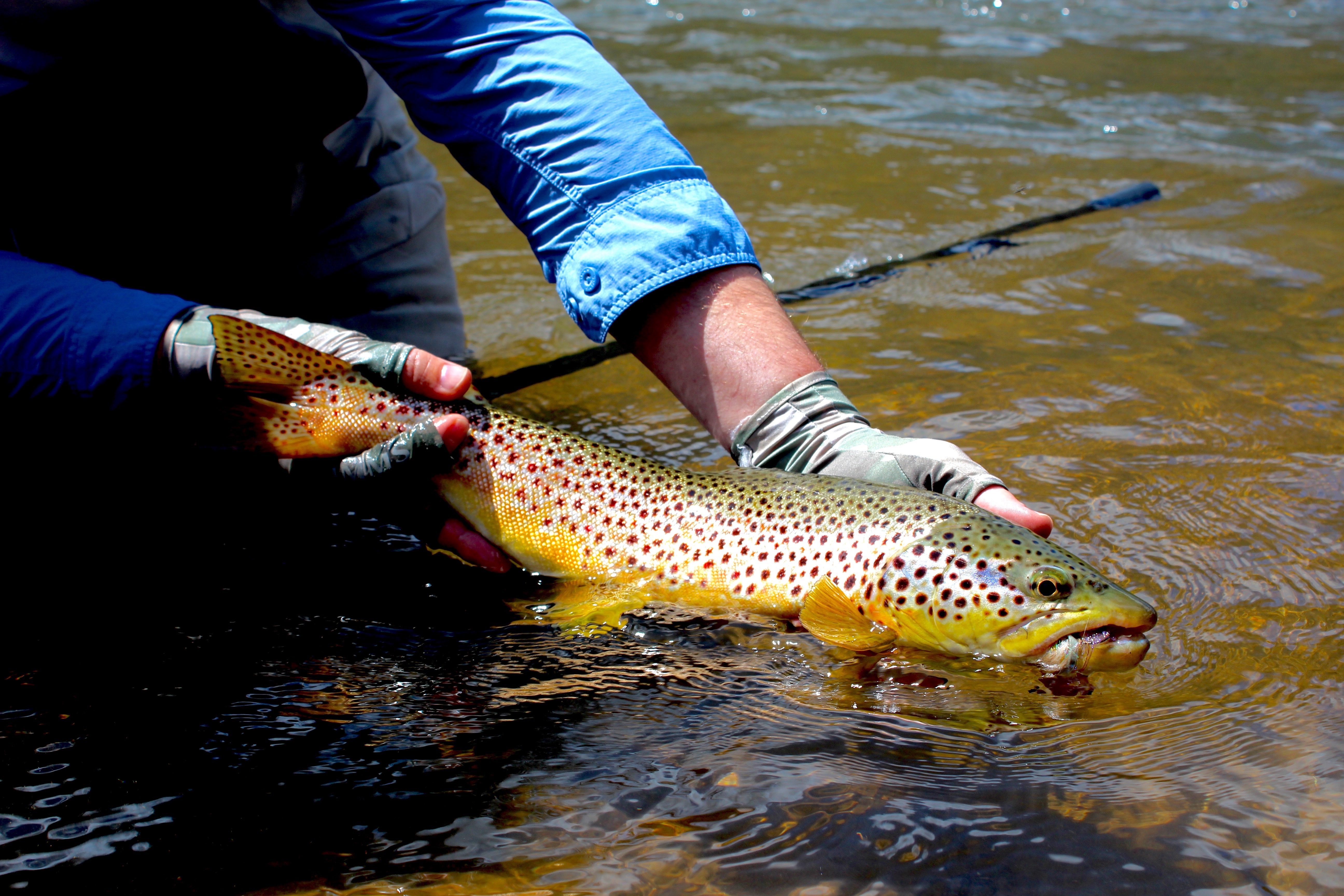 This was a rod-breaker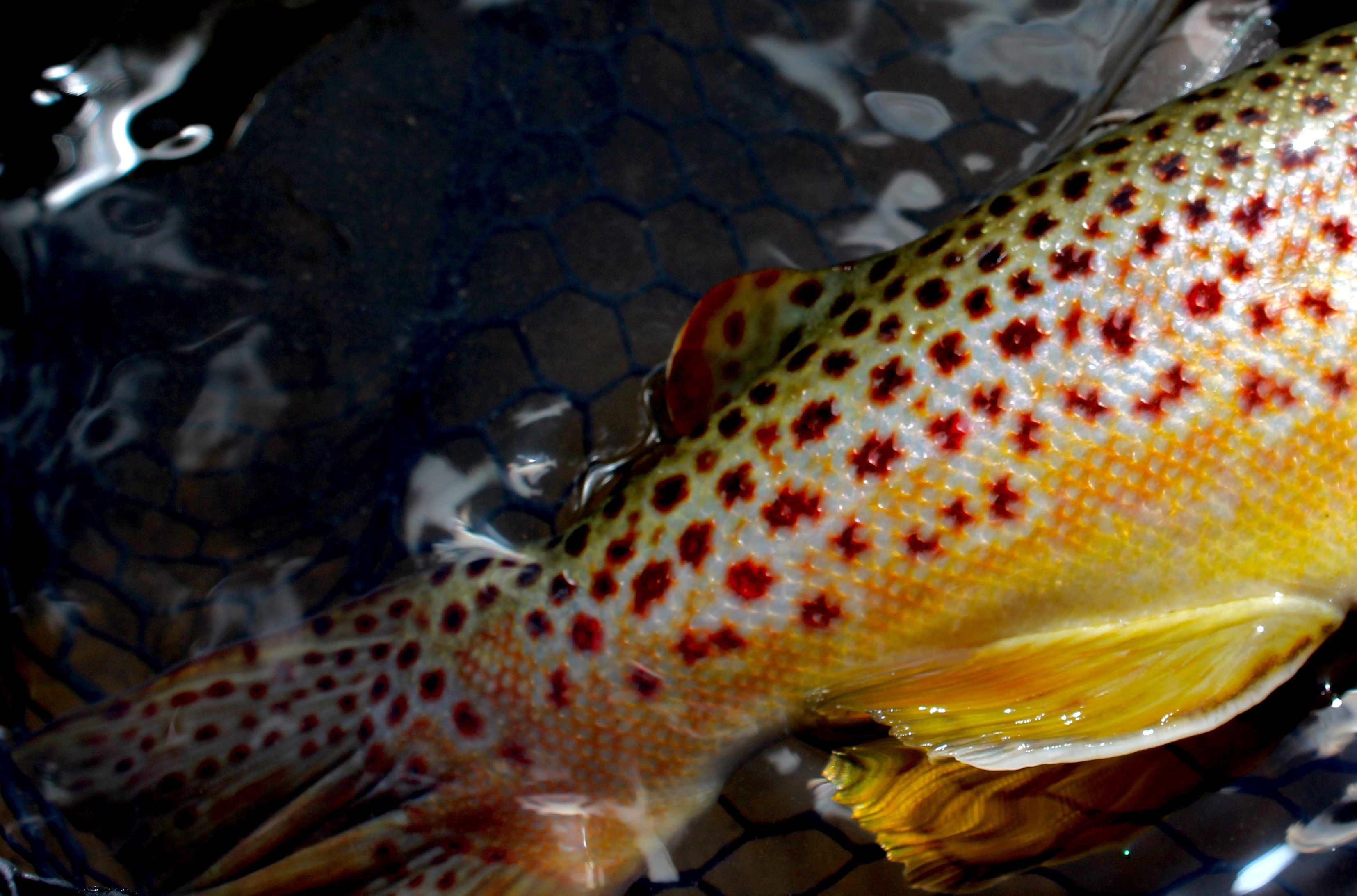 The red on this adipose fin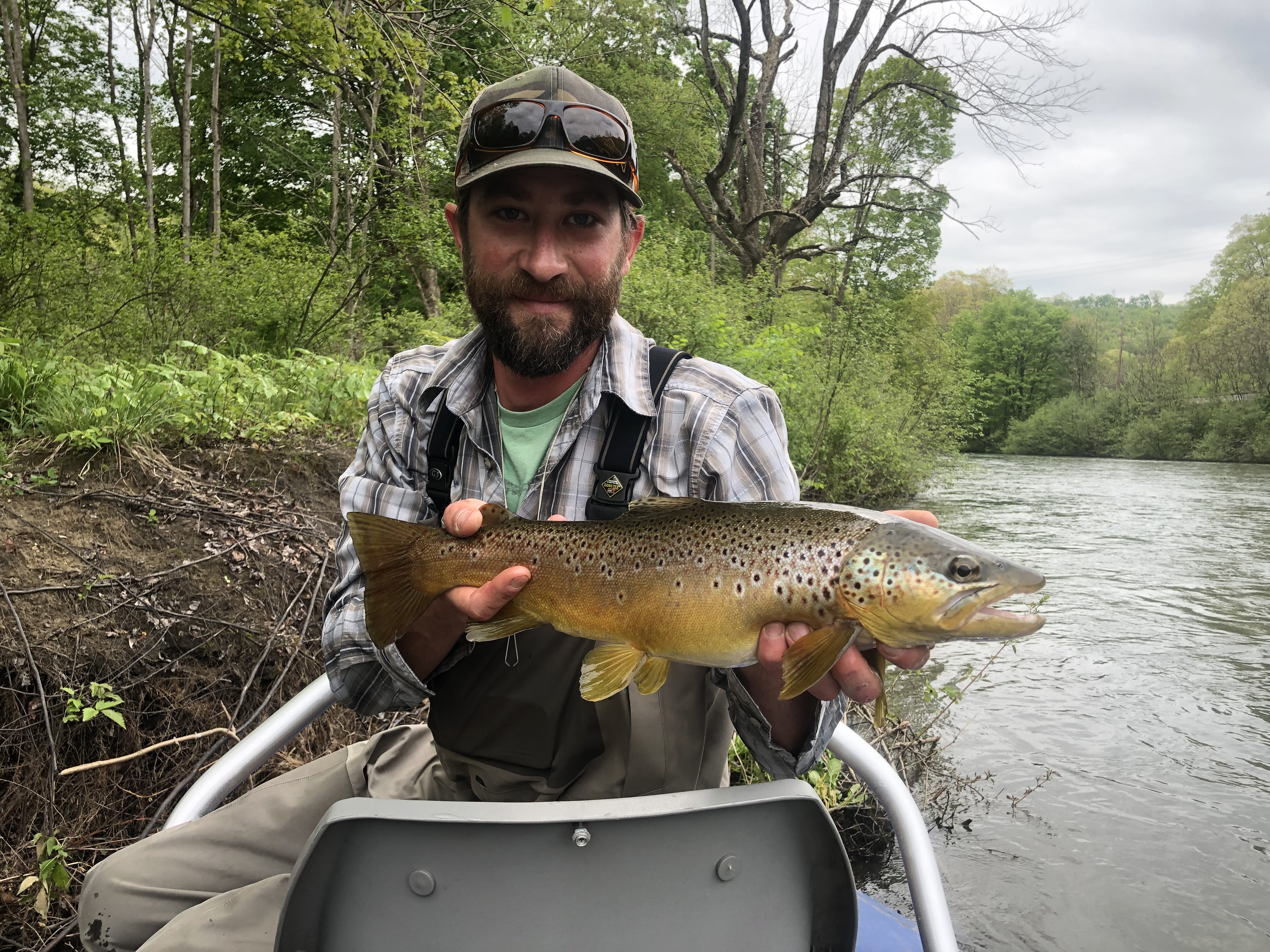 Jeff with a nice wild streamer eating brown
Spent the last few days hitting the wild browns in Pennsylvania and man it was too much fun! A good day streamer fishing is moving ten quality fish and hooking maybe three or four. On our float we moved somewhere around thirty up to around 25", hooked nine or ten and landed six- unreal! Jeff's fish above took a double white streamer literally as it hit the water looking exactly like a take on a mouse pattern- DID YOU SEE THAT!!!! Too much fun!
With steelhead in the rearview mirror, were hoping to get another few trout trips with the streamers before the water drops low for summer. When that happens big trout tend to stay deep, though terrestrials can tempt some up. 
Tight Lines,
 - D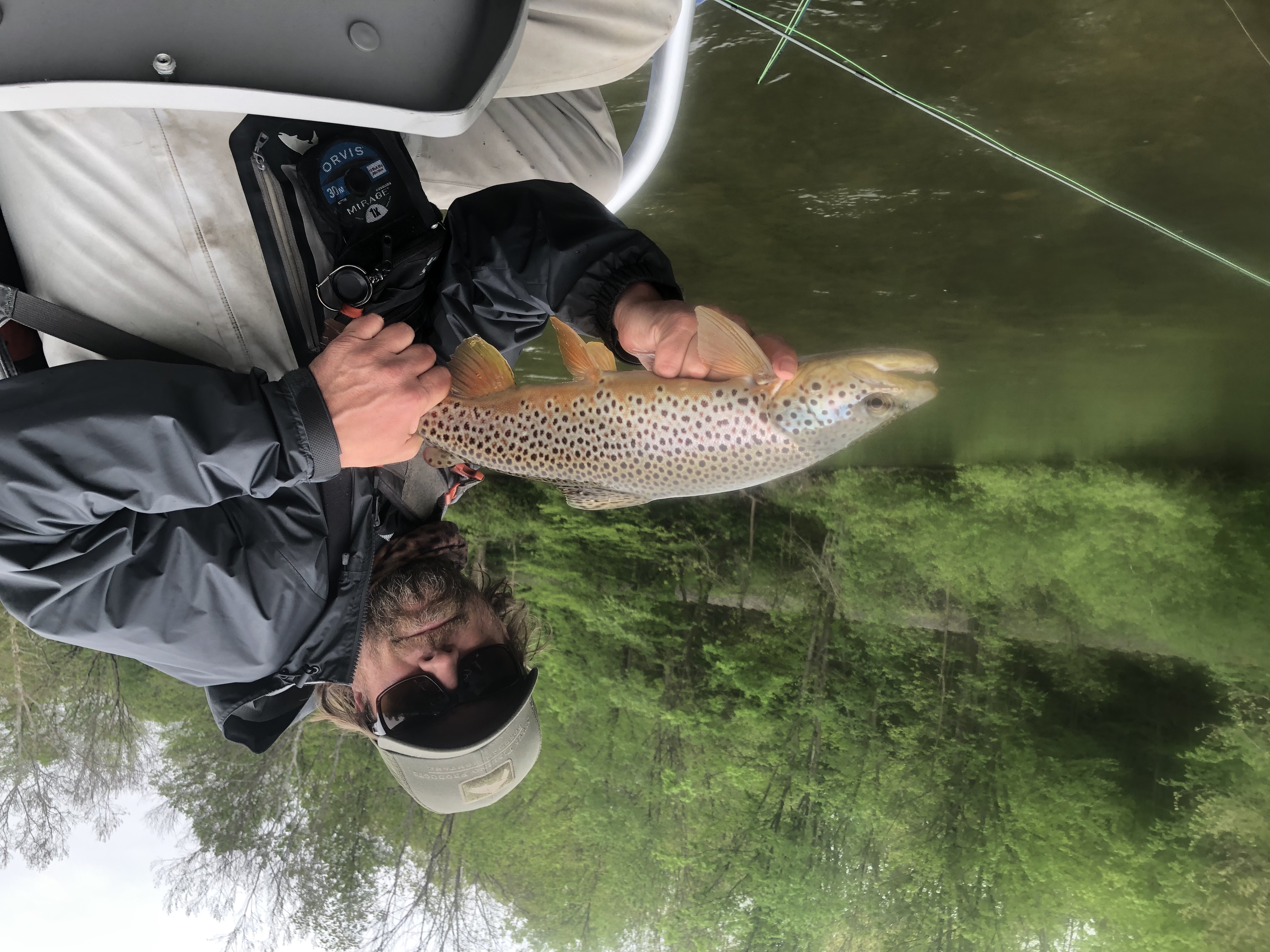 Matt with the prettiest fish of the trip ( I don't know why this pic will only load upside down)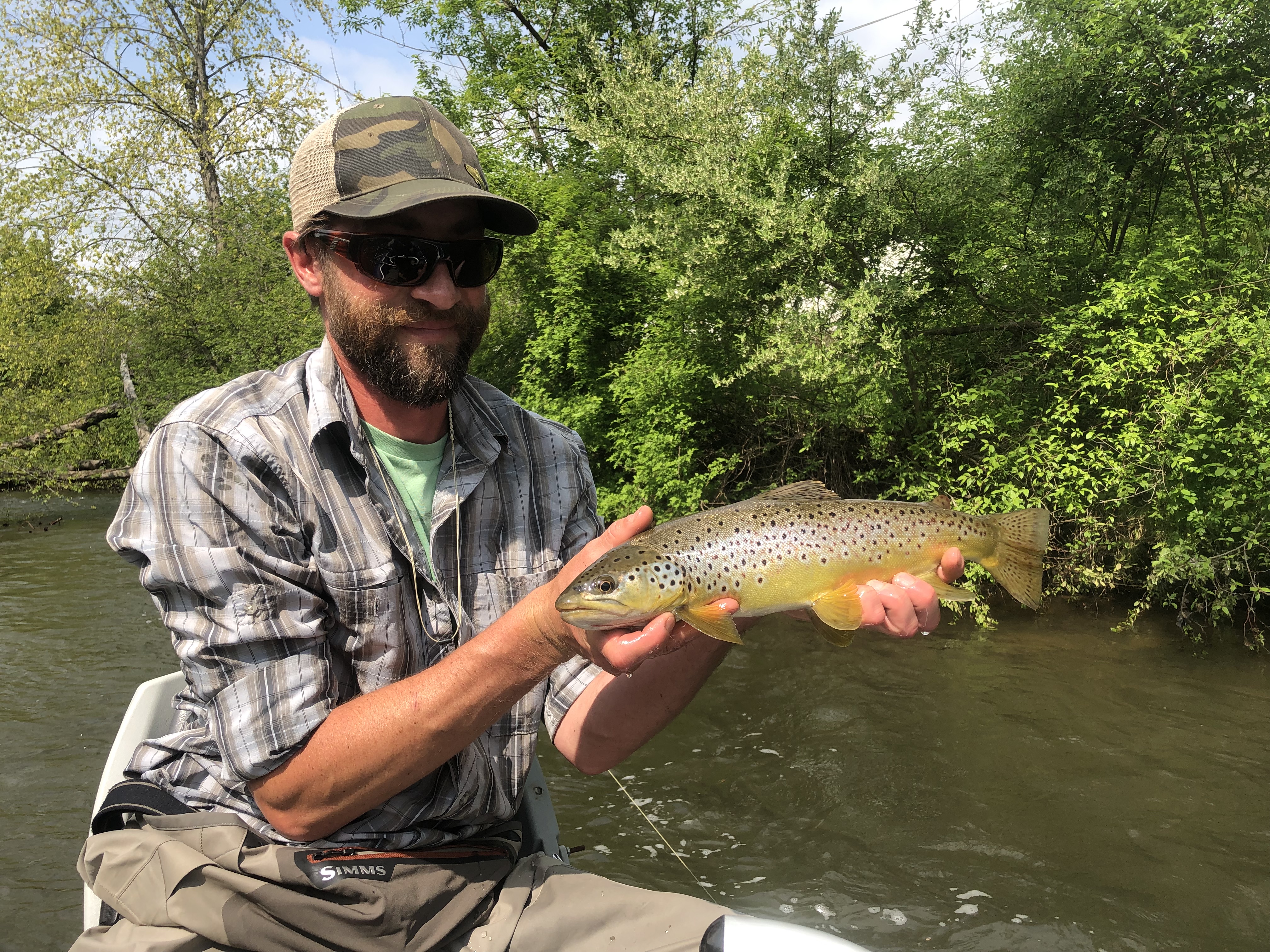 Jeff with another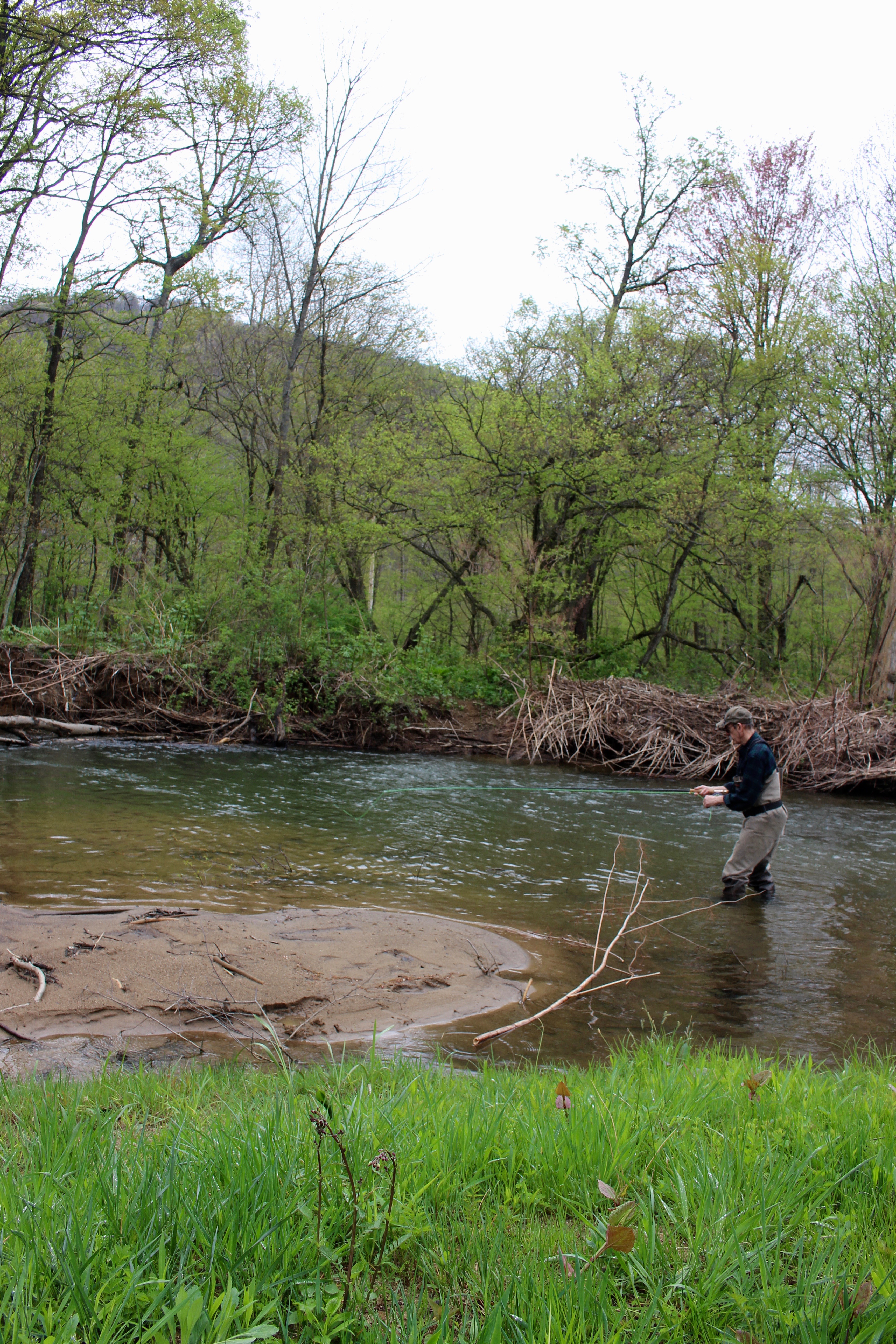 Dr. Tim working a cutbank with a streamer 
Well, was supposed to float the Catt a few days ago but the rain blew her out and the gentleman I was gonna fish with opted to reschedule. With my day free, took my dad out fishing. Was hoping to float the Allegheny but my dad needed to be back by mid-afternoon, so went to check out a new stream for wild browns! Knowing the size of the fish in the creek, we spent the day chucking streamers into the cutbanks and wood-clogged deep pools trying to move a few good fish.
It's surprising at just how big some of those fish can get in these smaller streams, and to emphasize this, the upper part of the creek, while generally only about a fly rod length wide, is classified as a trophy trout stretch, meaning plenty of fish in that 14-20" range. Anyways, we checked out the lower stretch first, and in the second pool, I lost a decent brown about 15" or so. Watched him come out and eat, but my set was sloppy. Had another fish follow a few pools later. My dad did just about the same. Streamer fishing small creeks in daylight is always challenging because generally the water is clear, and when the fish turn to follow the streamer, they usually see you if you're fishing upstream and stripping back down. If you fish downstream, then they generally see you working down into them. So it's kinda a catch 22 sort of thing. But it's a good way to get to know a stretch and figure out where the good fish hold, so you can come back at dusk and fish at night to them.
After a couple hours we jumped up into the trophy trout water. And boy was that small water to say the least. But the first cast in the first pool had a really nice fish somewhere around 18" chase, but again dart away as soon as he saw me. I guess I could have kept a lower profile, but on exploratory trips the goal for small creek streamer fishing is to rule out the pools and runs that aren't holding fish big enough to eat a streamer, so that next time you can concentrate on the ones that do. To be sure, you will never get to know exactly where every streamer trout in a creek is, but these fish are resident fish meaning that where you find them is where they live. So try to focus on the long game, and not worry too much about instant rewards. All in all I was really impressed with the fish I saw coming to the streamer in daylight, and even missed a shot at a decent one. It was certainly a challenging fishery, but can't wait to make it back there to hit at dusk and over night. It even smelled a bit mousy over there...
Tight Lines
  - D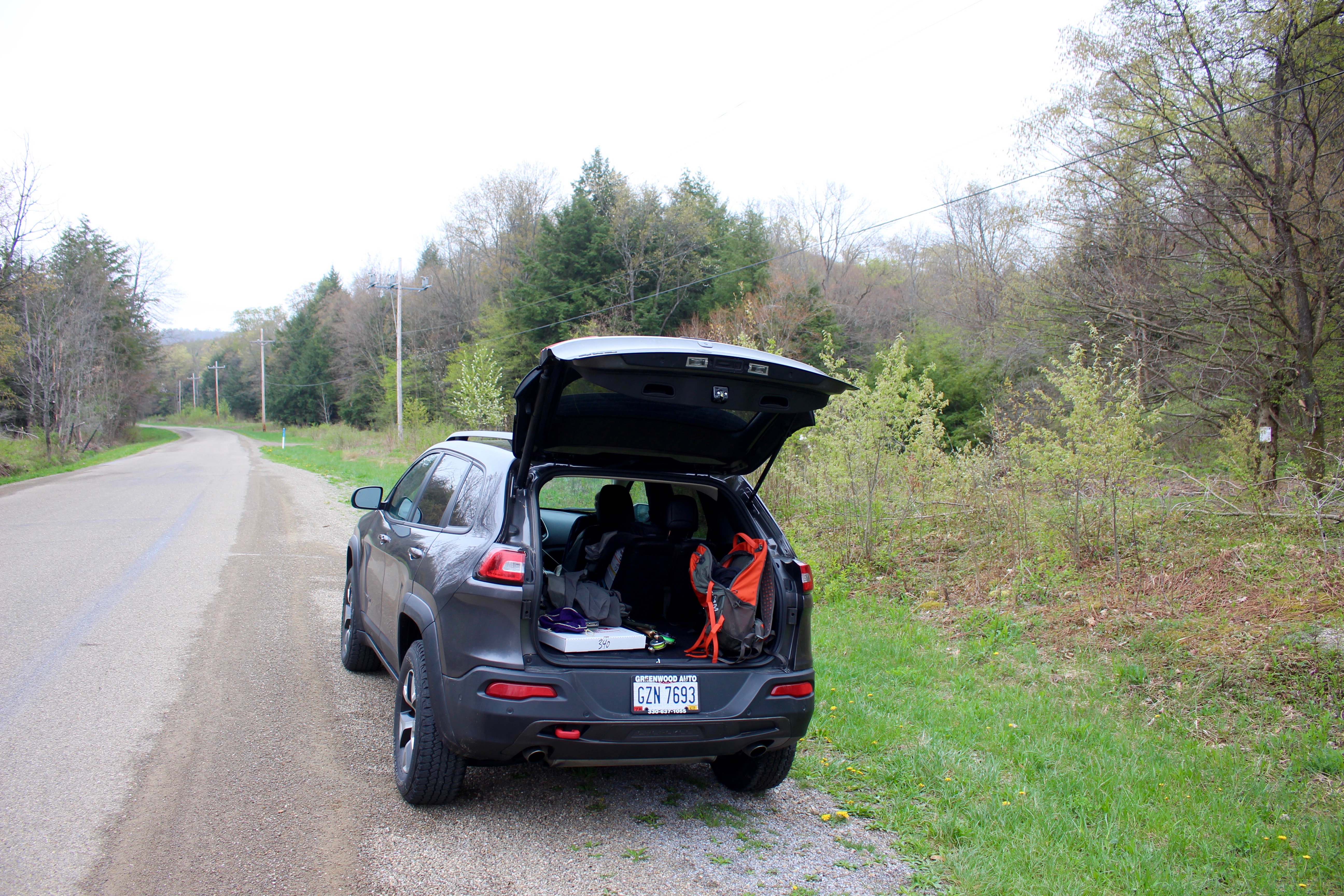 Roadside parking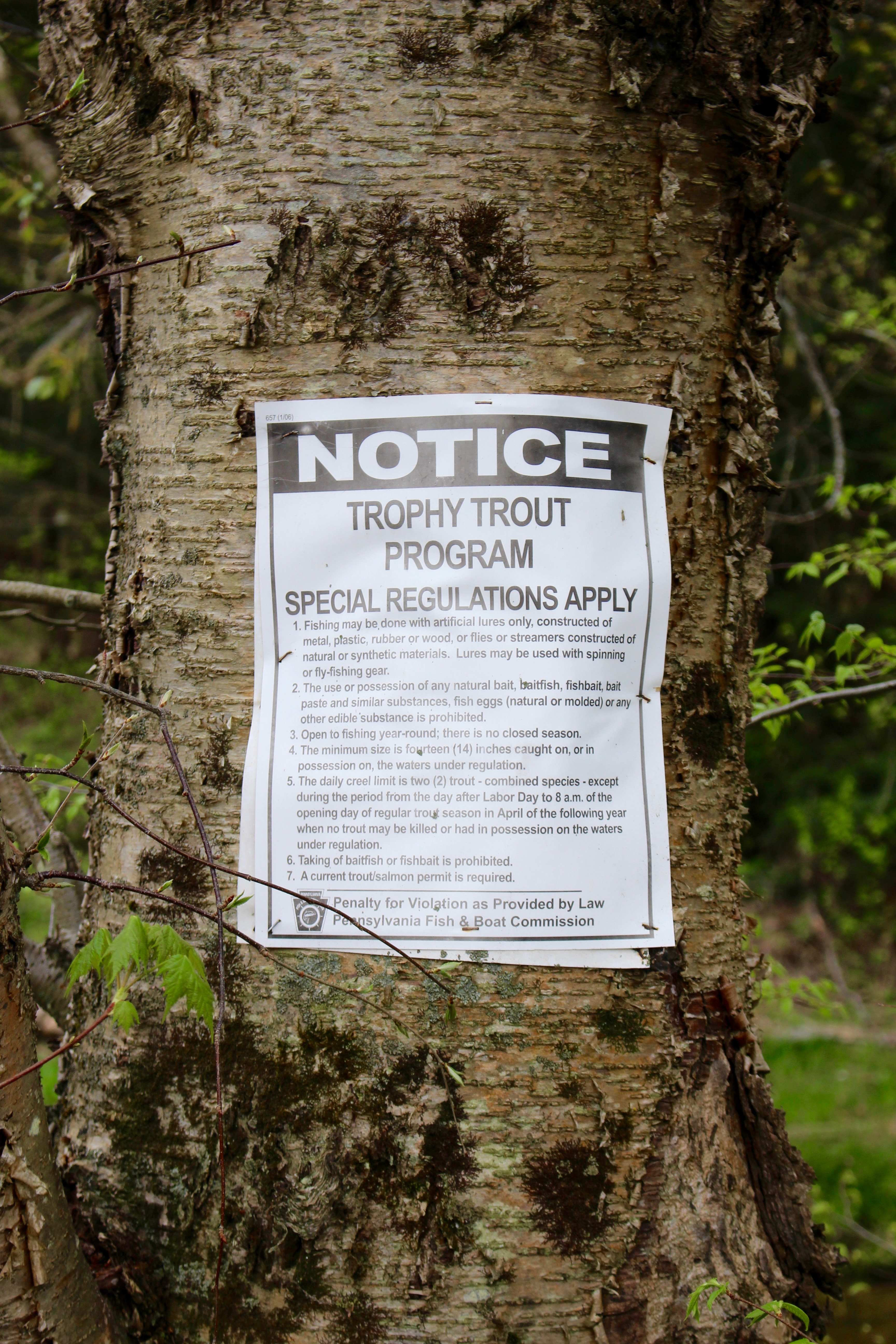 Trophy trout boundary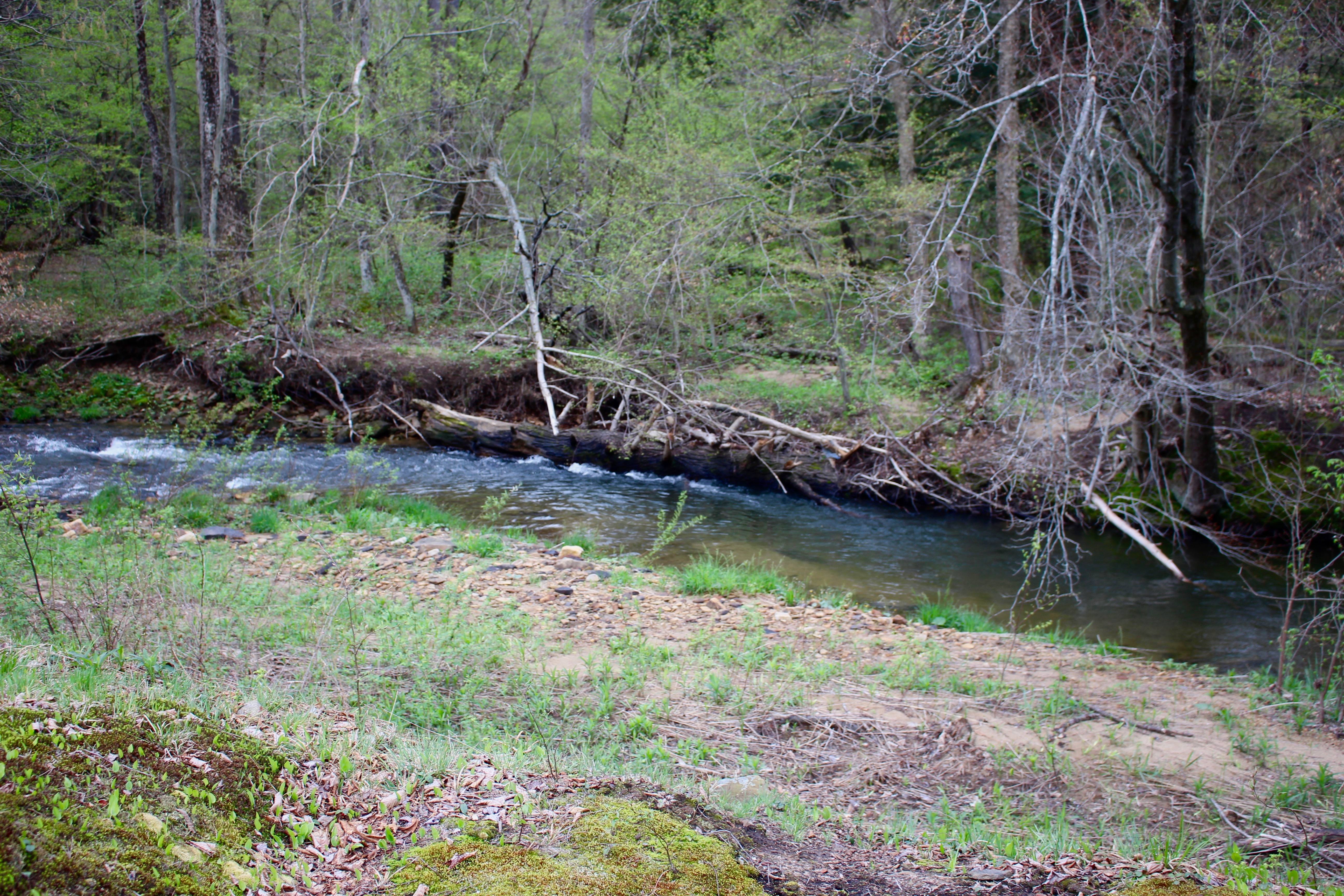 Had a good fish follow from that log- skinny water!
/