Shopping Cart
Your Cart is Empty
There was an error with PayPal
Click here to try again
Thank you for your business!
You should be receiving an order confirmation from Paypal shortly.
Exit Shopping Cart
Guided Fly and Spey Fishing Trips for Steelhead and Brown Trout with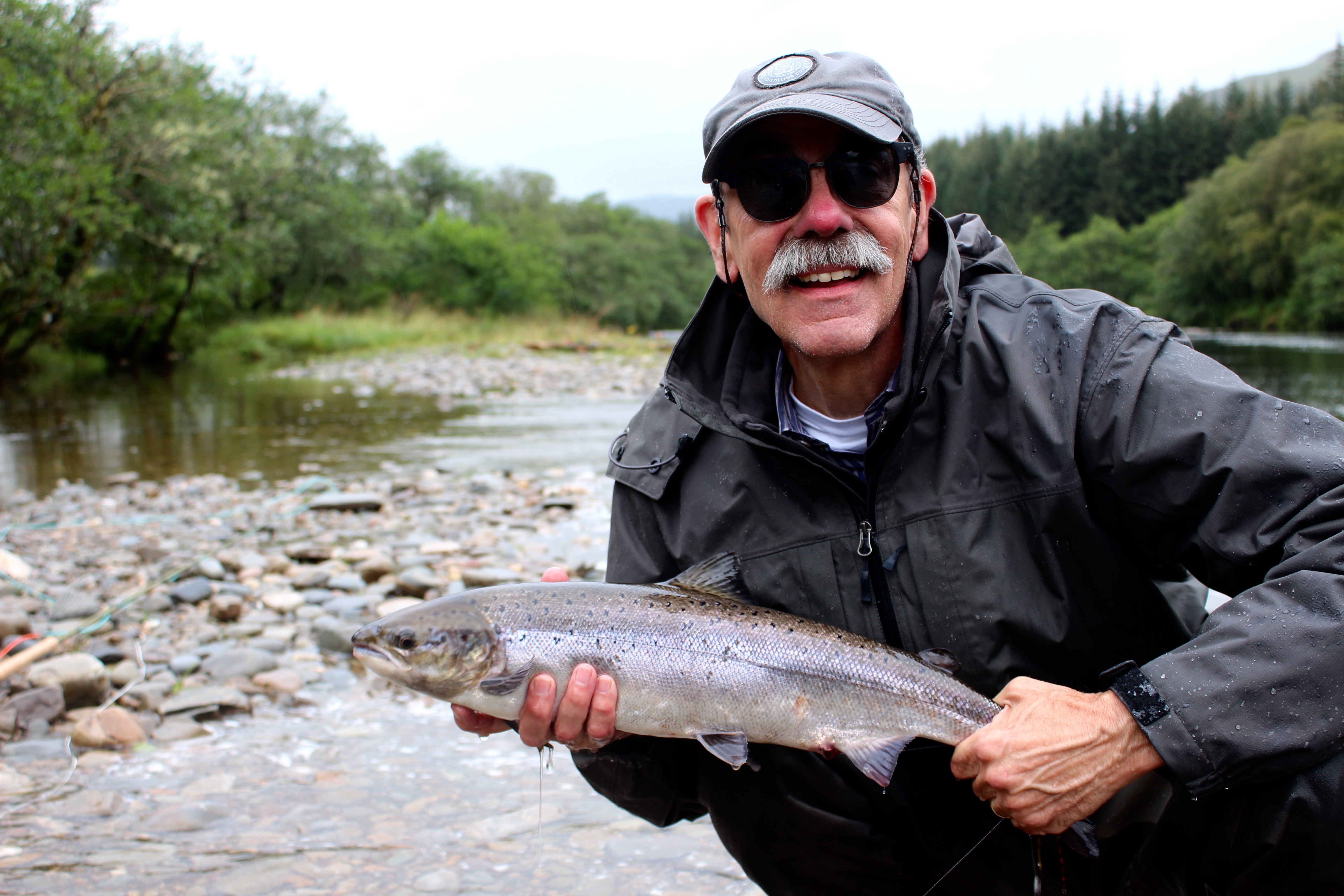 My dad with a beautiful wild atlantic salmon!
Went to visit my sister over in Scotland last week with my family. Not really a fishing trip but you better believe I was going to bring a few rods. Fished the Tay one day and a smaller Western Highlands river another morning. Boy what a place! Where we fished the Tay it was big wide salmon river, with long pools and tailouts that fished a floating line and small spey flies well. We watched anglers fishing from the boats with ghillies catch a few but from the shore we didn't have any luck with the salmon. After a good bit of no action, I put on a tip and a whiskey hangover and did manage to swing up a small pike which I was told on the way out was very rare on the river. Surprise surprise the hangover found another victim.
But then one other morning we had a few hours to kill before a falconry demonstration (which was unreal by the way) and we snuck out to a river close to where we were staying. When we met up with the ghillie, I told him we only had like two hours and he put us in the spot. Right off the bat I found a beautiful little wild brown trout. Then a while later I saw a fish roll on the inside of a seam where my dad was working his way through the head of. A short while later his rod bent under the weight of a fish that was not a pike or brown trout. After a bit of a battle, he played the fish in close enough where I could tail it for him. It was what would be considered a grilse in ballpark of five or six pounds, but it was a wild atlantic that passed over no less than three waterfalls up to about eight feet tall to meet us in the pool. And it was magnificent.
Looking ahead, with the end of summer nearing our headlights, we're now well into fall bookings for what should be a good season. There are lots of big browns being caught in Lake O right now, and it wont be long until steelhead start finding their way into the Catt and other Lake Erie creeks. Should be a great season!
Tight Lines
 - D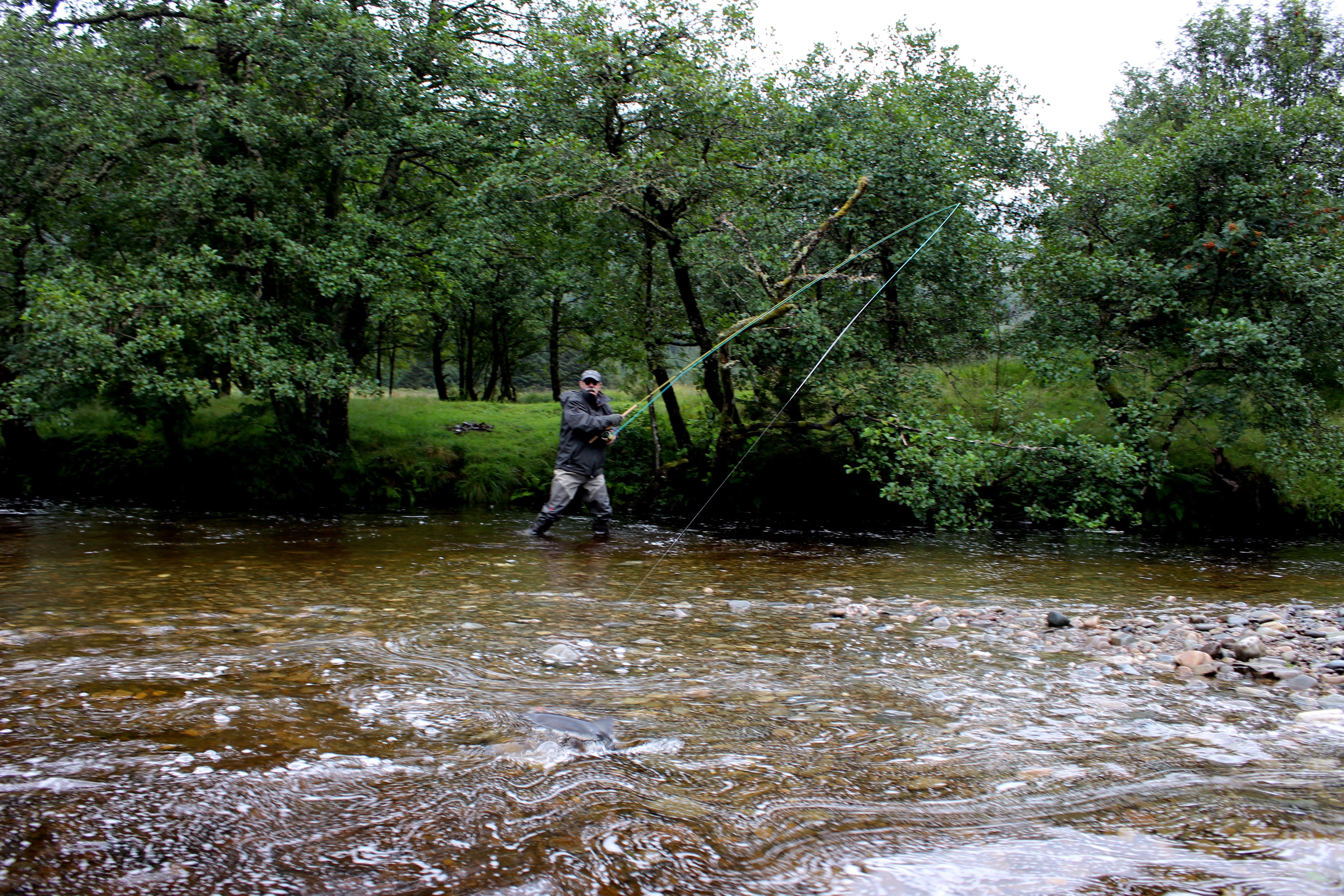 Dad fighting his atlantic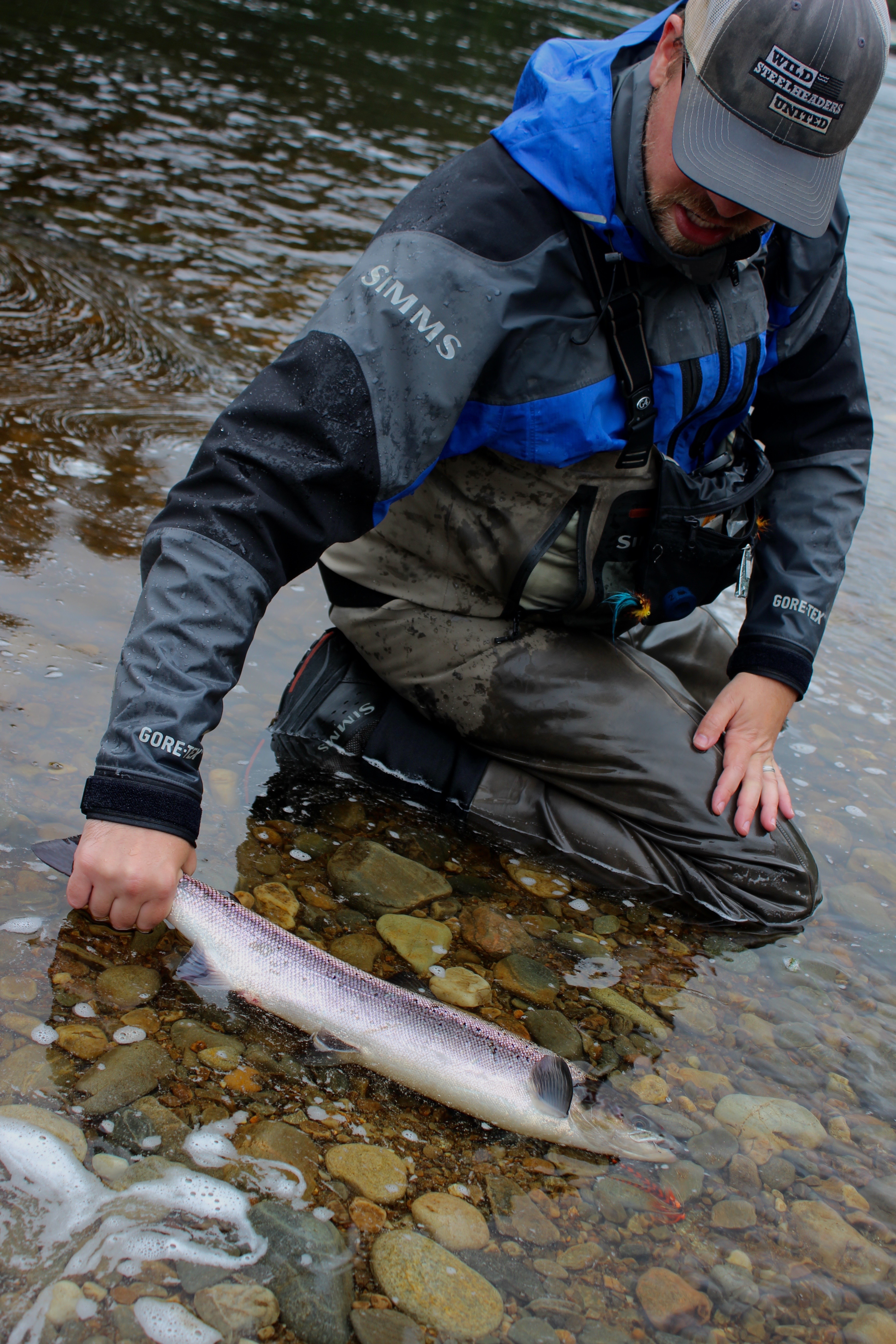 Tailing the salmon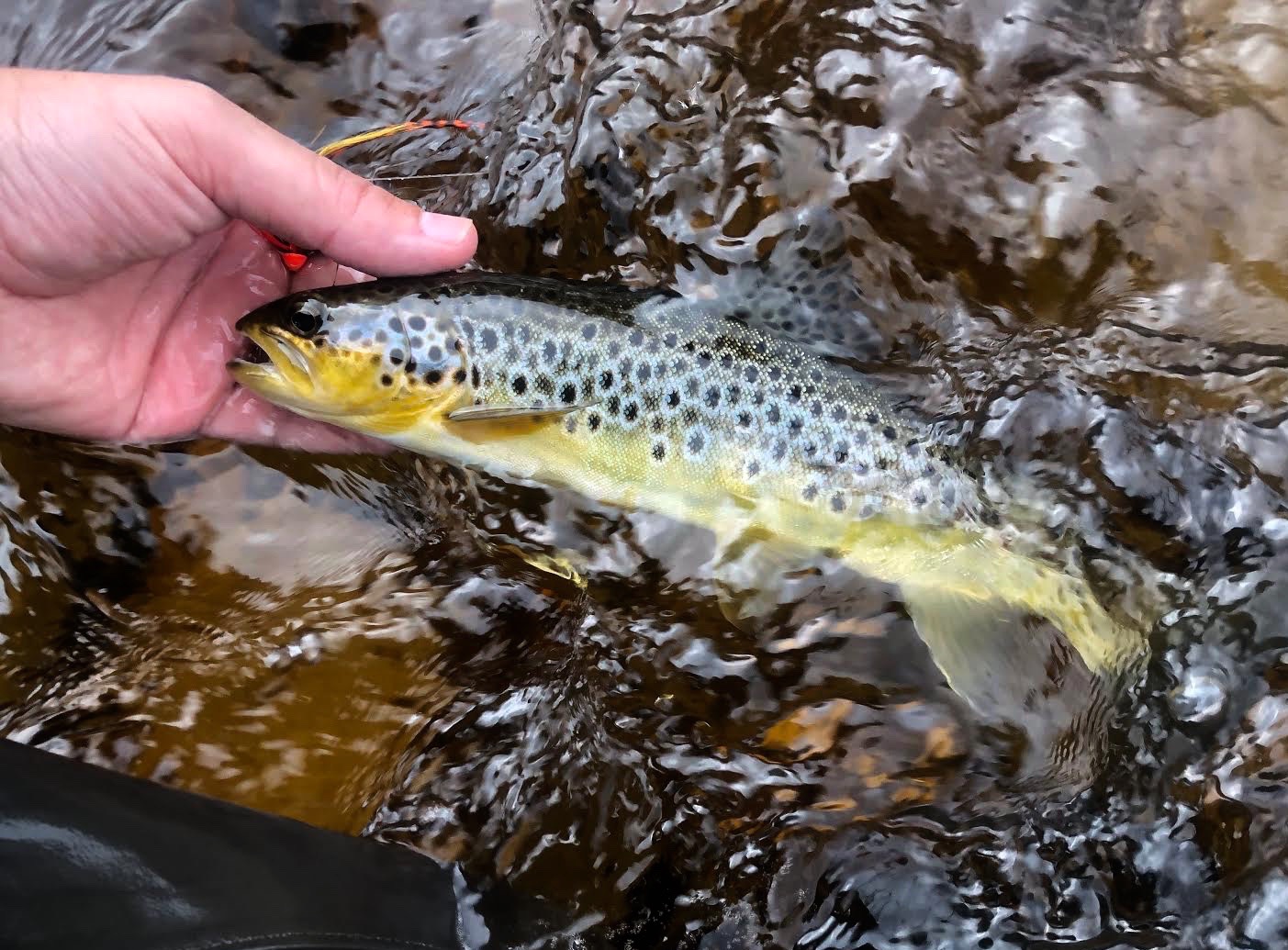 My brown trout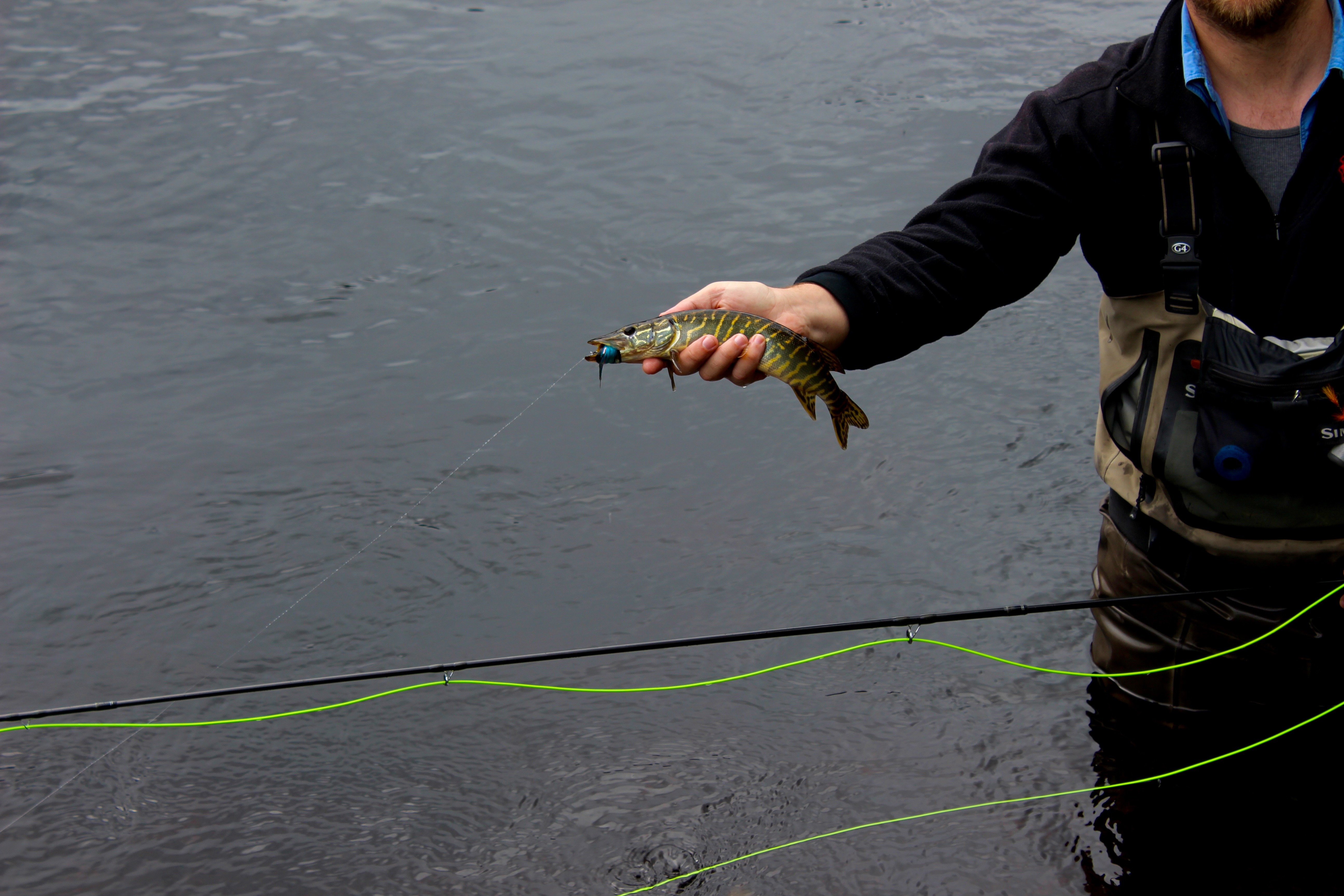 Pretty pike from the Tay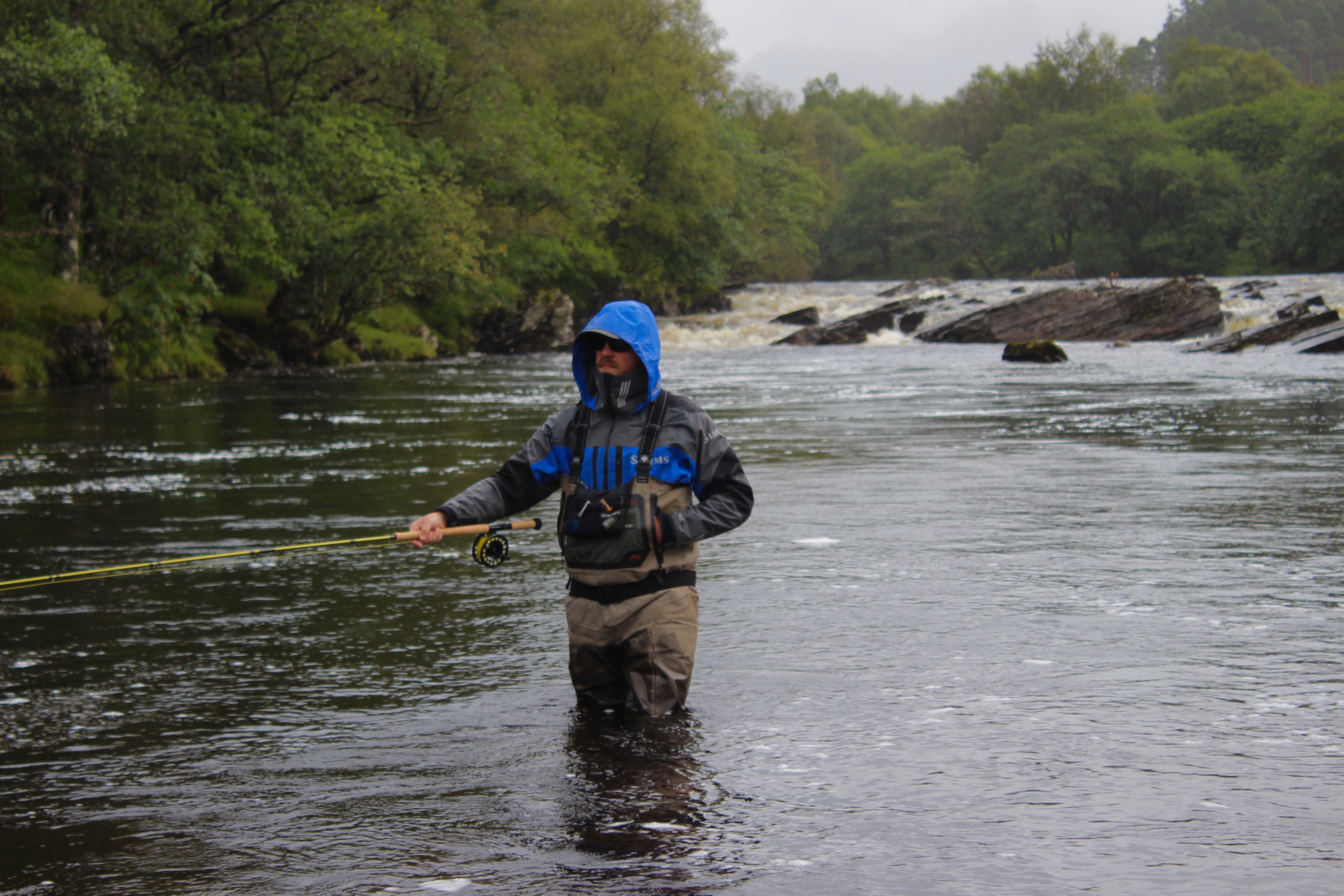 The money pool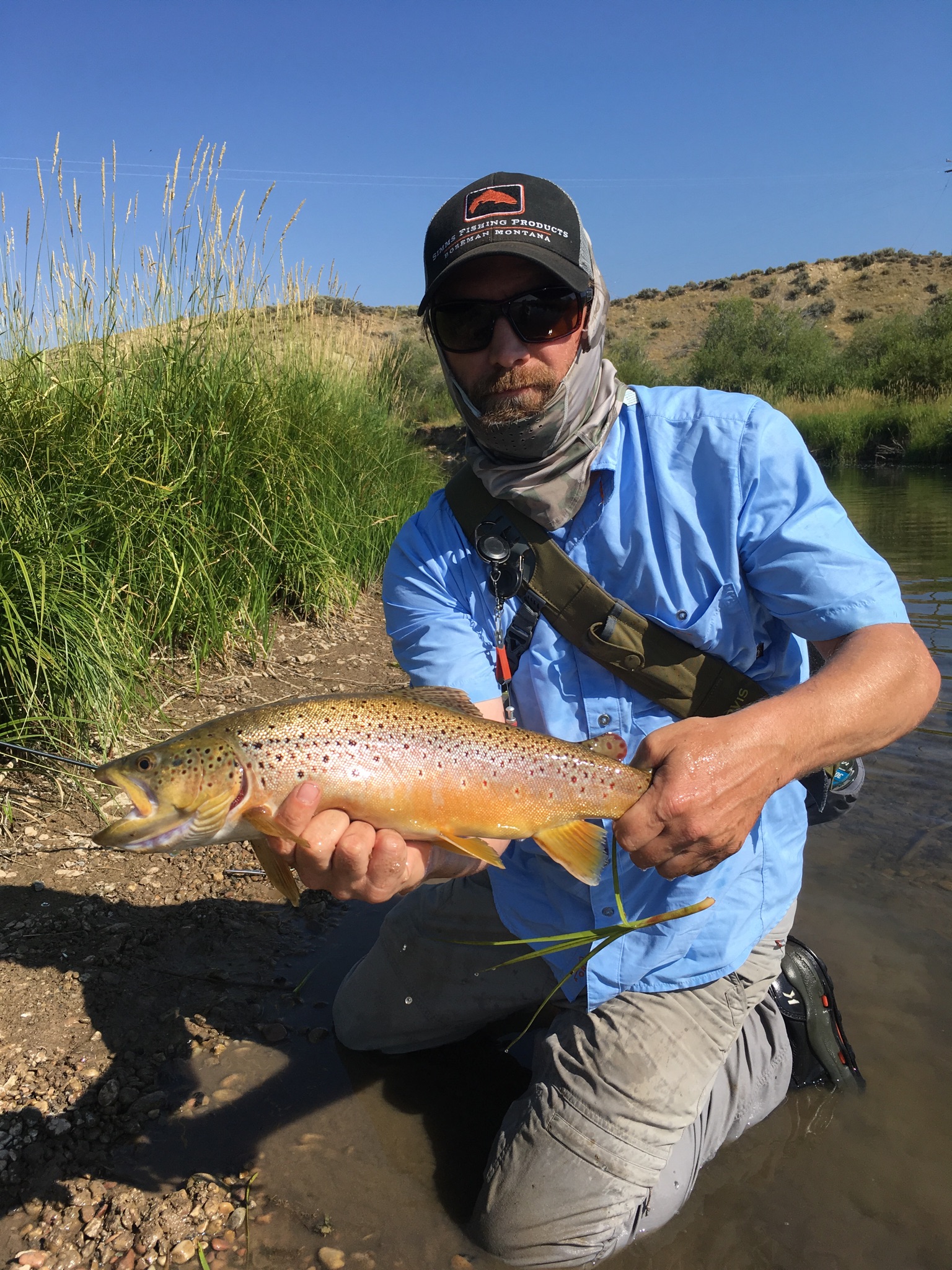 Matt with a really nice brown trout
Well we're at that time of year again. Steelhead season! But before I get into what this fall has in store, Matt and a couple of his buddies just finished up a few weeks of trout fishing out west in Wyoming and Utah. From the pics he sent me, it looks like they had a blast with browns, rainbows, and cutthroat all captured, photographed and safely released! 
Back to business. Last week was miserable with temps in the mid nineties. But what a change happened on Friday! Temps started dropping and by Saturday morning we had temps in the low sixties with rain, and it hasn't stopped raining or dropping temps since! As I write this, it is 57 degrees and drizzly. This front is sure to draw in the first small push of fish, though larger systems are all high and dirty and will remain so for a few days at least. Even the smaller creeks will be off line for a day or two with all the rain we've received.
Looking ahead the rain is supposed to taper off today, and the temps are going to be bouncing back up. By the middle of the week the forecasters are calling for highs in the low to mid-eighties. Water temps will trend with air temps, so if you are planning on getting out and looking around on the creeks and rivers as they drop back into shape over the next few days, please be mindful and bring a stream thermometer. Concentrate fishing efforts during the first few hours of the morning, and if you get a water reading over 65 degrees as the day progresses remember to call it quits.
As for this fall season, last year we had a really consistent run starting about the first week of October. The two week forecast has the temps dropping back down after next weekend into the sixties with consistent rain. Hopefully this next heat wave will be the last real warm spell of eighty or more of the season, but you never really know. If the weather does pan out as called for, we should be in store for another consistent early fall season- which we'd love to see.
Can't wait to swing the floating lines.
Tight Lines,
 - D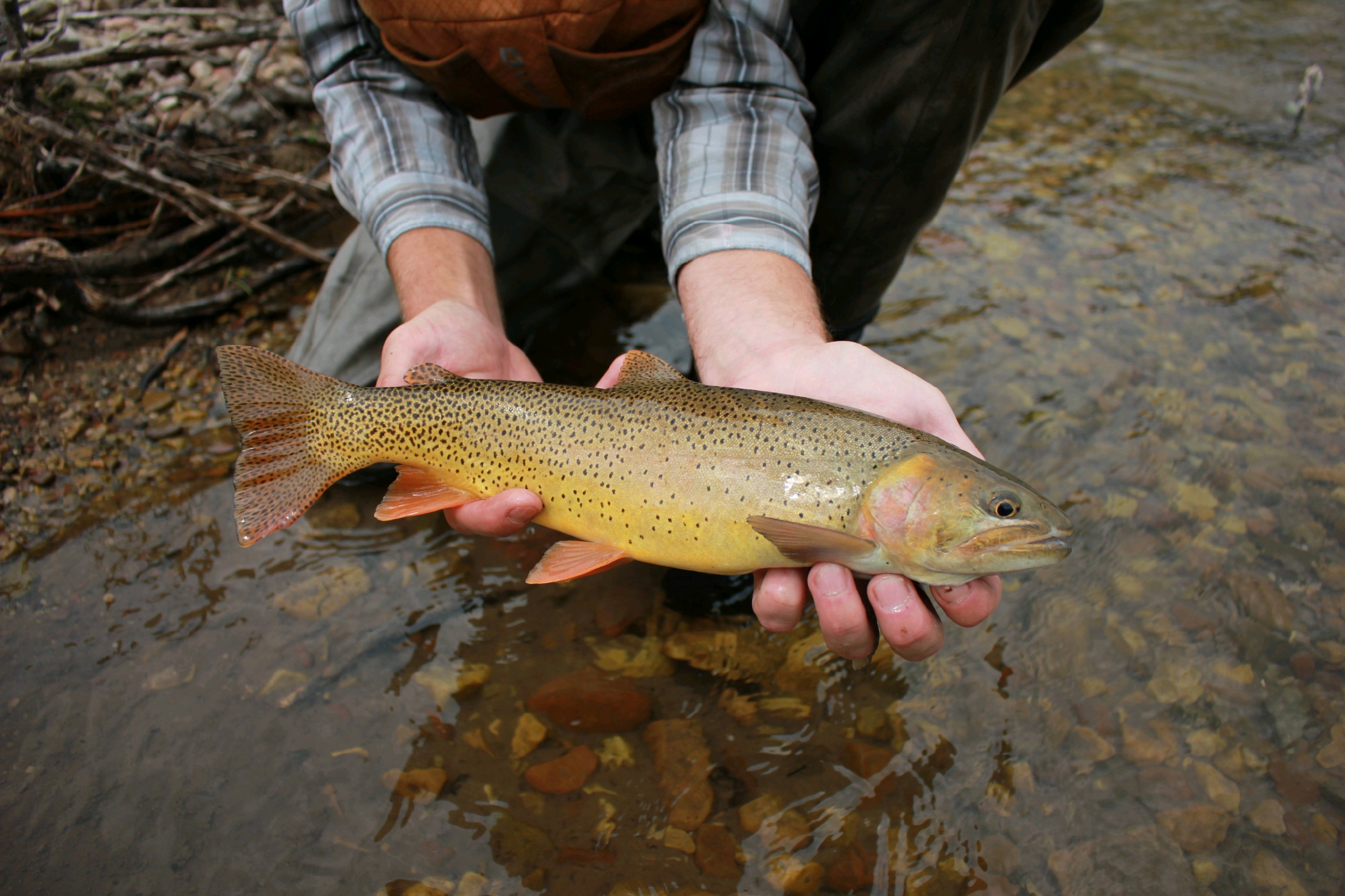 Beautiful cutty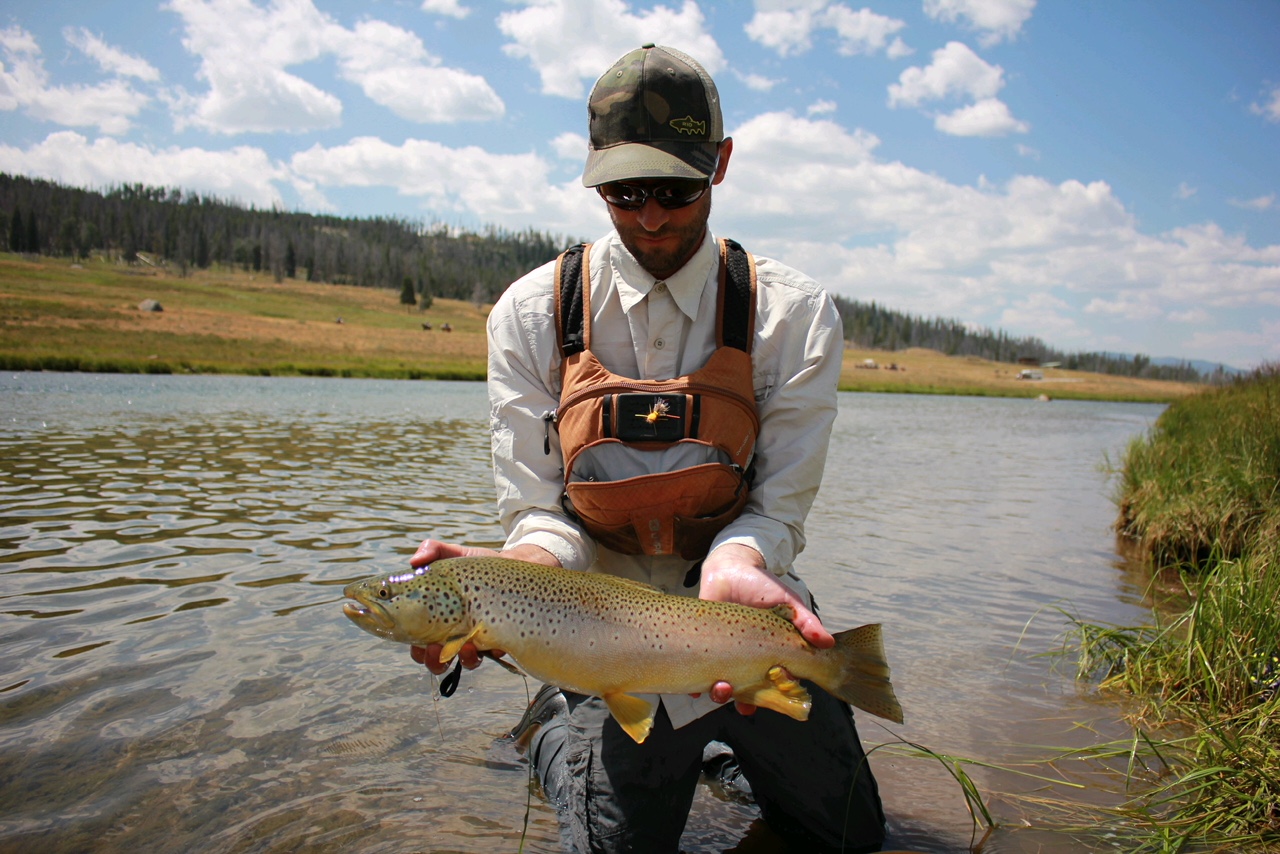 Another great brown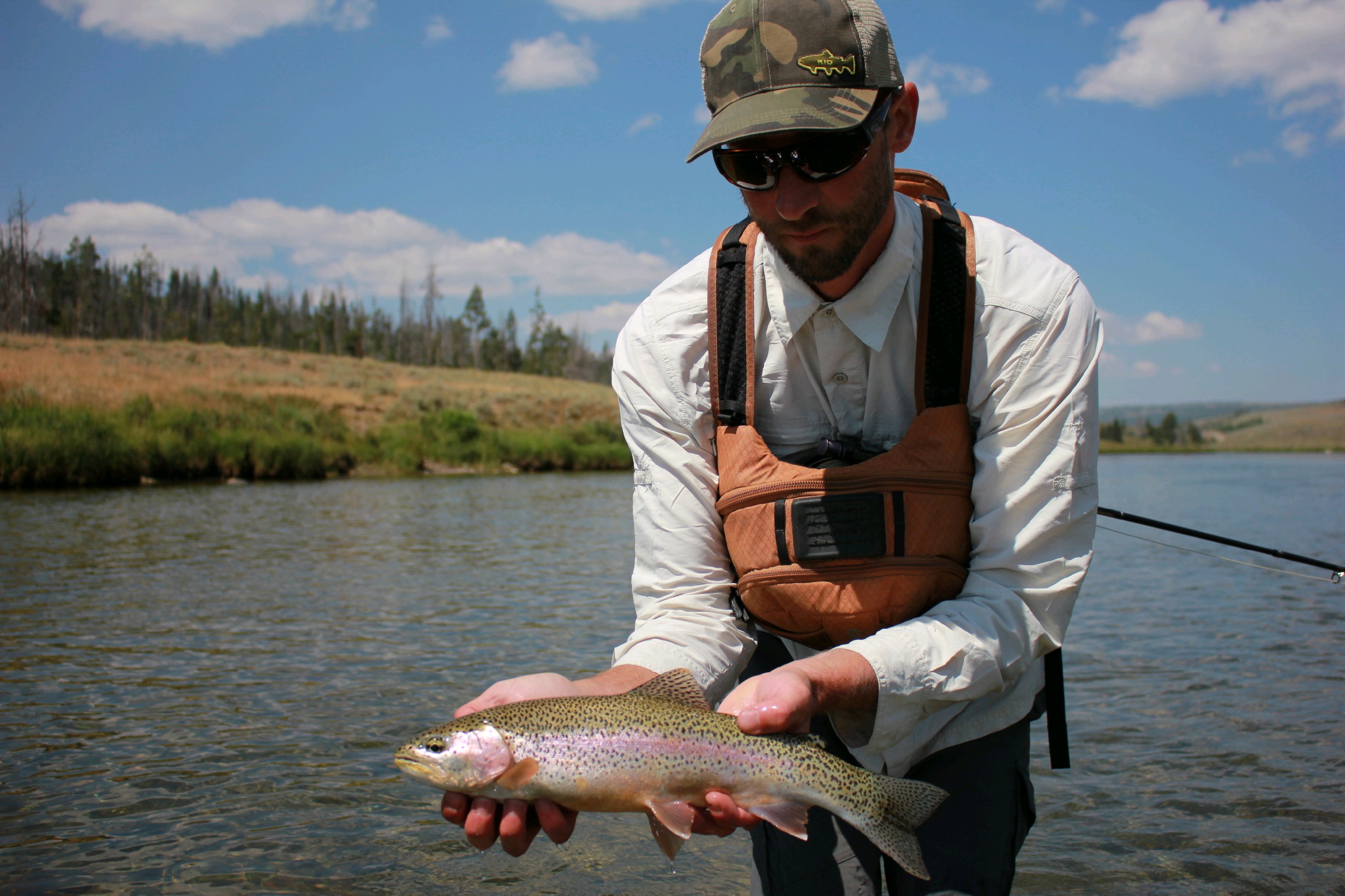 Clean rainbow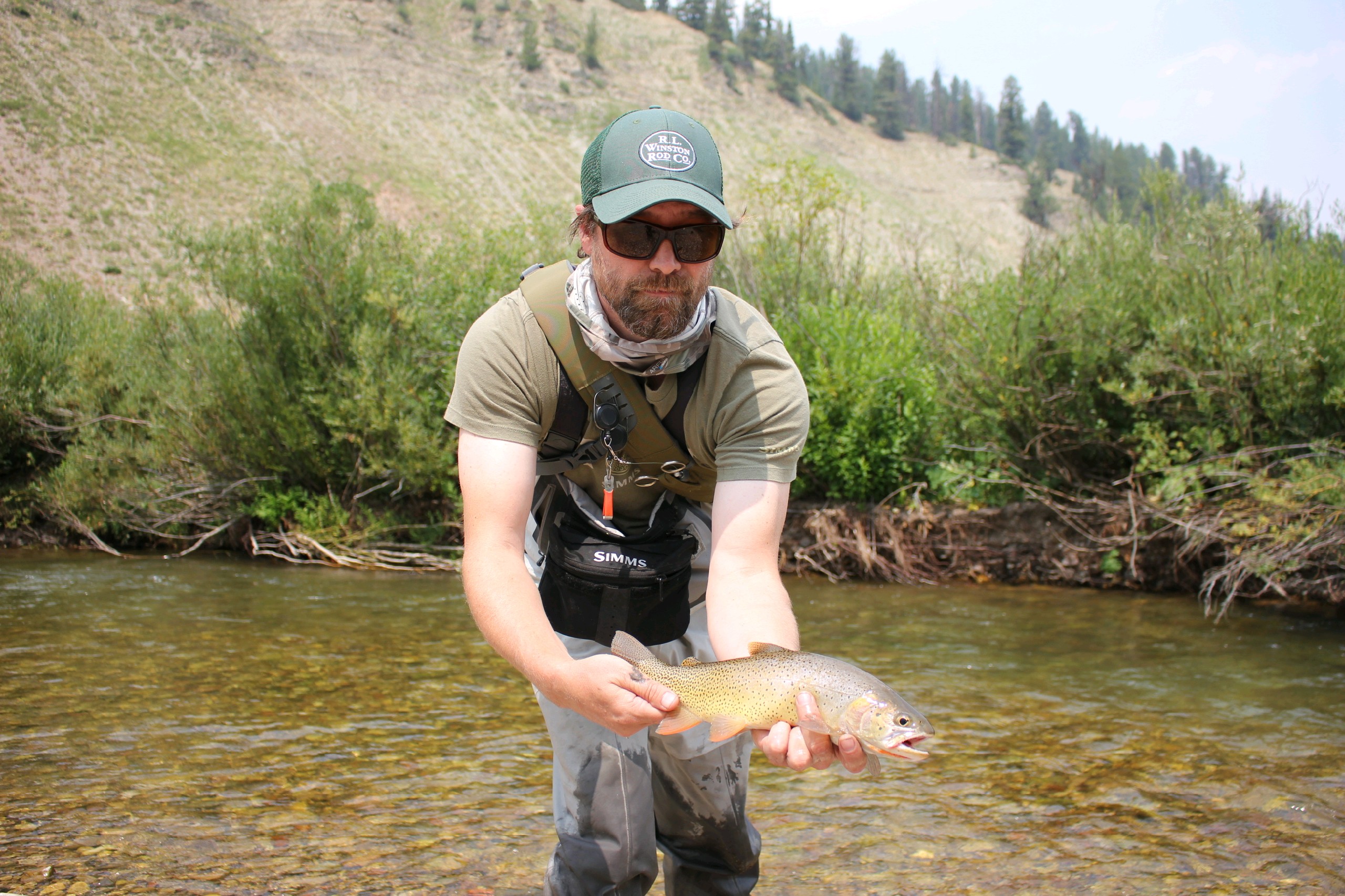 Matt with a well-fed cutthroat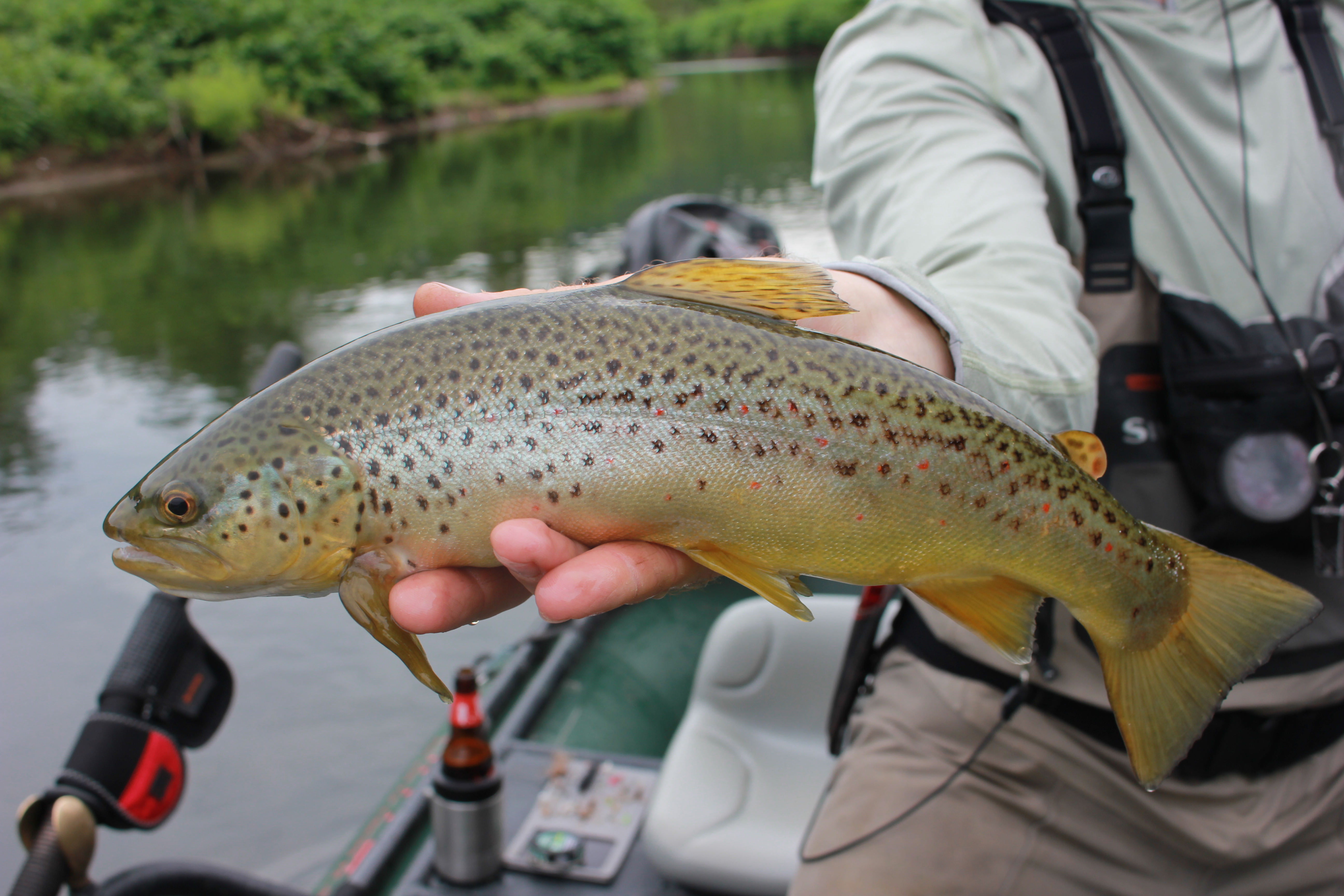 Our new guide Matt and a buddy a buddy of his getting after the some nice West Branch D trout!
Well sorry for the radio silence, but I've had to put out a number of fires all over the place! Haha. So smallmouth season this year was pretty much a write off for me. Pretty bummed about that, but hey sometimes we're not always in the driver's seat! But you know what I'm not bummed about? Some really nice trout Matt has been getting into on West Branch of the Deleware! He and a buddy or two of his were up there for a few days working up some really nice fat wild trout. Thats what we like to see!
Anyways, to give a quick update, smallmouth are finishing up their run into the creeks and rivers. We usually see most fish back into the lake by the 4th of July, maybe a straggler here and there afterward. With the hot temps projected over the week, though they are considered a warm water gamefish, I have a feeling most will be more comfortable in 8-15 feet of water near rock piles haha. So untill next end of April, see ya later smallies!
But now brings me to the fun part. We're starting to put the pieces together for our fall season already. Hard to believe. It's only July, right? Well over the past week and a half, a number of our old clients called looking for good peak season dates, and we're starting to get hit with new anglers looking for thier first FLR trip! If peak season on the Catt (October 15- November 21) is on your mind, I'd suggest giving us a call and talking about options sooner rather than later. We've already taken some bookings and are tentatively holding others waiting on confirmation. So hard to believe that this year, now is the time to think about it!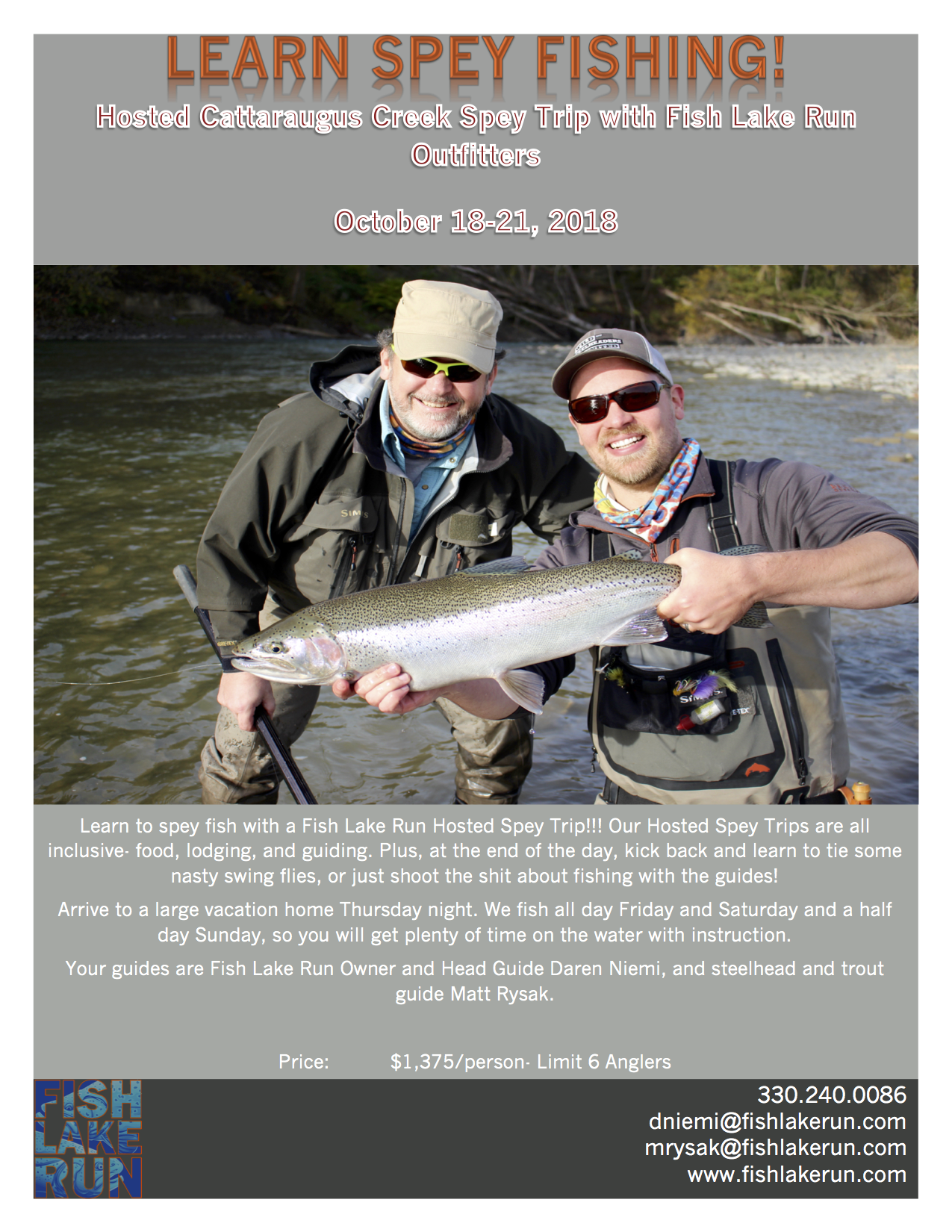 Finally, we're starting to get some lock downs on the Spey Hosted trip from October 18-21. We still got four available slots, but with how much interest we've had this early for the fall season, I can't guaranteed how long those last spots will be available. So if you want to spend two and a half days of on the water guided instruction, three nights lodging including nightly fly tying demos and shooting the shit spey style with some of the best guides in the region, give us a call!
As always, 
Tight Lines
 -D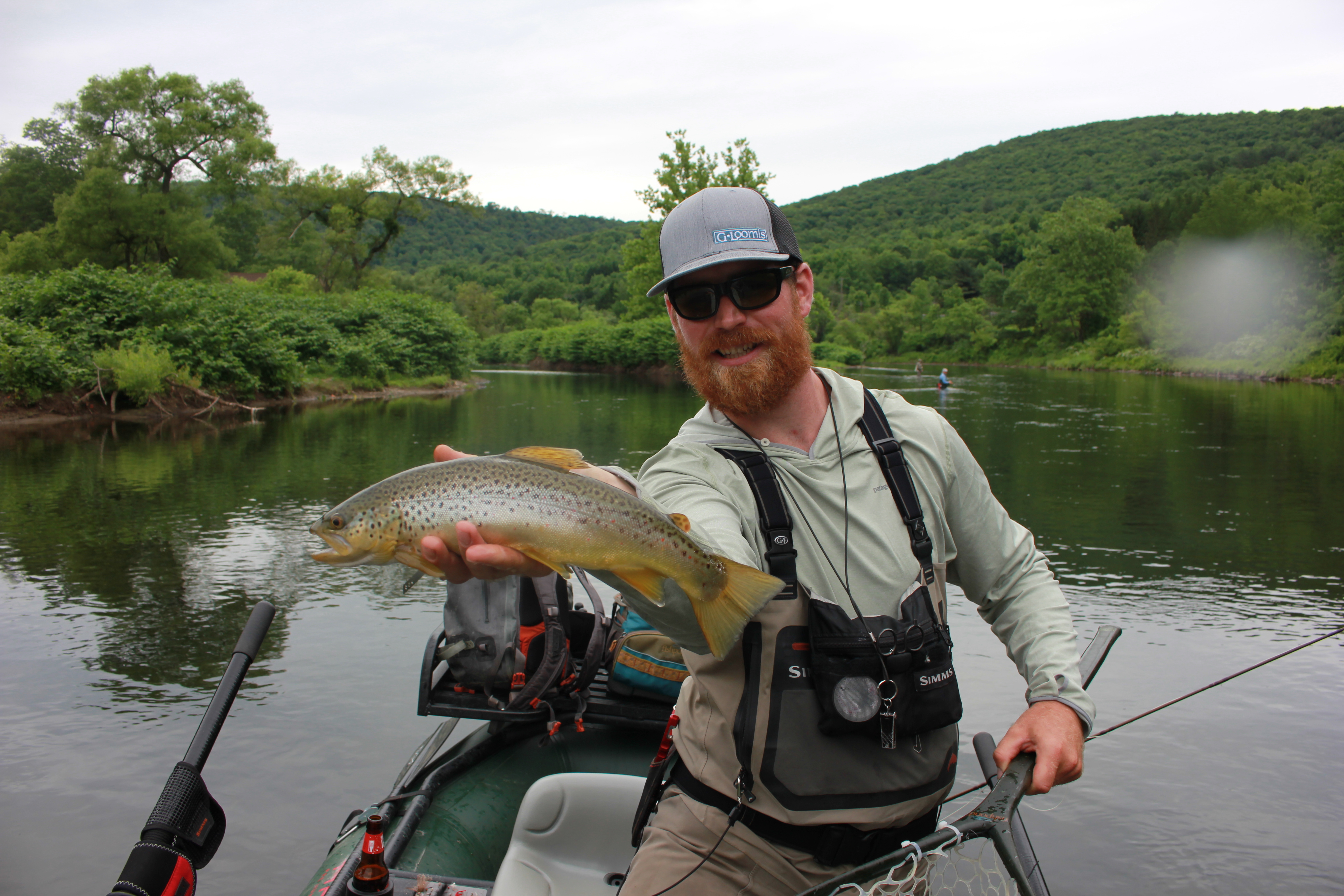 Another Deleware beauty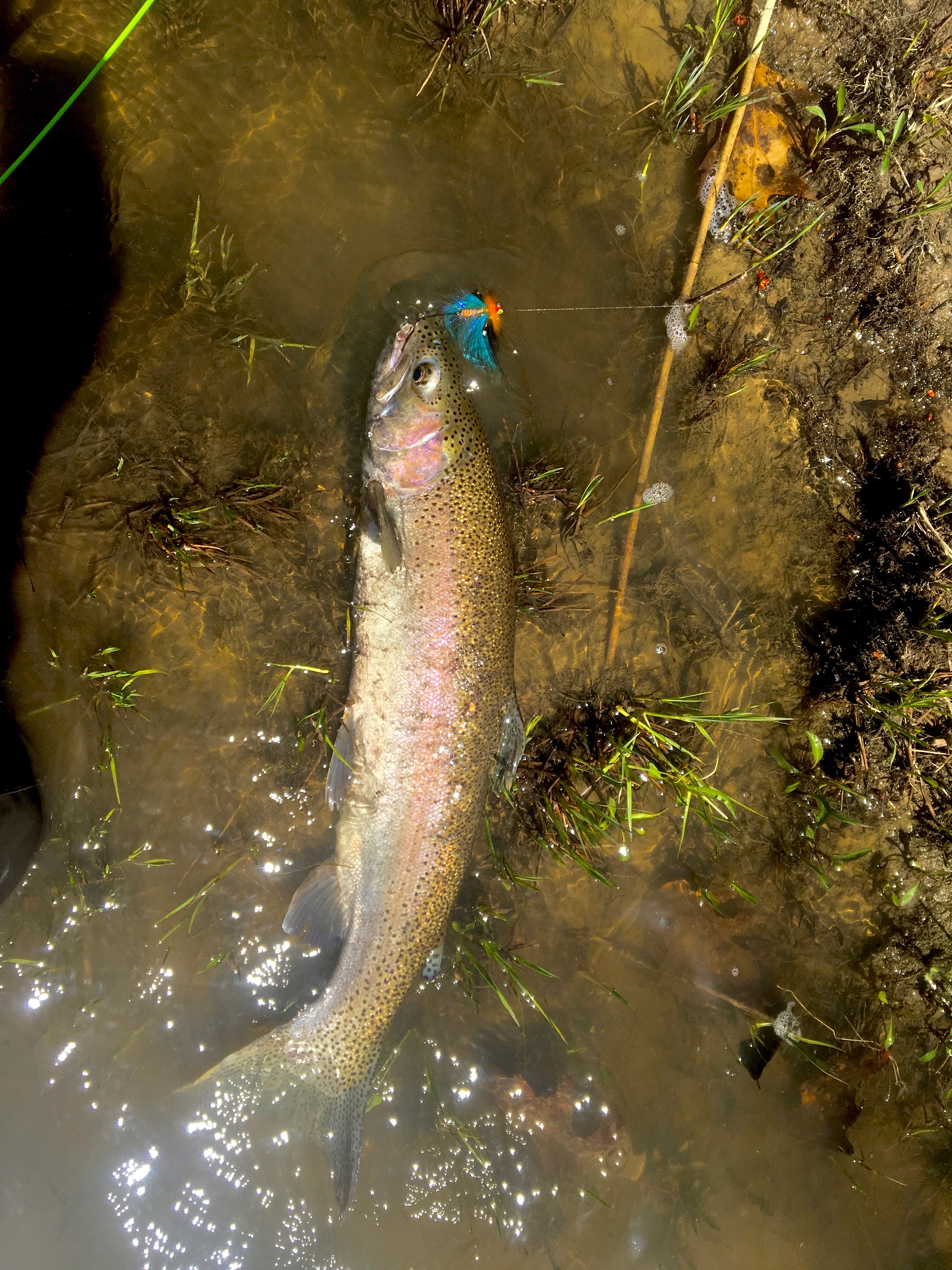 A nice 28" buck from the Grand
Well, better late than never... unless we're talking steelhead haha. The cool temps that have persisted in the area mean we still have high numbers of steelhead in the rivers, though each day now numbers are dropping. The grand is really shining right now in terms of steelhead fishing. Good, higher flows that have decent visibility means great spey fishing. Most fish we are catching now are colored up or dropping back, though there are still more than a few fresh run, chrome fish. Looking ahead, we are getting to the point that water temp is going to start being an issue for steelhead. Today is forecasted in the upper 70's, while tomorrow should be above 80. Water temps right now are pretty consistent in 50's, but with a few warm days in the mix, that will rise.
But we do have rain and some cooler temps on the way the end of this week and sporadically next week. So this should mean steelhead will stick around at least through next week. Again, just be mindful if it's a warm day. This weather will move in a lot of smallmouth though, so fishing to slow water log jams can be an exciting way of weaning off steelhead haha.
Pennsylvania trout fishing is starting to pick up in earnest. Matt has been hitting the central PA trout rivers like Spring Creek, and is gearing up for a hosted trip to Penns in two weeks. Good grannom hatches are occuring almost daily and the wild browns are starting to take notice. We should have great trout fishing for the next two months or so!
All in all, nows a great time to get outside and explore!
Tight Lines,
 - D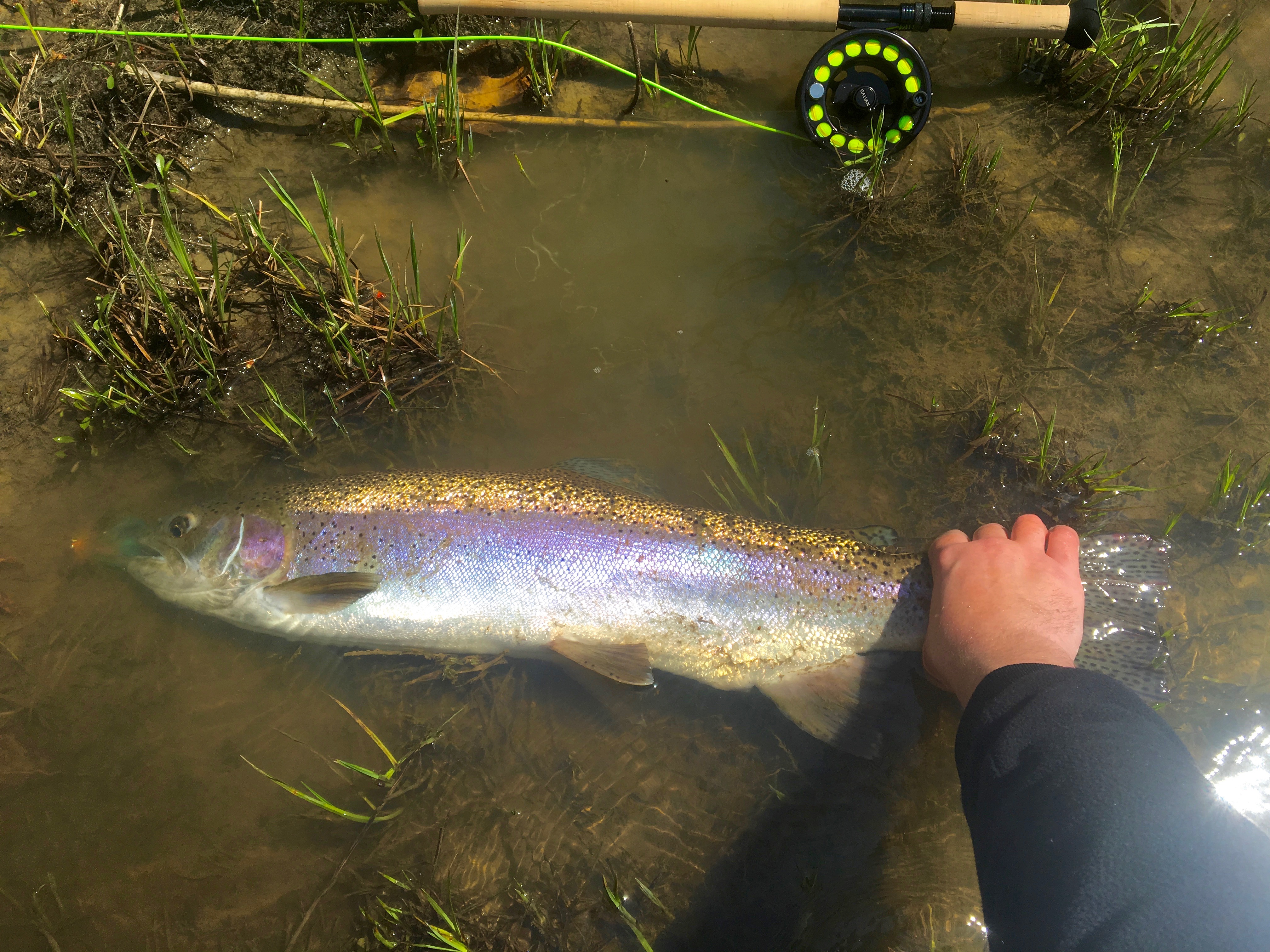 30" Grand River hen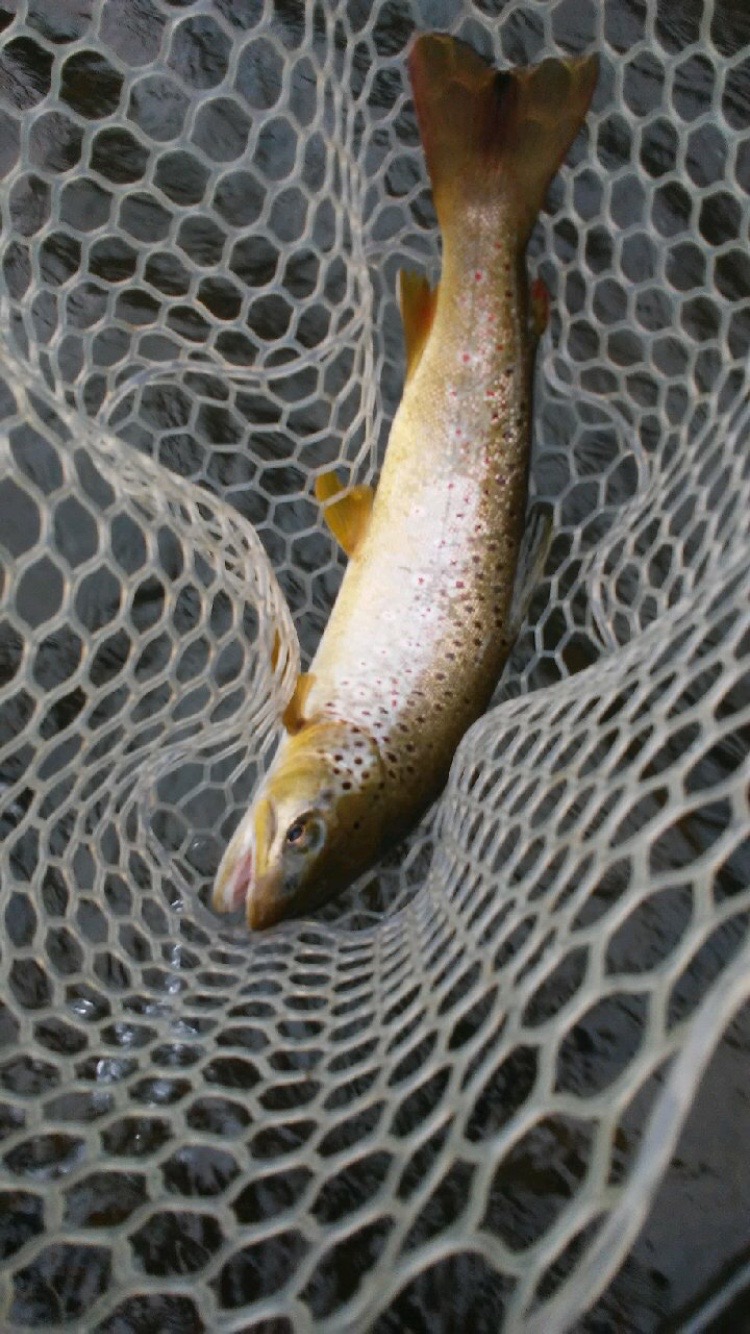 Spring Creek brown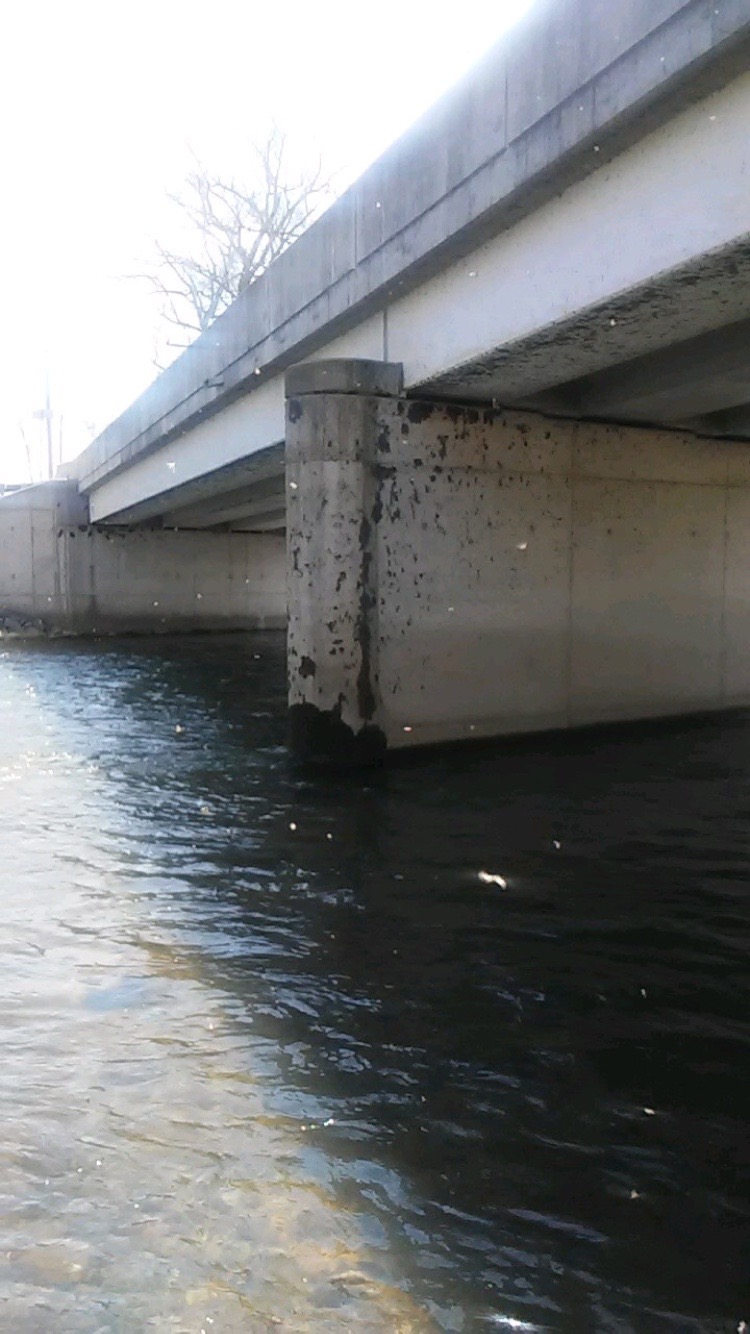 Heavy grannom hatch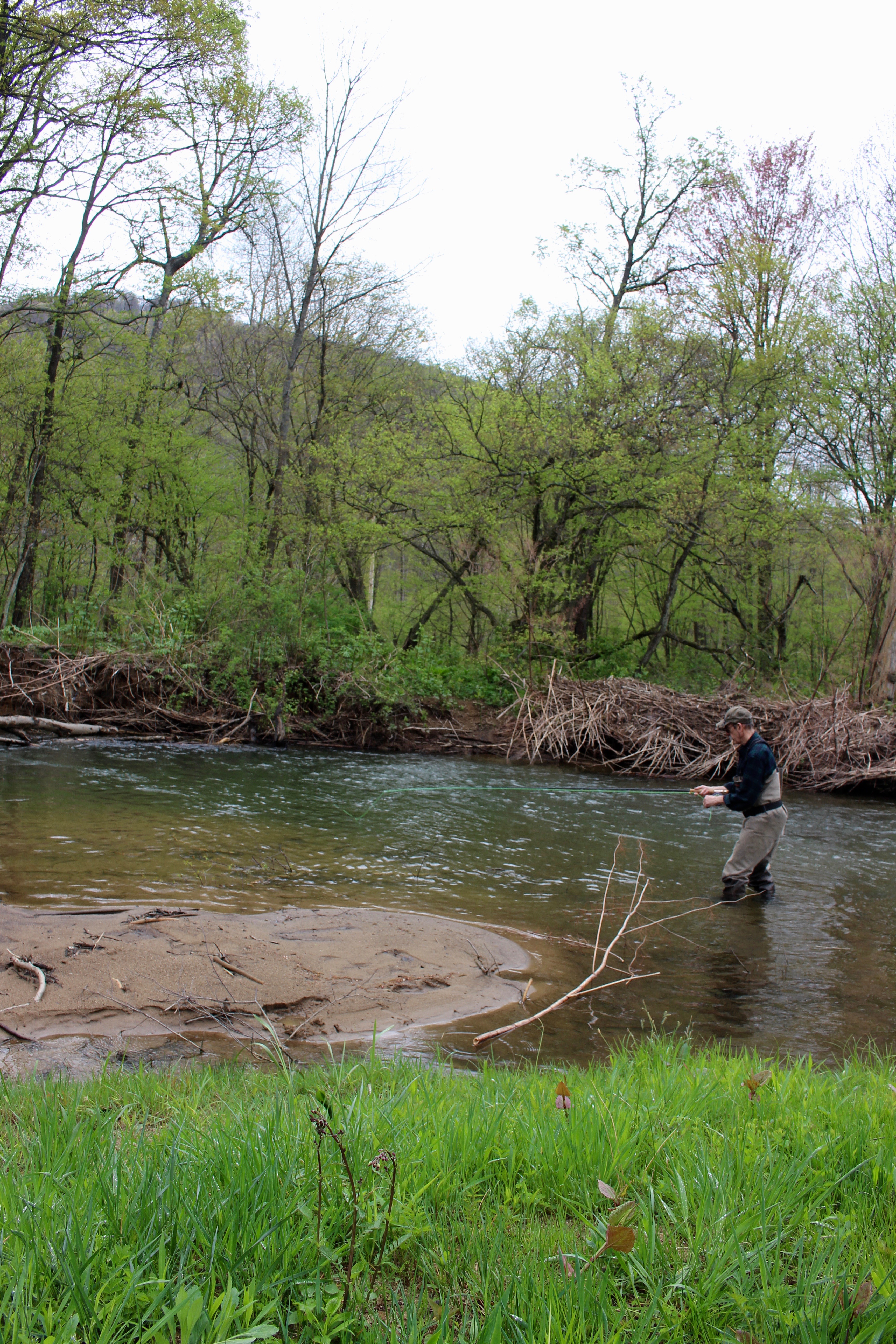 Dr. Tim working a cutbank with a streamer 
Well, was supposed to float the Catt a few days ago but the rain blew her out and the gentleman I was gonna fish with opted to reschedule. With my day free, took my dad out fishing. Was hoping to float the Allegheny but my dad needed to be back by mid-afternoon, so went to check out a new stream for wild browns! Knowing the size of the fish in the creek, we spent the day chucking streamers into the cutbanks and wood-clogged deep pools trying to move a few good fish.
It's surprising at just how big some of those fish can get in these smaller streams, and to emphasize this, the upper part of the creek, while generally only about a fly rod length wide, is classified as a trophy trout stretch, meaning plenty of fish in that 14-20" range. Anyways, we checked out the lower stretch first, and in the second pool, I lost a decent brown about 15" or so. Watched him come out and eat, but my set was sloppy. Had another fish follow a few pools later. My dad did just about the same. Streamer fishing small creeks in daylight is always challenging because generally the water is clear, and when the fish turn to follow the streamer, they usually see you if you're fishing upstream and stripping back down. If you fish downstream, then they generally see you working down into them. So it's kinda a catch 22 sort of thing. But it's a good way to get to know a stretch and figure out where the good fish hold, so you can come back at dusk and fish at night to them.
After a couple hours we jumped up into the trophy trout water. And boy was that small water to say the least. But the first cast in the first pool had a really nice fish somewhere around 18" chase, but again dart away as soon as he saw me. I guess I could have kept a lower profile, but on exploratory trips the goal for small creek streamer fishing is to rule out the pools and runs that aren't holding fish big enough to eat a streamer, so that next time you can concentrate on the ones that do. To be sure, you will never get to know exactly where every streamer trout in a creek is, but these fish are resident fish meaning that where you find them is where they live. So try to focus on the long game, and not worry too much about instant rewards. All in all I was really impressed with the fish I saw coming to the streamer in daylight, and even missed a shot at a decent one. It was certainly a challenging fishery, but can't wait to make it back there to hit at dusk and over night. It even smelled a bit mousy over there...
Tight Lines
  - D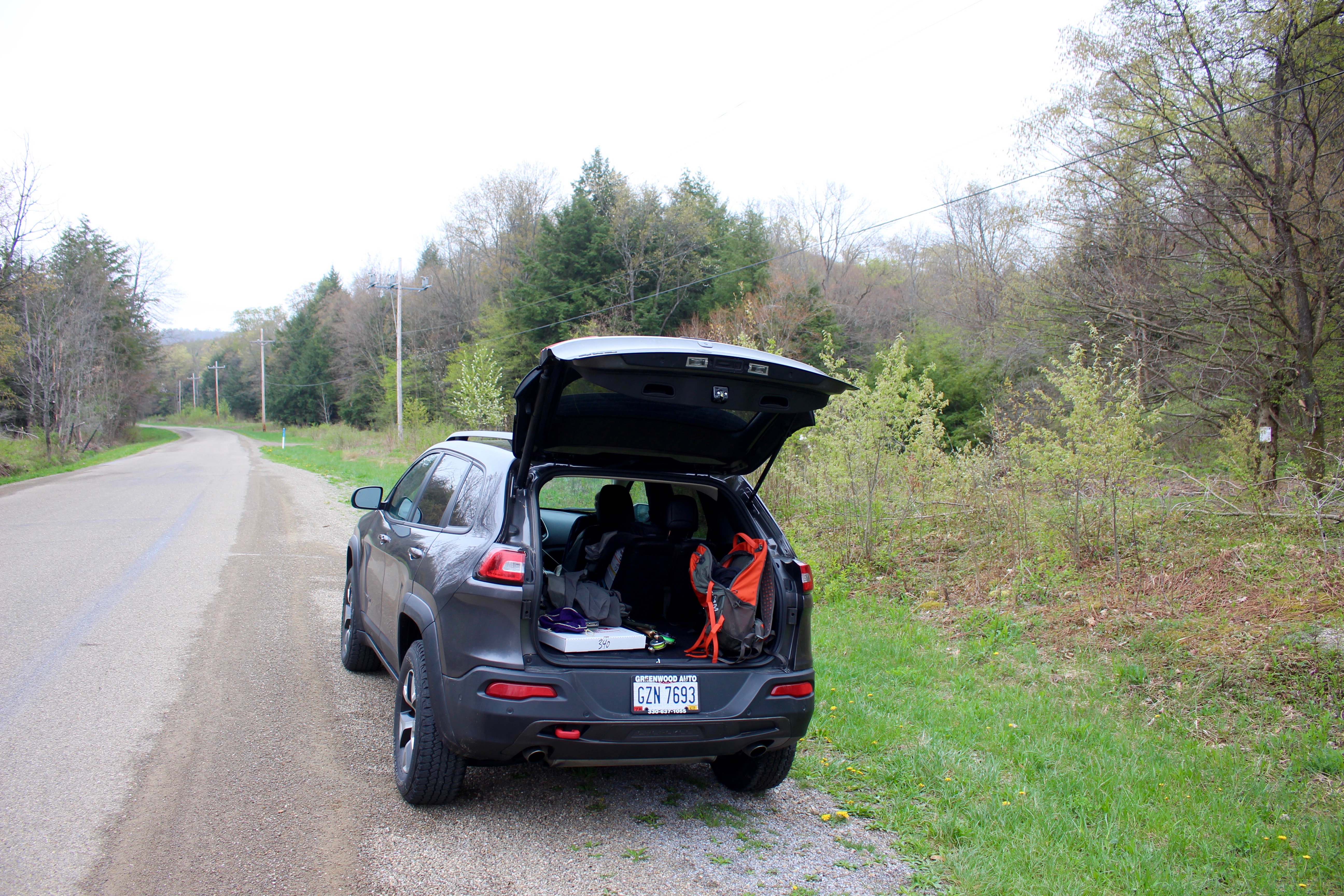 Roadside parking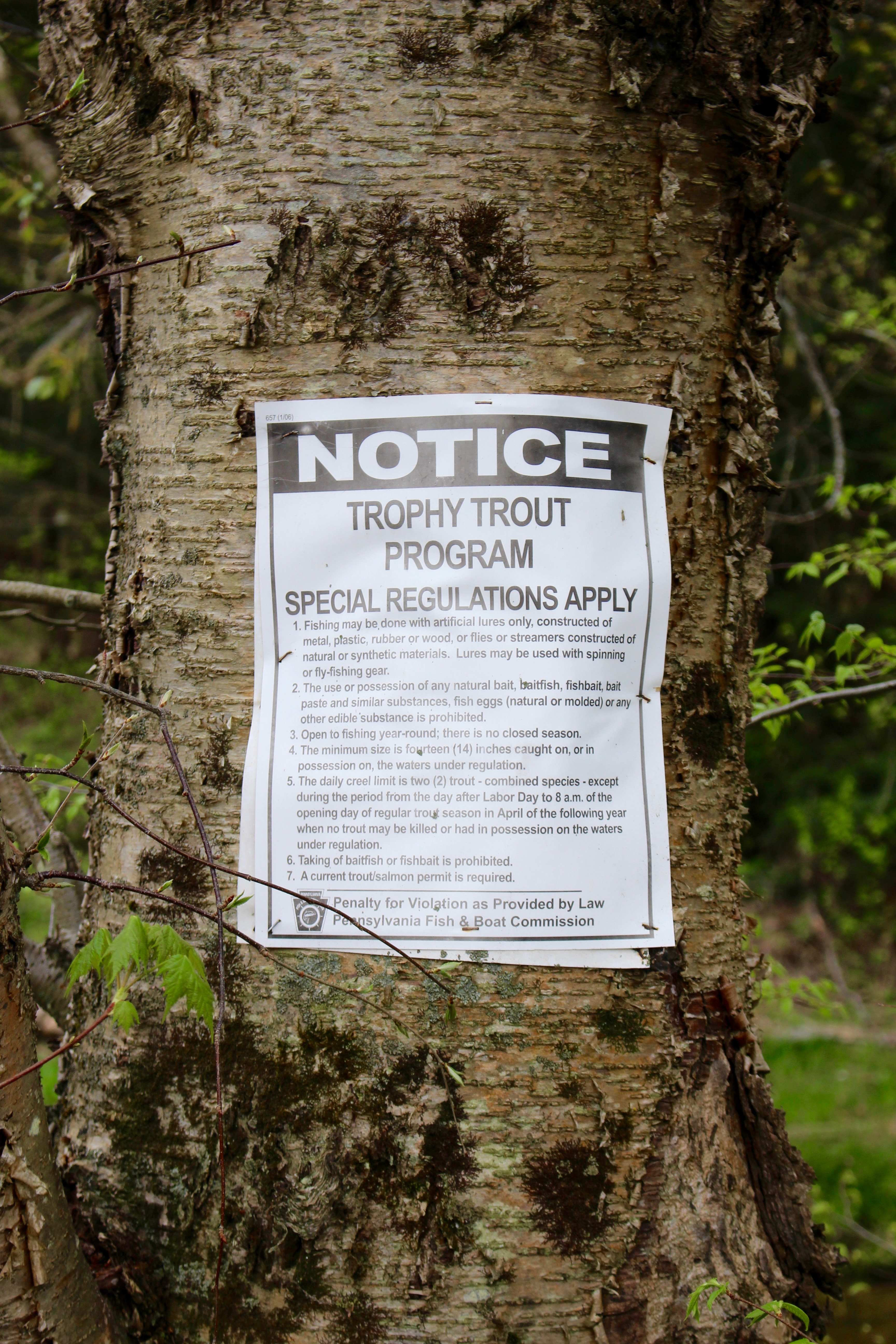 Trophy trout boundary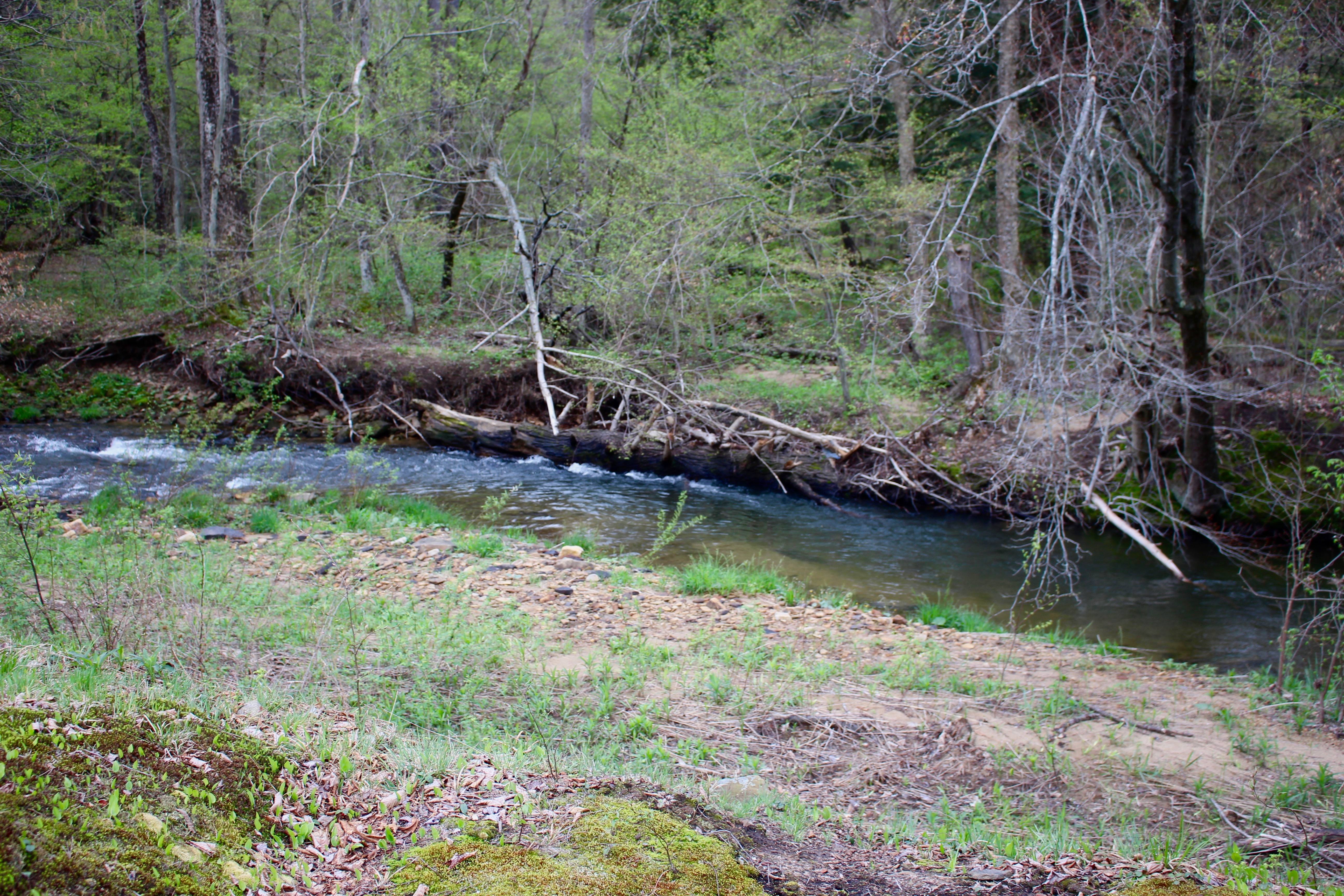 Had a good fish follow from that log- skinny water!
/