Shopping Cart
Your Cart is Empty
There was an error with PayPal
Click here to try again
Thank you for your business!
You should be receiving an order confirmation from Paypal shortly.
Exit Shopping Cart
Guided Fly and Spey Fishing Trips for Steelhead and Brown Trout with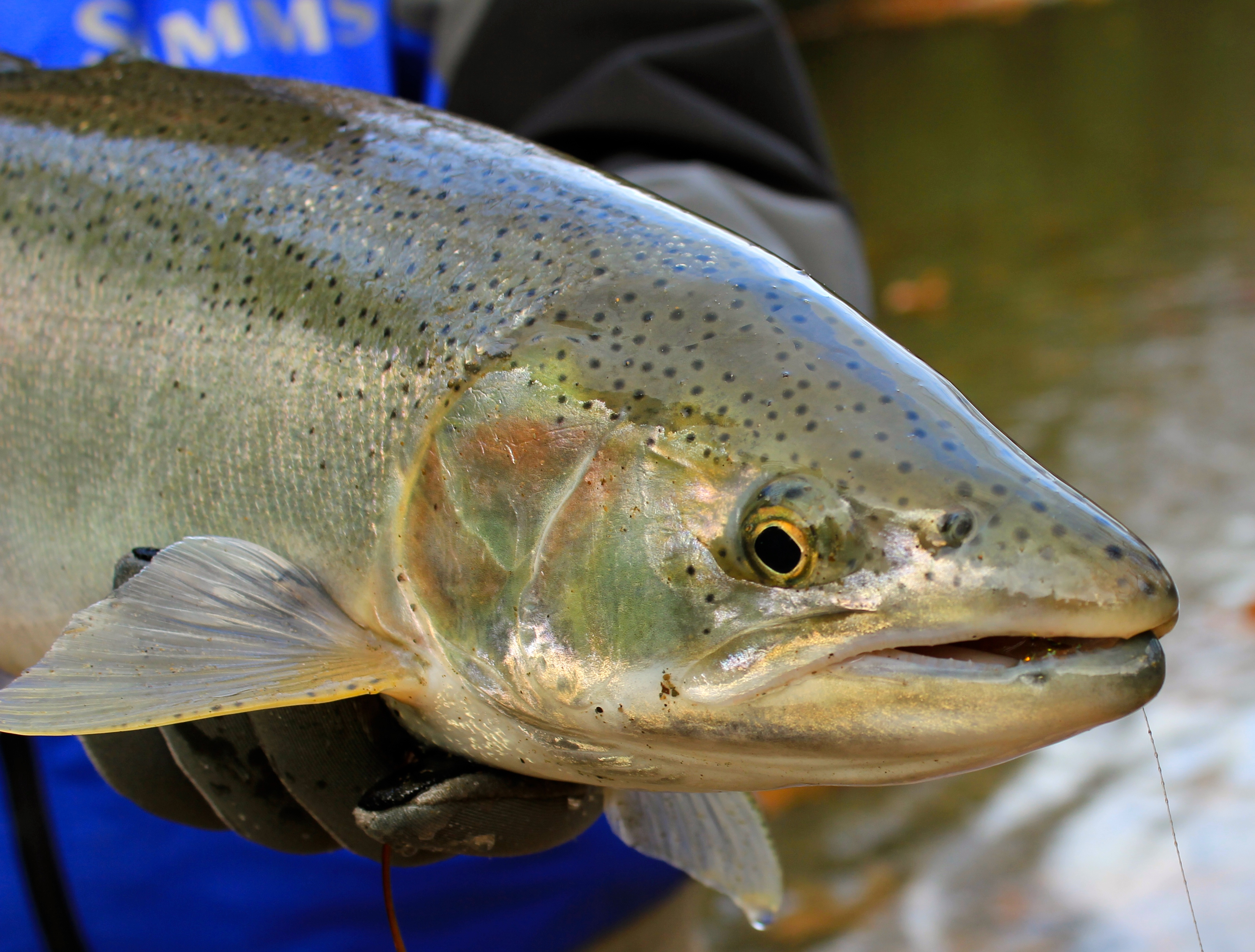 What is success when fishing steelhead? That's a loaded question and the answer varies with the individual asked. As fly anglers for steelhead, success obviously does not mean hooking the most fish. If that was it, there are many more productive methods to catch steelhead. Same with spey fishing. In that facet of thinking, spey fishing is not the most productive method of fly fishing, and fishing a dry line is not usually the most effective method of spey fishing. So there must be something more.
To me the answer is personal satisfaction. Spending the day fishing the way I want to my favorite type of water. Each day I get to do so, I have succeeded, regardless of the outcome. With that attitude I never have a bad day on the river.
Go out there and succeed.
Tight Lines,
 - D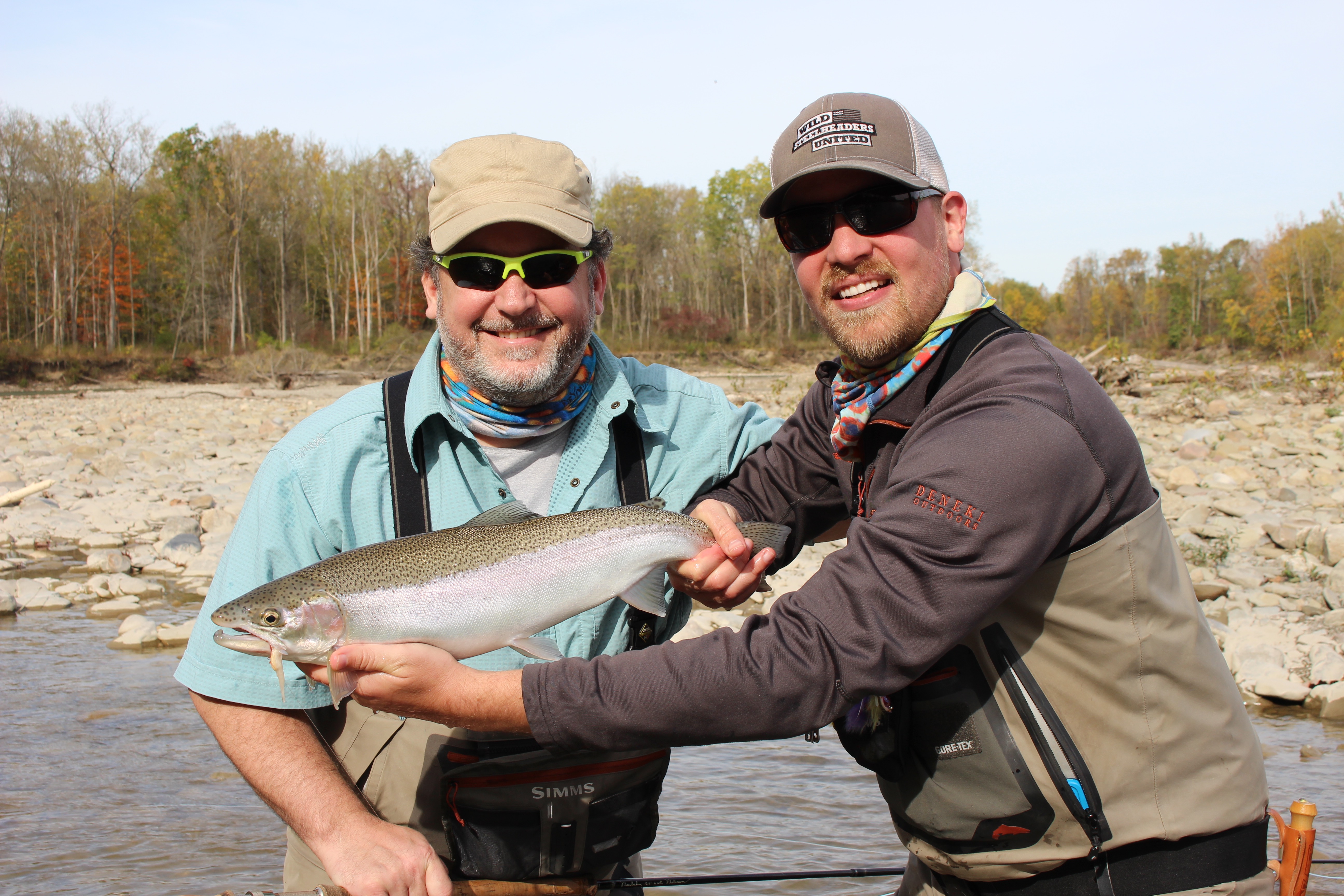 Noel and I with his first fish that took a streamer fished just under the surface on a floating line-long leader
Just finished a few days up on the Catt, and like usual it was spectacular. While the fishing can vary, any day on the Catt is special. But these last few days were especially so. There were good numbers of fish pushing through, and we are definitely seeing the meat of the second push of fish. All fish hooked except for one were better than 5 pounds, and we hooked fish well into the double digits. It was a large push of two and three lake year fish for sure. Saturday I spent fishing with Noel and his wife Lisa, and we hooked fish from surface to substrate. 
Lisa fished an indicator rig and Noel fished a combination of indicator rigs and the swung fly, while I stuck to spey fishing. In all we hooked 7 fish indicator fishing and 10 fish swinging. Most of the fish swinging were taken on a floating line, floating poly leader fishing smaller streamers high up in the column within a foot of the surface. The fish were very aggressive due to how fresh they were, but were spooky with the clearer water. Therefore stealth was the key when swinging and trusting that in the warmer water (55 degrees) the fish would move very well. And they did. While we did hook a couple on a sinktip, including me landing a fish in the 30-31" and 11 pound ballpark, once the sun got out, the fish would spook from the sink tip. The cool thing about hooking them so high in the column is that the water usually boils with the take, and they just blow it up. We ended up breaking fish off on the take alone.
Noel hooked 4 fish swinging the floating line, landing his first ever swinging without a sink tip. The fight was insane as the first run the fish peeled out about 100' of his running line and the backing was visible on the spool. Luckily we were able to turn the fish in towards shore where the shallower water kept it from going through a narrow chute and getting into a bunch of wood. Lisa landed a nice one right off the bat and lost a couple others. It was her first steelhead in like two years.
Towards the end of a very good day already, I couldn't resist fishing a bomber skated with a riffle hitch. The first pass a fish rolled on it but didn't commit. Then while I worked my way through the gut of a broad bouldery run about three feet deep, I put the fly on the opposite bank near a log jam and as I skated and skittered it away, I watched a fish charge out of the jam, literally torpedoing just under the surface for some 8 feet or so, crush the fly in the most vicious take I've ever seen and turn back towards the logs. I didn't need to do anything because of how fast it happened. It's funny because when we swing subsurface, we usually only feel the end result of a fish taking. The visual aspect of watching such a predator chasing down the fly in kill mode is almost frightening. I mean if that fish for whatever reason decided to charge at me in the water and latch on to my hand or something, it would be a genuinely terrifying event.
Anyways, I came tight and fought the fish. The first thing it did was cartwheel. And this was the largest fish I have ever hooked up top, easily in the  9-10 pound class. The fight was furious but briefer than I'd have liked when my line became wrapped around the knob of my fly reel. I don't often dwell on a lost fish. It is a fundamental part of the game. But that is a fish I would have really, really liked to land. To see it up close with the bomber in it's mouth, and the hateful glare in it's eye. Even now, a few days afterwards, it haunts me. But I still got to see it chase down a bomber from so far away. There is no doubt in my mind that he was commited to take the fly the moment he left his lie. And that is a treasured sight.
On Sunday, I fished with Paul and his wife Jen, who had never fly fished before. We started on the Catt in the same run as the day before, and not long into it Jen hooked a really good fish. In the excitement, she forgot to let the line go and the fish pulled free. A little while later she hooked another big fish that jumped, ran upstream, then doubled back down and wrapped us around a snag. Then Paul hooked a nice fish that broke us off.
After a little while longer, it was clear that most of the run had pushed by us. So we jumped over to a couple smaller creeks, and spent the rest of the afternoon twitching nymphs and ended up each landing a nice fish. While we had to work for them yesterday, it was still a great day.
Looking ahead, the weather is turning. It looks like today or tomorrow will be the last day of surface season. The high temp tomorrow is only 62 or so, and from there it falls quickly into low 50's and high 40's. That means, for the foreseeable future, I expect the daily high water temps to be around 50 or less. That's not to say there won't be another day or two that will warm up enough to get the water up there in the mid-50's, there certainly might. But it won't be consistent if it does.
So looking back, this October has been the best floating line season by far. The total tally for roughly 10 hours fishing the surface proper this season is 2 fish that ate dries off top, 1 fish that gave a hard look to a dry off top but refused last minute with a roll, and 5 fish that ate a riffle hitched streamer skimming the surface. Of all those, I hooked one on the dry but lost it and I landed 3 of the riffle hitched eaters. Then in addition to those, we hooked 8 more in the top foot or so of the column.
If this surface season has taught me anything it is just how willing these fish are in certain conditions to come up near or all the way to the surface to take an offering. Though I'm still relatively new to surface fishing, only about 5 years of so of real concerted effort, this season has been one of constant surprise. Again, Saturday was an exceptional day. But those conditions definitely exist each year, where a good push of fish is happening in waterflow that is just right for this type of fishing. And with Octobers starting to get warmer and a bit drier over the past few years, a trend I think is probably gonna become more prevalent in the future, we may see these conditions more frequently.
So all I can say is that as anglers, we better be willing to adjust to the point of at least considering the floating line and dry fly options as a serious alternative to the sunk line tactics we are so heavily dependent on. The floating line fished either on or near the surface is quickly becoming my go to and most productive early season technique. Enjoy the rest of the pics. 
Tight Lines,
 - D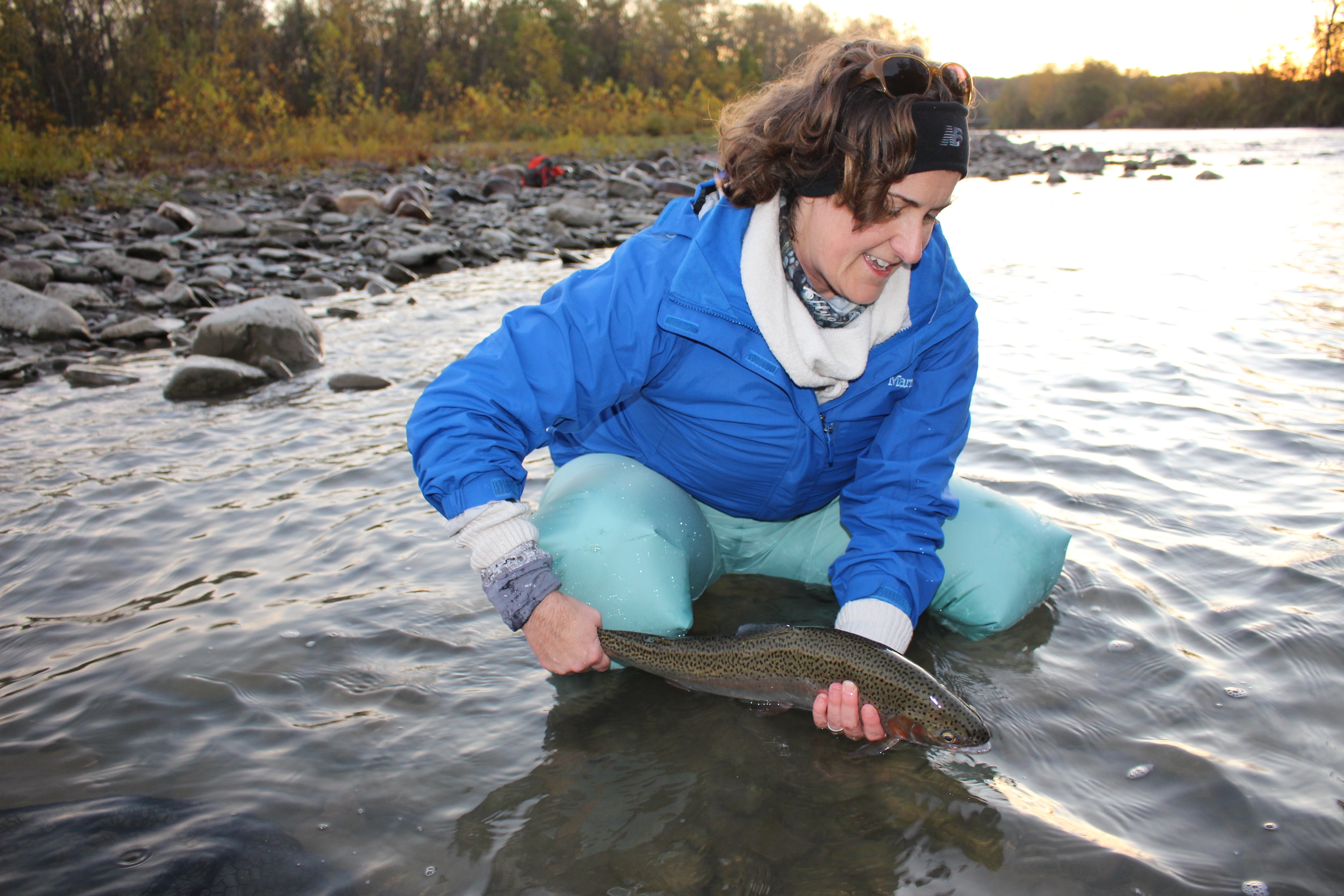 Lisa with a nice steelhead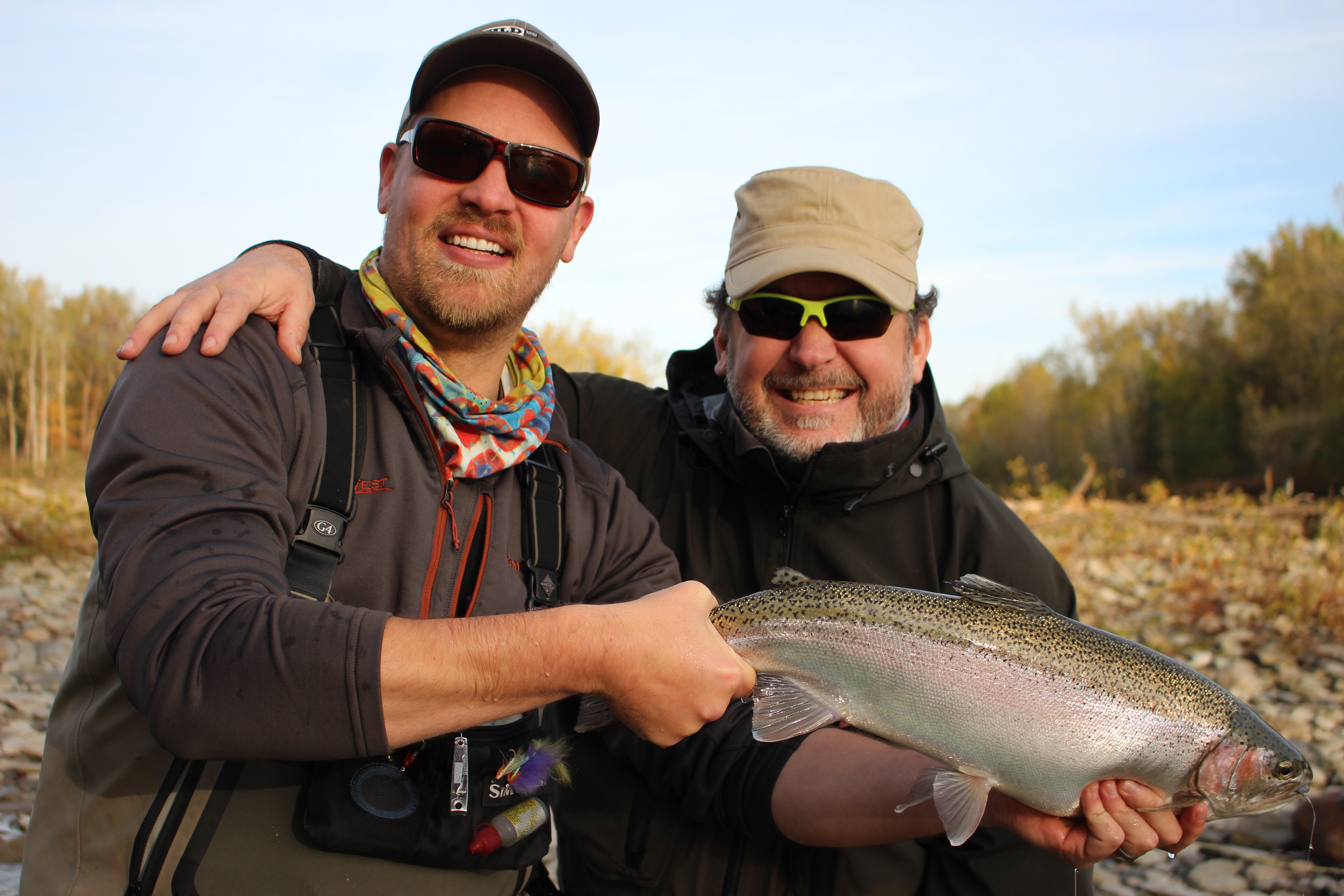 Noel with his first of the day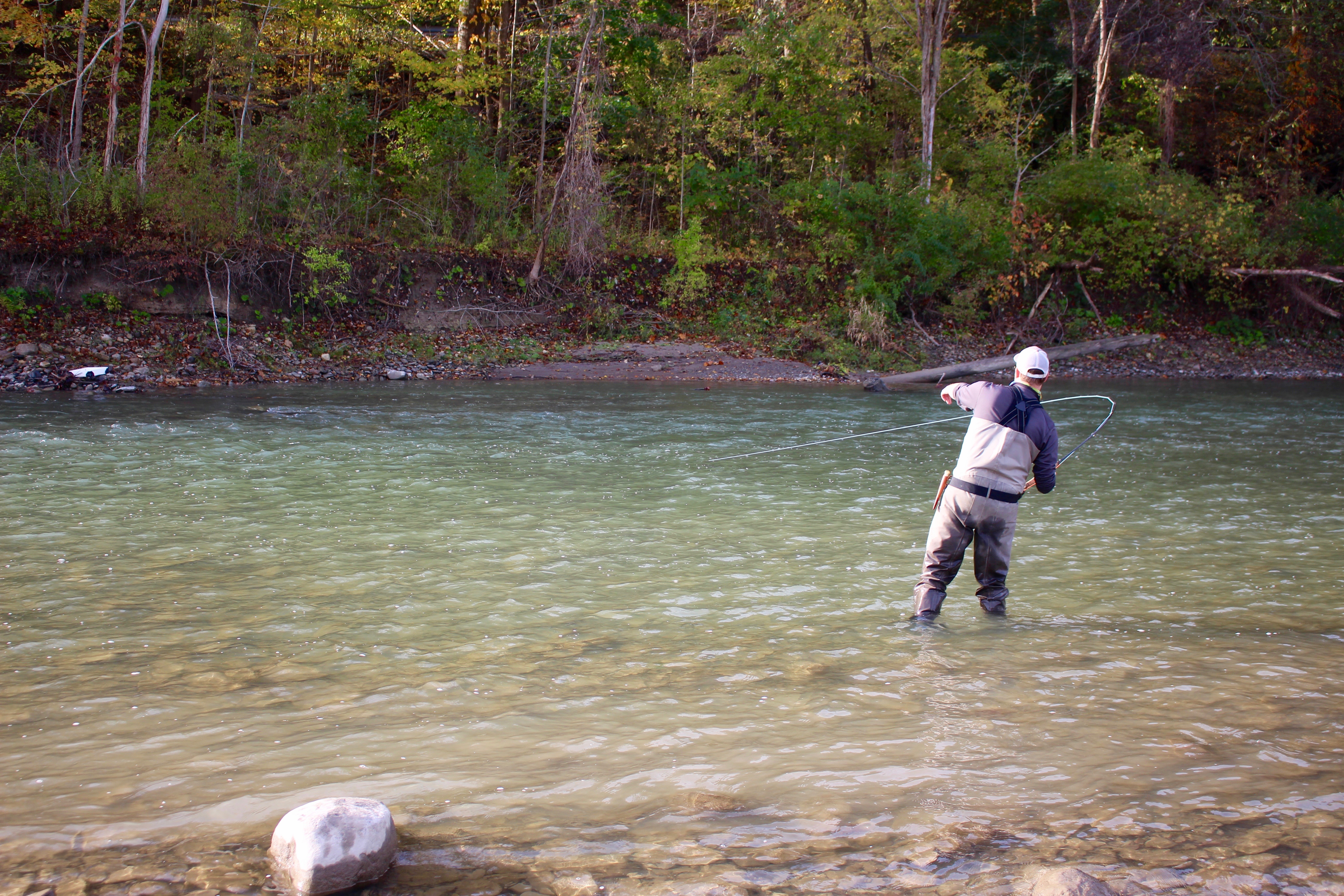 Me calling my fish out haha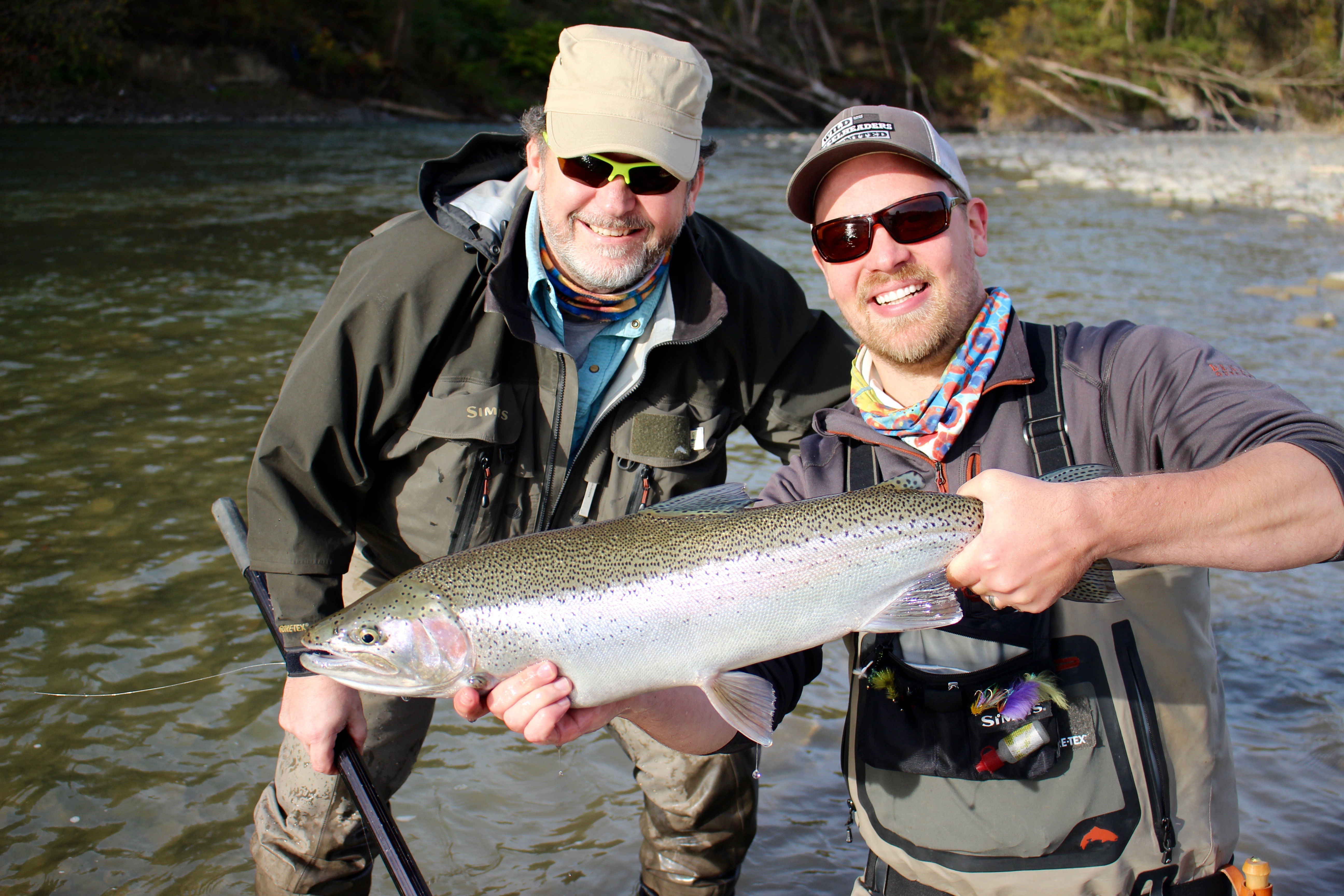 Beast mode Catt fish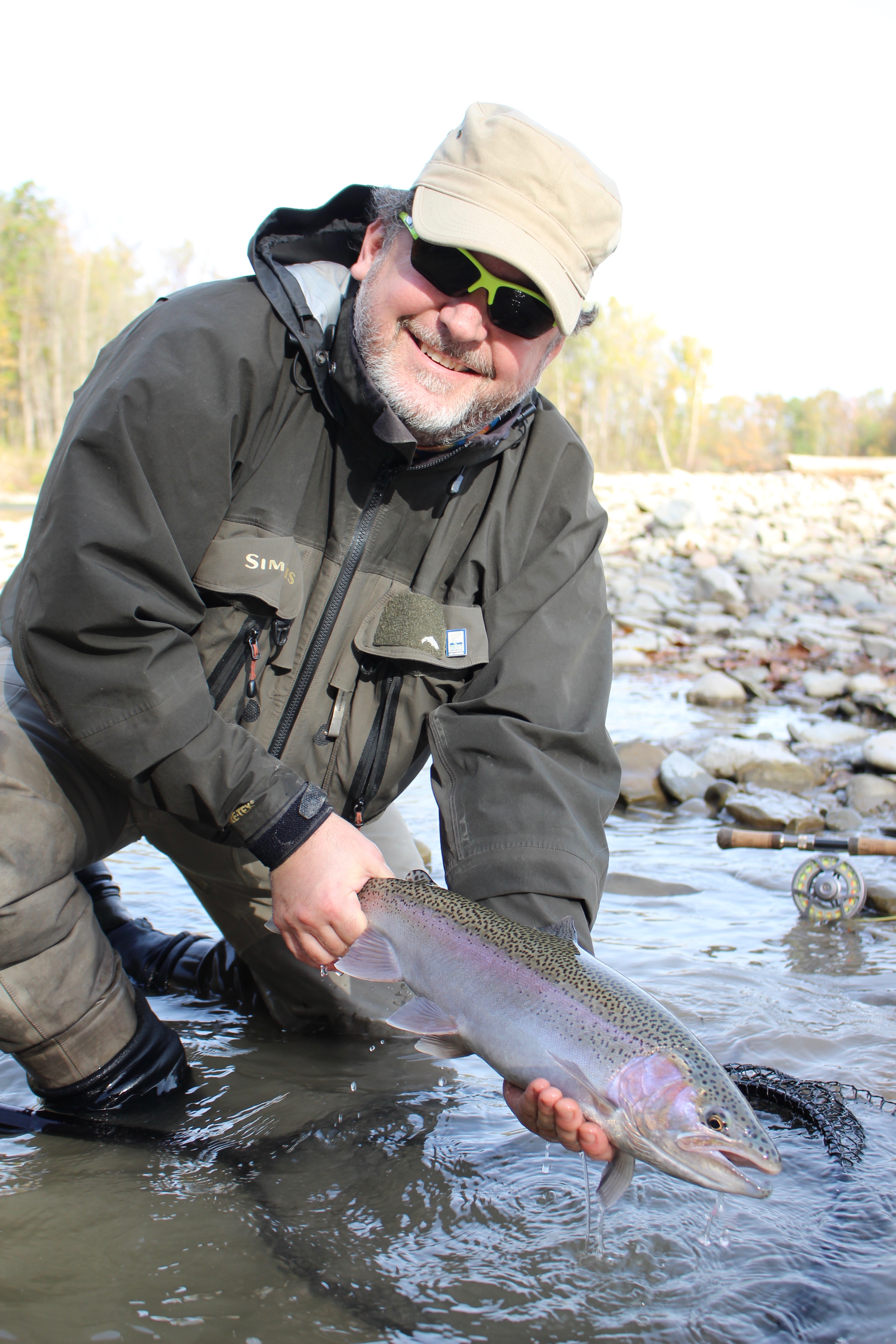 Noel with a stunner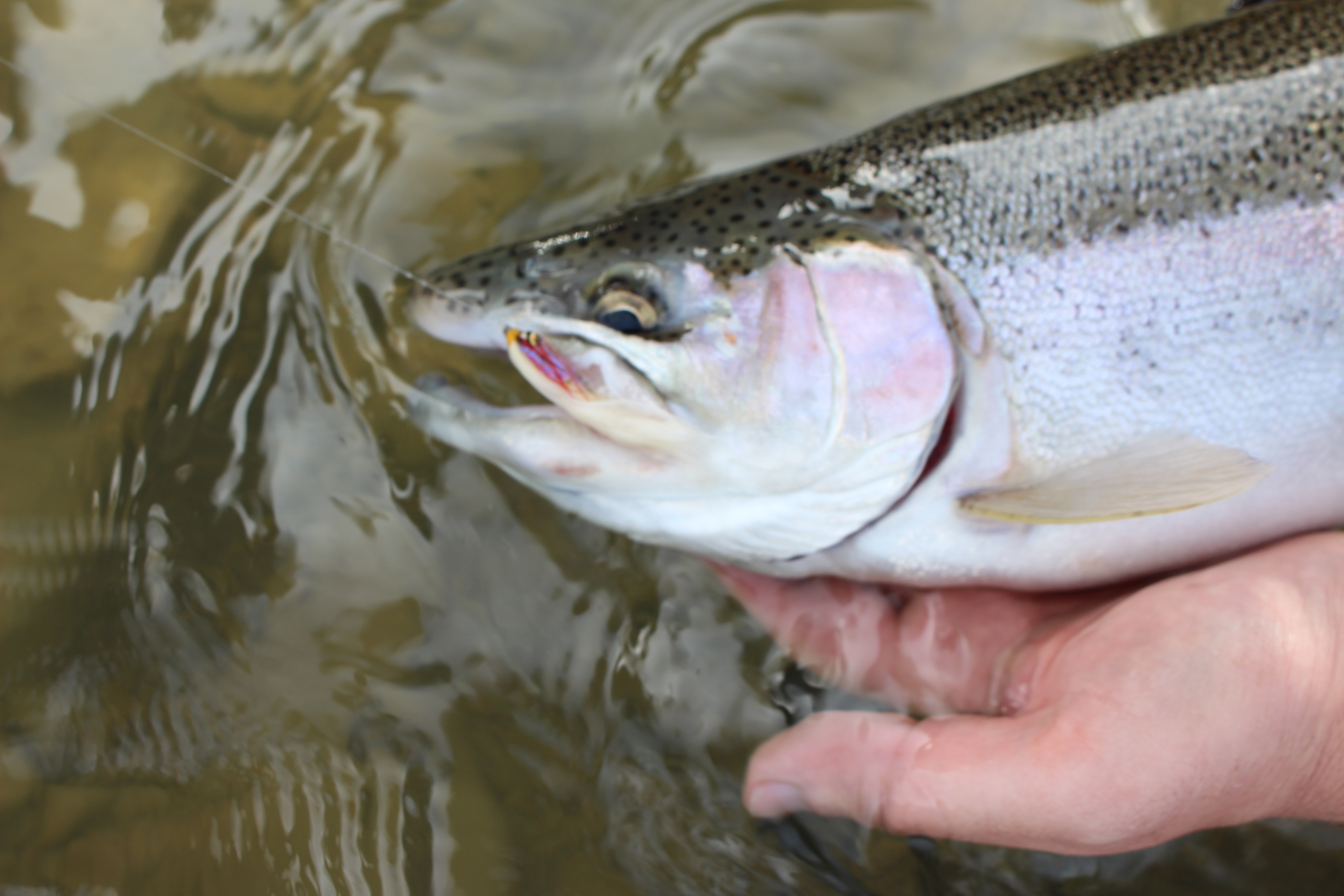 Small white streamers fished up high = vicious takes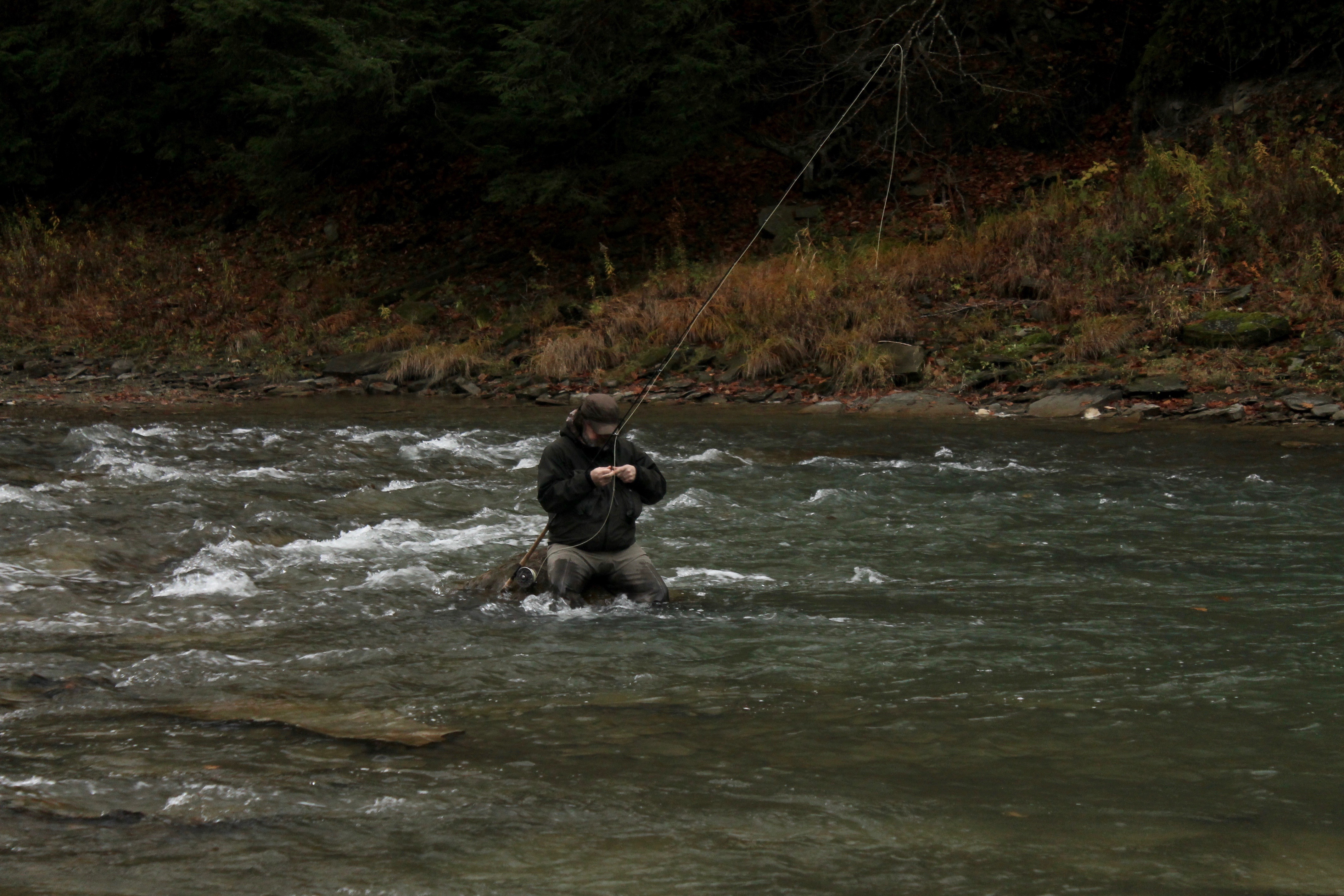 Noel taking a break in productive floating line water
There is nothing more challenging in the sport of steelhead fly fishing than setting out to take a fish on the surface, even more so in the GL region. The reasons the challenges against success with this type of fly fishing mount so high I believe are twofold: 1) water temperatures; and 2) time between fish entry and spawning. On the west coast, a majority of fishing effort with floating line and surface techniques is aimed at summer run fish. The watersheds that support summer runs have cool enough temperatures year round for coldwater game fish, and summer run fish enter watersheds months before sexual maturity and therefore exhibit more curiosity towards their surroundings and even as they become accustomed to natal rivers may act more like large stream trout than true migratory salmonids.
Jumping ship to the Great Lakes fisheries, while we do have some very significant summer run fisheries, the vast majority of steelhead that run our rivers enter between October and April. And the vast majority of the vast majority across the region enter between November and March. This means a few things. Most importantly our timeframe to engage in fishing a floating line with a likelihood of fishing to conditions supportive of success is much more limited, and spring fishing with a floating line is almost entirely focused on dropback fish.
With these parameters understood, an angler eager to fish a floating line should focus his or her efforts in the most conducive timeframes for success. This happens to be the first tip to finding success on a floating line. Focus your efforts when the mercury reads 50° F or higher. The warmer the water, the more aggressive fish can be. My best success has come when the water temps are in the upper 50's or low 60's. Again be mindful of the other end of the spectrum, and call it quits if you see temps above 65° F.
When the second factor that complicates success, time between entry and spawning is taken into account, it almost always means that fall surface season lasts only a few short weeks in October, when the first good run of fresh fish push in and before the water temps start consistently staying below 50° F. These first run fish of the fall season for all intensive purposes act like summer runs out west. They are months away from spawning and sexually mature in the rivers verses spring run fish in April for example that fully mature or near fully mature in the lake and may only be in the river a couple weeks before finishing the spawn and dropping back out.
To a spring run fish urgency of spawning is very high and, though water temps might be near to or at 50° F or above, there will be very little interest in chasing surface disturbances as a result until spawning is completed. Once spawning is complete, steelhead will feed in the rivers and will rise to hatches if the river they are in has good spring hatches, or take streamers such as muddlers fished on top or just under the surface. But again we are limited in time to target them in this fashion to a few weeks between late April or early May. So anglers looking to target fish with floating lines with dries or wets fished on the surface or just under should focus their efforts accordingly.
The second tip is to be very, very picky in the water you fish. Early run fall steelhead run a river quick, and as a result they literally can be anywhere- knee deep riffles, pools over your head, whitewater chutes, nice smooth waist deep runs, or rocky pocket water. The fish have almost a mythical feeling about them. At the best of times steelhead are elusive, but with those early run fish they are even more predictably unpredictable. The reason being that during those first weeks of the fall season, the time to target fish with a floating line, there just aren't as many in the river as there would be say the middle or end of November, and they usually spread out pretty quickly.
Because the fish that have entered spread out and feel like they can be anywhere in the river, along with the fact that the water is usually on the lower side this time of year, we usually want to cover all the water available to try and get the fly in front of as many fish as possible. But now is not the time to put your fly in front of every fish that has run the river. Now is the time to show your fly to the right fish, not the most fish. If my experience over the years that I have been fishing dries on a floating line has taught me anything, it is that I'm looking for a moving fish in a riffle or choppy run between 1 and 3 feet deep.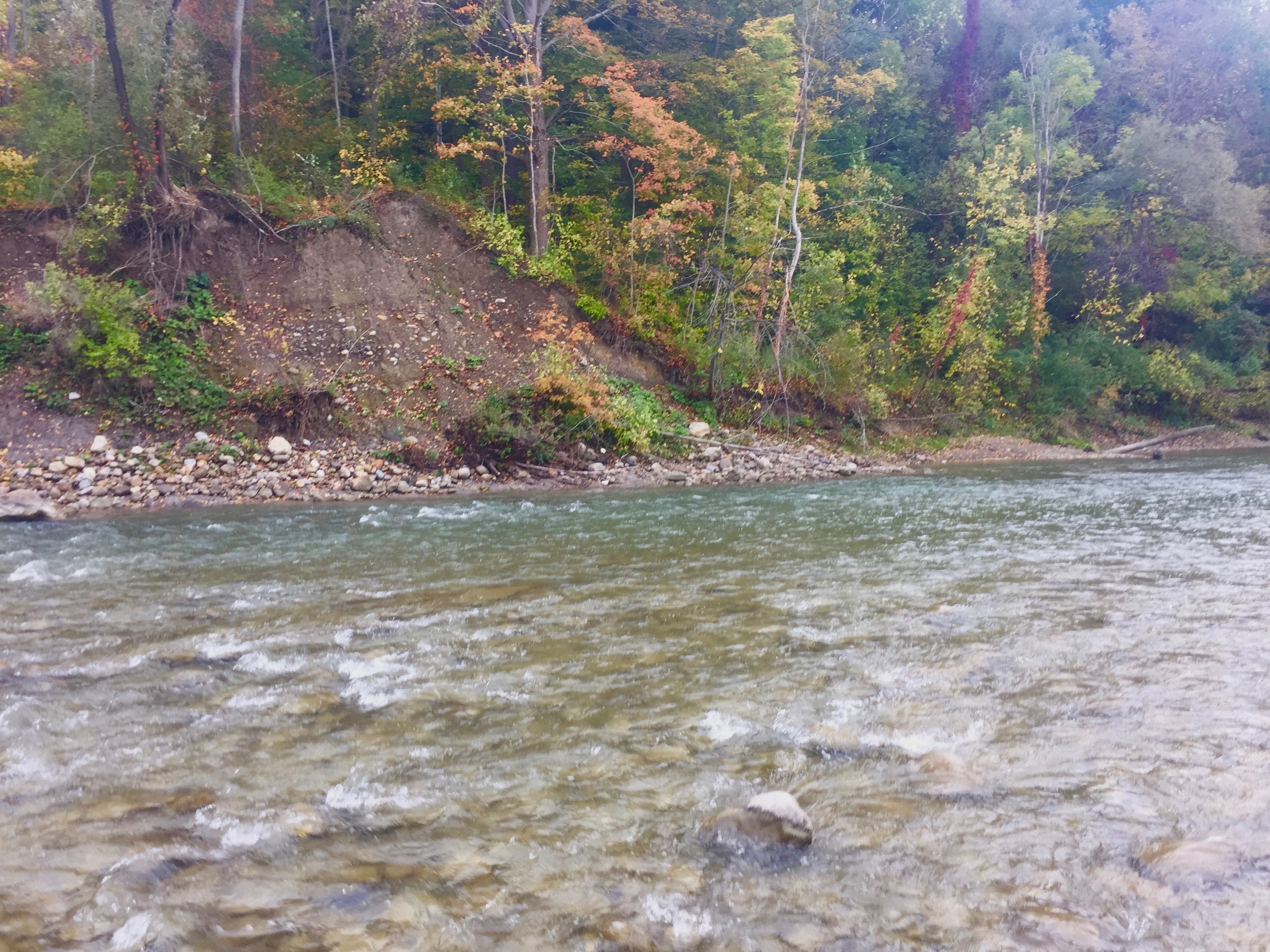 Typical water I look for to fish a floating line
Though I have had success in pools, most of this has been pools on smaller creeks where fish stack up. In this scenario the pools usually have very little surface current and you use the rod to actually drag the fly across the top. Though it is an effective way to fish, it's not my favorite. I enjoy swinging a line and not crouching and crawling into position in a more of spot/stalk fishing. And that's just my personal preference, which means I usually fish the larger rivers as a result.
So back on the larger rivers, I'm looking for those riffles and shallower runs. To be more specific, I'm looking for riffles and shallow runs with cobble or larger sized bottom. Boulders are a bonus. This type of water, though on the surface may look to shallow and uninviting to fish, has tons of things going for it. It has a high oxygen content, a broken surface for cover, and with larger substrate even a moderately sized rock or piece of broken slate can provide just enough current break for a moving fish to sit for a while. And that's exactly the fish I want to find- a moving fish that has paused for a while in a choppy riffle or run. So in the fall, this is the type of water I focus on. And you'll find that once you start fishing this type of water, you'll notice the lack of other anglers that really pay any attention to it, especially if it is more on the shallow side.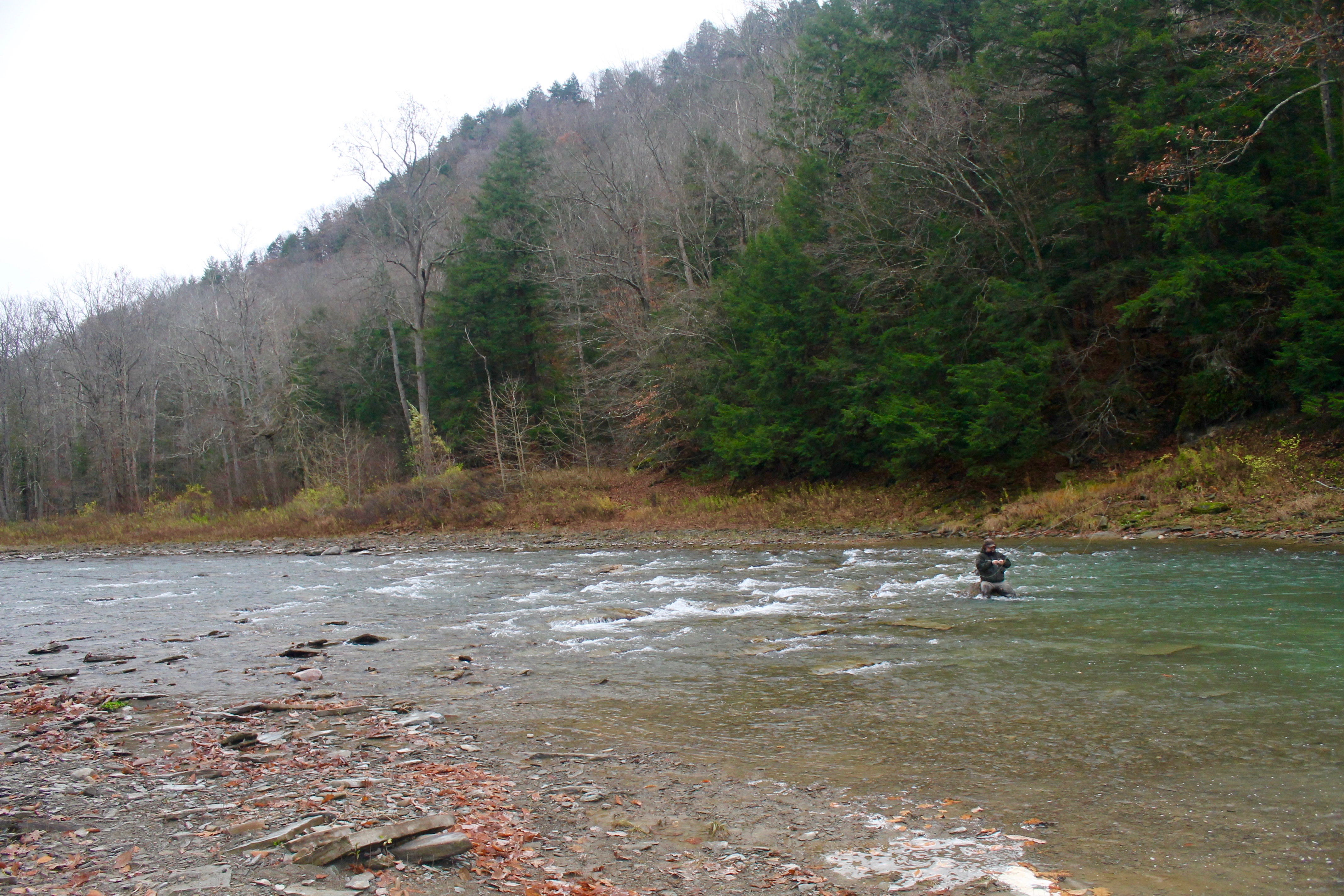 Another shot of good water
The next tip would be not to worry too much about fly pattern. Worry more about presentation. Though this may seem like a regurgitated statement in fly fishing, it is especially true when fishing a floating line for steelhead. There are some fundamental truths that you need to be able to accept when fishing this way for steelhead. You will catch far fewer fish. Most days you will not have a fish rise to the surface. But most importantly if you keep at it you will find a fish willing to come up. Despite all the failure you have witnessed trying to rise a steelhead on a legit skated fly fished on the surface of a larger river where you aren't sight fishing or dragging a fly over pooled up fish in the only pool large enough to hold fish, you need to believe deep down that it works. And even when you go out in the morning with the belief that it will work for you sometime, you need to be able to come home in the evening just as fired up over the day you just spent not rising a fish. That's the starting point.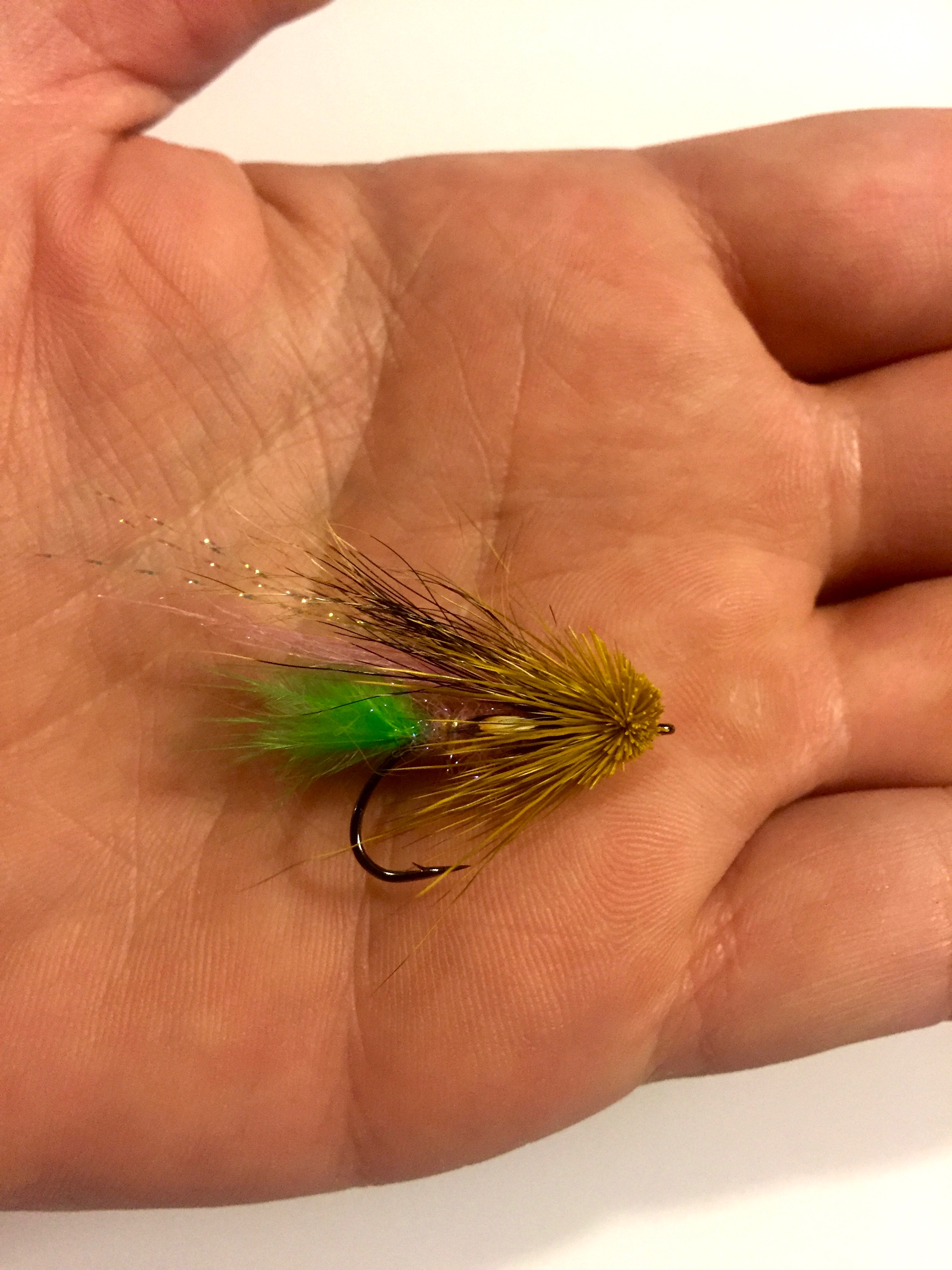 Rainbow Muddler- good fly to fish dry, riffled, or soaked
So once you start fishing with the notion that you probably wont have a fish come up, you don't really need to worry about what you are throwing- within reason. So far this season I've had 6 fish come up- 5 to a riffle hitched wet fished on the surface and 1 to a size 10 yellow humpy. All the flies were store bought. The wet was a baby rainbow trout streamer pattern that likely would have been a pattern included in the very first fly fishing kit you ever bought but you haven't fished it since. There was nothing particularly special about them other than the fact that I fished them. The longer I fish for steelhead, the more I believe that there is a fish out there somewhere that will literally eat any fly I could tie on the end of my line, again within reason. So fly choice should not cause anxiety. Pick a fishy looking fly and fish it.
The presentation should be more of the focus. Worry about getting good casts and swings through the water you have chosen to fish. Worry about keeping your dry on the surface even in the chop, and making sure a riffle hitch you tie results in the wet fly pointing in towards shore as it swings otherwise it will corkscrew in the water during the swing and twist the shit out of your line. These are the important things to think about.
Finally make multiple passes through the same piece of water but using different techniques. I usually employ 3 techniques for each piece of water. I skate a dry over it first, then fish a riffle hitched wet, then finally fish a floating line/wet fly subsurface last. If I'm really focusing on top, I'll stick to the dry then riffle hitched wet, and make several passes with those techniques. I always start up top and work my way down for the simple reason that if there is a fish in a run that would take a dry off top then it would likely take a subsurface fly as well, but not every fish willing to take a wet subsurface will take a dry off top. This way I can put the dry out first with the hopes that the most aggressive fish would be willing to take it and work my way down from there.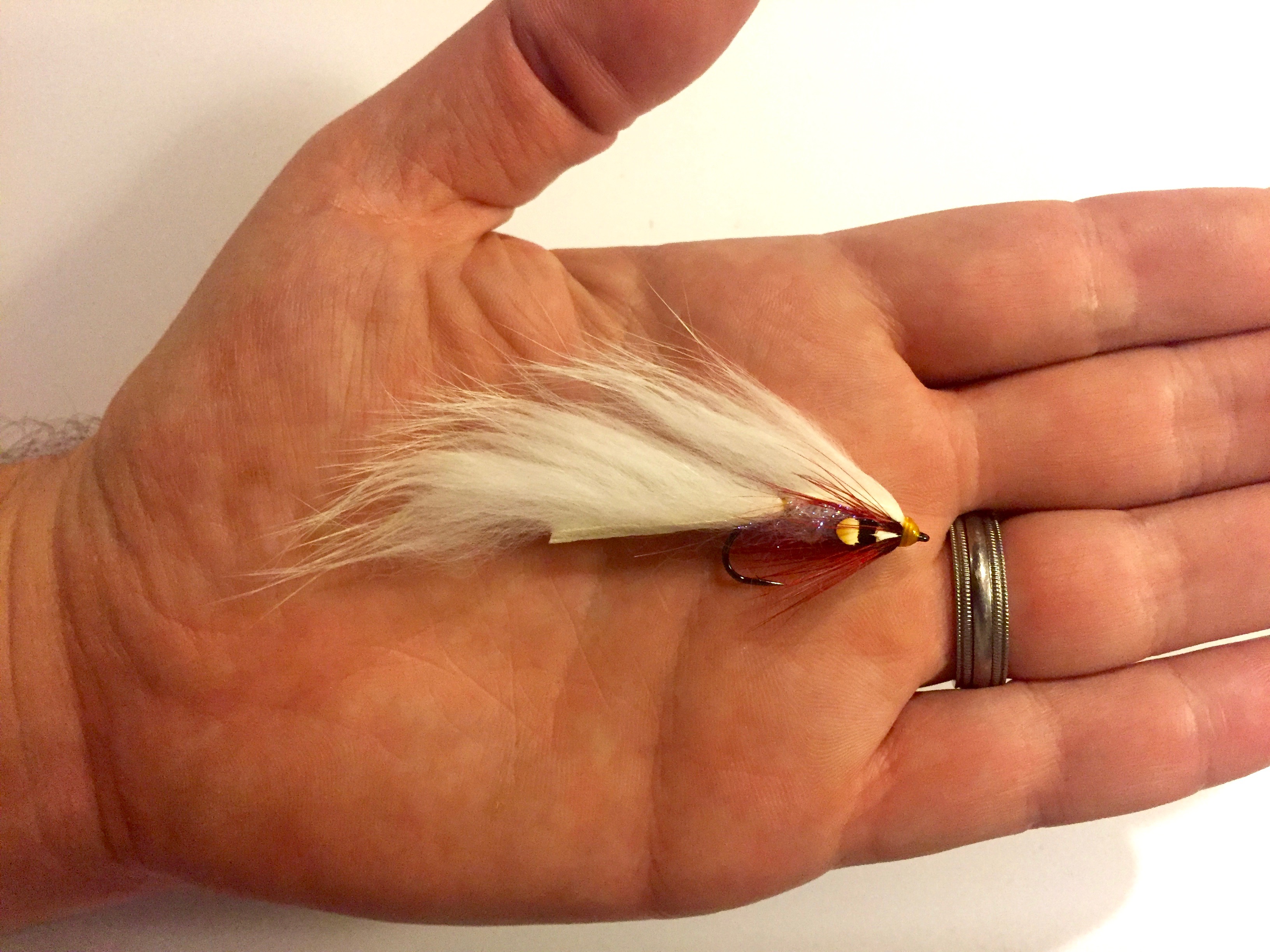 White rabbit- swing it on a floating line below the surface
Pay attention while fishing this way. A fish that will boil on a dry or riffle hitched wet but doesn't commit can usually be talked into taking the subsurface wet. Try to match the color and size of the dry with the wet you tie on next, or clip off the riffle hitch and fish the fly below the surface. And even if you haven't had any fish come up, don't be afraid to upsize the size of a wet or small, unweighted streamer that you fish below the surface. Catching a fish on a floating line and an unweighted streamer in the upper part of the water column is an accomplishment to be proud of too. Plus they just hit it so, so hard. Often the take on a streamer fished just under the surface is an explosion of head thrashing, water-spraying, unholy ferocity that will leave you speechless. So it really is pretty cool too. But you should save that for your last pass through.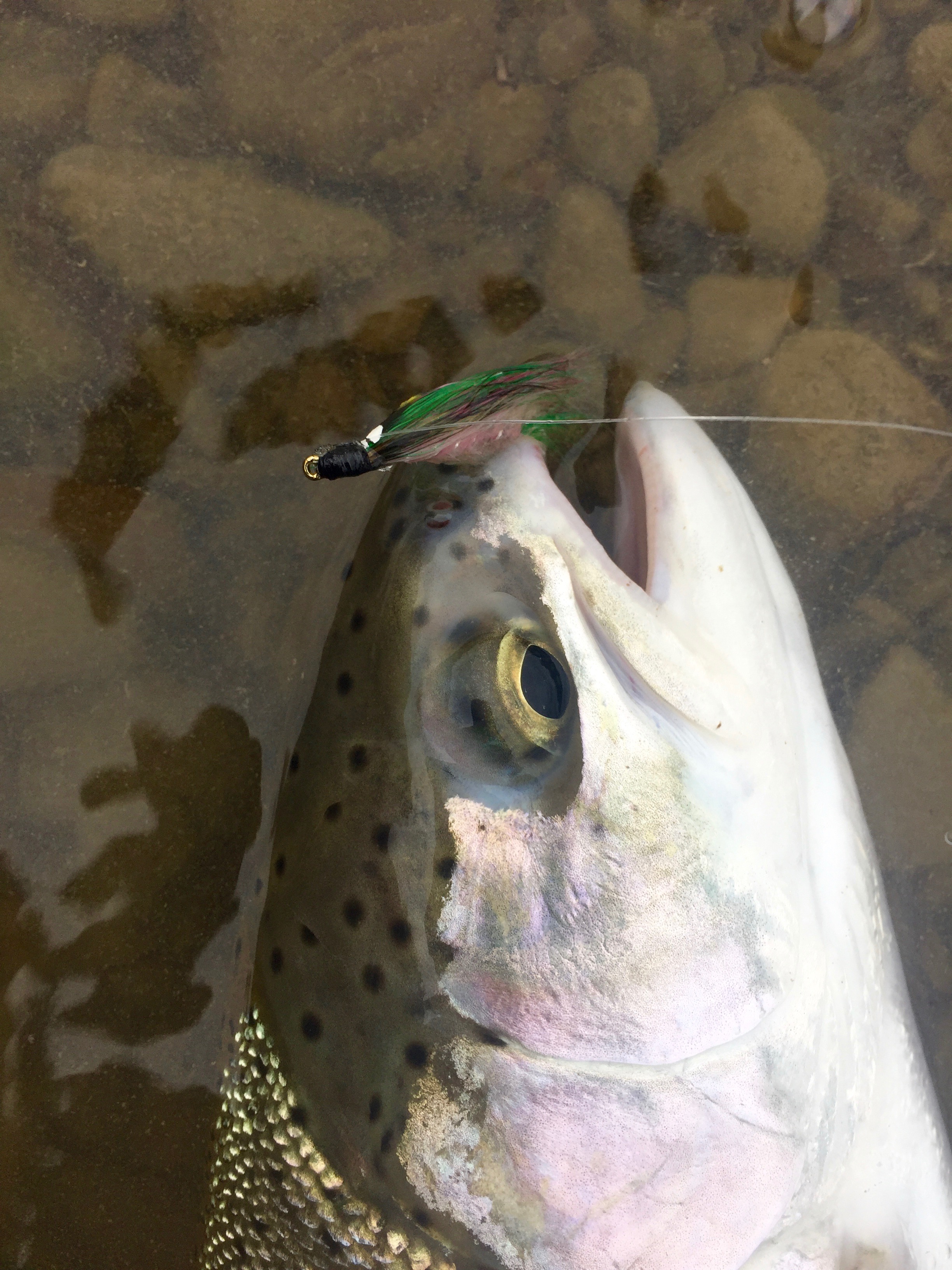 Hopefully the end result!
So if you are really gonna give a floating line a try, keep in mind the tips above. Though you probably wont catch every fish in the river this way, or maybe even any at all, it is just too much fun. So find your spot, and try to stay away from the fishing pressure. A few days spent swinging a floating line before the cold starts to set in is a reward all to itself. But if you're lucky you might just get surprised by an explosive surface take. 
Tight Lines and Good Luck!
 - D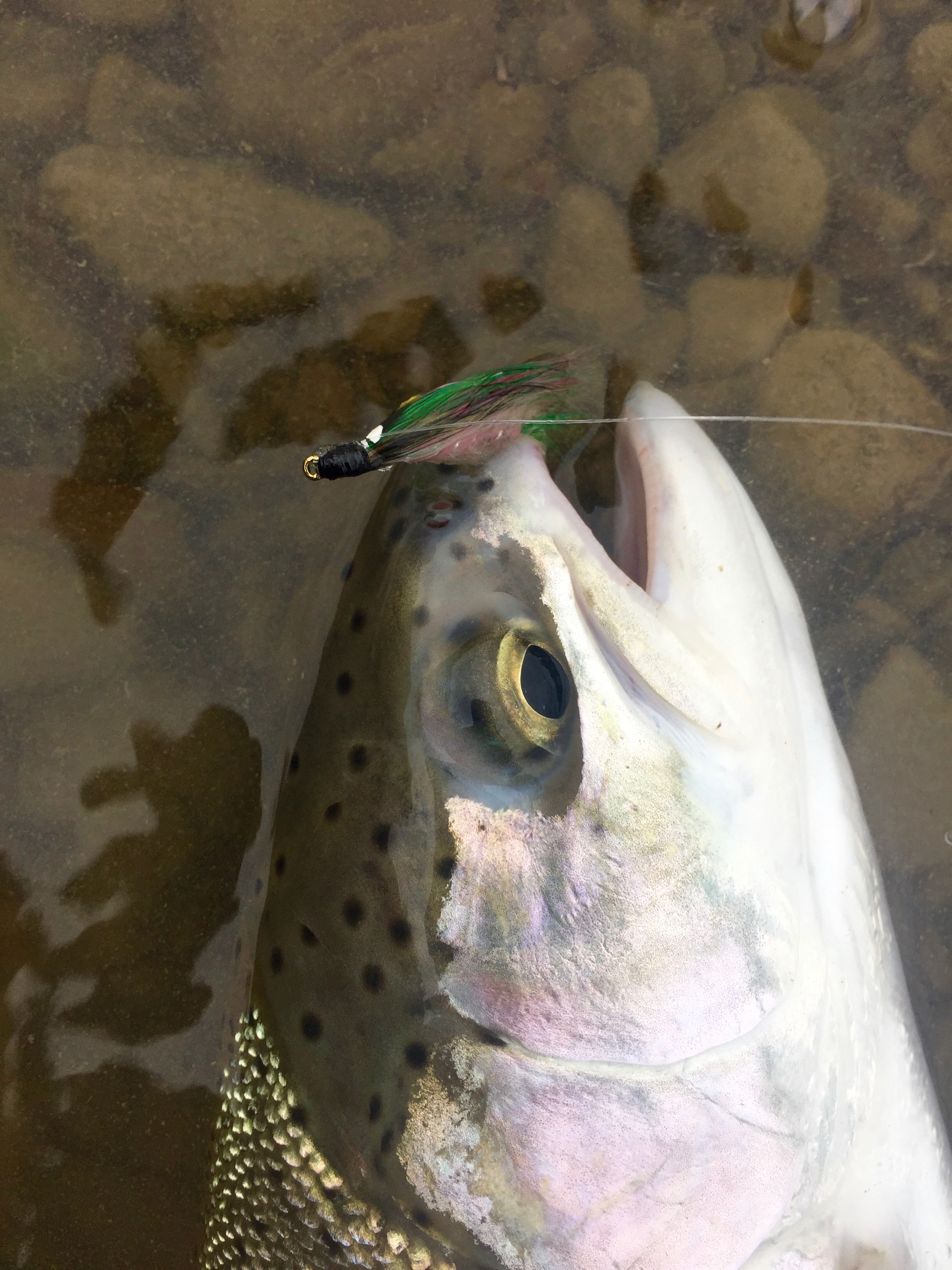 First fish on a riffle hitched streamer skimming across the surface
Rose five fish on the Catt to a riffle hitched streamer fished on a floating line with a 10' clear floating poly leader and another 8' of flouro tapered down to 6 lb. Ended up landing three. So today was a very good day. After a bust last year during surface season, this year is shaping up to be spectacular. In two days I've had one fish eat a dry proper, and five come up and eat a streamer fished skated hitched on the surface similar to a waking dry. That is just unreal. Most fish that will look up run between 15 and 25", so don't expect too many of the bigger guys. But they are just too much fun and watching them come up is breathtaking. The fish I landed today all fell within that size range, with the biggest being right at 25". And not that this kind of fishing needs any sort of enhancement, but all these fish were from the mid river where I was the only soul around. That's why I like to fish those areas this time of year. You can find the unpressured fish that might be willing to play with you if you fish a dry line. It doesnt happen all the time to be sure. But it does happen. And when you have a day like today you fill the bank, and that's what will carry you through the next dry spell. Today was a great day.
Tight lines and enjoy the rest of the pics
 - D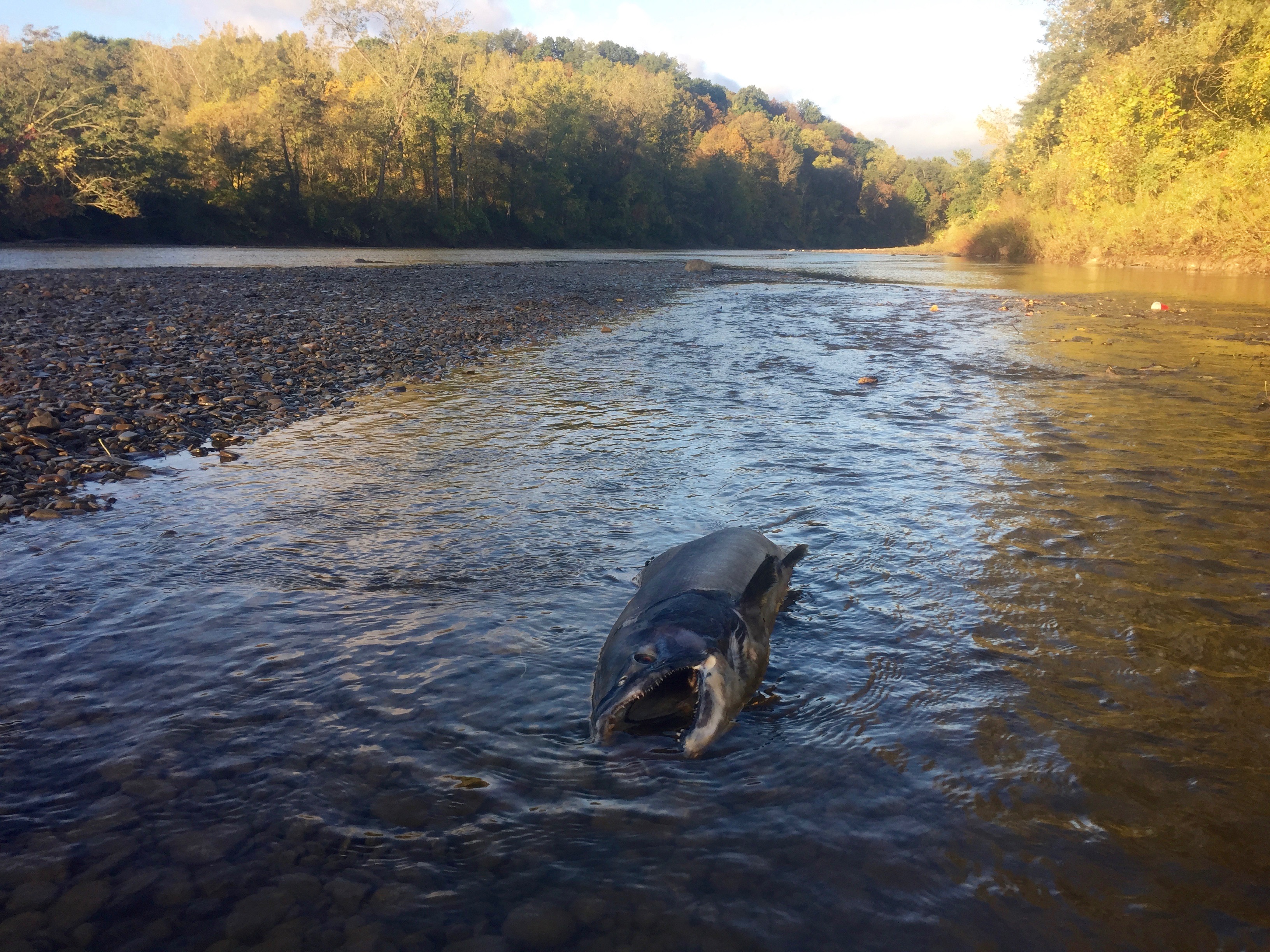 A familiar face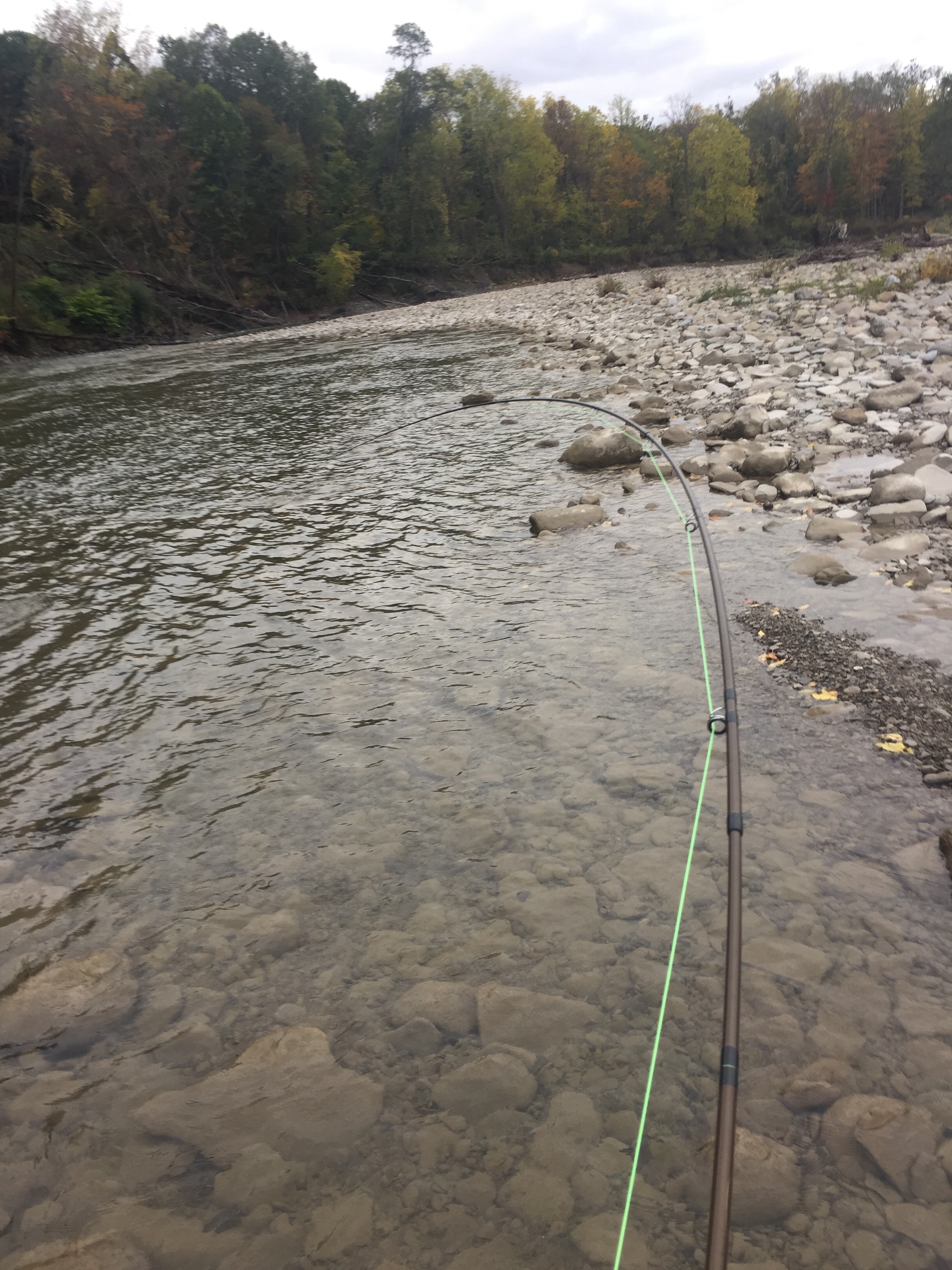 Hooked up with the first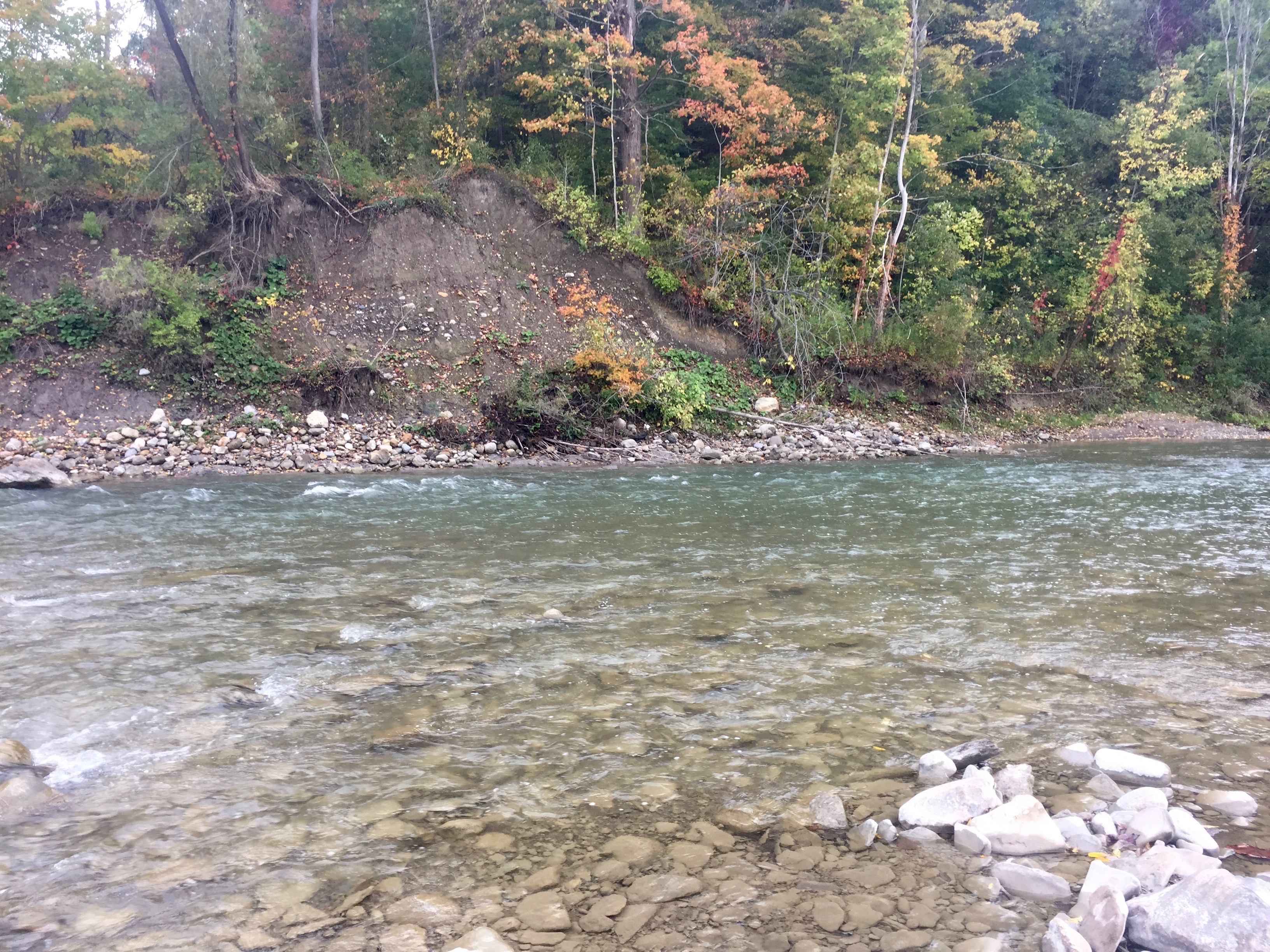 Riffle hitch water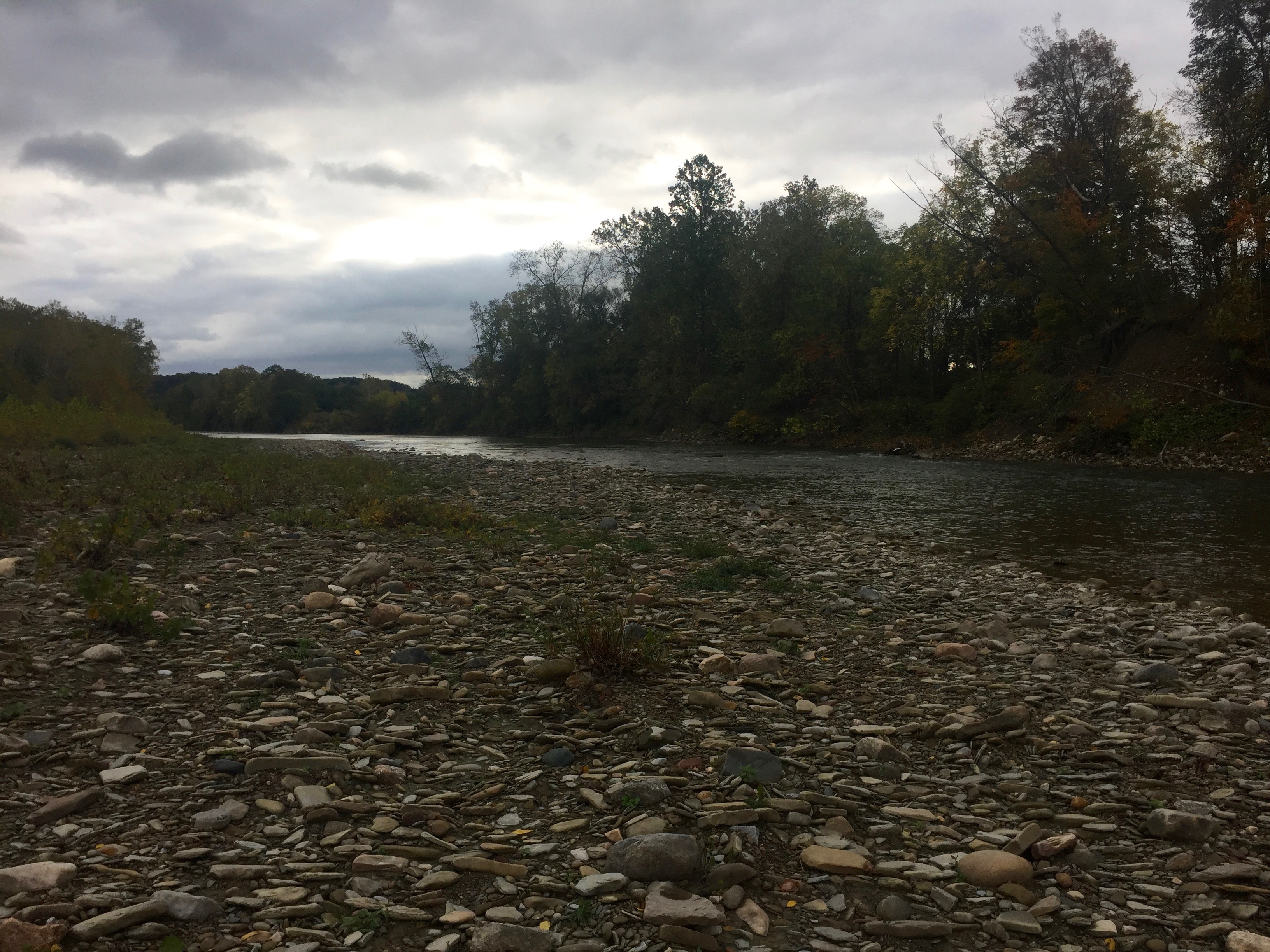 Why I like fishing mid river early...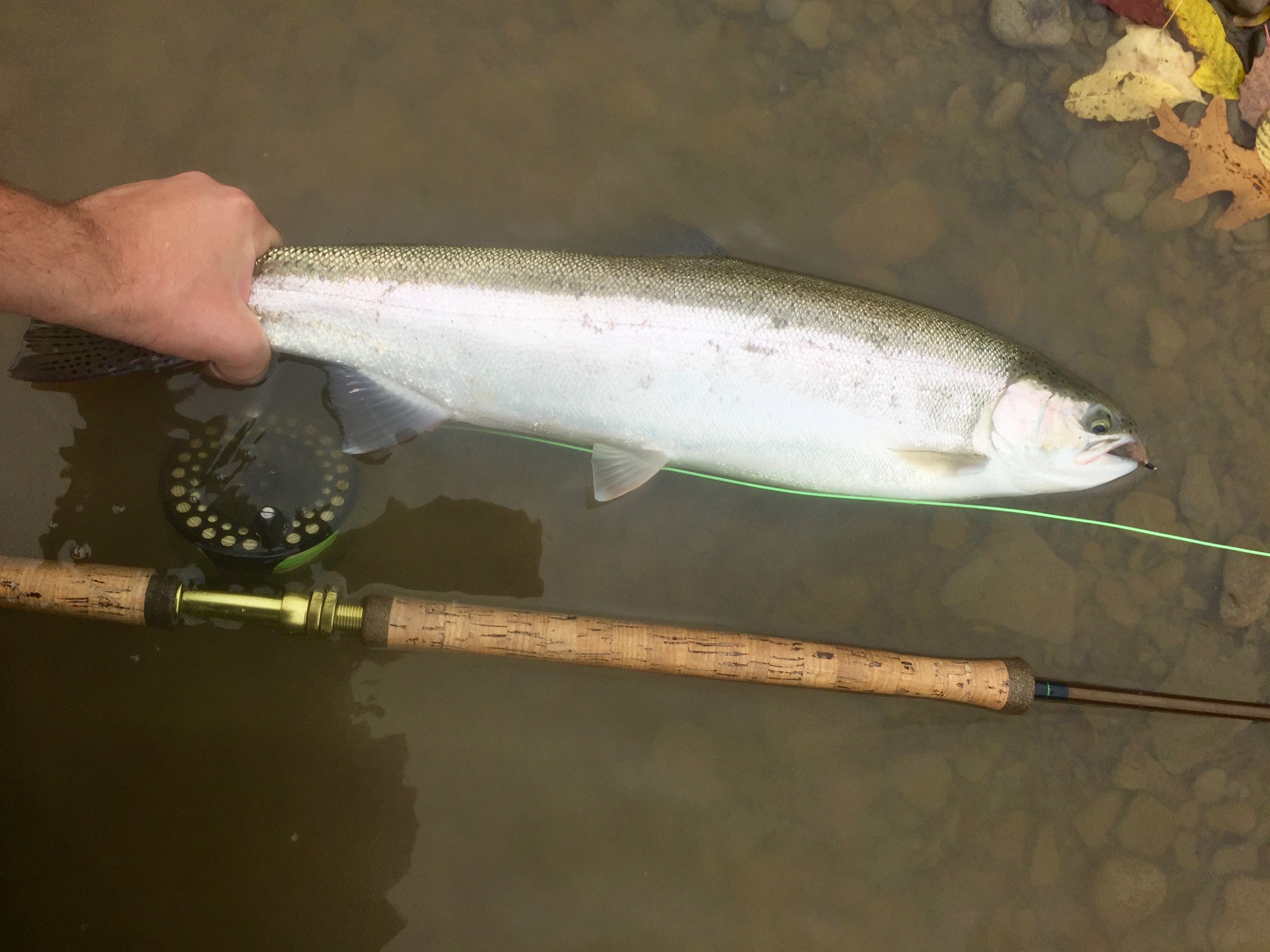 Biggest of the day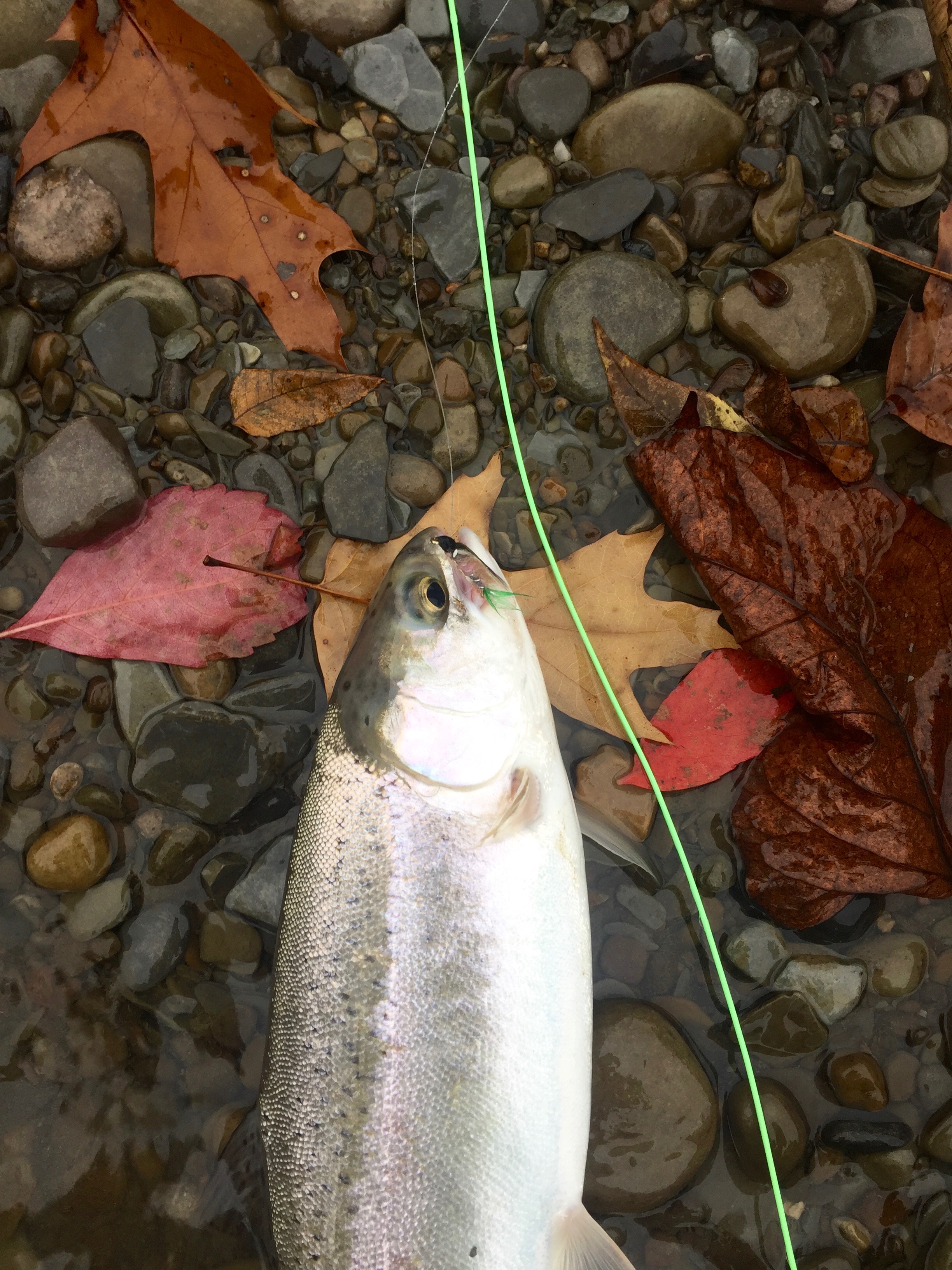 Another riffler eater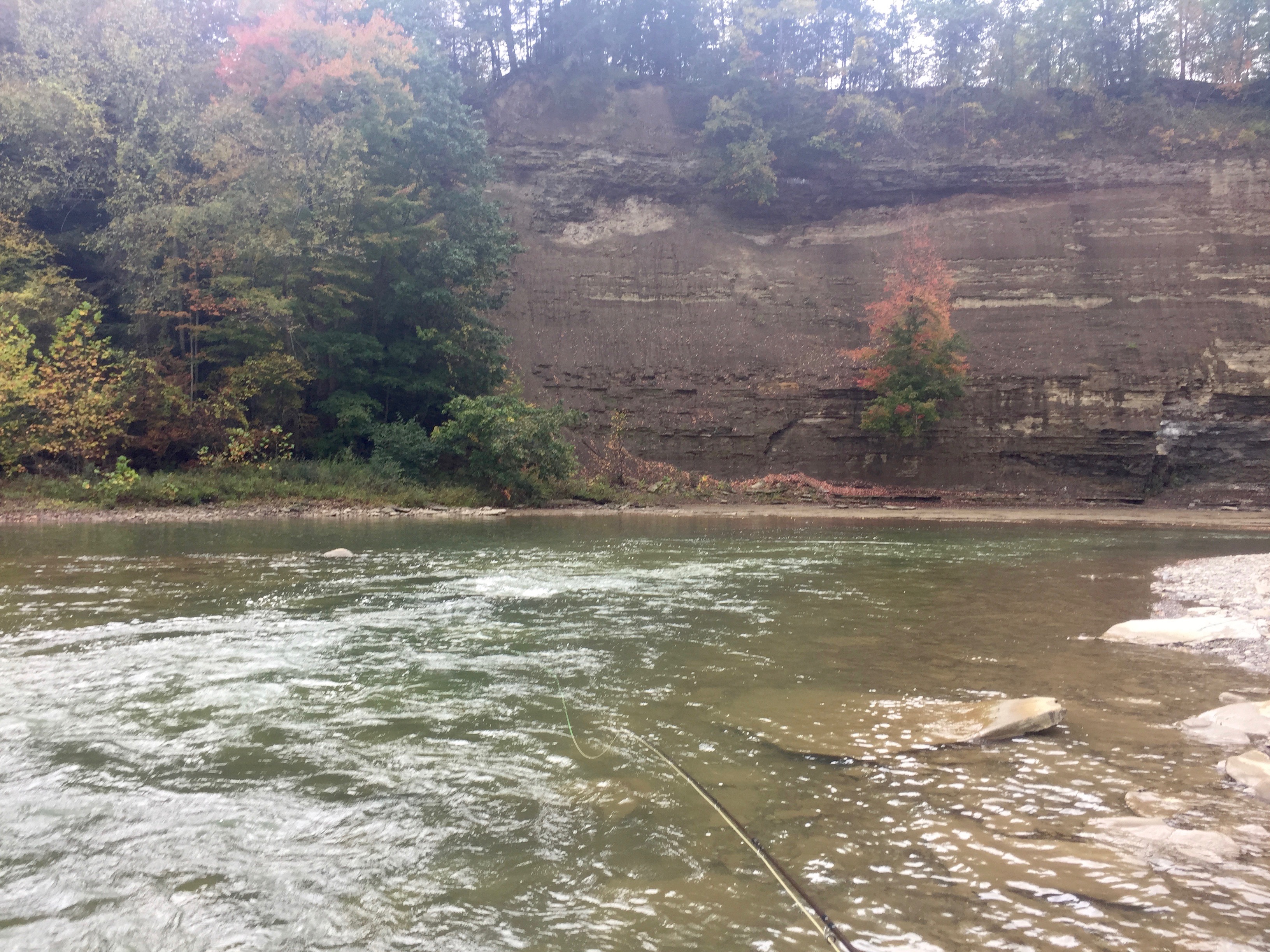 My money run today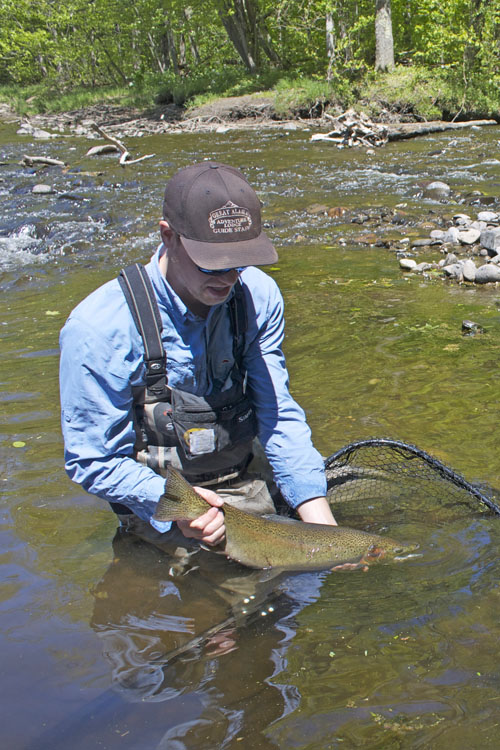 This steelhead crushed a muddler fished on top through a heavy riffle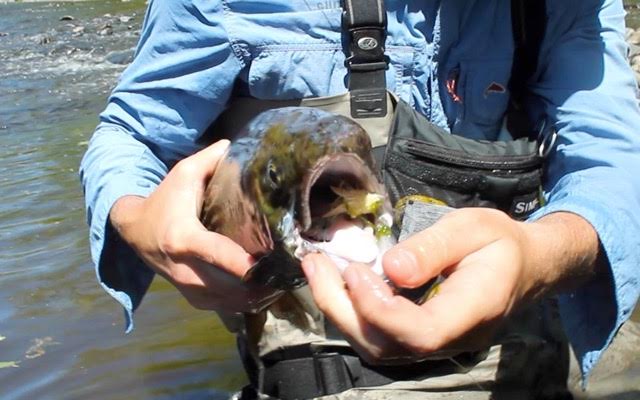 Down the hatch! (Not to worry, the point was on the roof of the mouth away from the gills :))
In western New York, we are blessed with some of the best fall fishing for steelhead in the country. Each year while the weather is still pleasant, and water temps are good for active fish, fly anglers hit the creeks and rivers. Most are armed with indicators and egg patterns or nymphs, and some with sink tips and streamers. But one technique I don't often encounter is someone fishing a floating line and long leader.
It occurred to me that I've been writing a lot lately of chasing steelhead on the Catt with a floating line. But I haven't really posted any tips or tactics for anglers looking to get out there and fish without slinging shot or heavy sink tips. So sit back, enjoy the ride, and learn all that you need to know to properly fish the surface. But be forewarned. Fishing a floating line is not a numbers game. It is a quality game. You have to be dedicated enough to forego changing to a much more productive method after a few hours without action. If you think you can, keep reading!
First and foremost, there are three main methods I use for fishing a floating line on the surface. They are:
2.)
Dead Drifting or Indicator Fishing with Dries
3.)
Fishing Muddlers through the riffles
To be successful on a floating line, you need to know where, when, and how to use each technique. But even before you begin to select technique, you must know water temperature. When I fish a floating line, I am looking for water temperatures at least in the low 50's. Though it is not impossible to rise a fish in colder water- and I've seen fish come up in water as cold as the low to mid 40'-  the colder the water, the less metabolic activity the fish will have. Therefore the fish will be less inclined to move for a fly. But also be mindful of the other end of the temperature spectrum. Water temps of 65 and over are getting close to the maximum temperature threshold of an adult steelhead, and with sustained energy exertion (such as fighting a fish), mortality rates drastically increases. So just be mindful. Now onto the techniques.
Skating a dry fly is one of the coolest ways to fish for steelhead. Like all surface methods, you must be very specific in the locations you apply this techniqe. Our steelhead in the Great Lakes are generally less likely to move a great distance for a fly. So a good rule of thumb is take the dry fly to the fish by fishing in a location that places the fly as close to a holding fish as possible. I look for three main locations: choppy runs between 1 and 3 feet deep; the extreme heads of pools well above the bucket; and the extreme tailouts of pools just above the lip. These locations are generally shallow enough that even fishing a dry puts the fly within a foot or two of a holding fish. Start out by fishing from a position well above the area you want to cover. Use short casts at first, keeping the rod tip high. The goal is to fish the fly first like a skittering caddis across the chop. Then after each cast, lengthen up and drop your tip a little. By the end you should be getting a smooth and even wake as the surface chop calms. The pattern you fish will determine just how heavy of water you can fish- the bushier the pattern or patterns tied with foam the heavier the surface chop they can be fished in. I tend to fish leaders between 12 and 15 feet tapered down to 8 pound, but sometimes 6 pound fluoro. If you are lucky enough to rise a fish, the most important thing is to wait for the fish to turn on the fly before you set, or you'll likely pull the fly out of the fishes mouth. After a second or two, the line will begin to tighten up, signalling that the fish has turned away. Now is the time to set hard and downstream at a low angle. Good patterns are large october caddis flies with orange abdomens, yellow or orange stimulators, humpys, bombers, and ska-oppers. I look for flies from size 6-12, depending on the size of the creek I'm fishing and the water clarity.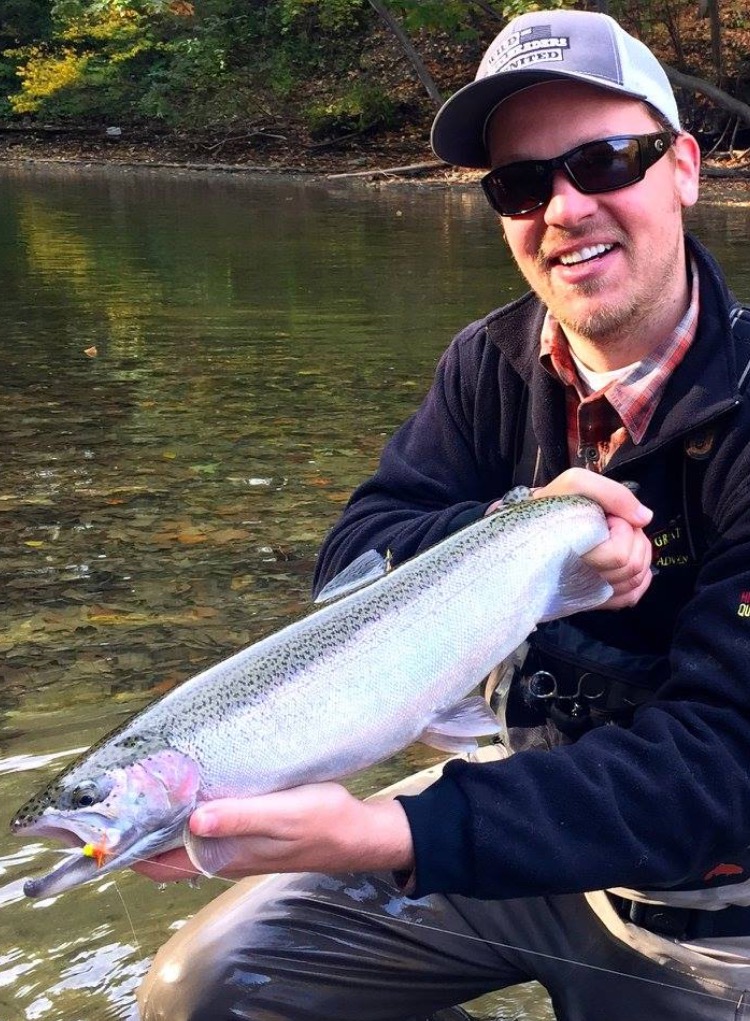 Last year, good friend and longtime client Art Sandler took this beautiful fall steelhead on the dry fly indicator


Next is indicator fishing or dead drifting dries. This is pretty straight forward. Look for glassy pools with water between two and four feet. Often fish will be visible in this situation. A good indicator that the pool is a good candidate is fish suspending off the bottom. The higher off the bottom, the better your chances. Fish your fly like you would dry fly fishing for trout, or indicator fishing for steelhead. Approach from the extreme downstream of the pool, keep a low profile and cast up to the fish you want to fish. Cast so your fly will drift over the fish, but your line won't, as fish are going to be very spooky in these conditions. One thing you can do is to add a clear floating polyleader between your leader and the fly line. This will add an additional 10 feet or so of clear line that is less likely to spook the fish. As you work your way upstream, begin letting the fly drift down below you and swing out. Often a fish will show interest in the fly by following it. If this happens, target that fish specifically and downsize your pattern after each drift. I use leaders between 10 and 12 feet, and good fly patterns are caddis flies, stimulators, humpys, and the indicator fly (a chartreuse and orange deer hair bodied dry fly).
Finally, one of my favorite methods is to swing muddlers on a floating line through heavy riffles. The fish at the beginning of this article took a 3 inch long white deer hair muddler fished on the surface and I can tell you it was the hardest take I've ever felt. Good muddlers to use are white, olive, black, or purple, and between 2 and 3 inches long. When fishing heavy riffles, start well above the area you want to target and fish at an extreme downstream angle, well below quartered down. You will feel the muddler pop across the surface in the riffle, diving down and rising back up. That's exactly the way it should fish, and you can even add a little extra action by twitching your rod tip on the swing or the hangdown. The good thing about fishing heavier riffles is that fish are well oxygenated and likely to be active. Plus most anglers focus on pools so a steelhead in a riffle has likely seen minimal pressure. And don't worry if you lose sight of your fly during the presentation. A steelhead take on a muddler in the riffles is not a light take by any means. It will feel as if the rod is exploding in your hand.
So if you are looking for a challenge this fall, with lower water and warmer temps, get out and explore the riffles and choppy runs with a floating line. Though it may not be the most productive way to fish for steelhead, fishing a floating line is just too much fun. They are a joy to cast, and just when you least expect it, the nose of an 8 pound fish might poke through the surface. Not many anglers in this part of the country give any serious thought to fishing a floating line on the surface, and if you are lucky enough to see that beautiful sight, count youself amoung the select few. Bragging rights bestowed.
Tight lines
- D 
Spent yesterday and today out on Cattaraugus Creek. Still beautiful, still very low. Yesterday, again I started below Gowanda. Spent the first few hours working over a really good pool with an intermediate tip and a variety of streamers. My only tug came around ten in the morning on a white woolly bugger, but like last time it was quick and non-committal. The low water has the fish really finicky right now, and if you're out to swing, stay small.
After that, I changed up to a dry line and a ska-opper. Spent the rest of the day yesterday and all of this morning skating and popping the ska-opper and an orange bomber across pools. Yesterday after leaving lower Gowanda, I jumped way upstream, above the valley. The runs up there are beautiful and the trees right now are on fire with fall colors! But where few fish have made it up to Gowanda, even fewer have made it up there. The tradeoff for solitude this time of year is fish.
Today, however, I fished the reservation. It's not my favorite place by a long shot, but this fall is shaping up to be a good year to try to get a few on the surface, and I wanted to fish to more concentrated numbers. When I got there at daybreak, the waterflow was 85 CFS and water temp was 58 degrees. Low and clear but perfect temps for surface techniques. Spent the morning working the ska-opper through shallow runs, around downed trees, and casting to the high banks and popping it out. Had a small fish roll near my fly but I'm pretty sure it was only a coincidence and was not showing interest in my offering. As the sun got higher, again I switched to the bomber for a more buggy presentation. But came away empty handed.
The other anglers I spoke to this morning seemed to be doing pretty well, and I saw about a dozen fish caught ranging from 12 to 28 or so inches. There are good numbers of fish in the lower four or five miles of the Catt, but there are people. By about nine, every nook and cranny had at least one if not more anglers fishing it. So if you do come out to fish, find a good pool and get there early. And don't count on there being many open spots by mid-morning.
While I was walking out, I stopped and talked to some centerpinners. They couldn't seem to get over the fact that I haven't caught a fish yet this season, despite about four days of fishing. Most of that is due to the locations I've been fishing and the techniques I've been using. I've been hitting the mid and upper river. I know there aren't a ton of fish up that high, but at least I have space. And, with the exception of fishing one pool in the morning a few days with an intermediate tip, I've been concentrating on skating dries. I've logged about 10 or 11 hours now fishing either the ska-opper or the bomber. If this fall is like seasons past, that means I'm about halfway to a good take. Over the years that I've kept track, it seems like I get one take for every 20-24 hours of fishing the surface. The key is staying dedicated. Today watching the pinners and indicator guys catching quite a few fish was hard. Knowing how easy it would be to put on a bead and pull a fish or three from a falled tree, or even swing a streamer on a sink tip through some of the runs makes it that much more so. But it's been a couple years since I last touched a fish on top, and this year I'm going to keep fishing dries until the weather turns, or I catch a fish or two. After all, catching a steelhead is supposed to be memorable. The image of the last fall fish that ate my dry is still vividly burned onto my soul. I don't think any of those fish caught by the centerpinners leaves such a lasting mark.
So, like last time and until next time, enjoy a scenic shot (who ever said dry fly fishing for steelhead was easy! ;))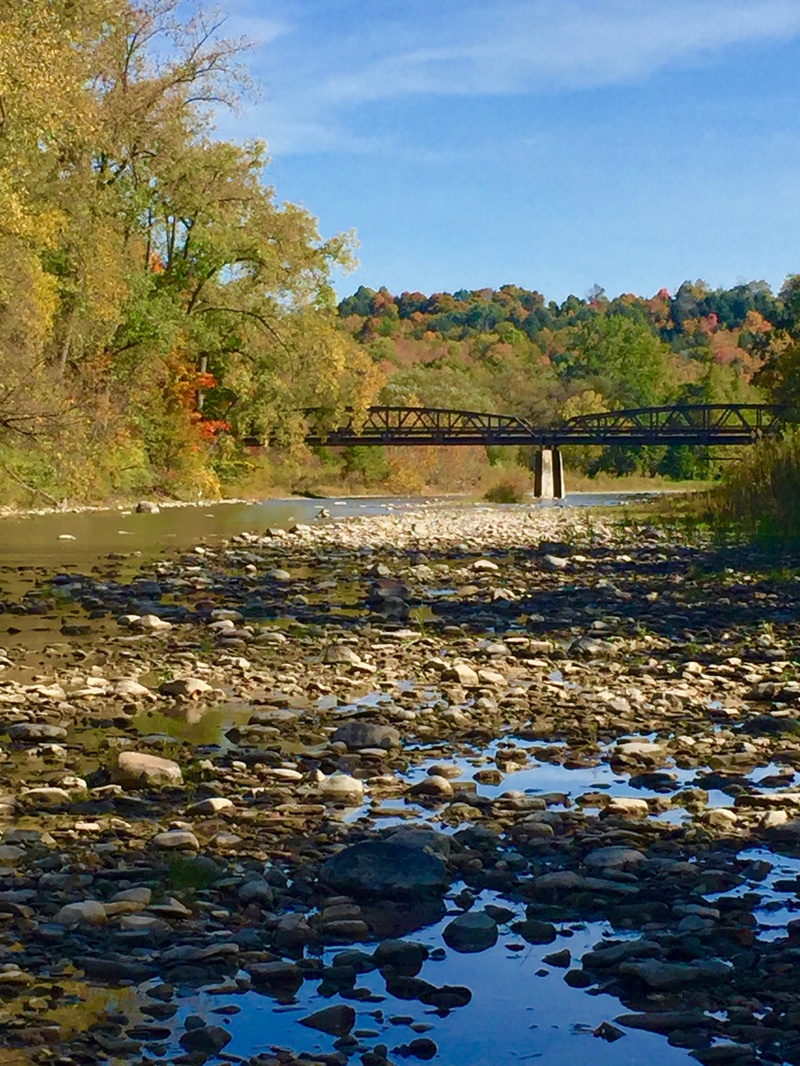 Well today was interesting to say the least. Fishing was kinda all over the place. At the first place we fished, we found a decent pod of large 3 lake year fish. Most of the fish we hooked were at least 8 or 9 pounds with some waaayyy bigger. In the clear water, there were steelhead that were dwarfing the average 8 pounder. I'm gonna guess that the largest we saw were around the 15 pound ballpark. And we hooked fish. But our first half dozen or so hookups either broke off or pulled free. Some of the large fish we were hooking would run upstream to a deep plunge pool where they could wrap the leader around a rock, or simply sit in the heavy current. It was frustrating for the first hour or two to hook some of these monsters, but because the water was so clear we could use nothing heavier than 6 pound floro, and when the fish would run all we could do was watch them bury themselves in the heat. We simply couldn't put enough pressure on to keep them from getting there. Finally we got one of the smaller fish in the net. Though I said small, it was still 7-8 pounds.
Meanwhile, Art and I had walked downstream a bit to a slooowwww tailout and it was stacked. We twitched nymphs, pulled woolly buggers near the surface, tried smaller streamers, but only had one hit right of the bat on a white streamer and it didn't stick. Seeing how many fish were stacked in there, and how often fish would slap the surface, I opted for a dry fly with a small nymph dropper. Art would cast up, dead drift down, then skate out. Fish immediately showed interest in the dry fly, chasing but nothing was committing. Finally as Art's drift was ending and he was skating the fly, a fish turned and lit him up. The fish crushed the dry, and the fight was INSANE! The fish crashed up and down the river with room to run, but after a long and spirited fight we netted the 6 or 7 pound chrome fish, dry fly in the corner of her mouth. What an achievement.
Once the fishing slowed there, we checked out another spot and found a decent pod of fish. We hooked another five or six, landing two or three more beautiful chrome steelhead. At 12:45 we called it a day. It was an epic trip with some of the hardest fighting steelhead I've ever seen. Landing one on the dry was the icing on the cake.
The pics speak for themselves.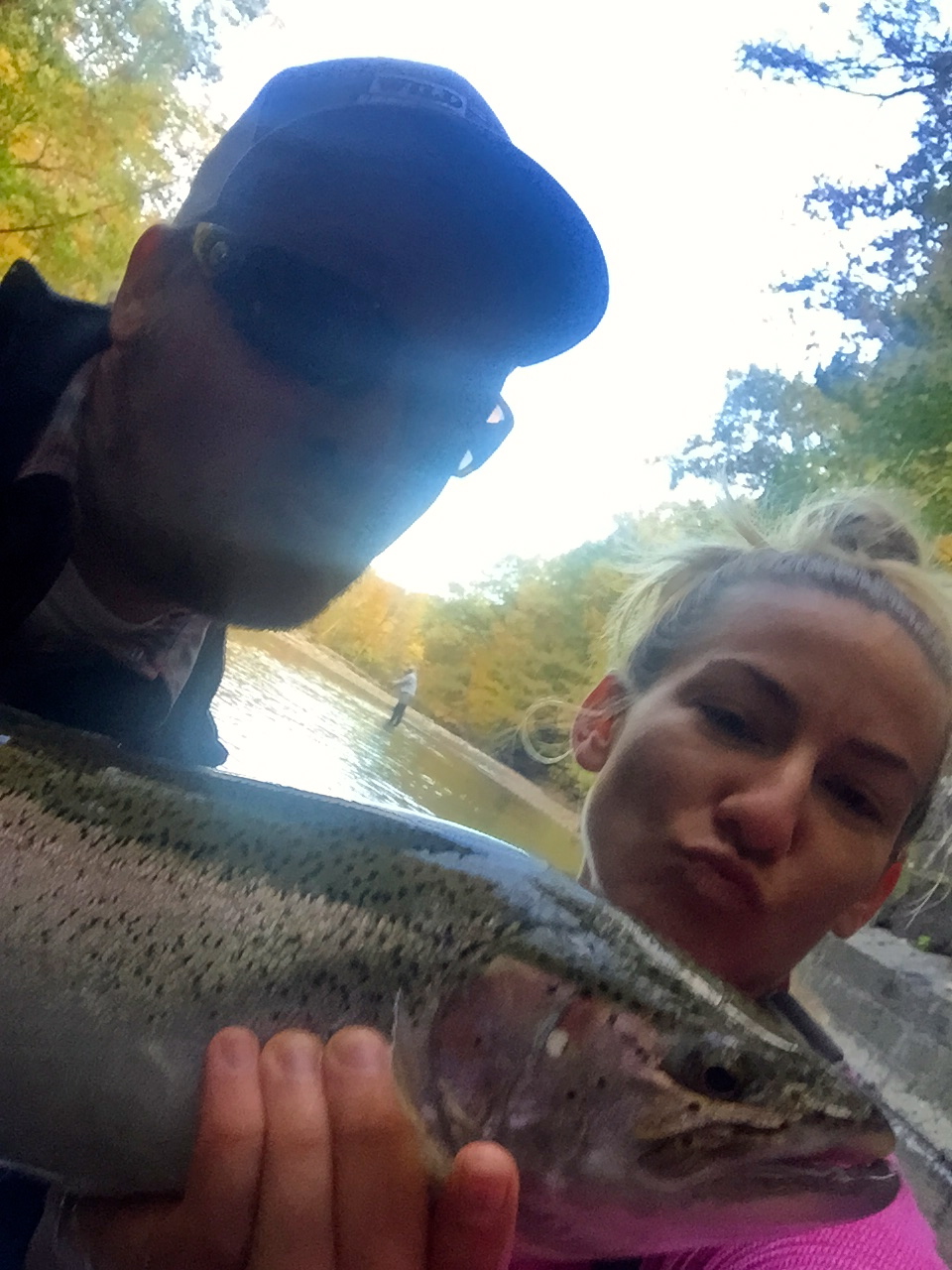 Fish selfie.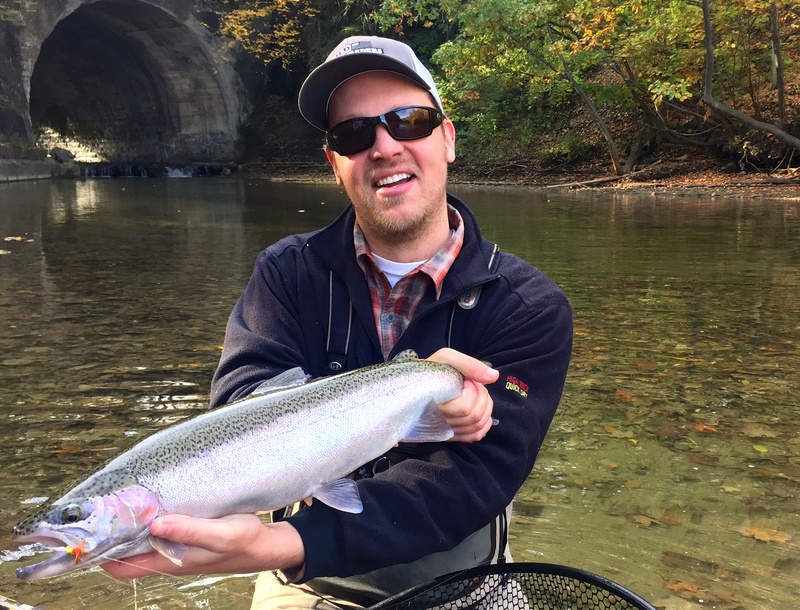 Why yes that is a dry in the corner of it's mouth.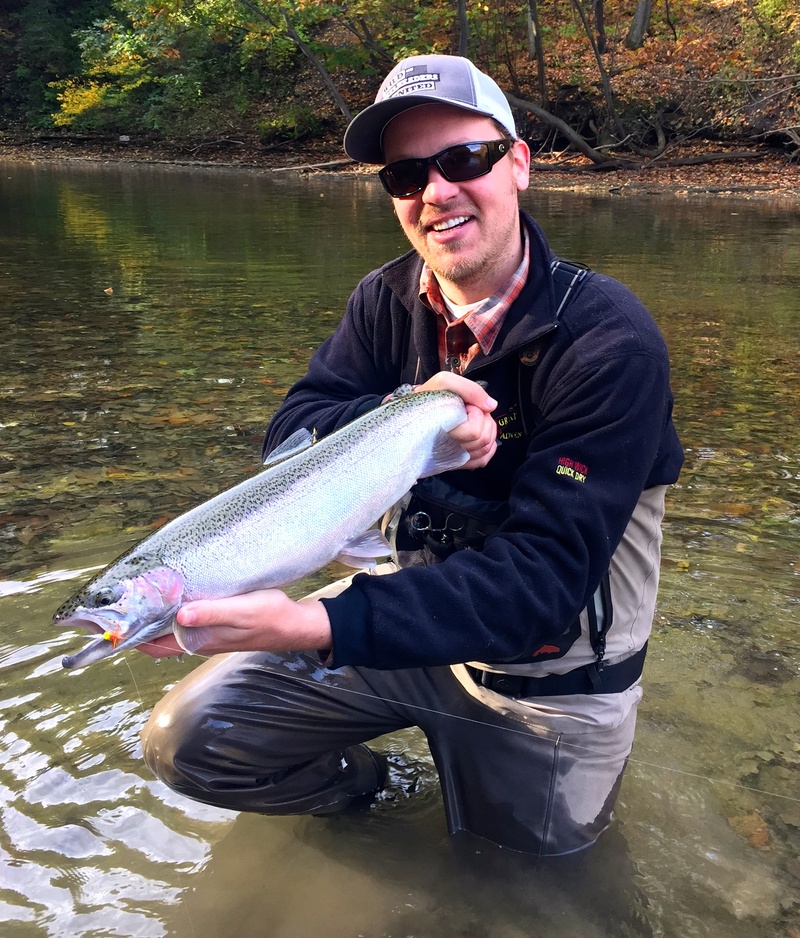 Another shot of Art's steelhead on the dry.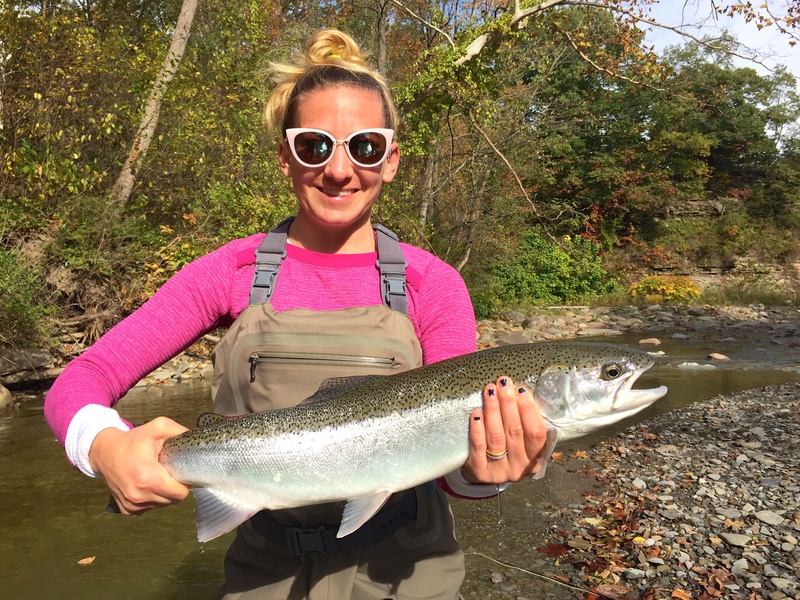 Jess with a chrome fighter.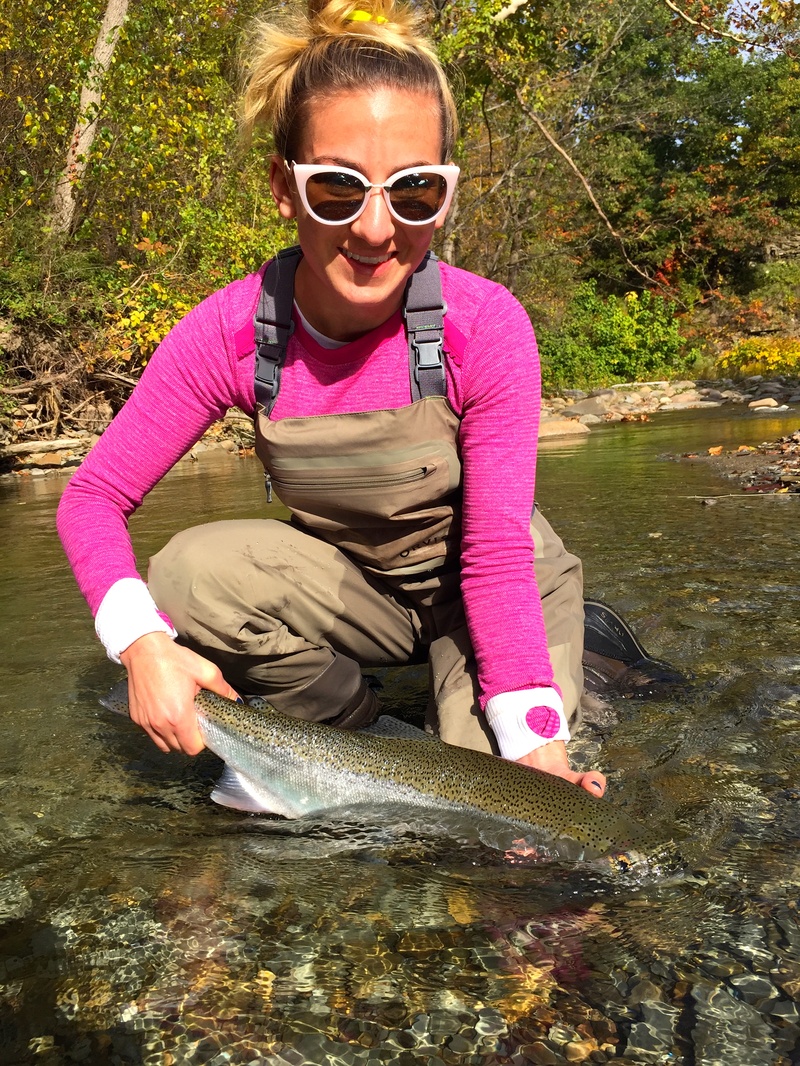 Catch and release.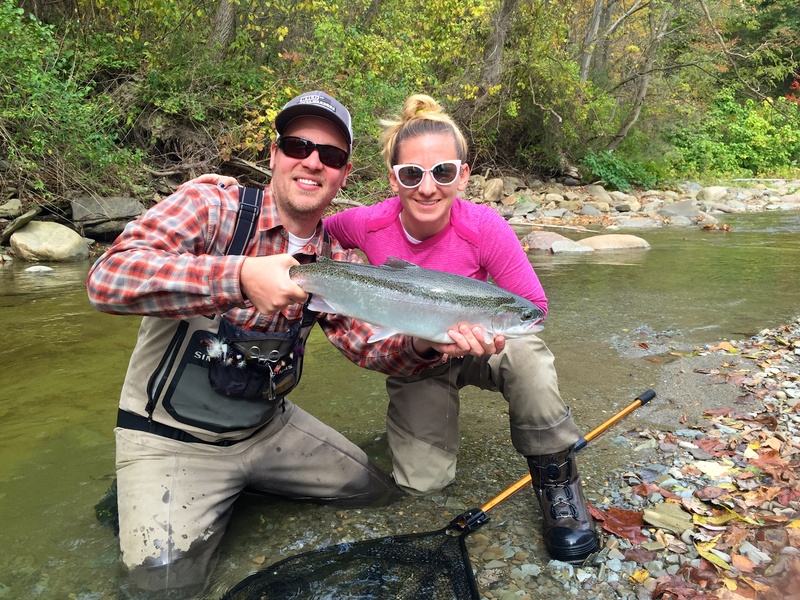 Me and Jess.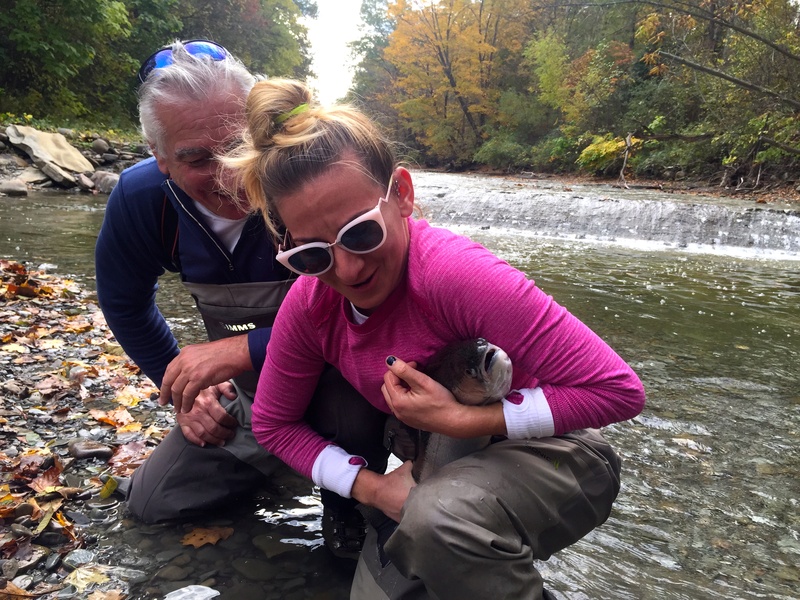 Fumble!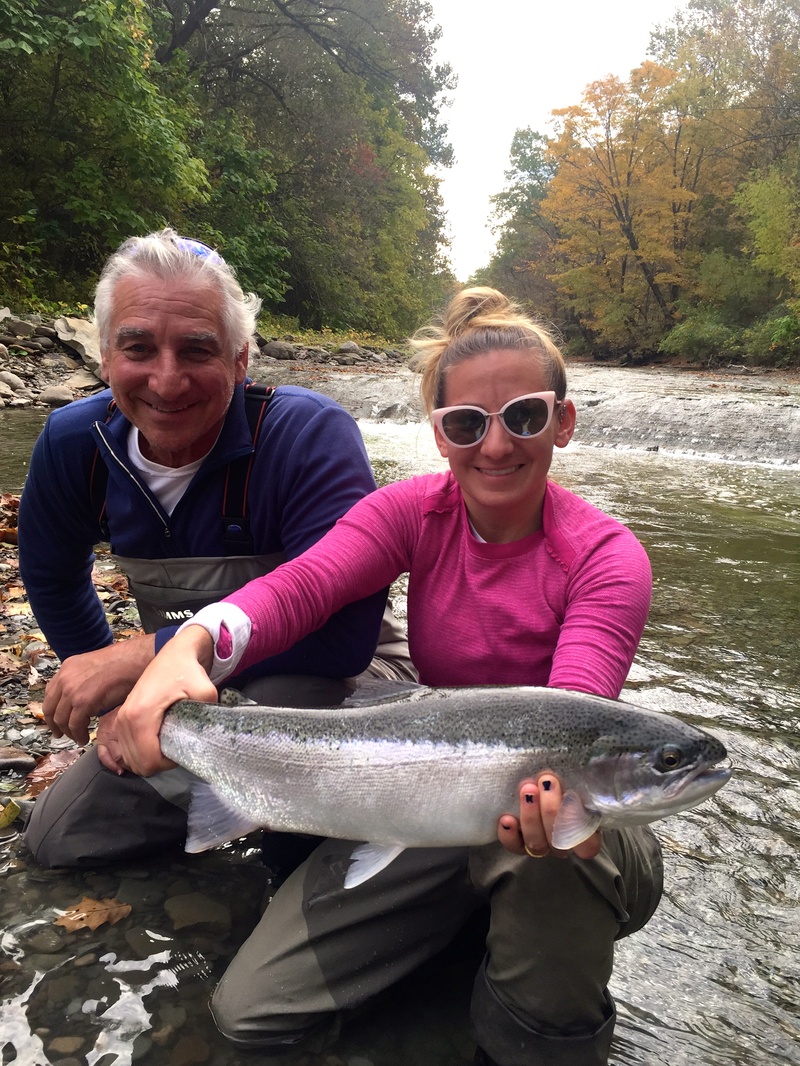 Father and daughter.
This past week has been what we were waiting for! High temps in the 50s since Wednesday, even a 40 something day on Saturday! This coupled with around an inch of rain has pushed in the fish! Friday brought high winds to murky up the shore. Definitely a small craft advisory! Saturday the Catt was under 300 CFS with steady river temps right around 50. Started at daybreak on the reservation below cabbage patch. With all the gravel mining they are doing at the patch, I wanted to see what the river lower down would look like in otherwise prime conditions. Well it wasnt great to say the least. What should have been near to or slightly more than 20 inches of vis was cut down to under 10. Not un-fishable but very tough. Spent a couple hours swinging down there and lost a solid fish into the wood despite the less than favorable visability. 
By mid morning, I decided to hop above cabbage patch. Ended up a little higher up than I would have liked because this weekend was definitely a steelhead season weekend and there were cars and fisherman at each spot. Watched some center-pinners pull out a few fish near the patch. Checked out one of my favorite mid-river stretches and there was no-body, and the water looked great! Good news is run looked even better than I remember, but the bad news is that since the water looked so good up there, the gravel mining will keep the lower 5 miles or so at 10" or less. Didn't expect to find a fish this high up with the late summer and early fall we've had, and wasn't surprised by any.
Decided to pack it over and check out some of the smaller creeks. Each were clear and each had fish. Saw one hole on a smaller creek with a few fish lined up in the tailout. Grabbed my switch with a dry line and a long leader. Tied on a bomber and watched a fish chase it till it ran out of water. Chased it three casts in a row, but couldnt commit. Still it's always fun when you find a player.
All the creeks have fish in them. Here are a few pics.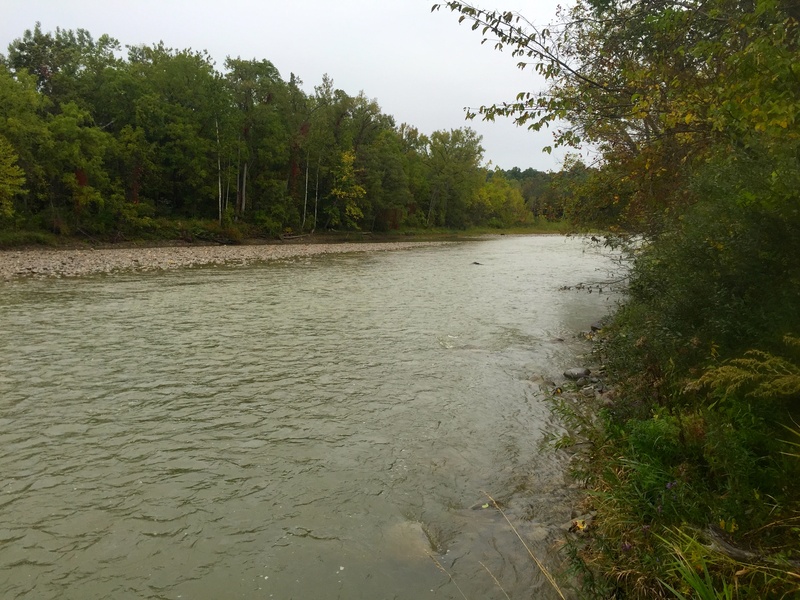 A money run. The near side is deep and boulder studded, while the far side has a slow water bucket that people walk through and forget to fish.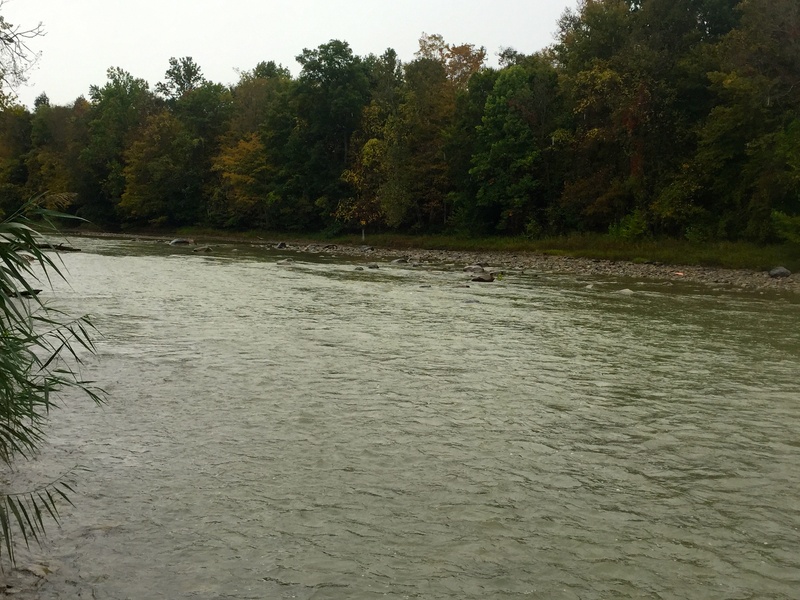 Where dreams are made. All those rocks on the other side will hold fish.
Its about that time of year to start thinking of chrome. The beginning of September this year has been one of the hottest I can remember, with a week straight of upper 80s low 90s. Yuck. But the worst seems to be past, and the coming week's forecast reads nights in the lower 50s with rain showers over the weekend. Better yet, the high temperatures on some of those days are in the 60s. Finally its starting to feel like fall. And that means steelhead. While the creeks will probably be low and clear for some time to come, steelhead will start to nose their way in.
This is the time of year to explore the rivers. With lower water, you can see what has changed over the past year. Plus with fewer people on the water its a time to find solitude. The crowds of peak season are still weeks away. Finally lower water is a great time to fish a floating line. There is no more exciting way to take a steelhead than on a floating line with a long leader. Swinging a fly on or just under the surface through a riffle only to have a steelhead explode on it will stop your heart. And the next few weeks are the time to try it. So if you do try the floating line, fish with an open mind because success is not measured in numbers of fish but quality of the total experience. And you just may be surprised by a willing taker. 
Fished the Salmon River yesterday and today looking for summer steel or atlantics. I always forget just how much the river looks like a classic new england salmon stream. Tanic water flowing fast over dark colored cobble and boulders. No wonder this river hosted one of the most prolific atlantic runs in colonial times. This proved not to be the case over the last few days as the only thing missing were the salmon! Saw a couple (literally 2 or 3) in the tailout of the top pool, but they sure as shit werent interested in anything. Fished the entire upper flys only section yesterday and today. Threw muddlers, caddis, bombers, foam wakers, and classics. Managed a few stocker steelhead smolts 6-8 inches long on a waking bomber. Any time a fish takes a wakng dry its fun, but they came in pretty easy on a 12'6" 6wt spey rod.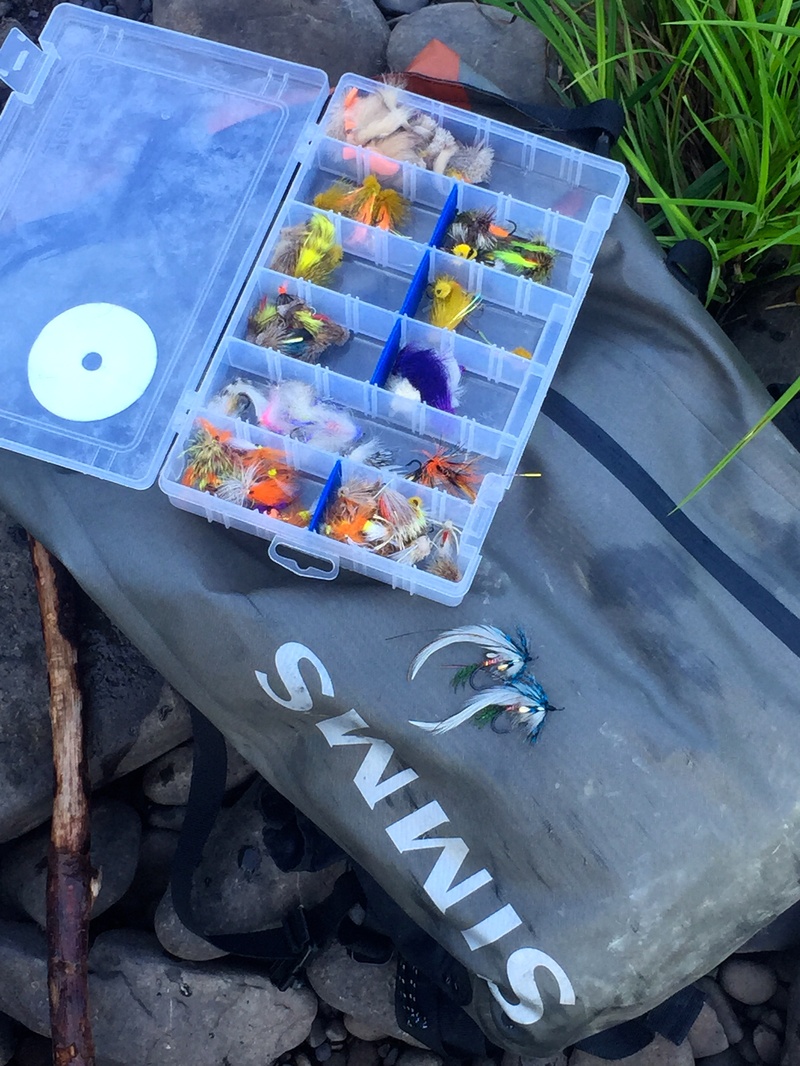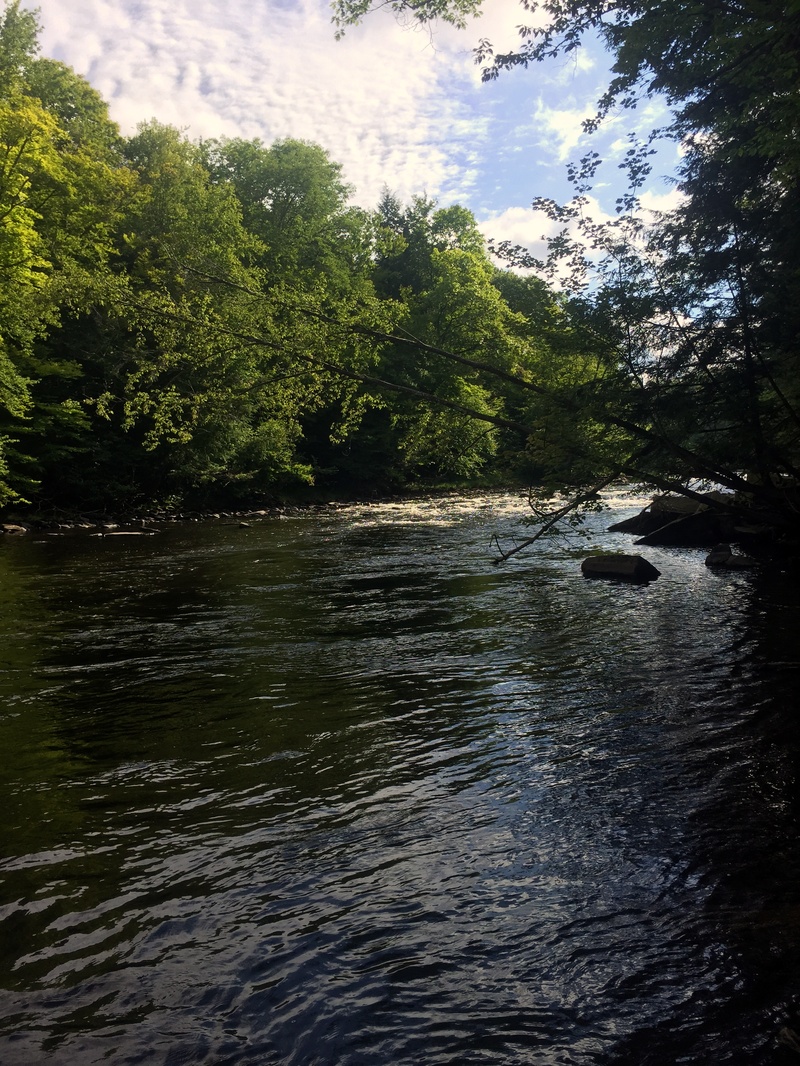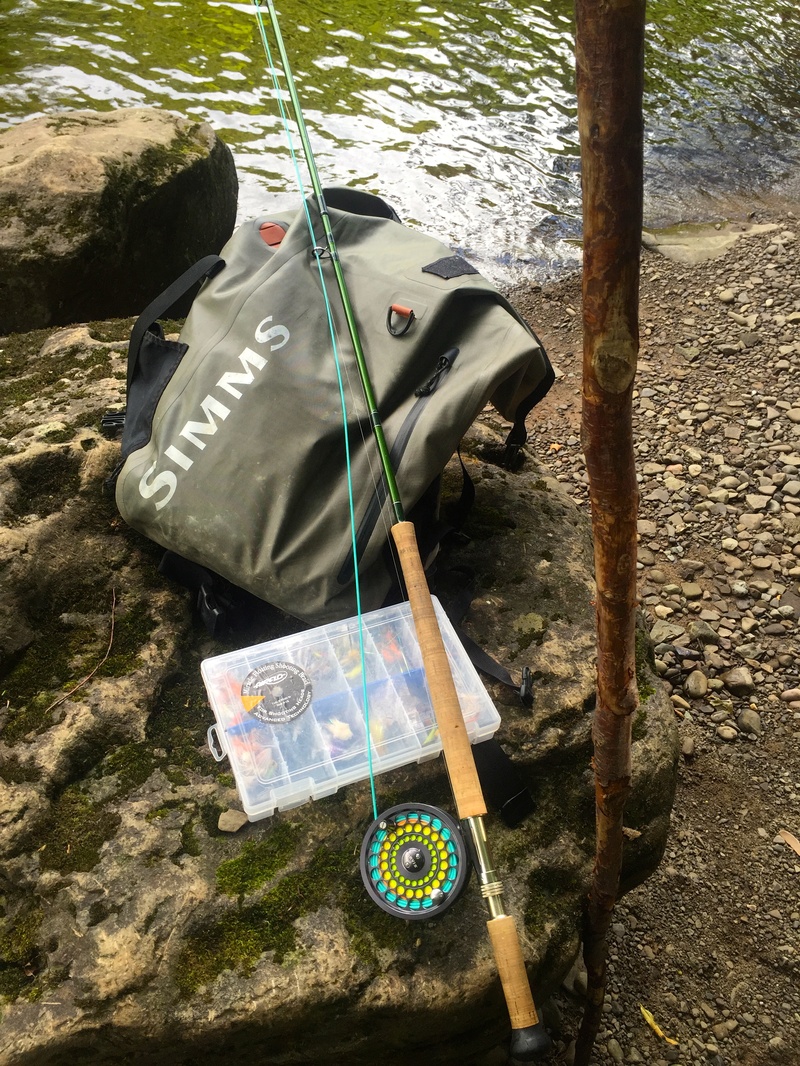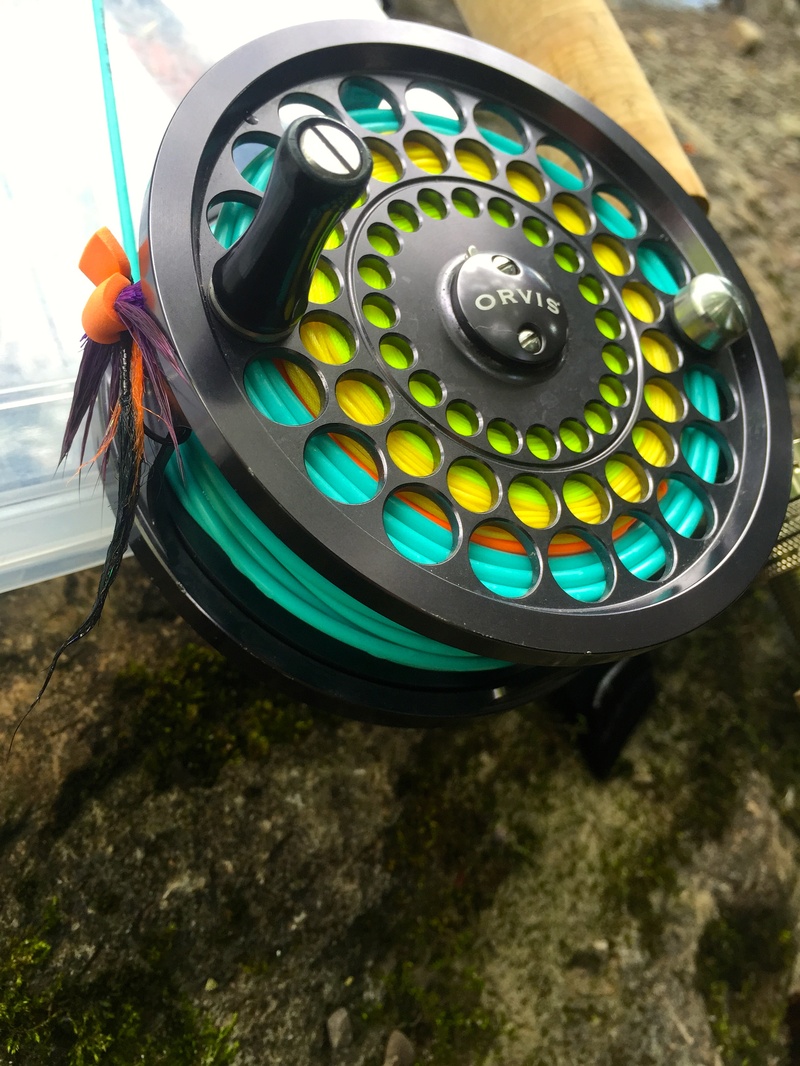 /