Shopping Cart
Your Cart is Empty
There was an error with PayPal
Click here to try again
Thank you for your business!
You should be receiving an order confirmation from Paypal shortly.
Exit Shopping Cart
Guided Fly and Spey Fishing Trips for Steelhead and Brown Trout with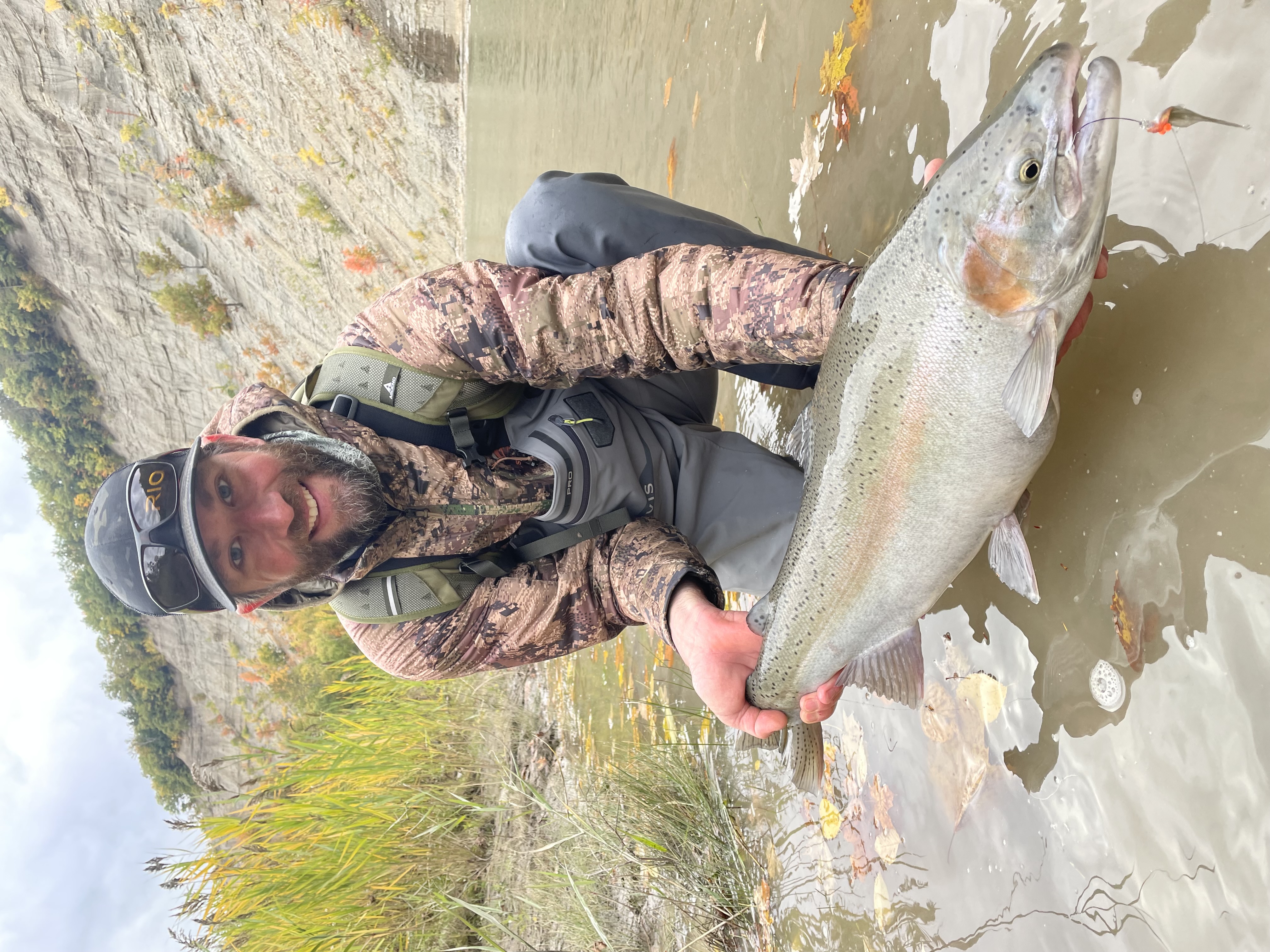 Jeff with his monster
Well we're off. October has arrived and so have the steelhead. In normal years the first push of fish we see in the run is predominantly one and two lake year fish between around 15 and 25 inches and up to roughly 5-6 pounds. The bigger 3 year plus fish usually don't start to arrive until later in the season. This year is different. I have never seen so many fish bigger than 10 pounds around so early. With how many big fish we've been seeing over the past two seasons, it leads me to wonder if there is some change in the lake and that average size is trending upward.
The other nice thing about this fall is that we've actually had one this year. We didn't have crazy heat through September, instead the normal slow cooling along with sporadic rain. The big rivers all have decent amounts of fish and even the smaller systems have had some degree of runs. So game on.
Tight Lines,
 - D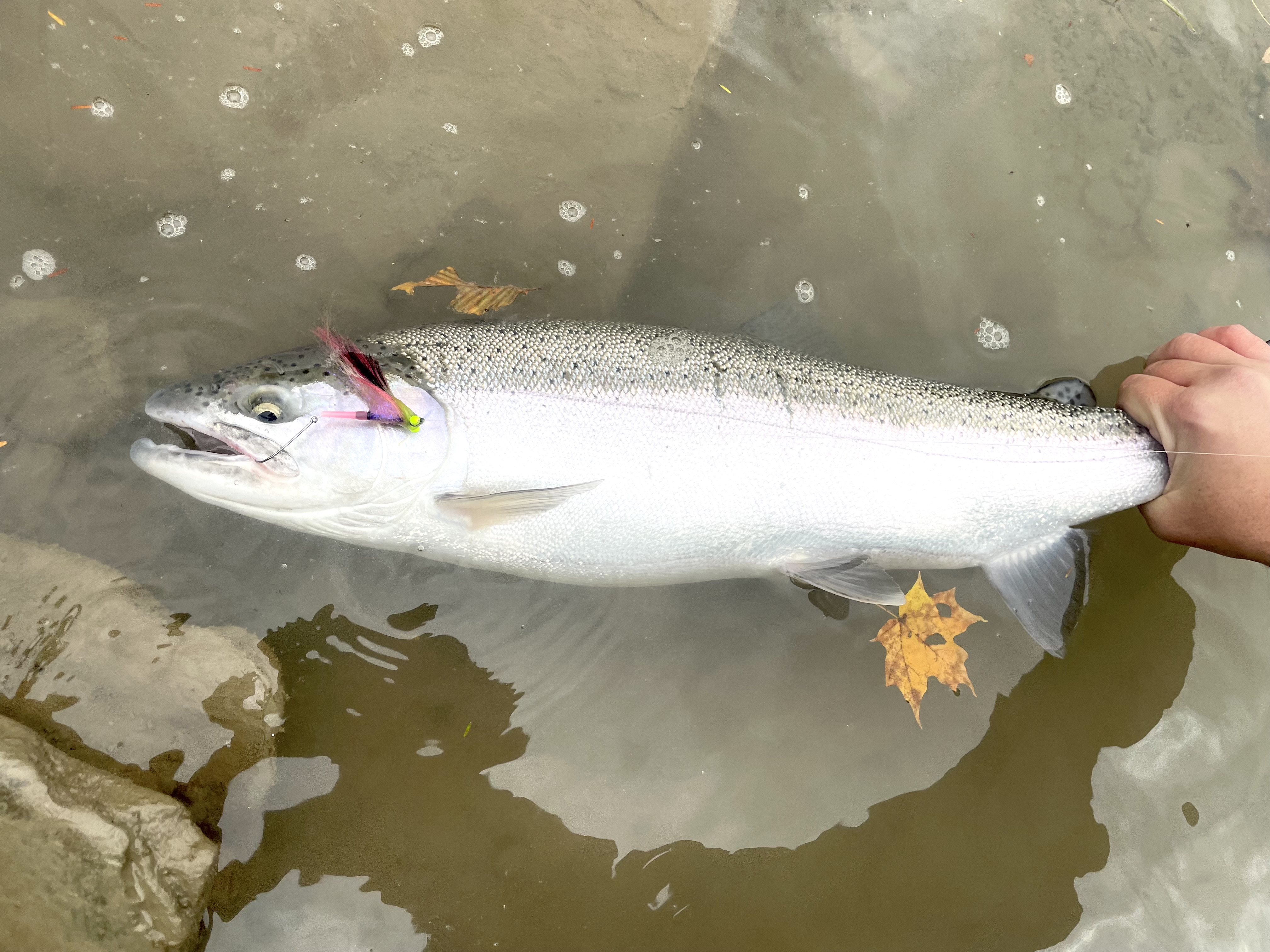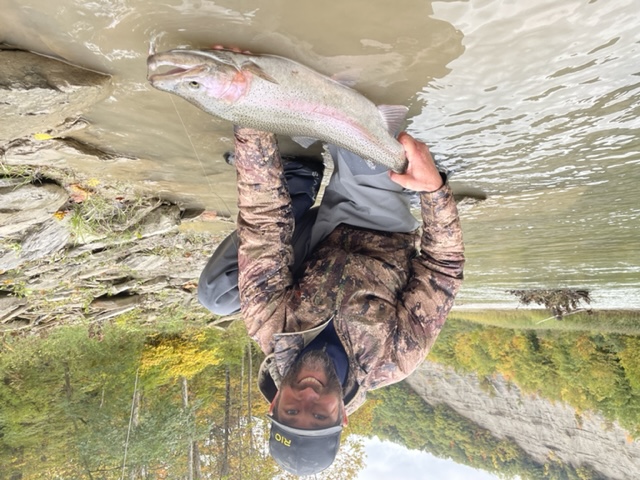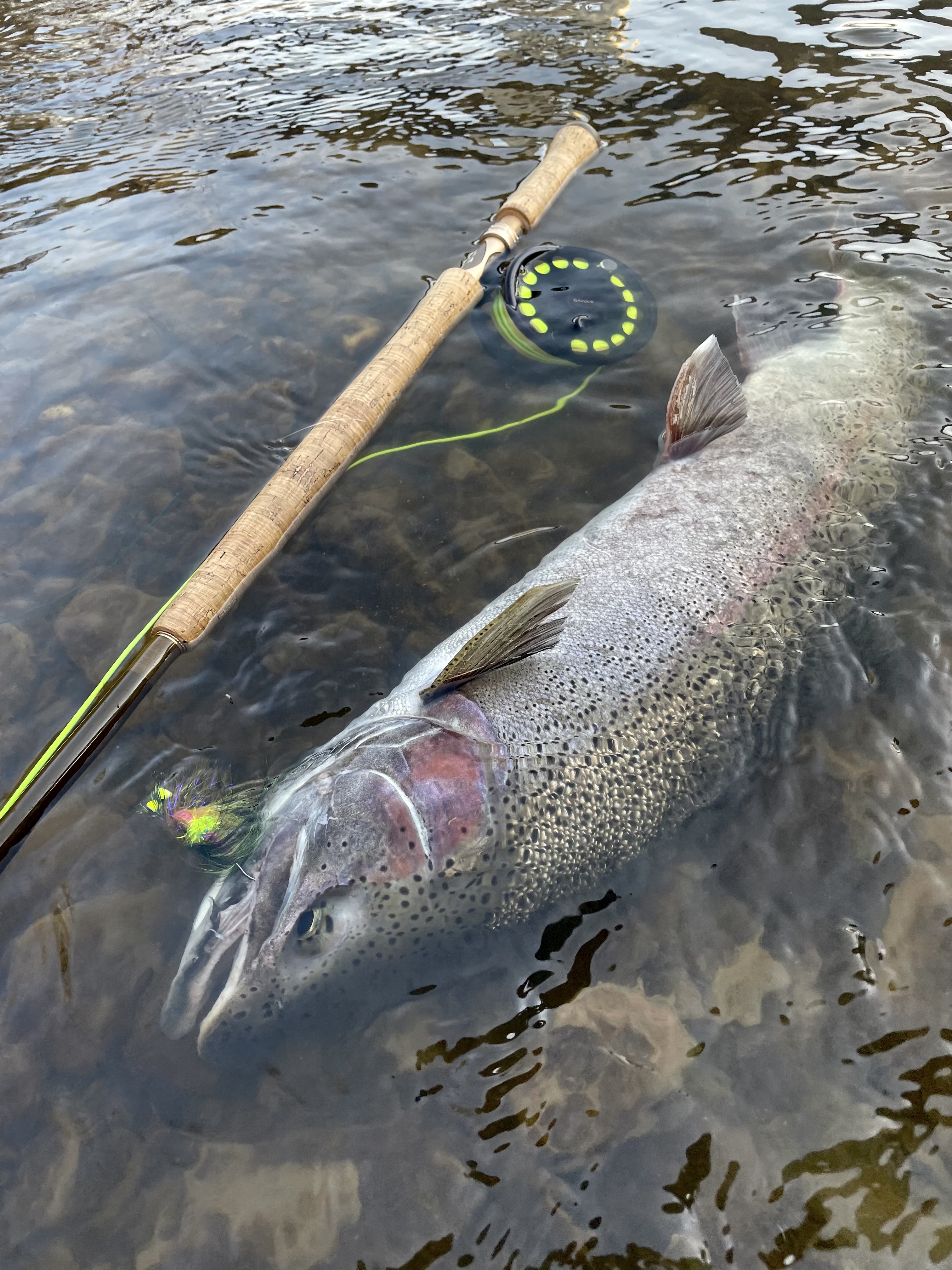 Gonna be a little while before we see these guys again
Well it's getting to be about that time. One more steelhead season in the books. Looking ahead at the weather, we still have some rainy and cool temps for the next week or two. So if you're really itching to find one last fish, I'm sure at least a few will still be around. But the numbers of fresh fish running is dropping and more and more the fish we are finding are down river fish. All in all, it was a great season and the last couple of weeks were epic. Saw a good number of fish over 30" as well with our biggest being a perfect bright fish that I caught that was somewhere in the low-mid teens. She smashed the fly and jumped half a dozen times in a row. It was everything you could ever want in a fish, and I was grateful for my opportunity to connect. I didn't get a picture of her, but that's a story for another day.
On a separate note, starting to see some really quality smallmouth. Like always this time of year, they really make their presence known and should be around until mid-late June. If you're looking for a lot of action on the spey rod without the nasty weather that usually coincides with steelhead fishing, a smallie trip should be in your differential. And as always, PA trout will get us out and about over the next couple months. But for now it's time to say goodbye to steelhead. 
Tight Lines,
 - D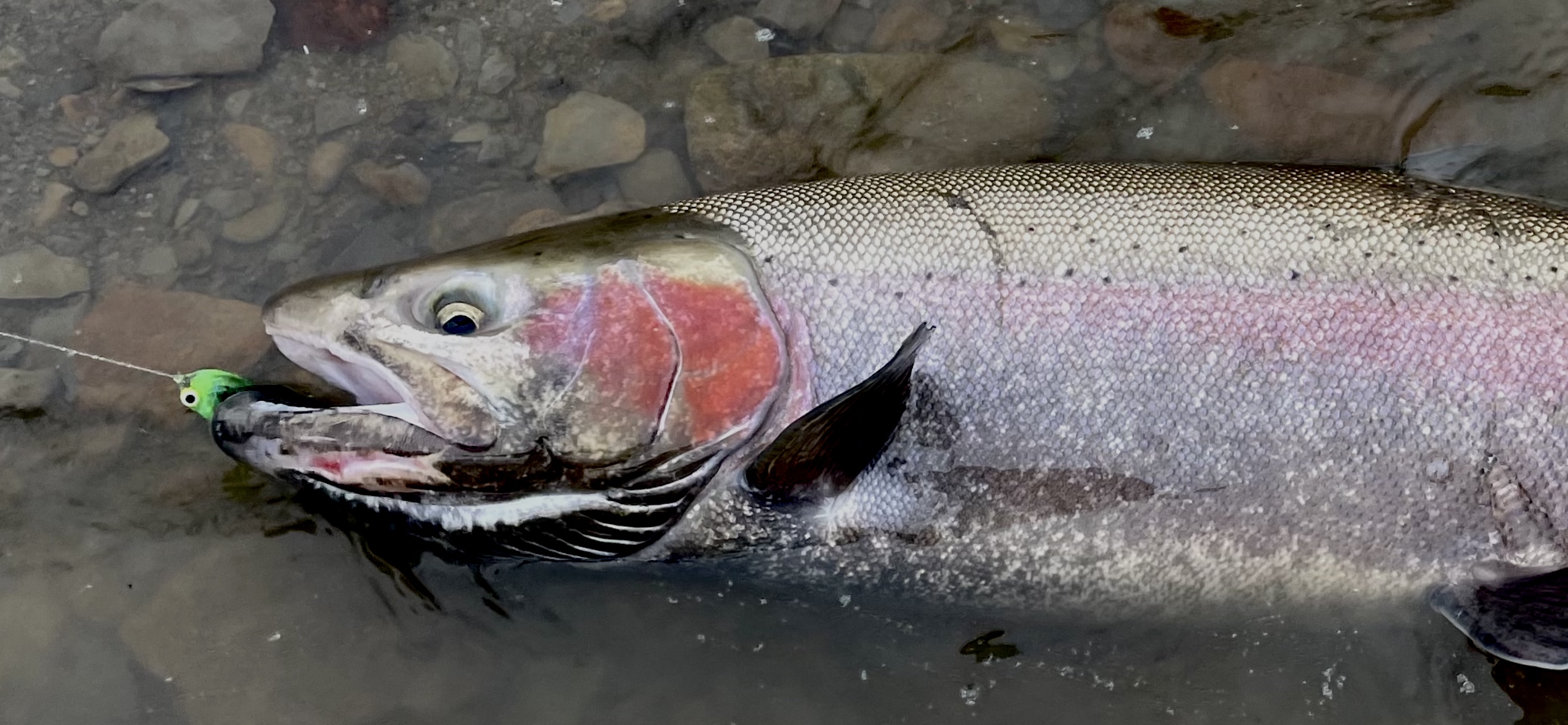 Check out the colors on this solid buck
So we are definitely in the peak of late-fall-early-winter fishing. There are good numbers of fish in most drainages throughout the region, with the medium and larger sized tributaries providing some fantasting swing fishing. The other really nice thing is the amount of fish in the 28-30" class. This time of year we see some bruiser bucks, and the last two-three weeks have not disappointed. Whereas in the spring, our largest fish tend to be hen fish, large, mulit-year class male fish arrive sooner to maximize their spawning potential, with December being the prime month. This year, these big male fish seem to be right on schedule, and the good news is these fish should be around our in our rivers through March though they do lose physical condition with prolonged residency in the rivers.
Onto the fishing. This fish above took when the air temp was 30 degrees and the water temp only a few degrees warmer. After working a good run a few times resulted in a couple pulls but nothing that stuck, I pushed up to a run that has been fairly good to me in the past, but has not produced for me this year. Thinking that the fish would be concentrated way down in the slow-water tailout, a decent winter spot, I jumped in low thinking that I'd just cover that spot then call it. Way down in the tailout I hooked and landed a smaller fish.
Amped up from success, I booked it to the top to start the run properly. The pool is set up with a hard inside seam at the head that pushes out to mid-river by the gut. My first cast with only a little more than the sink tip out the rod tip went to the bottom and started dredging the seam. After a few seconds there was just weight there. When I lifted, it quickly became apparent that it was a fish. It ran out to the middle, swirled, then shook the hook like an October fish since I never got a good set on it.
 As I worked my way down, just above the gut, with about the full distance of my head out, I felt a light pluck but nothing else. Waiting for a second pull, a big, colored buck fish somersaulted out of the water, my black and chartreuse leech clearly visible in it's mouth. Due to the hard seam, I never felt the weight of the fish, or even the pull as the fish jumped clean out of the water. As it jumped, it also tossed my fly. But, I started thinking that that fish might not have been put down because I didn't really pull on it, and it was clearly very aggressive in the manner it took and immediately leaped.
I took one big step back up and started again. On the third cast, slightly lower from where it took the first time, I got a good pull and put the wood to it. The fish swirled again and fought me down to the tailout where I was able to slide him into the shallows. I am one hundred percent confident that this was the same fish that took only a few cast prior and jumped as it shook the hook- same size, same colored appearance, same attitude. Though over the years, we have certaintly captured the same fish over a series of outings, and we somewhat frequently get "comeback" fish, where they grab but don't get hooked then come back and grab again a cast or two later, I cannot ever recall having hooked a fish, losing it, then hooking it again and landing it only a few casts later. 
Just goes to show that no matter how long you play game, there are still things that can surprise you.
Tight Lines and Happy Holidays,
 -  D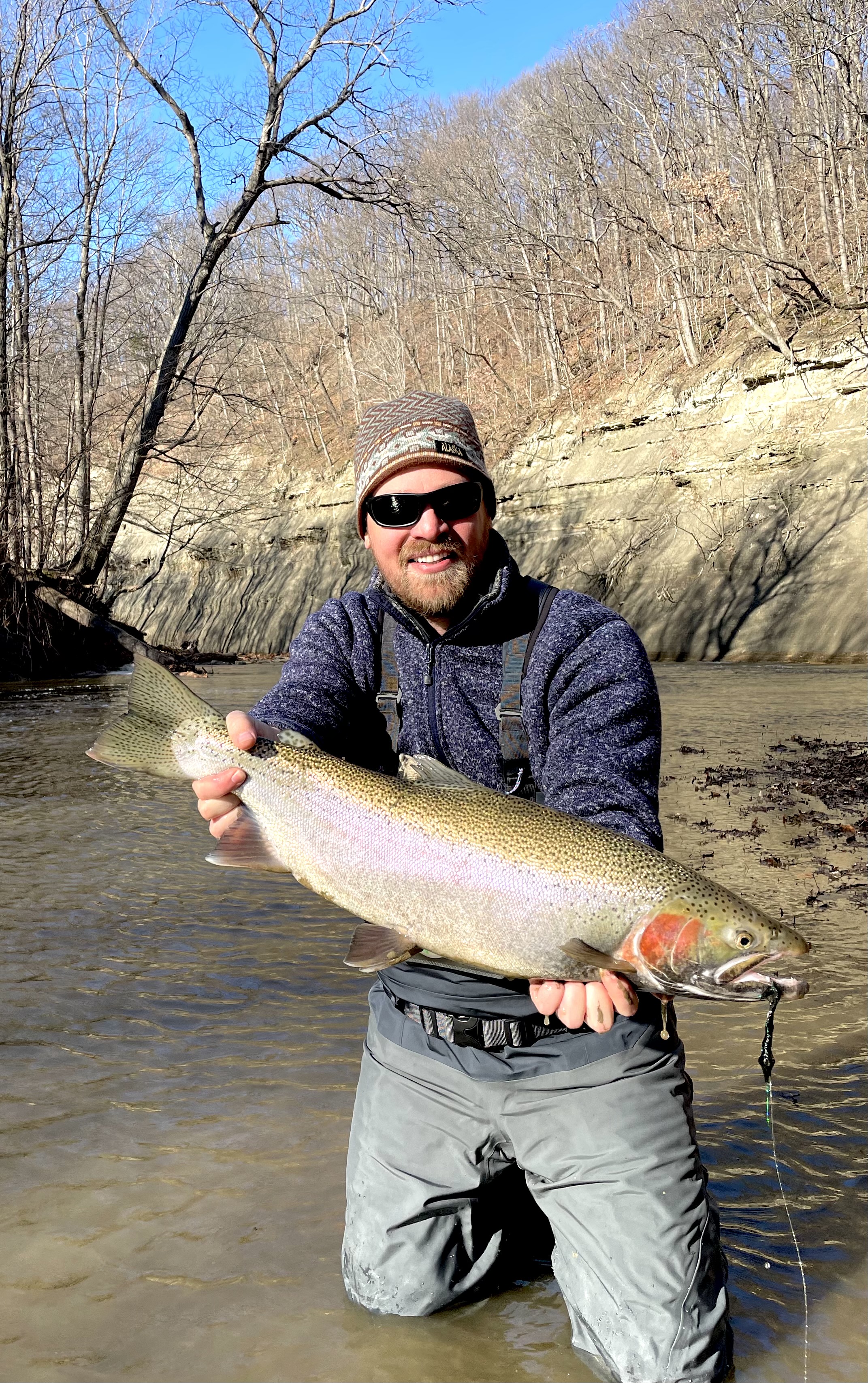 Solid buck from a Plan C watershed.
Well the last month of the year has arrived, and with it runs of good sized winter fish. There seem to be three times during the entirety of steelhead season where over the years many of our larger fish are caught. Though in general, fish size and run timing vary heavily year to year, when you take a long view sometimes trends can be identified. One of those happens to coincide with large fish targeting.
For me, steelhead season starts the 1st of October and ends the 30th of April. In all it totals some thirty-odd weeks. Of that time, it seems that we frequently, though not always, find our biggest fish in three distict periods within that block of time: about the last week or two of October; the entirety of December; and the last week or two of April. Those periods, accounting for approximately 6-8 weeks within the full seasons, on the whole seem to produce our largest fish, though like everything steelhead related it further varies  between watersheds and even in-river fishing locations.
This year seems to be falling right on track, with the added bonus of having a very solid fall run of very health and well fed fish. As of now, fish are everywhere. Any watershed you chose to fish has decent to heavy numbers of fish in it, though finding them can still prove challenging at times with stained and cold water. Big, dark profiles with bright hot spots of orange or chartreuse are good bets, and don't be afraid to explore. We're still finding fish in the running lanes and higher up on the pools. Don't just assume with dropping temps the fish are going to be solely in the classic winter water. But don't forget to fish that either, particularly as we get closer to the end of the year and the afternoon temps stop pushing into the mid-upper forties as much.
I guess to sum it up, there are fish around. Get after them. Who knows, you might find your best of the year in the next couple weeks.
Tight Lines,
 - D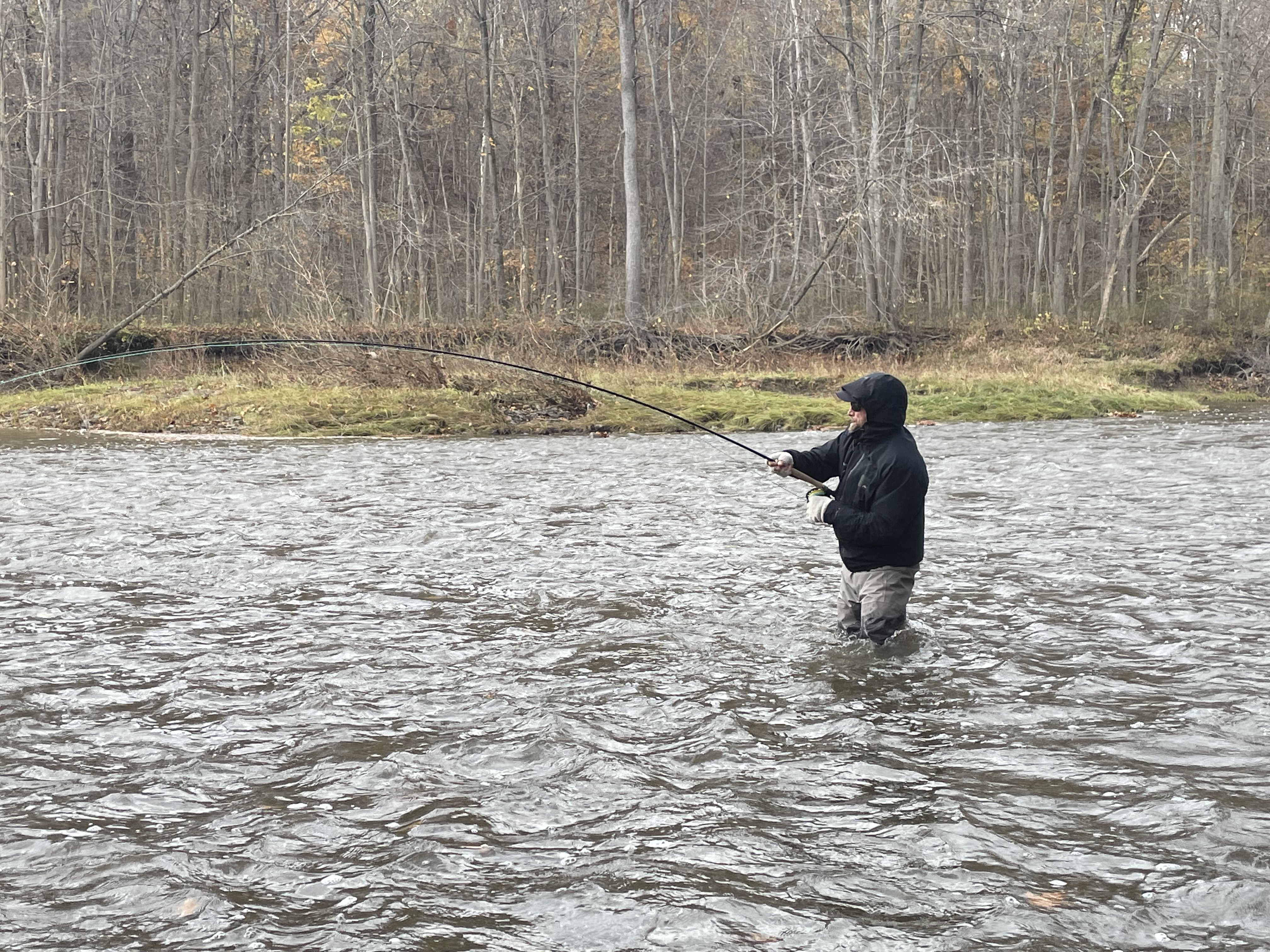 Matt on a good one a few weeks ago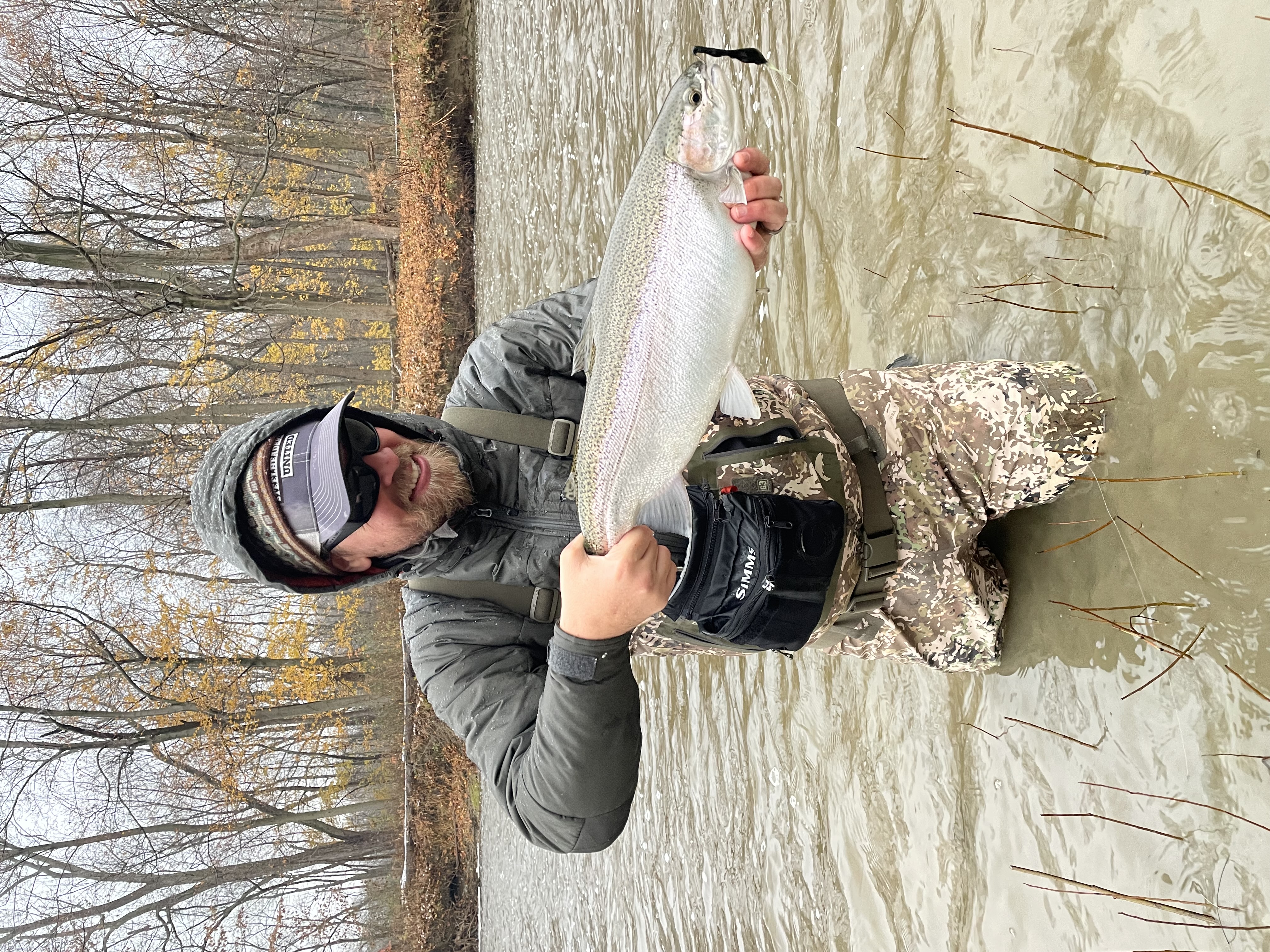 I'm telling you, they're running fat right now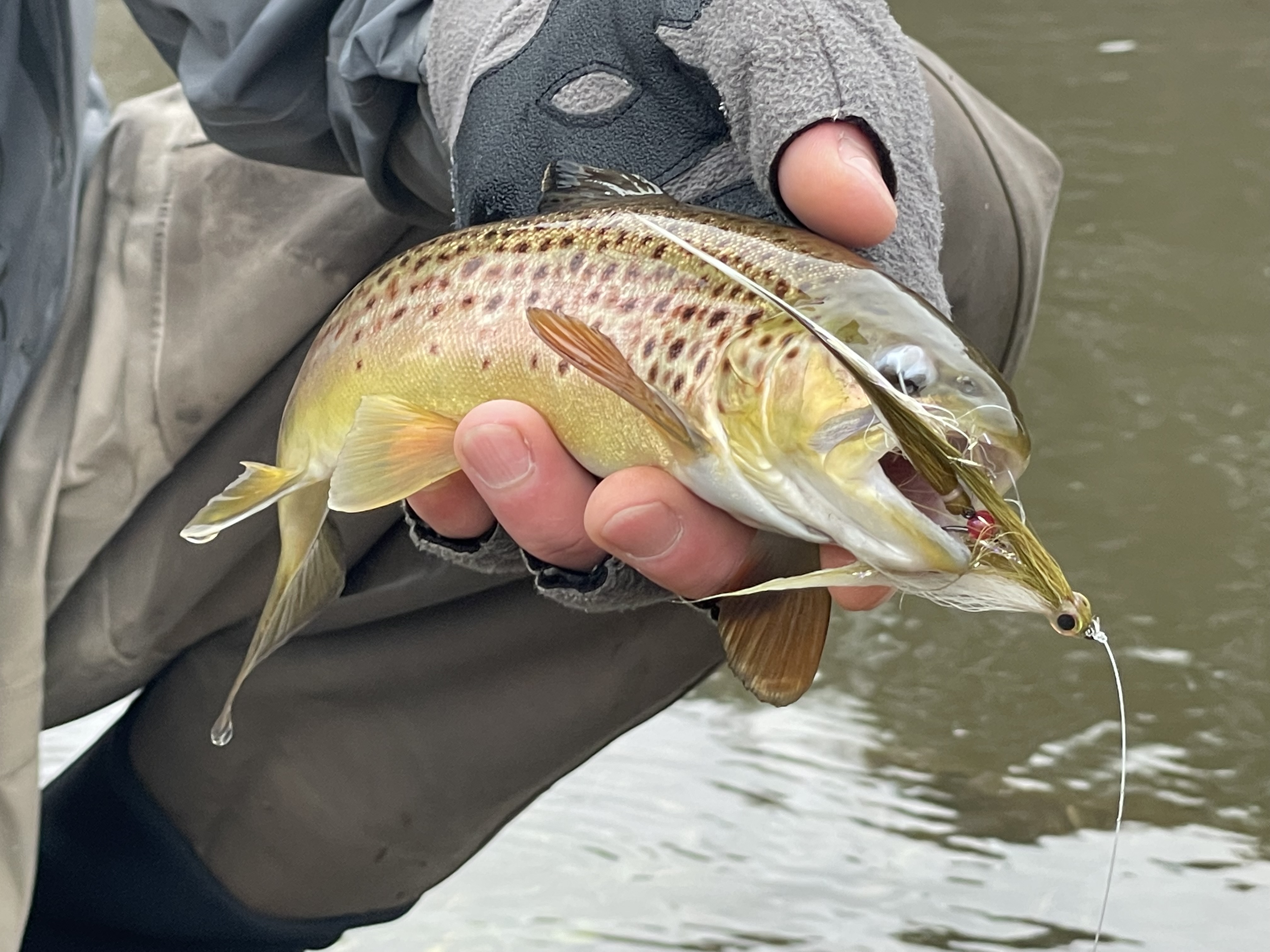 Browns are hungry too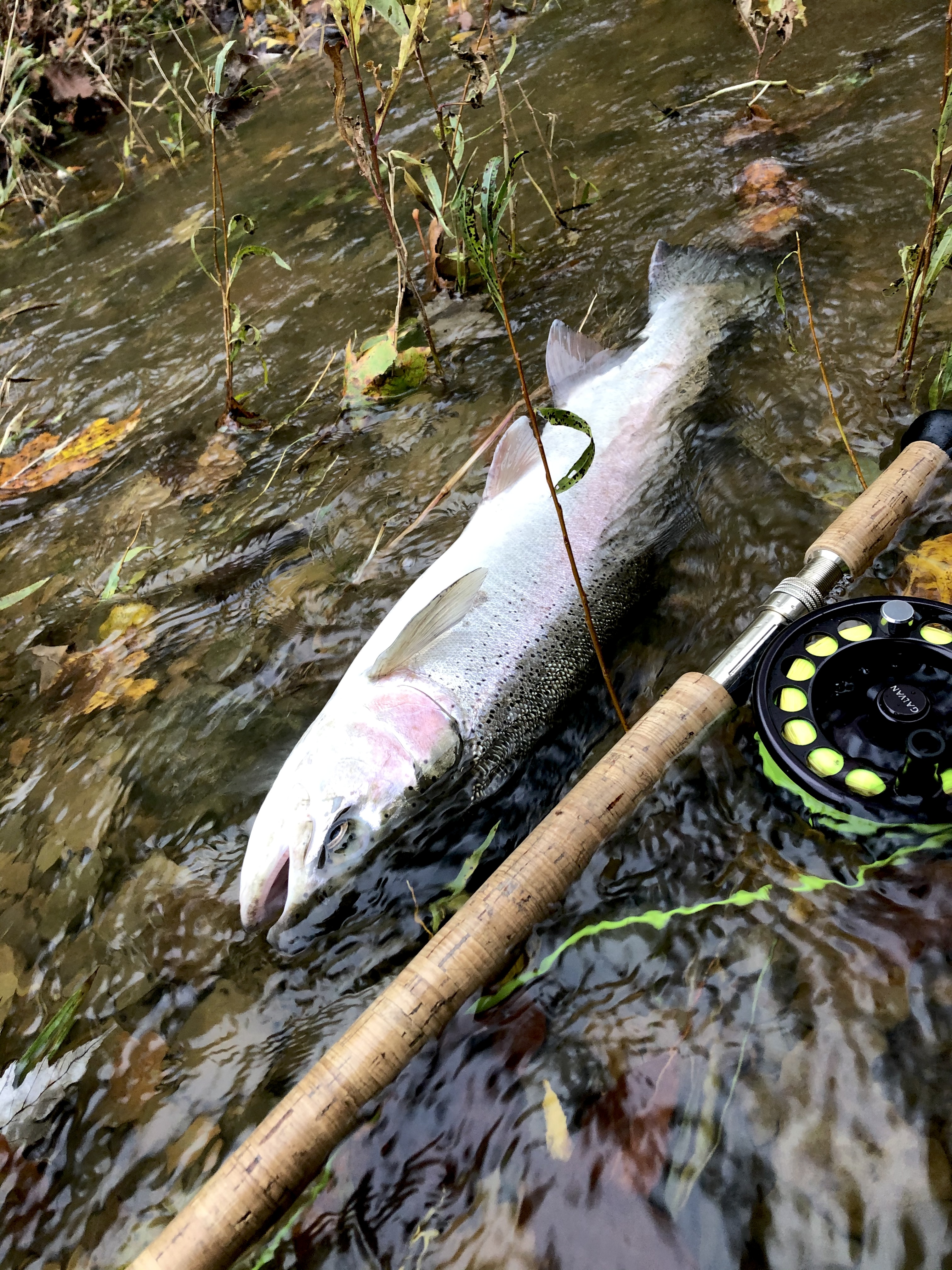 Habits are an interesting thing. Seems more and more that the older I get, the more entrenched I become and I'm not entirely sure why. My guess would be that it has to do with the familiar- that over time we experience numerous things, both good and bad, and in our attempt to limit risk and maximize reward, we turn to the tried and true. As anglers, we fish our confidence flies. We fish our confidence runs. We follow somewhat predetermined paths, fishing the run the way we did because it's the way we always done it. Maybe it worked really well one formative trip that has since became solidified in our consciousness to become a foundation of sorts. 
I caught the fish in the picture above. It's really a funny thing because I caught it out of a river that I haven't caught a fall fish from in at least nine years. It's more of a spring fishery, or so my thinking went. And the reason I haven't caught one for so long from this particular watershed is not for failure on the water, but failure to be on that water. I've spent my time elsewhere. Other rivers with other fish. Other runs that have become my staple fall runs to swing. Pools with fast water at the heads, and nice tailouts at the ends. Perhaps I've been shortchanging myself these last nine years. Or perhaps my habits are my own for a reason. At any rate, I don't know when the next time I'll catch another fall fish from this river is. Maybe it will be in another nine years. Maybe more, maybe less. But either way habits are a funny thing.
Tight Lines,
 -  D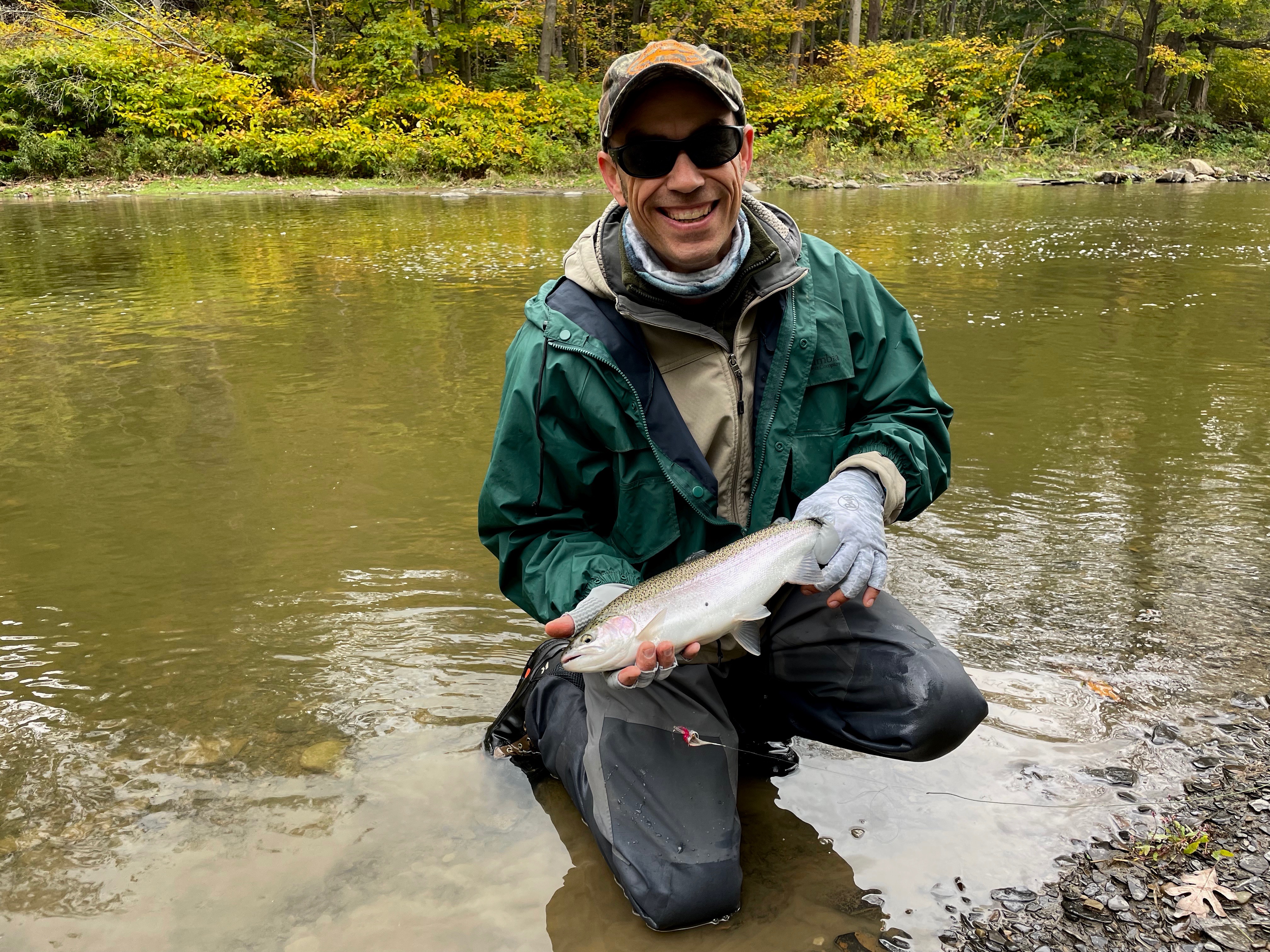 Stoke level 1 million
Well if you're not getting fired up about fall steelhead, you should be. Fish are in everywhere, with numbers varying river to river. On top of that, the recent rains over the last week and forecasted rains to continue until at least mid-next week should get even more fish moving in. The good news is that there should be a lot of fish around when the weather finally settles down. The not so great news is that god knows when the Catt will fish again. 
But we are making the best of it. Before the rain about a week ago, we were hitting nice fish mid-river. Then after we got it, we found them in all the contingent rivers as well. Then to add to it is that it's looking like the some of the size we were seeing last spring carried over to the fall. Though we haven't found any true giants, others have sent me some legit reports and pics of fish in the twelve-pound and better class. To see that quality this early is really exciting for what we have in store as, though it can vary river to river, usually the best fish are found later in the run. At any rate, we're fired up and you should be too.
Tight lines and enjoy these other pics,
 - D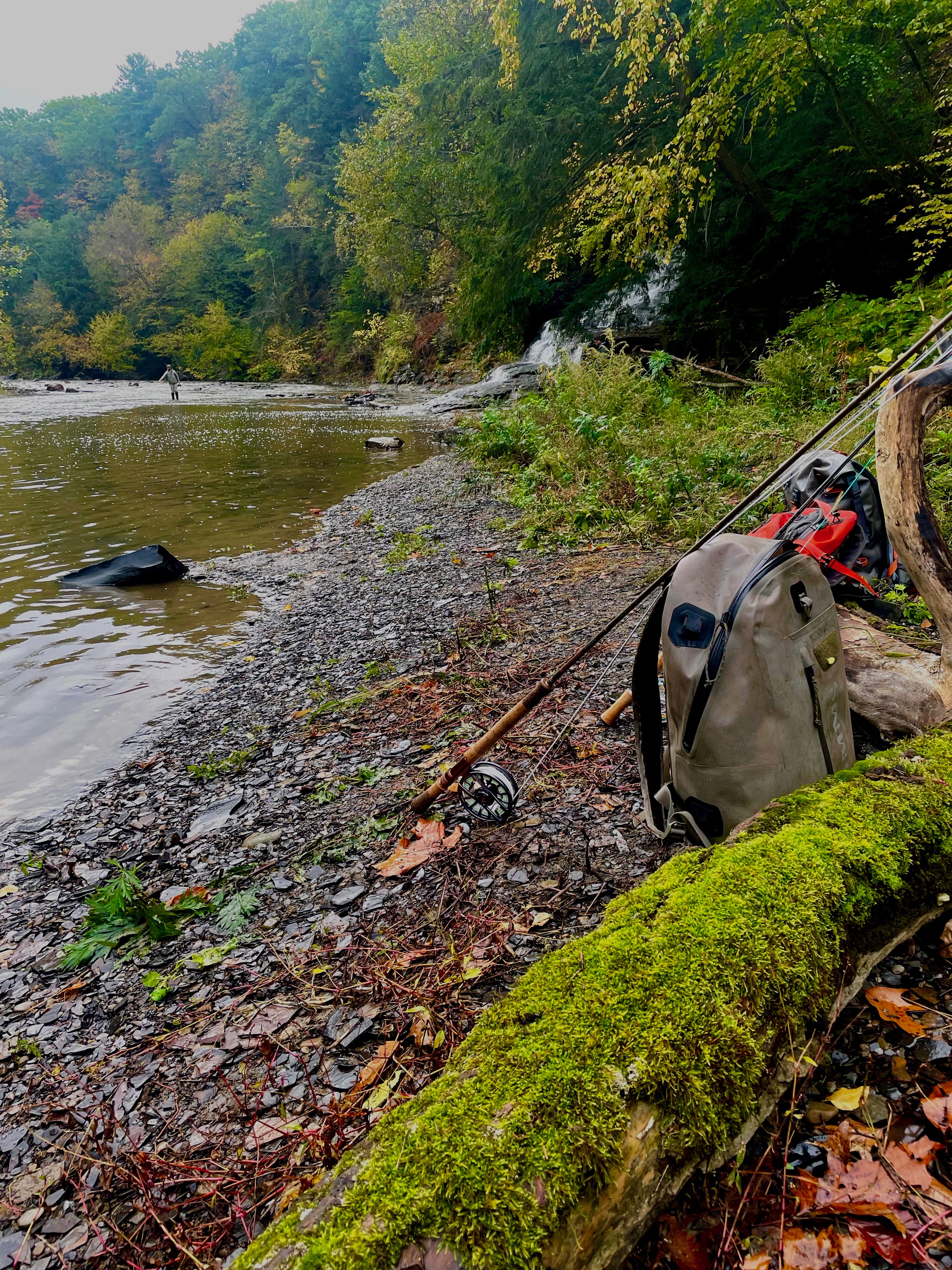 I've said it before, these fish live in beautiful places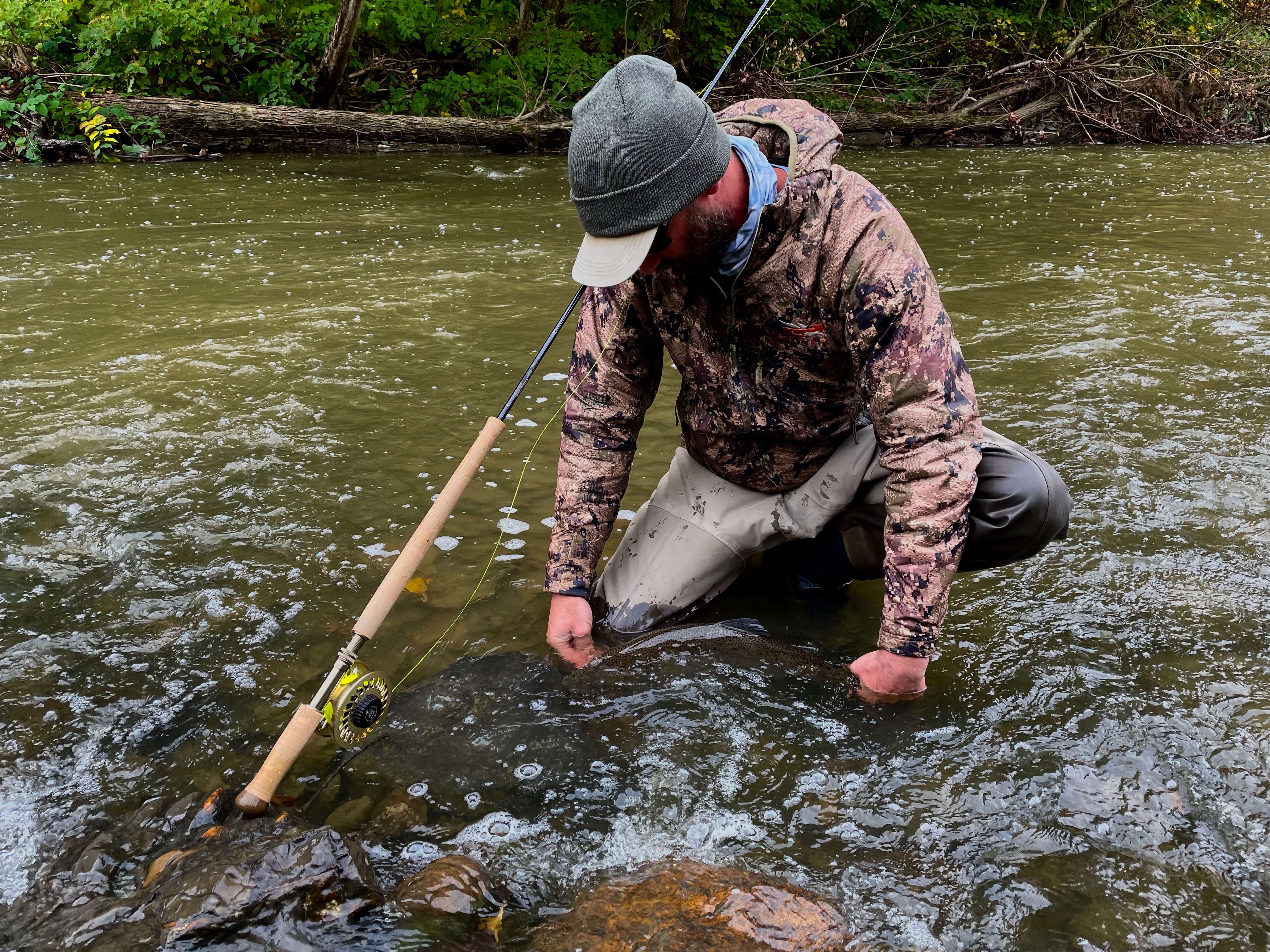 Jeff tending to a nice one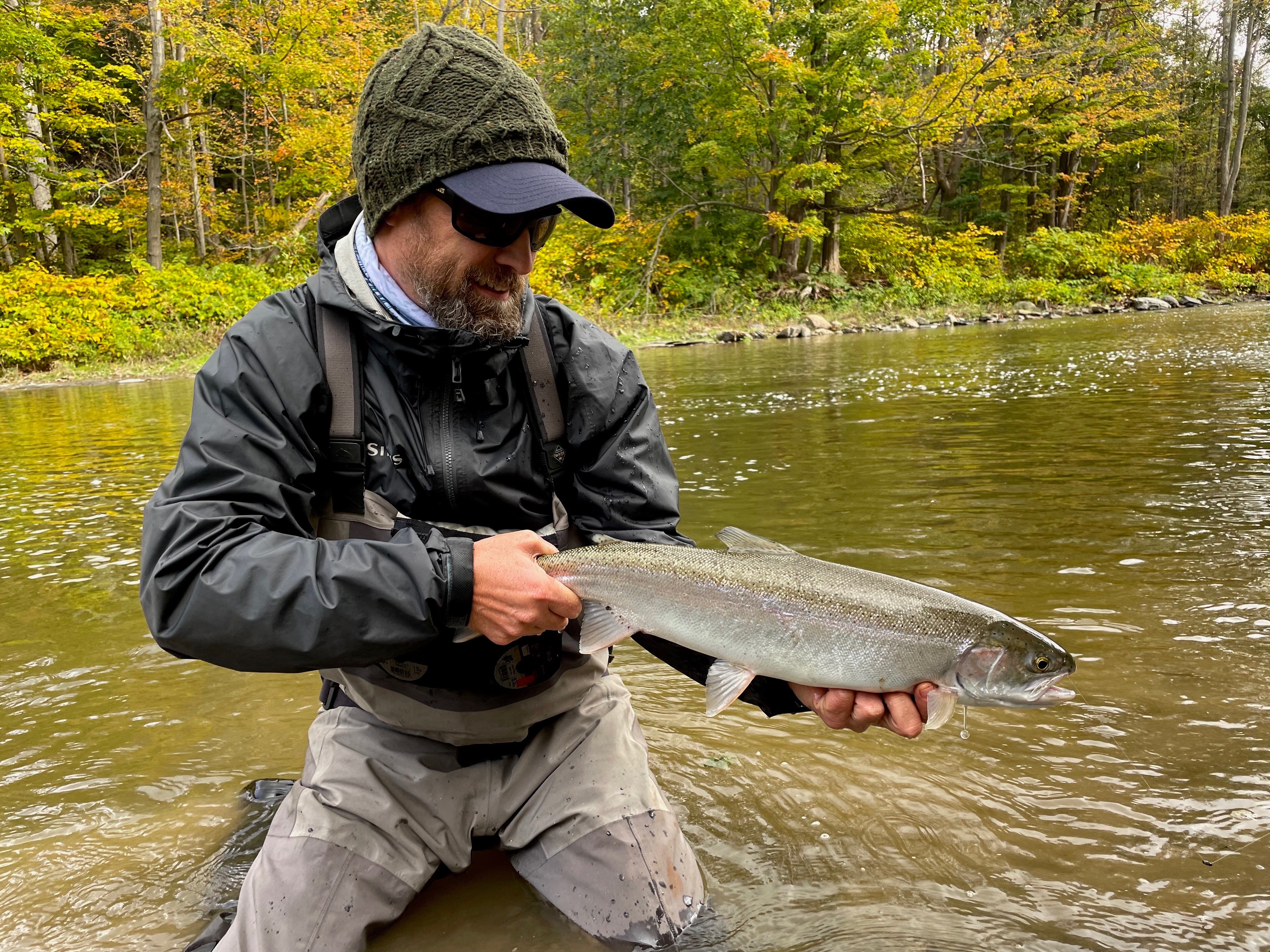 Matt also with a good one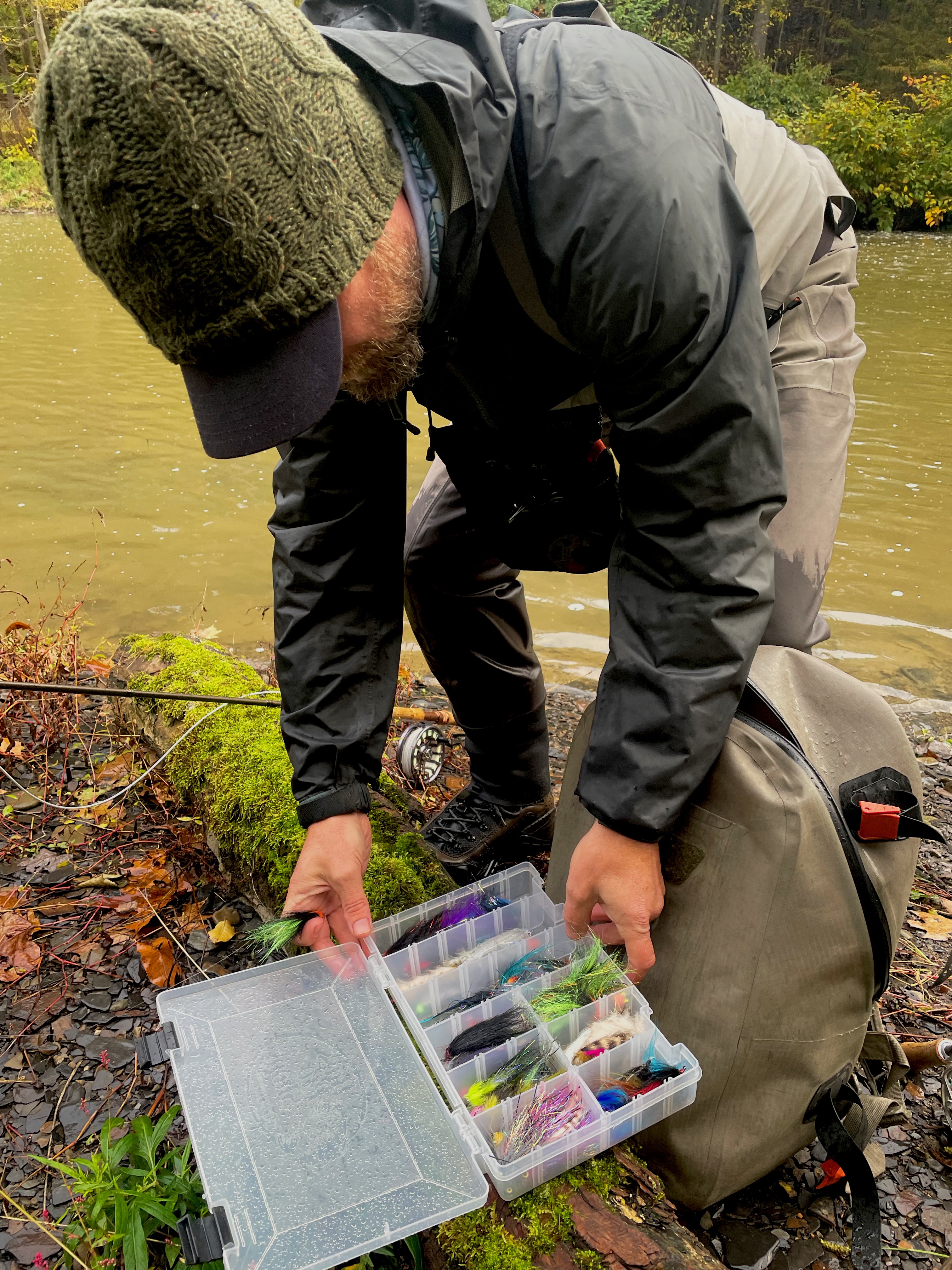 Winner winner chicken dinner???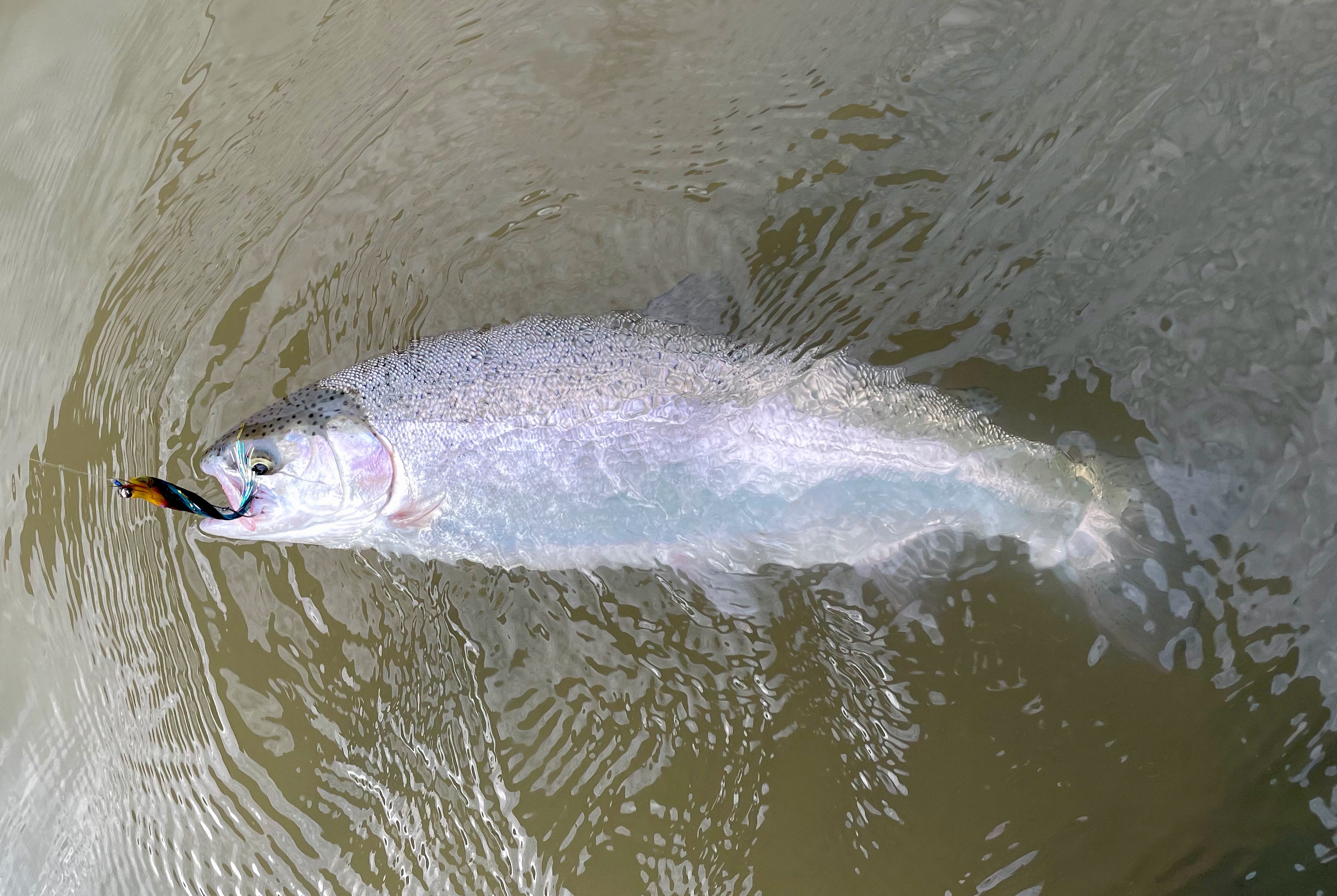 One from the big creek before she blew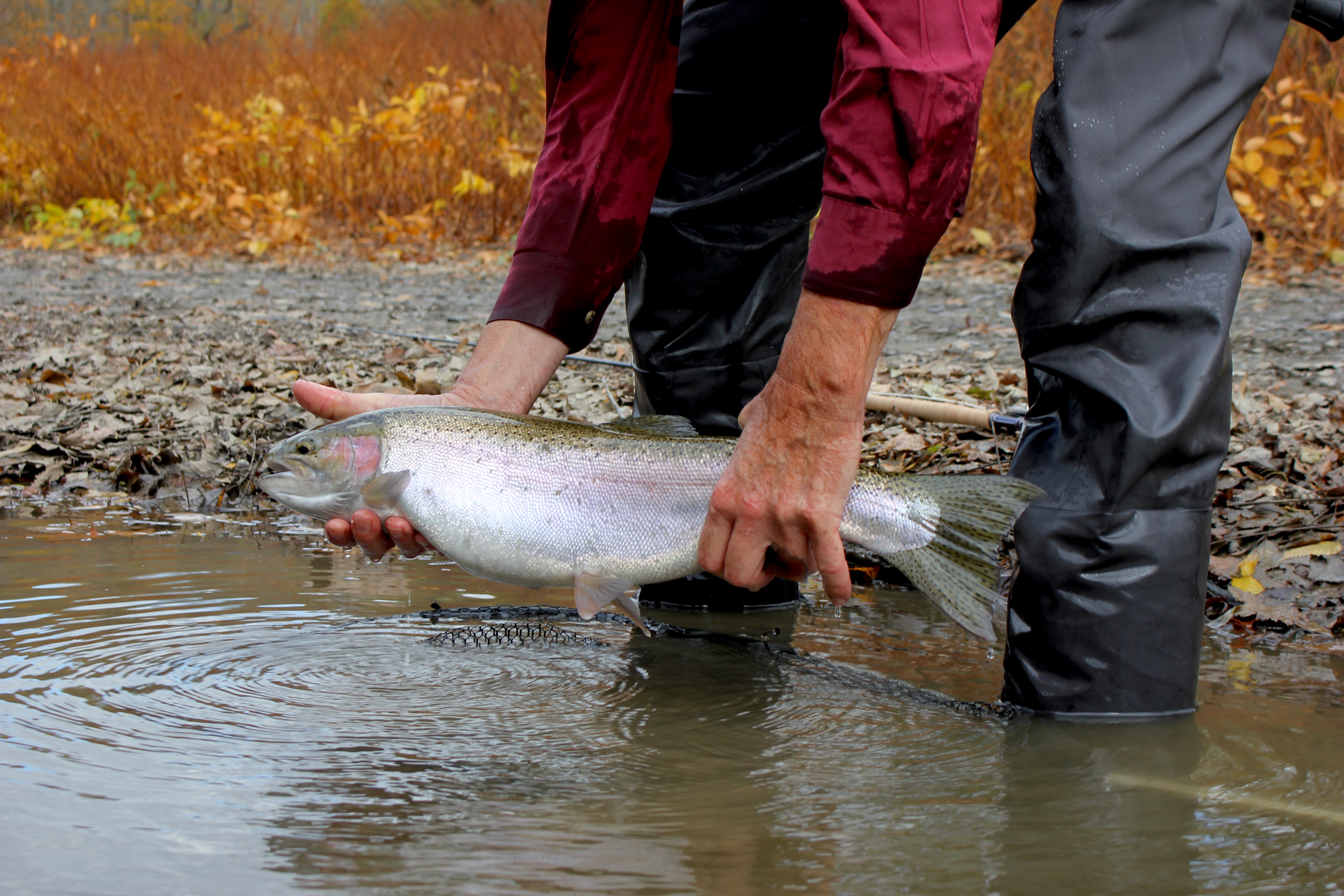 We'll be starting after these guys in a few weeks
It's getting to be that time where more and more my thoughts drift towards fall steelhead. To be fair, theres not really a time when they don't but especially this time of year- the few weeks before the start of the season. Looking forward, though it's difficult to predict with any finite certainty nearly anything about fishing, steelhead fishing especially, there are factors to take into account when creating a forecast of an approaching fishing season. So taking those into account, I've put together my forecast for the fall season along with some news from around the area.
First and foremost, so far this year this is the highest number of verifiable reports of early steelhead in the Ohio rivers that I have ever seen. There were credible reports of finding expired fish (water temperature mortality) all the way back to the first week of August. I expect the same for the New York systems as well. Though it is unfortunate for the fish that have returned so eary, as it is highly likely that only very few or even none will survive at this time, in the larger sense this should be taken as a good sign for the fall fishery. I believe the reason for the early returns are likely two-fold: we have had a very wet summer with periods of much cooler temperatures, and I believe the numbers of steelhead in the lake are very high this year. Those two things put together can explain why so many fish have been seen in the lower stretches of the rivers this early. Again, there are always a handful of early runners, but it has been a long time, if ever, since I've seen this many.
What I point to for high numbers in the lake is the charter captain reports in the eastern and central basin. There have been a number of reports of high numbers of fish up to and over 12 pounds already staging near river mouths. This is a very good sign for what is in store for us, particularly in the size. Another thing I would point to is just how great the fishing was last spring, including for very large fish. This past spring, though we lost all our truly big fish, we hooked and saw more trophy class steelhead than I believe I've seen since perhaps the very early 2000's. For fish to survive and grow that well is indicative of ample forage in the lake, and for the sheer numbers we saw indicates very high survival of young fish. When we get these two phenomena occuring for the spring run, it usually translates over to the next fall run. And even looking back to last fall, we saw a higher number of large male fish. Male fish tend to return earlier to the systems in an attempt to maximize their own spawning potential, meaning the presence of more large males in a fall season can be the first indicator of a period of high returns and larger size fish that potentially lasts multiple seasons. 
Looking around to Lake Ontario, salmon fishing is picking up- particularly in the Salmon River. There are good reports of decent numbers of kings and cohos returning early. Reminds me a bit of 2017. That year we had a great early push of salmon, and that translated into a great fall steelhead run on the Erie creeks. I don't know if that is coincidence or not- it is very possible that the two are not related. However, it does seem that when Erie does well for steelhead, Ontario does very well for salmon and vice versa.
Looking ahead at our weather forecast, we hit another hot stretch next week with temps in the 80's. Hopefully this is the last of that. The way September was shaping up, I was optimistic that we'd have a good mid-late September push of steelhead into the Erie systems, which we still might get after the temps cool again. But with these warm temps coming, it might be another week or two later. At any rate, the temps are supposed to drop down again after this spell. I'm very excited for October to roll around.
Tight Lines,
 -  D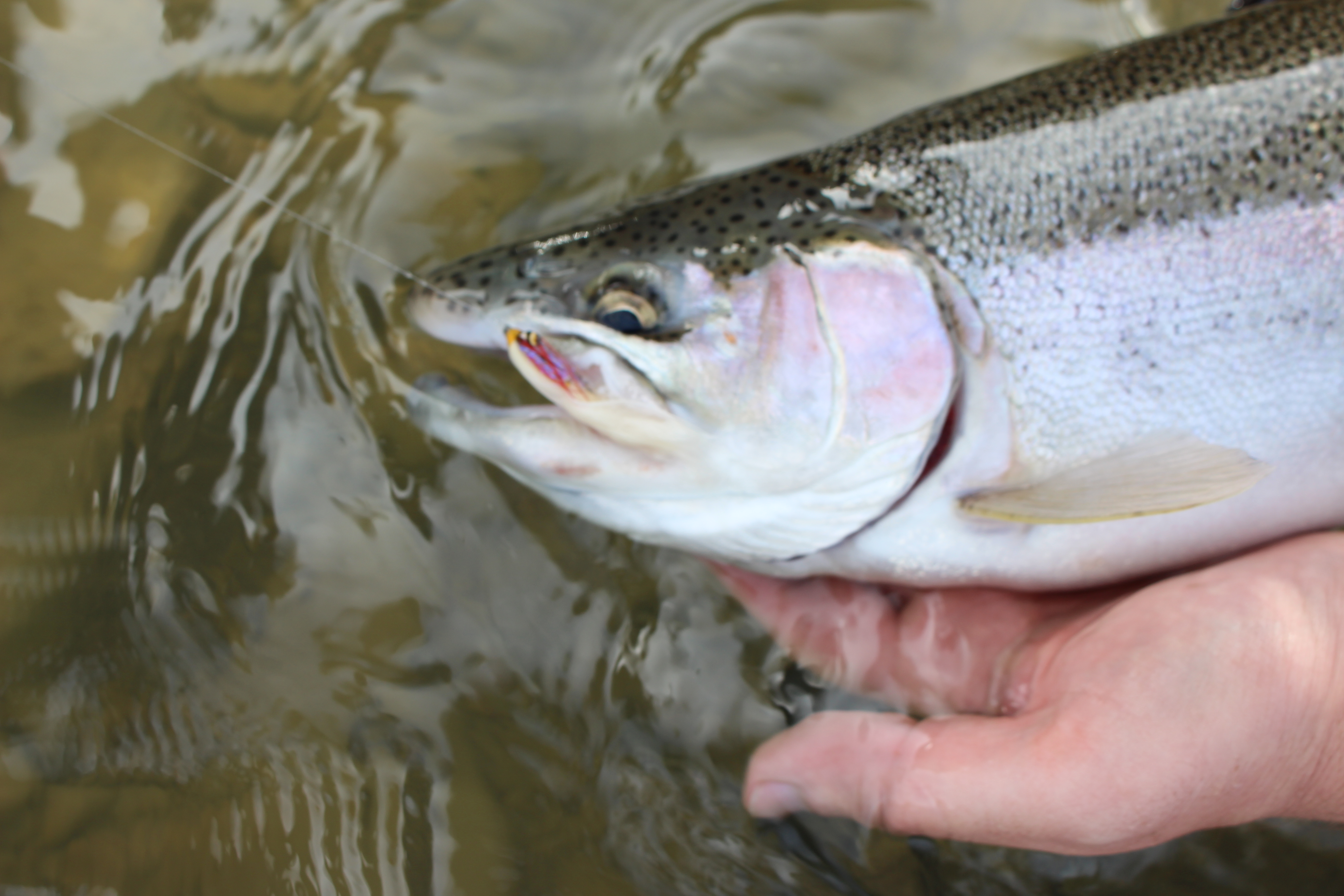 Everyone wants to connect with screamer early run steelhead like this one
Well, I've been hearing reports of steelhead already pushing into the creeks for the last few weeks. Not numbers but a fish here or there. Please leave those fish be until the weather gets more appropriate for fishing. Catching one right now is likely a death sentance in all but the most unseasonably cool of temperatures. But it does get my thoughts turning to one of my favorite topics- early run steelhead fishing.
As the month of September marches onward and temperatures cool, the true beginning of fall steelhead fishing will occur. And I can barely wait. Each year I just get more and more amped for the start of fall steelhead. The last week of September and first couple weeks are my absolute favorite time to fish. For those who have been following this page for a while, you already know my reasons for it. But one thing I've been thinking of recently is the difference between my early boxes and even boxes that I will use mid-late October and onward. So I thought I'd write a piece on it.
WHY AN EARLY BOX IS DIFFERENT:
One thing I enjoy doing a fair amount is to critically think through a question that may have a multi-factored answer. It's kinda a mental exercise, and I think it also helps develope a better understanding of the sport and the fish in general. So why would an early fall box be different? The obvious answer is that the conditions are different- most years those first weeks of the season are spent fishing to lower, clearer, and warmer water than even a few weeks later. And this affects the fish. But a large factor in my answer to the question is also one that I think a lot of anglers may overlook. The fish themselves are different.
In the context of west coast classifications of summer and winter steelhead, those first fish that enter the river in late September and early October would be considered summer run fish. These are fish that undergo a significant amount of maturation in the river itself, verses fish that towards the later fall and winter that usually enter either fully developed or very close to fully developed for spawning. One of the most telling things that a female steelhead is physically capable or closely capable of spawning is the external development of the egg depositor cone extending from the cloaca. Many female steelhead taken later in the season, November and December, have a pronounced egg depositor. Even late run steelhead that are perhaps only a day or two or less from the lake can have this physical development. I have yet to see an early October steelhead, not including fish that are obviously of domestic rainbow stock, with the same physical development. The lack of this in early run steelhead is significant because, again, it suggests that entry of the fish occurs prior to full maturization.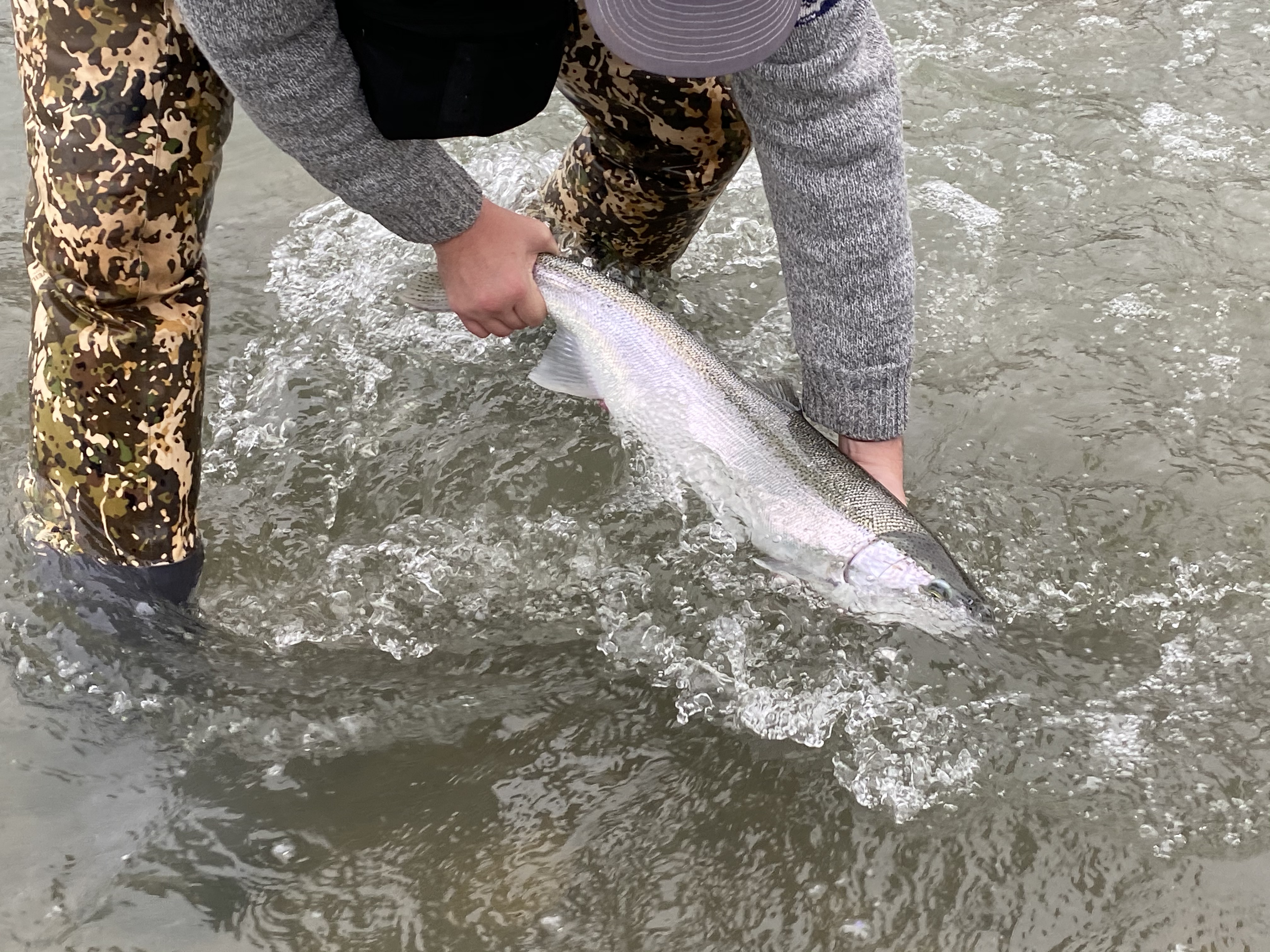 This mid-December fish from last year still had tail shine, meaning that at most she was 24-48 hours from the lake. Yet if you look closely you can see the clearly developed fleshy egg depositor cone above the anal fin extending outward. 
Since spawning is not as immediate a concern for these early run fish, they appear to be more inquisitive towards their surroundings and more susceptible towards a wider range of spey fishing techniques that require a fish to move farther, even vertically, to take an offering.
The other relevant factor that I believe plays into difference between early run fish and fish returning later in the fall is that I believe early run fish have a higher proportion of wild fish in the predominate river system I fish in the fall. Though I lack the ability to formally test this, and my conclusion is based largerly on circumstantial evidence, this theory does make sense to me. What I base my theory on is that very early in the season, usually the last weeks of September and first half to two-thirds of October the pods of fish I find mid-river have a very high, and sometimes complete, porportion of fish with perfect fins. Sometime around the last week of October this changes.
After about the end of October, we begin to pick up high amounts of fish with visible and obvious signs of fin wear or erosion. If hatchery fish made up the same proportion of early run fish as they demostrably do of later run fish, even only a few weeks later, based purely on visible signs of fin wear, then I would expect that the percentage of early run fish with visible fin wear or erosion to be the same or similar to the percentage we see later on, again starting only some couple weeks later. It simply is not. In late September and early October, we see very high proportions of fish with perfect fins that we catch mid-river.
There are some questions I have regarding my theory that wild fish make up a disproportionately larger percentage of early run fish. Perhaps it is the location that I take my samples- I am usually fishing higher up in the system and so it could be possible that both wild and hatchery fish enter the river in similar proportions throughout the season but wild fish simply move up the river quicker, etc. However the result at any rate is the same: early on I believe I am fishing to higher proportions of wild fish. And that conclusion makes sense to me as well. There may be an ecological benefit of wild fish returning early and/or running the river quickly, not the least of which would be first access to high quality spawning habitat.
Again, how this really matters to me is that wild fish are absolutely more aggressive and will move farther to take a fly. So as you are constructing your early fall box, don't forget to consider the reasons why that box might look different than one with your trusty November patterns in it.   
MY BOX(ES):
Okay, so maybe I've been misleading you. I do not have a single early fall box. I have several based on anticipated techniques that I enjoy employing early in the fall: baitfish box; floating line streamer box; and dry fly box. But to get the point across, I'm just going to pretend they're all in one large fly box and discuss why there is a useful purpose for each.
Baitfish
Baitfish patterns are all around producers of steelhead, early fall included. Though it is a good idea to have a few colorful attractor baitfish or streamers with you for the days when the water is higher or more colored, for the normal early fall conditions of lower and clearer, my baitfish patterns are reflective to those conditions. They're usually smaller, usually drabber. I make use of many earthy tones- olives, tans, quiet yellows. I also like mutued whites with accents of colors such as chartruese or pink. Here are a couple: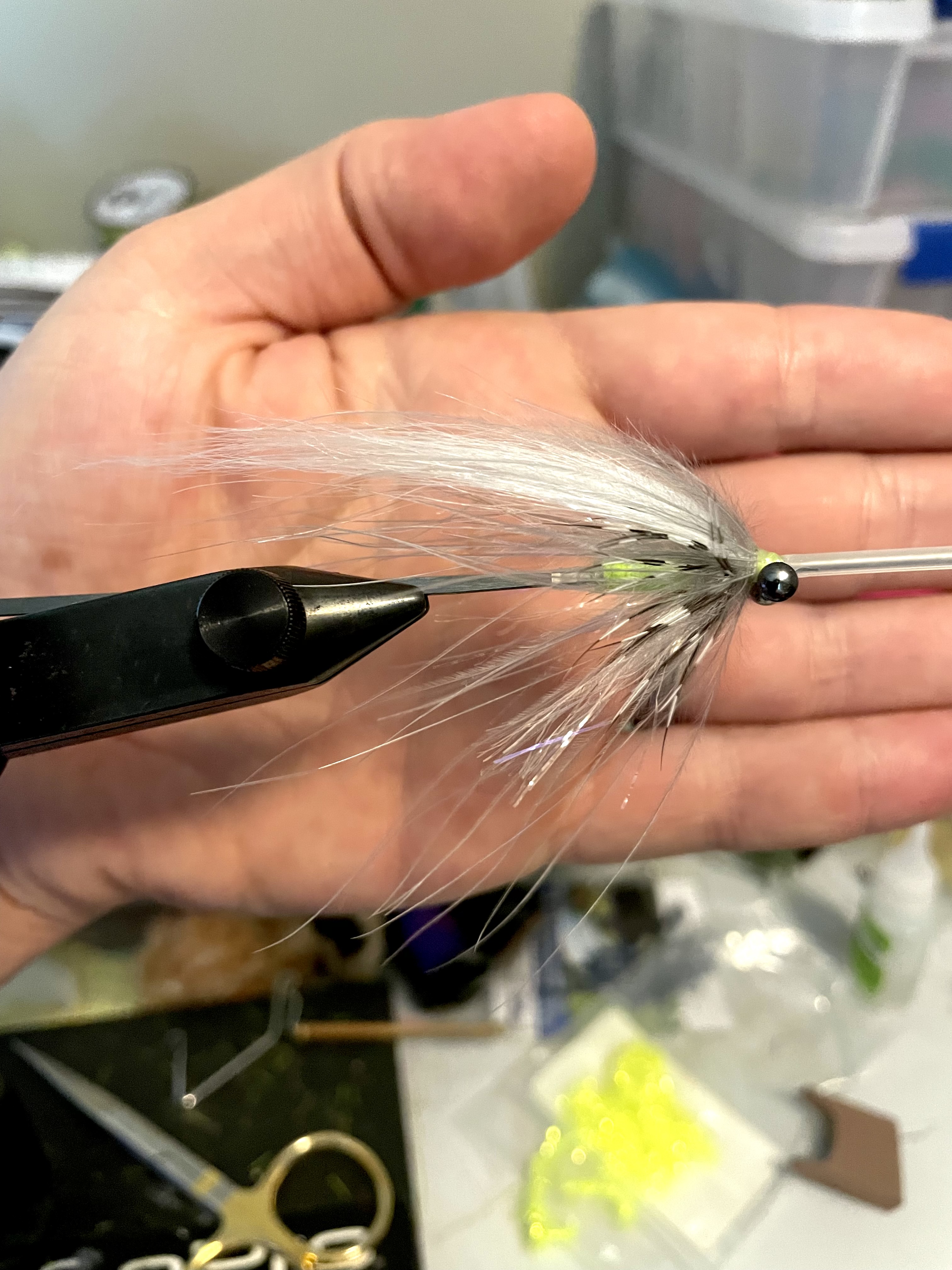 and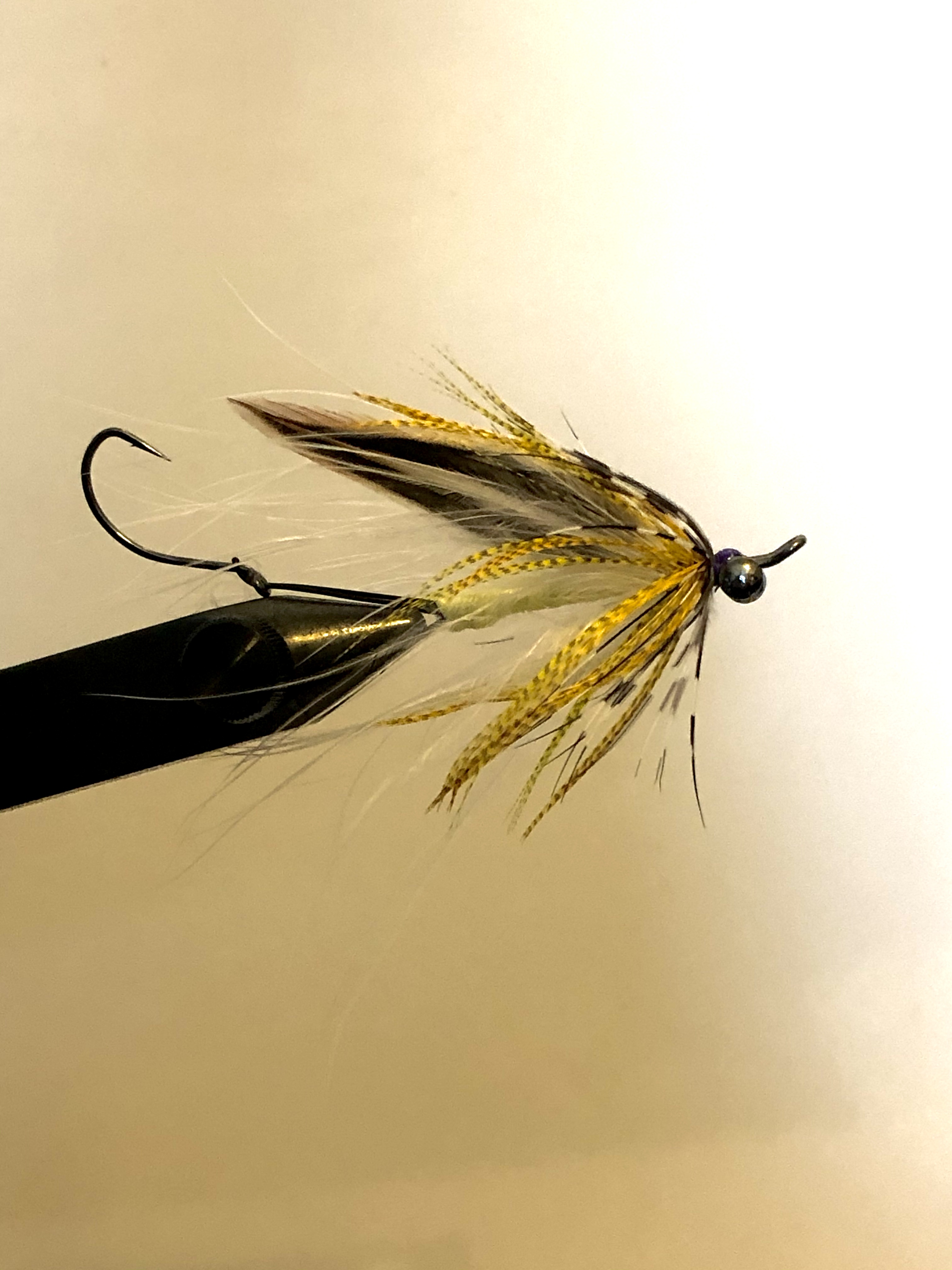 and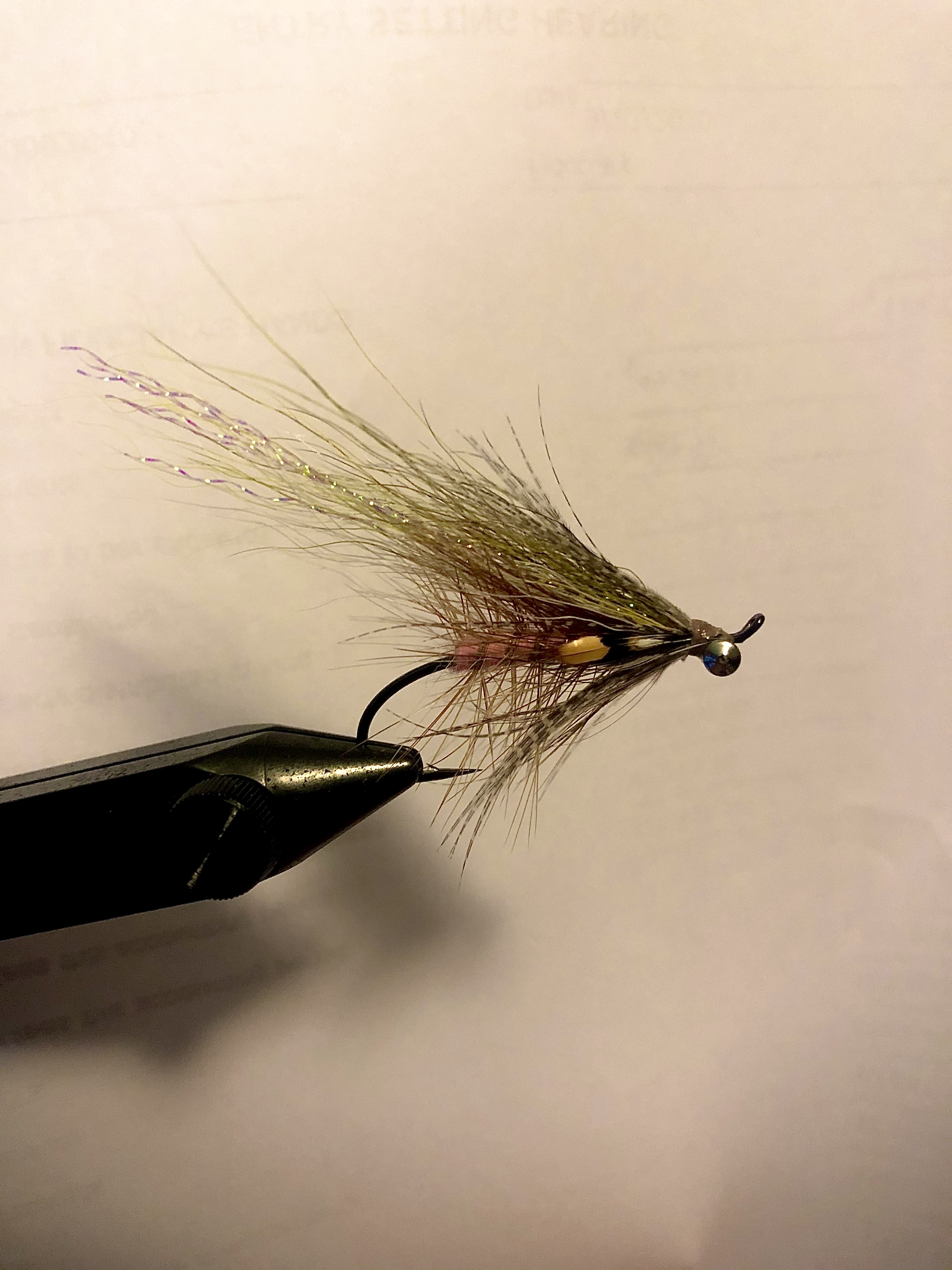 These are patterns that can be fished either on a light tip, such as a slow sinking poly, or simply sent out there on a floating line with a longer leader and using the small weighted eyes to get down. I don't classify them as "floating line streamers" because I'm still getting these down in the column even when I'm fishing them on a floating line which I tend to do a fair amount especially when the water is low and clear. Remember, even some of the deepest holding spots in low flows might only be in the ballpark of three or four feet at early fall flows. This means in the early fall when fishing these on a floating line, even if they're riding two feet or so under the surface they're definitely still in the danger zone. 
Floating Line Streamers
Okay so the difference I make between fishing baitfish on a floating line and "floating line streamers" is just how high up the column I anticipate fishing them. Floating line streamers in most cases are smaller streamers that the majority of the time I anticipate fishing in the upper half of the water column if not even in the upper foot or so. These are usually more traditional-type patterns tied on single salmon hooks or light wire hooks, and include things like my small bunny speys, muddlers, hairwings, etc. Here are a few of my favorites: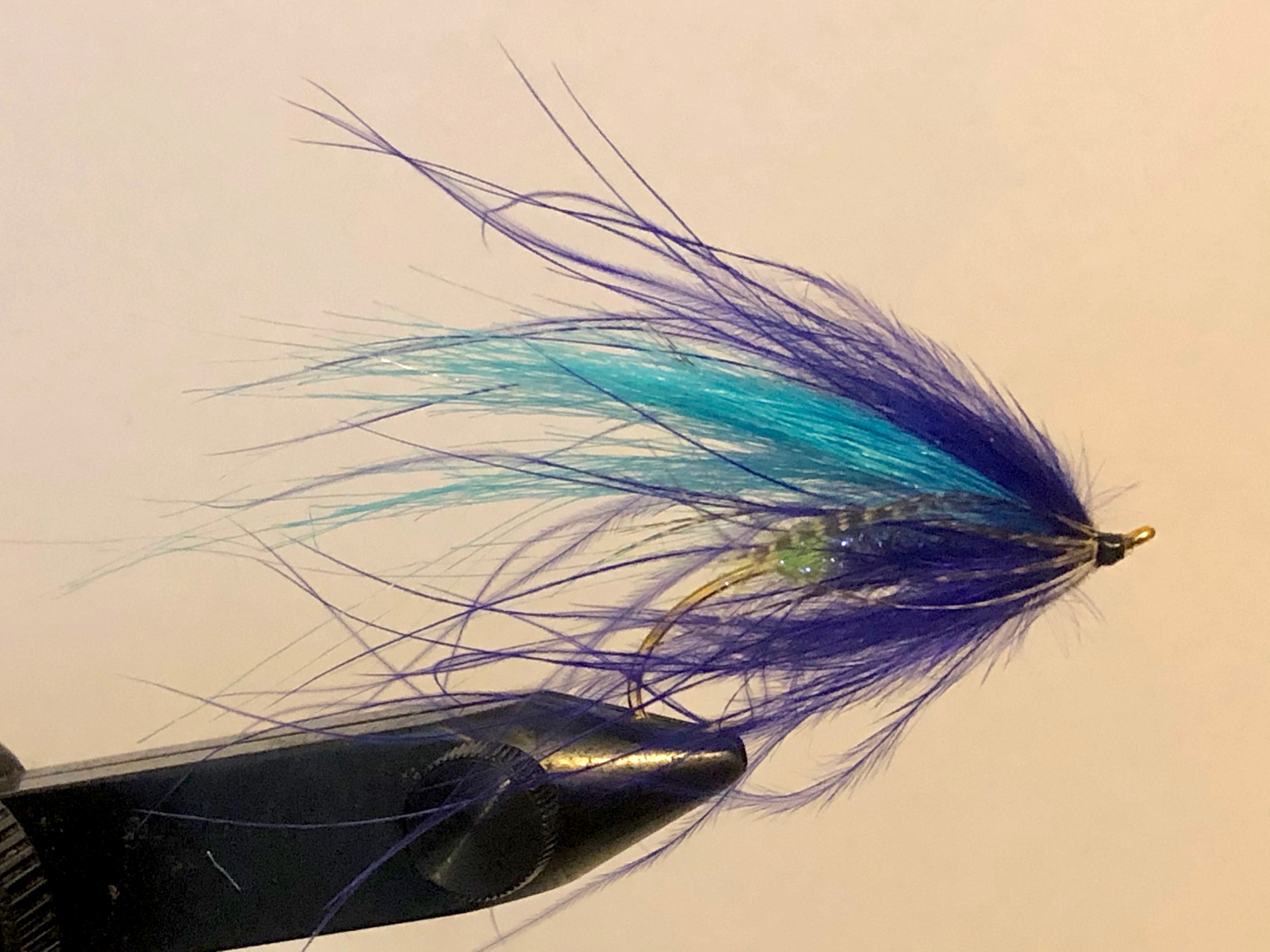 and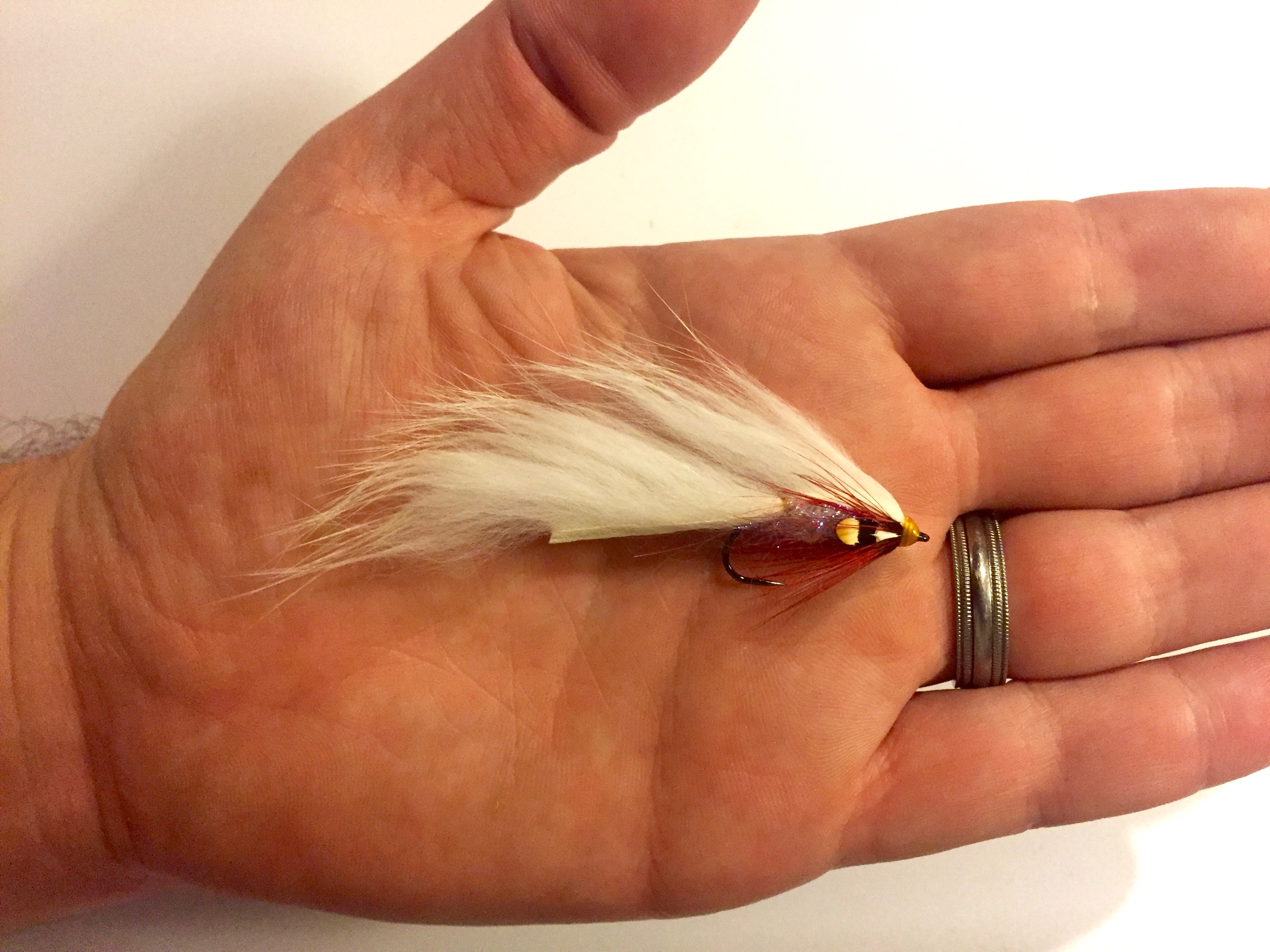 and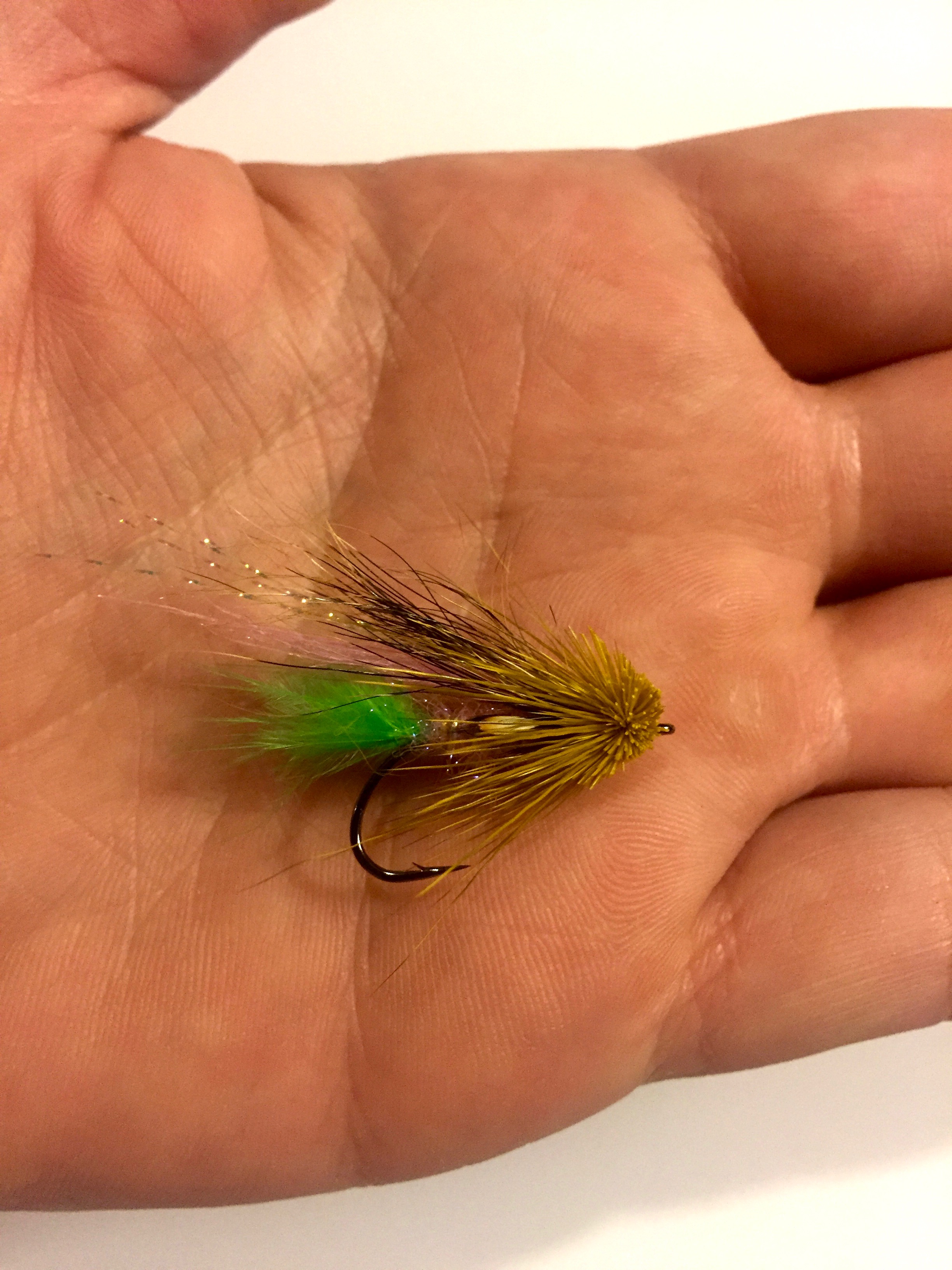 These are flies that I anticipate fishing very high up off the bottom, sometimes all the way up to the surface film or even surface proper for the muddler. I am asking the fish to move a distance for them. The reason they are useful is that unpressured fish this time of year are aggressive fish if you can avoid spooking them. These are smaller patterns that are more discrete on delivery and can get to a fish that might otherwise have been spooked by the aggressive delivery of a larger, more gaudy pattern on even a light sinking tip. The vast majority of my early run fish are taken with this method, and using the weight of the hook and line management alone to determine depth that I am fishing at.
Some final bits of advice- when we swing we are used to pinching the line against the cork on the rod. When I'm swinging these, it's usually on 3x. Do not pinch the line or you will break off your aggressive takes. Just let a fish slam it from the reel. It's an odd sensation not holding the line. But it's super cool when your reel just starts screaming at you out of the blue.
Dry Flies
Finally, the dry flies. Make sure you have at least a couple in your box. There are some days where the only fish we see is a fish that rolls on a dry. But most of the time these come into play with the following scenario: we're having a great day fishing to a good pod of aggressive early run fish. The fish are willingly taking traditionals or wets on the floating line well off the bottom all the way to the point that they are boiling the surface with the take. So we listen to them and after a while toss a bomber or foam waker on. Somewhere down the pool it just gets annhilated. Sure we could have stuck with the streamers way up off the bottom and probably caught fish. But it is days like this that pose legit shots at hooking a wild, early run steelhead on a waked or skated dry fly were we werent fishing to cornered fish in a tiny bucket of water. That's the real shit. These are the days we live for and that we remember forever. My last day like that was October 21, 2017.  
That's not to say that I don't spend a significant time when I'm out by myself fishing the dry blindly. I do. But my best days with it are usually days we found the fish first (or already knew where they were) and then switched over. Either way, throw a few dries in your early season box because- well fuck it you never know. It's steelheading. Good patterns are bombers, oversized caddis, and foam wakers. You would not be out of place to put muddlers with dries as well, particularly smaller ones you want to fish on a hitch. Tube flies can be good waking flies as well. Here are a couple of mine: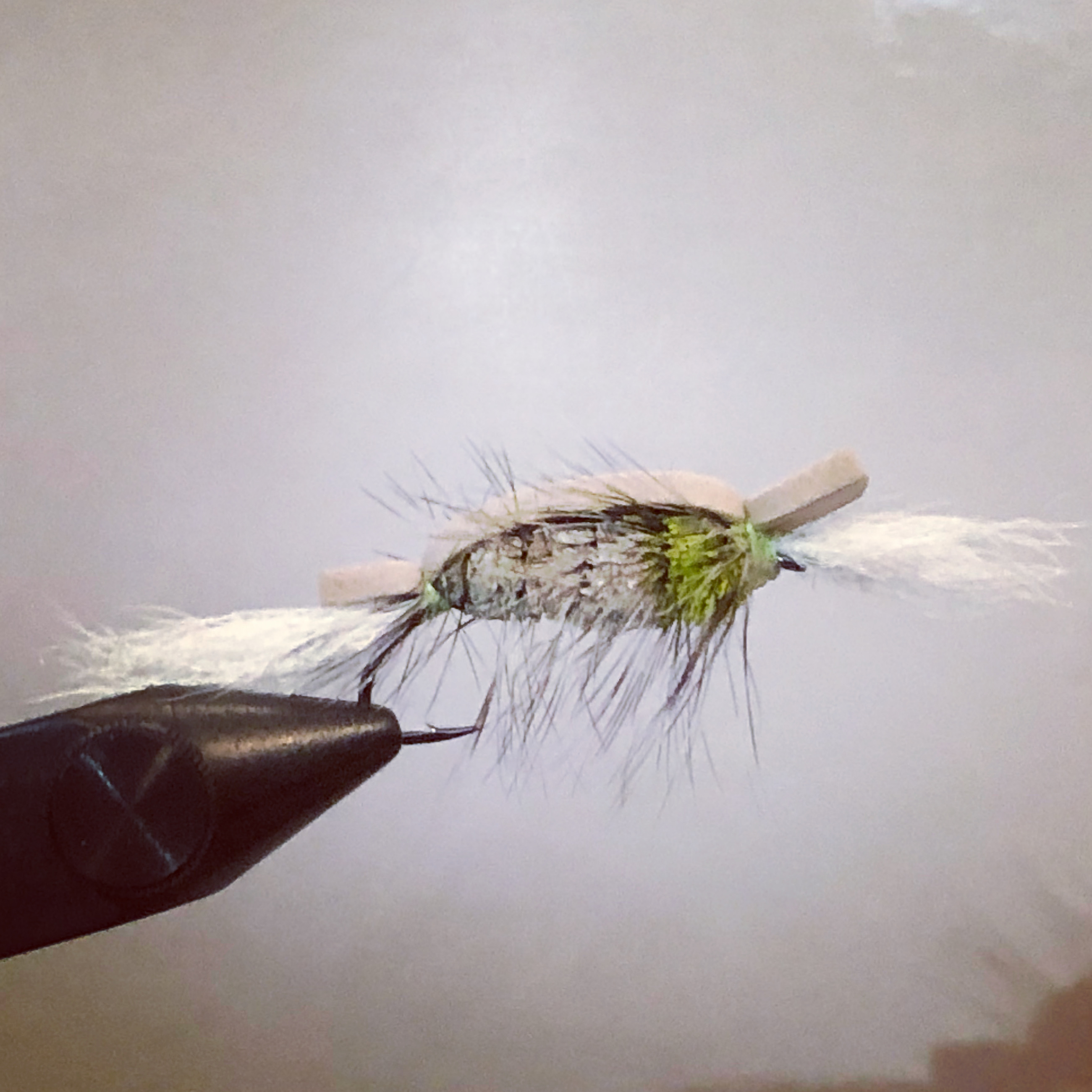 and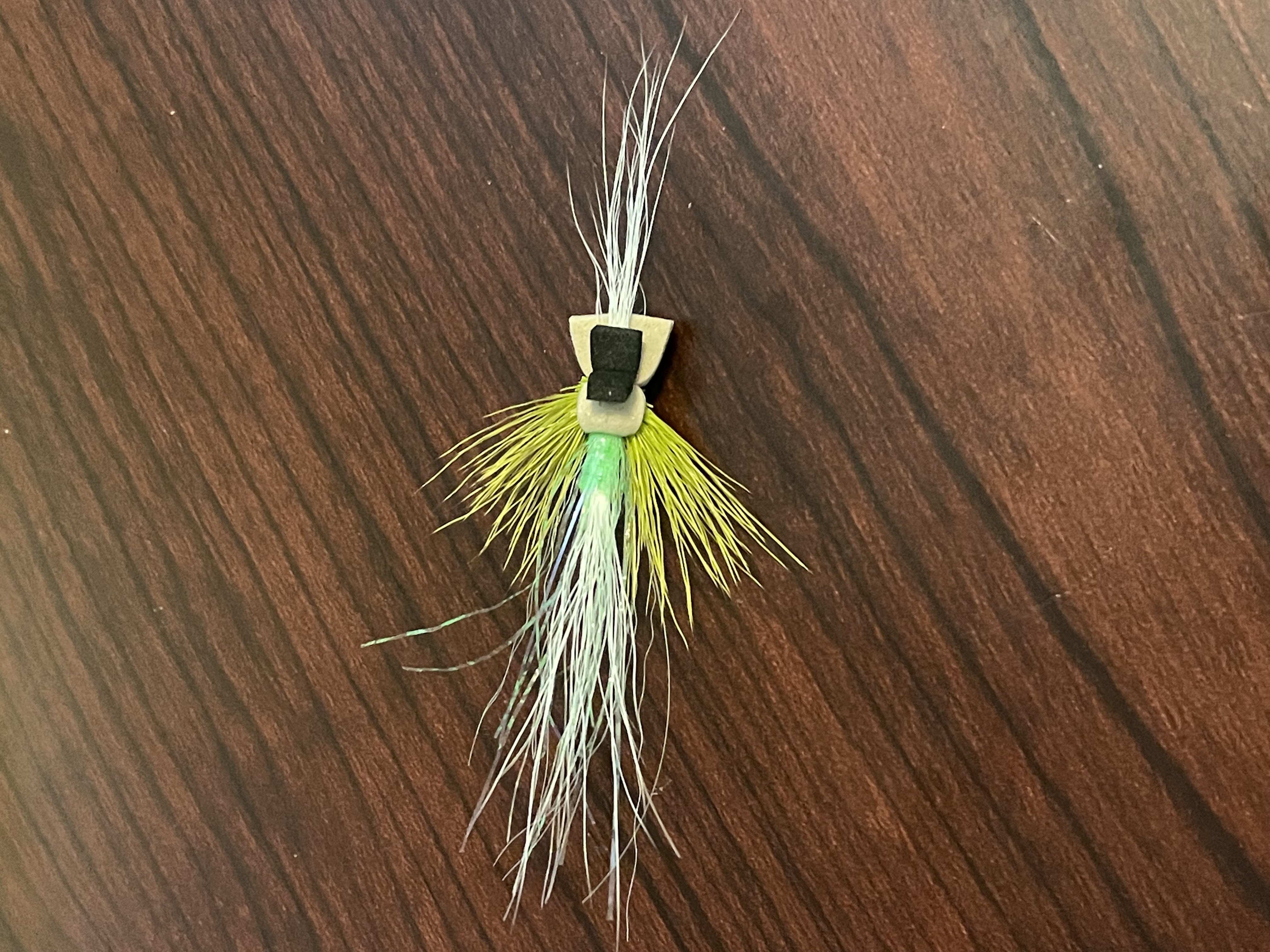 and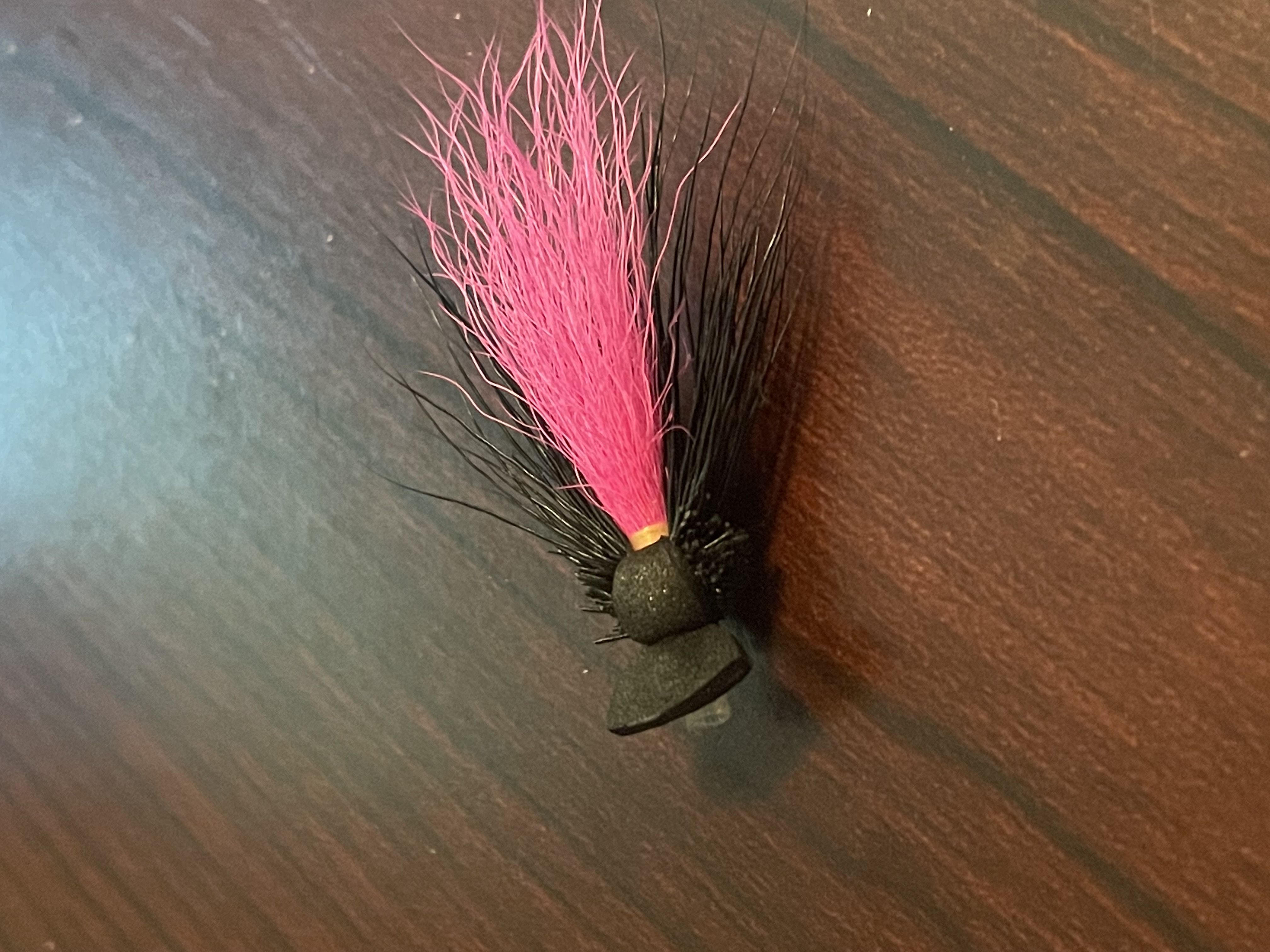 FINAL THOUGHTS:
So hopefully this helps. It can be intimidating putting together a gameplan for early season. Often times the tried and true patterns that may catch the bulk of your fish later in the season just do not seem to produce as well early in the run, or only have limited applications such as first and last light or periods of higher water that carries color. That's normal. Make the adjustment, and maybe you can put a few extra fish on the board early on when the conditions might not be as "prime" for the spey game. Who knows. It might even become your favorite time of the year. It sure has for me.
Tight Lines and Here's to a Great Upcoming Season
  - D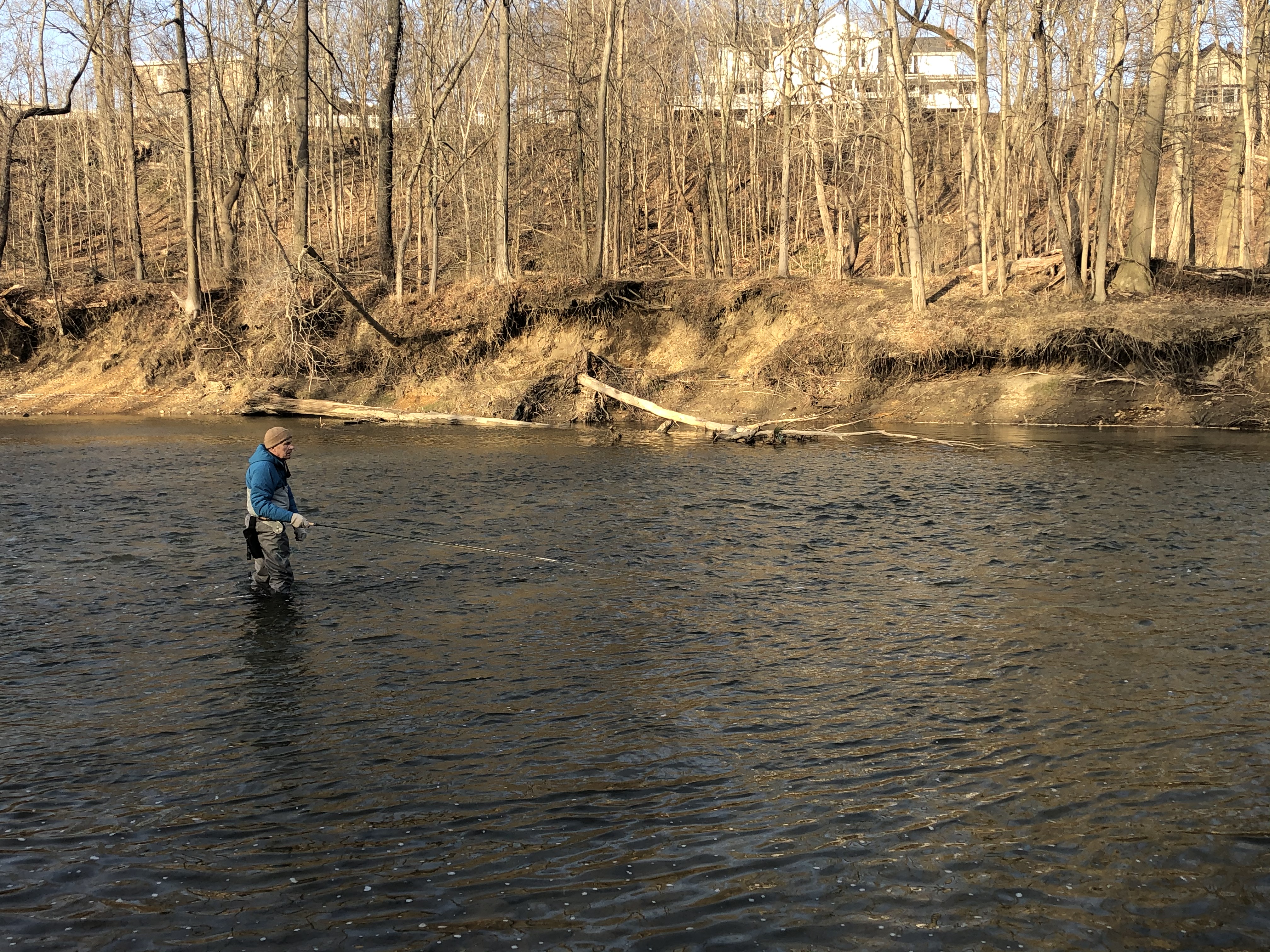 Jim working a really nice run
Well it is definitely that time of year. We're right at peak season on the Ohio steelhead fisheries, with great numbers of fish in most of the systems. If anybody out there is looking to get their feet wet (pun intended) in spey fishing, anytime between now and the end of April would be a great choice. Spey fishing is such a cool form of fishing, but it is a process that one doesn't master instantly. The nice thing about getting out in Ohio is that even new anglers who are just going to be learning the basics and might only get to the point of casting out the full head can really have a great day fishing. Funny enough, more people call me looking to fish the Catt in the spring. When I tell them they should really think about Ohio, they seem surprised. Still seems like for the most part, our fishery is largely under the radar outside our borders. 
Had the pleasure of fishing with Jim a couple days ago. Jim's a solid angler who has fished with many of the greats in steelhead and spey fishing. Listening to him talk about the places he's fished and the people he's bumped into along the way was a treasure. And it was nice from my perspective that he already had more than the foundation down. So my job as far as casting and technique wise was just making minor tweaks. One of the things I tell a lot of anglers who have the basics down on spey fishing but start to lose their cast for one reason or another is simple: start casting cack handed. A signifcant amount of the time, issues with the cast are related to a couple things. Either not using the bottom hand as the driver of the cast, or timing, with improper anchor placement being third.
Anyways, Jim who was casting very nicely at the start of the trip began to have his cast fall apart on him. It can be frustrating. On our second morning, after seeing the same issue creeping up again, I told him to start casting cack handed. Almost instantly his cast was back. The reason for this is simple. When you cast cack handed the bottom hand naturally comes out from the body on the back cast, and because of this on the forward cast you have to clear it out of the way first. This forces you to start the forward cast by driving down with the bottom hand. The other big thing is that because it is a bit awkward, most people don't rush the cast. These two are cures for the biggest two issues in spey casting that I know of. And once that occurs, it's easy to simply say "Hey, why don't you leave the anchor a little farther away from you" or something similar. Boom. Casting's back. It was an old trick I picked up in my Alaska spey days but seeing it work so well with Jim, who is a proficient spey fisherman, was really nice to see. 
As for the fishing, Jim hooked 9 fish in two days, and landed three. But I'd like to talk about one we lost at the net. It's no secret among the anglers fishing in Ohio this year that there are some big fish around. Anyways, Jim set the hook on a fish and it didn't move. My first thought was well he's snagged. But I asked him and he said no it was a fish. Then it started to move. It didn't go crazy, but with Jim putting a lot of side pressure on, the fish just slowly swam up to the middle of the pool. I told him I thought it might be a big fish and that I wasn't sure it knew it's hooked yet. We got nearly all the head back in a minute or two. And then it rolled. My personal biggest fish is a 35" 17-18 pound fish you see at the top of the banner on our home page. I've seen a handful more between 13 and 15 pounds. In the water, this fish look broader than all of them but do to the stained water I couldn't see the head fully or the tail at all. Regardless it was clearly well over 30" and just so wide it was difficult to fathom.
It pulled off about twenty yards, over to the other side of the Grand. We got it back. And it was rolloing out about a rod tip away from us so that I saw it two or three more times. It was a large buck, not dark but a bit colored. As Jim was trying to turn his head and ease him into the net, he got the head pointed the right way. Two or three more feet and it would have been in the net. But the hook popped out and that was all she wrote. Jim was cool with it. He was stoked he got to fight it. His only regret was that we didn't get a picture. Sometimes you lose a fight, that's just how it is. It was a big fish. I know based on the girth alone, we were looking at somewhere low-to-mid-teens. Plus fish will sometimes look shorter and smaller in the water than they really are due to refraction making things appear shallower than they really are. That fish had a legit shot at going 15 or better, but who knows. Until you net them and tape them, it's all just speculation. It was a big fish anyways. I'll probably be thinking about it till the end of the season now. 
Jeff was also up in the area for four days. He hooked a good amount of fish swinging as well. Between what Jim hooked, what Jeff hooked and what I hooked here and there, I think we're somewhere around 45 hookups on the swing in the last four days, landing maybe a third. It's great fishing. And it's Ohio in the spring.
Tight Lines and Good Fishing. I'll leave you with a couple more shots.
  - D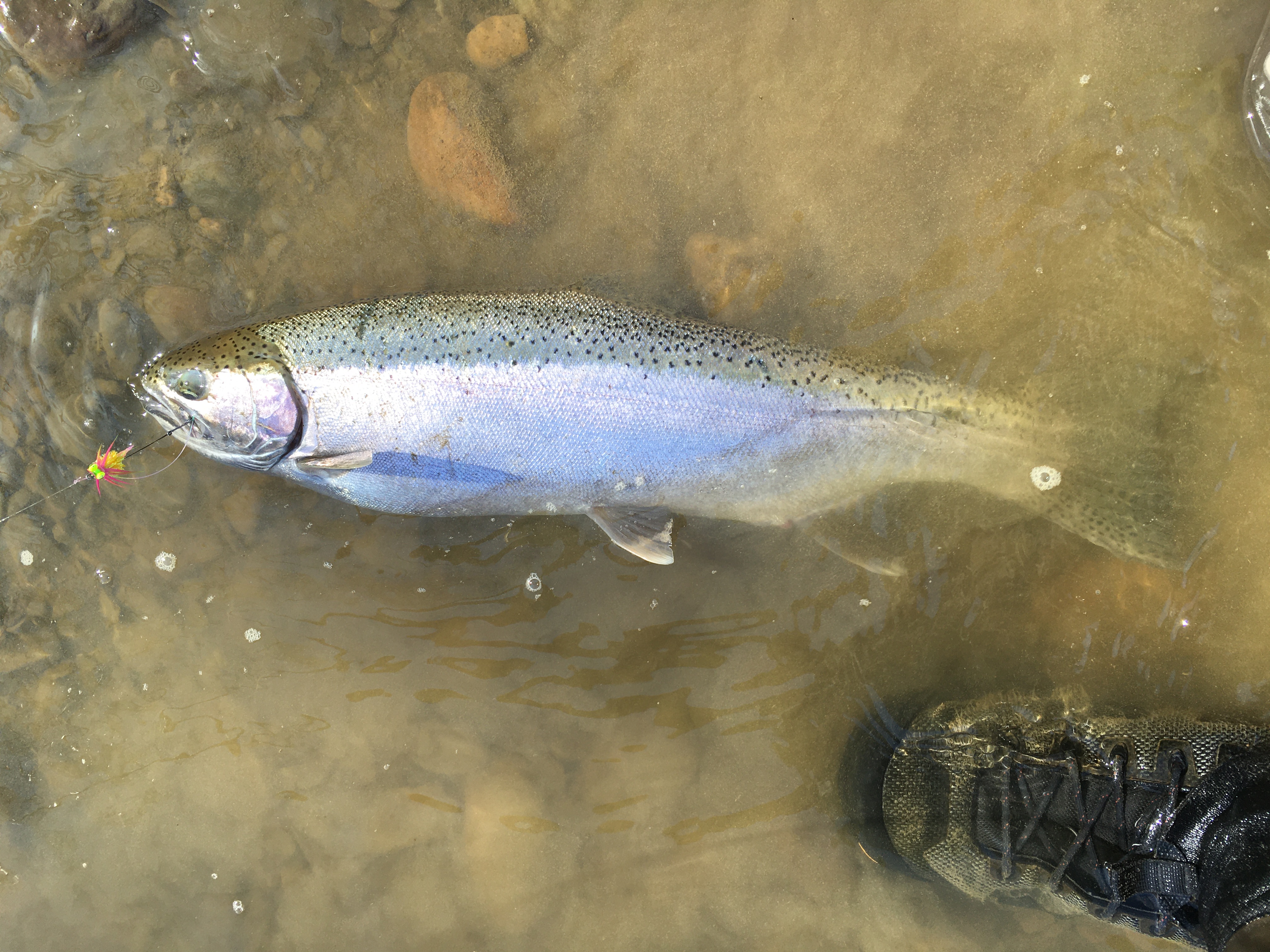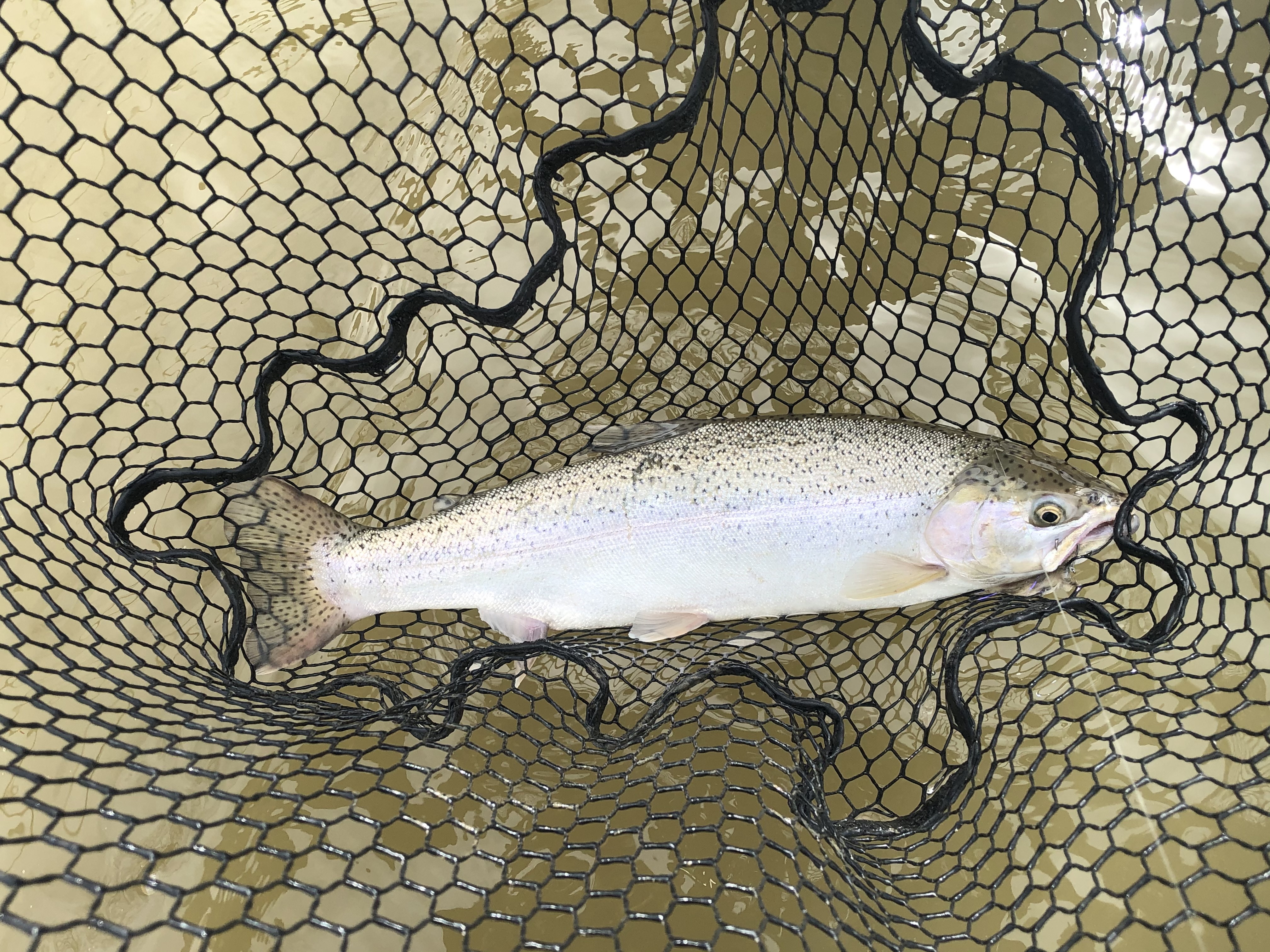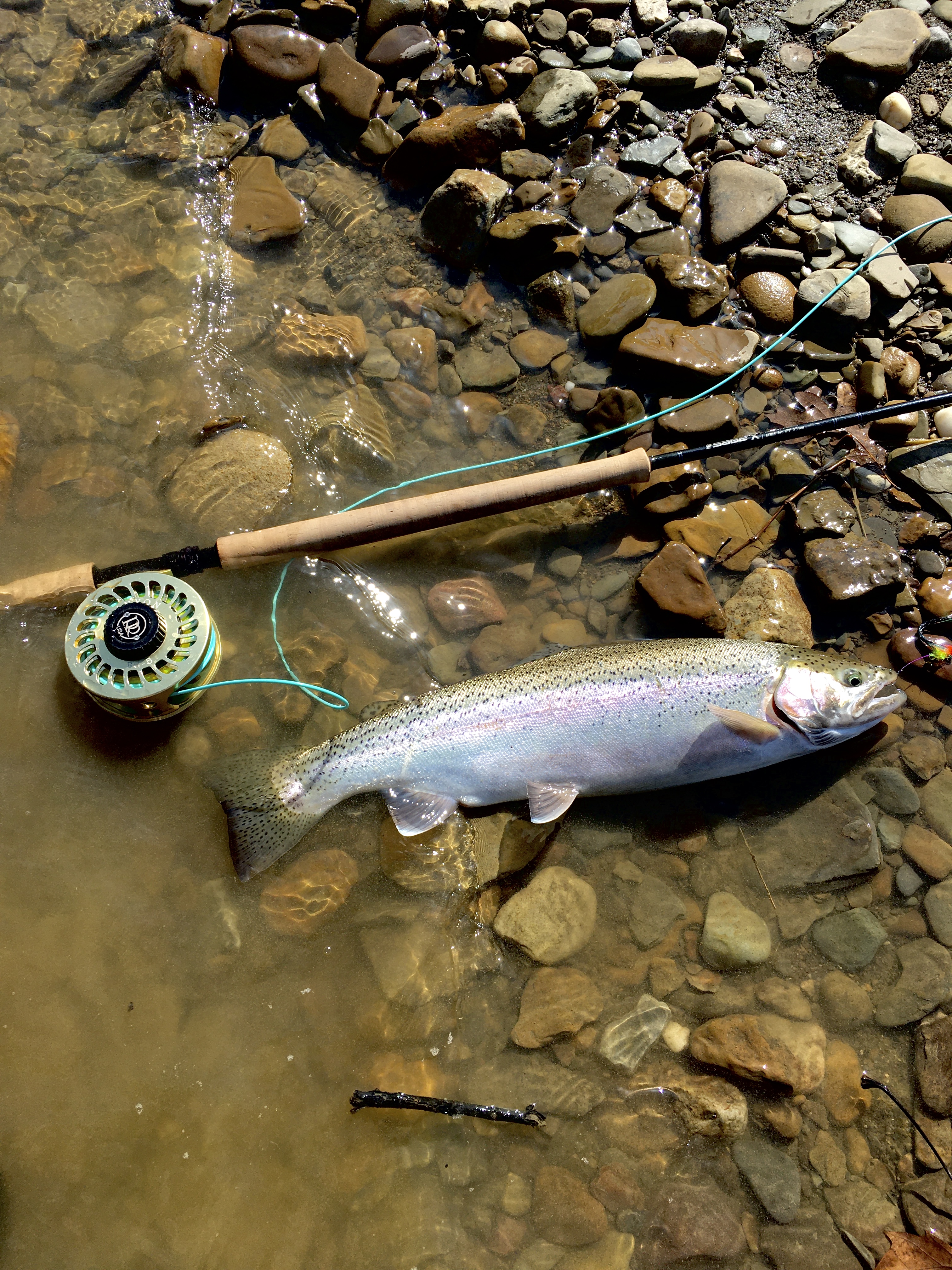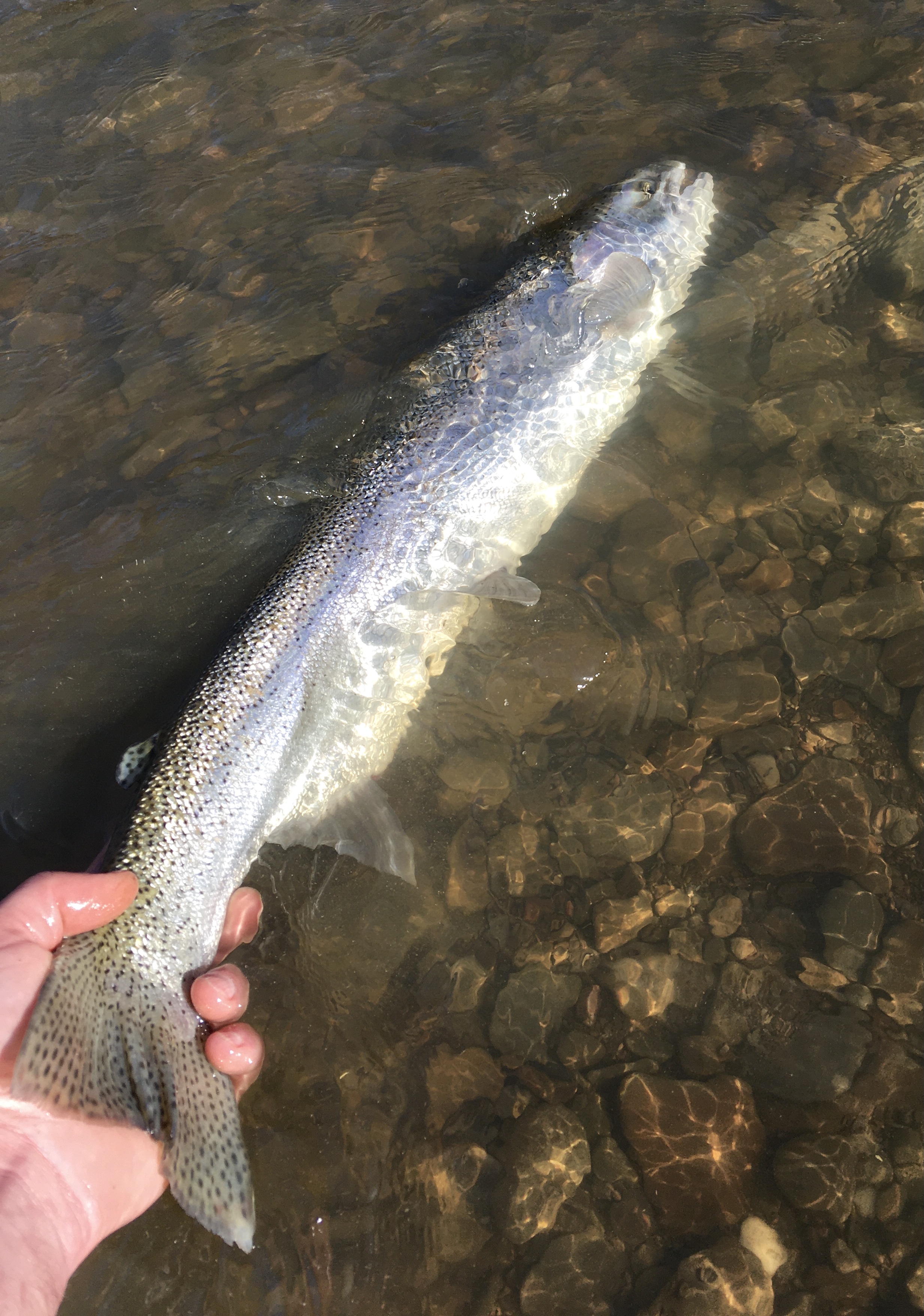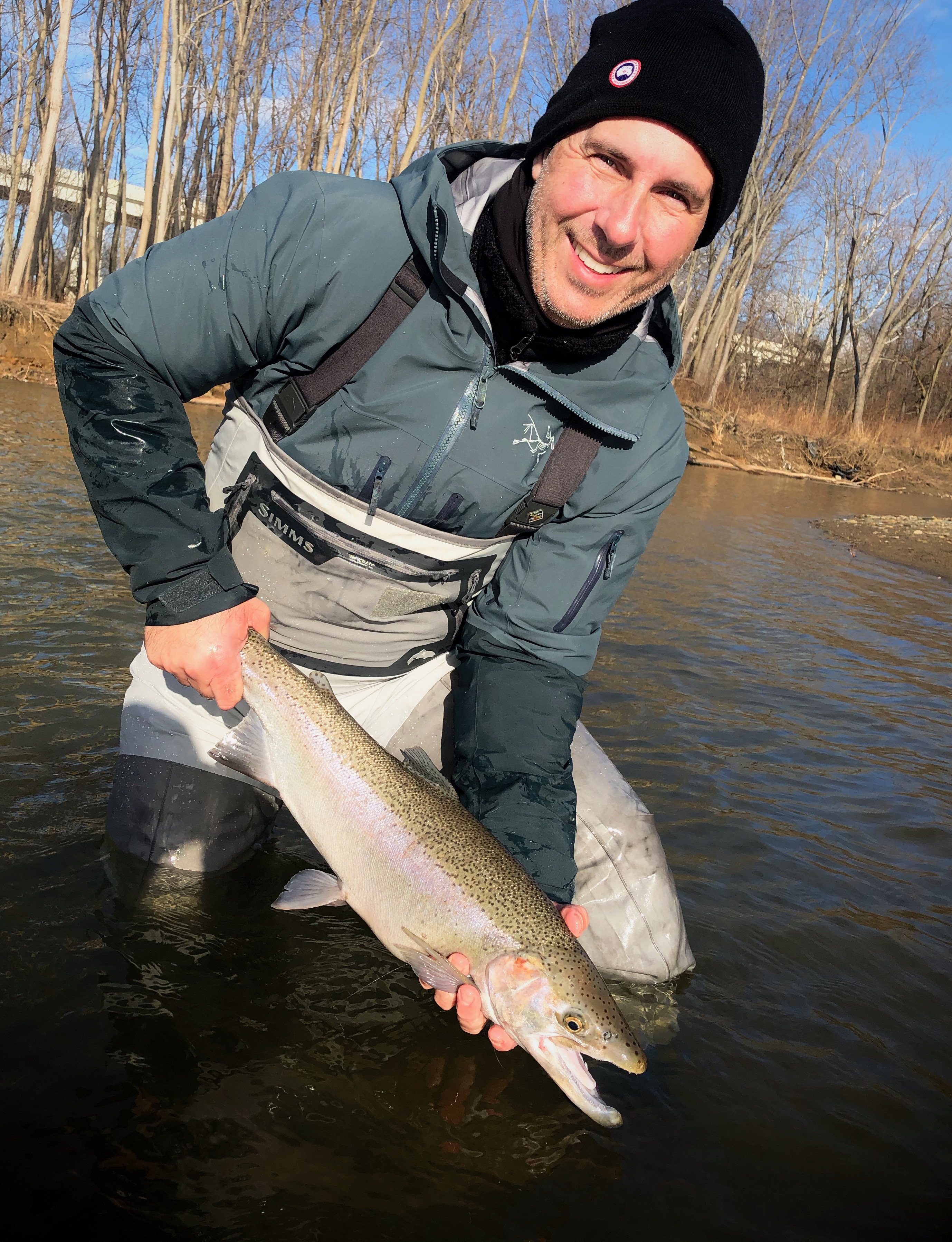 Gary holding the first spring steelhead after ice out!
Well it's official! It is spring steelhead time! We had about 5-6 weeks of solid winter where most of our rivers froze up. But that all changed about a week- 10 days ago with a combination of warmer temps and rain that broke things free! We patiently waited for the spike in flows to recede, wondering what was in store for us. And when it did, our suspicions were confirmed. While the spey fishing was still a bit of a challenge with the colder flows, we found a few willing takers. Things should only improve as the weather warms.
If you haven't already, get on the phone with us to reserve your spot. We don't have a ton of days left, so reach out to us when you can.
 - D 
/