Shopping Cart
Your Cart is Empty
There was an error with PayPal
Click here to try again
Thank you for your business!
You should be receiving an order confirmation from Paypal shortly.
Exit Shopping Cart
Guided Fly and Spey Fishing Trips for Steelhead and Brown Trout with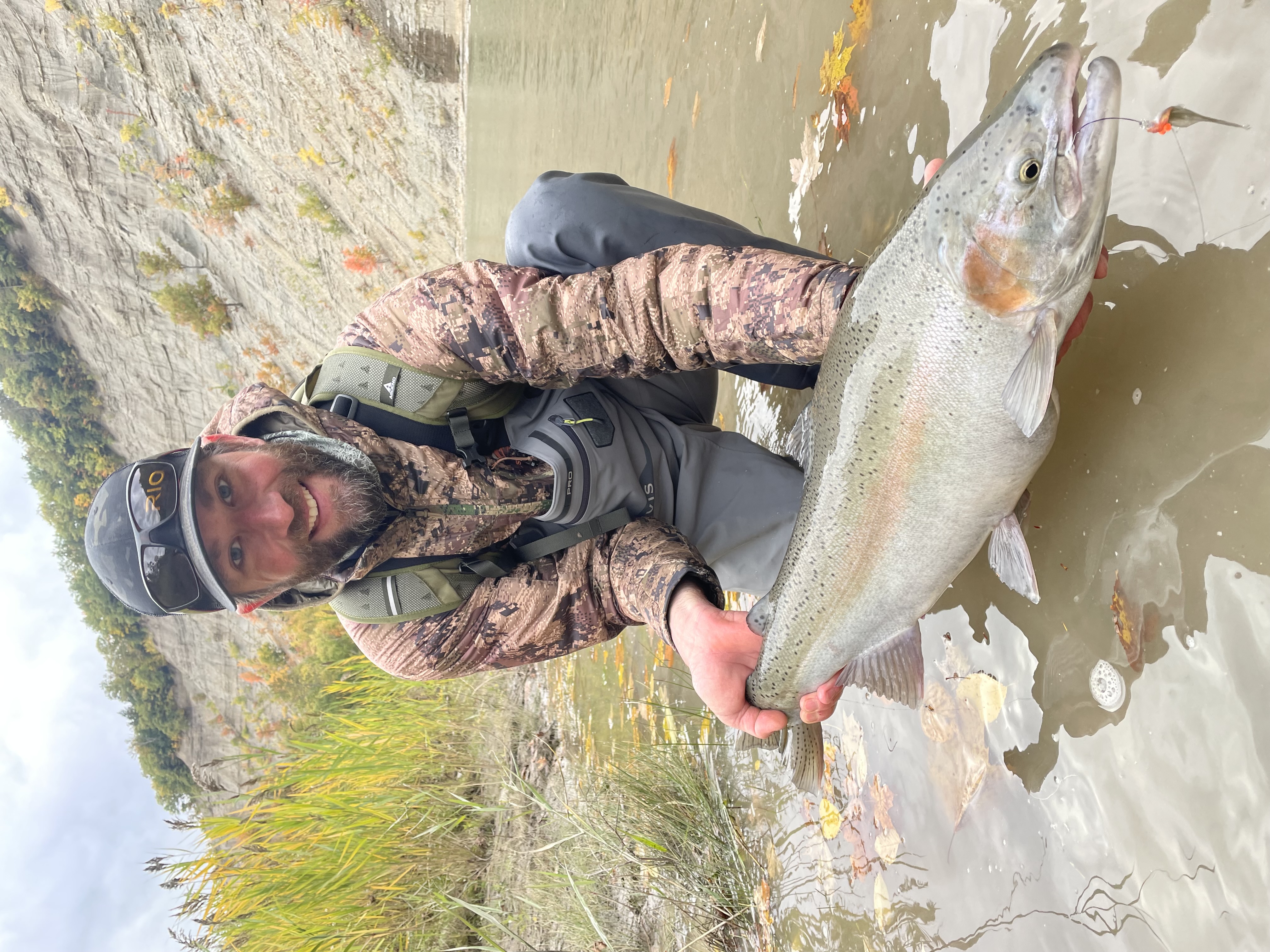 Jeff with his monster
Well we're off. October has arrived and so have the steelhead. In normal years the first push of fish we see in the run is predominantly one and two lake year fish between around 15 and 25 inches and up to roughly 5-6 pounds. The bigger 3 year plus fish usually don't start to arrive until later in the season. This year is different. I have never seen so many fish bigger than 10 pounds around so early. With how many big fish we've been seeing over the past two seasons, it leads me to wonder if there is some change in the lake and that average size is trending upward.
The other nice thing about this fall is that we've actually had one this year. We didn't have crazy heat through September, instead the normal slow cooling along with sporadic rain. The big rivers all have decent amounts of fish and even the smaller systems have had some degree of runs. So game on.
Tight Lines,
 - D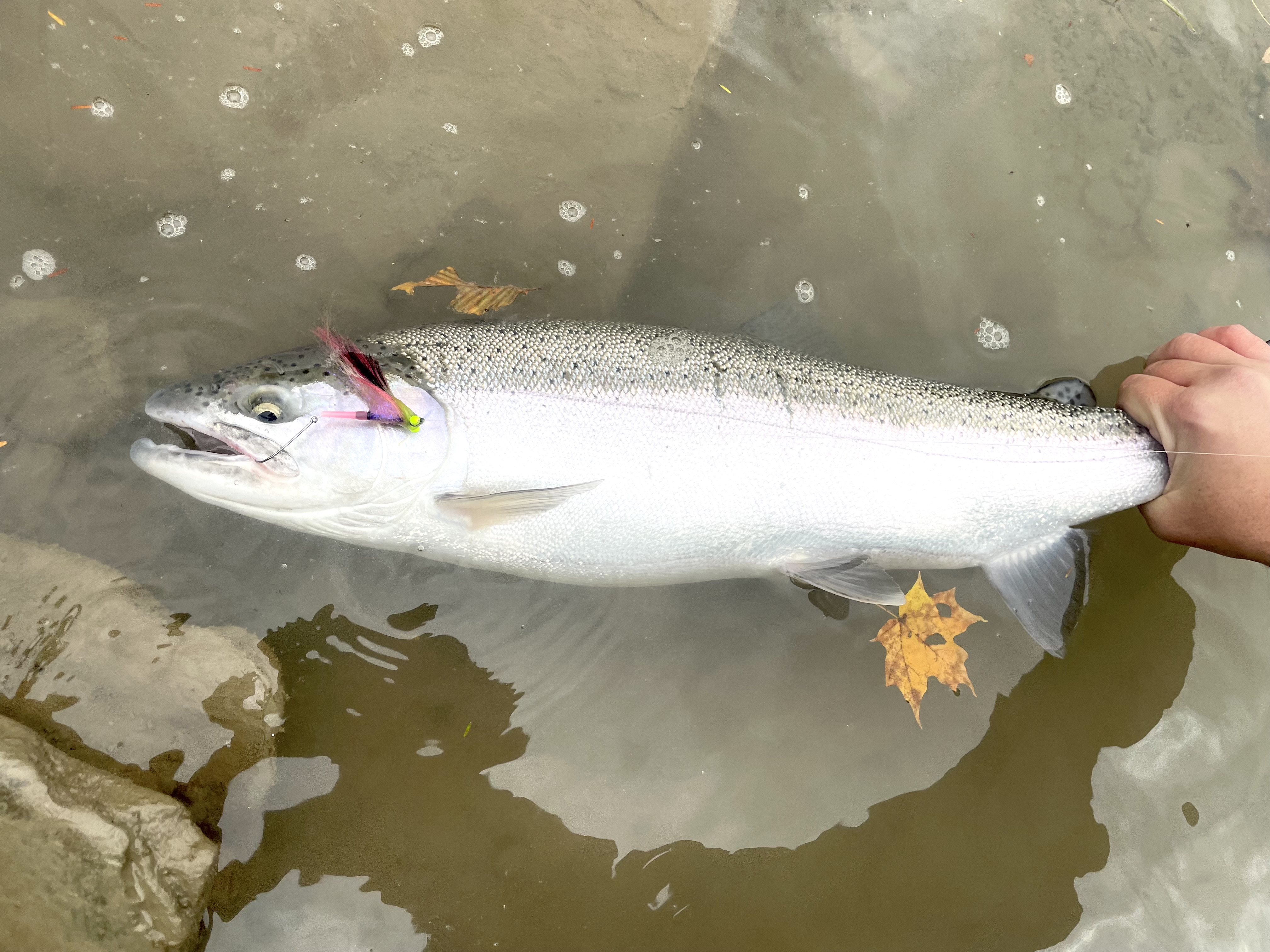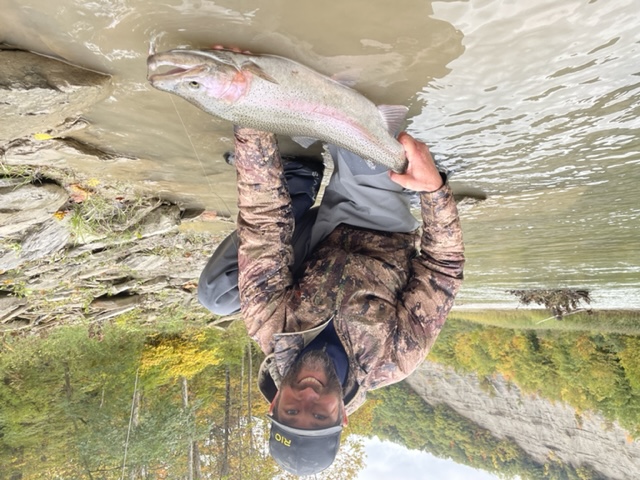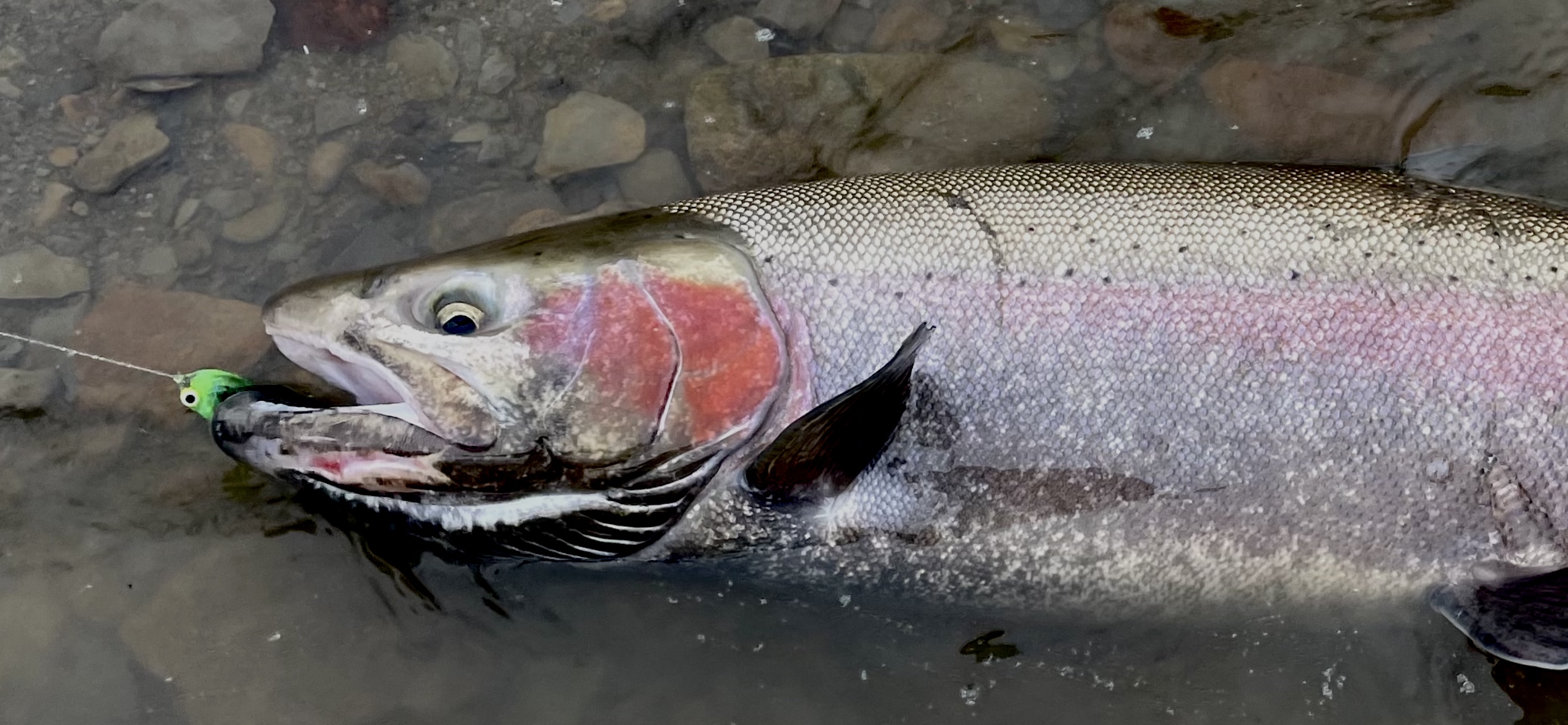 Check out the colors on this solid buck
So we are definitely in the peak of late-fall-early-winter fishing. There are good numbers of fish in most drainages throughout the region, with the medium and larger sized tributaries providing some fantasting swing fishing. The other really nice thing is the amount of fish in the 28-30" class. This time of year we see some bruiser bucks, and the last two-three weeks have not disappointed. Whereas in the spring, our largest fish tend to be hen fish, large, mulit-year class male fish arrive sooner to maximize their spawning potential, with December being the prime month. This year, these big male fish seem to be right on schedule, and the good news is these fish should be around our in our rivers through March though they do lose physical condition with prolonged residency in the rivers.
Onto the fishing. This fish above took when the air temp was 30 degrees and the water temp only a few degrees warmer. After working a good run a few times resulted in a couple pulls but nothing that stuck, I pushed up to a run that has been fairly good to me in the past, but has not produced for me this year. Thinking that the fish would be concentrated way down in the slow-water tailout, a decent winter spot, I jumped in low thinking that I'd just cover that spot then call it. Way down in the tailout I hooked and landed a smaller fish.
Amped up from success, I booked it to the top to start the run properly. The pool is set up with a hard inside seam at the head that pushes out to mid-river by the gut. My first cast with only a little more than the sink tip out the rod tip went to the bottom and started dredging the seam. After a few seconds there was just weight there. When I lifted, it quickly became apparent that it was a fish. It ran out to the middle, swirled, then shook the hook like an October fish since I never got a good set on it.
 As I worked my way down, just above the gut, with about the full distance of my head out, I felt a light pluck but nothing else. Waiting for a second pull, a big, colored buck fish somersaulted out of the water, my black and chartreuse leech clearly visible in it's mouth. Due to the hard seam, I never felt the weight of the fish, or even the pull as the fish jumped clean out of the water. As it jumped, it also tossed my fly. But, I started thinking that that fish might not have been put down because I didn't really pull on it, and it was clearly very aggressive in the manner it took and immediately leaped.
I took one big step back up and started again. On the third cast, slightly lower from where it took the first time, I got a good pull and put the wood to it. The fish swirled again and fought me down to the tailout where I was able to slide him into the shallows. I am one hundred percent confident that this was the same fish that took only a few cast prior and jumped as it shook the hook- same size, same colored appearance, same attitude. Though over the years, we have certaintly captured the same fish over a series of outings, and we somewhat frequently get "comeback" fish, where they grab but don't get hooked then come back and grab again a cast or two later, I cannot ever recall having hooked a fish, losing it, then hooking it again and landing it only a few casts later. 
Just goes to show that no matter how long you play game, there are still things that can surprise you.
Tight Lines and Happy Holidays,
 -  D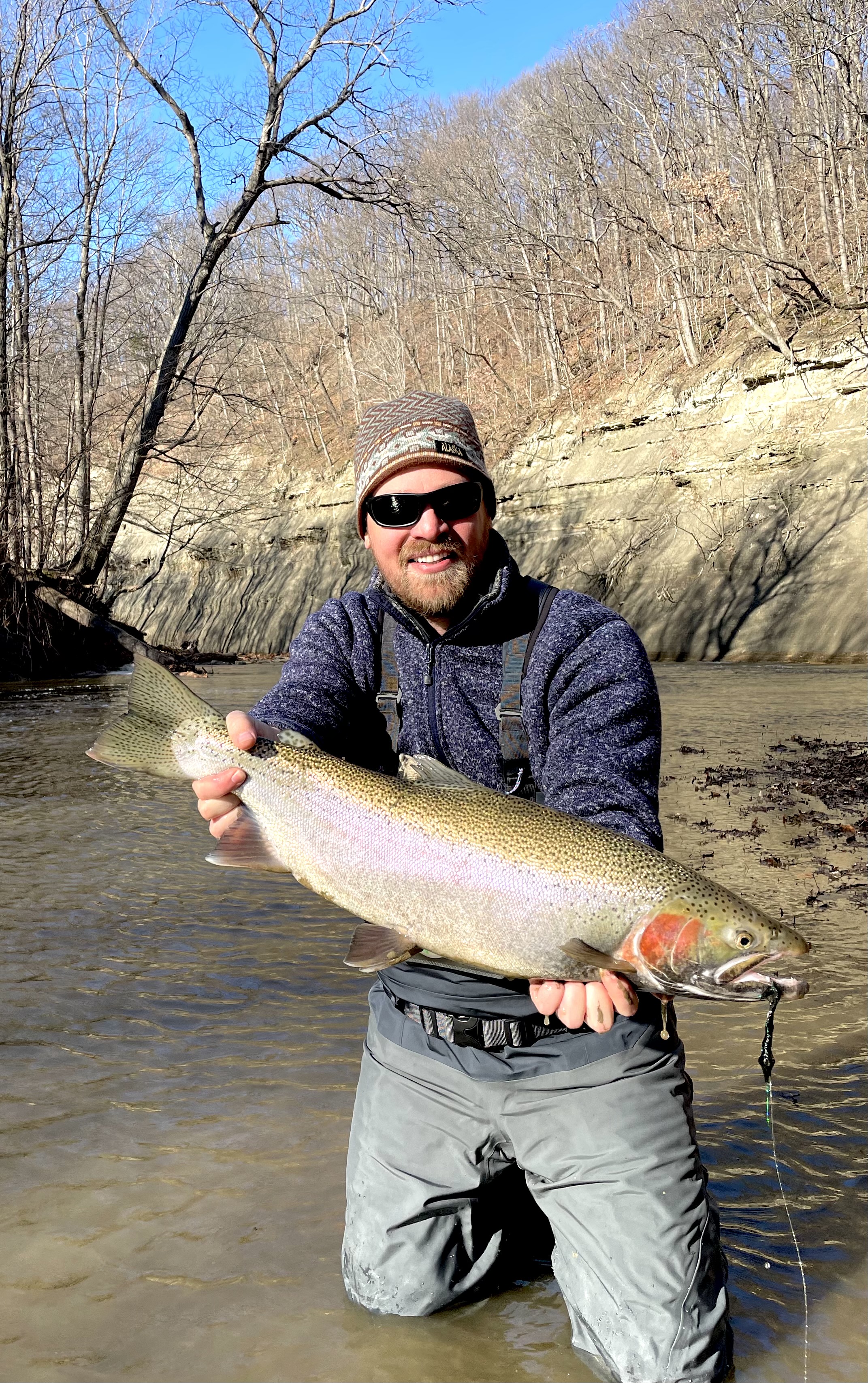 Solid buck from a Plan C watershed.
Well the last month of the year has arrived, and with it runs of good sized winter fish. There seem to be three times during the entirety of steelhead season where over the years many of our larger fish are caught. Though in general, fish size and run timing vary heavily year to year, when you take a long view sometimes trends can be identified. One of those happens to coincide with large fish targeting.
For me, steelhead season starts the 1st of October and ends the 30th of April. In all it totals some thirty-odd weeks. Of that time, it seems that we frequently, though not always, find our biggest fish in three distict periods within that block of time: about the last week or two of October; the entirety of December; and the last week or two of April. Those periods, accounting for approximately 6-8 weeks within the full seasons, on the whole seem to produce our largest fish, though like everything steelhead related it further varies  between watersheds and even in-river fishing locations.
This year seems to be falling right on track, with the added bonus of having a very solid fall run of very health and well fed fish. As of now, fish are everywhere. Any watershed you chose to fish has decent to heavy numbers of fish in it, though finding them can still prove challenging at times with stained and cold water. Big, dark profiles with bright hot spots of orange or chartreuse are good bets, and don't be afraid to explore. We're still finding fish in the running lanes and higher up on the pools. Don't just assume with dropping temps the fish are going to be solely in the classic winter water. But don't forget to fish that either, particularly as we get closer to the end of the year and the afternoon temps stop pushing into the mid-upper forties as much.
I guess to sum it up, there are fish around. Get after them. Who knows, you might find your best of the year in the next couple weeks.
Tight Lines,
 - D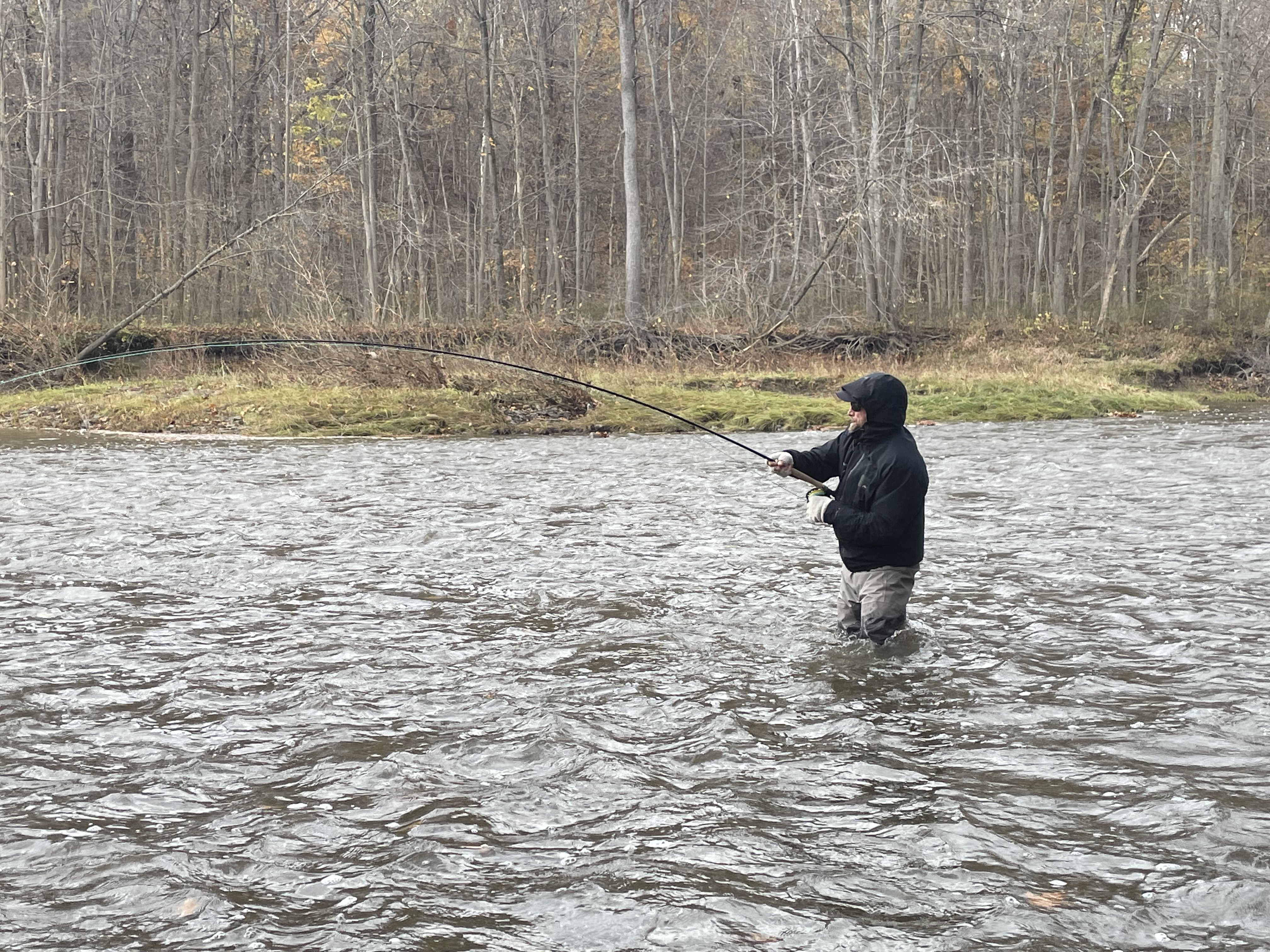 Matt on a good one a few weeks ago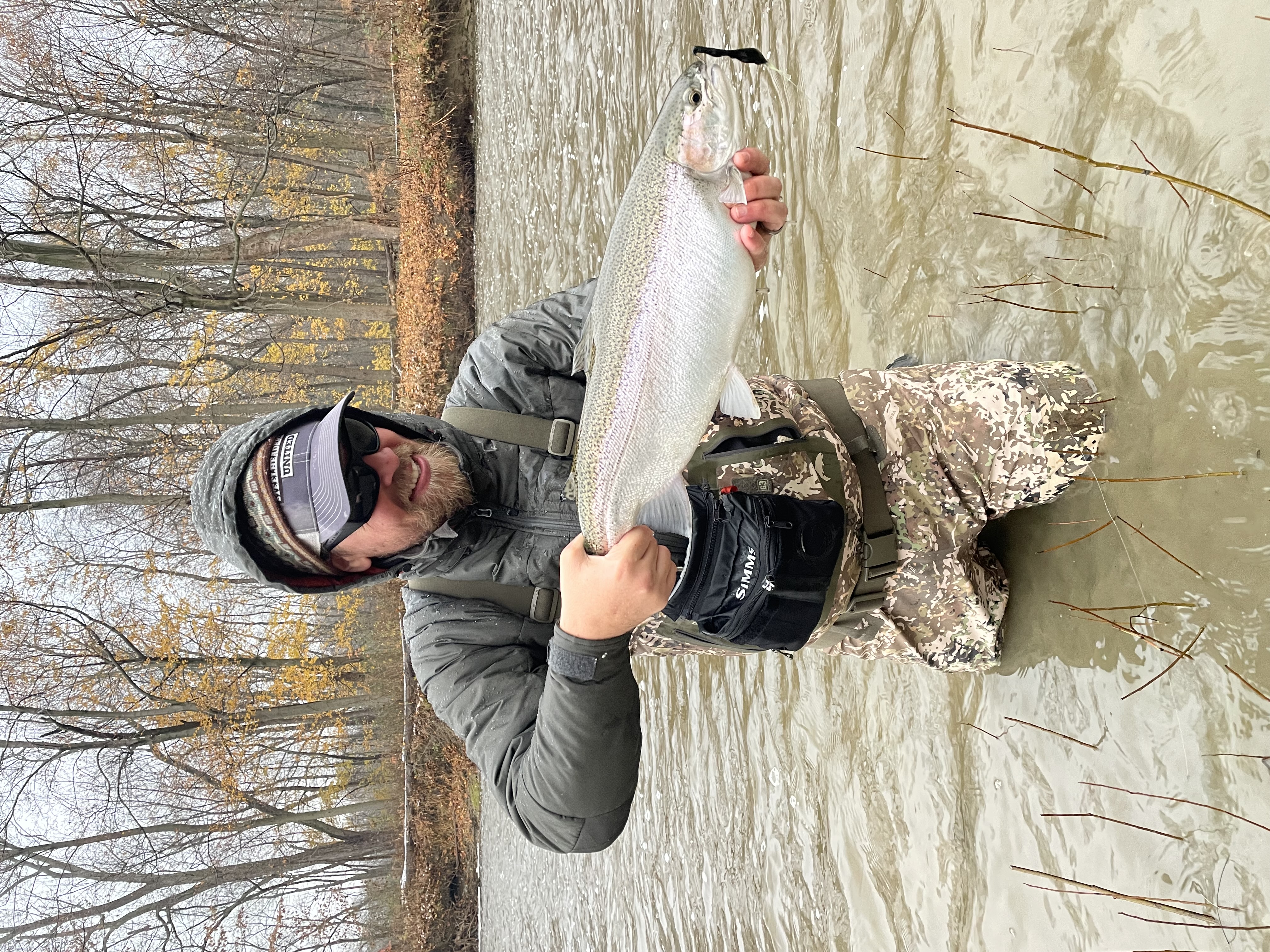 I'm telling you, they're running fat right now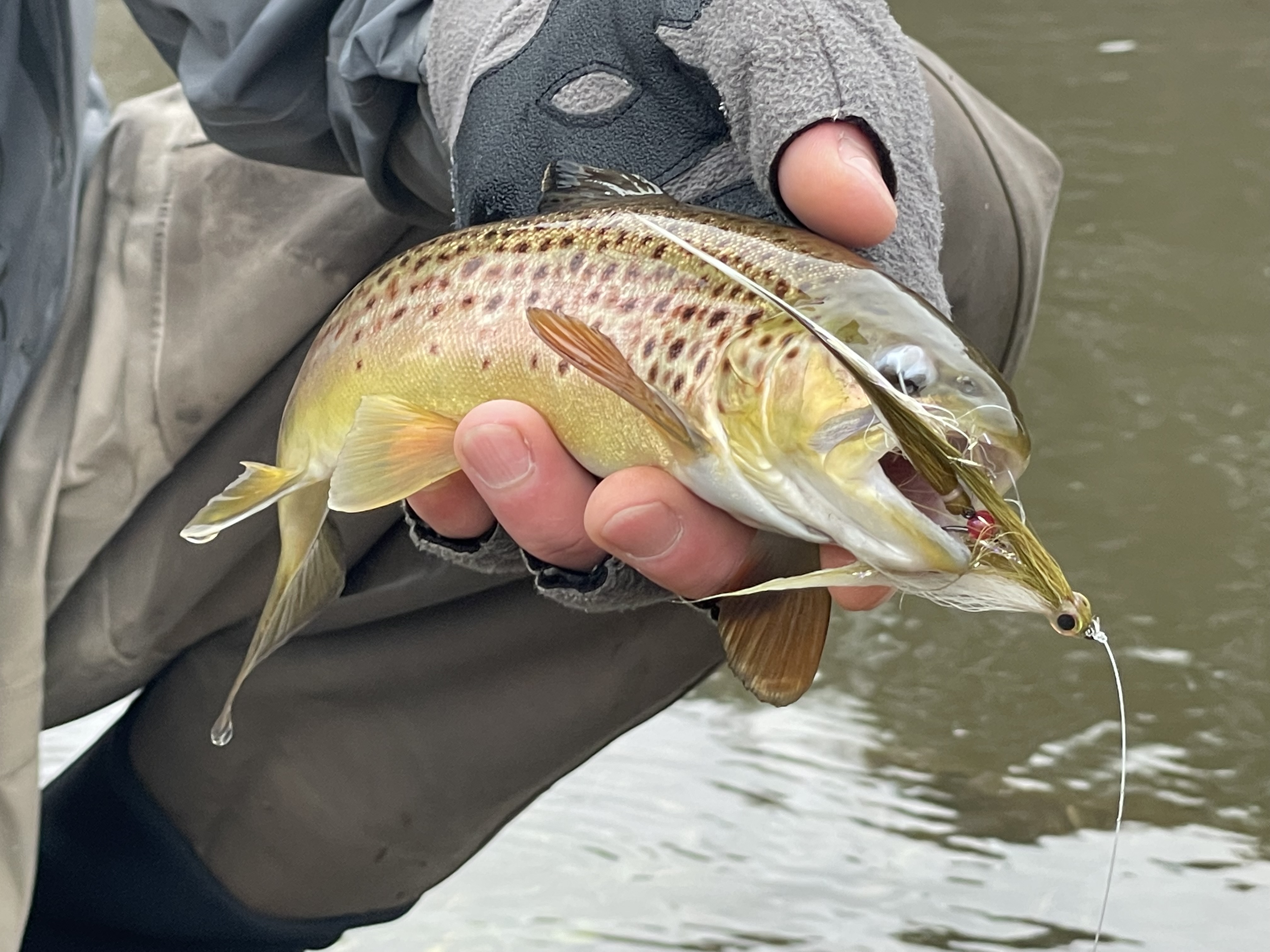 Browns are hungry too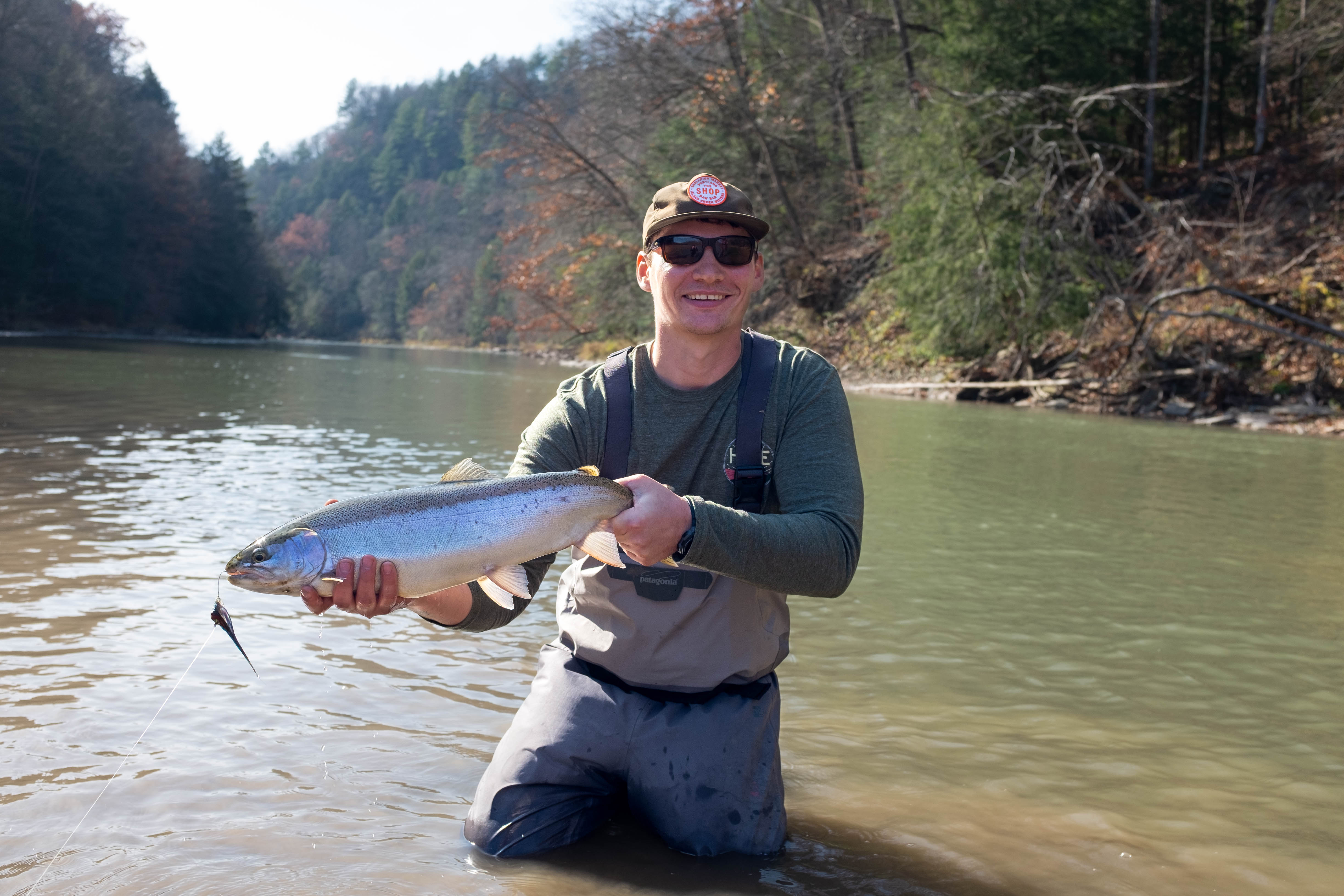 Tom with a great fish his first day spey fishing with guide Matt Rysak!
I'm going to keep this one short. Things are fishing very well. We had a bit of an unseasonably warm and dry spell for a minute that made fishing a little tough on sunny days. But other than that there are good amounts of fish around. We've had some water of the past two weeks which got things moving even more. The Erie fish, bucks in particular are running large. We've lost a couple I'd say were well over 12 pounds. And from the reports I'm getting up on the Lake O tribs, there are some monster browns around. Watch for a full report on that next time. All in all, great fishing.
Tight Lines,
 - D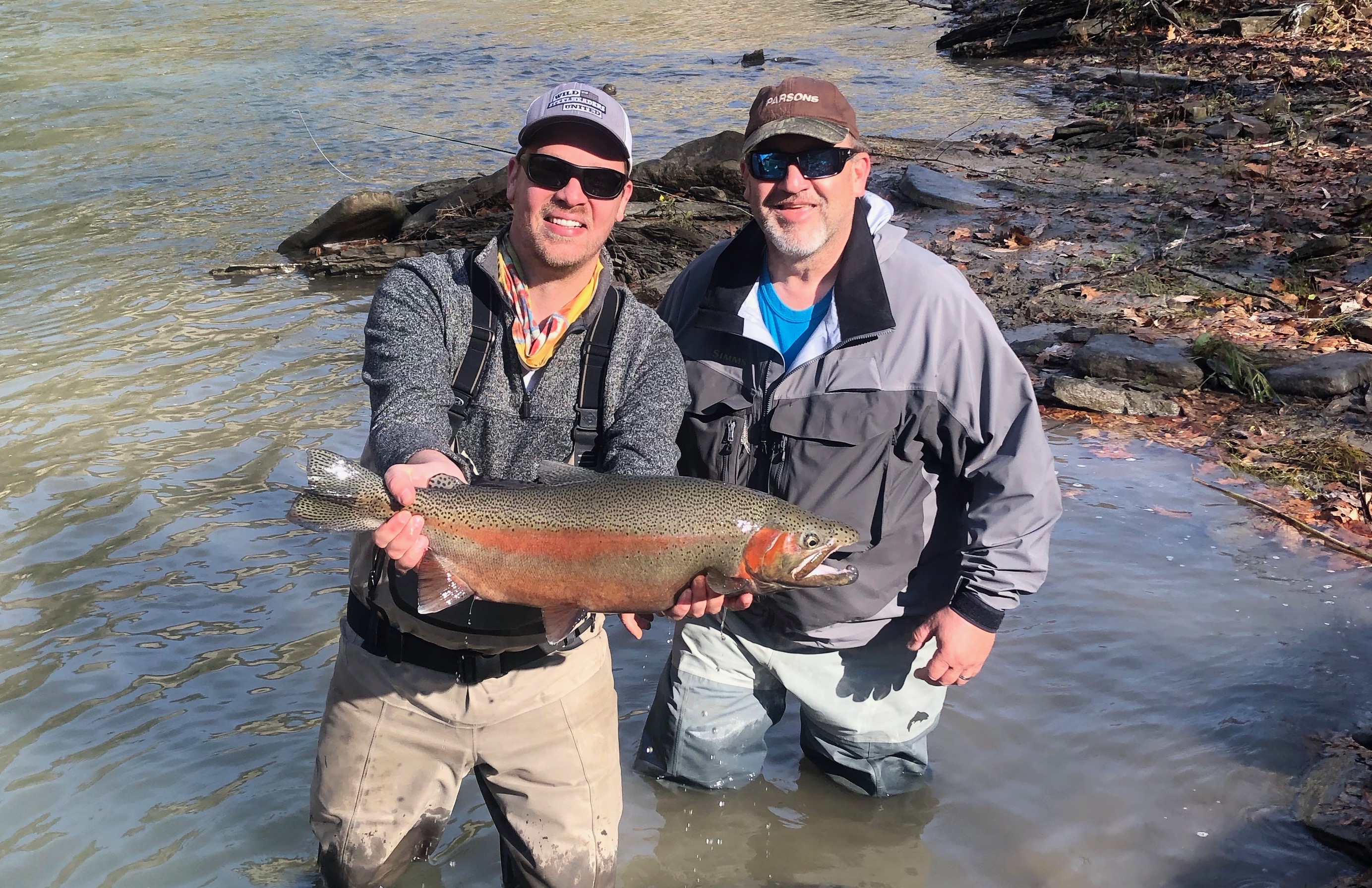 Greg with a FAT colored up buck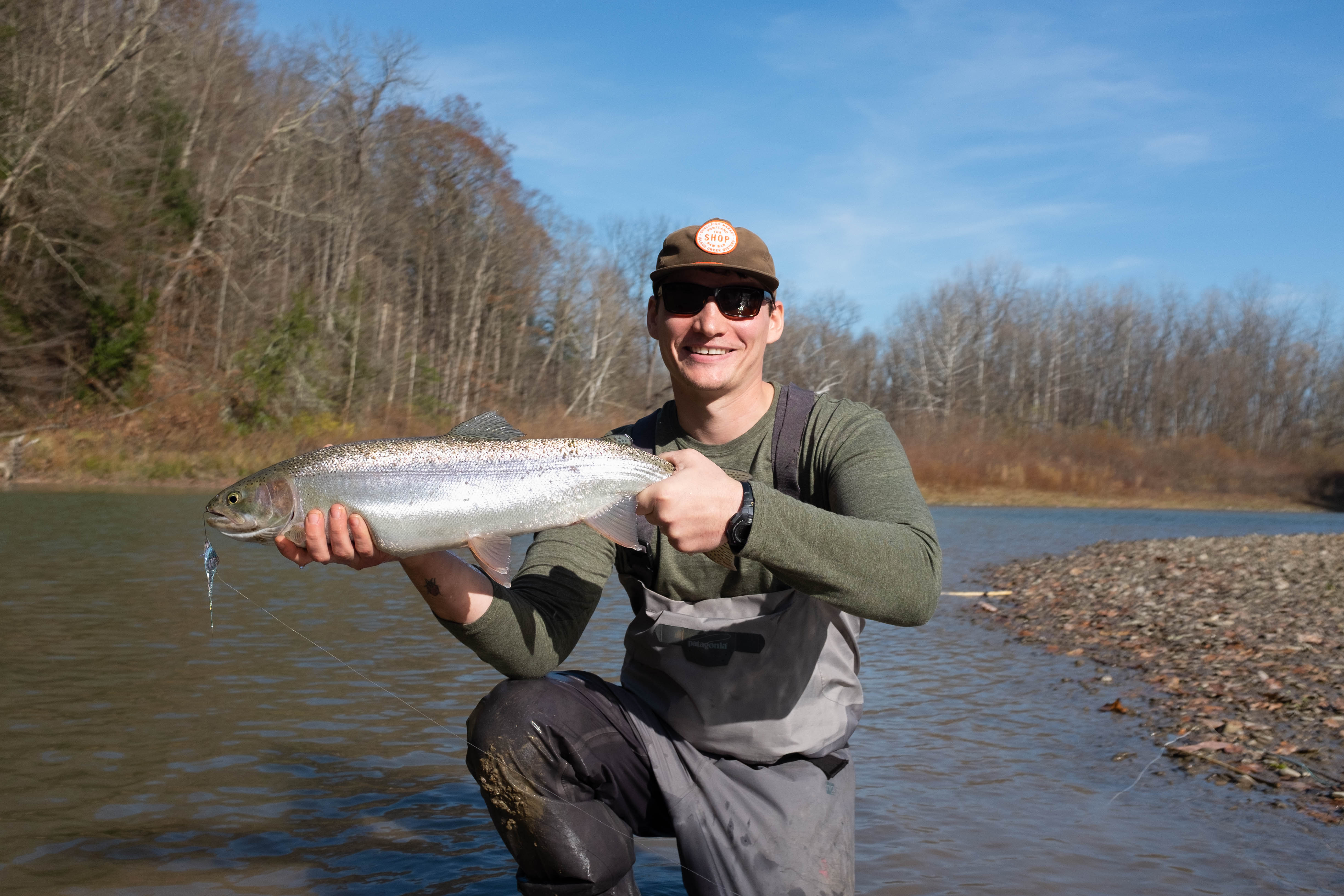 They don't get much nicer than this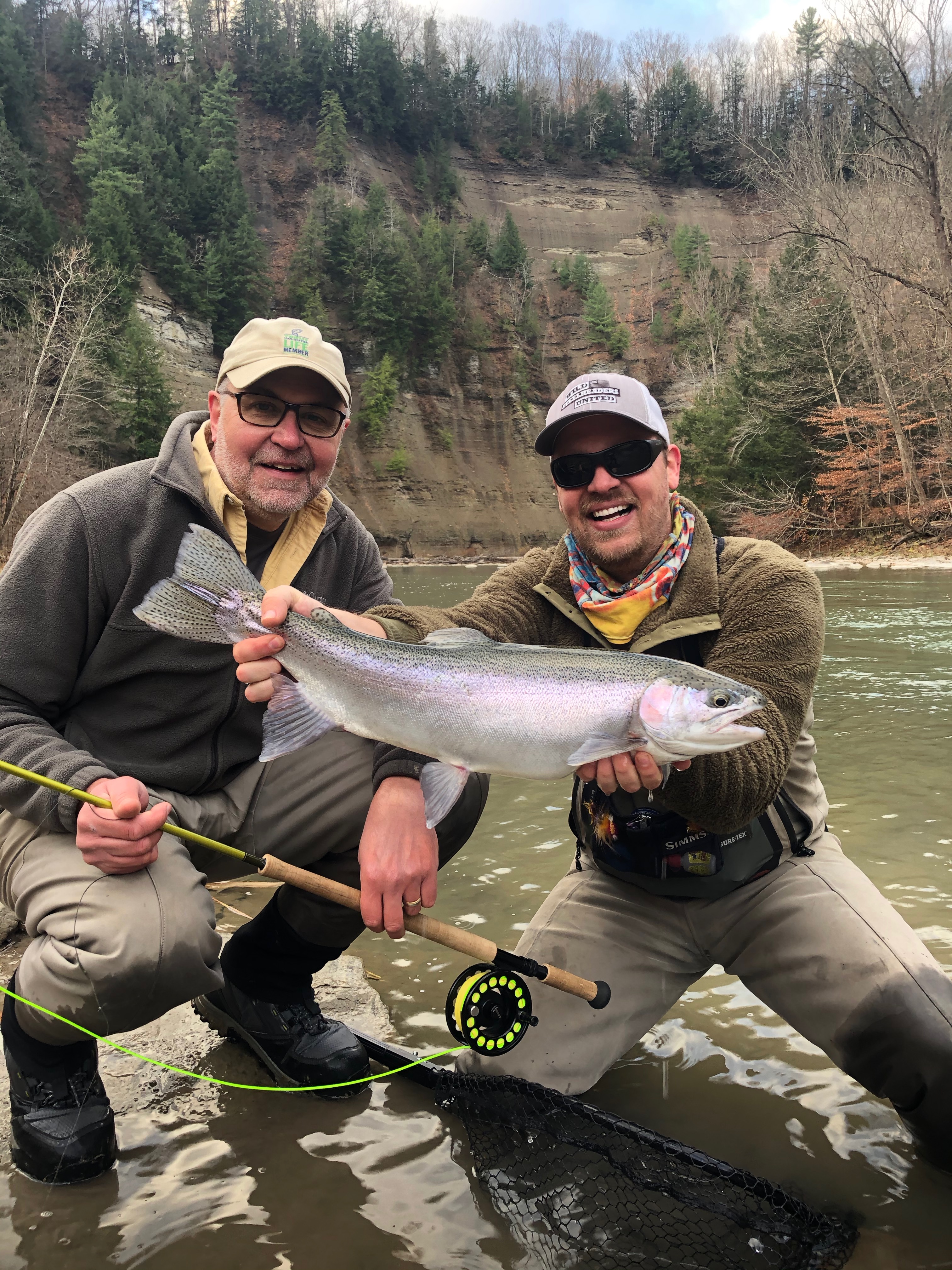 Dough with his first fish (of 3) his first day ever spey fishing with fishing buddy John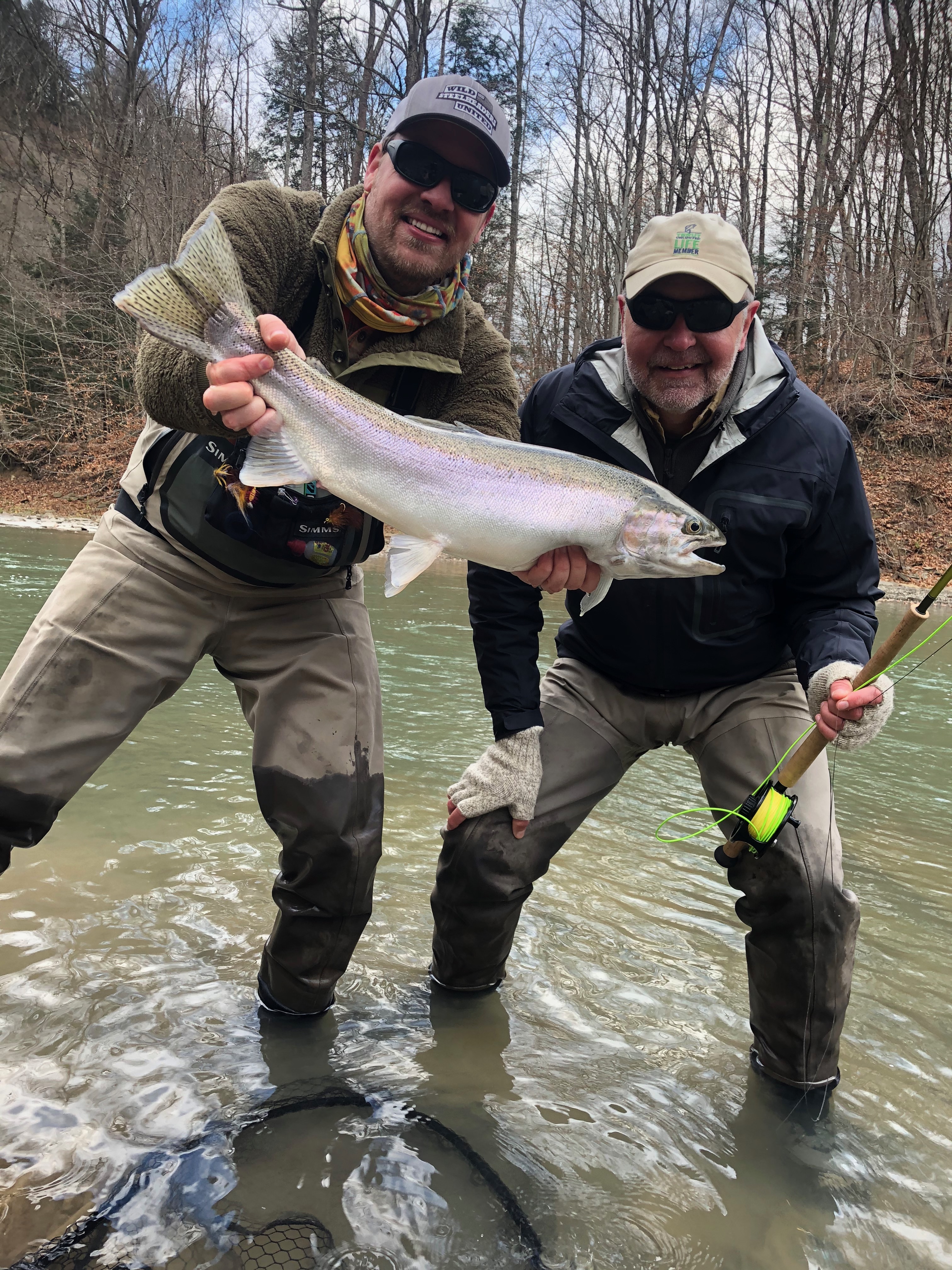 Another one of Doug's first day fish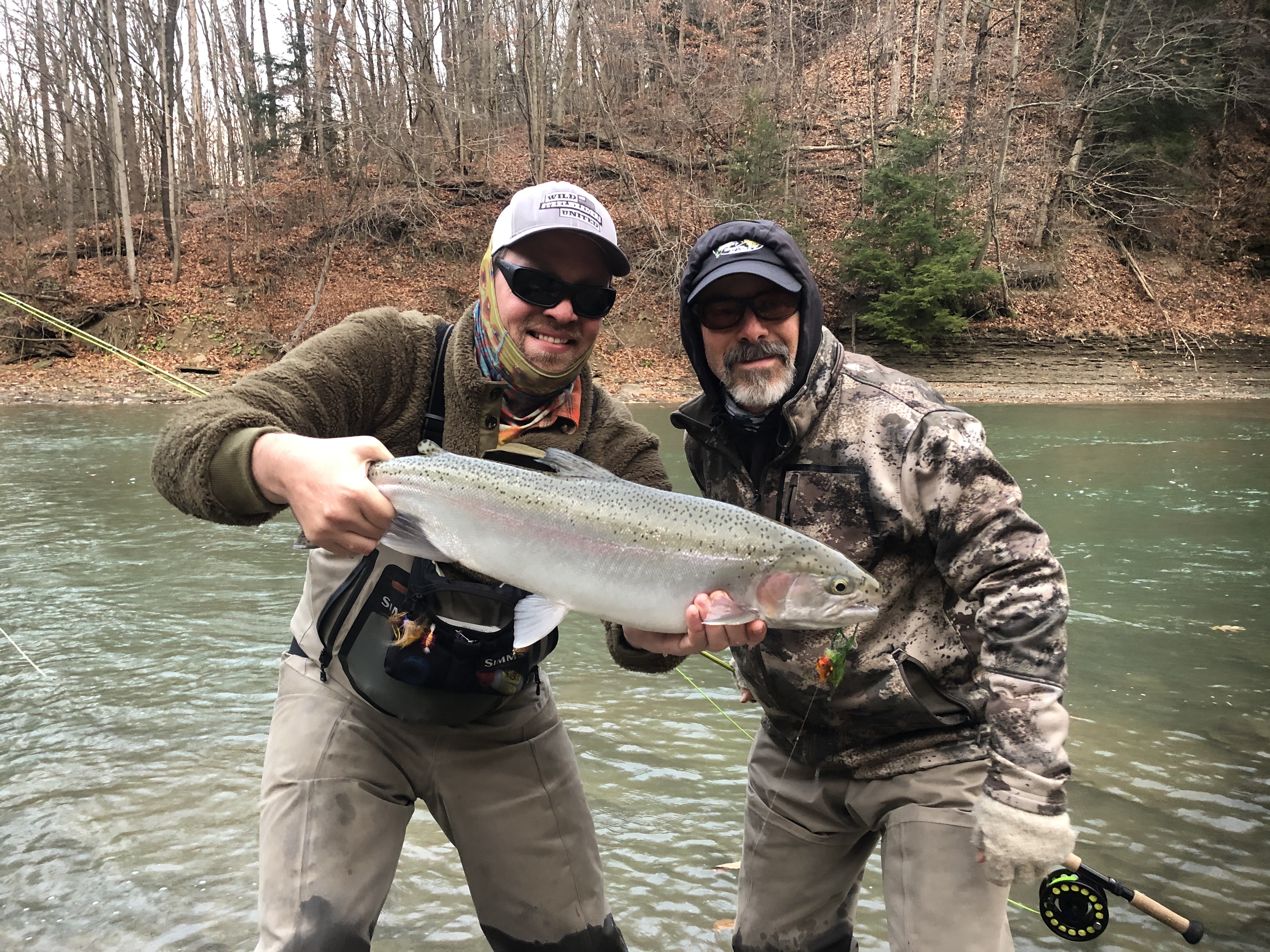 John getting it done on the Firestarter second morning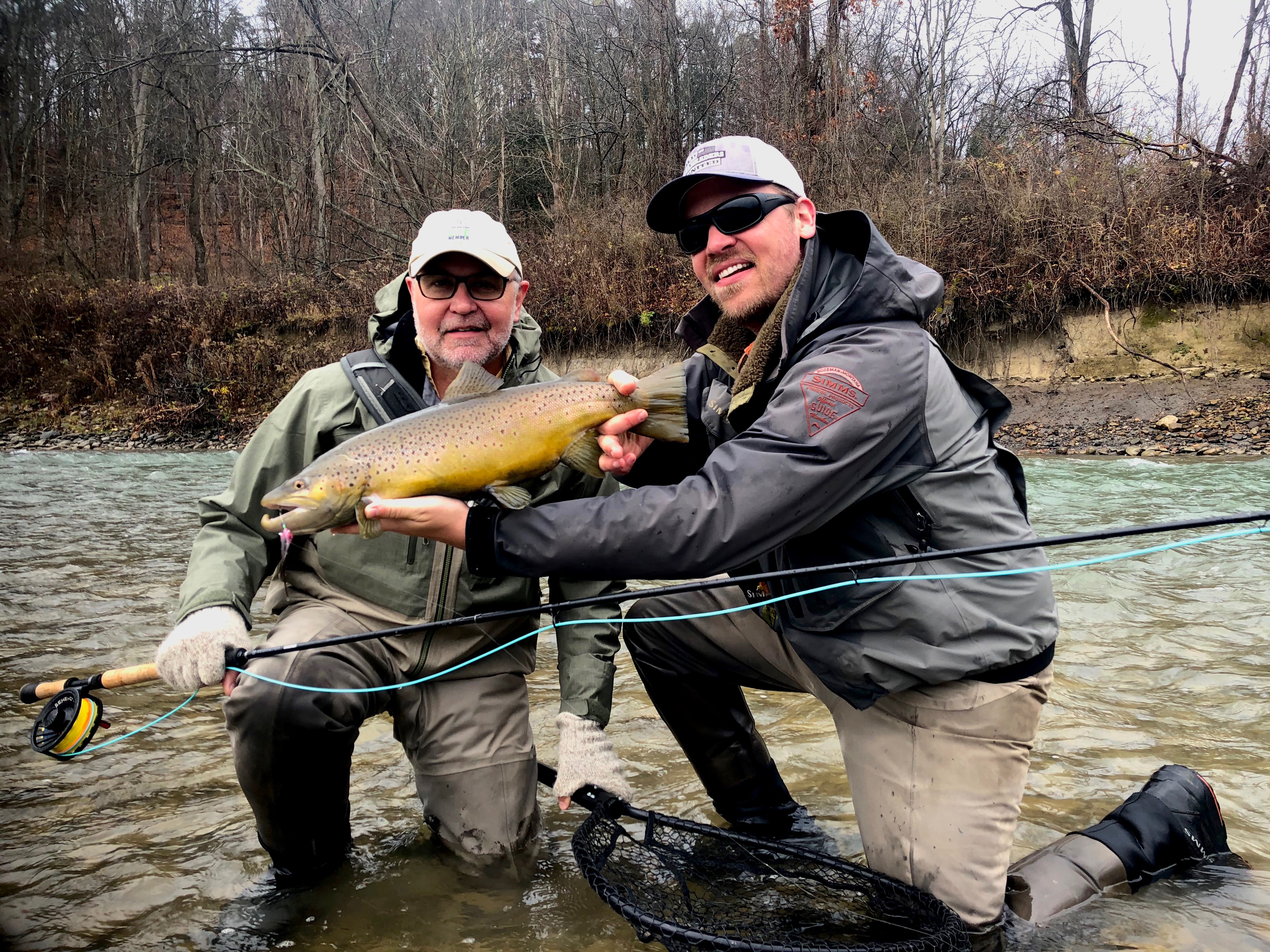 Doug even swung up an elusive Cattaraugus lake run brown way up there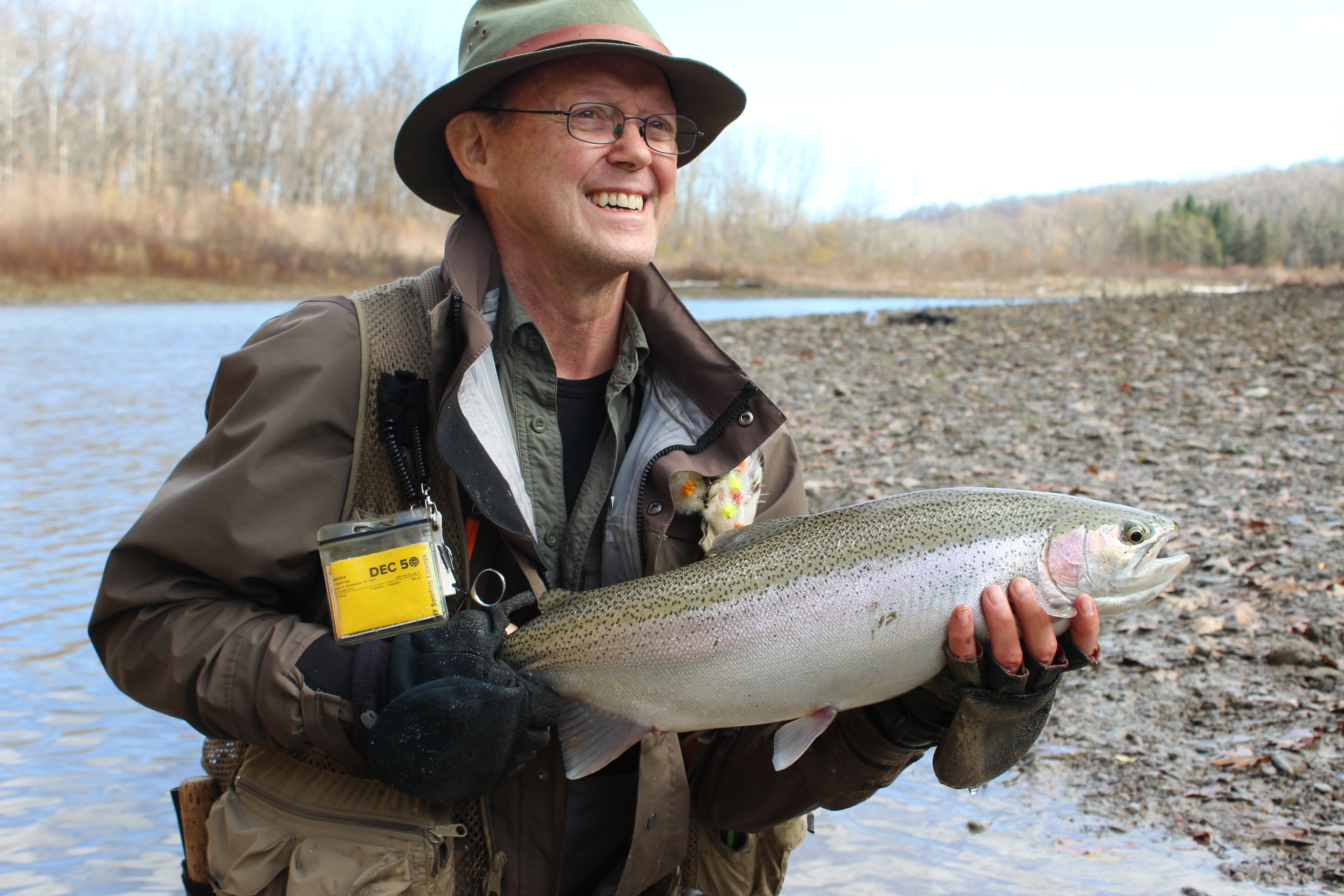 The Lee Party striking silver with Guide Matt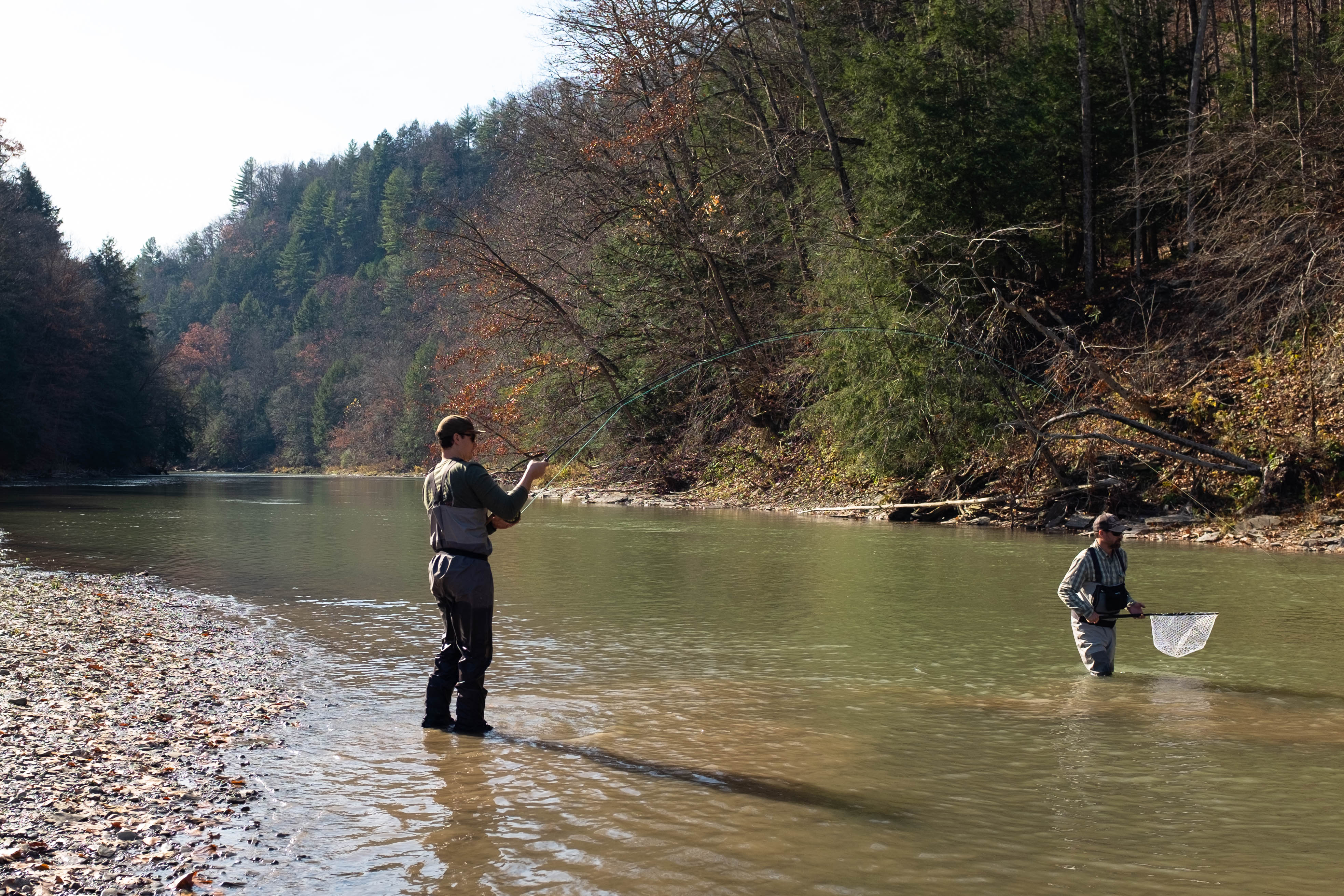 Matt getting ready to put one in the net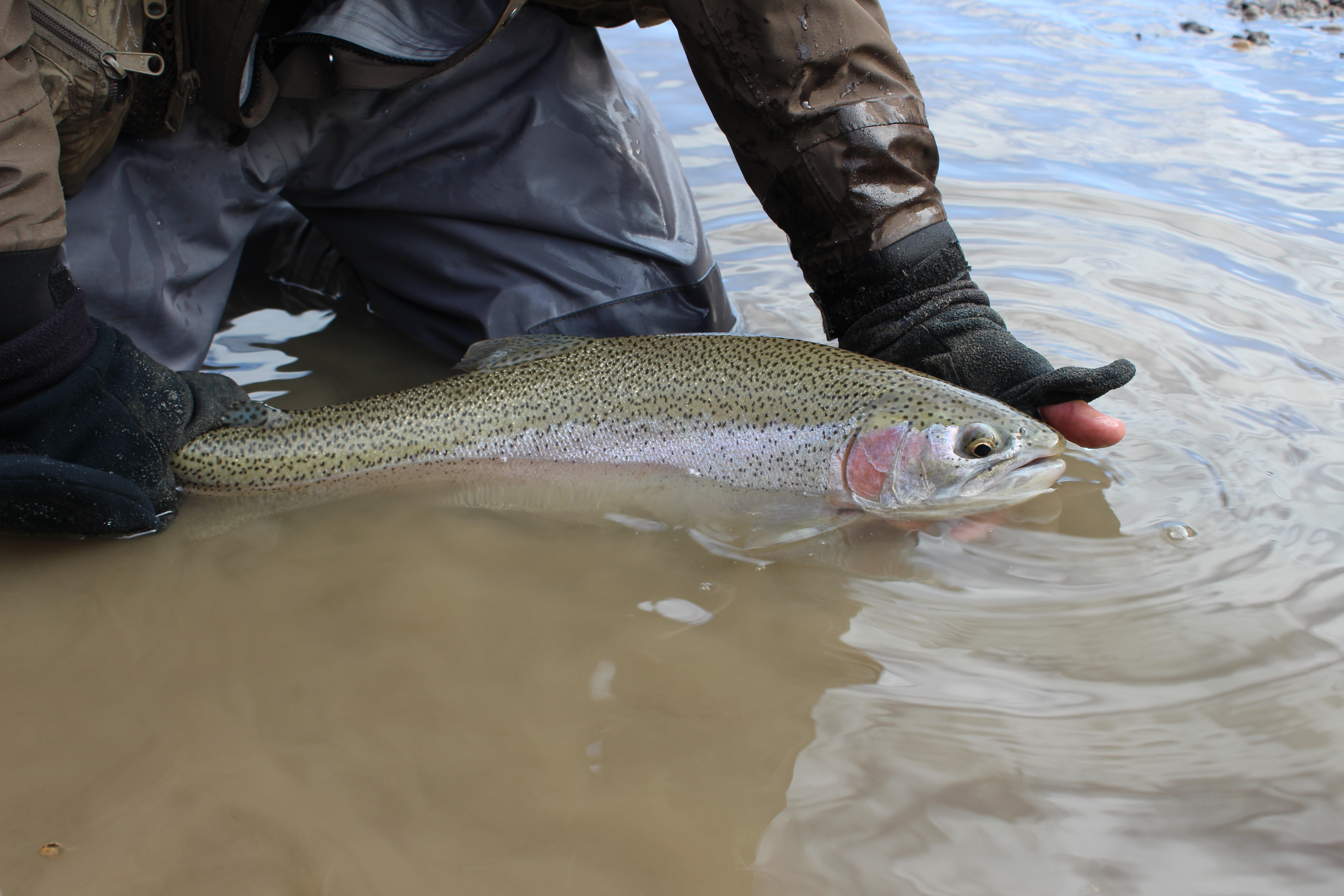 Now's the time folks.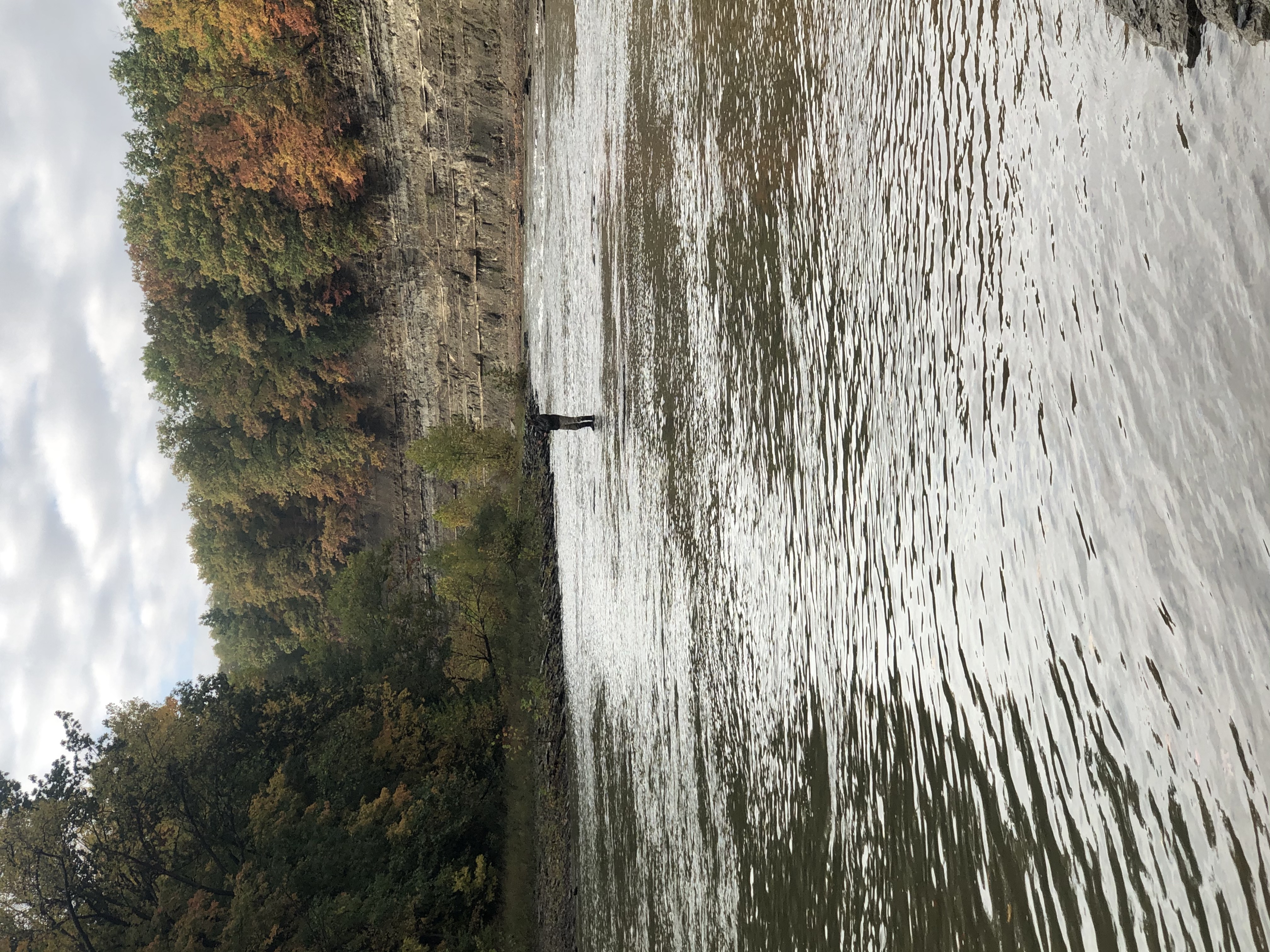 My dad working the head of a familiar run
Well made it out for the first time this year, if only for a few hours in the morning with my dad. With drought conditions towards the second half of September, while I thought there'd be a fish or two somewhere, wasn't sure how many fish would be in. And overnight before getting out we got much needed rain, but it dirtied up the river quite a bit, while not adding excessive volume to the flows. But my dad doesn't get as much time to fish as either of us would like, so you have to make the best of it.
Went to an old standard for me, and we worked it over. With visibility somewhere around 14", it wasn't prime, but it is a spot that holds fish. My dad worked it through with a light tip and bigger fly and didn't get so much as a bump in the money spot. Then a good fish rolled a couple times. I fished through with a long belly, floating poly, and a smaller wet in blue and black but didn't get bumped either. Then I put on a natural colored bucktail minnow. The fish rolled a couple more times in the bucket. I swung out there and got a grab. I didn't set on it because I didn't feel weight on the line, but then he was still on there and trashing the surface with rolls so that when I finally did set it was too late.
Trouble with fishing light lines in slow water is sometimes without good water current pushing your line, a fish can grab and still be on the line but all you feel is the sharp pluck, especially from a good distance away. My casts were out there, so there was a lot of line between me and that fish. I can sit here and armchair quarterback what I did wrong. But getting a nice grab on the floating line is fun, and having a fish take in off conditions that way is even better. Seems like every year I feel more confident fishing that way. To be sure, the fly was lightly weighted, but it would still have been in the top half and not scaping bottom. Then a bit later I got the consolation prize of a smallmouth. And right after that my dad hooked and lost a fish at the head of the run.
We checked out a couple other places. Cast a bit, but we only had a few hours and had to call it before noon. But still, was a great time. Glad to see some fish have made it well upriver even before the rains came. Should only pick up from here.
Tight Lines,
 - D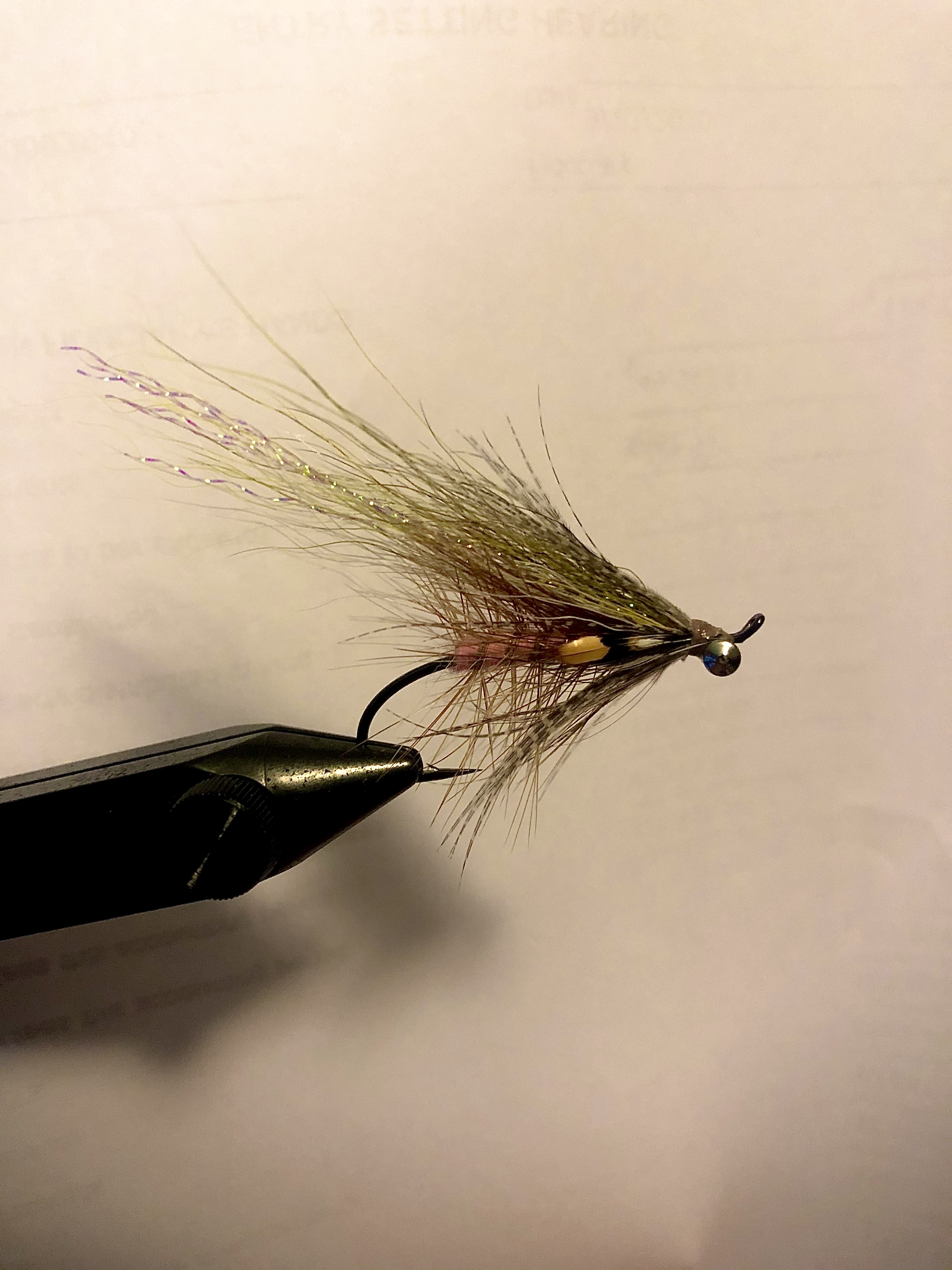 My natural bucktail minnow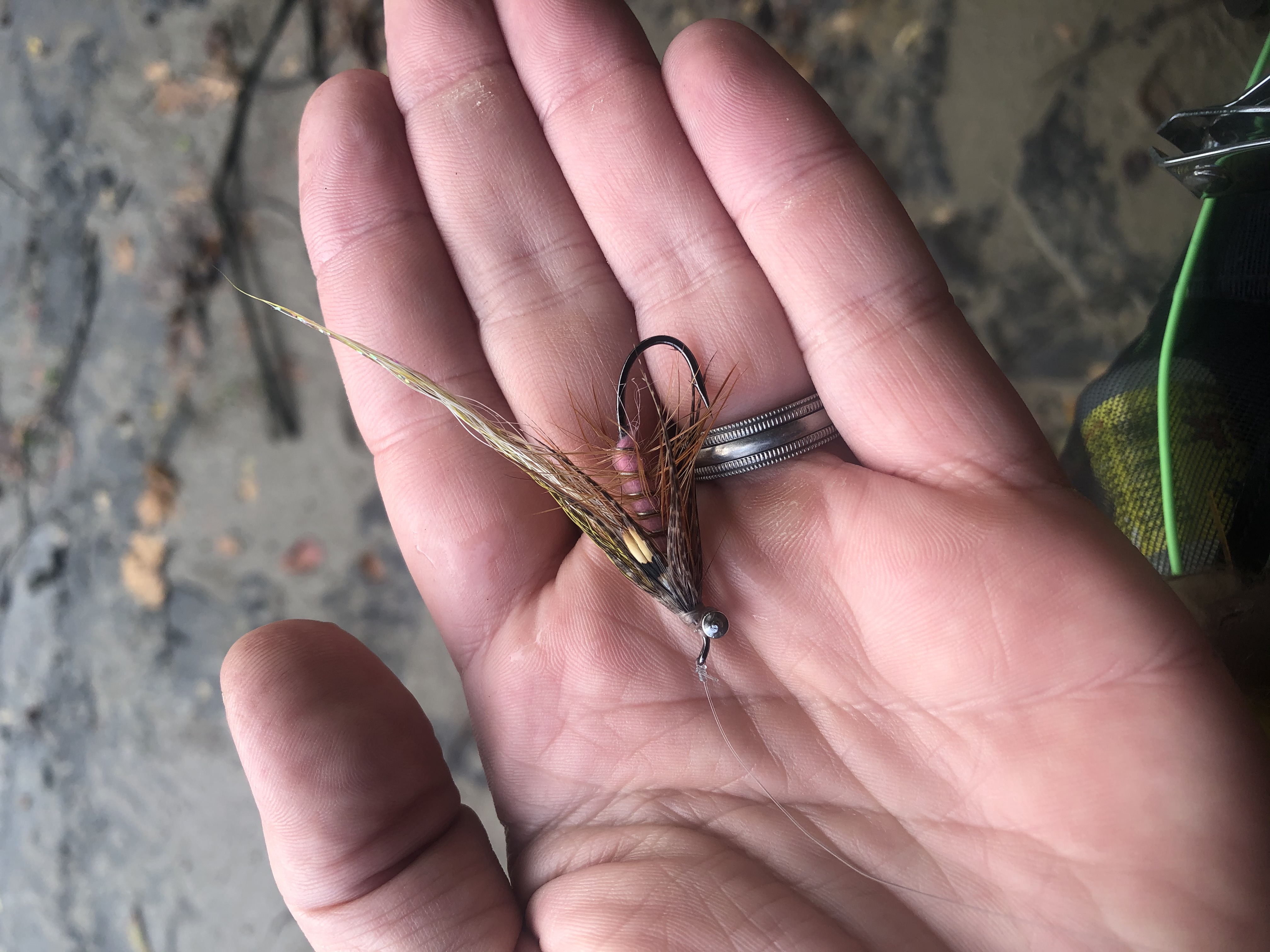 After the take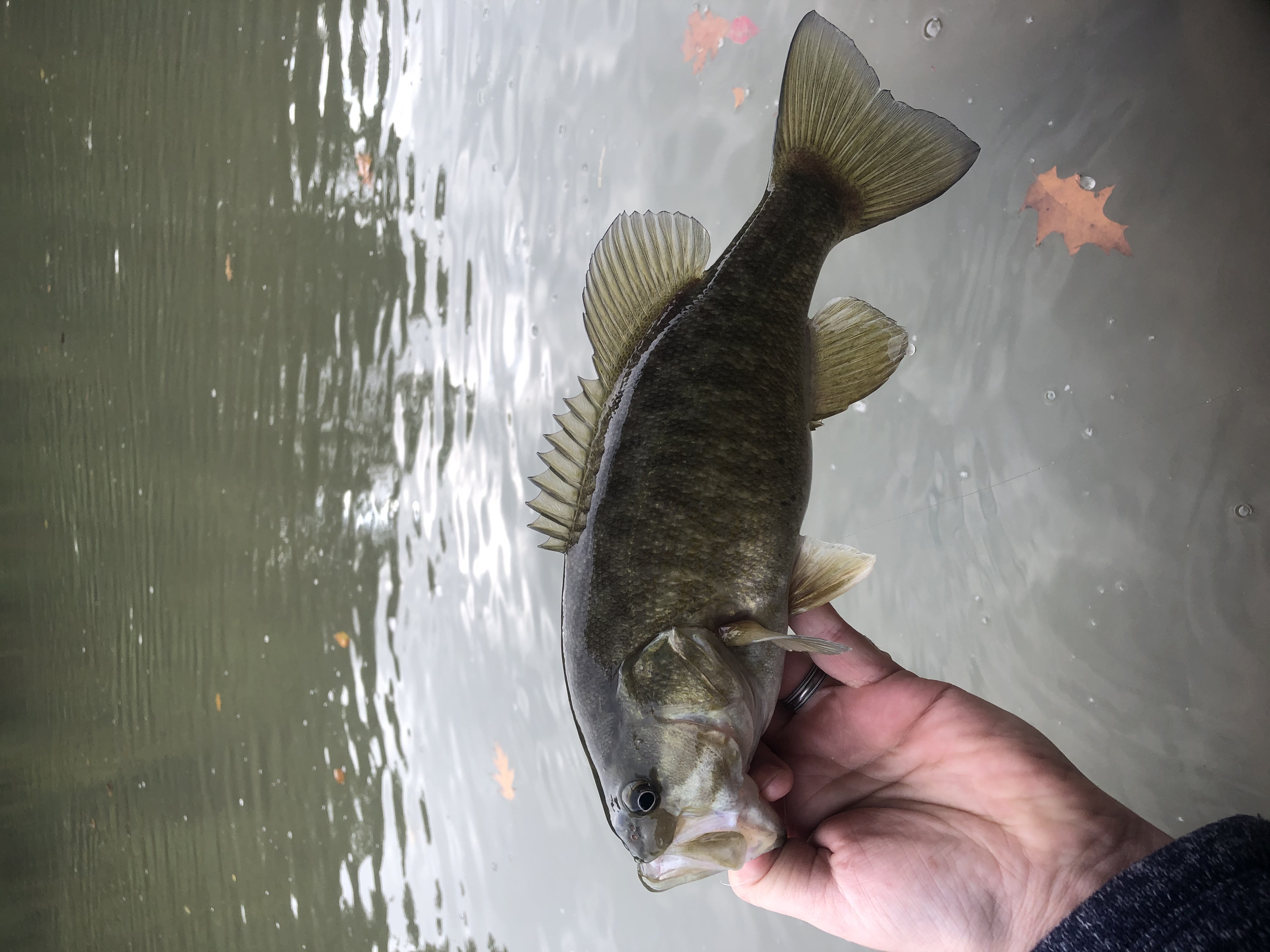 Decent smallmouth from 90 feet away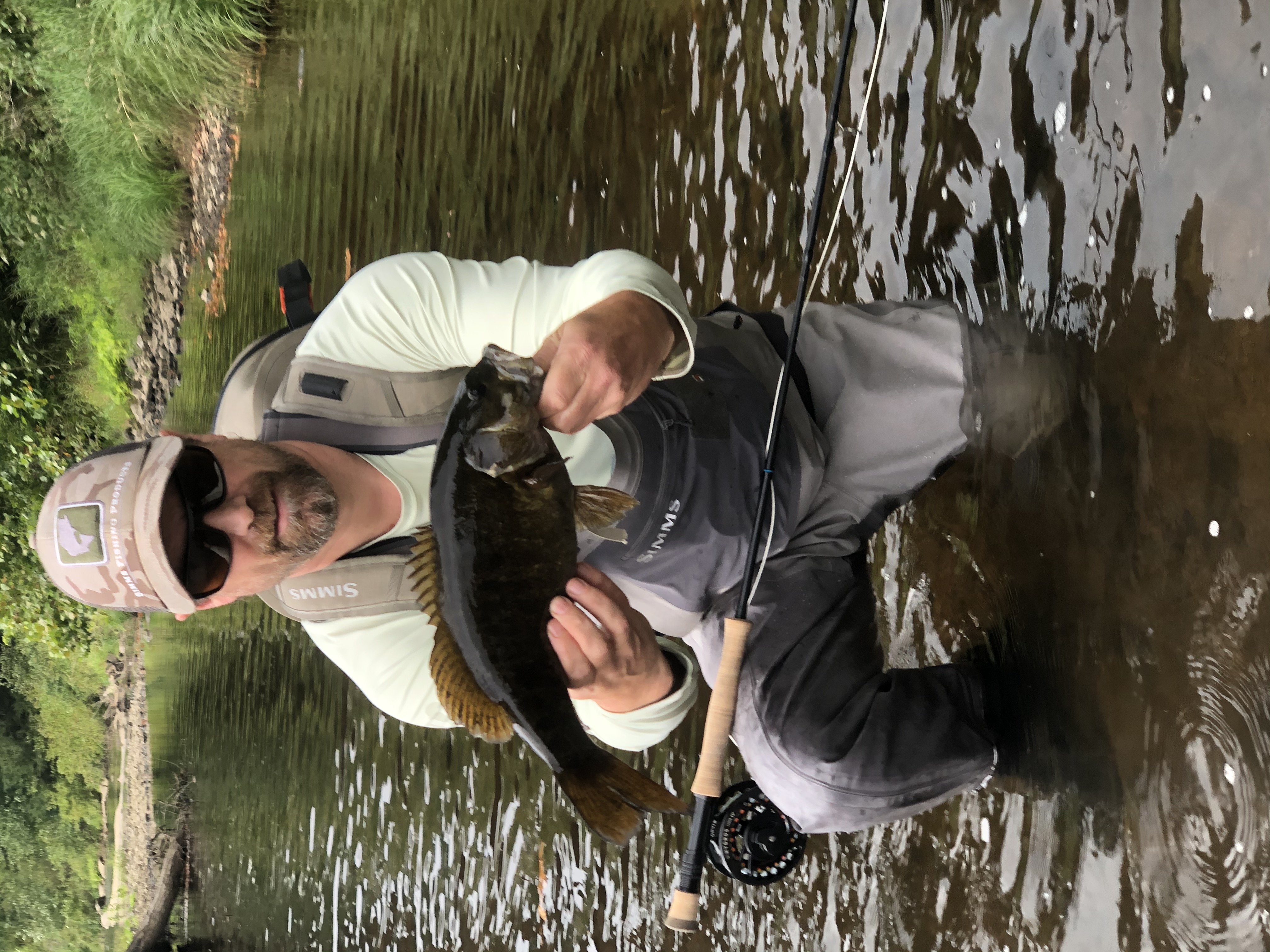 Matt with a solid smallie
As I sit and write this, the morning temperature was 44 degrees. You can just feel it in the air, that regardless what season the calendar says it is, fall is here. The heavy dew on the grass, the crisp morning air that stings your hands a bit. It's just all good stuff. With the change in the seasons, our thoughts are changing too, from stream trout and smallmouth to our favorite target- steelhead.
We spent the last few days playing around with PA smallies and trout. They're still there and still eating. But the trip we just took will probably be the last of the season for them. All around the river temperatures are starting to dip, though most remain low and clear. We could use a few days of steady rain, the soaking kind not the runoff kind, to get things moving. We had a wet start to the summer, but since about mid-July we've been pretty dry, and the rain we did get came in big, pounding spurts. In some cases, inches of rain fell over the course of an hour or two. Glad we get the rain, but when it comes like that it just washes off. We need slow and steady rain for two days. 
On the PA trip we had fun. We hooked smallmouth swinging trout speys, stripping streamers, and popping bugs. They really are a fun little fish and it's pretty clear why many anglers are showing them love now. We didn't find any huge ones, but we saw a few fish up to around 17" or so. Also found a partial hellbender skeleton which was super cool. Havent seen an alive one, but finding the skeleton was awesome. As for the trout, they're still acting trouty even in low water. Again nothing huge, but the biggest went to about 21"- a solid wild brown anywhere. 
As for steelhead, getting a few reports of early runners. I havent been out to check it out just yet but like most seasons this time of year I expect there to be a couple poking around the lower reaches of creeks. Looking ahead, we have a scattering of days forecasted to get into the low-mid seventies over the next two weeks. That kind of sunny day can get the creeks and rivers up into the mid to upper sixties. If you go out, fish early and keep a thermometer with you. I say it every year, cut your fishing short if you see 65 degrees. These fish are too cool to be caught only once.
As for a fall forecast, over the last few years we've been seeing a trend of fewer fall steelhead. Not that the fishing has been bad, just that the numbers we've seen were on the lower end of the average spectrum. I think that's probably what we have in store again consisent fishing throughout the season with drawn out runs. So far this fall things are running low. September has been very dry for most the area. We just got a small shot of rain, and we have rain in the forecast so hopefully things will be picking up. Hopefully we see that first good push happening any day now.
Its about time to get out there and take a look.    
Tight Lines,
 - D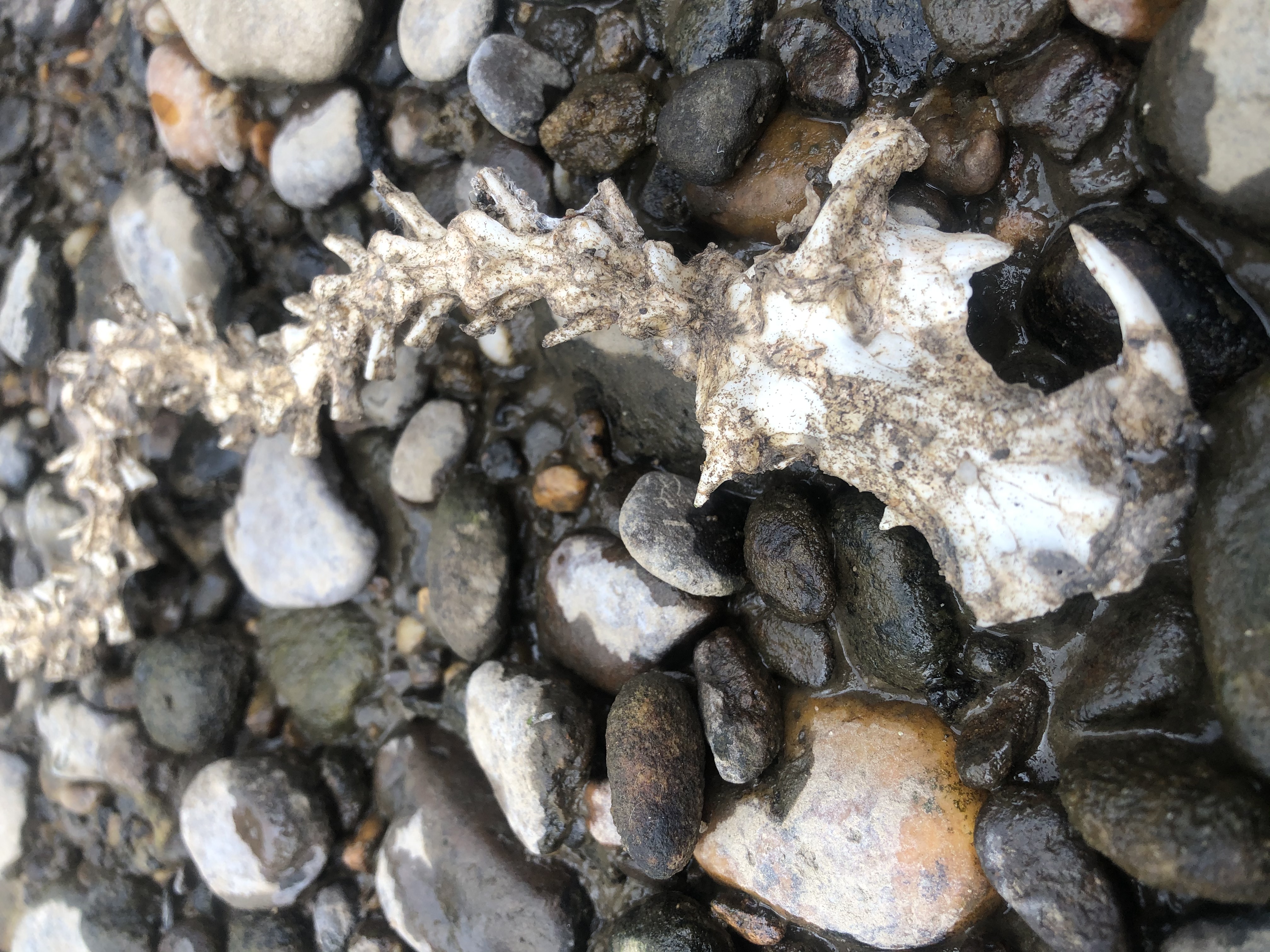 Hellbender skeleton I found recently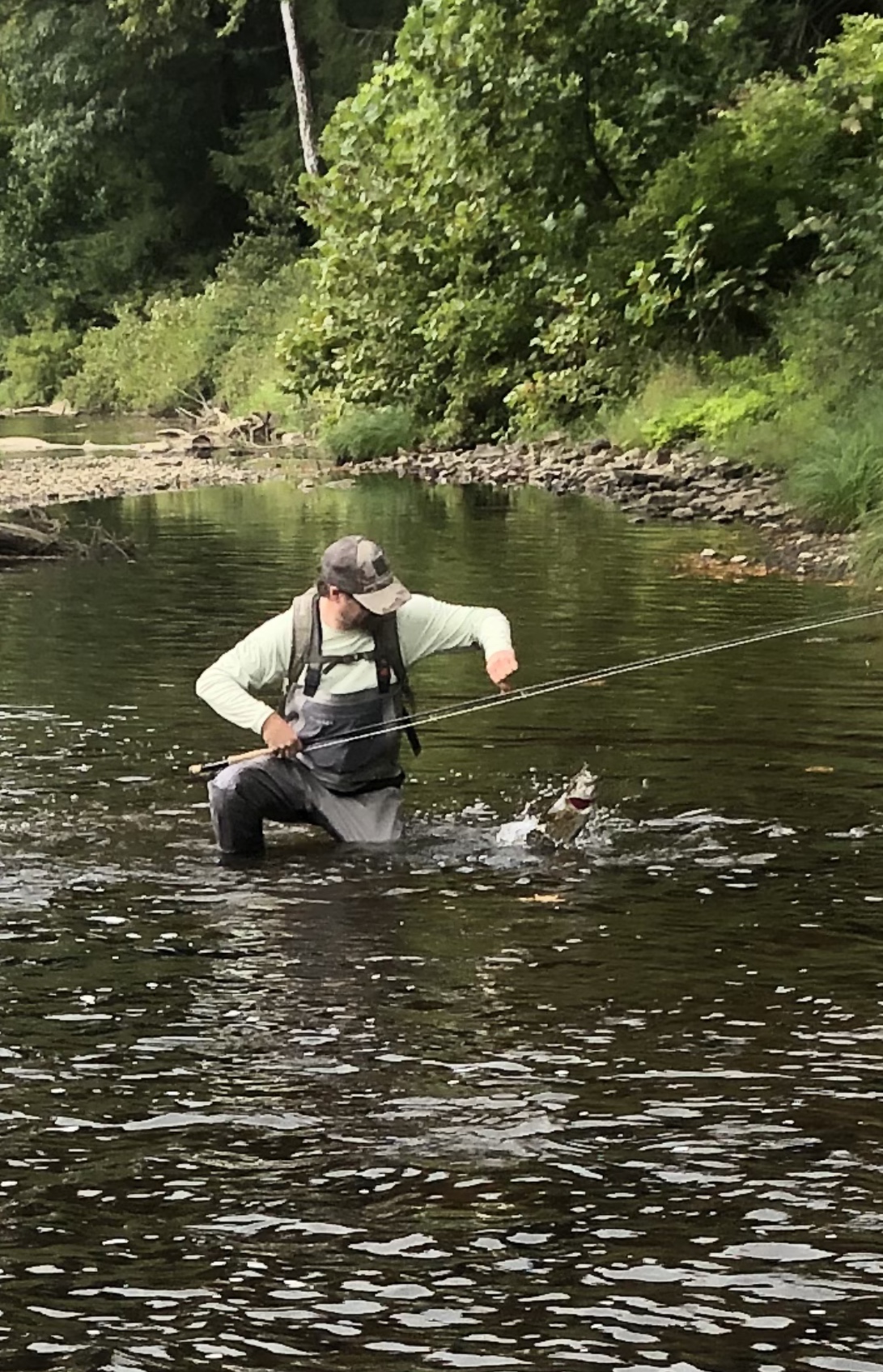 Matt wrangling his smallmouth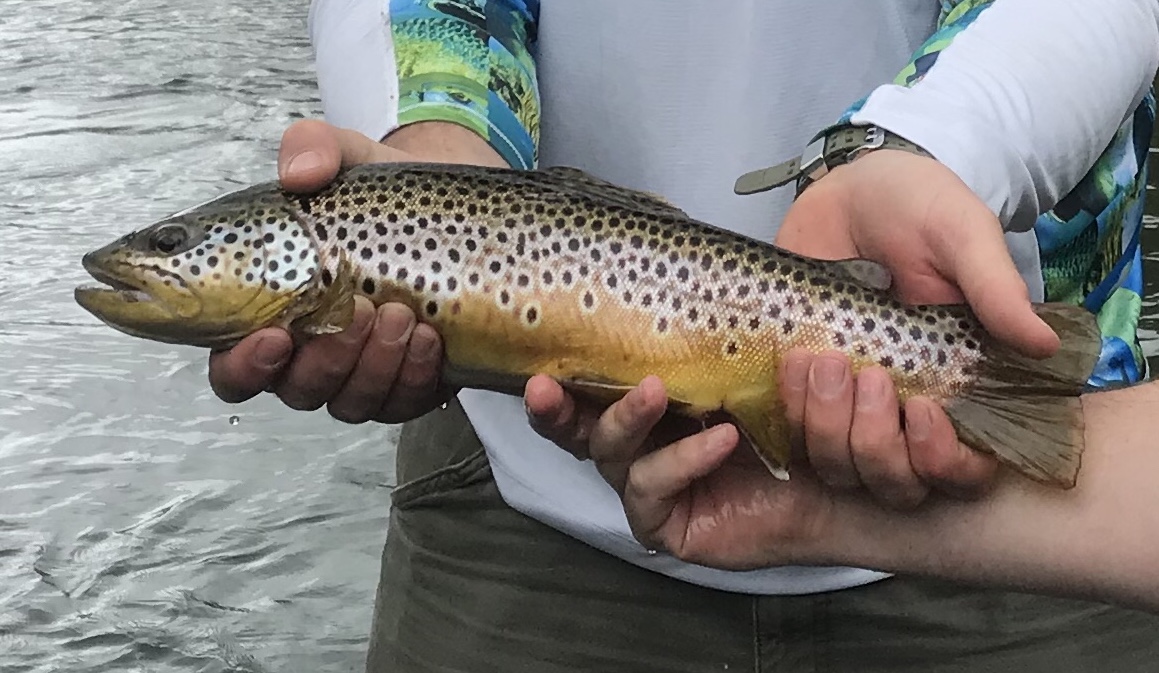 Just a run of the mill trout
Trout fishing in North-Central PA watersheds has been very consistent over the past several weeks, with good numbers of fish ranging from 12-20" and maybe just a bit more. In early June, evening hatches produced excellent action with a mix of March Browns, Sulphers, Light Cahills, and even a few Hendricksons around, along with some drakes and a ton of caddis. The spinner falls seemed to bring up the biggest trout, and at times long stretches of many of the systems we fish were boiling with trout feeding aggressively.
As of now, the water is warming to sustained highs in the upper 60's and even low 70's on many of the trout systems, as we approach the brunt of the warm summer weather. Picking your moments to fish carefully from now to the end of summer becomes the game. Early mornings will have the best water temperatures, though bugs are more active in the evening, the same time when water is the warmest. Look for cooling trends in the weather to fish the summer evening hatches and remember that for stream trout, water of 67-68 degrees or above should not be fished.
Other options this time of year include resident smallmouth bass found in many of the same trout drainages. These guys are a blast and in lower summer flows tossing poppers around rockpiles or log jams can bring out the smallies in a hurry. Wild brook trout streams also provide summer angling opportunities. Most of these are small, mountain creeks with good canopy and steep drainages that rarely see 60 degrees, let alone 70. 
Tight Lines,
 - D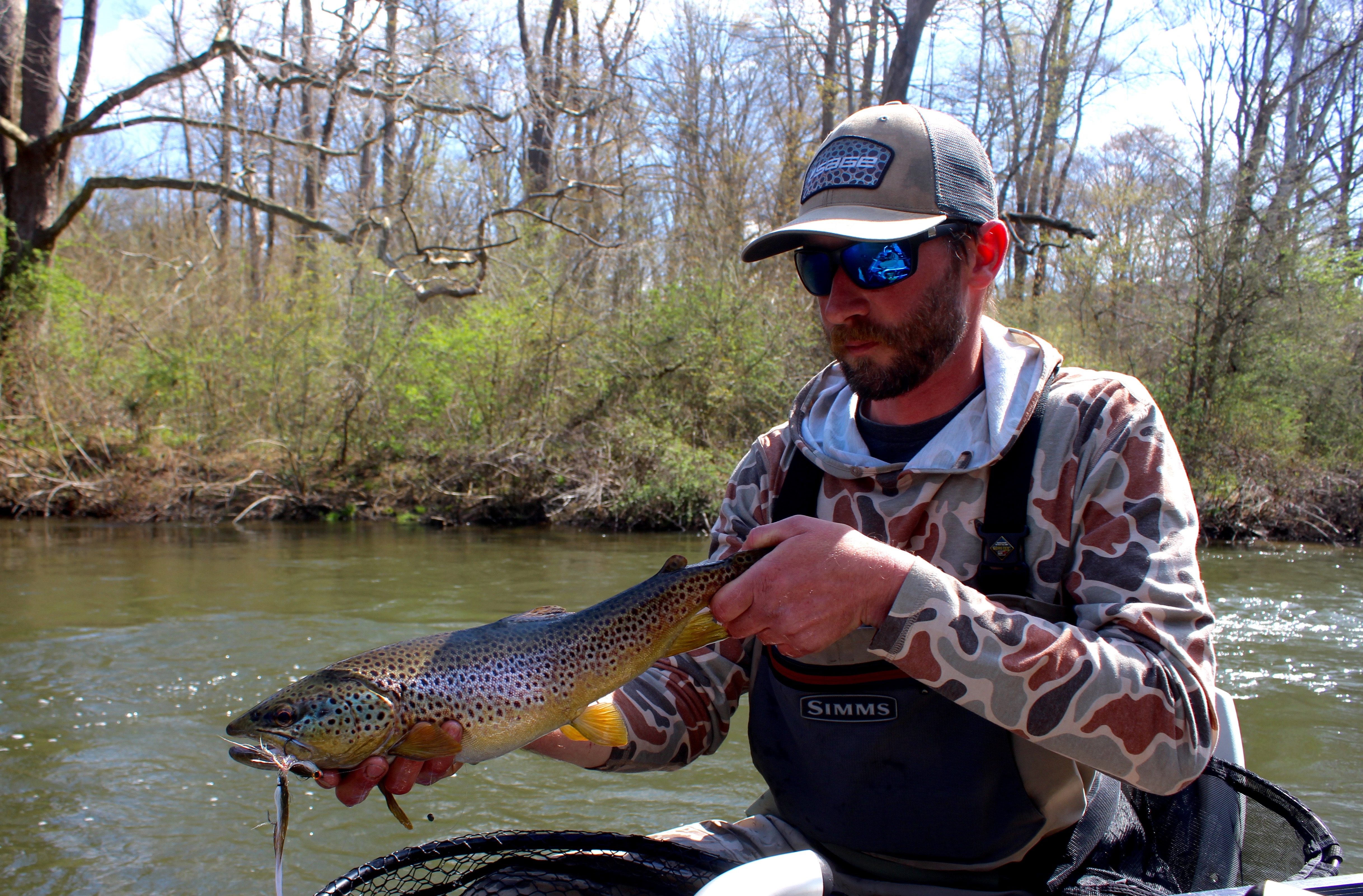 Solid low-20's on meat
Got everything opened up at the PA cabin over the weekend and hit the river hard. It was worth it. The trout were acting trouty. Throwing the big stuff we moved probably fifty good sized fish. Lots of follows. Lots of swipes. Some real nice eats. Saw three bears on the river (didn't get a picture as it was a quick sighting unfortunately). I even caught two nice ones- one wading the first evening I was up there and a second that broke my rod on the hookset. Jeff and Matt all stuck really nice fish, including a couple really good rainbows. We'll be running trout trips in May and June. God I love trout fishing.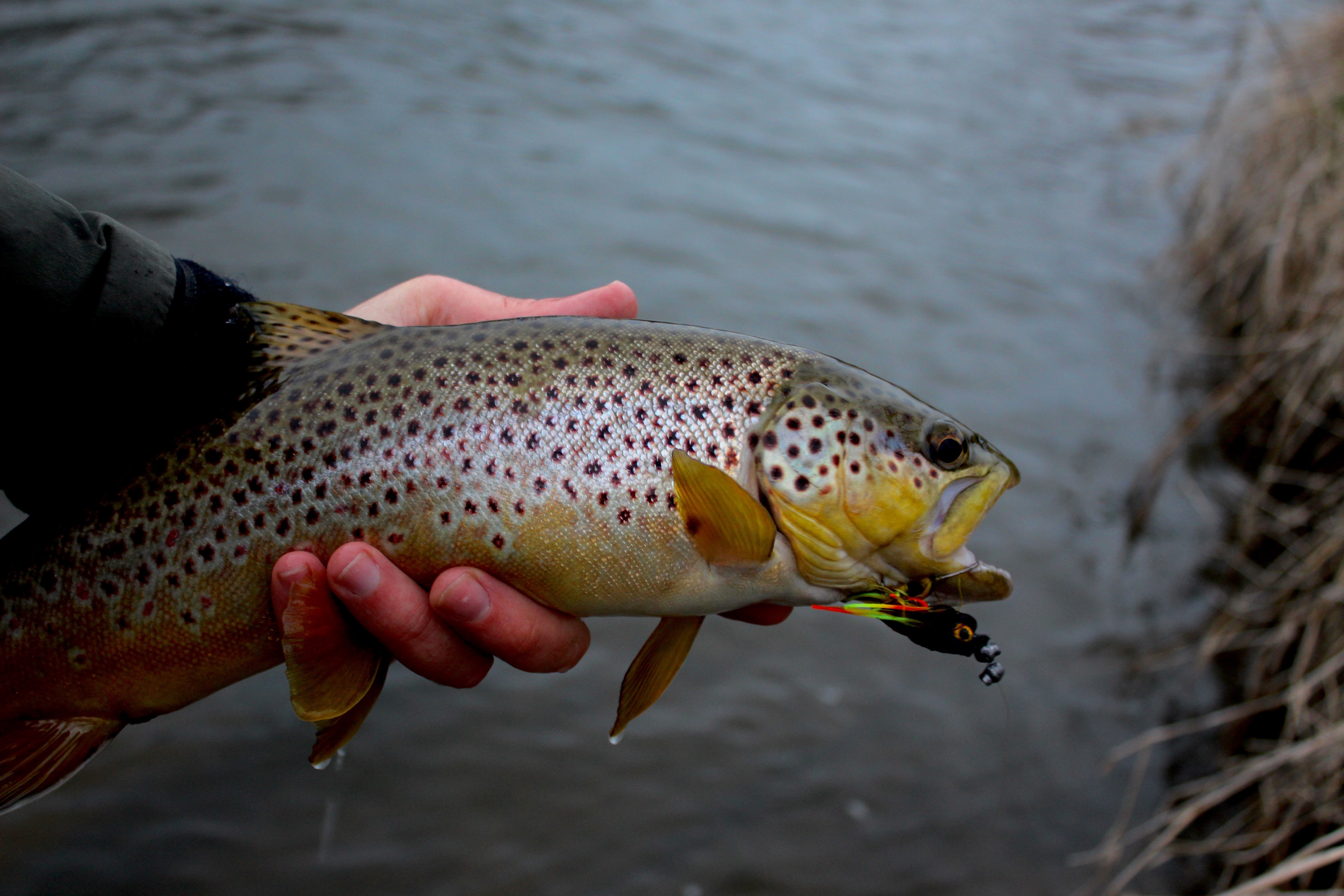 Good one on a double Ry-Snack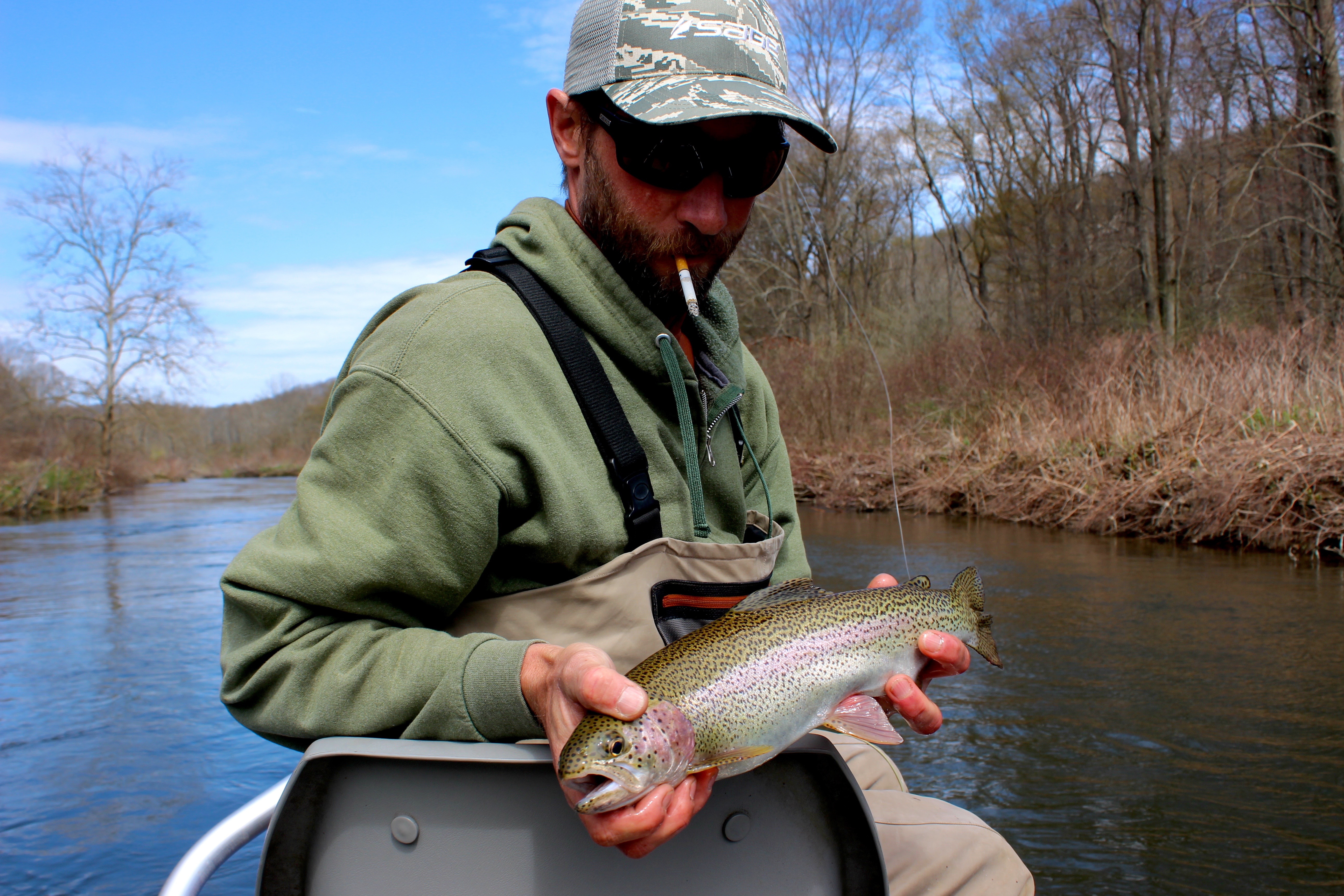 Rainbow close to 20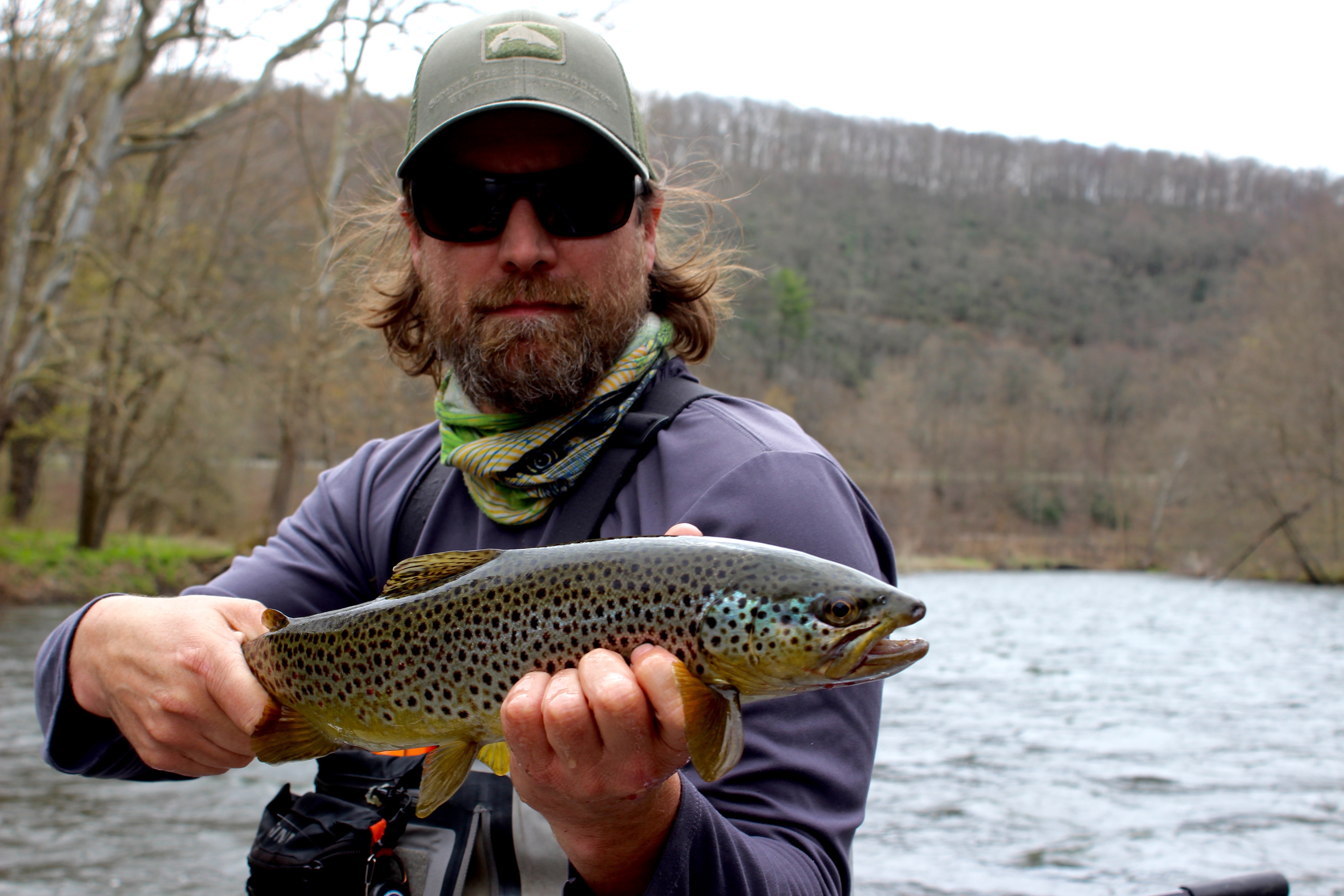 Matt with a pretty brown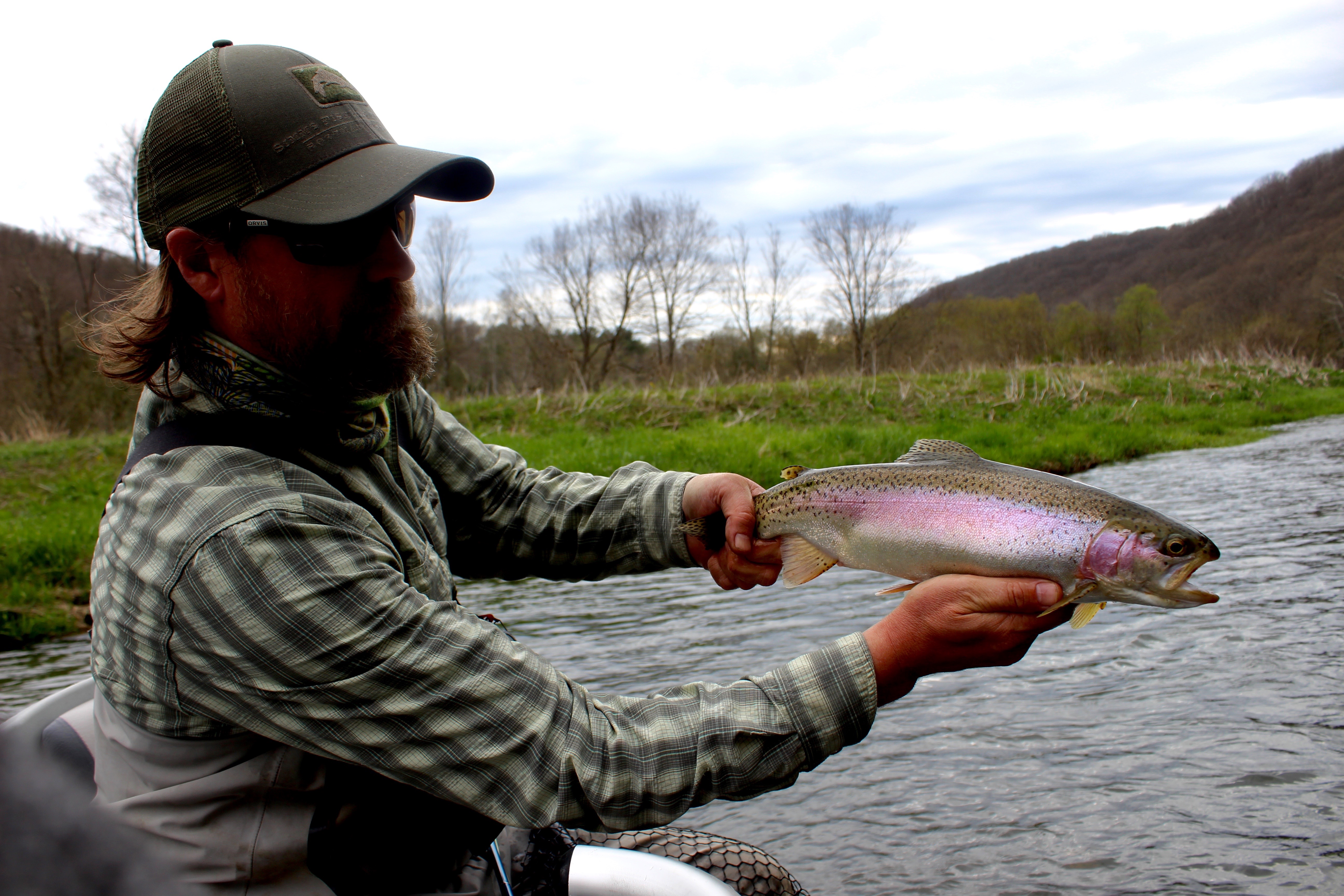 And a solid rainbow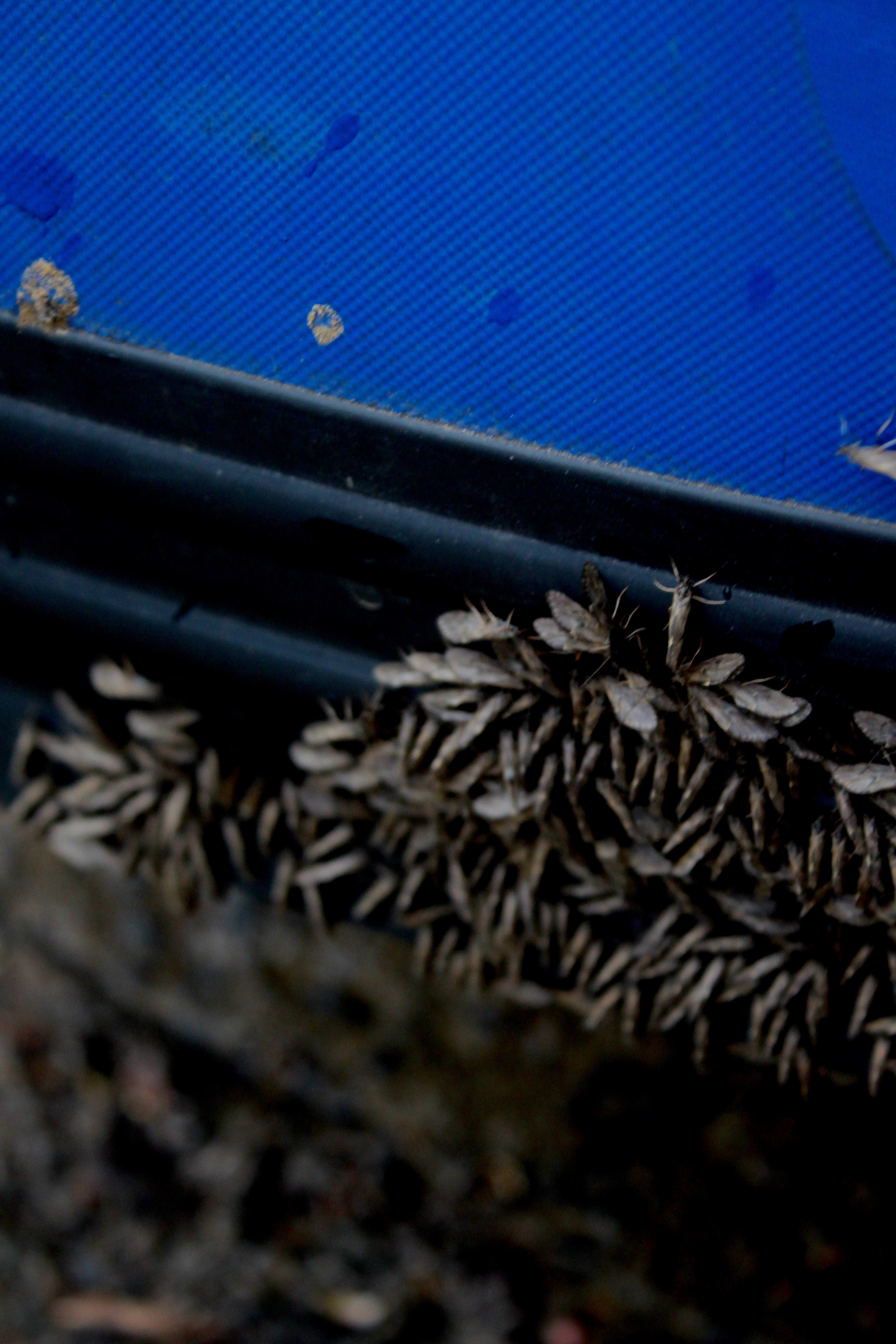 We floated through a snowstorm of caddis and picked up some hitchhikers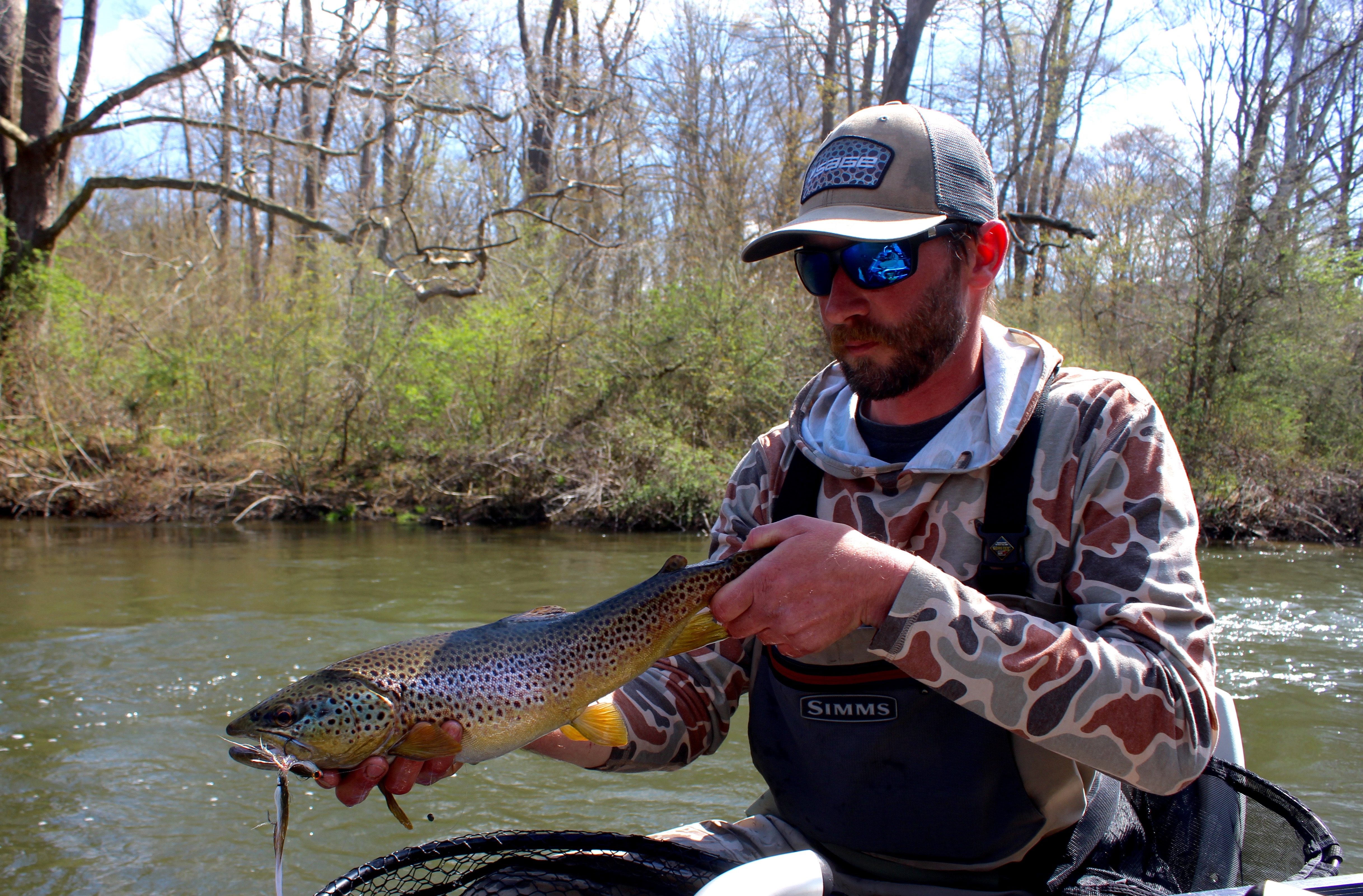 Jeff stuck the biggest fish on a double deceiver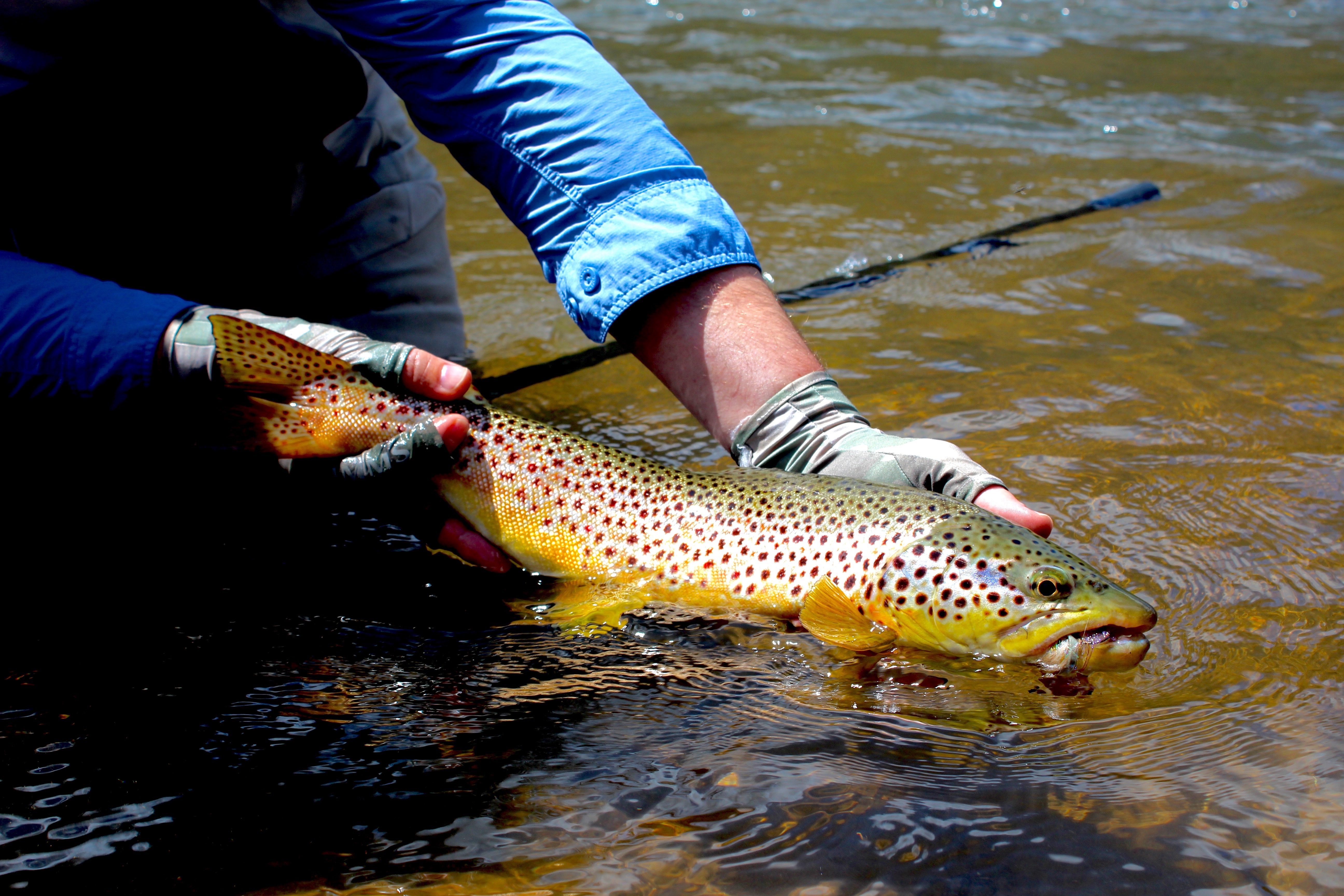 This was a rod-breaker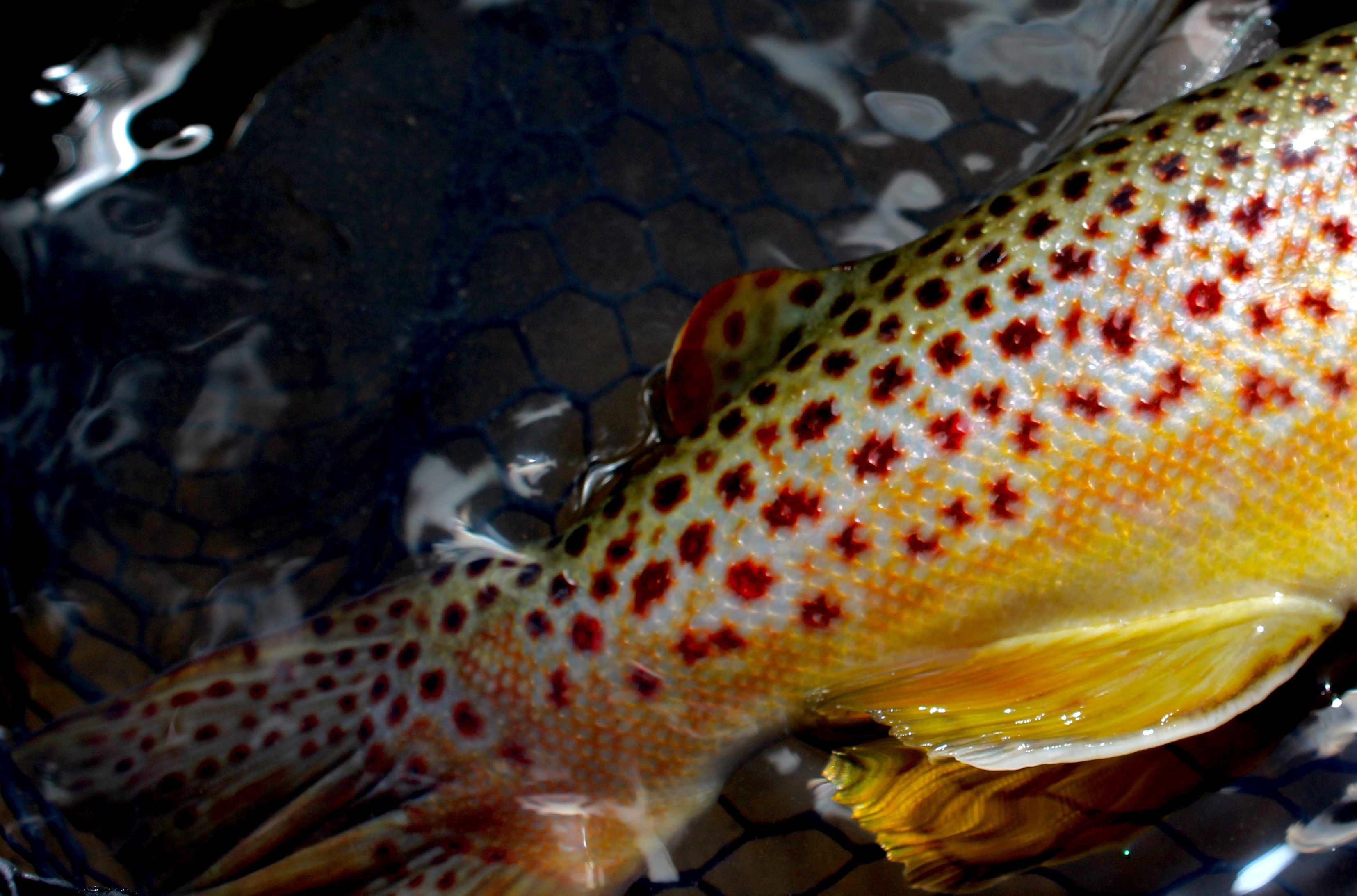 The red on this adipose fin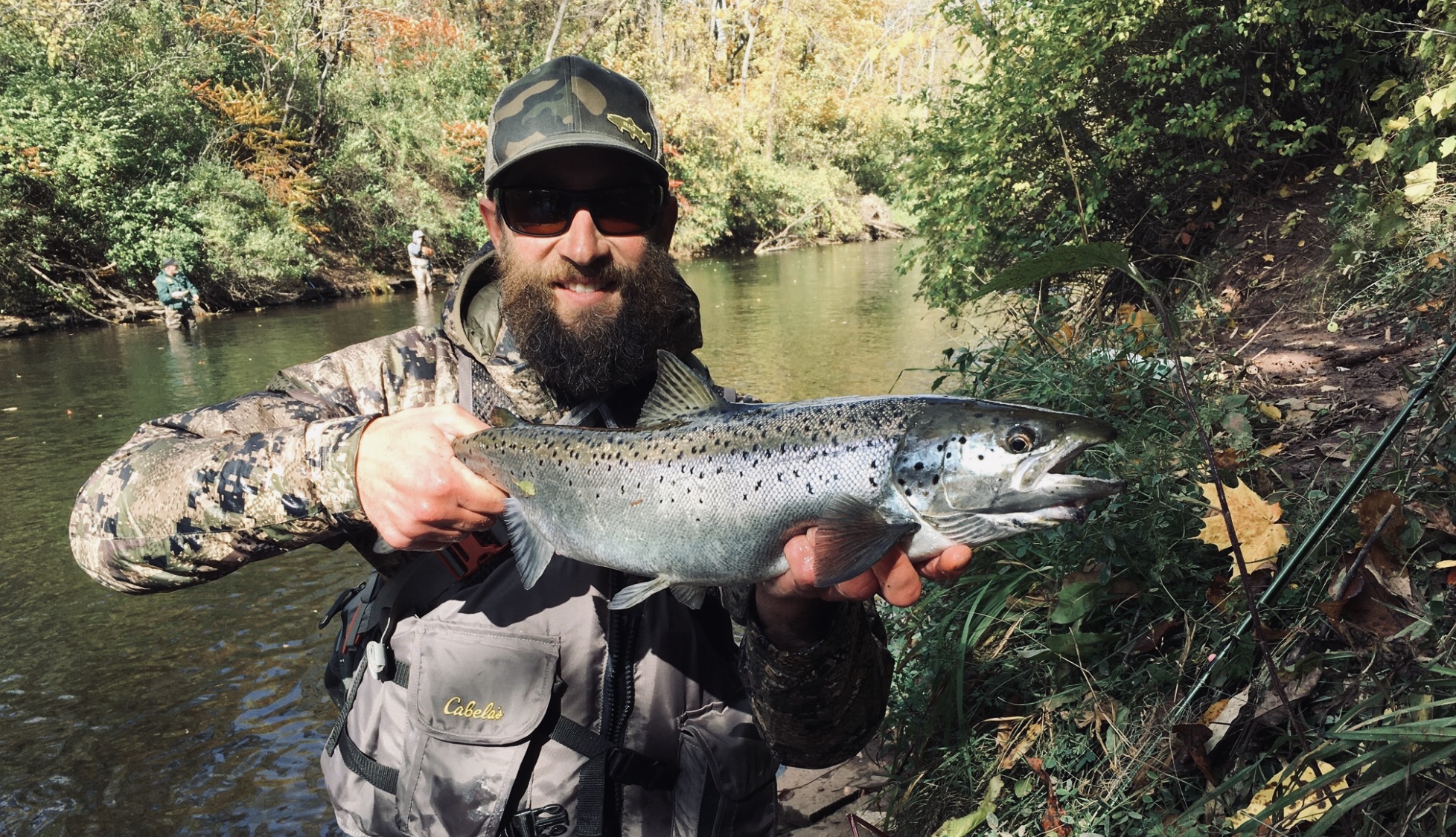 Jeff with a sweet Atlantic salmon!
The fishing this past week has ranged from very productive to working for a few fish as water levels have fluctuated from lower and clearer to high and stained. The Catt has fished on an off over the past week, with a weather system that came through Tuesday dropping about a half an inch of rain and muddying up the water for a few days. When it dropped, fish the fish in the river from before pushed up and fresh fish pushed into the lower stretch.
The smaller creeks all saw at least a little push on the high water, and fish can be found throughout each of them, though numbers still seem a bit lower than normal for this time of year. I attribute this to the low water and warm temperatures that persisted until about the second week of the month. Based on what I'm seeing, it seems like we're running a week or two behind schedule, which makes sense considering the foregoing.
The Ontario creeks all have fish in them, some more than others. The larger systems like the Oak and 18 Mile have the most due to the more consistent waterflows this fall. We have been pleasantly surprised by the numbers of Atlantics around this fall. Usually we see a couple darting around in the rivers each fall, but this year seems like there are a lot more around. That's really nice to see, and I hope that New York really develops this program. The kings seem to be struggling a bit, and I'm concerned that my predictions from September 2017 about an imbalanced predator-prey population are going to really manifest themselves in the next two or three years. Alewife populations are still really low and there have been a lot of mouths to feed over the past two years. The silver lining in that is with less king salmon, it seems the Atlantics are starting to flourish. But only time will tell.
Anyways, to sum it all up, the fishing is decent but not great. It should be getting better with each passing weather system that moves through, but the Catt will likely become more hit or miss as is usual this time of year. And I'm optimistic to see what the future holds.
Tight Lines.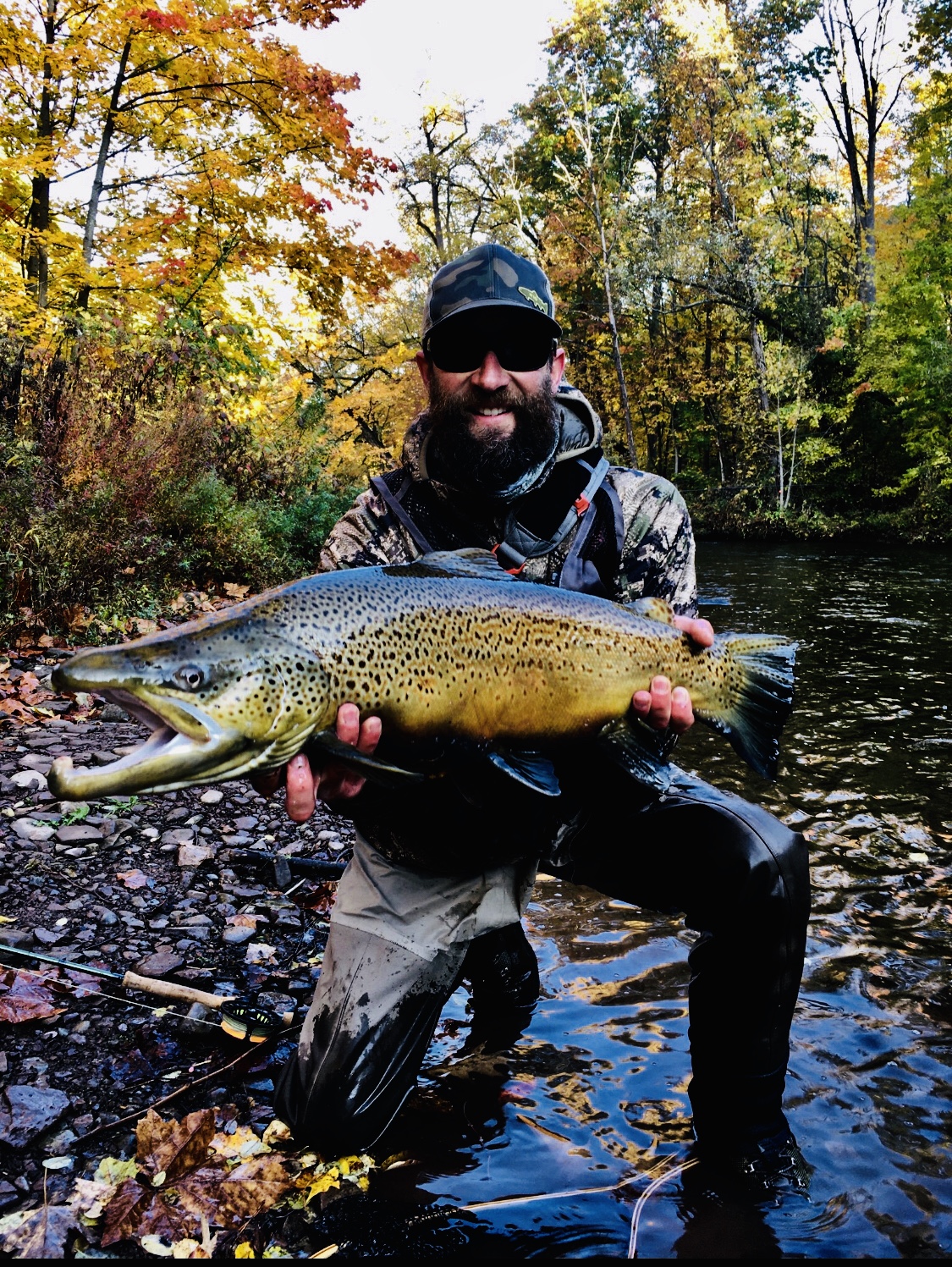 Monster brown!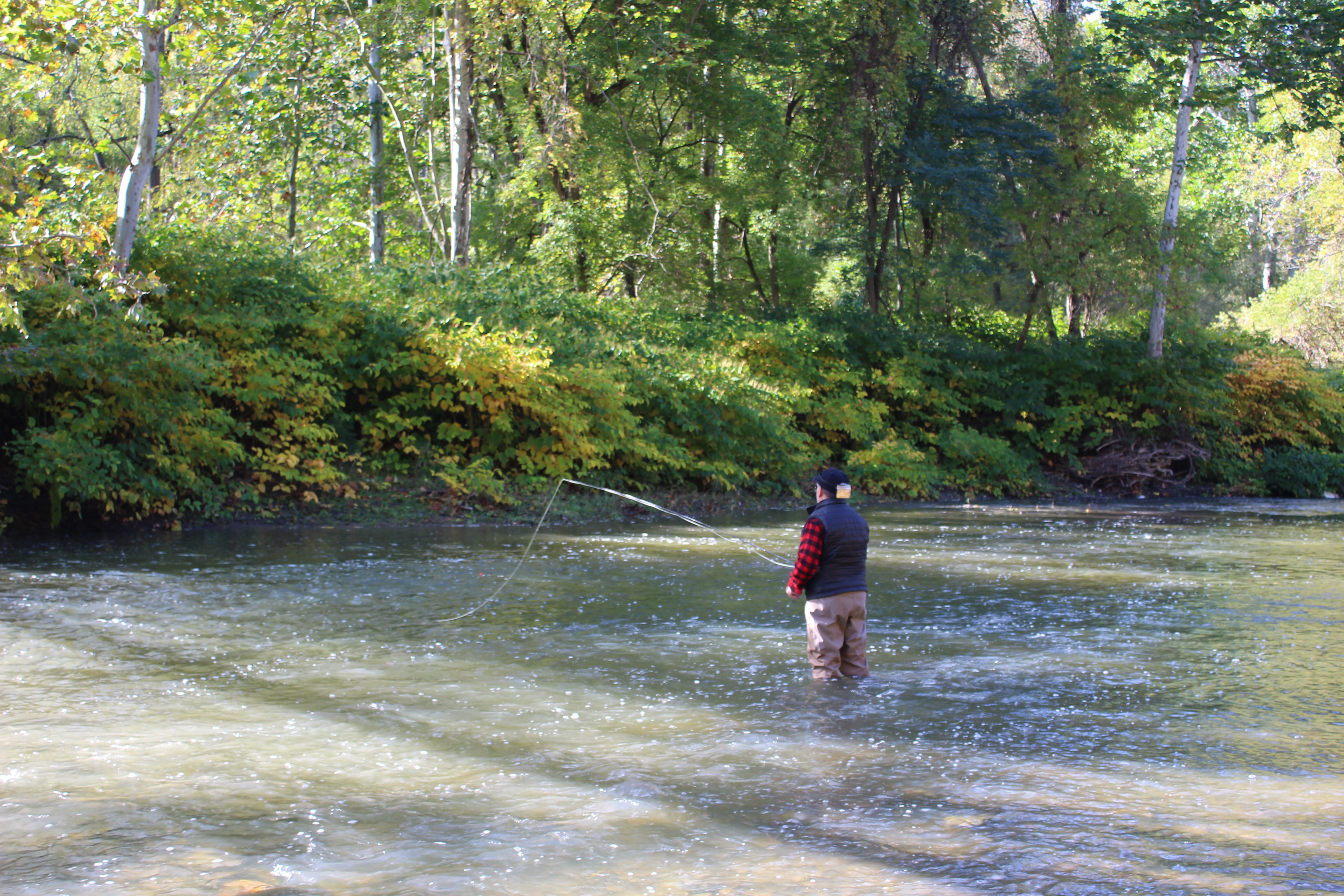 Working a run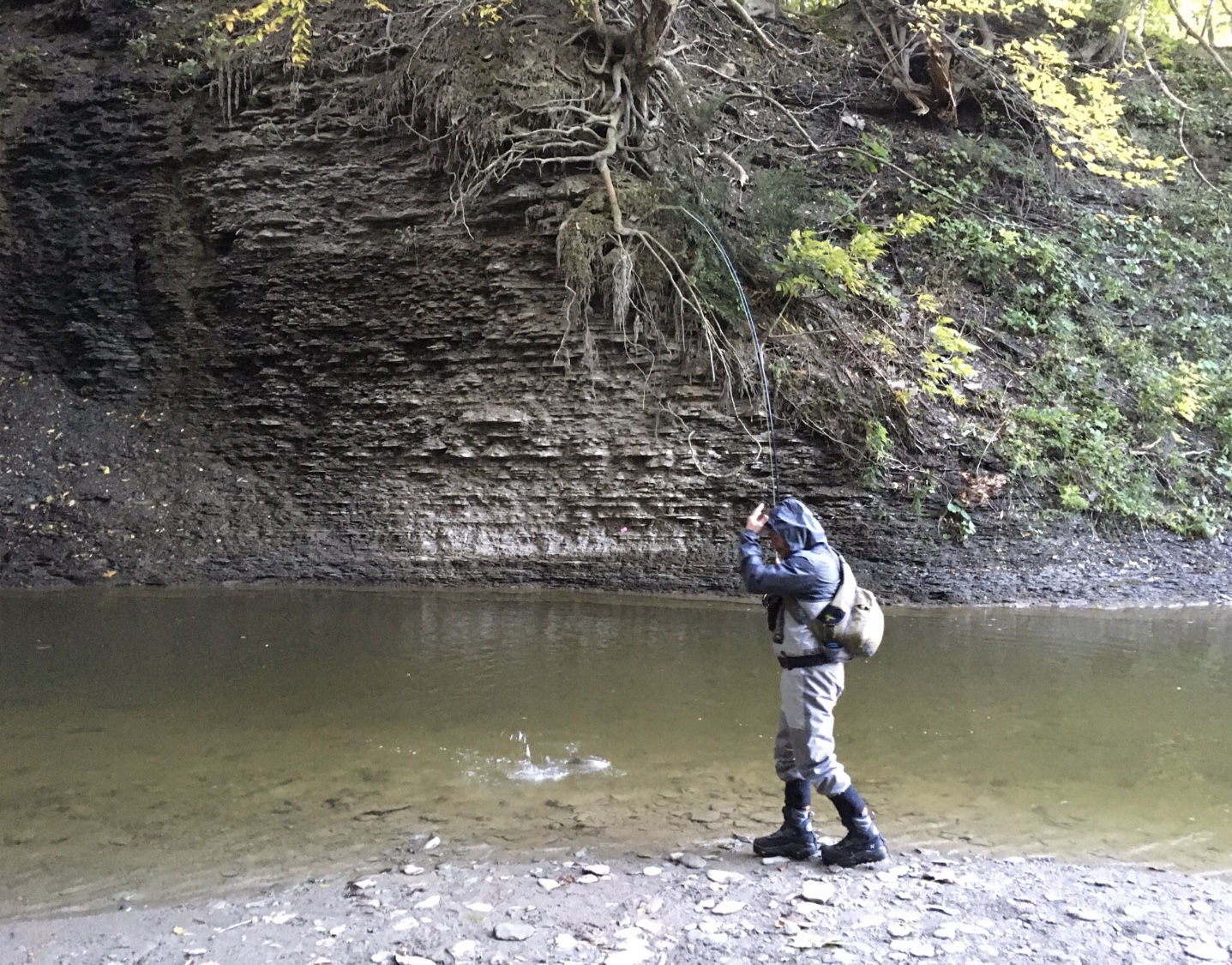 Hooked up!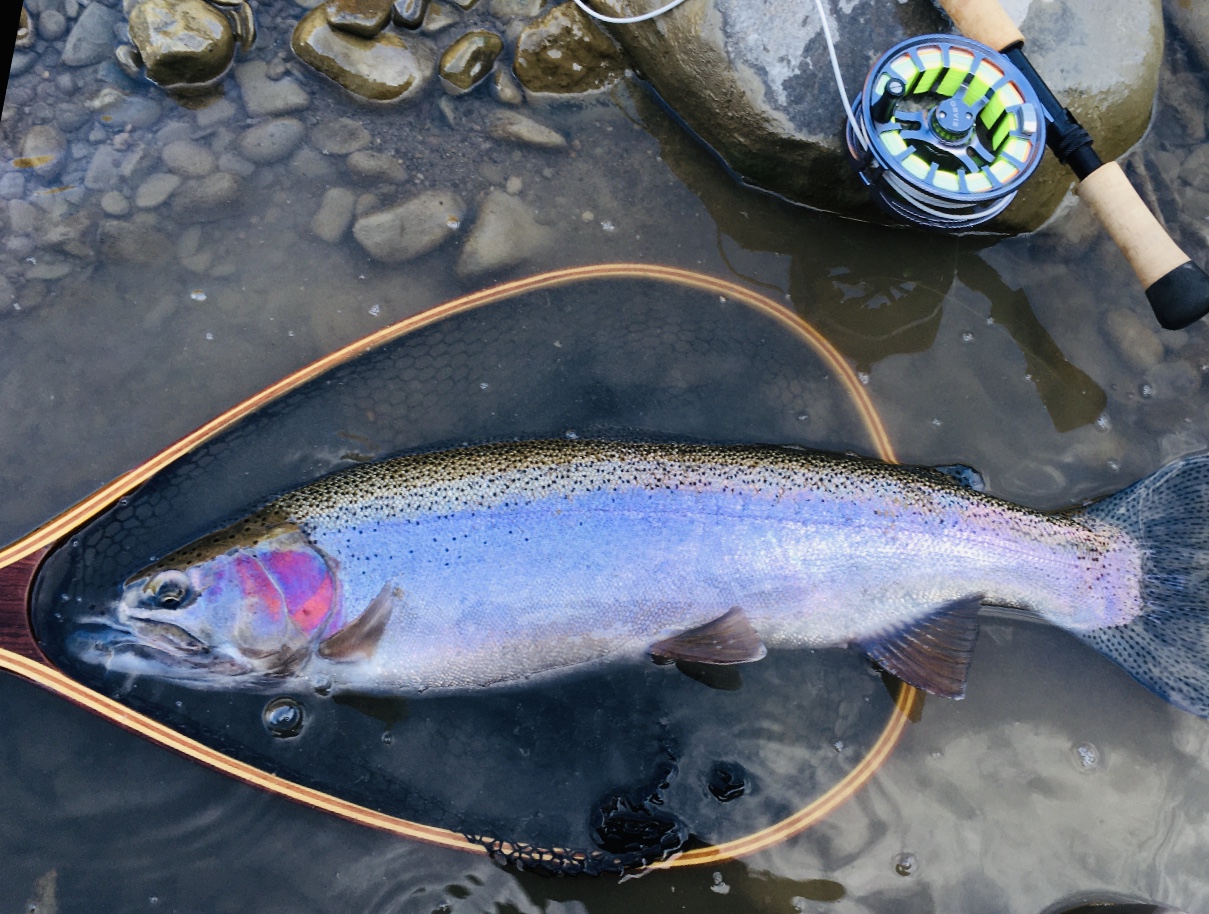 The beauty of fall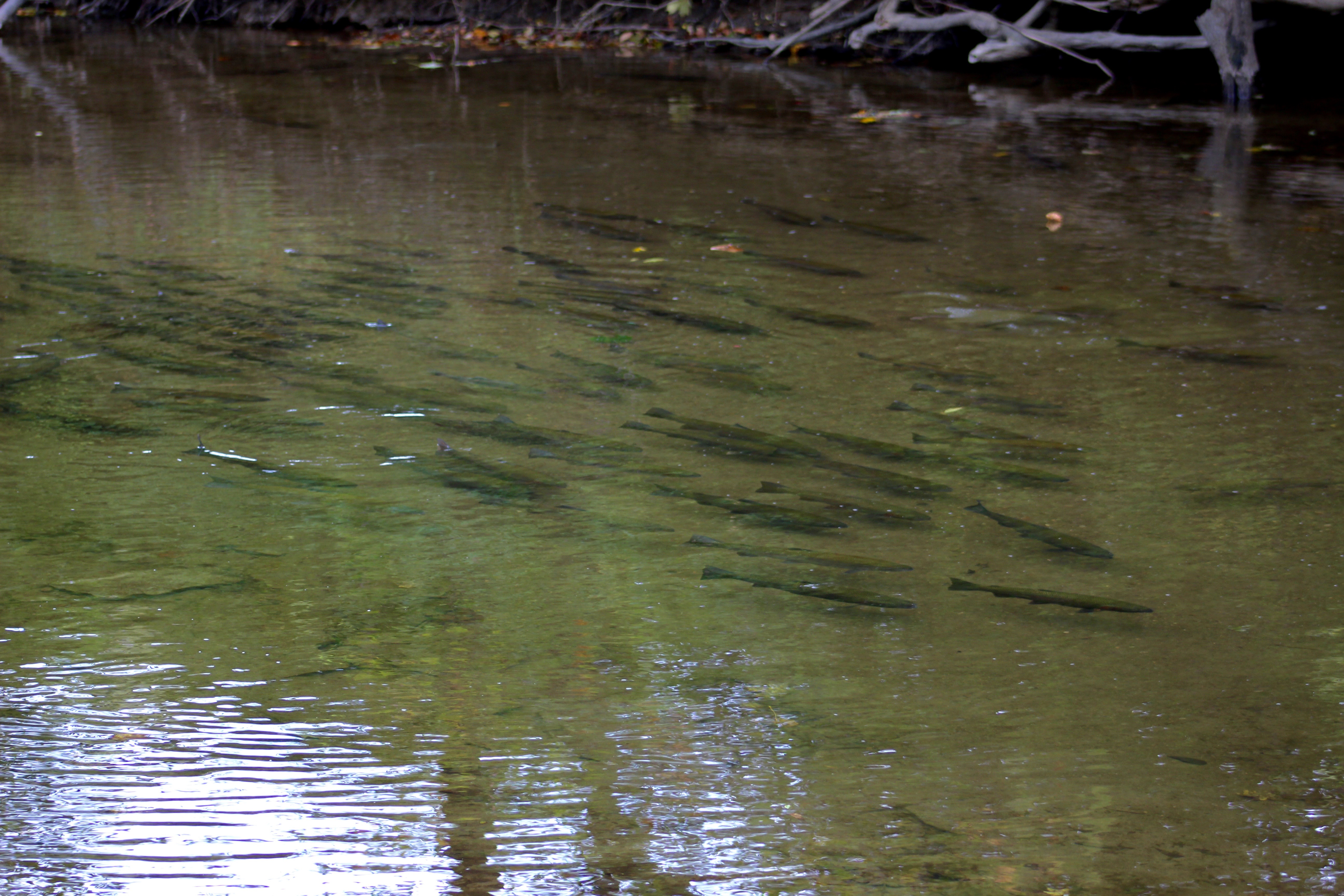 A large pod of fresh steelhead holding in a shallow tailout of a small creek
Well the guiding season starts next week. In preparation I've been spending a lot of time scouting around. As of writing this, all the creeks in the region are still very low with the exception of the Catt. But that hasn't stopped the run from pushing in, and with the cooler temps and rain in the forecast periodically for the next two weeks, I'm anticipating things to heat up quickly!
More and more I find greater joy in photographing these wonderful creatures in their natural habitat without the harassment of anglers throwing all kinds of offerings at them. This time of year when the water is low the fish congregate in whatever suitable holding places they can find, often stacking up tightly like the picture above shows. So on the smaller creeks, its fun to walk the banks and observe- maybe take a picture or two and move on. When the water comes and the creeks raise it will be time to wet a line. 
I did stop by some of the larger creeks as well. There are fish in all of them. Spent about an hour skating a bomber and a riffle hitched hairwing but no takers. Hopefully that will change soon.
Tight Lines. 
/