Shopping Cart
Your Cart is Empty
There was an error with PayPal
Click here to try again
Thank you for your business!
You should be receiving an order confirmation from Paypal shortly.
Exit Shopping Cart
Guided Fly and Spey Fishing Trips for Steelhead and Brown Trout with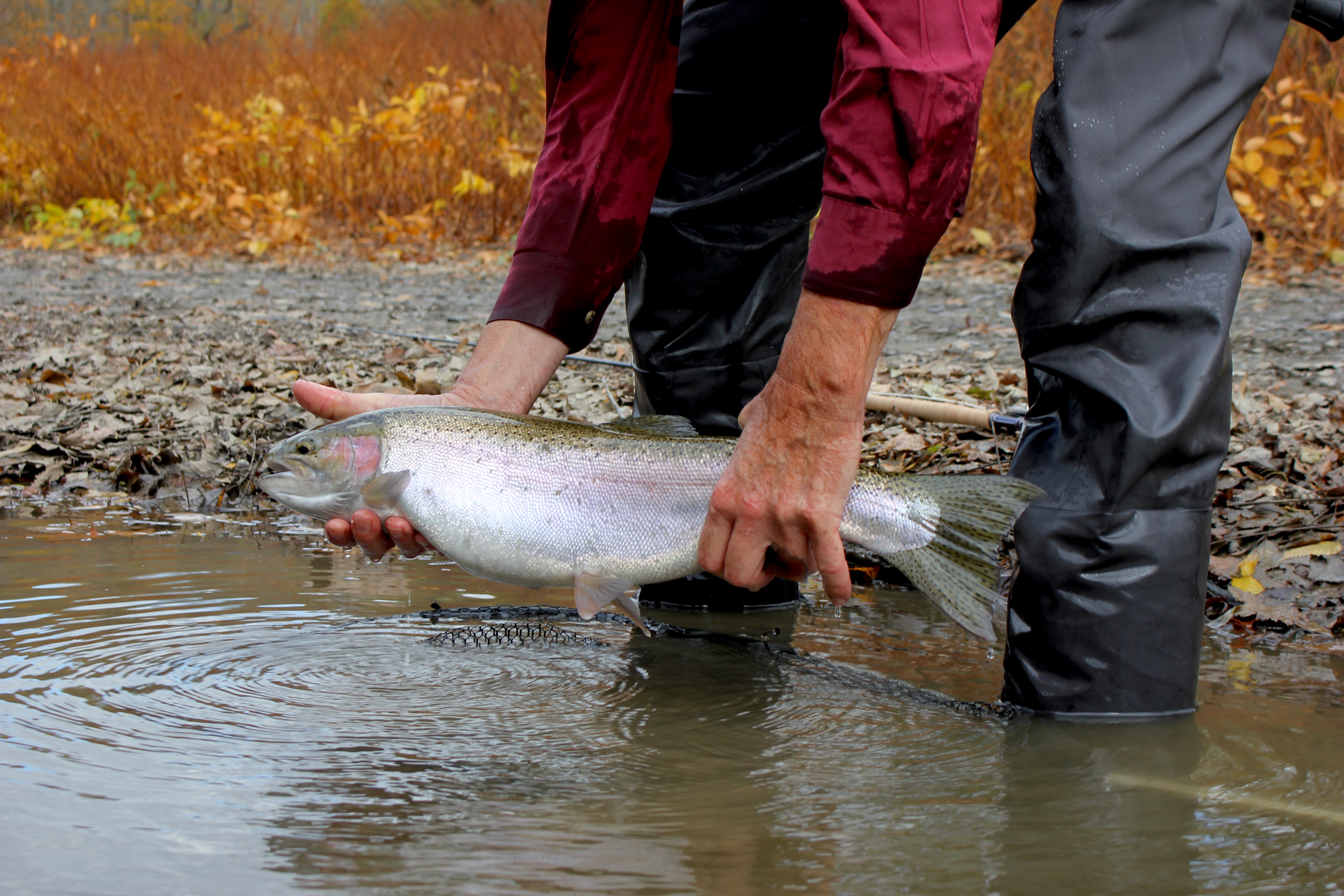 We'll be starting after these guys in a few weeks
It's getting to be that time where more and more my thoughts drift towards fall steelhead. To be fair, theres not really a time when they don't but especially this time of year- the few weeks before the start of the season. Looking forward, though it's difficult to predict with any finite certainty nearly anything about fishing, steelhead fishing especially, there are factors to take into account when creating a forecast of an approaching fishing season. So taking those into account, I've put together my forecast for the fall season along with some news from around the area.
First and foremost, so far this year this is the highest number of verifiable reports of early steelhead in the Ohio rivers that I have ever seen. There were credible reports of finding expired fish (water temperature mortality) all the way back to the first week of August. I expect the same for the New York systems as well. Though it is unfortunate for the fish that have returned so eary, as it is highly likely that only very few or even none will survive at this time, in the larger sense this should be taken as a good sign for the fall fishery. I believe the reason for the early returns are likely two-fold: we have had a very wet summer with periods of much cooler temperatures, and I believe the numbers of steelhead in the lake are very high this year. Those two things put together can explain why so many fish have been seen in the lower stretches of the rivers this early. Again, there are always a handful of early runners, but it has been a long time, if ever, since I've seen this many.
What I point to for high numbers in the lake is the charter captain reports in the eastern and central basin. There have been a number of reports of high numbers of fish up to and over 12 pounds already staging near river mouths. This is a very good sign for what is in store for us, particularly in the size. Another thing I would point to is just how great the fishing was last spring, including for very large fish. This past spring, though we lost all our truly big fish, we hooked and saw more trophy class steelhead than I believe I've seen since perhaps the very early 2000's. For fish to survive and grow that well is indicative of ample forage in the lake, and for the sheer numbers we saw indicates very high survival of young fish. When we get these two phenomena occuring for the spring run, it usually translates over to the next fall run. And even looking back to last fall, we saw a higher number of large male fish. Male fish tend to return earlier to the systems in an attempt to maximize their own spawning potential, meaning the presence of more large males in a fall season can be the first indicator of a period of high returns and larger size fish that potentially lasts multiple seasons. 
Looking around to Lake Ontario, salmon fishing is picking up- particularly in the Salmon River. There are good reports of decent numbers of kings and cohos returning early. Reminds me a bit of 2017. That year we had a great early push of salmon, and that translated into a great fall steelhead run on the Erie creeks. I don't know if that is coincidence or not- it is very possible that the two are not related. However, it does seem that when Erie does well for steelhead, Ontario does very well for salmon and vice versa.
Looking ahead at our weather forecast, we hit another hot stretch next week with temps in the 80's. Hopefully this is the last of that. The way September was shaping up, I was optimistic that we'd have a good mid-late September push of steelhead into the Erie systems, which we still might get after the temps cool again. But with these warm temps coming, it might be another week or two later. At any rate, the temps are supposed to drop down again after this spell. I'm very excited for October to roll around.
Tight Lines,
 -  D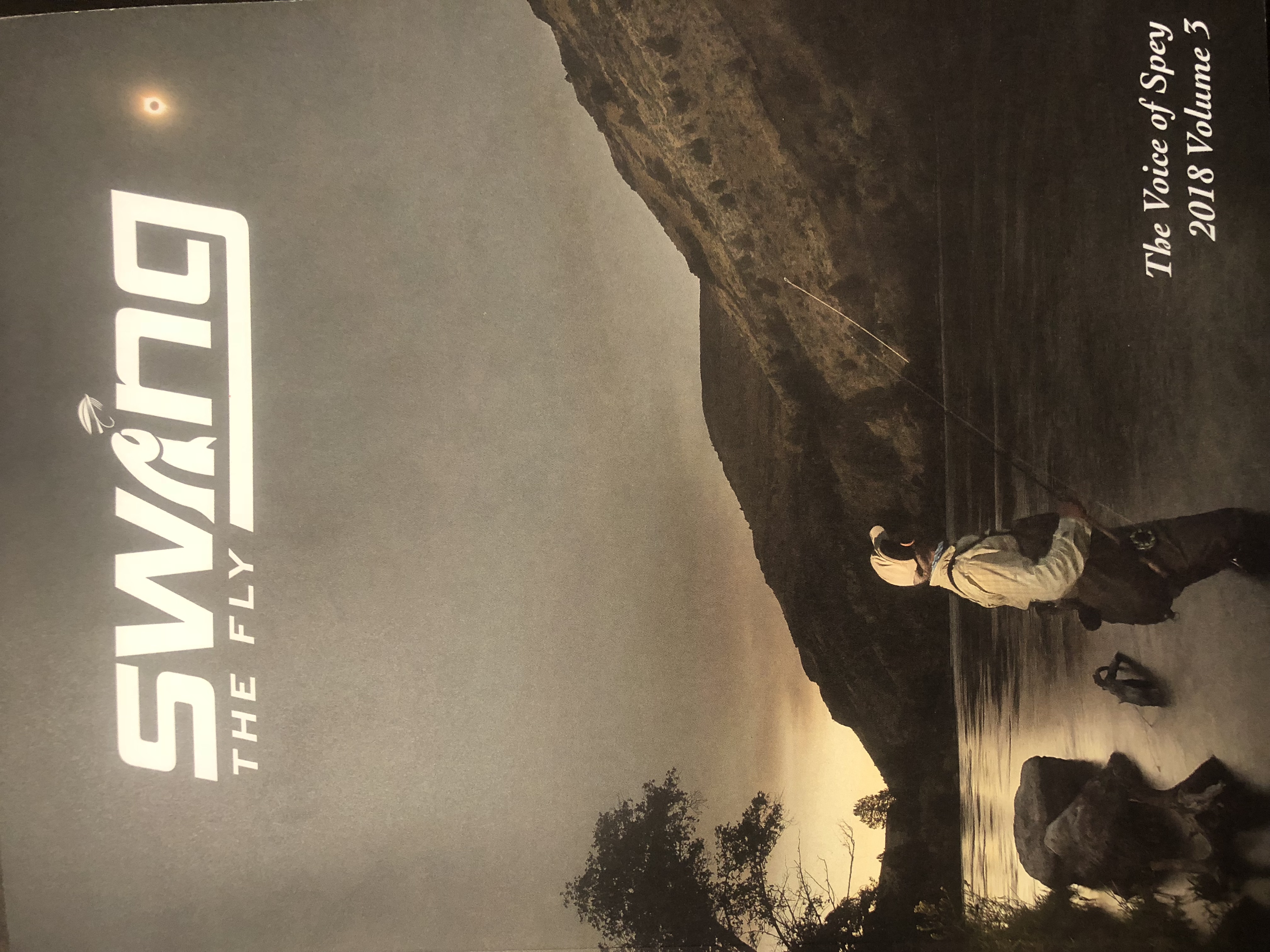 If you haven't already done so, be sure to pick up the newest edition of Swing the Fly Magazine and check out our article Early Season!
Well we have arrived at the half way point! A bit more than two months since steelhead season ended, and about two more until it starts again. It can't come soon enough! Though during the summer we try to occupy ourselves with stream trout and smallies, usually by July things just slow down. The streams get warm and the fish get stressed. The smallies that were there in May and June leave by early July. And neither smallies or stream trout can ever really take the place steelhead. There's just something about them that fully seizes the soul. October can't come soon enough.
We've been having a warm summer, and the lakes surface temperature shows it. Not unseasonably warm, but warm. The good news is that this should help with the forage base and mean fall fish should be fat and feisty. In June we saw a handful of days that hit 90 or so and around the 4th of July, about a week straight reached it. Hopefully the hot weather early in the summer will mean cooler temps and rain later on. But only time will tell.
For those of you out there in internet land day dreaming of cool fall mornings, check out our article in Swing the Fly Magazine. It's about chasing those early fall fish, the first of the run. They'll be here before you know it.
Tight Lines,
 - D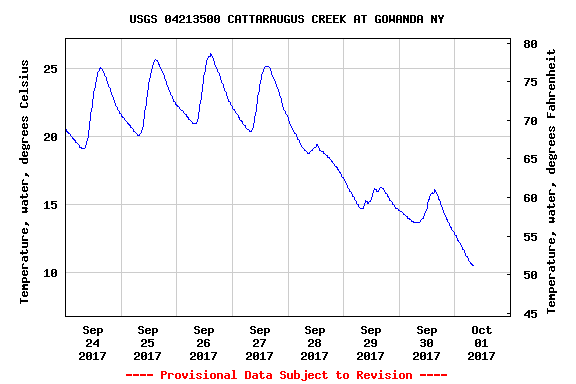 What a difference a week makes!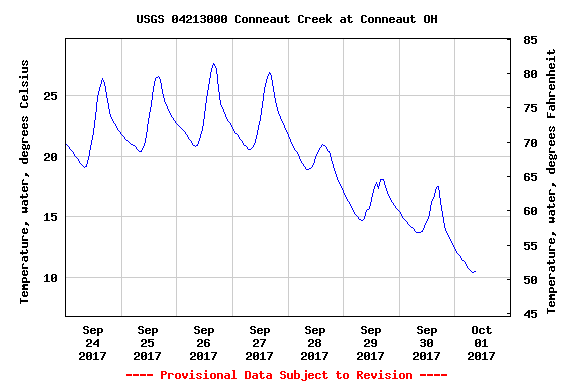 On Conneaut too
Well, as promised we finally have seen the end of the two and a half week heat wave. And thank god. We had three days in those two and a half weeks that were over 88 degrees. Yuck. Give me 55-60 and rainy any day. Looking ahead in the forecast, we have a couple days projected to hit the upper 70's but most days are in the 60's. After such a mild and moderatly wet summer, the second half of September just felt brutal. From September 10- September 27th I just wanted to hole up in my basement and tie flies till the weather broke haha.
But that's in the past now. Hopefully we won't hit 80 again until 2018. Anyways, looking ahead at the upcoming season, things are looking good. Even with the hot dry weather, we had a decent amount of fish pushing in for how early it was. I expect this weather change with rain in the forecast will really bring in a solid run. The creeks in the area are all on the lower side as we speak. The Catt is right about 180 CFS, Conneaut is at 10 CFS, the Grand is at 16 CFS and Chagrin is around 40 CFS. Based on this, it's pretty easy to see that the Catt has the best groundwater flow of the south side Lake Erie creeks, and like usual it is holding the most fish right now. The smaller creeks are all low and gin clear. But they do have some fish in the deeper ledge pools.
If you head out now, it's a fun time to fish smaller weighted nymphs or streamers like beadhead woolly buggers on long leaders (15 feet or so) tapered down to 6 or 8 pound fluoro. It's a cool approach and can be fished either upstream and stripped back down to you or downstream on a swing. You can even use it in really slow pools by dropping it in, letting the fly sink to towards the bottom and then twitching your rod tip with short small twitches to bring the fly back up again. It's cool because if done correctly and with a stealthy approach, you can watch the fish chase down the fly and eat it. If you do fish the smaller creeks, right now is not the time to fish a thingamabobber. Any large surface distrubance is going to scatter holding fish.
As for some news, it looks like in August the project agreement for dam modification of Scoby Dam on the Cattaraugus was signed. I'm pretty excited by this. There should be a huge increase in natural reproduction once the project is completed. And wild fish are even more likely to come up to or near the surface to take a fly. So ya, pretty stoked. Looks like the project is in the design phase now and is set to be completed between June and December 2021. Only four years... 
Check out this article for more info:
Finally, the good fishing around the entire Great Lakes has continued. The Salmon River barely saw any interruption of it's salmon run with the heat wave. Starting to see some pics of steelhead and more pics of browns with the odd atlantic in the mix as well. Some really big salmon being caught too- like mid thirties. From other reports, looks like the good fishing in Lake Michigan has translated to good fishing in the rivers. They also look like good numbers with big fish. 
Should be a fun fall.
Tight Lines,
 - D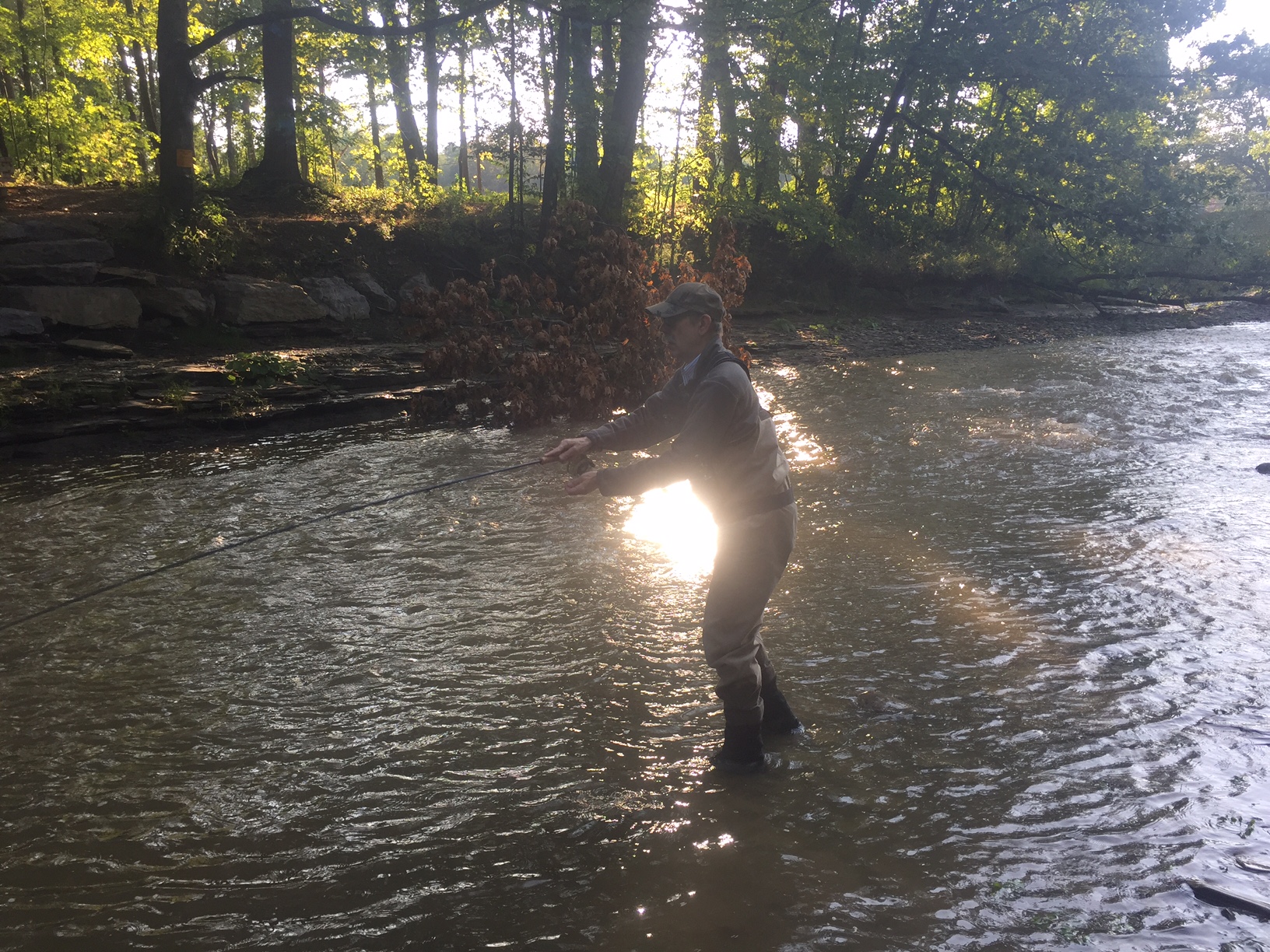 Fishing a familiar run
Hard to believe we're already at the end of summer. Feels like just yesterday we were just catching the last steelhead and the first of the smallmouth. As per usual, the summer was fairly quiet. We got out a handful of times hitting the smallmouth and the trout. Even found some really nice places to throw a mouse. Been slacking on the reports here. But looking ahead, we're expecting a great fall season!
The Catt's been flowing at around 180 cfs and dipping down into the low 60's and upper 50's in temperature! What a difference a year makes. This time last year we had no water and 90 degree days. Fish are already nosing their way into the creeks, and while I was out a few days ago I saw a fish roll up near Gowanda already!
Over the weekend we had a blast of rain come through and air temps in the 50's and 60's- perfect steelhead weather. Got out a looked around at the smaller creeks. They all have water now and should see a fish or to poking around the lower reaches here before long, if they haven't already. The big lake reports were good over the summer. Lots of fish and good size. If the spring is any indication, I'd expect some really good sized fish this fall.
On the Salmon River, anglers have been finding king salmon since mid-August. Lake trollers have hit fish in the high 30's this year, and some guys out in Lake Michigan landed a 41 pounder. It's just been really good all the way around and now it's starting to work it's way into the rivers. Can't wait for it to really kick off!
Tight Lines
 - D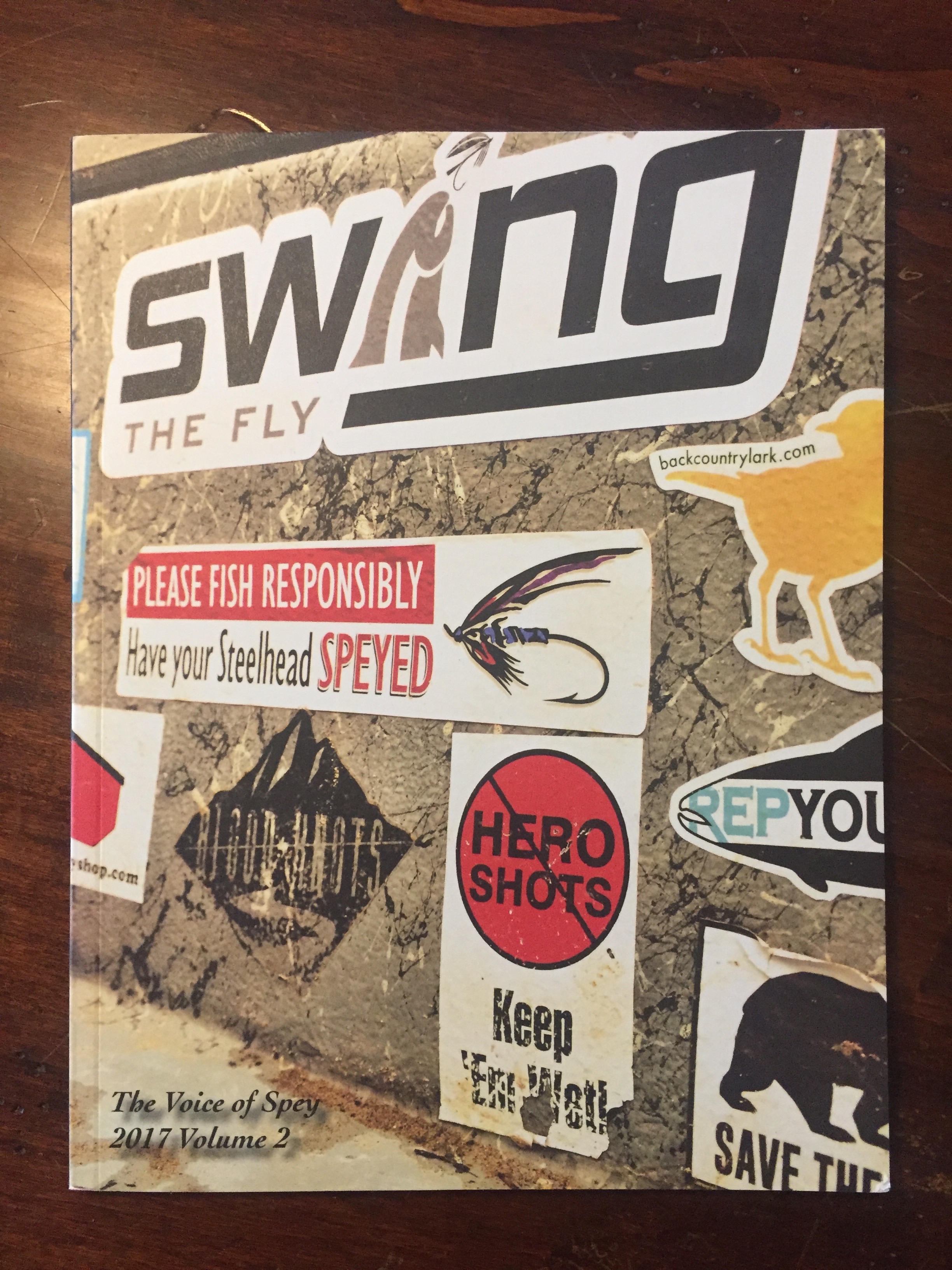 New edition of Swing the Fly Magazine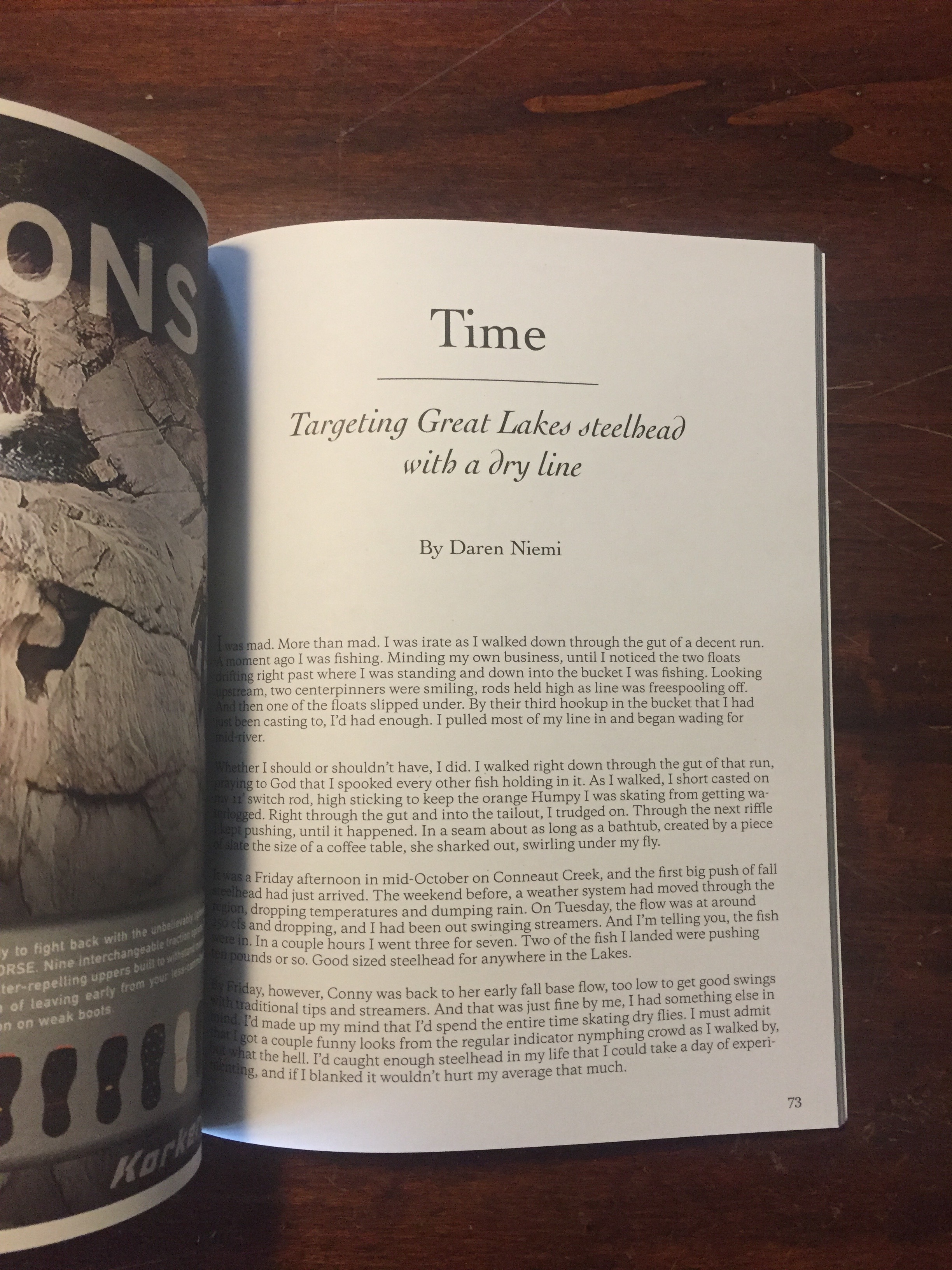 Published author haha
Well we've had a cool weather system camped over us for the last couple days, and looks like it'll stick around through the beginning of next week. Rivers are all high in the area, and we have more rain in the forecast. This should pretty much do it for our steelhead. I expect smallmouth fishing should be pretty good when the water comes down next week.
In other news, the Salmon River in New York has been seeing some really nice Atlantics this spring! Douglaston Salmon Run reported that 5 were caught in one day last week! I really hope this is the start of a great new fishery. Or should I say the restoration of an old one. Atlantics are the namesake species of the Salmon River. I'm hoping to get up that way at least once this spring in May or June to see if there are a few willing fish, and if anyone is interested in joining on an exploratory trip, let me know. I've done well later in the summer for them on caddis flies before, but have never fished early in the season for fresh fish down low. We've always focused our efforts mid and upper river. Should be fun though.
Also, pretty stoked that Swing the Fly Magazine picked up an article I wrote about fishing steelhead on dry flies or right under the surface with tradition wets on a dry line! I think it's a good read for anyone looking to push themselves as an angler. Fishing steelhead that way is probably the greatest challenge a steelhead angler can undertake, and for me at least catching a few fish that way has probably been the most rewarding accomplishment of my angling career.
Finally, took my daughter Piper out for her first time fly fishing a few weeks ago. Boy did she have fun.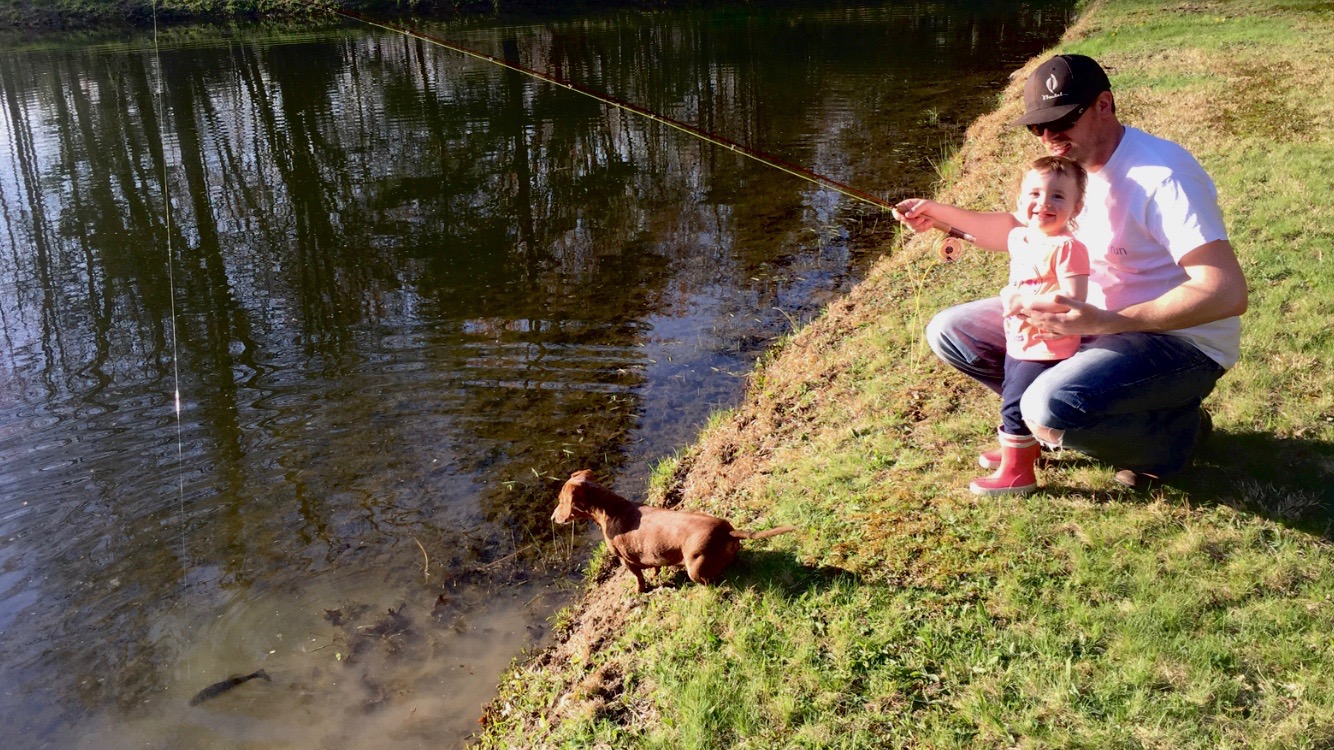 Just look at that face! Ginger's pretty on it too haha.
Tight Lines,
  - D
Well sorry for the delay in posts, but lots has been happening over the last month. For starters, tons of steelhead! This spring so far has been one of the best in recent memories. Fish numbers are wwwaaaaayyyy up, and as for size we're seeing more three and four year class fish (9-12lb +) than the last couple springs. Looks like the mild winter didnt disappoint! As an added bonus, we're seeing tons of fish in the 18-24" range. These fish were smolts last spring or early summer, and their numbers mean the next few years are going to be off the hook! Once a fish gets into that upper teens length and above, the long term survival increases drastically. As almost all the predators found in our lakes are avian or fish predators, once a fish gets past the stage of being a decent mouthful chances are it's going to live to come back as a mature fish. 
As for the fishing... spectacular just isn't even close. The last few weeks have mostly been spent fishing the chagrin river and conneaut creek, with the grand fishing periodically. Despite not being able to fully devote time to the grand due to the high flows, the chagrin and conny have been pumping out fish. Double digit hookups per rod a day is now average. And every method is producing. Spey fishing, indicator fishing, free drifting. Everything has been hooking fish. 
The next three to four weeks should be on fire. As the grand drops to more stable flows, she will light up, and with the way the spring has been fishing, it's going to be something to see. Plus the warm winter didn't just help out steelhead. We should see some real A class trophy smallmouth this year. Anyone looking to break that 5 pound mark? 
One final note before the pics, I just bought a 15' driftboat and it's sick. Can't wait to take her out on the grand. As this season progresses away from spring steelhead, we're going to start running trophy brown trout trips on the clarion and the alleghany. Getting out there this may for some exploratory trips. 
Enough rambling, check out the pics.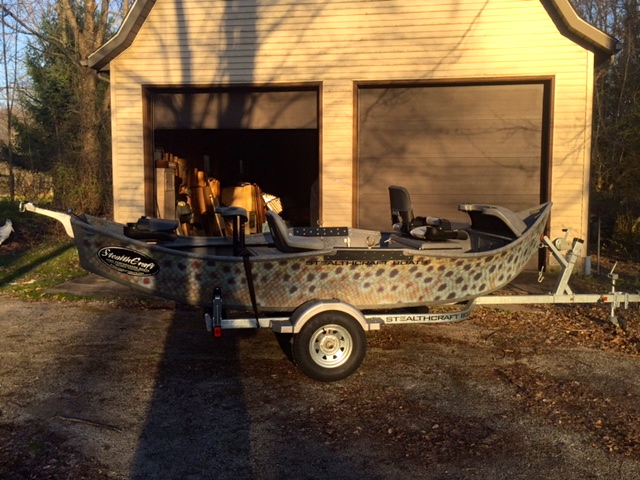 New Ride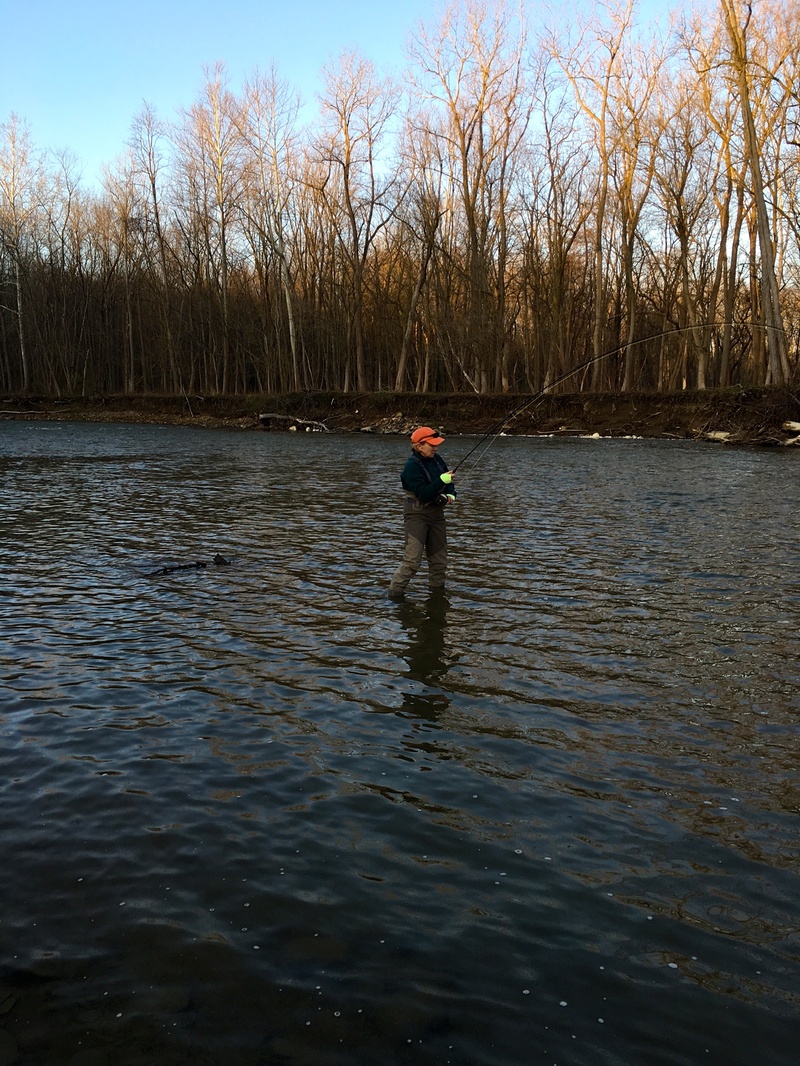 Locked on in the Chagrin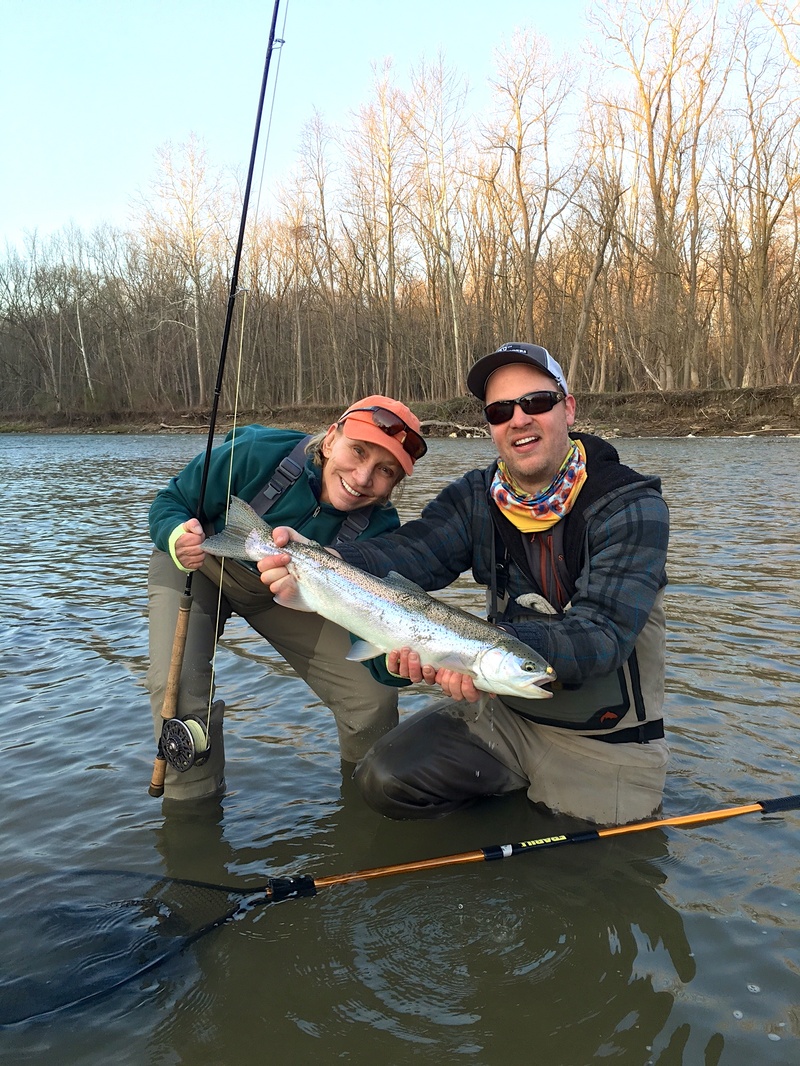 First fish of the day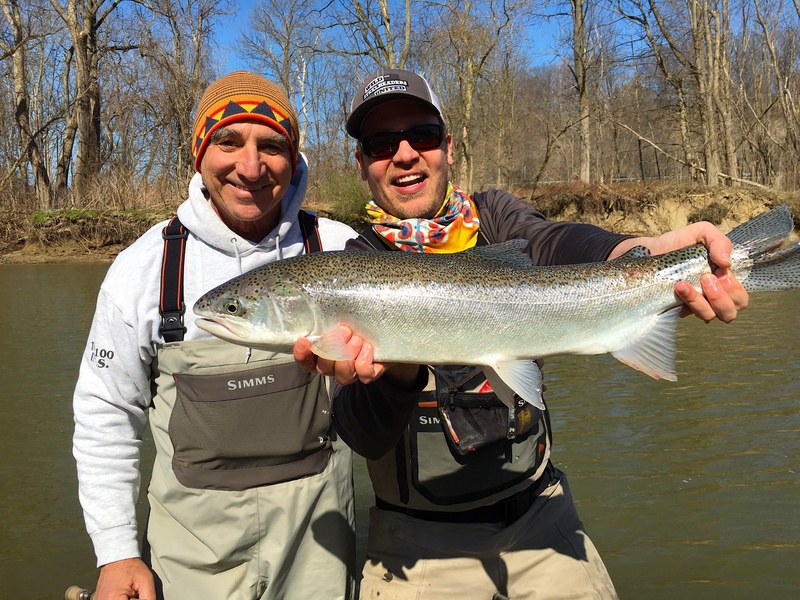 Art doing work on a 30 incher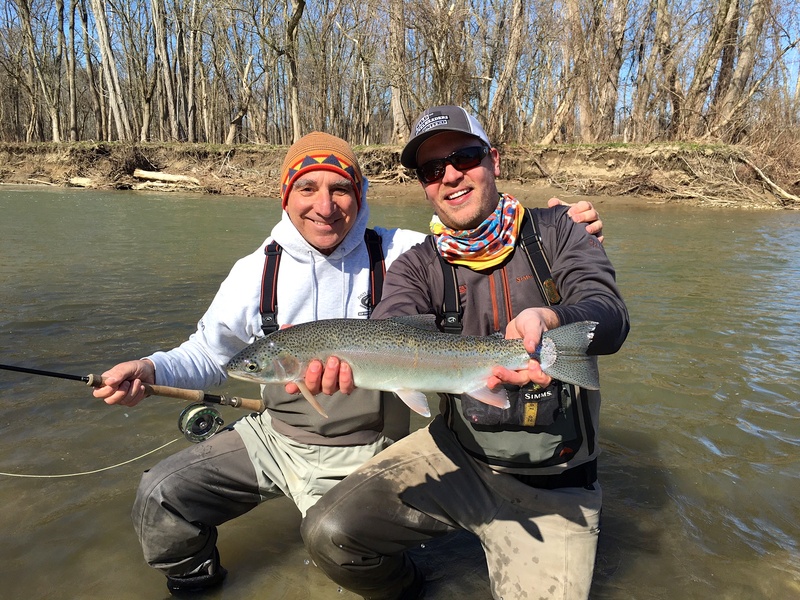 Super clean little fish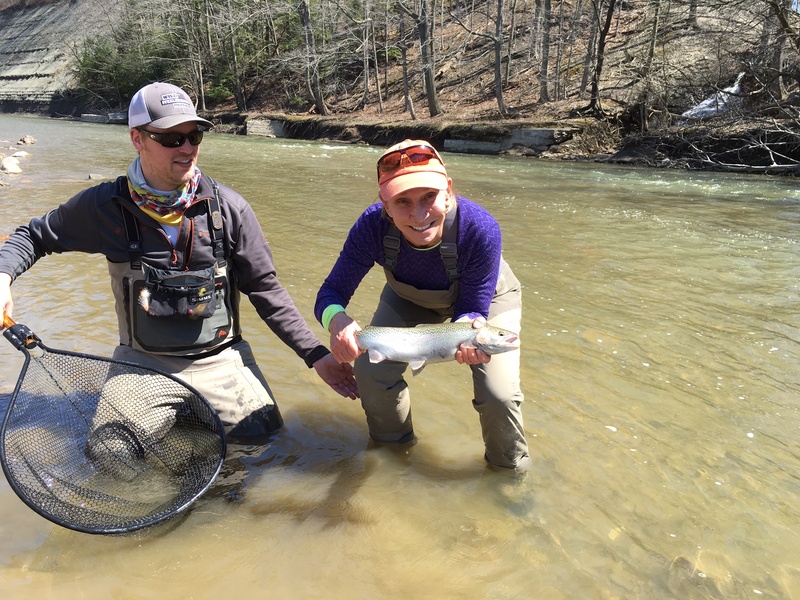 Annie with a typical second year fish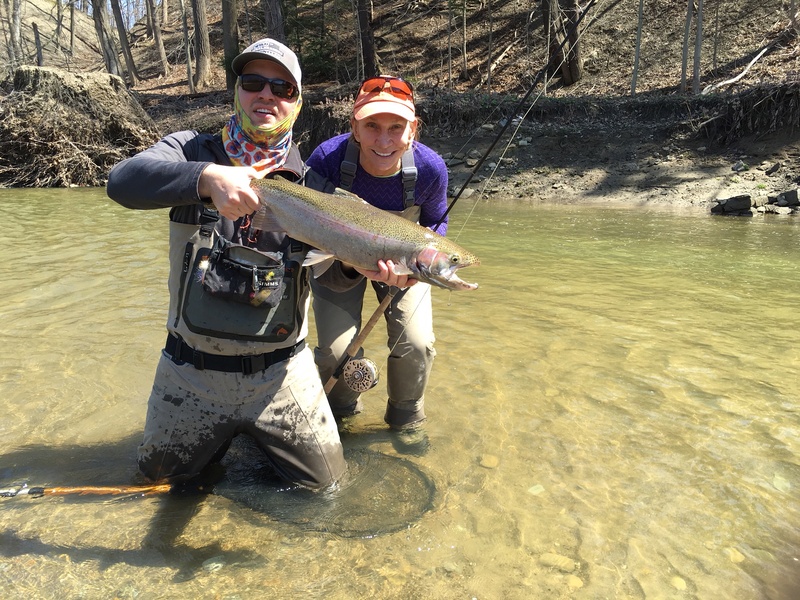 Annie's colored up buck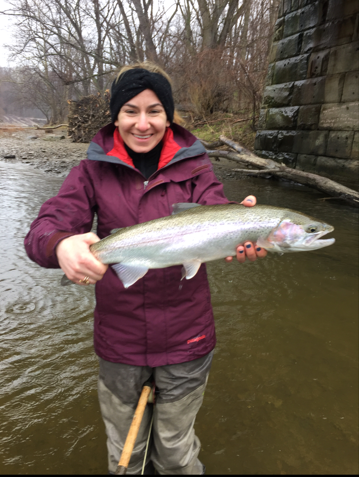 Jess got out with me last week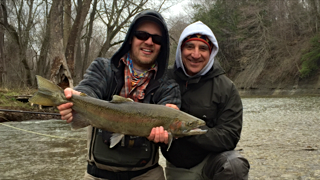 Art with a colored up buck from last week
Thanks to all who came out and supported us at the Philadelphia Sports Show! It was a great success and we got a lot of great contacts that we look forward to putting on some epic fishing! Here in Ohio the weather has turned cold again, but the forecast looks like it is the last cold snap. By next Monday, temps will be back into the 50's! Everything is already ice free but running big! Spring steelheading should be great when the rivers fall back into shape and the temperatures inch back up.
Pics from the show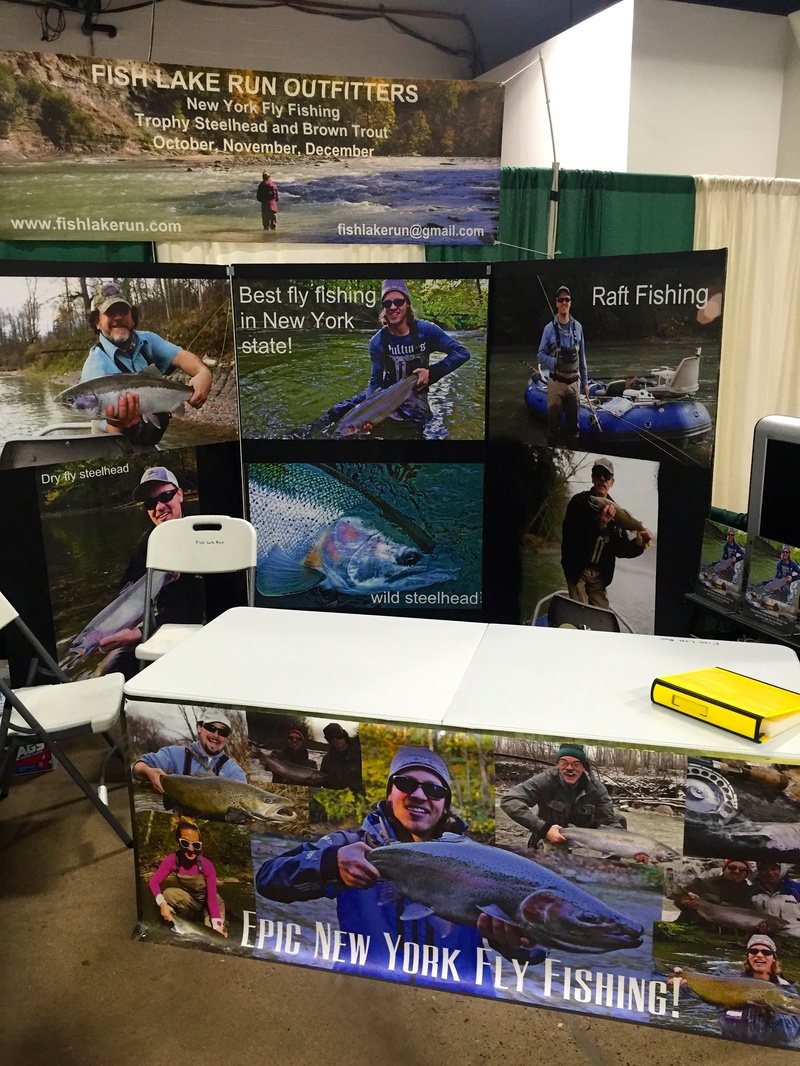 The Booth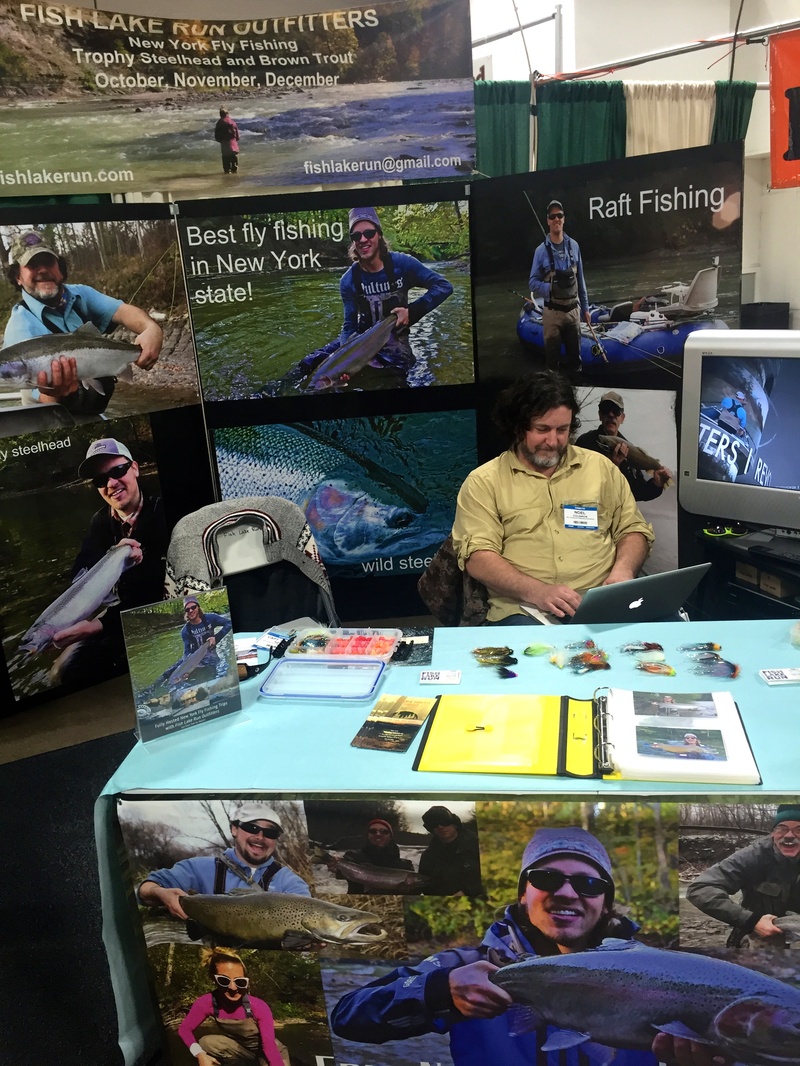 Not a bad setup
Hey guys, come check us out at the Greater Philadelphia Outdoor Sportshow from February 25-28! We will be offering discounted fishing trips for spring and fall steelhead, and first opportunities to book all inclusive fall hosted spey fishing trips in western New York! Along with booking trips, we will be putting on fly tying demos, equipment rigging expos, and be there to answer any fly fishing questions you might have. So if you just want to shoot the shit, have some questions about fly fishing for steelhead or trout, or are looking to book a trip, come check us out!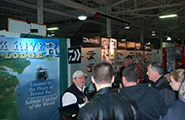 Hoping to see you guys there!
Welcome back to Fish Lake Run! After what was a mild winter, it looks like spring is just around the corner! January was quiet, and we typically don't fish much if at all. Because we really focus heavily on the swung fly, side ice and anchor ice means cold, cold water and lethargic fish, though most rivers in the area didn't completely freeze over. But things are starting to warm up already, and with how long the last two winters lasted, it is a welcomed relief. In fact yesterday broke 60 degrees! Though we will still have a few weeks of cold temps, it's time to start thinking about spring steel. From the way the winter has been, things are probably going to run a couple weeks early this season. Last year peak spring fishing occurred from mid april through the first week of may. This spring, our Ohio rivers will probably hit their peak sometime around the beginning of april, but with plenty of fish around in march and probably quite a few hanging in the rivers until the first or second week of may. To say the least, we are pretty excited about this spring, and a new drift boat might have something to do with it...
To pass the few cold weeks, I have been working on a bamboo spey rod build! I just finished the last touches on her this past weekend, and I couldn't be more proud! Can't wait to swing up some steel this spring on bamboo!
Check out some pics of the rod build.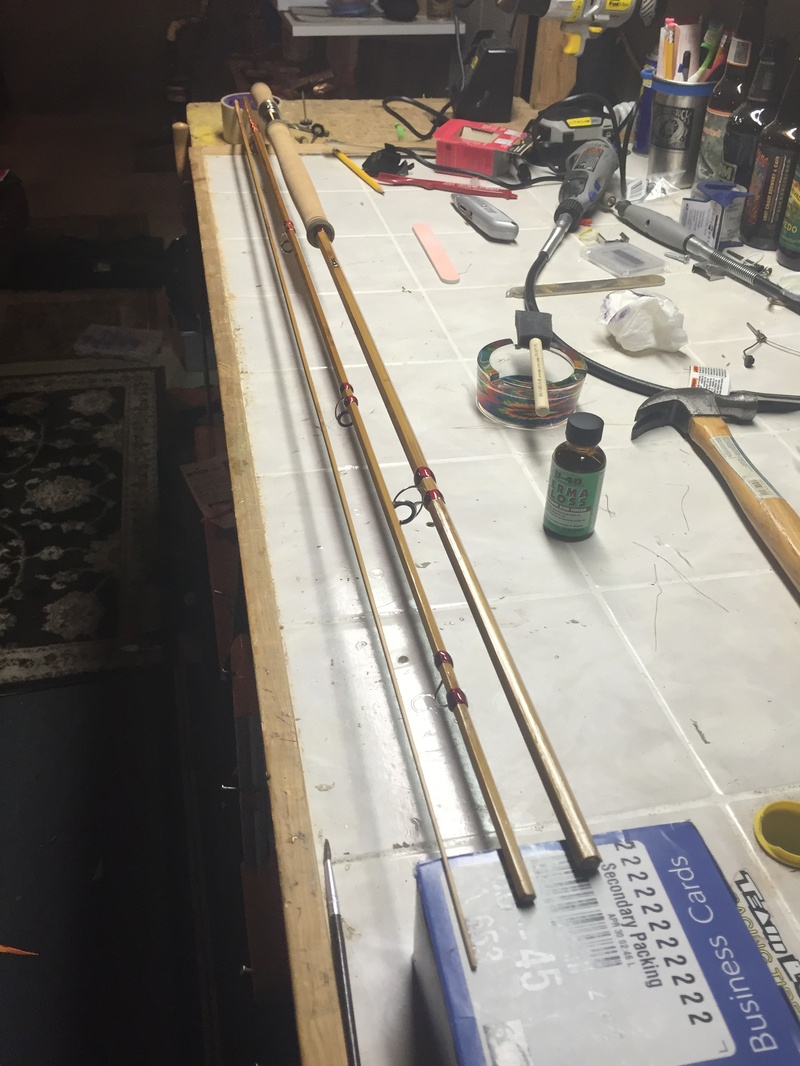 At the workbench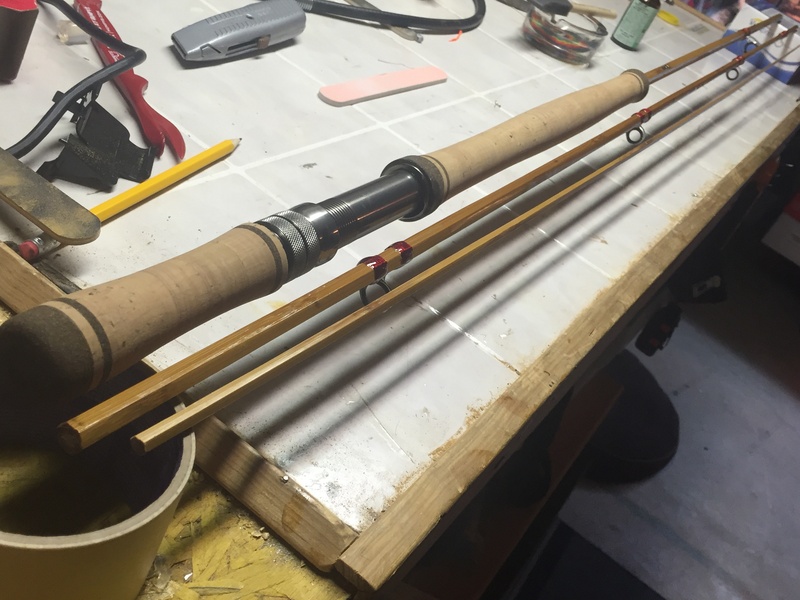 Shaping and fixing the cork.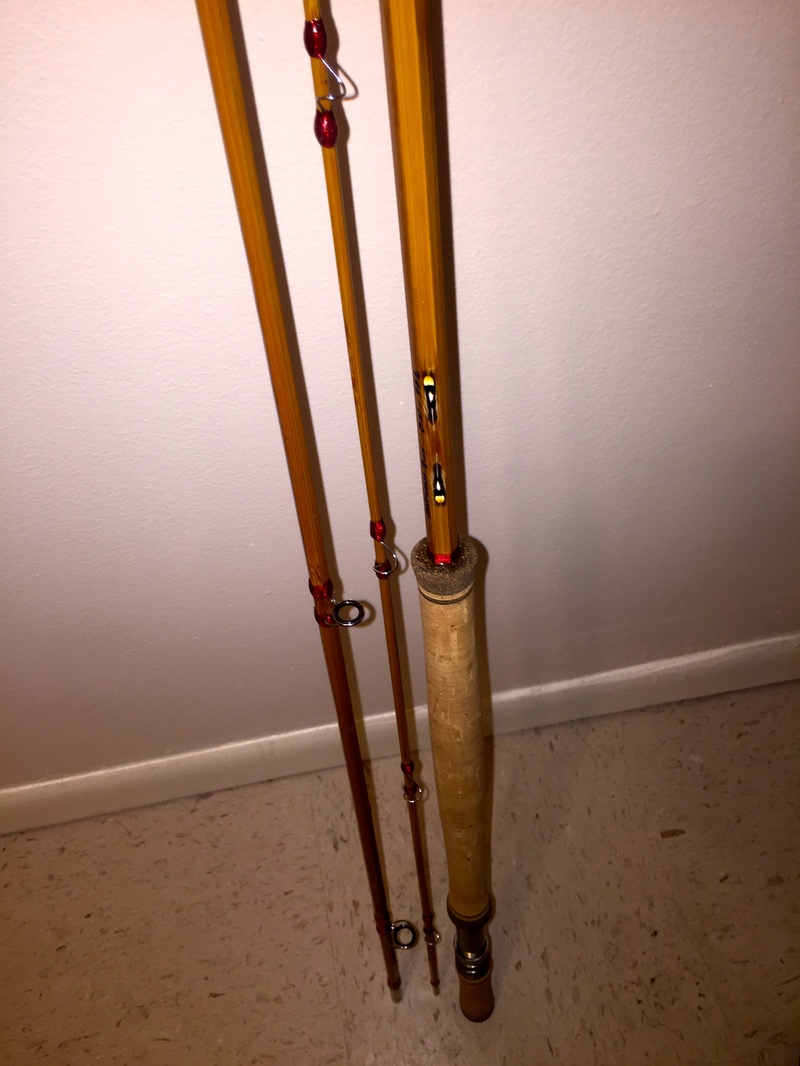 Finished product.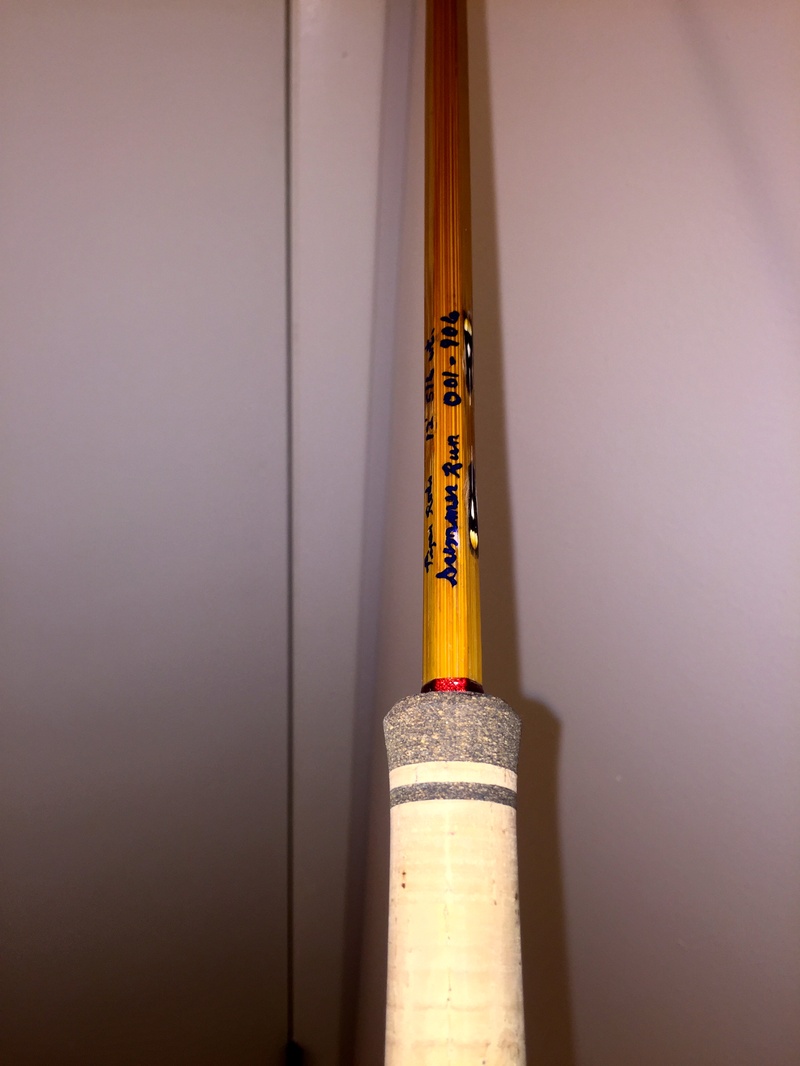 First time painting words...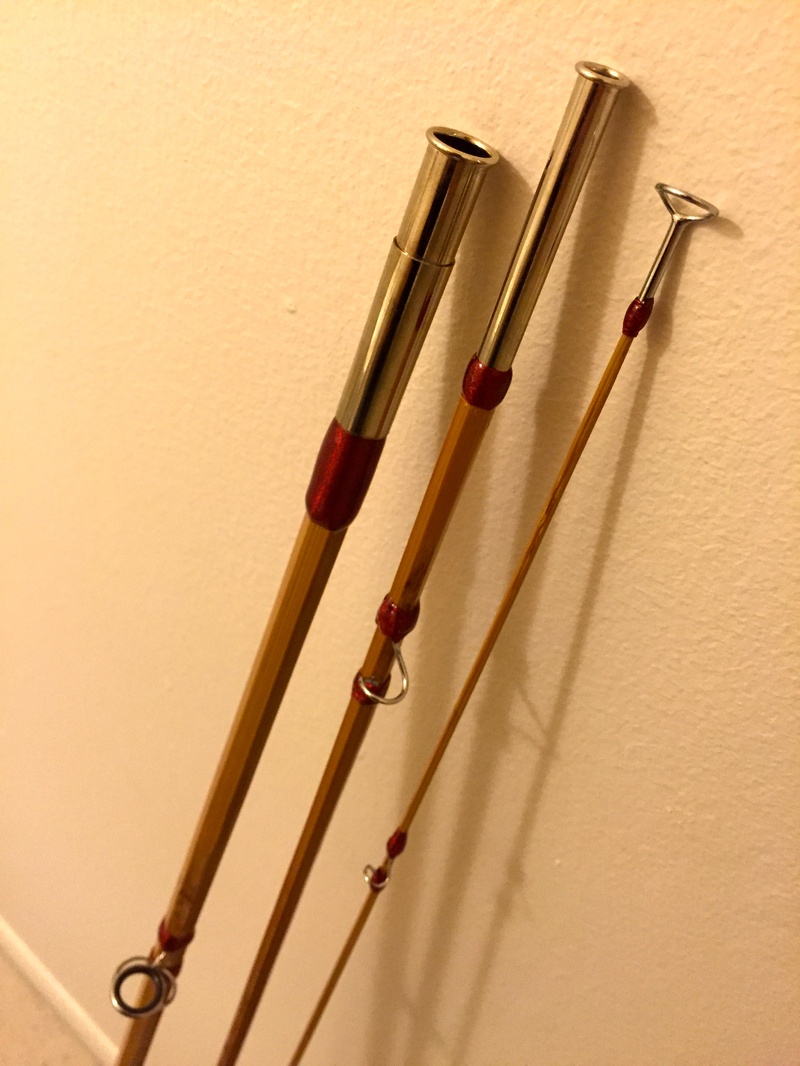 The ferrules.
Check back soon for spring reports and fish porn! Wont be long now!
-Daren
Had the good fortune to fish with sergeant Blaine Henry from upstate New York for a half day today. This was his first time fly fishing, and he was really keen to learn techniques that he could take back with him to fish the Black River and the Salmon River near Watertown. Due to the limited time we had on the water, I opted to take him to a small creek instead of fishing Cattaraugus.  Though the big creek is holding the most fish right now, the key to success there is covering lots of water thoroughly. This does not pair well with limited fishing time. And I know that despite being low and clear, there are fish that could be caught in the smaller creeks.
Got to the river before the sun hit the water. We worked our way upstream from a few hundred yards above the lake all the way up about a mile and a half. Found a few stretches that were holding fish. Spent the majority of our time fishing a large plunge pool and the run below. There were roughly 8-10 fish kicking around in this stretch, including a small lake run brown of about 5 pounds. Unfortunately the only hookup we had was a creek chub, but it was the first fish sgt. Henry caught on a fly rod and he was pretty proud of it. Even if it didn't put up much of a fight on a 7 wt. switch rod.
After a bit, jumped up a little higher on the creek. Saw one fish roughly 7 miles up from the lake. With the flow that we had, I was surprised to see her that far up. After we spotted that fish, we had to turn tail and pack out though. The weather was warm, the water was cold, and the trees were beautiful. Just enjoying the scenery, seeing some fish, and teaching good technique would be our prize.
A pic from today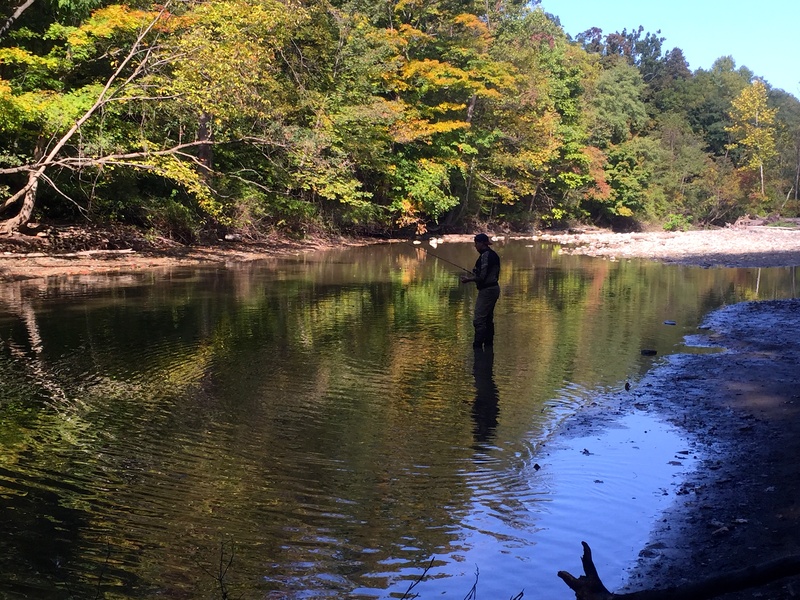 /