Shopping Cart
Your Cart is Empty
There was an error with PayPal
Click here to try again
Thank you for your business!
You should be receiving an order confirmation from Paypal shortly.
Exit Shopping Cart
Guided Fly and Spey Fishing Trips for Steelhead and Brown Trout with
I made it out a few times over the weekend to check out the New York creeks. I stopped at a little creek the first morning and saw a roller out past casting distance in the lake near the mouth. The rest of the morning I walked upstream. Saw a bunch of tiny steelhead and wondered whether they were wild or stocked. Like many of New York's small creeks, this one does have some natural reproduction. Since I had my floating line on the switch and steelhead dry box with me I skated over them. Caught a couple. All had an adipose fin clip. Looks like New York is marking fish now.
A few days later I headed to the Catt. The natives are mining a ton of gravel out of the river at the cabbage patch which is muddying up the water below. So I walked up. The river was at about 140 CFS beautiful emerald green in the deep pools and clear through the riffles. I put on a black and orange skater and worked my way up a ways, but didnt have any luck. By then it was mid-morning, the sun was poking out of the coulds and the air was in the 70s. Took a water temp and it was 66, but would likely heat up with the sun. On my way out, I stopped at a pool I'd already run through on the surface with a skater and switched up to a white and tan spey. Still used a floating line and a long leader, but traditionals tied on salmon irons can sink pretty well especially in deeper slower pools. About my third cast I got spanked pretty hard but the fish didn't get the point. So I walked upstream a few paces and started casting again. My adrenaline spiked as I neared the spot I got grabbed at. Ended up fishing the whole pool through without another take. By that time it was noon, and I wasnt trying to be fishing when the water temps hit 70.
With rain in the forecast for most of this week and high temps below 65 degrees (highs in the 50s through Saturday!), and no more 70s in sight, its time to dust off the sticks. 
Couple pics: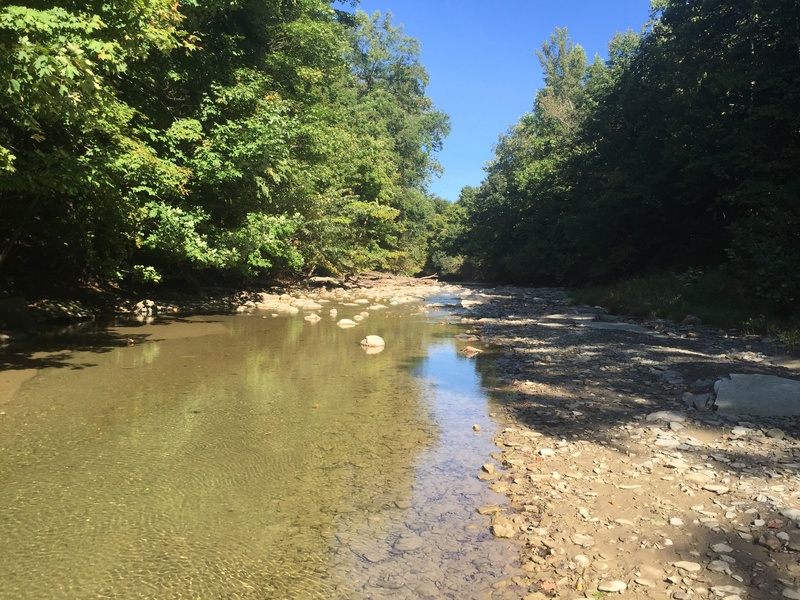 Little Creek needs some water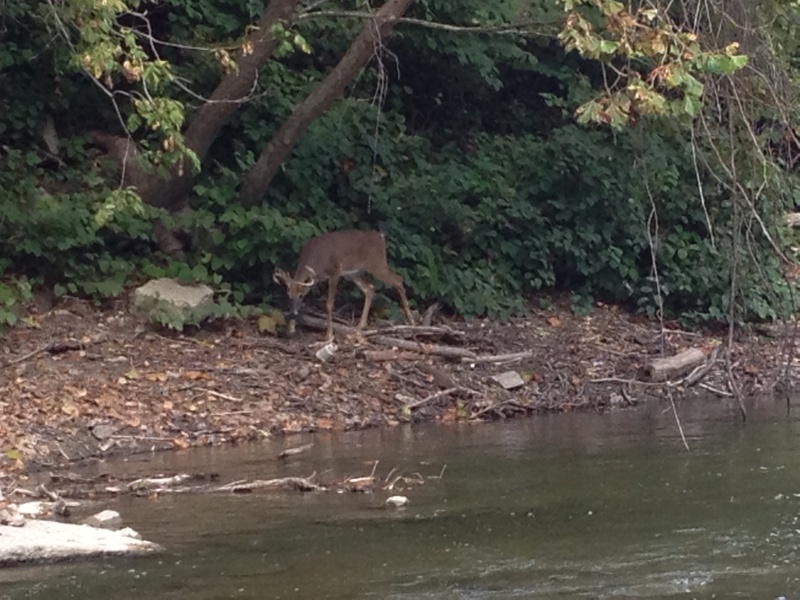 Saw this nice shooter buck on the Catt. Sorry the pic is a little out of focus.

Here at Fish Lake Run Outfitters, we consider Cattaraugus Creek our home water. It is perhaps one of the best places to swing a fly in the entire Great Lakes basin. With scenic vistas through the Zoar Valley, gravel lined pools in both the upper and lower river, and aggressive fish that are roughly 25% wild what more do you need? How about a policy that focuses on enhancing natural reproduction of steelhead in the Catt?




Enter the Scoby Dam Fish Passage Project. Since 2007, I've been following this project hoping that it would get the green light. Over the past few years, impact assessments have been concluded and cost/benefit analyses have been weighed, and recently the Army Corps of Engineers has come forward and recommended moving forward with the project, and expects the dam to be lowered to 13 feet high and a 15 foot wide fish passage channel created in the middle by 2018.The good news with the Scoby Project is that the upper river supports both miles of public fishing rights along with miles of suitable spawning habitat that already boasts robust populations of wild rainbows (some have been wild since the initial rainbow/steelhead stockings in the late 1800's) along with solid populations of wild browns. The upper river is truly a coldwater salmonid haven.




As anyone who has fished for wild steelhead before can tell you, there simply is no alternative to wild fish. They are more aggressive, move further to take a fly, and fight harder than hatchery stockers. As an added bonus due to feeding on insects on the surface of the water as young fish, wild fish are more likely to take a skated or waked fly as adults.




For more information check out the following links:

 http://news.wbfo.org/post/dam-project-will-help-fish-block-invasive-sea-lamprey#stream/0




http://springvillewhitewater.org/assets/pdf/SpringvilleDamDPR5_22_2014.pdf





0

/