Shopping Cart
Your Cart is Empty
There was an error with PayPal
Click here to try again
Thank you for your business!
You should be receiving an order confirmation from Paypal shortly.
Exit Shopping Cart
Guided Fly and Spey Fishing Trips for Steelhead and Brown Trout with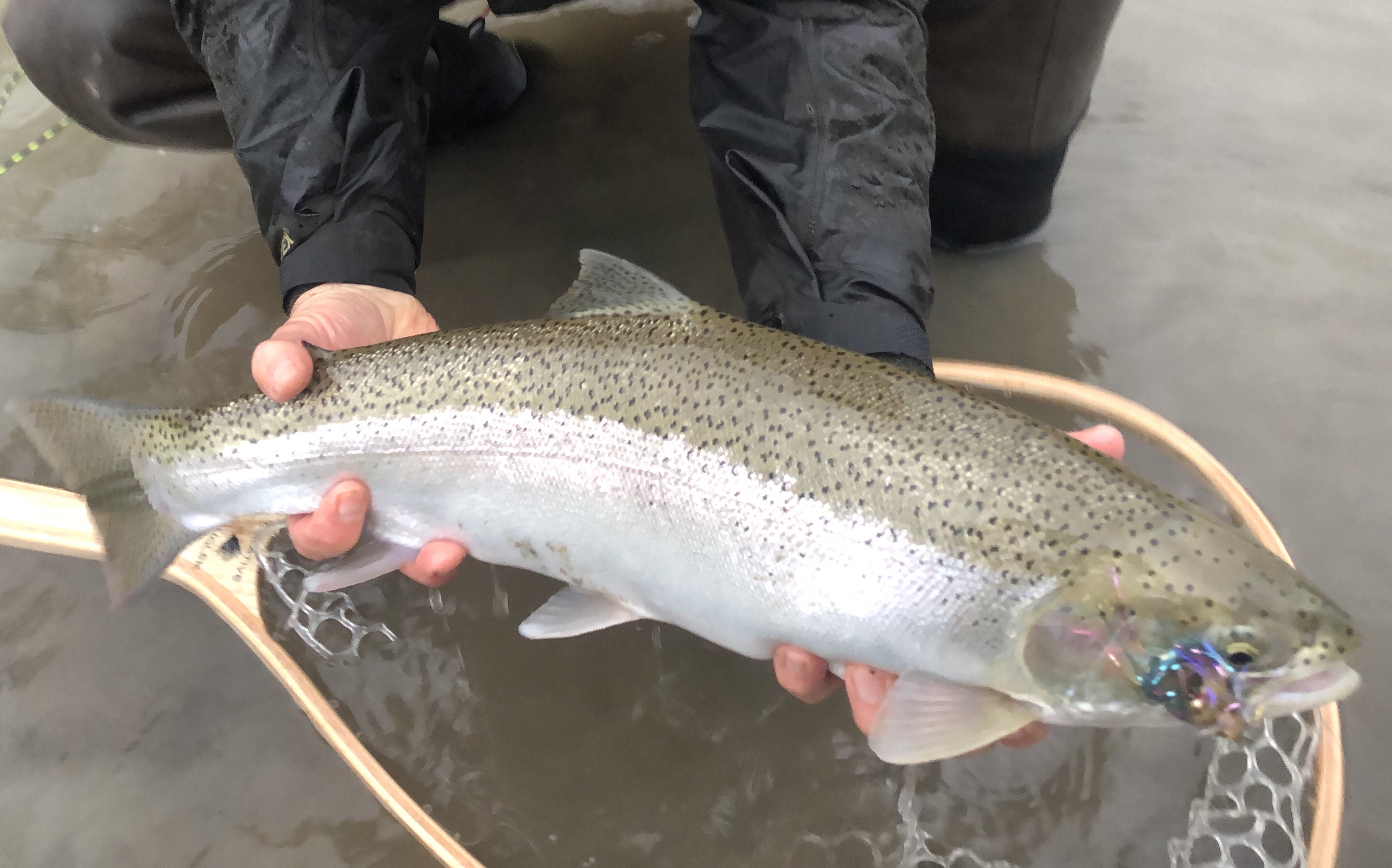 Solid fish on the hangover
Well we're marching along into fall. The fishing continues to be productive if you can adjust and know how to fish low, clear water. Over the past week, we've had ideal water temperatures for very active fish, along with the persistent low flows. In that time we've hooked fish skating dries, swinging clear floating or clear intermediate polys, and even a tip here and there. Despite the low flows, there are good numbers of fish in the river.
The game is stealth mode. If you're going to swing a sinking tip, do it early before the sun gets on the water (if it's a sunny day). Once the sun gets up, back down to clear tips, and long leaders. Natural colored speys are working well. Don't be afraid to skate a dry in choppy pockets. Now's the time to get surprised. Case in point, Jeff was fishing around us. He came to a pool that had been worked through by indicator fishermen and spey fishermen and hooked and lost one on a skated dry. That fish had seen pressure. Yet it still ate off the top. And not just once. The fish ate it twice in the same swing before he hooked it the second time. Unfortunately, like a lot of dry eaters, it threw the hook early. I don't know what it is about fishing that way but you land a lot less than you hook and you hook a lot less than you rise. Props to Jeff for at least sticking his first on the dry.
Looking ahead, we got weather coming through. Hopefully it will really get things rolling, though I don't mind the conditions as they are if you just adjust a bit. But more water will help bring more fish in and get the ones already in moving up higher. That will help the fishing.
Tight Lines,
 - D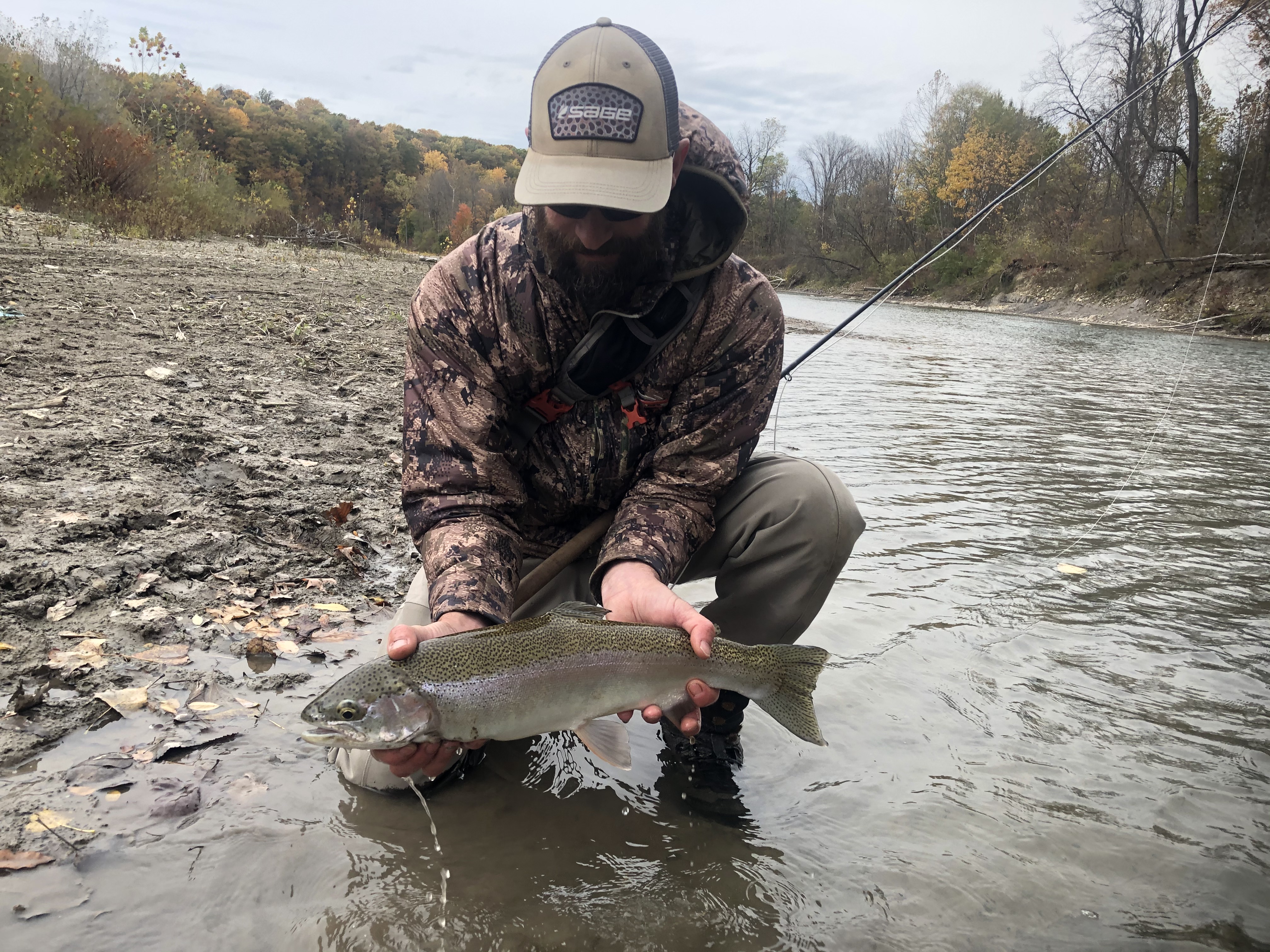 Jeff with his first of the year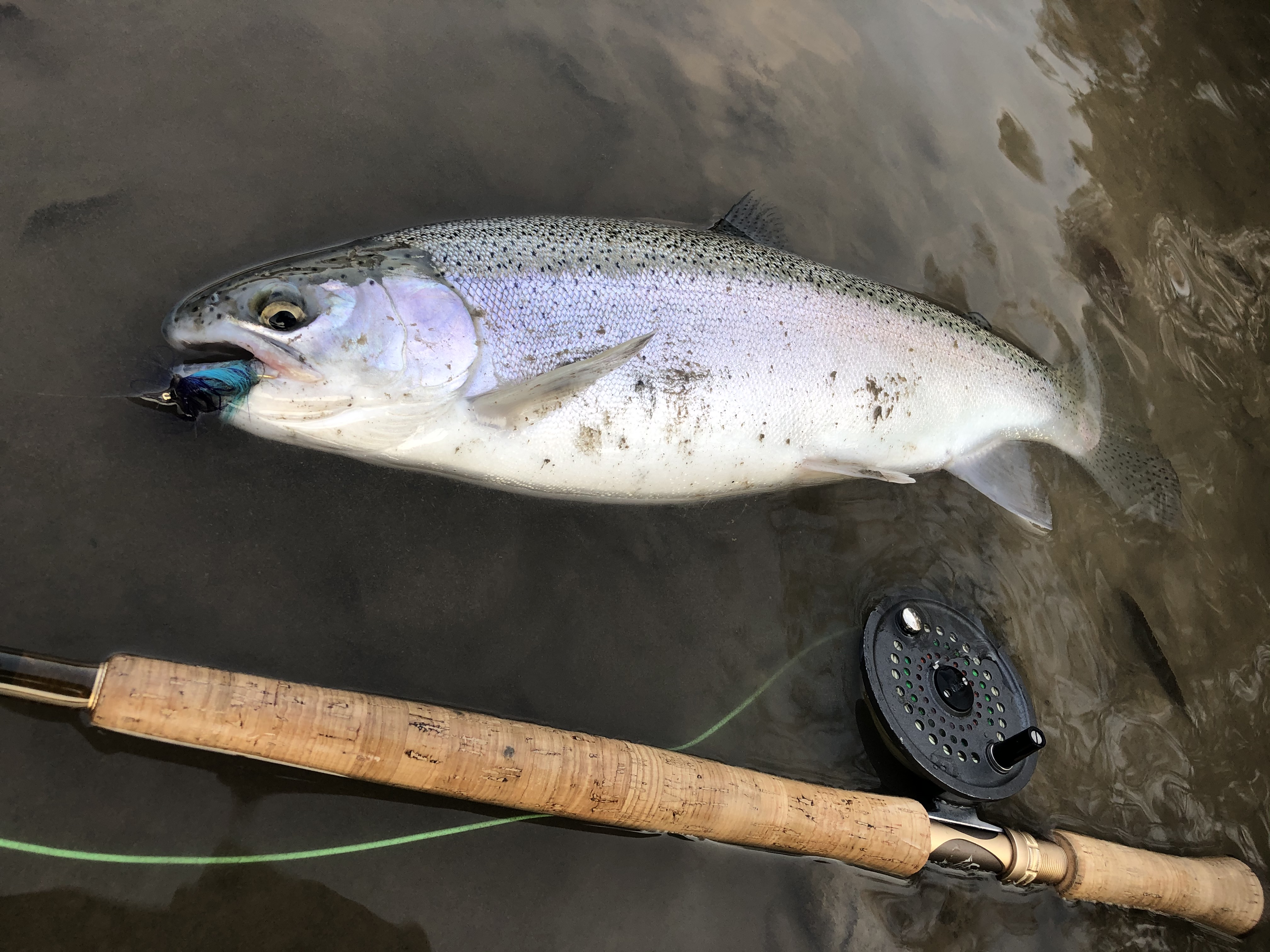 Perfect fall steelhead on a blue and purple spey
Despite the very low and clear water, there are decent numbers of fish. With flows this morning hovering just north of 100 cfs, I figured early would be the game. Started a nice mid-river stretch of pocket water, good early season floating line water, with a traditional blue and purple spey pattern on a size 4 Alec Jackson. I started out with a 14' clear floating poly with about four feet of 1X, but after a while I decided to shorten up to a 10' floating poly but lengthen the leader out to about 7 feet tapered down to 3x. I liked the initial length I was fishing, but I was afraid that with the shorter leader, the poly would be right on top of the fly and the fish might still see it despite being clear. So I switched it up and started working again.
After I made about ten casts, I looked down and saw the head of a big, usually moderately fished run was open and with the sun cresting over the trees, it was still in the shade. My plan was always to work down through all the pocket water and riffles and fish that run, but I started thinking that people usually fish that run and I don't see people fish the choppy water I was casting to. So why not book down there, fish the run first, then come back up and fish all the water through again. Made sense to me.
So I got down in position and started fishing high on the head of the run. The run is set up on a gradual river-left turn with a riffle up top and a trough that forms against the right bank on the other side. It's not a crazy deep trough in the head, particularly in the flows we had this morning. But about four feet off the right bank puts you somewhere around mid-thigh deep. And there are a couple boulders right near the bank on the other side. It's good water. 
As I was fishing through, I was making a conscious effort to not hold the running line against the cork. I wanted any fish that took to be able to pull line from the reel if it needed it. 3x is 3x after all, and I've had many fish break off on the take alone. Lesson learned. When fishing a floating line and super light tippet on the swing, let them take it from the reel. Right as I got into that trough and the current evened out, the fish absolutely annihilated it. It was somehow thrashing on the surface while screaming line off the reel at the same time, even before I lifted the rod. People ask me why I fish the way I do. That's why. You will not find a harder hit than light line on a floating tip on a scandi or long belly. None of the energy is absorbed by a weighted tip so it all goes to the rod. 
The fish fought the way you hope an early fall fish does- long, fast runs with a few jumps thrown in for good measure, and it even briefly got around a mid-river snag as I did my best to lose it. But the hook stayed buttoned, my line held, and I was able to bring it in. Not huge, perhaps four or five pounds, but as pretty and clean as can be with perfect fins. Sometimes you can just tell. 
After that I spent the rest of the morning jumping around to spots and switching it up between a riffle hitched muddler and a foam waker, but none wanted to play all the way up top. But that didn't matter. I got my fish. I could go another year if I have to, but a sink tip won't be on my line anytime soon. 
Check out a few extra pics.
Tight Lines,
 - D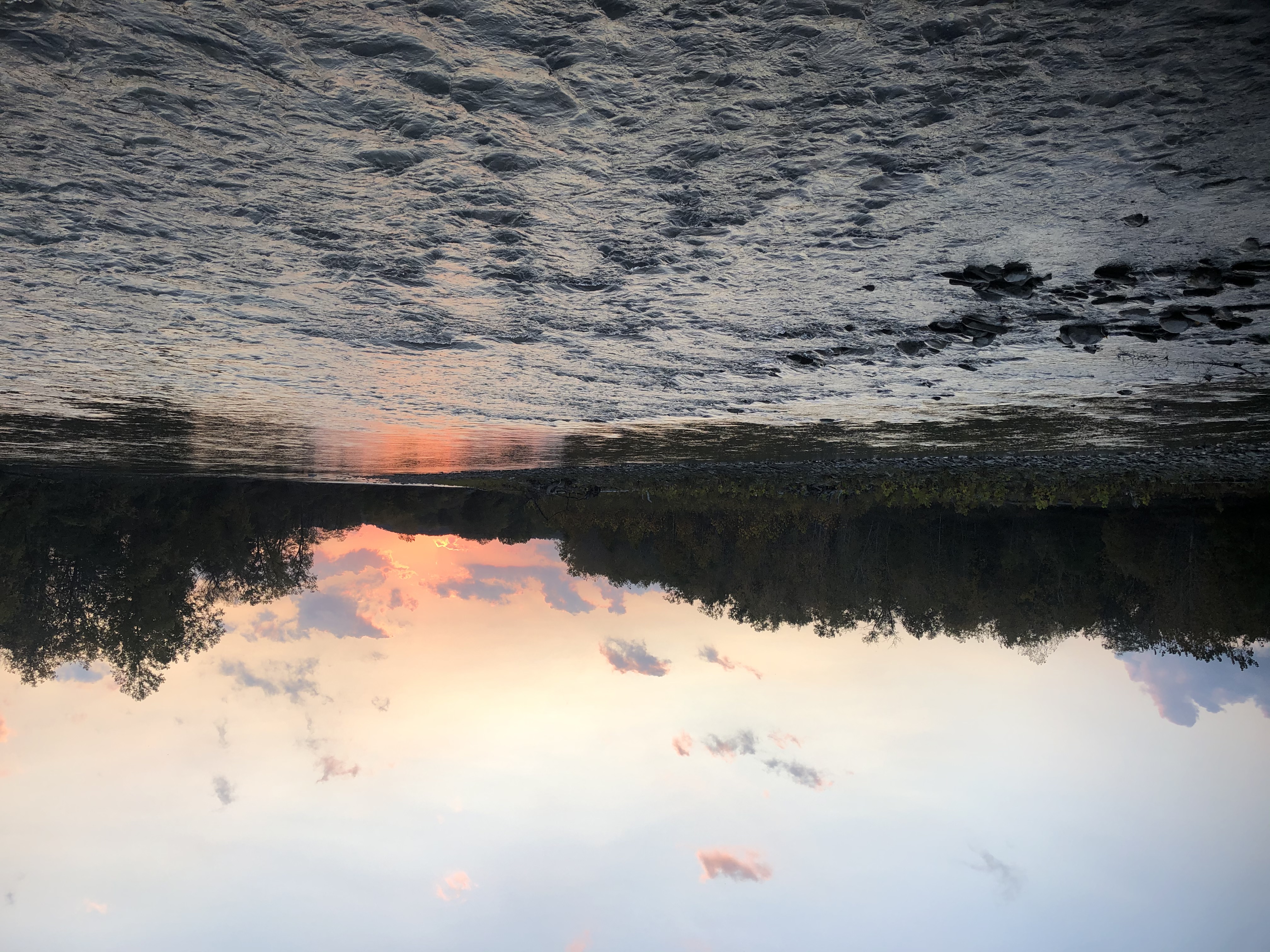 Gorgeous Sunrise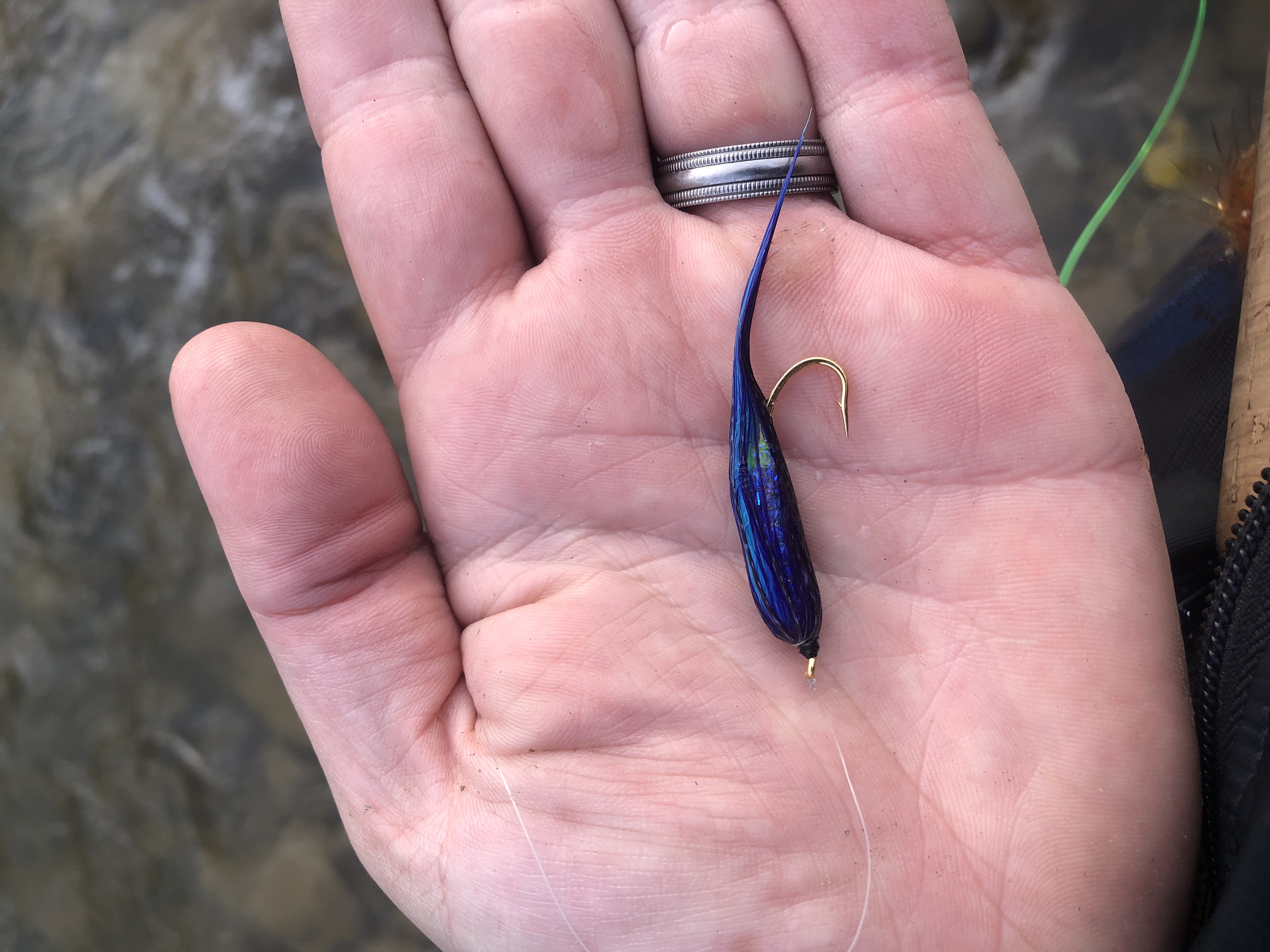 The fly that did the damage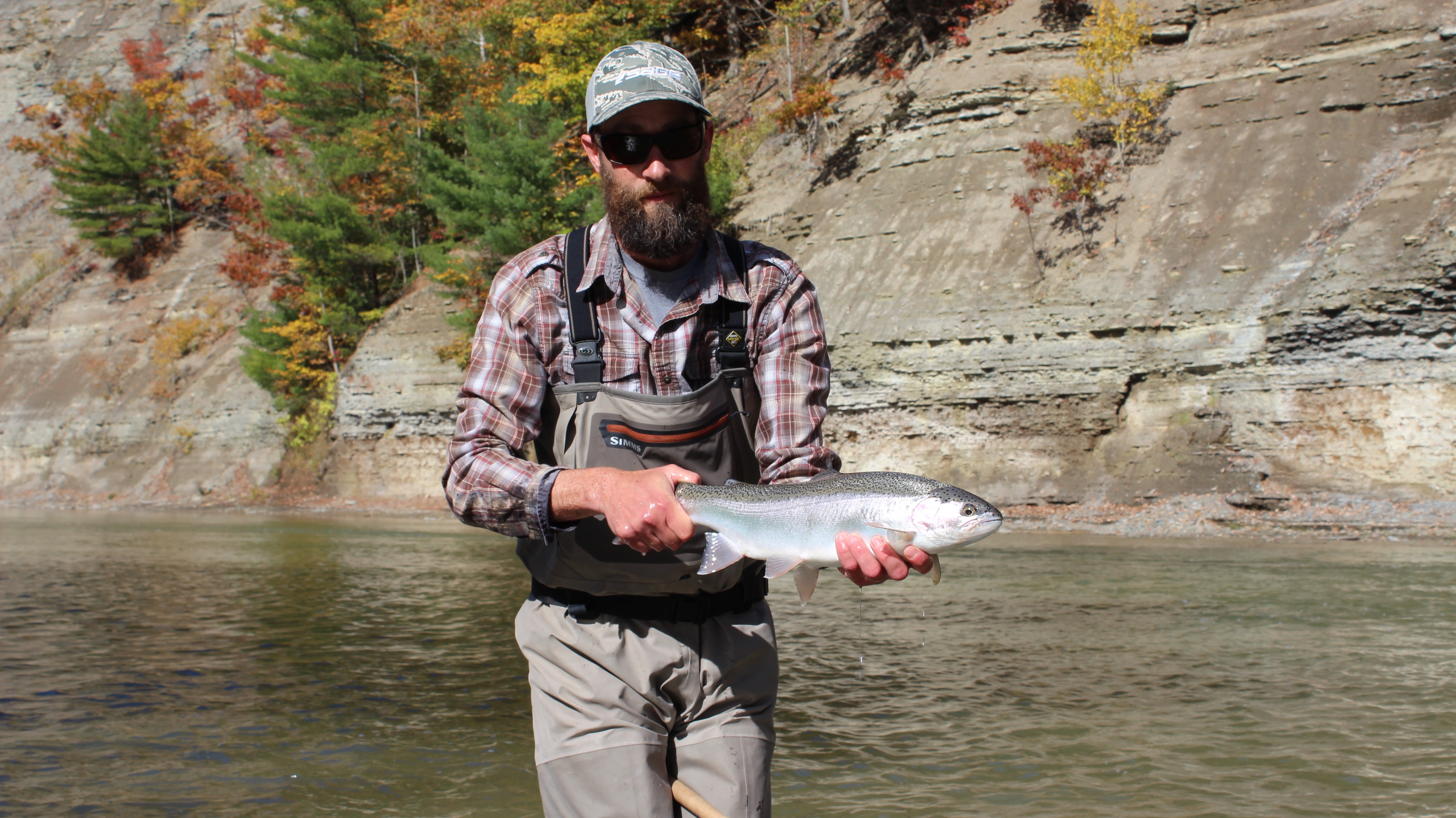 Jeff with a beauty
The last week was the start of the guiding season for us in New York. Early in the week, the water everywehre was very low with low numbers of fish in the smaller creeks and better numbers in the Catt. Due to how low the flow was, we resorted to swinging smaller flies on scandi heads with floating and light sinking polyleaders and tapered tippets down to 3x. It's a beautiful way to fish steelhead, but the light tippets mean lost fish. Before the mid-week rain hit most days yielded between two and four good grabs with about half resulting in hookups, though the fish we hooked broke us off due to the light line. Regardless, it was really nice to be able to fish the floating line for a while, and we even had a really great take on a riffle hitched muddler and landed a good sized resident smallmouth!
Mid last week, we got some very much needed rain in the area. The creeks spiked up and stayed high for enough time to spur on fish movement and really kick off the fall run. As the smaller creeks were dropping and clearing towards the end of last week, we were seeing decent numbers of fresh fish moving through. Not the big push of fall run fish by any means, but a nice little run with enough numbers that each decent pool held at least a couple fish and sometimes more. Covering all the water well resulted in multiple hookups from both indicator and swing techniques.
Then the Catt dropped back into shape and we were able to get one really nice day out in the mid river. With the water still being good temperature wise, swinging a scandi and a light or medium sinking polyleader was the key. Due to where fish were holding, primarily in the drop-off behind riffles, having the ability to mend well over multiple current seams was key. This is difficult to do well with a skagit due to how heavy the head is. The fish we landed were chrome fish that looked like they hadn't been in the river long. I expect that many of the fish that were holding from Gowanda down due to the low water have now pushed up into the middle river and will continue working up as the conditions allow.
Looking ahead, we have rain in the forecast today. They're calling for half an inch or more. This will likely dirty the Catt up for a few days, and might stain up the smaller creeks for a day as well. But it will mean that fresh fish should push in again, and that fish that entered last week will have the chance to push up higher into the creeks. All in all, pretty excited for how things are shaping up.
Tight Lines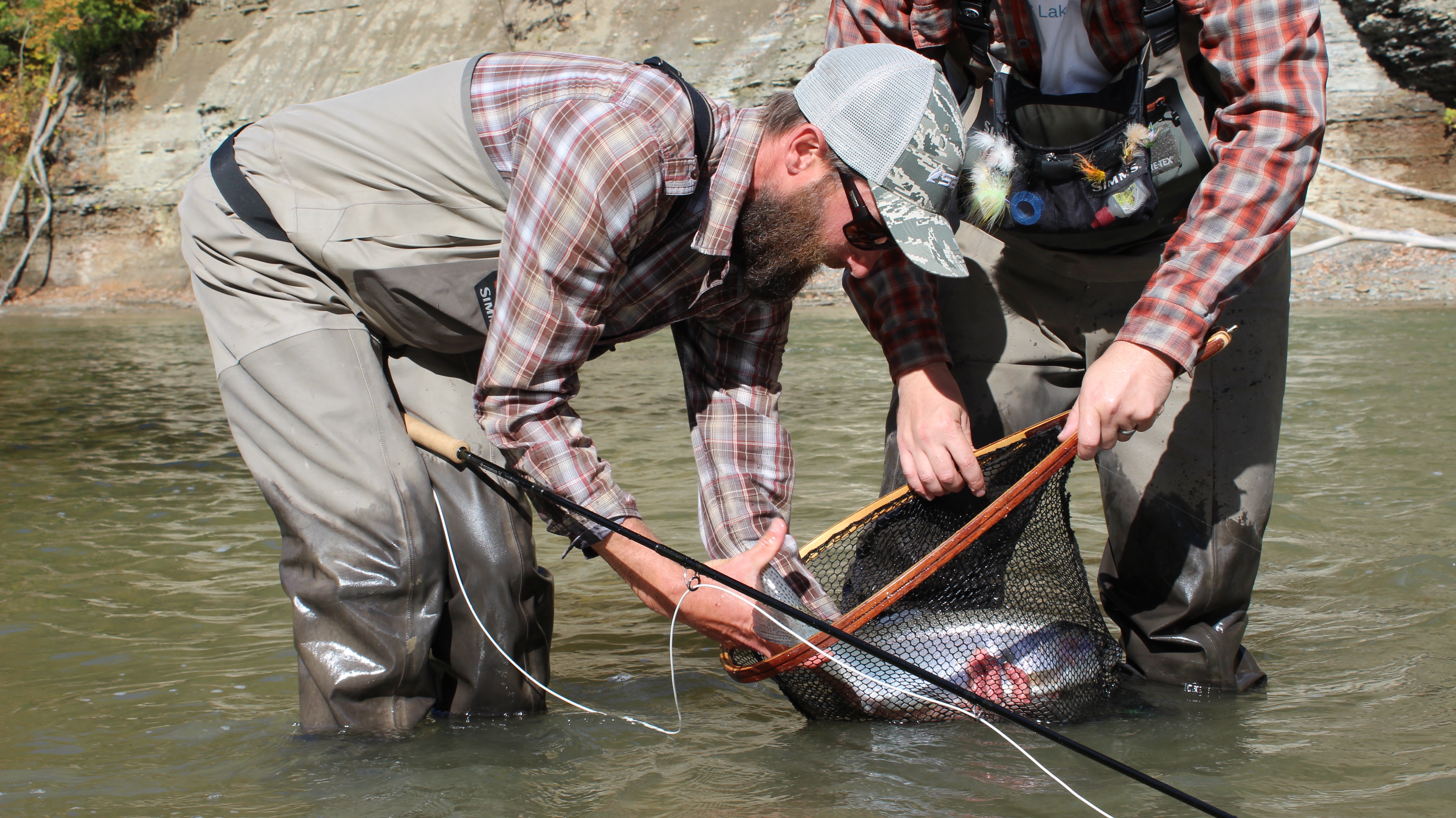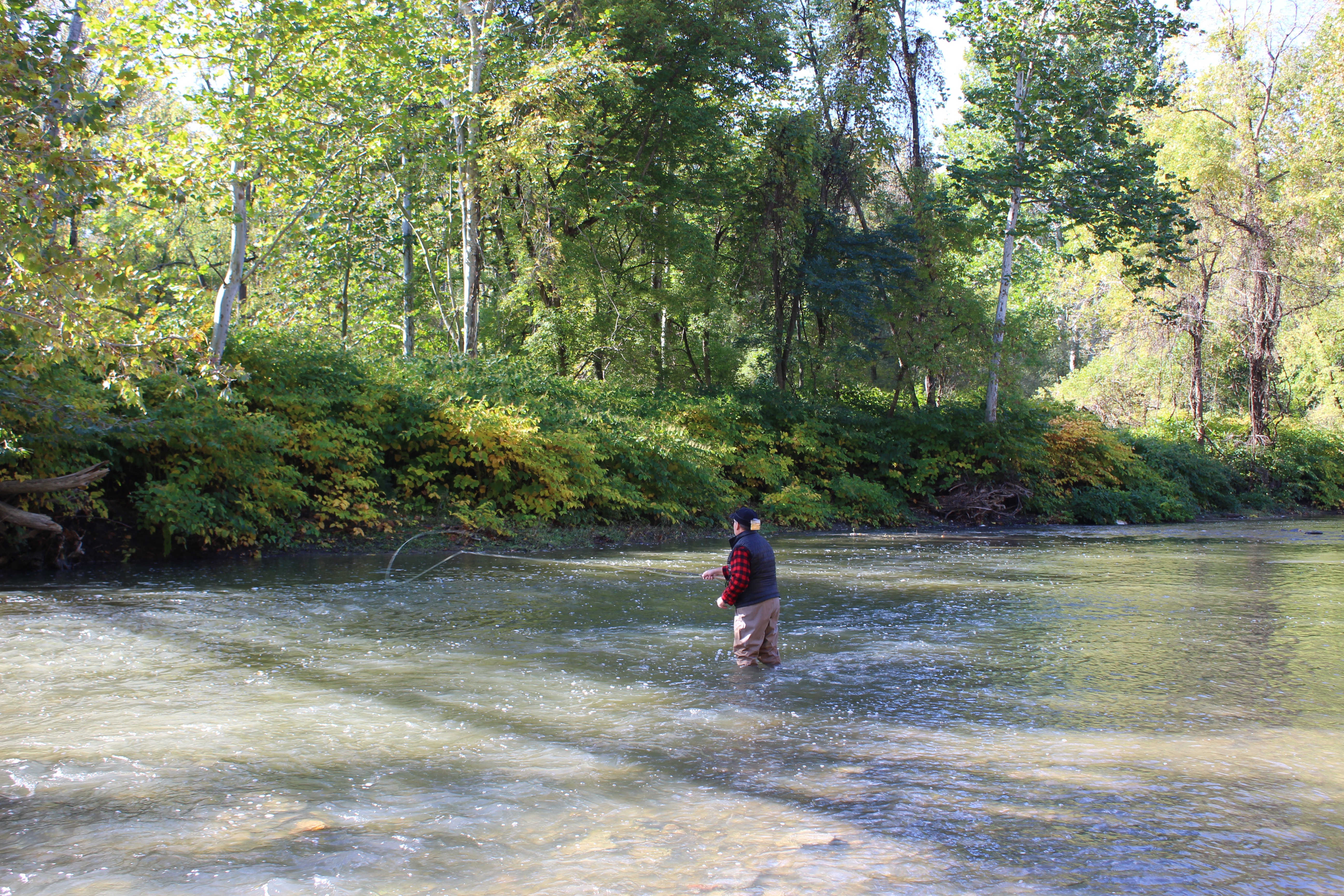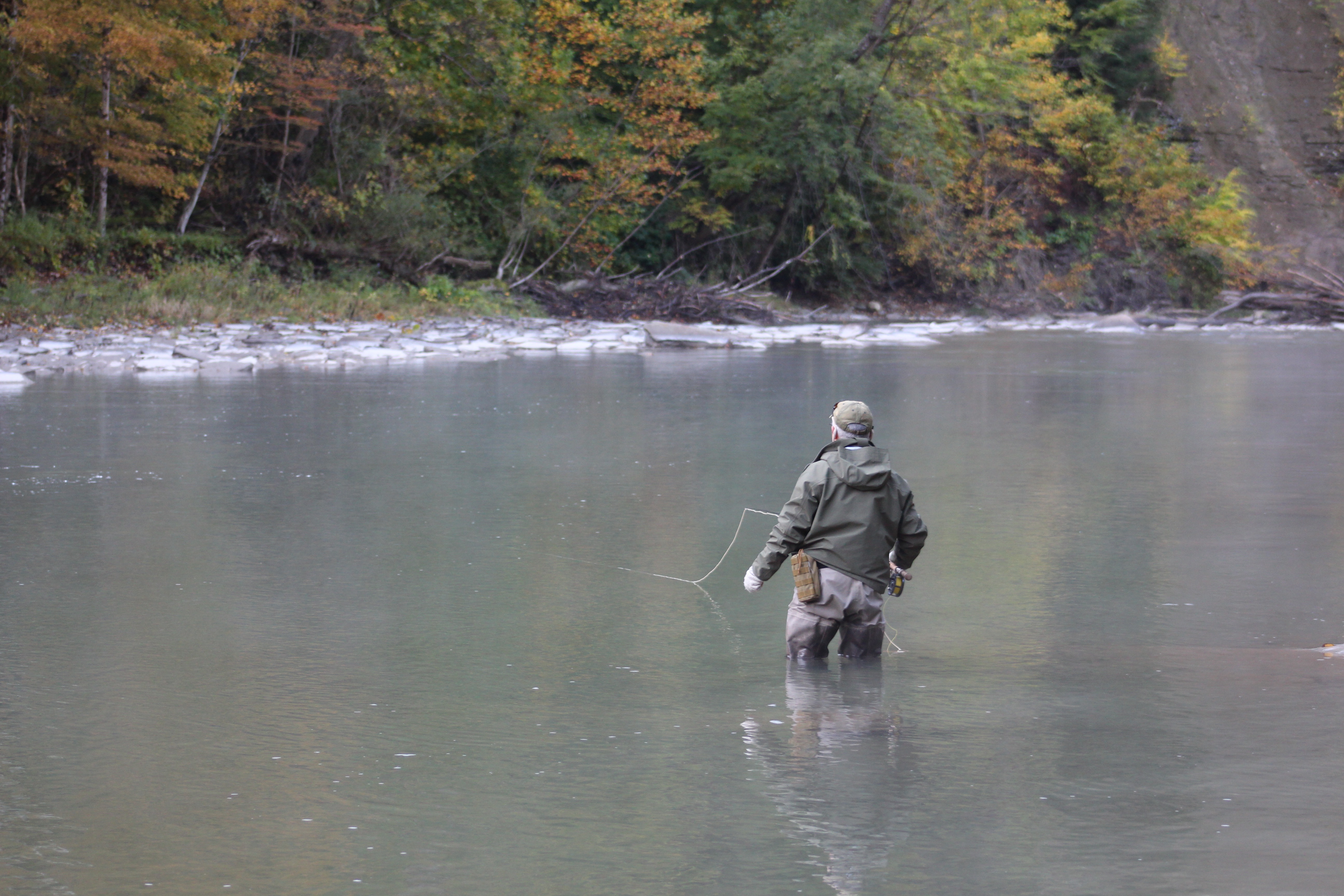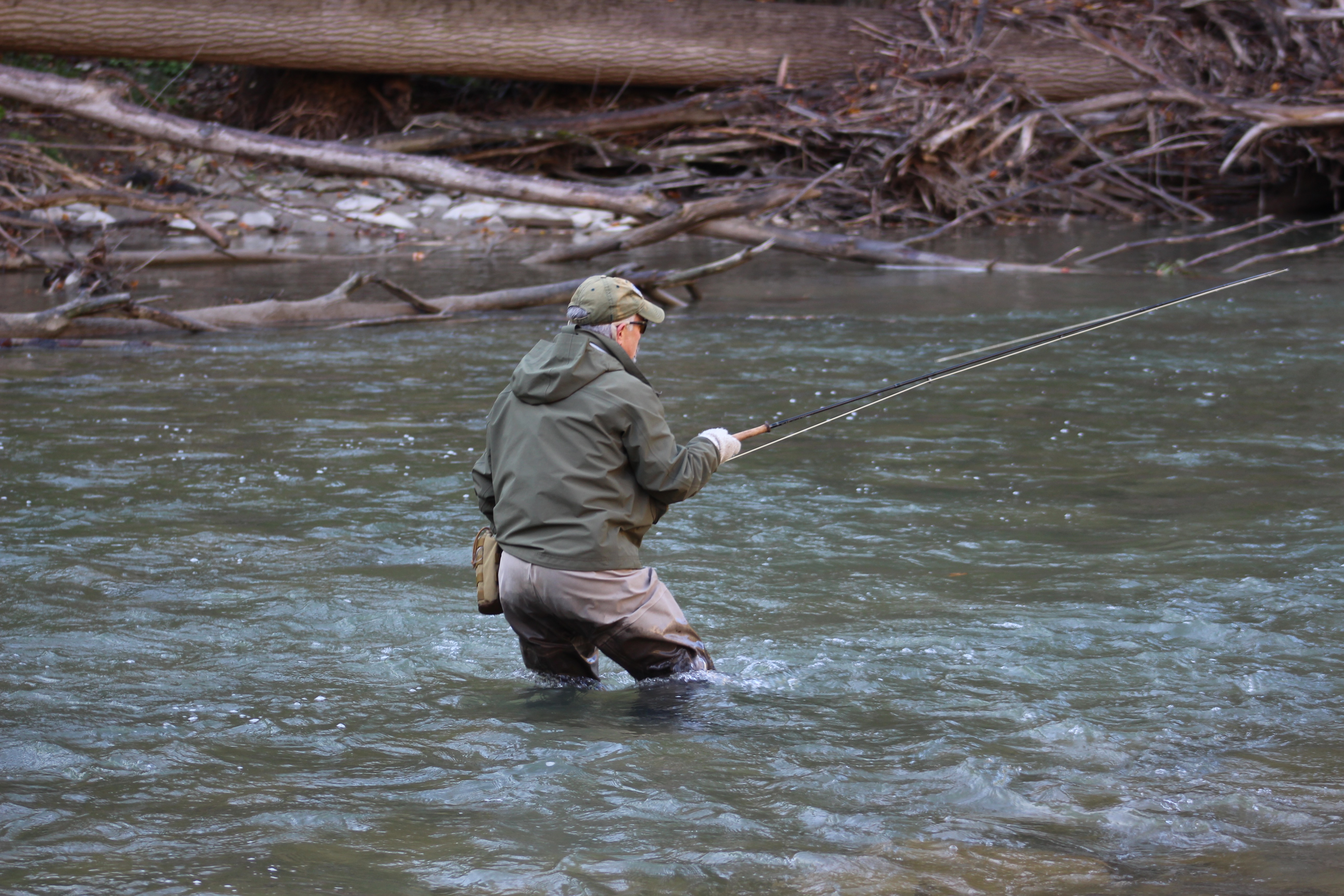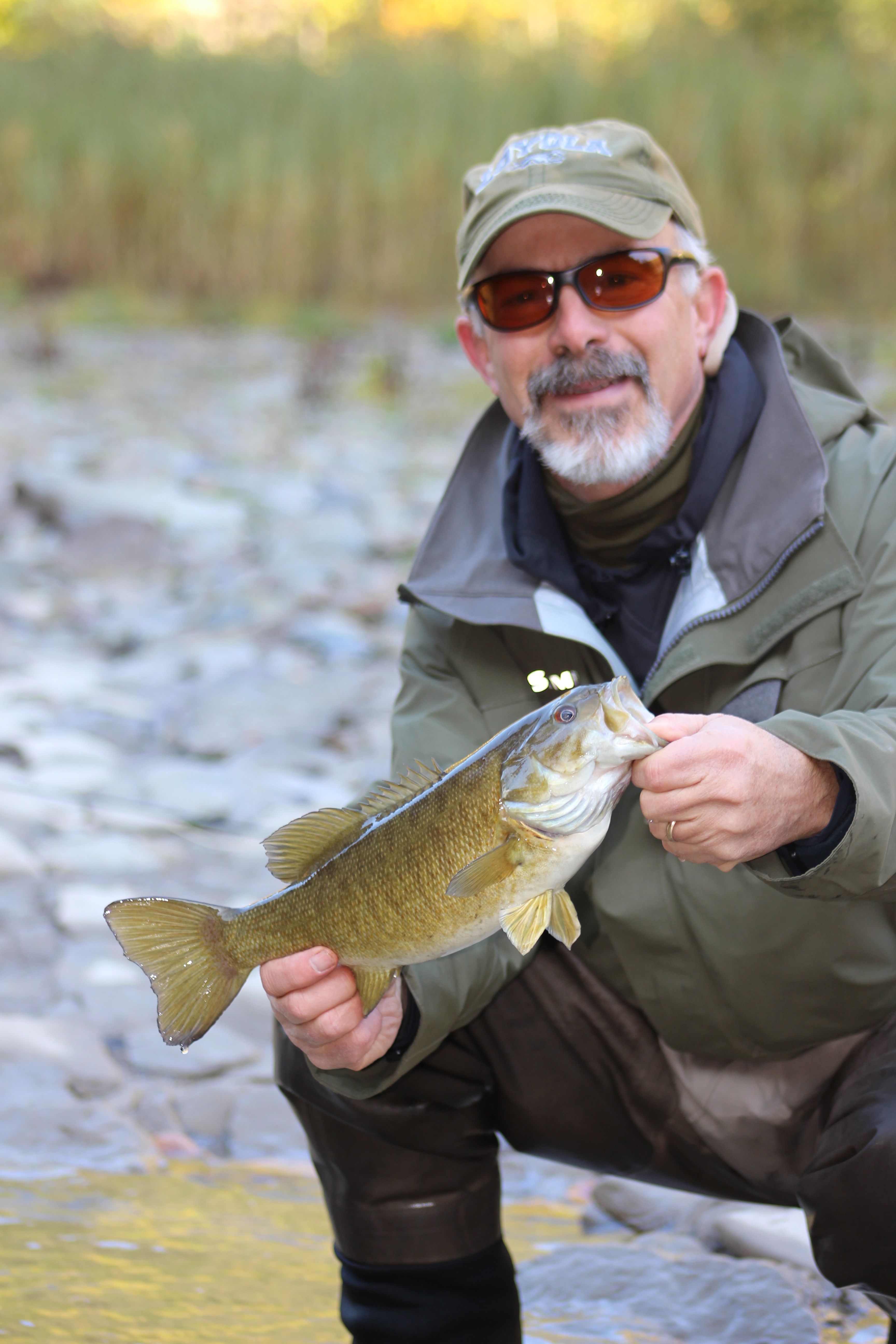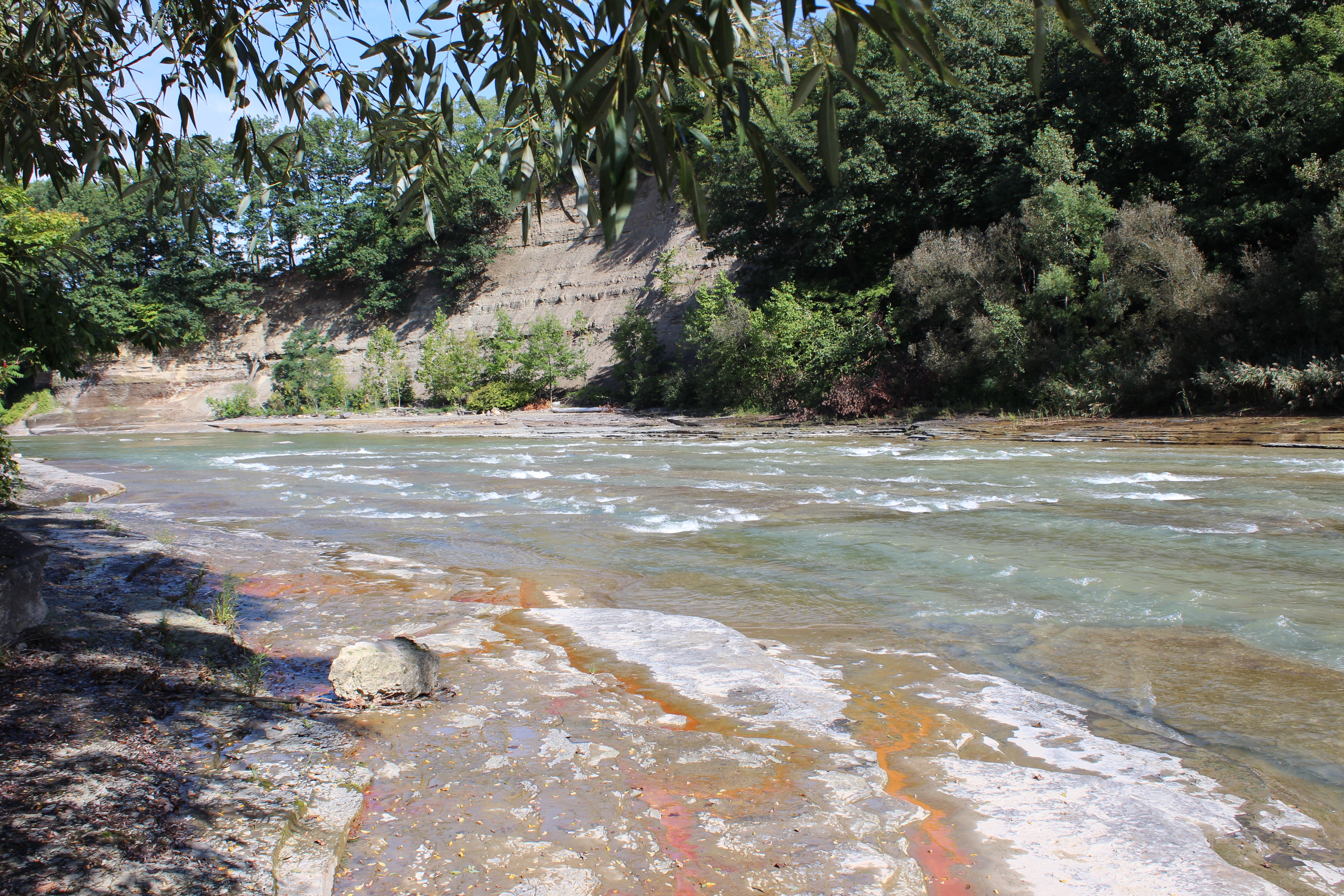 Beautiful stretch
Well spent a little time a few days ago looking around on some of the local creeks and rivers. It's starting to get to my favorite time year, and the best time to be outside as far as I'm concerned. Didn't spot any fish in any of the smaller creeks, which was a bit surprising to me. Though we've had hot weather over the last week, before that we had three cool rainy days that I'm sure pushed in some fish. The nice thing is that all the smaller creeks I checked had at least decent flow so any fish that entered a week and a half ago may have been able to make it up a little higher than I'd normally expect. 
Then I jetted over to take a peek at how things looked over on the Catt. Despite air temperatures above 80 and water temps reading in the low seventies people were out fishing low on the river. I feel like a broken record for saying this, but it's just too hot right now. Looking ahead, though we had been forcasted to drop down into the 60's for highs, that has changed. On Thursday the high is in the mid-80's, and low 80's today and tomorrow. By Friday though that all is supposed to change. Again, hopefully this will be the last bout of hot weather until spring. But only time will tell.
In the meantime, tie some flies.
Tight Lines,
 - D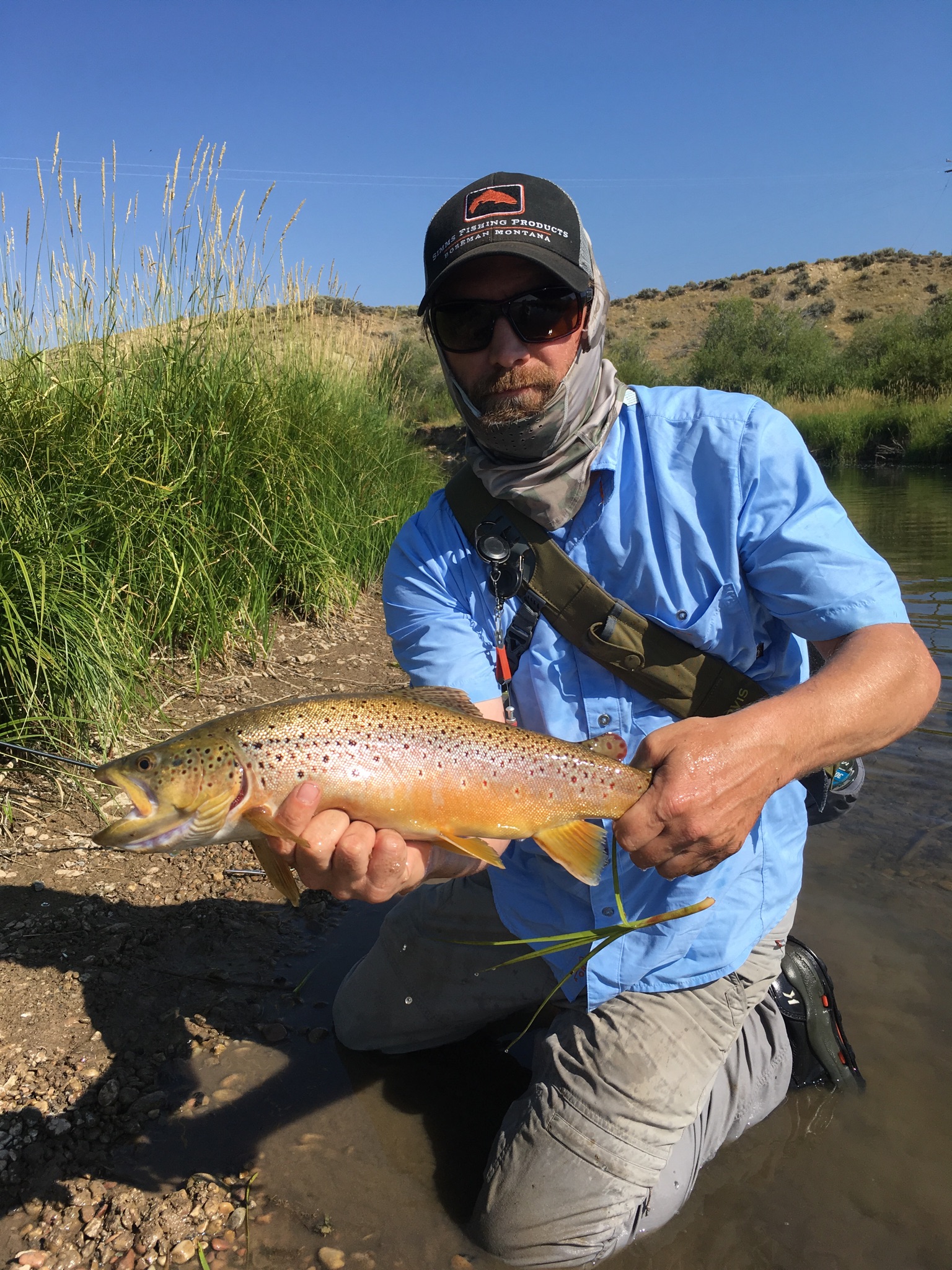 Matt with a really nice brown trout
Well we're at that time of year again. Steelhead season! But before I get into what this fall has in store, Matt and a couple of his buddies just finished up a few weeks of trout fishing out west in Wyoming and Utah. From the pics he sent me, it looks like they had a blast with browns, rainbows, and cutthroat all captured, photographed and safely released! 
Back to business. Last week was miserable with temps in the mid nineties. But what a change happened on Friday! Temps started dropping and by Saturday morning we had temps in the low sixties with rain, and it hasn't stopped raining or dropping temps since! As I write this, it is 57 degrees and drizzly. This front is sure to draw in the first small push of fish, though larger systems are all high and dirty and will remain so for a few days at least. Even the smaller creeks will be off line for a day or two with all the rain we've received.
Looking ahead the rain is supposed to taper off today, and the temps are going to be bouncing back up. By the middle of the week the forecasters are calling for highs in the low to mid-eighties. Water temps will trend with air temps, so if you are planning on getting out and looking around on the creeks and rivers as they drop back into shape over the next few days, please be mindful and bring a stream thermometer. Concentrate fishing efforts during the first few hours of the morning, and if you get a water reading over 65 degrees as the day progresses remember to call it quits.
As for this fall season, last year we had a really consistent run starting about the first week of October. The two week forecast has the temps dropping back down after next weekend into the sixties with consistent rain. Hopefully this next heat wave will be the last real warm spell of eighty or more of the season, but you never really know. If the weather does pan out as called for, we should be in store for another consistent early fall season- which we'd love to see.
Can't wait to swing the floating lines.
Tight Lines,
 - D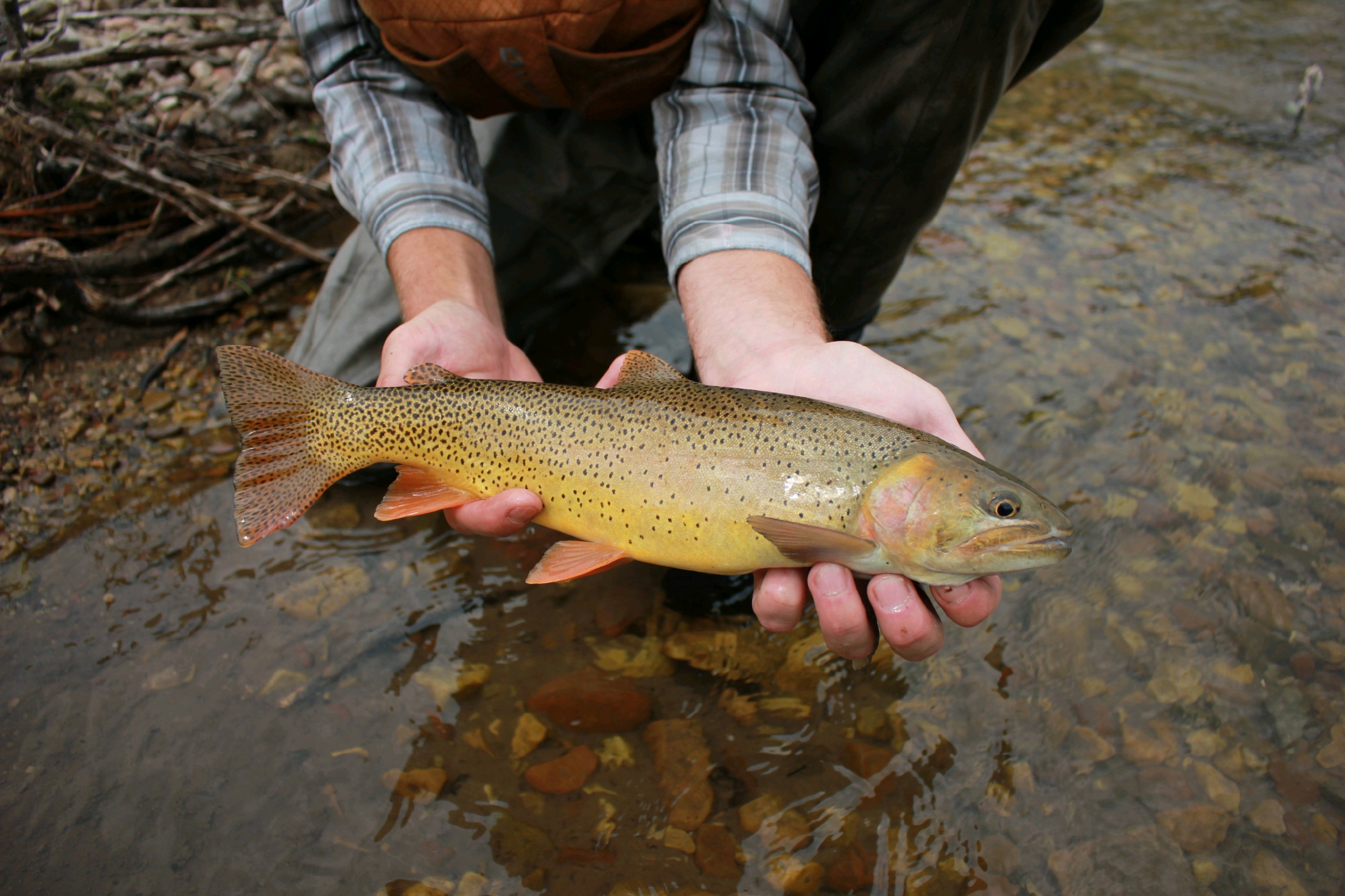 Beautiful cutty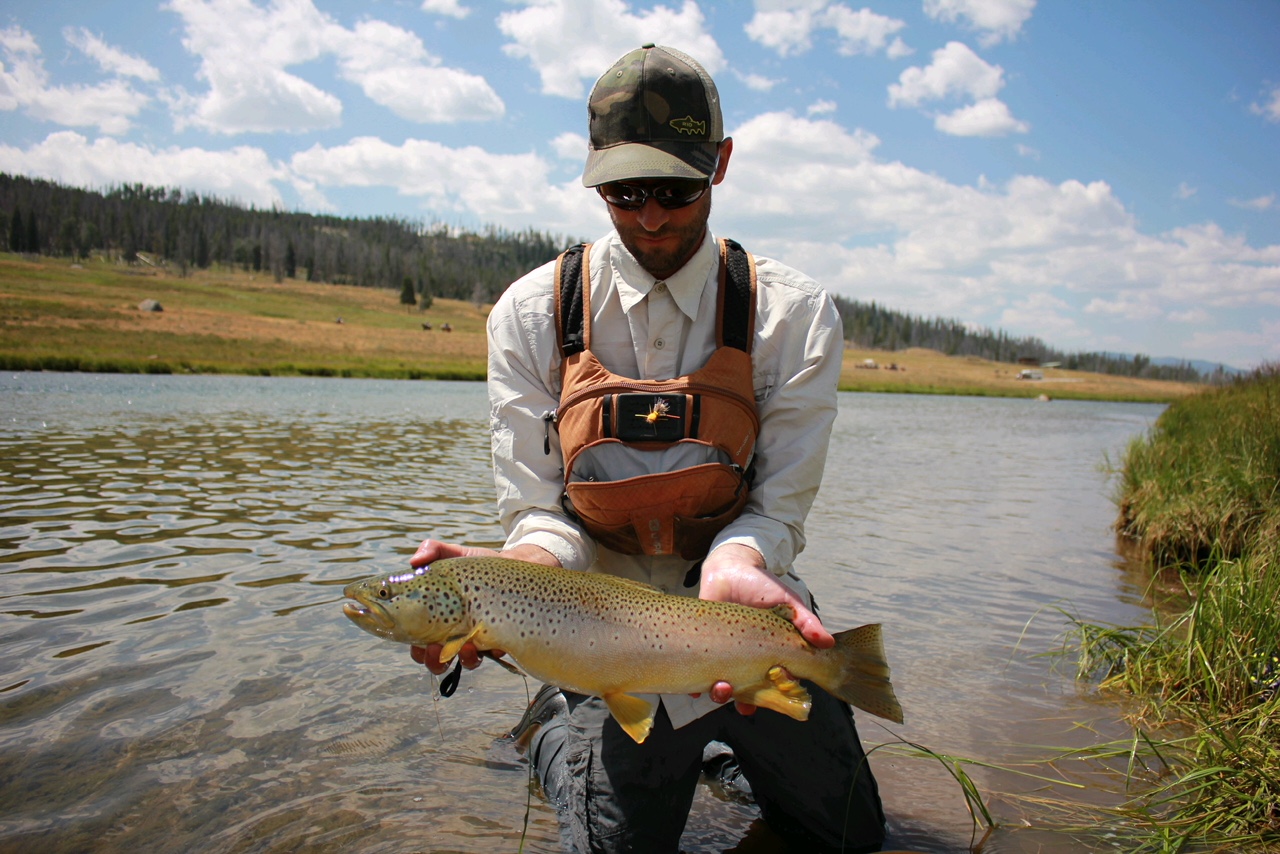 Another great brown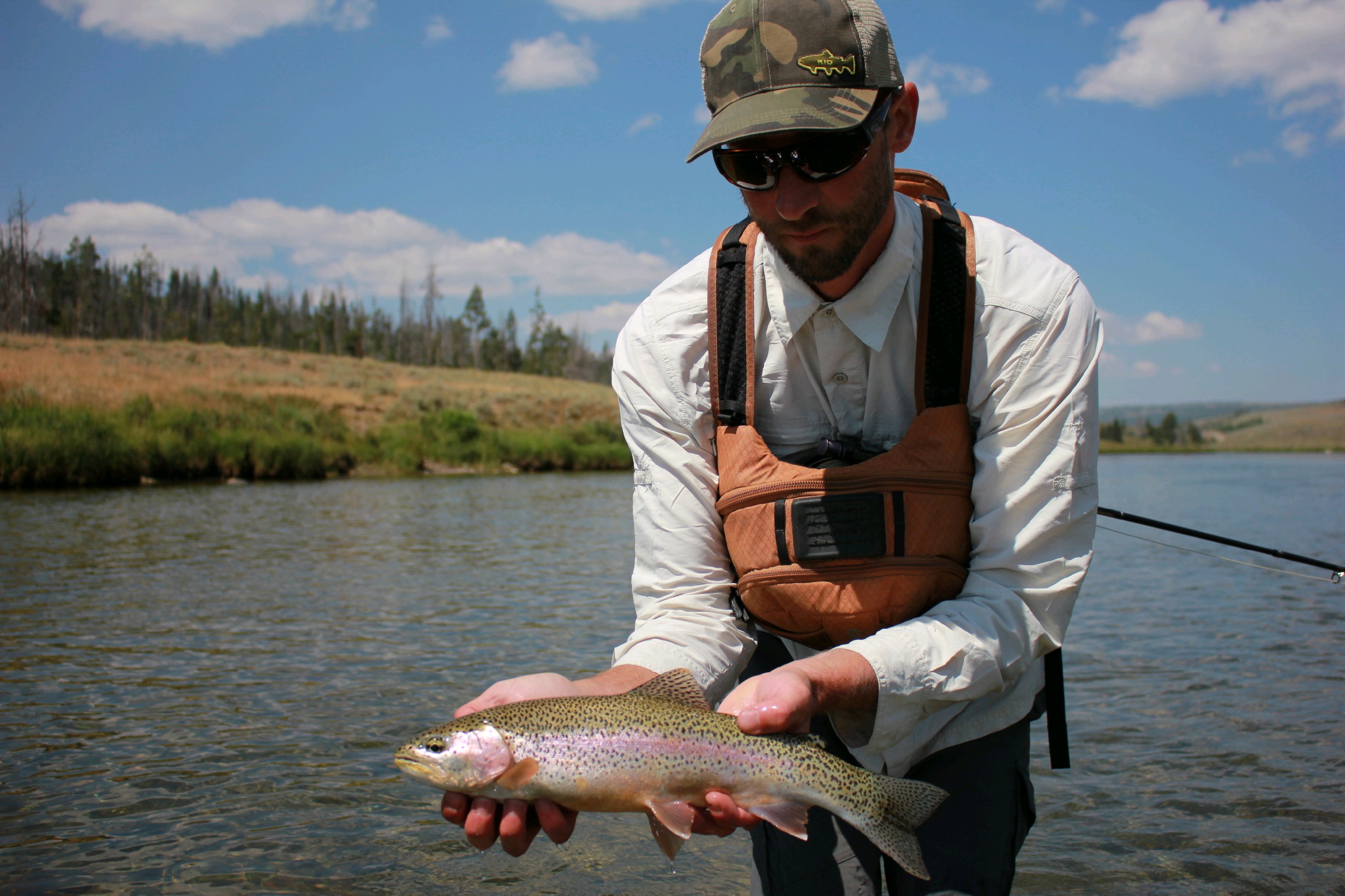 Clean rainbow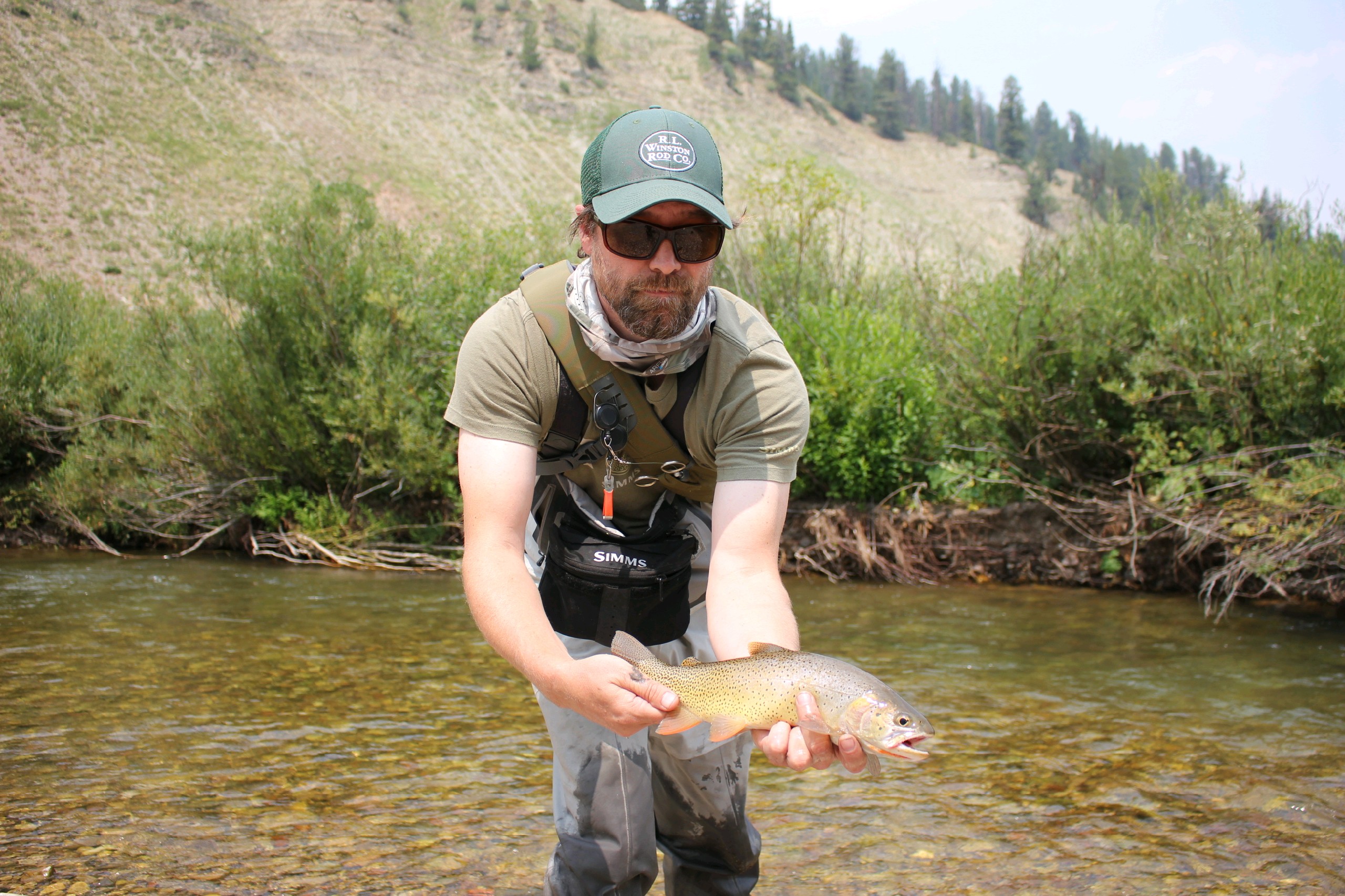 Matt with a well-fed cutthroat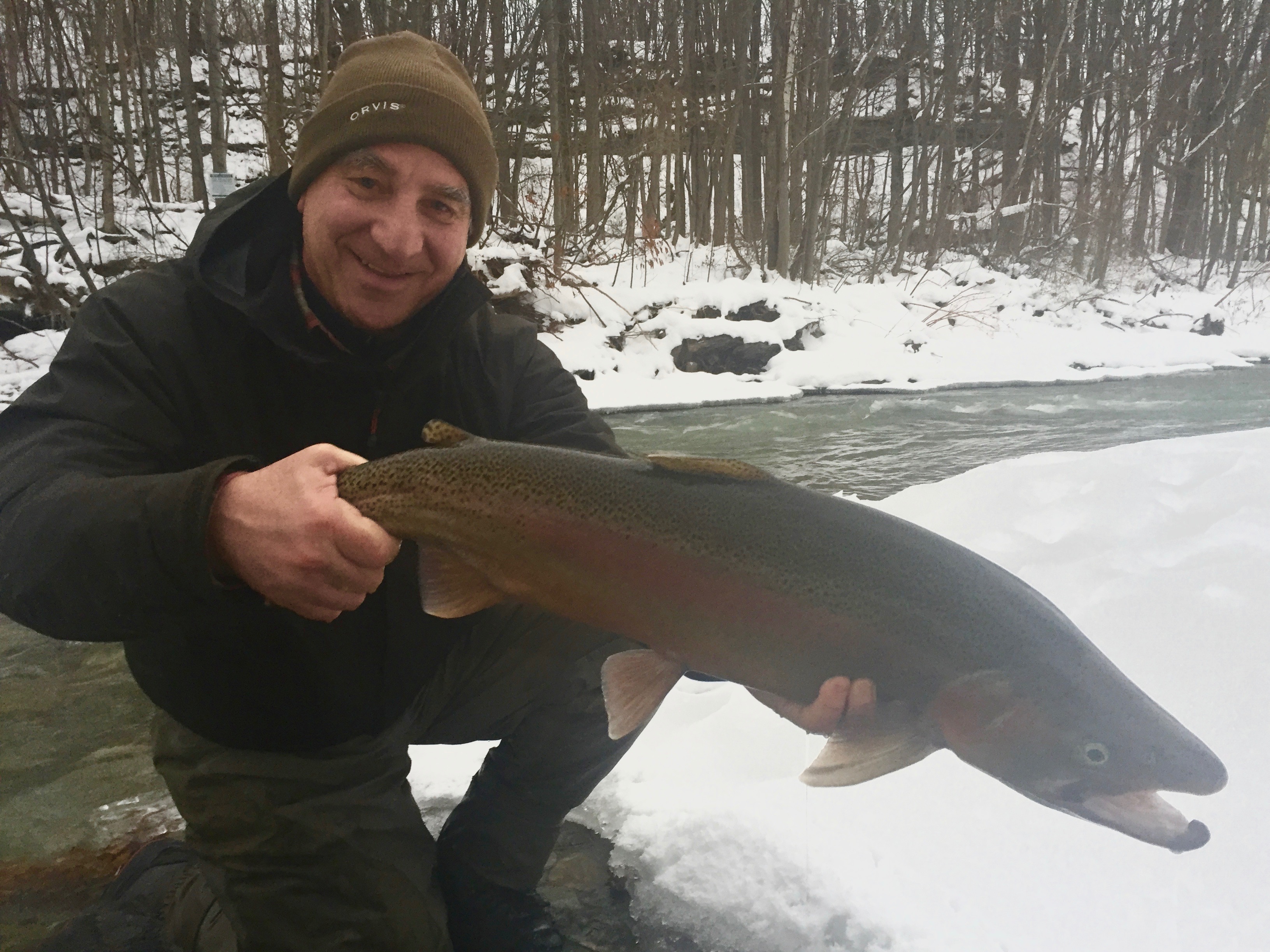 Art with a mid 30's incher
Sorry for the lack of reports over the past few weeks, but Thanksgiving and moving has been keeping me busy. Anyways, fishing remains really good. Art came back up for another trip. Needed a few more steelhead to tide him over until spring! And we checked out a number of spots. Fish in all of the usual places. We're seeing a mix of fresh chromers and colored up fish that have been in the rivers a while, so that's nice. Also finding a few XL's in the rivers too. Over the weekend we got 2 in the mid 30's length and low teen's weight. Haven't seen this many fish up to around 35-36" that I can ever remember as we have in 2017. They aren't everywhere, and the average fish seems to still be between 26 and 27" but the big bucks are around if you see enough fish. We lost a couple and landed one in the spring and lost a couple and landed a couple here in the fall. So those back to back warm winters and long growing seasons are starting to pay off.
I even got to swing up a fish on the Catt that Art netted like a pro. Right now the flow is good but the water is really cold. The fish I swung up ate in 33 degree water. If you want to swing, fish the slowest water possible where you can still get a swing. Consider using a lighter tip to really allow swinging slow water, and fish far back into the shallow tailouts. In cold water black and blue have been my best producer, and surprise surprise the fish on Saturday at the whiskey hangover.
Looking ahead, we have some really cold weather moving through in the next few days. This will cause some ice problems on the smaller creeks, but we should be able to get through it. By next weekend the weather looks like it's back in the upper 30's and low 40's. Snowmelt may also cause some problems though, especially if there is some rain. But the fishing is still really good, and should stay that way until we do get locked up with ice for the season (if it happens).
Enjoy the rest of the pics, and tight lines
 - D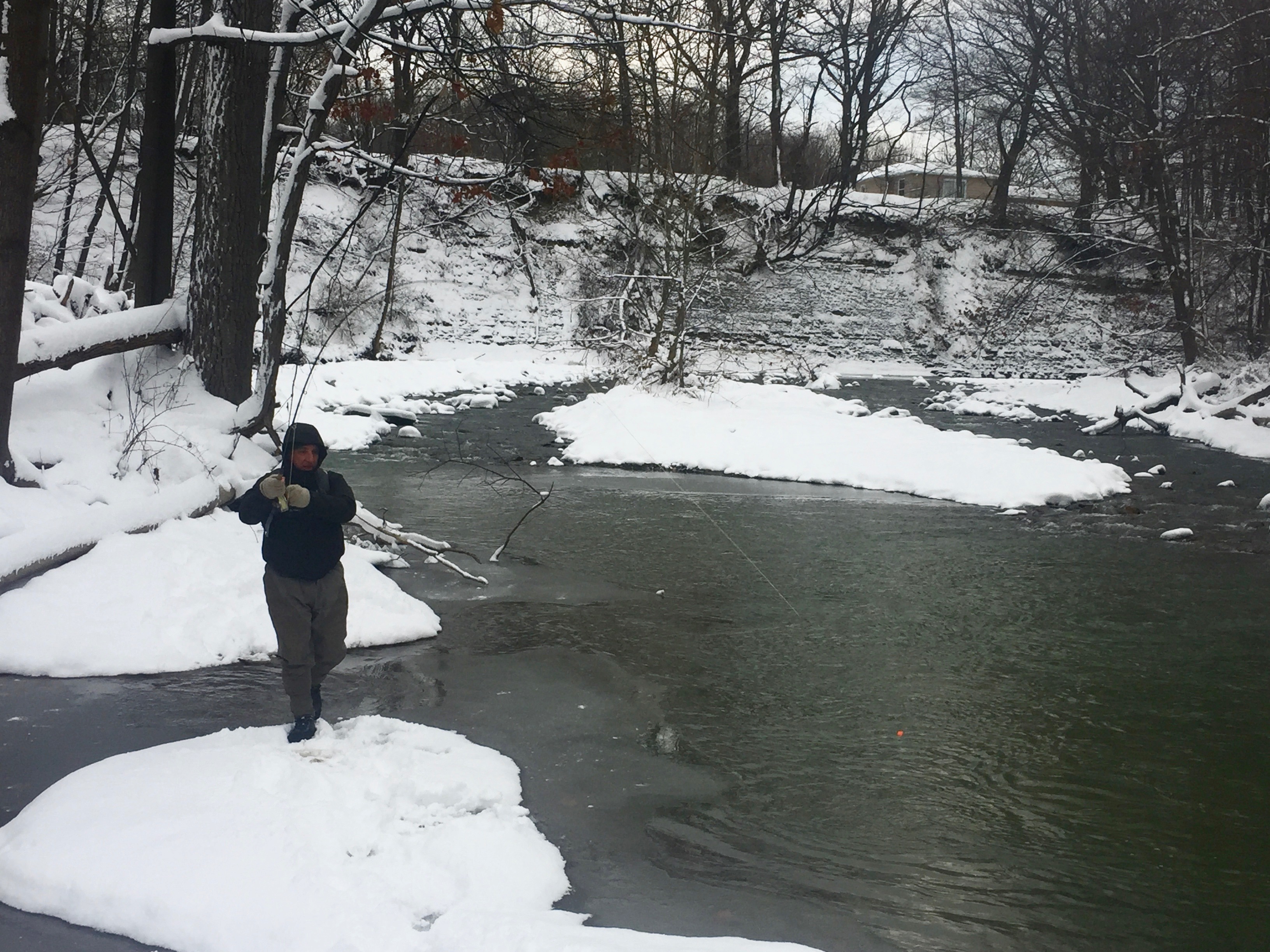 Art locked on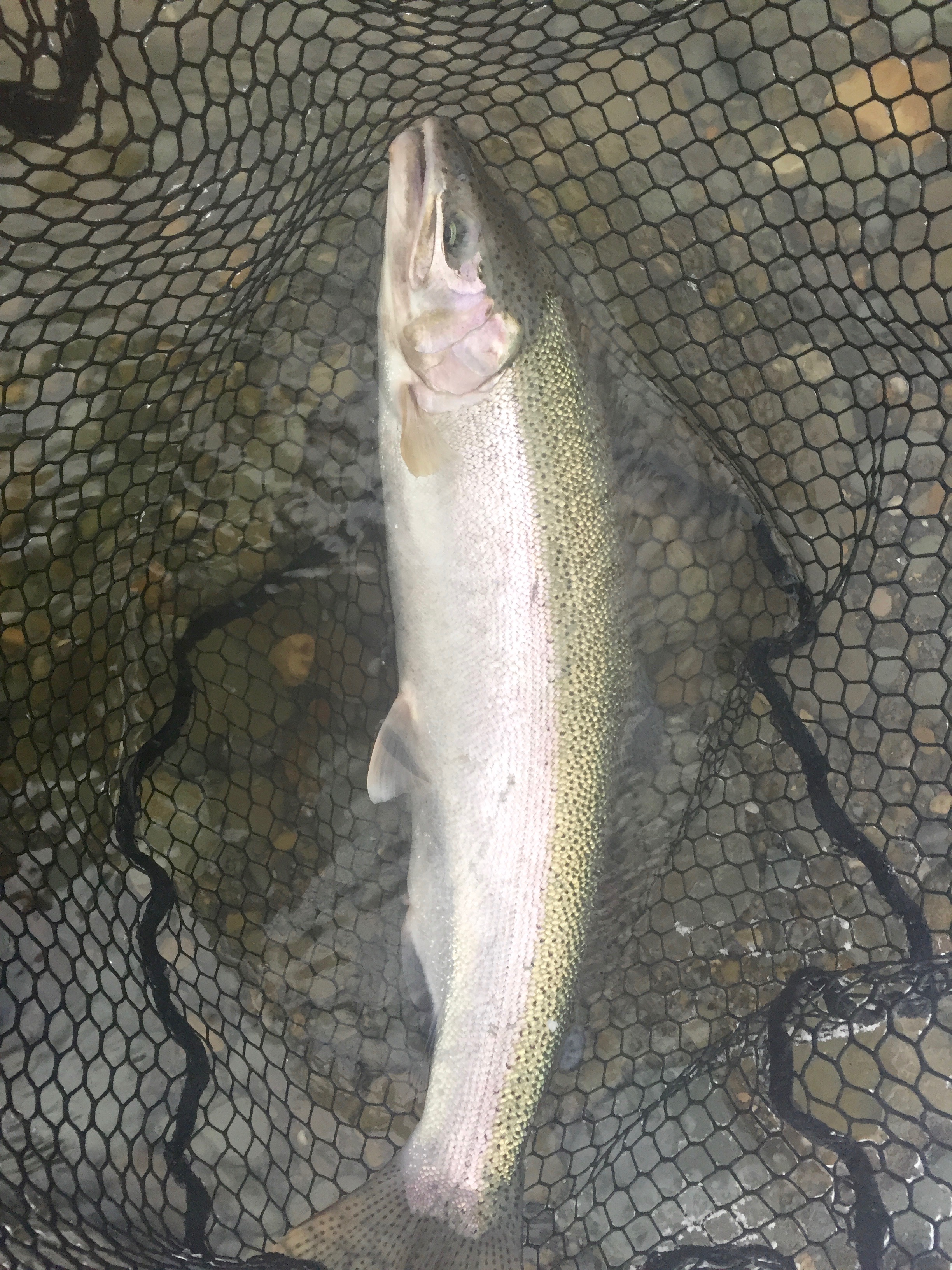 Nice fish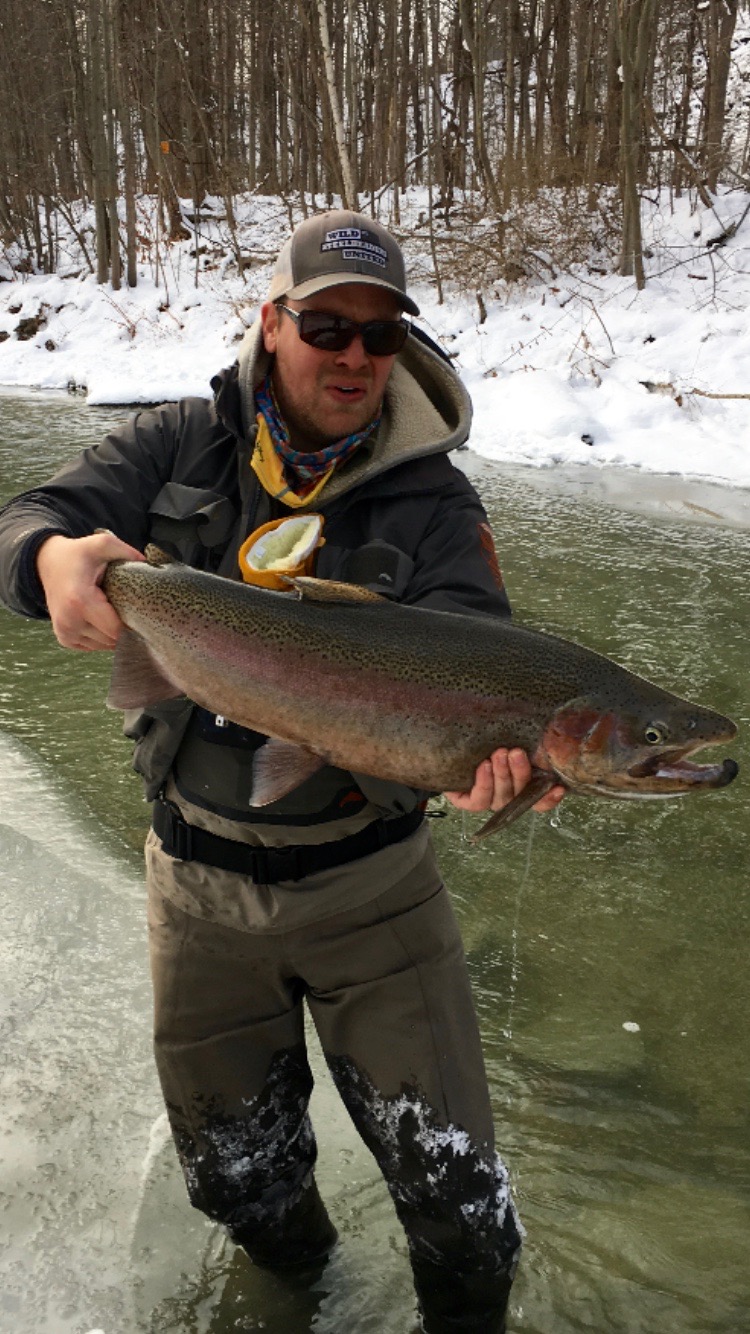 Me with another one of Art's toads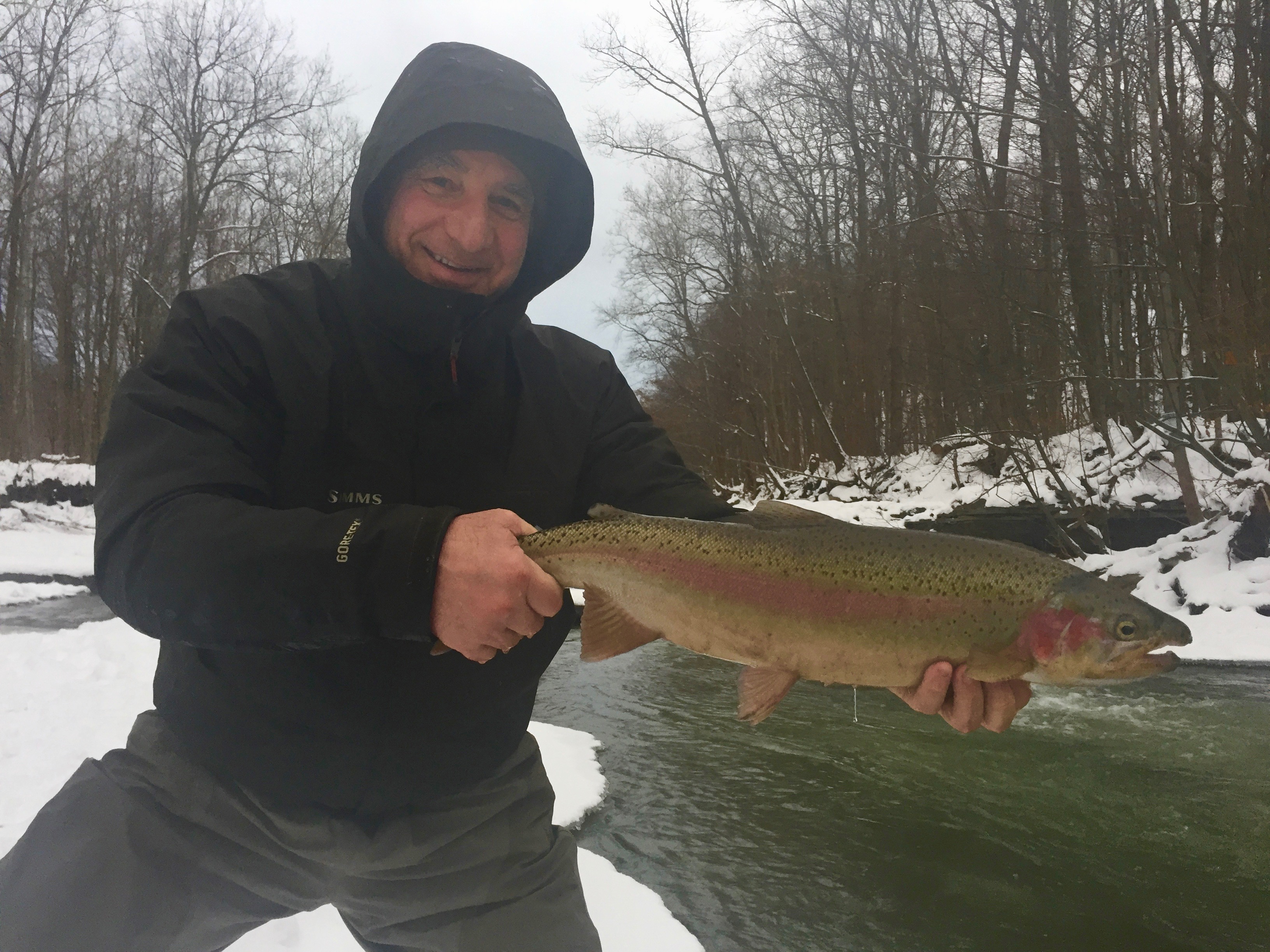 Pretty fish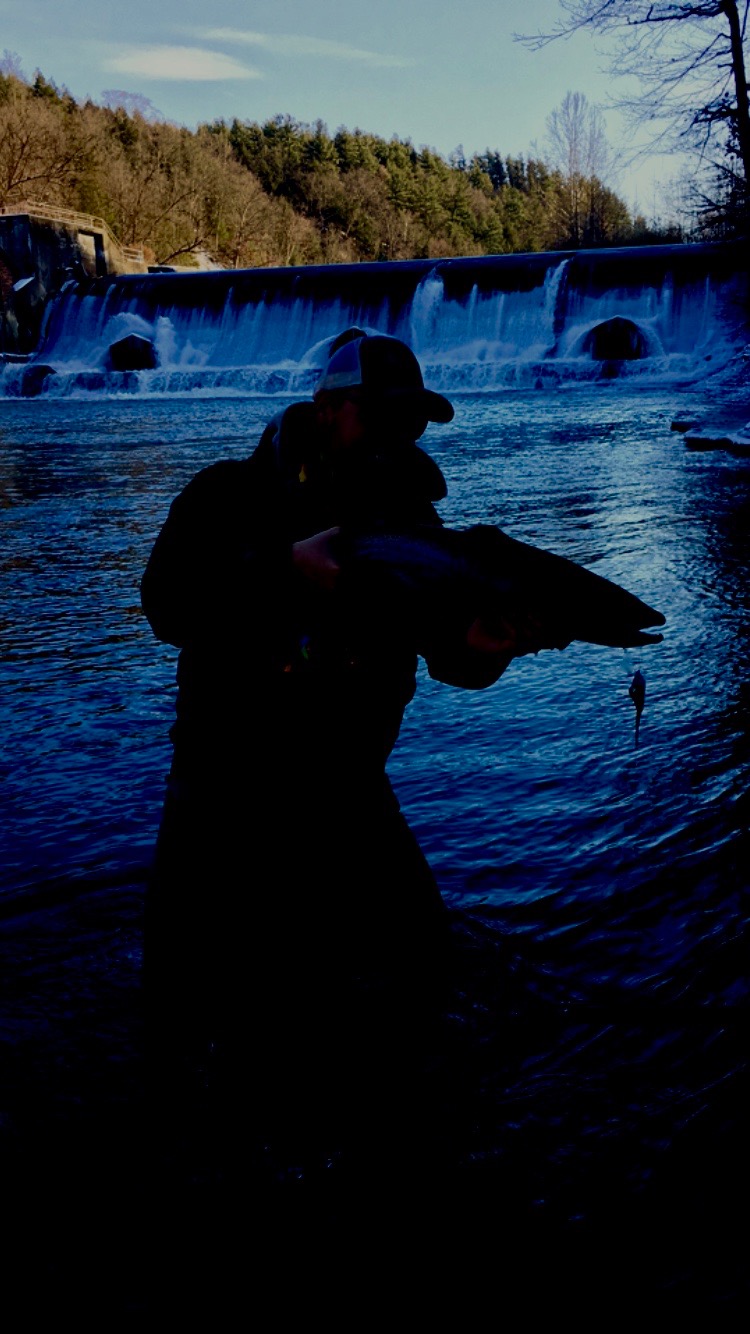 Art even let me swing one up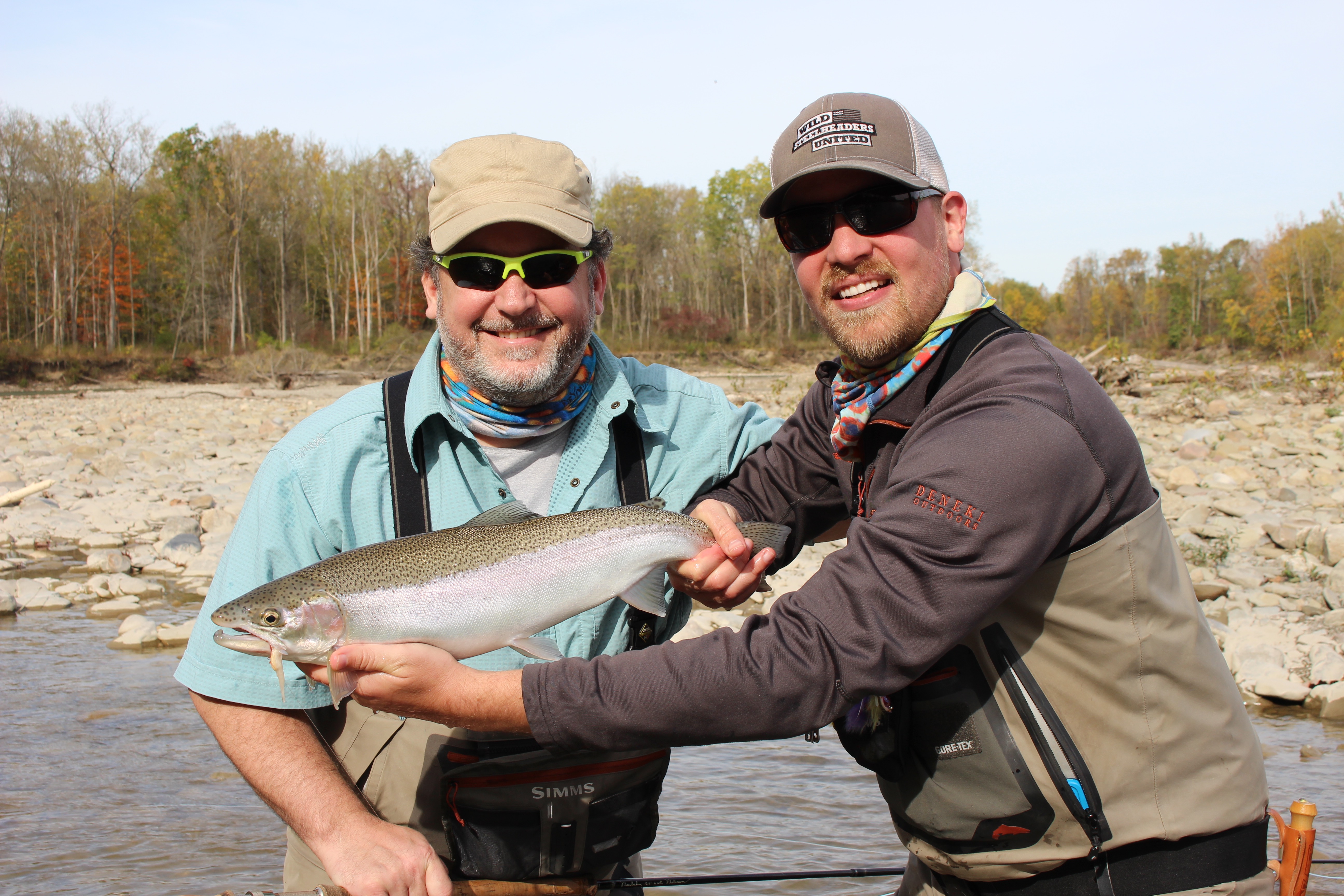 Noel and I with his first fish that took a streamer fished just under the surface on a floating line-long leader
Just finished a few days up on the Catt, and like usual it was spectacular. While the fishing can vary, any day on the Catt is special. But these last few days were especially so. There were good numbers of fish pushing through, and we are definitely seeing the meat of the second push of fish. All fish hooked except for one were better than 5 pounds, and we hooked fish well into the double digits. It was a large push of two and three lake year fish for sure. Saturday I spent fishing with Noel and his wife Lisa, and we hooked fish from surface to substrate. 
Lisa fished an indicator rig and Noel fished a combination of indicator rigs and the swung fly, while I stuck to spey fishing. In all we hooked 7 fish indicator fishing and 10 fish swinging. Most of the fish swinging were taken on a floating line, floating poly leader fishing smaller streamers high up in the column within a foot of the surface. The fish were very aggressive due to how fresh they were, but were spooky with the clearer water. Therefore stealth was the key when swinging and trusting that in the warmer water (55 degrees) the fish would move very well. And they did. While we did hook a couple on a sinktip, including me landing a fish in the 30-31" and 11 pound ballpark, once the sun got out, the fish would spook from the sink tip. The cool thing about hooking them so high in the column is that the water usually boils with the take, and they just blow it up. We ended up breaking fish off on the take alone.
Noel hooked 4 fish swinging the floating line, landing his first ever swinging without a sink tip. The fight was insane as the first run the fish peeled out about 100' of his running line and the backing was visible on the spool. Luckily we were able to turn the fish in towards shore where the shallower water kept it from going through a narrow chute and getting into a bunch of wood. Lisa landed a nice one right off the bat and lost a couple others. It was her first steelhead in like two years.
Towards the end of a very good day already, I couldn't resist fishing a bomber skated with a riffle hitch. The first pass a fish rolled on it but didn't commit. Then while I worked my way through the gut of a broad bouldery run about three feet deep, I put the fly on the opposite bank near a log jam and as I skated and skittered it away, I watched a fish charge out of the jam, literally torpedoing just under the surface for some 8 feet or so, crush the fly in the most vicious take I've ever seen and turn back towards the logs. I didn't need to do anything because of how fast it happened. It's funny because when we swing subsurface, we usually only feel the end result of a fish taking. The visual aspect of watching such a predator chasing down the fly in kill mode is almost frightening. I mean if that fish for whatever reason decided to charge at me in the water and latch on to my hand or something, it would be a genuinely terrifying event.
Anyways, I came tight and fought the fish. The first thing it did was cartwheel. And this was the largest fish I have ever hooked up top, easily in the  9-10 pound class. The fight was furious but briefer than I'd have liked when my line became wrapped around the knob of my fly reel. I don't often dwell on a lost fish. It is a fundamental part of the game. But that is a fish I would have really, really liked to land. To see it up close with the bomber in it's mouth, and the hateful glare in it's eye. Even now, a few days afterwards, it haunts me. But I still got to see it chase down a bomber from so far away. There is no doubt in my mind that he was commited to take the fly the moment he left his lie. And that is a treasured sight.
On Sunday, I fished with Paul and his wife Jen, who had never fly fished before. We started on the Catt in the same run as the day before, and not long into it Jen hooked a really good fish. In the excitement, she forgot to let the line go and the fish pulled free. A little while later she hooked another big fish that jumped, ran upstream, then doubled back down and wrapped us around a snag. Then Paul hooked a nice fish that broke us off.
After a little while longer, it was clear that most of the run had pushed by us. So we jumped over to a couple smaller creeks, and spent the rest of the afternoon twitching nymphs and ended up each landing a nice fish. While we had to work for them yesterday, it was still a great day.
Looking ahead, the weather is turning. It looks like today or tomorrow will be the last day of surface season. The high temp tomorrow is only 62 or so, and from there it falls quickly into low 50's and high 40's. That means, for the foreseeable future, I expect the daily high water temps to be around 50 or less. That's not to say there won't be another day or two that will warm up enough to get the water up there in the mid-50's, there certainly might. But it won't be consistent if it does.
So looking back, this October has been the best floating line season by far. The total tally for roughly 10 hours fishing the surface proper this season is 2 fish that ate dries off top, 1 fish that gave a hard look to a dry off top but refused last minute with a roll, and 5 fish that ate a riffle hitched streamer skimming the surface. Of all those, I hooked one on the dry but lost it and I landed 3 of the riffle hitched eaters. Then in addition to those, we hooked 8 more in the top foot or so of the column.
If this surface season has taught me anything it is just how willing these fish are in certain conditions to come up near or all the way to the surface to take an offering. Though I'm still relatively new to surface fishing, only about 5 years of so of real concerted effort, this season has been one of constant surprise. Again, Saturday was an exceptional day. But those conditions definitely exist each year, where a good push of fish is happening in waterflow that is just right for this type of fishing. And with Octobers starting to get warmer and a bit drier over the past few years, a trend I think is probably gonna become more prevalent in the future, we may see these conditions more frequently.
So all I can say is that as anglers, we better be willing to adjust to the point of at least considering the floating line and dry fly options as a serious alternative to the sunk line tactics we are so heavily dependent on. The floating line fished either on or near the surface is quickly becoming my go to and most productive early season technique. Enjoy the rest of the pics. 
Tight Lines,
 - D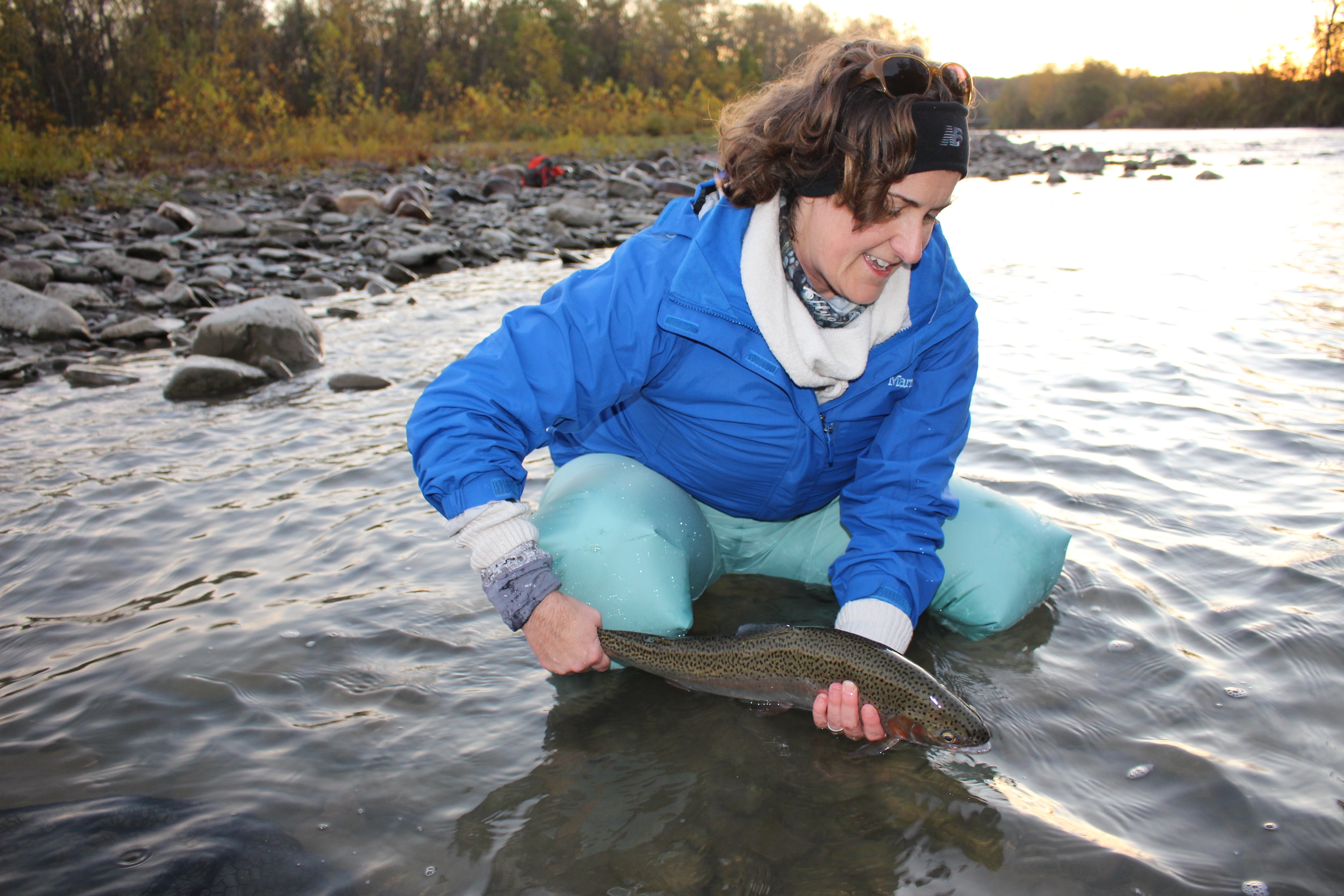 Lisa with a nice steelhead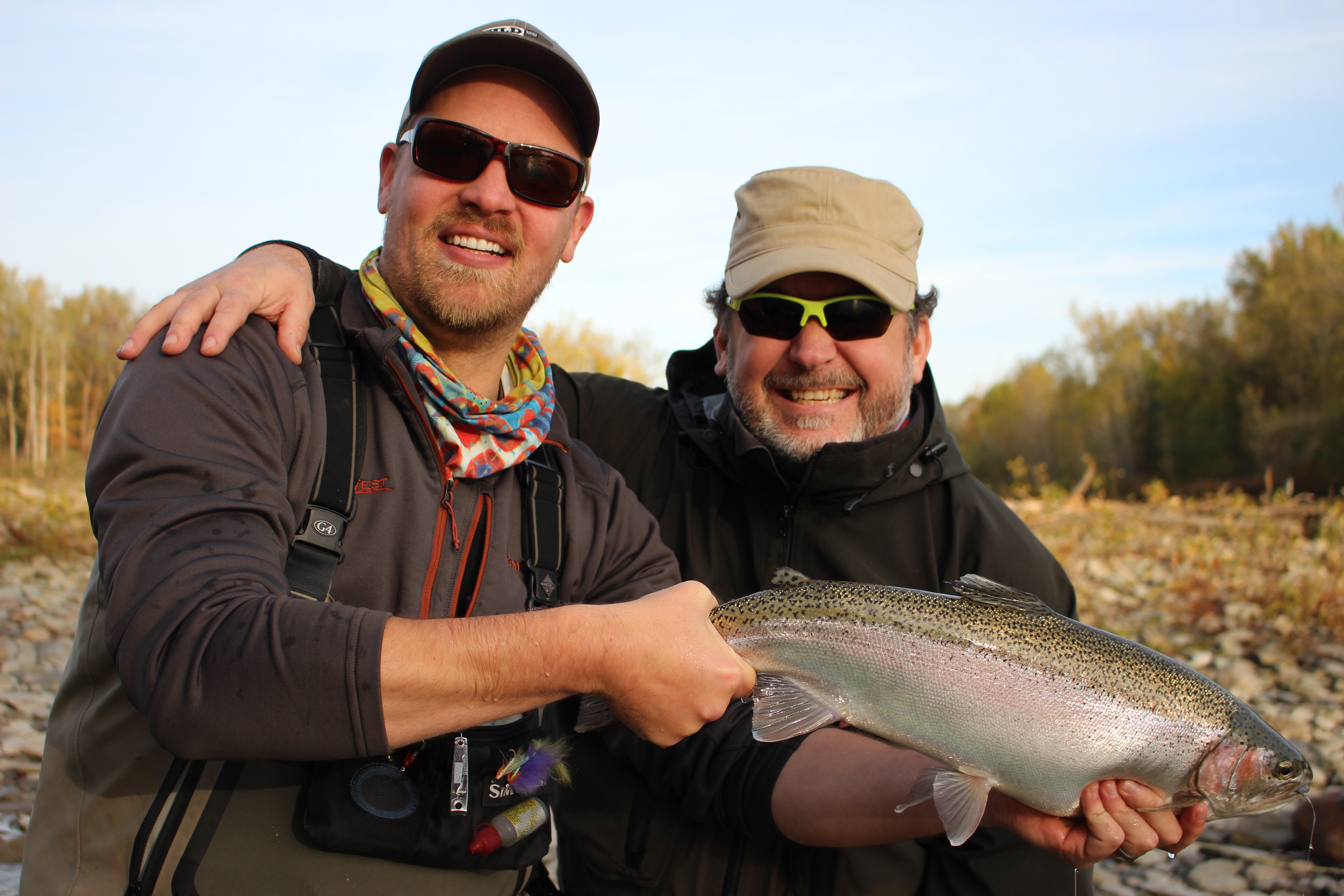 Noel with his first of the day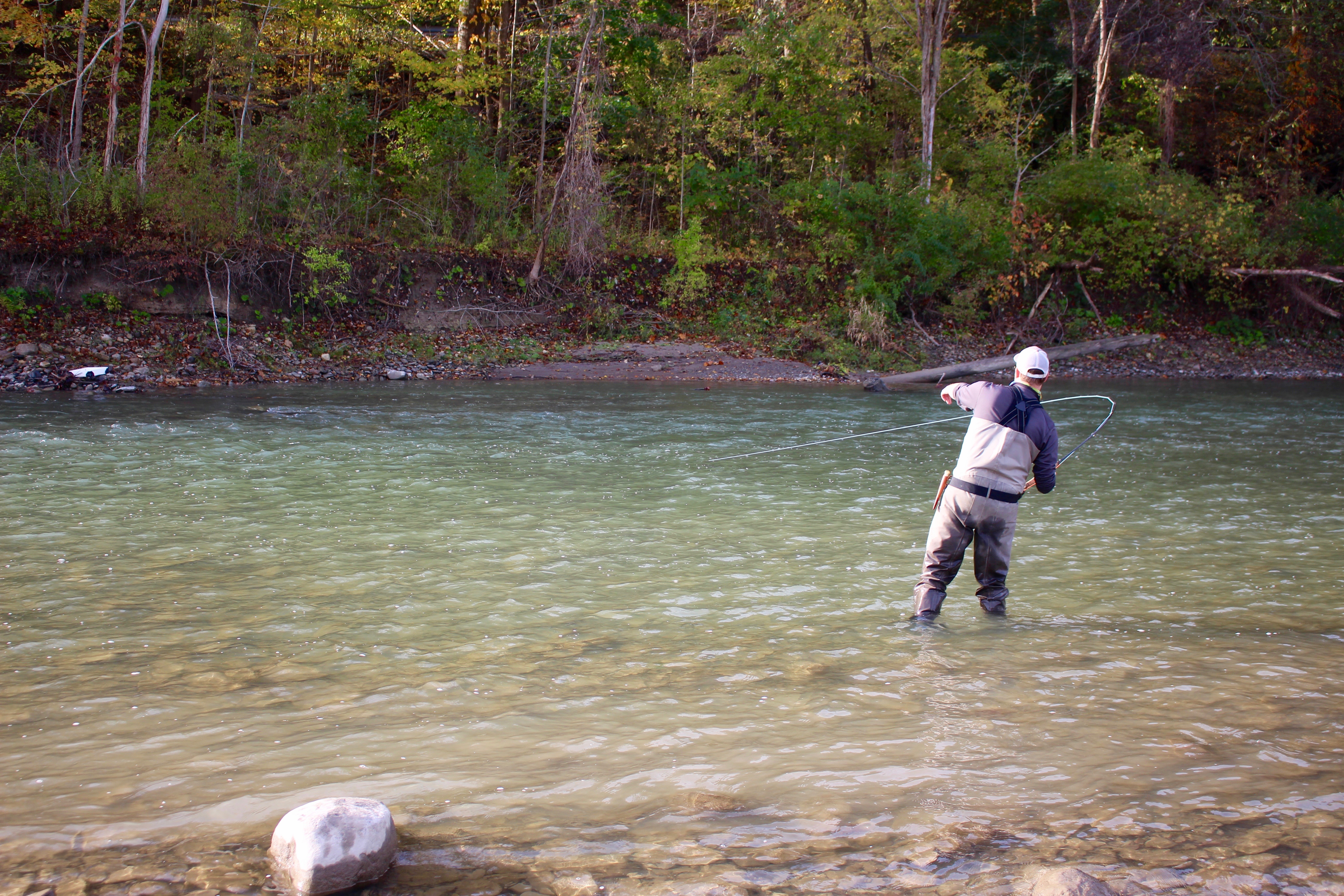 Me calling my fish out haha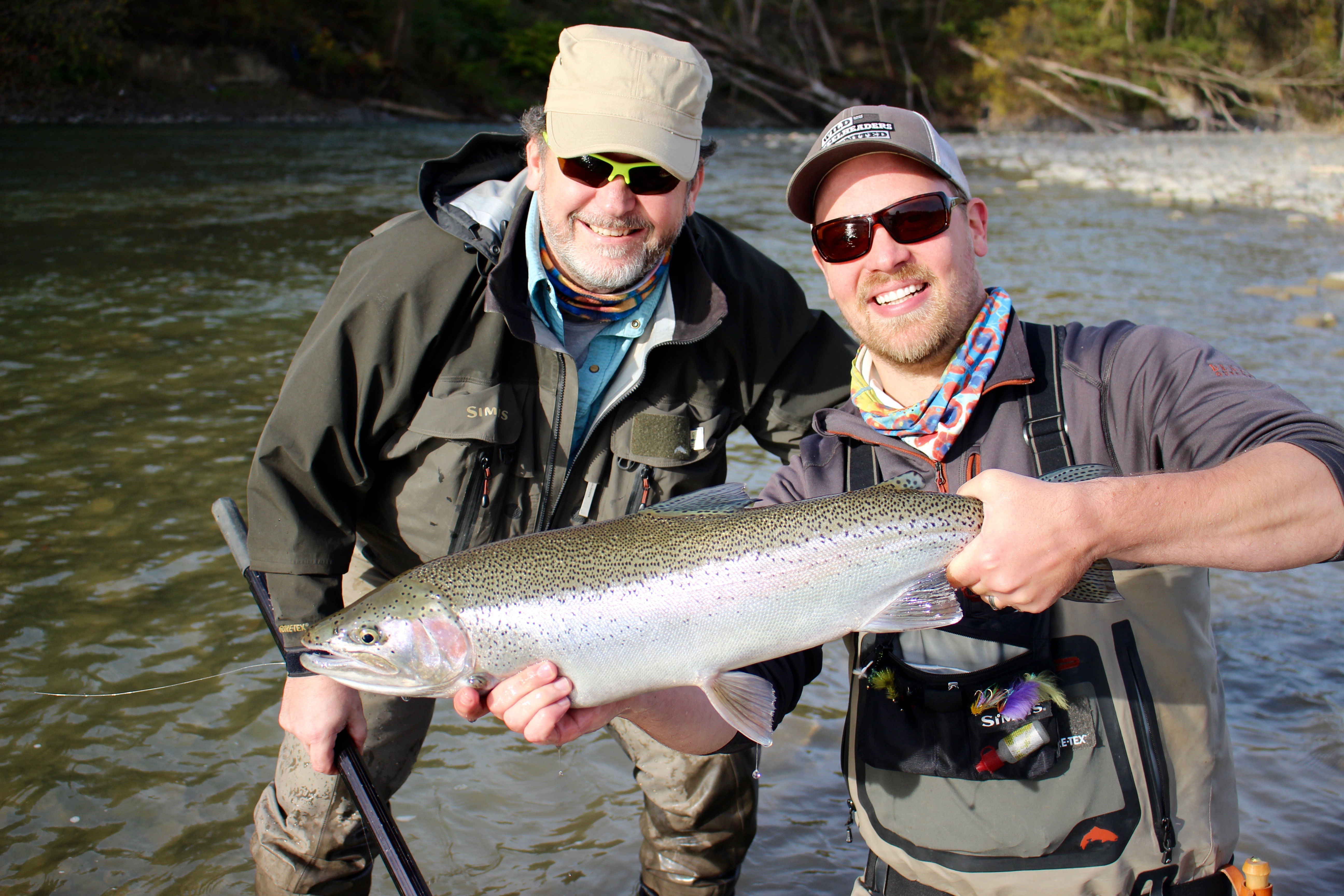 Beast mode Catt fish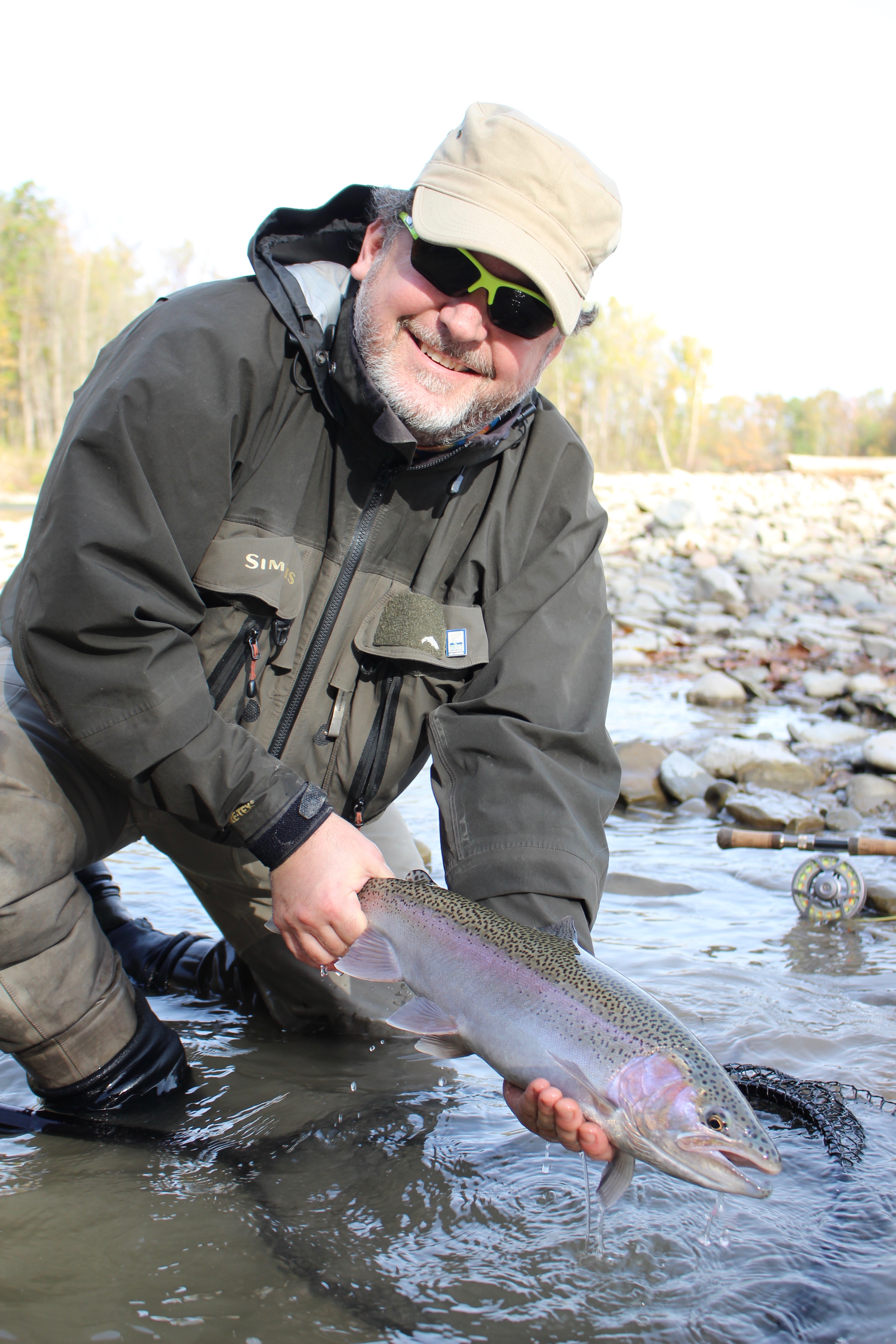 Noel with a stunner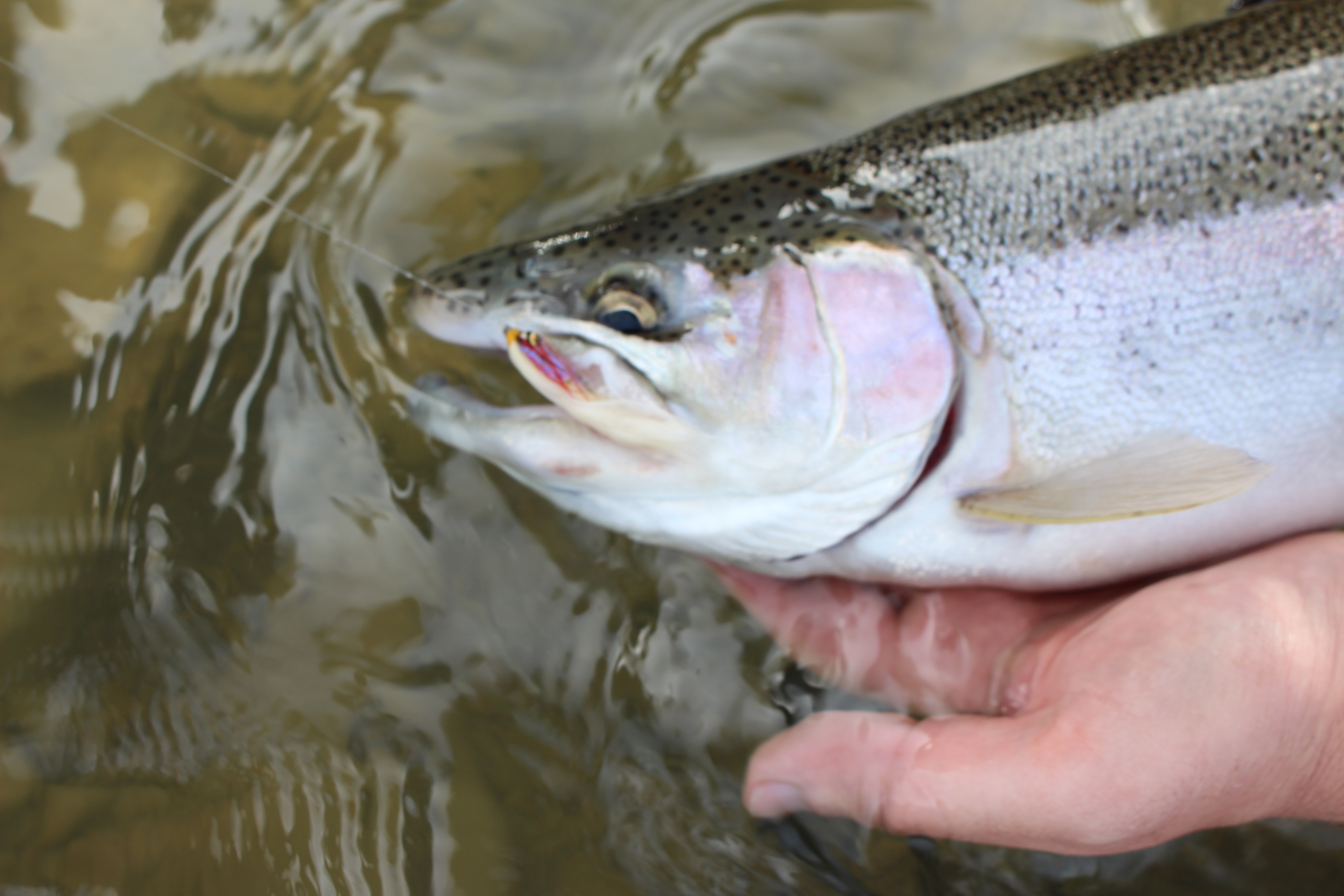 Small white streamers fished up high = vicious takes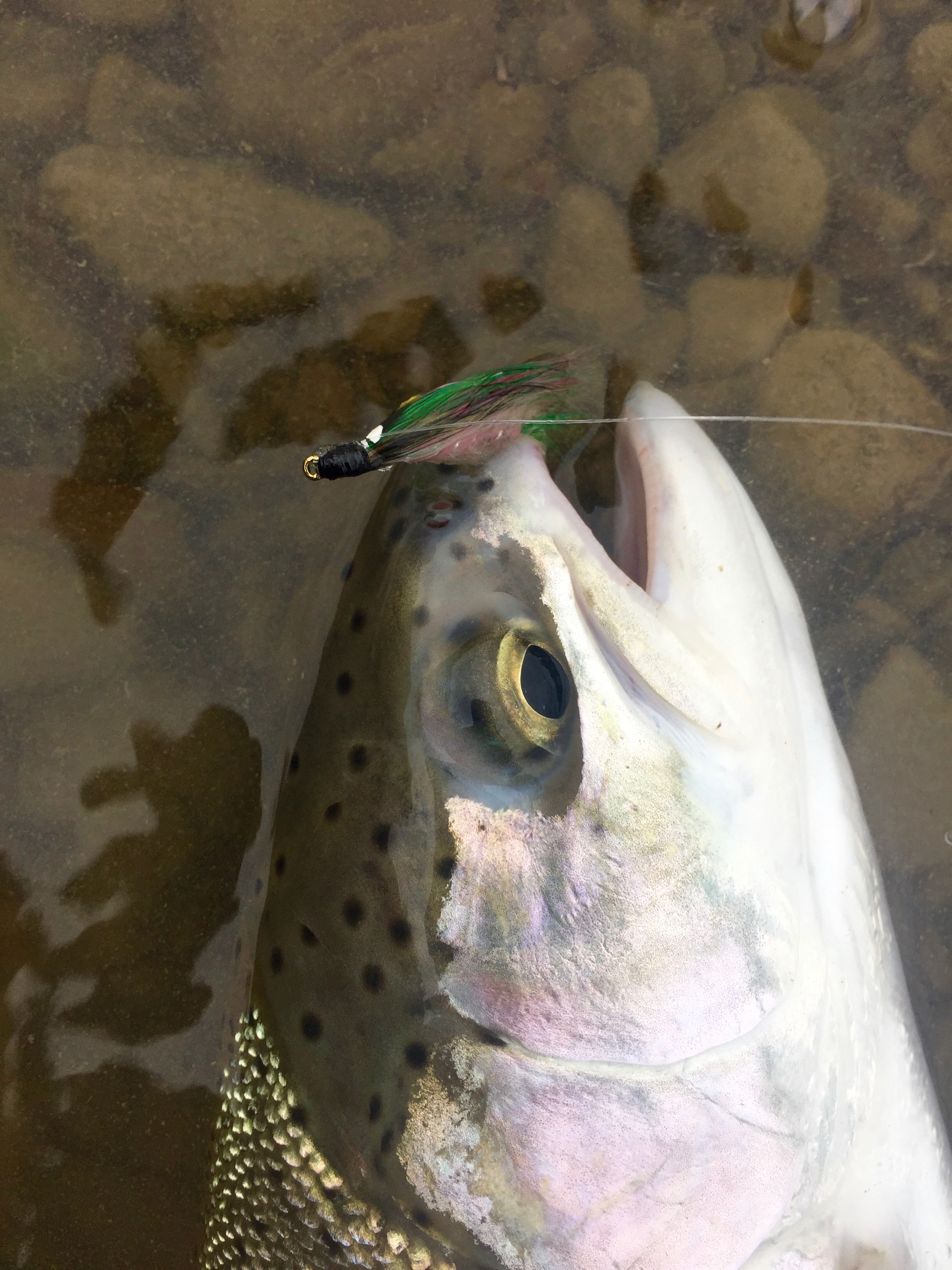 First fish on a riffle hitched streamer skimming across the surface
Rose five fish on the Catt to a riffle hitched streamer fished on a floating line with a 10' clear floating poly leader and another 8' of flouro tapered down to 6 lb. Ended up landing three. So today was a very good day. After a bust last year during surface season, this year is shaping up to be spectacular. In two days I've had one fish eat a dry proper, and five come up and eat a streamer fished skated hitched on the surface similar to a waking dry. That is just unreal. Most fish that will look up run between 15 and 25", so don't expect too many of the bigger guys. But they are just too much fun and watching them come up is breathtaking. The fish I landed today all fell within that size range, with the biggest being right at 25". And not that this kind of fishing needs any sort of enhancement, but all these fish were from the mid river where I was the only soul around. That's why I like to fish those areas this time of year. You can find the unpressured fish that might be willing to play with you if you fish a dry line. It doesnt happen all the time to be sure. But it does happen. And when you have a day like today you fill the bank, and that's what will carry you through the next dry spell. Today was a great day.
Tight lines and enjoy the rest of the pics
 - D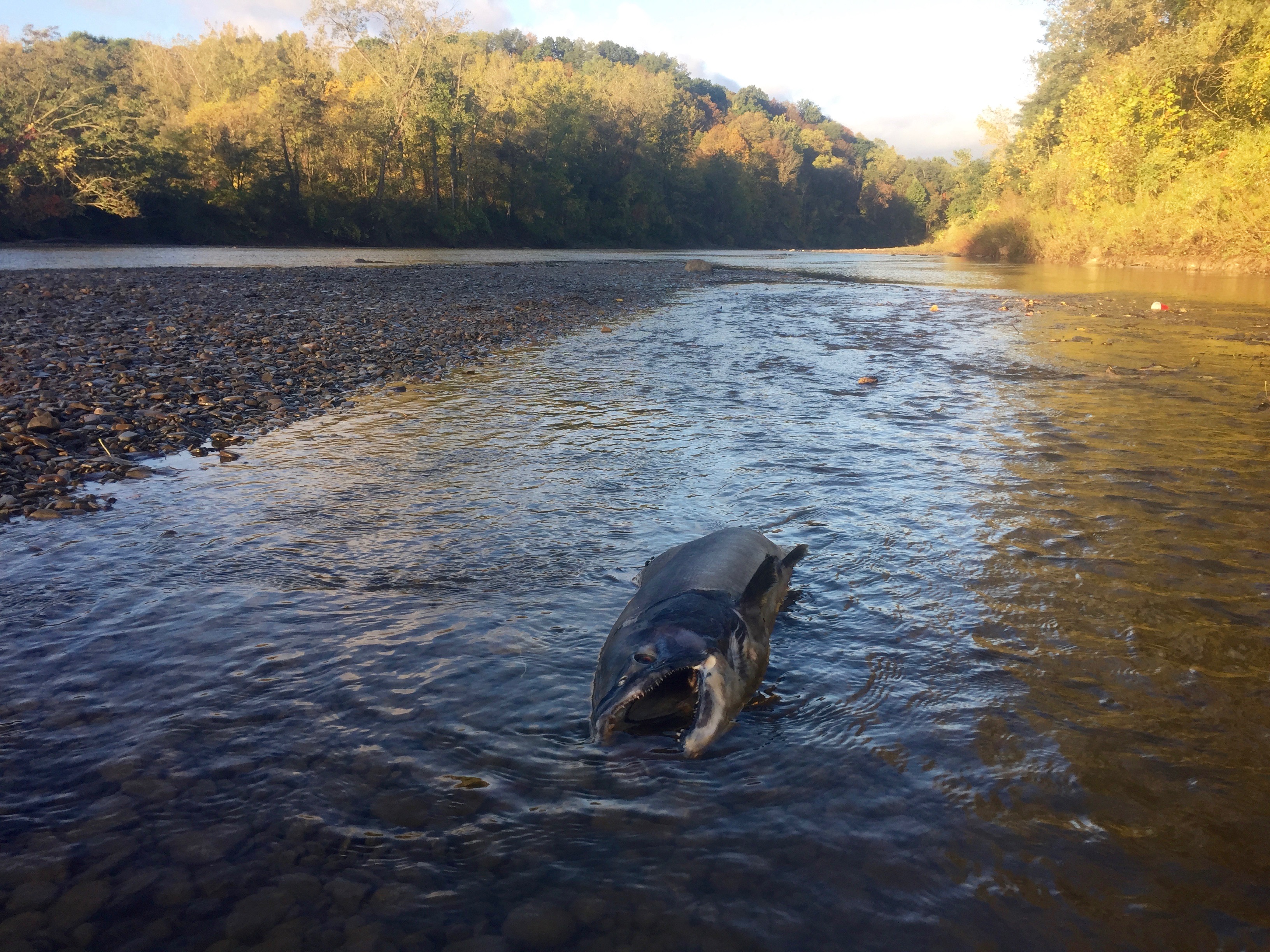 A familiar face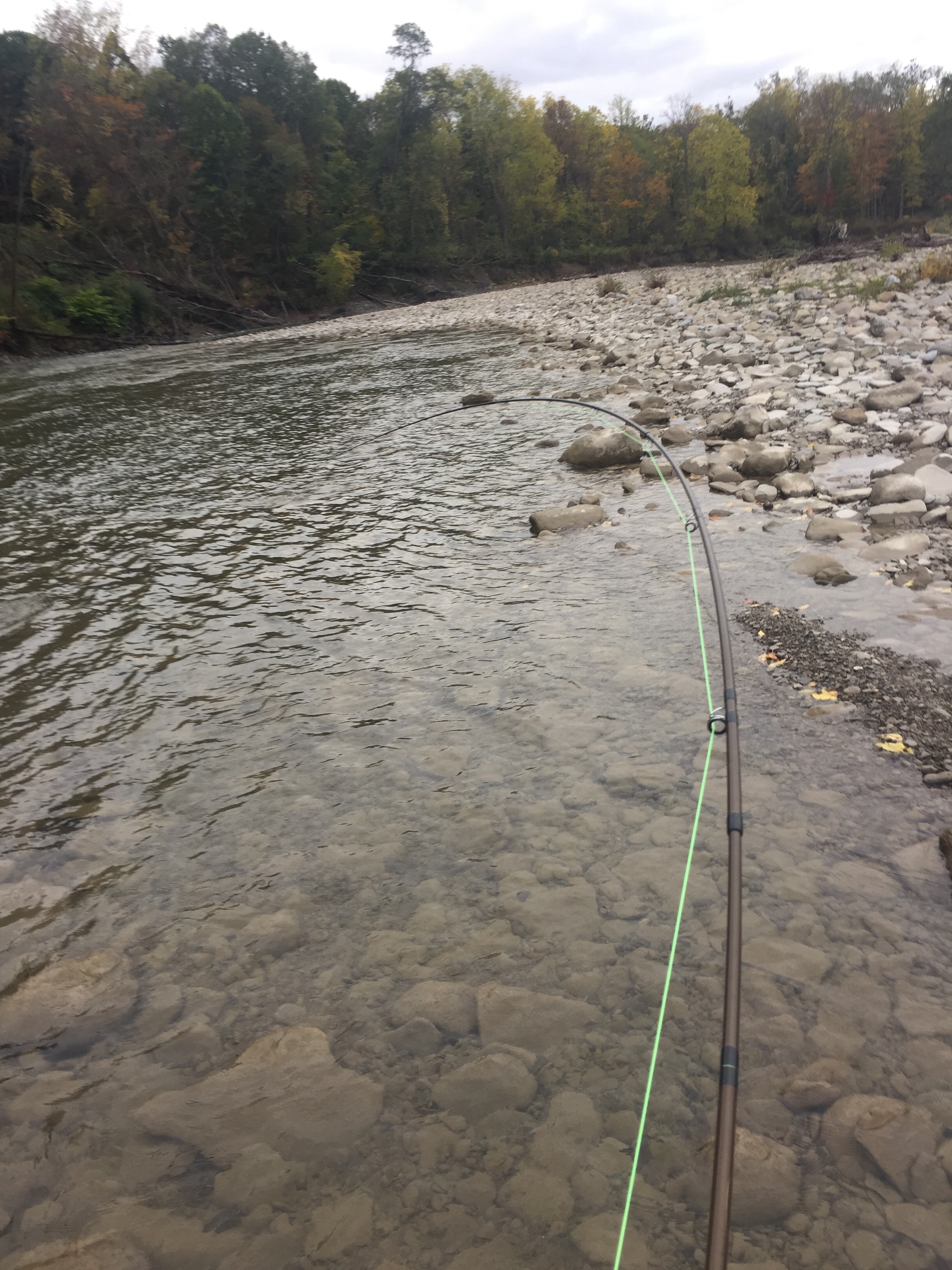 Hooked up with the first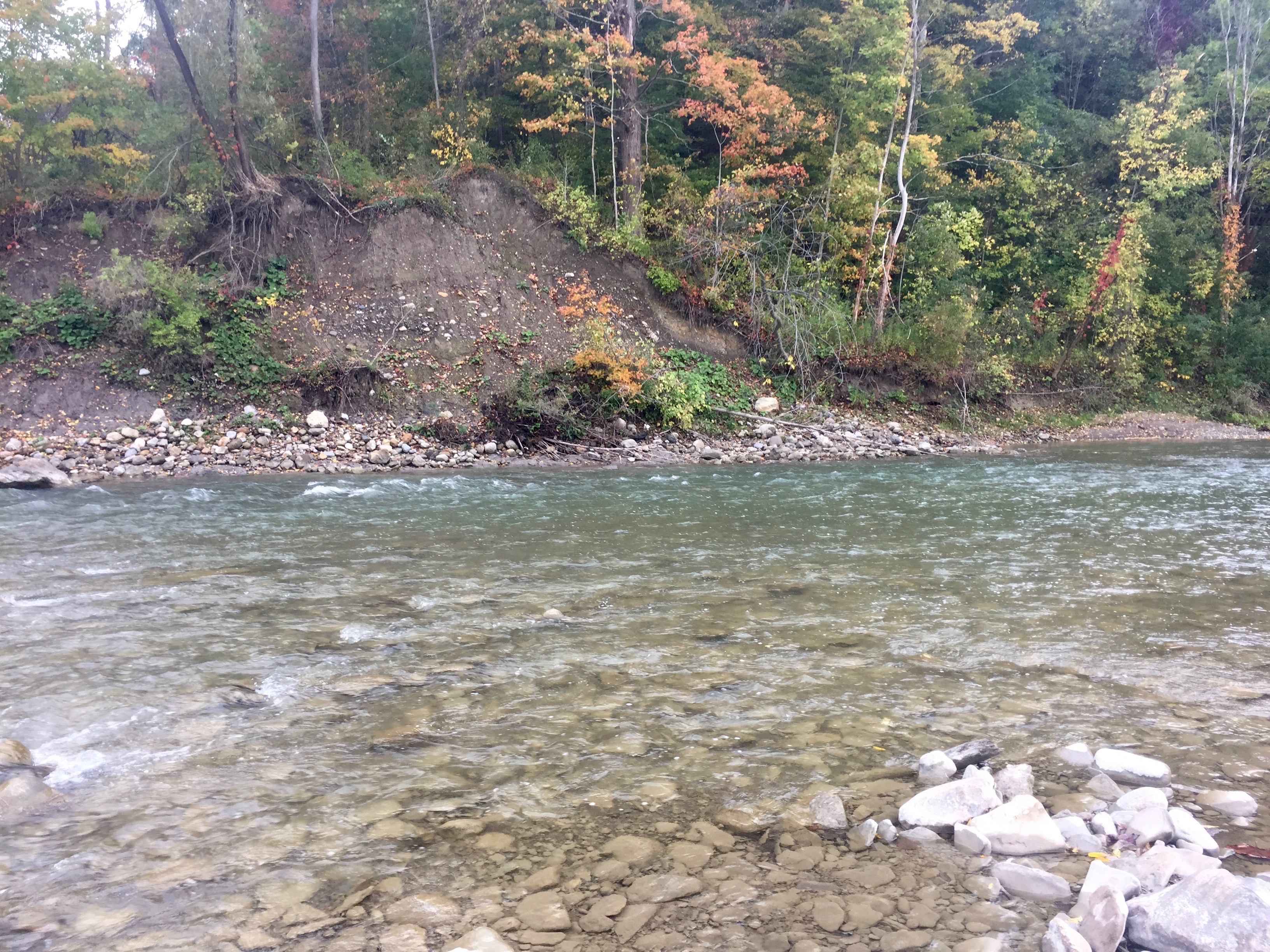 Riffle hitch water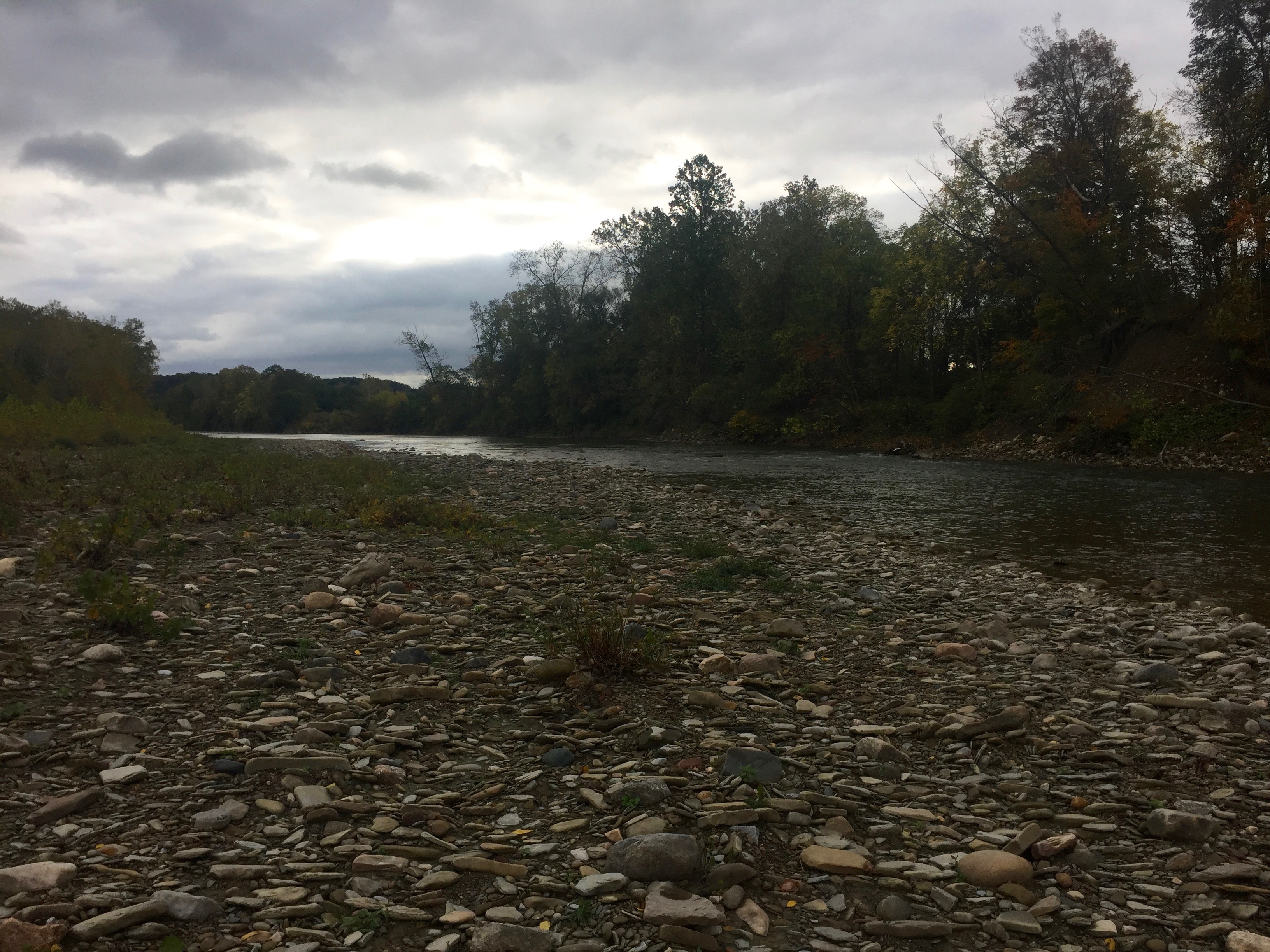 Why I like fishing mid river early...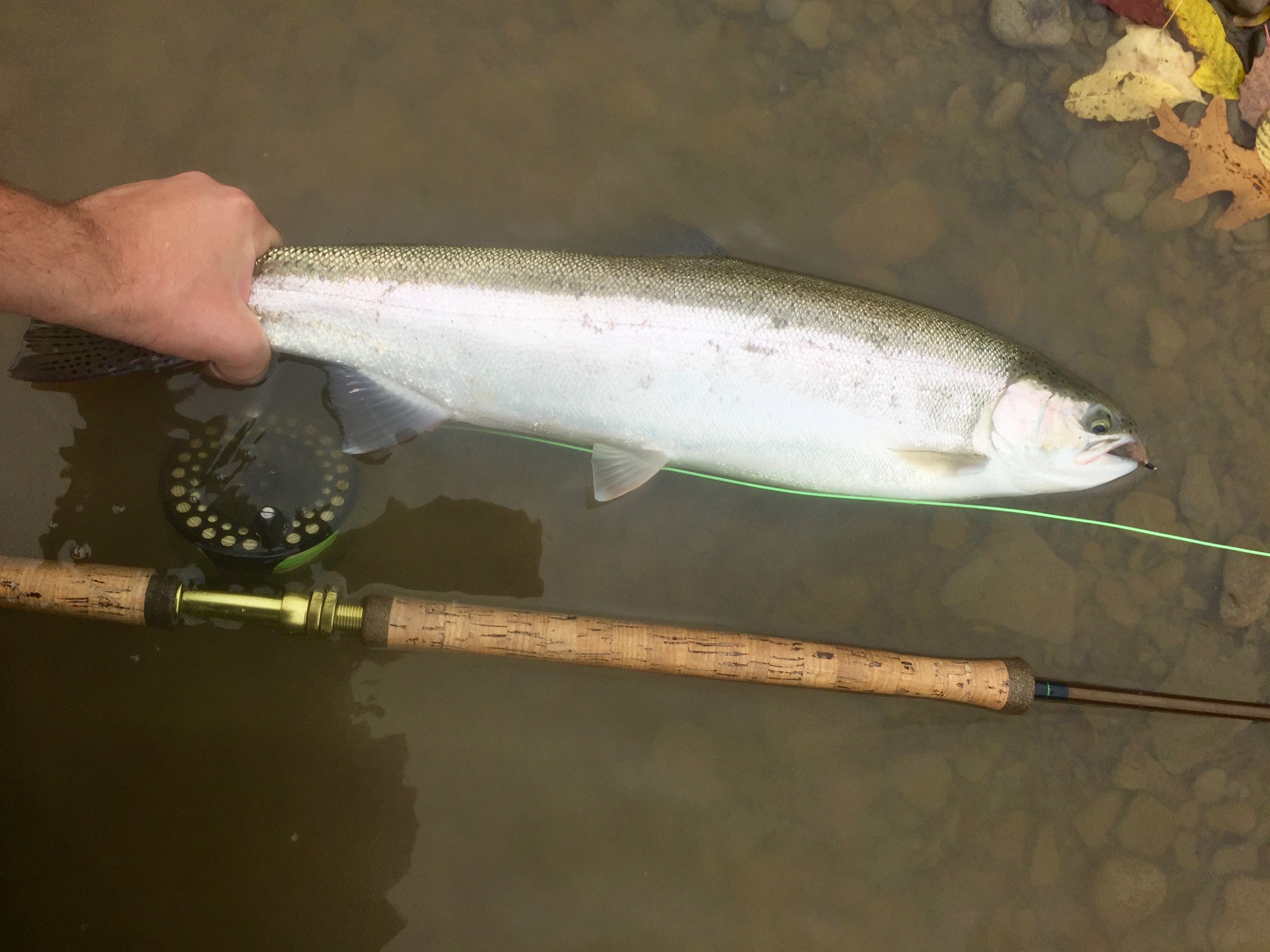 Biggest of the day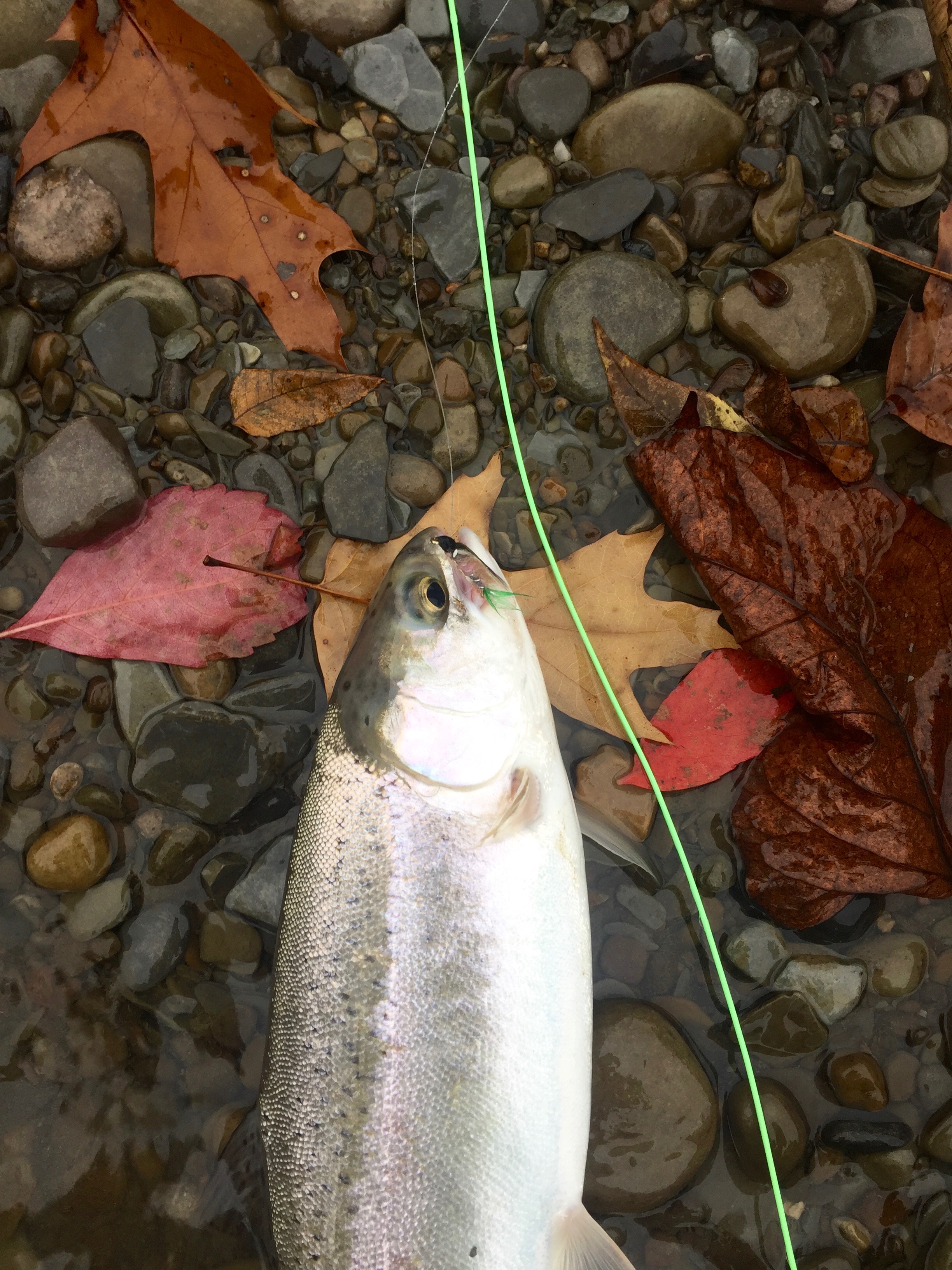 Another riffler eater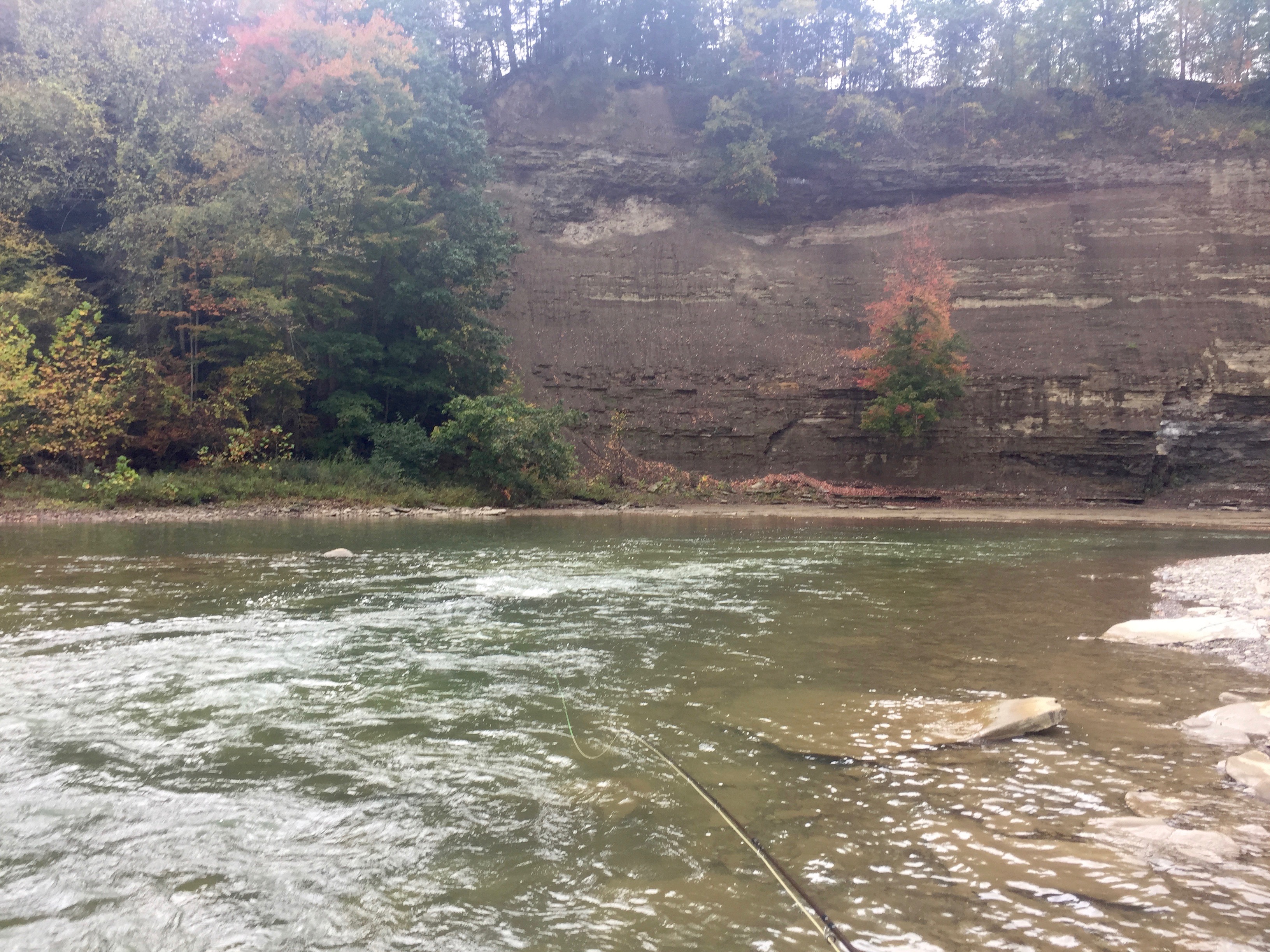 My money run today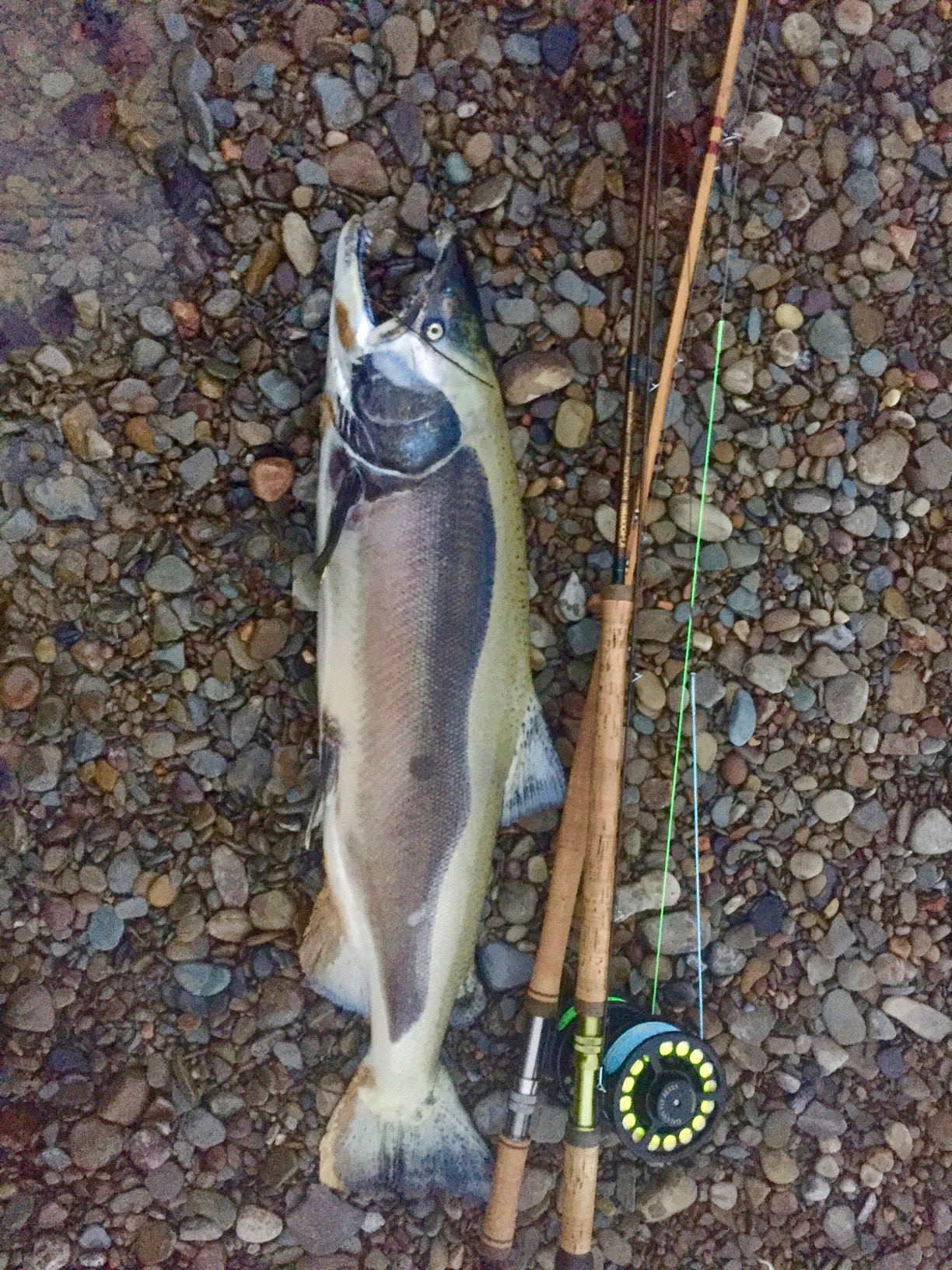 Wild Lake Erie King Salmon
Well after getting over a bit of a stomach bug, I made it out to scope some spots for the upcoming season. First spot was a mid river run on the Catt. As I was walking in, I noticed a familiar shape in the riffles. There in the shallow water was a dead 36" king salmon. I stopped and took a photo and a couple quick measurements before starting towards the run I was planning on fishing. Then a bit later, I saw a few live kings blow through a riffle. There are usually a couple kings that find their way into the Catt every year, with most years getting somewhere between 0 and 50 fish by my estimation. But I expect this to be a "better" run for a couple reasons: 1) last "good" run (comparatively speaking) of kings into the Catt was in 2013, where I found a run with about 30 fish in it and since kings usually run on a 4 year cycle this will be the year when any wild progeny should return, and 2) the overall good numbers of kings in all the other lakes will likely mean more strays. Judging by the size of the adipose fin of the dead one, he was a wild fish.
Remember, a good run of kings on the Catt likely stays well below 100 fish, so even in the best years it's not really a run that you can target. You just have to be in the right place at the right time to find them. But I do expect there to be a few more sightings/perhaps if I'm lucky even a king landed for myself or a client this season on the Catt. 
Anyways, when I got to the first run I wanted to fish shortly after the sun hit the water a fish rolled. For fishing this high up this early it was a really encourgaging sign. After making a couple passes I got a nice little smallmouth on the bamboo spey. But no steelhead. Next run I fished on a tight swing with little more than the sink tip out and got absolutely lit up. The small, fiesty 20" fish put up a spirited battle but was beached shortly thereafter. 
Swithched it up to a light polyleader and began working my way through a riffle with a scandi line. As I worked through the chop I blew a set on a fish. At first I thought it was a rock because the water was super shallow so I didnt really set but slowly pulled with the swing to try to free it. But then a headshake. And because I had already pulled the rod over to the side I was out of position for a set. And the fish was off. As I stood there all I could think was that I'd really like to have that one back.
So I took a break for a bit. Sat on a log and observed. Then I started the riffle at the head again. As I was swinging the small white bunny zonker into the kill zone, I got bumped again. The player was still there. Next cast he lit me the fuck up, rolling on the surface and tossing the hook before I could even get my shit together. It was the nicest fish of the trip so far, somewhere around 6 or 7 pounds. God I've forgotten just how hard those shallow water takes in the riffles are. When a fish is in a riffle, it is juiced with oxygen and supercharged. And don't be afraid to fish riffles that at first glance look a bit on the shallow side. Fish them with a light polyleader and unweighted fly or a long tapered leader and a lightly weighted fly. Those knee deep riffles and runs will have little potholes and tiny depressions spread throughout where even just a couple inches of extra depth can provide a quick resting spot.
Was off the Catt by about noon when the sun came out and it started to get a little hot. All in all one landed and another couple hooked and lost, along with a few short strikes that hit pretty hard but didn't turn on the fly. After the Catt, I checked out a few other area creeks. The smaller creeks usually will stay cooler due to the more complete canopy over the the creek bed. All have fish. At one creek I strung up a switch rod. Because of the low clear water I skated a fly and for the first time in two years got an eat on the. But the fish didnt get the point.
So, to sum things up there are good numbers of fish with some larger fish in the mix well up into the middle section of the Catt despite the recent heat. This means that it's not just the first push of small fish that have made it that far upriver. Also keep your eyes open for some kings this season. They wont be around every turn, but if your lucky you might see a few. Finally for how low and clear the water in the smaller creeks is, I have been pleasantly surprised by how many fish have pushed in and even a ways up the little creeks too. This should be a fun fall. Check out the rest of the pics.
Tight Lines,
 - D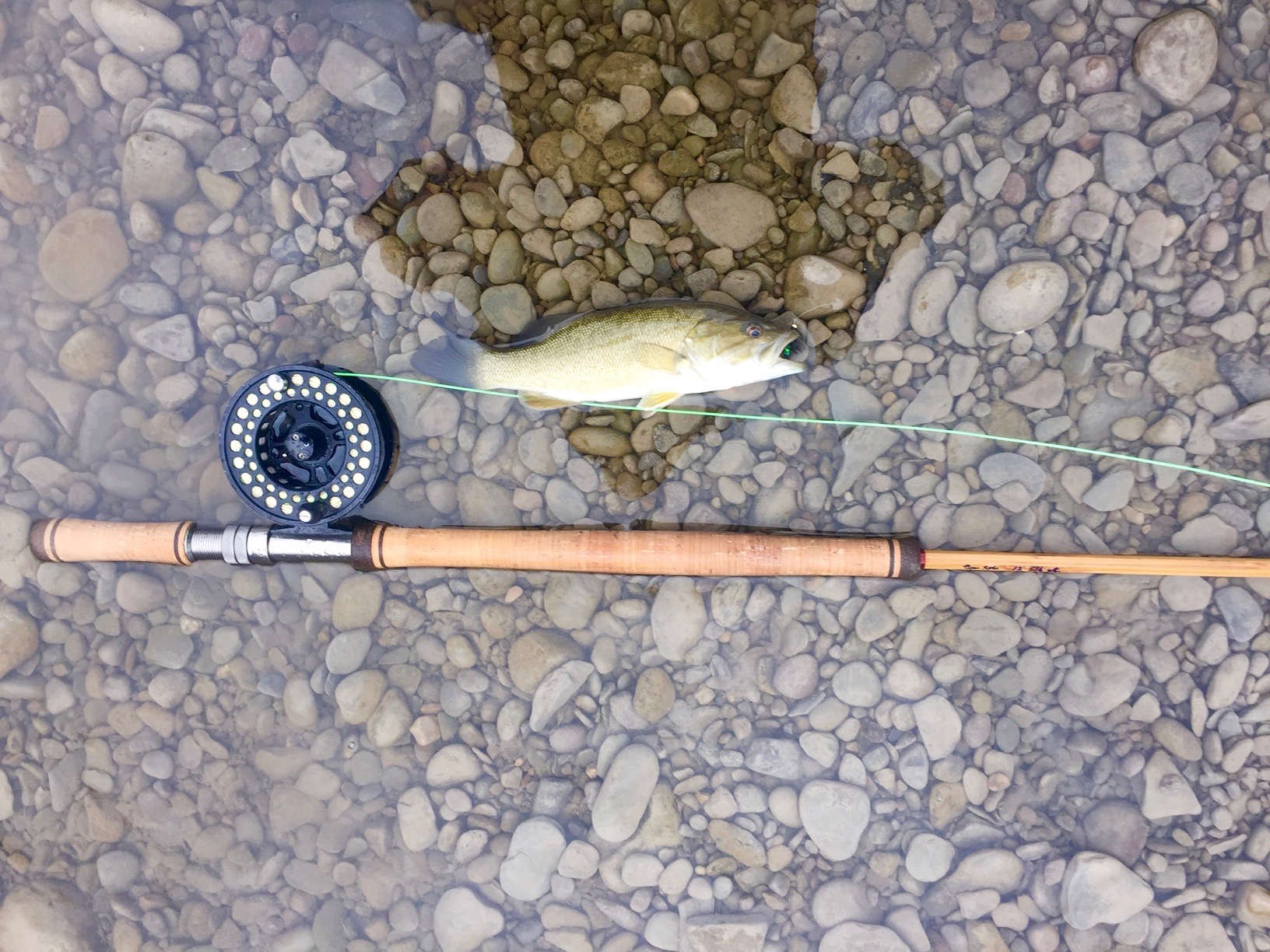 Little smallie on the bamboo spey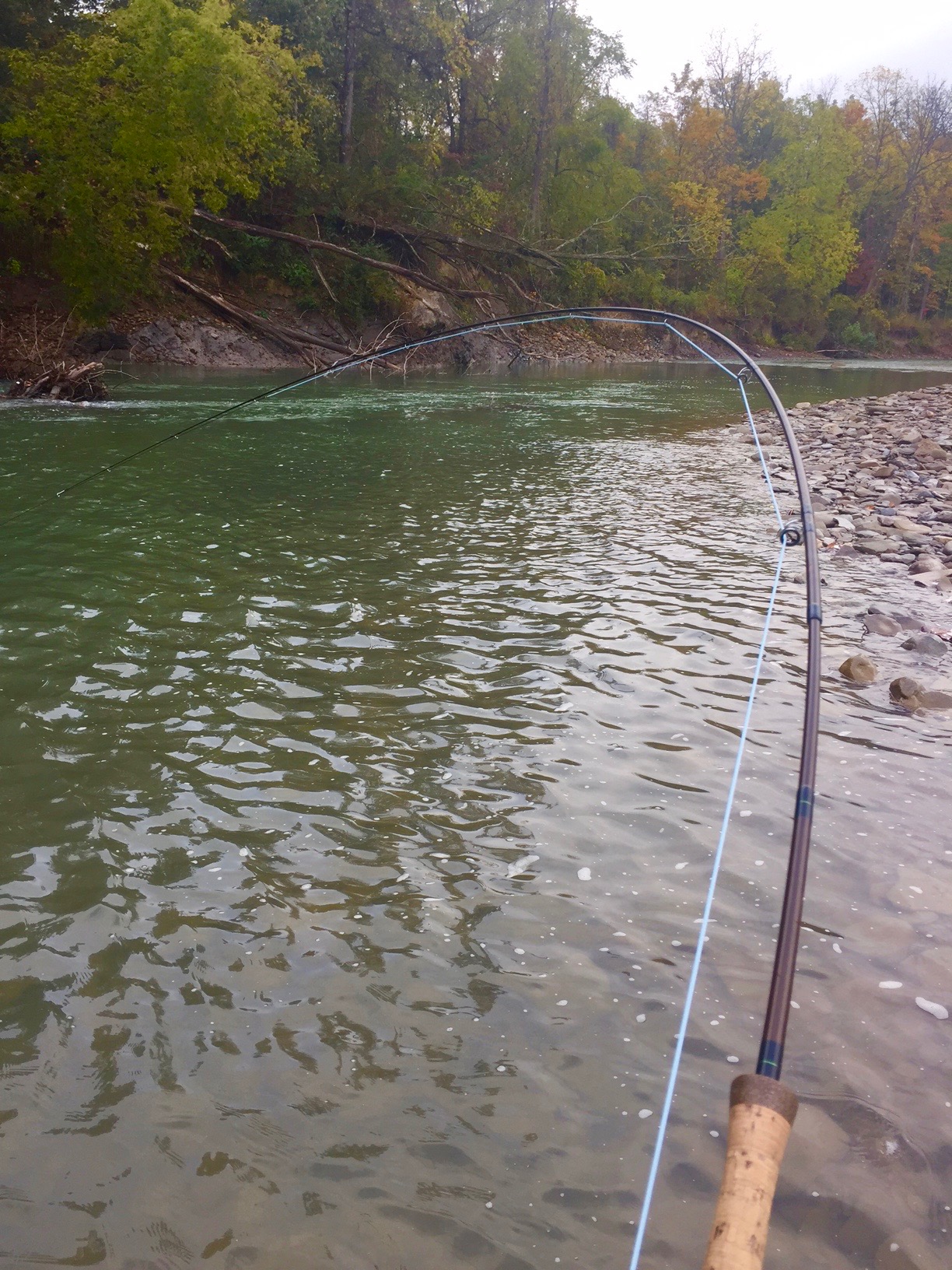 Hooked up!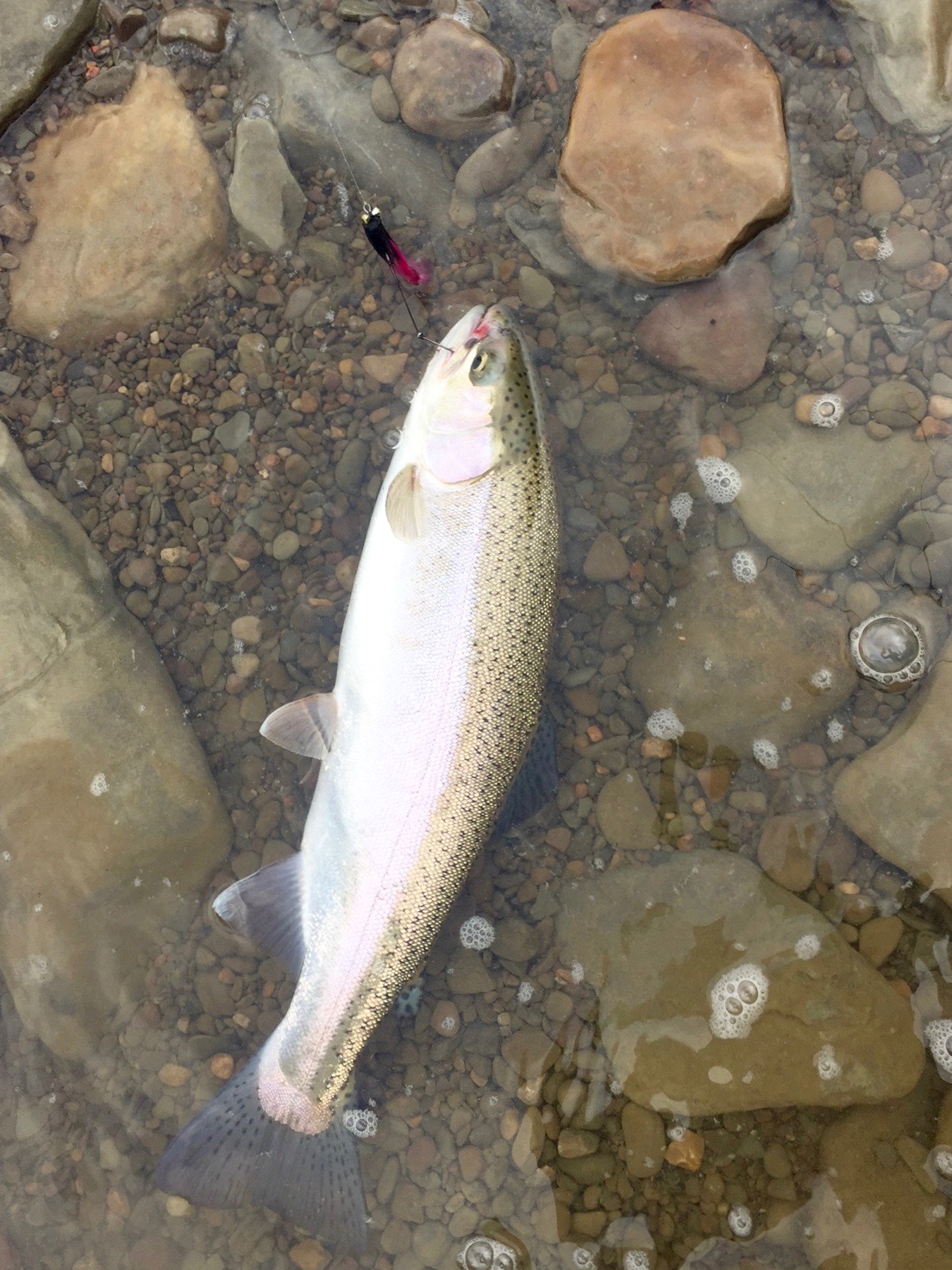 Not a biggie, but a fun little fighter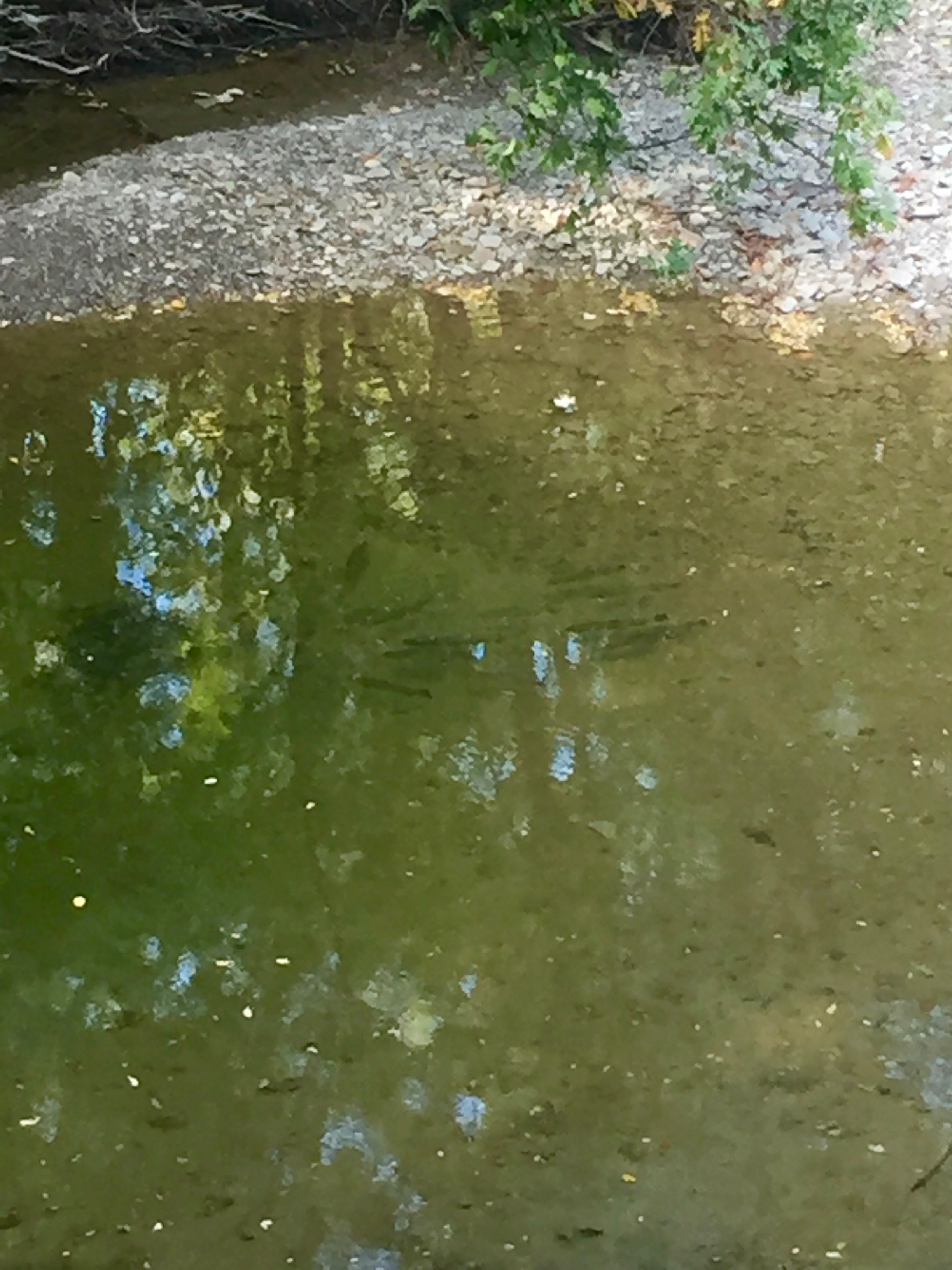 Pod of fresh steel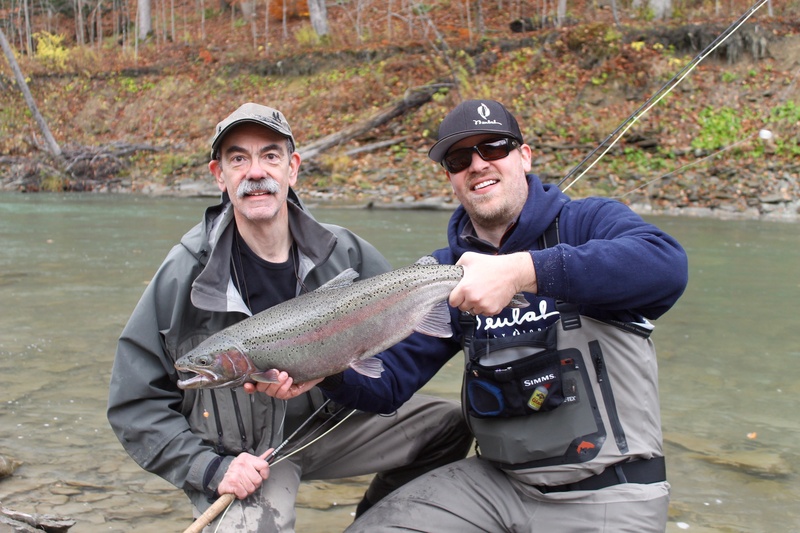 My dad and I with his personal best from the Catt
It is always difficult fishing on a dropping barometer with dropping temperatures. Fish like consistency, and changing weather patterns frequently result with fish being put off the bite, especially if that change brings falling temperatures. As fish are ectothermic creatures, creatures with a metabolic rate determined by environmental conditions, even a small drop in temperatures slows the metabolism. And a slow metabolism means that fish simply are going to be less interested in our offerings.
Noel and I fished with my dad yesterday on the Catt. When we got there, the water temp was around 44 degrees, and the air temp was in the low 50's. Waterflow was less than 220 cfs and about 3 turbidity. We hiked in quite a ways to get to the first spot I wanted to fish. We call the spot stump hole. The river makes a slight turn to river right as it dumps over a riffle. About 20 feet below the riffle right in the middle of the dump is a big rootwad and tree trunk pointed downstream, then a small gravel bar that turns into a long run. Most anglers that make it to stump hole, fish right next to the trunk of the tree and fish down through the run. But a lot of fish hold up high in the riffle dump in front of the rootwad.
We set my dad fishing the whitewater head, where the riffle dumps in, and within about 15 minutes he was on to a good fish. The fish blew through the dump and into the gravel run. It was about a 10 minute fight as it was a heavy fish and it kept taking line and running for the heart of the run. But we were able to coax it into the net. The fish was a solid 28" and normally a fish that long would be in the 8 pound ballpark. But this fish was stout all the way through to the base of the tail. It's girth was about 17". That puts the fish right around the 10 pound mark. It just goes to show how good forage is out in the lake this season due to the warm winter last year. My dad landed that fish at about 9:30. If you check the USGS site, you'll see that at that time, the water temp was rising.
Next we hiked up a bit further burning water up to slide hole. This hole follows the same general profile as stump hole. The river dumps over a riffle while turning river right and tails out into a long, boulder and slate studded run. In the dump of slide hole are a few big boulders and fish will hold around them in the current breaks. While fishing through it, Noel hooked up on another big stocky fish. This one came to the surface and rolled before making a powerful run. Unfortunately, the hook pulled free, and the fish disappered back into the depths. Noel hooked this one at about noon. Checking the site, this was the high water temp point of the day.
Continuing our trek we jumped up to another good run. By this point, the air temp was noticeably colder. We worked the run well, but no fish wanted to cooperate. The rest of the day was filled with snow squals, wind, and plummeting temperatures, but no more fish. The good thing about doing this kind of fishing is the moment you get cold, just hike up to the next spot. You'll be warm by the time you get there.
If there is anything to take away from this post, it's how important it is to pay attention to conditions. The fish we hit were while the water temps were rising or at the high point. The moment the water temps started to fall, we didn't touch another confirmed fish. All said and done, we did about a 7 mile roundtrip. But I can't think of a better way to spend a snowy Saturday.
Some more pics: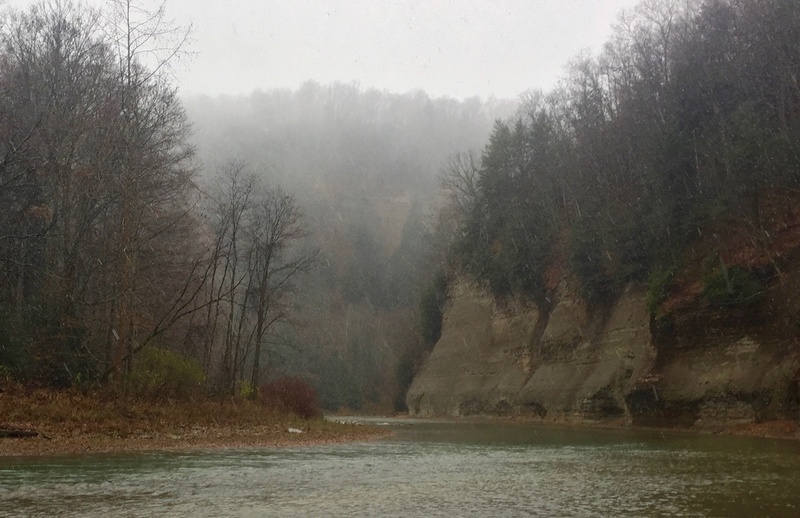 It's beginning to look a lot like... winter steelheading!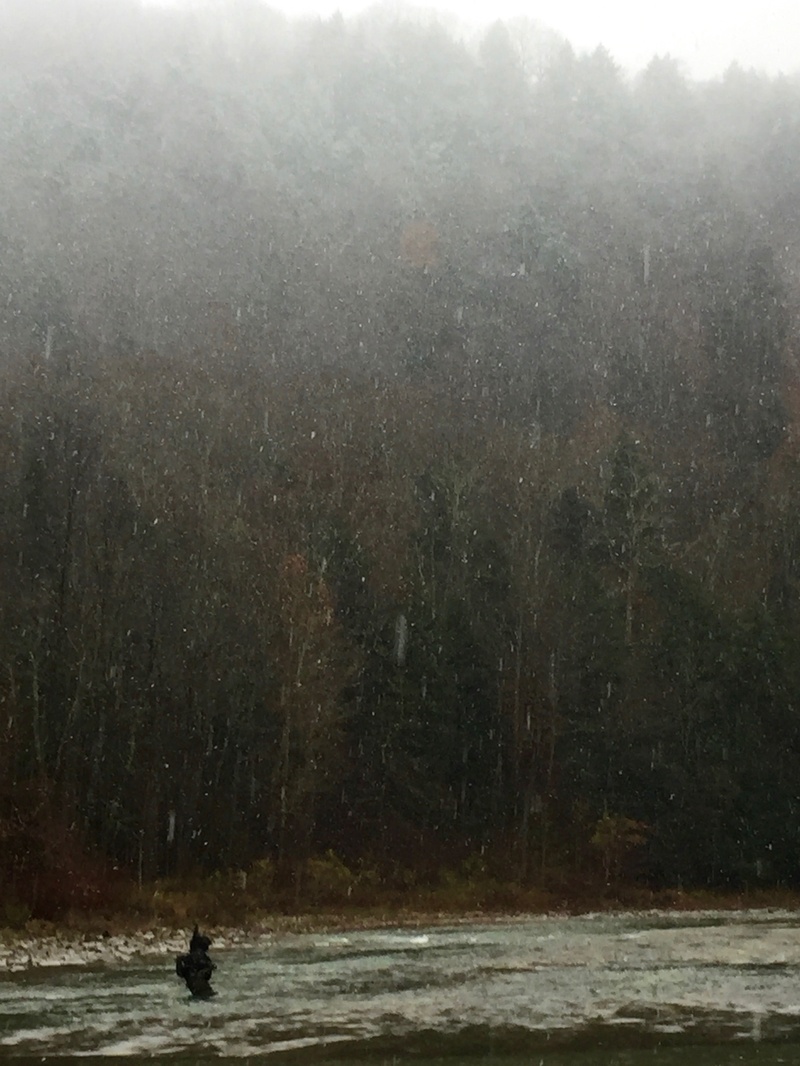 I thought this was a really cool shot of Noel crossing the river with the snowy trees in the background
Tight lines
 - D
/