Shopping Cart
Your Cart is Empty
There was an error with PayPal
Click here to try again
Thank you for your business!
You should be receiving an order confirmation from Paypal shortly.
Exit Shopping Cart
Guided Fly and Spey Fishing Trips for Steelhead and Brown Trout with
| | |
| --- | --- |
| Posted on September 19, 2021 at 9:20 AM | |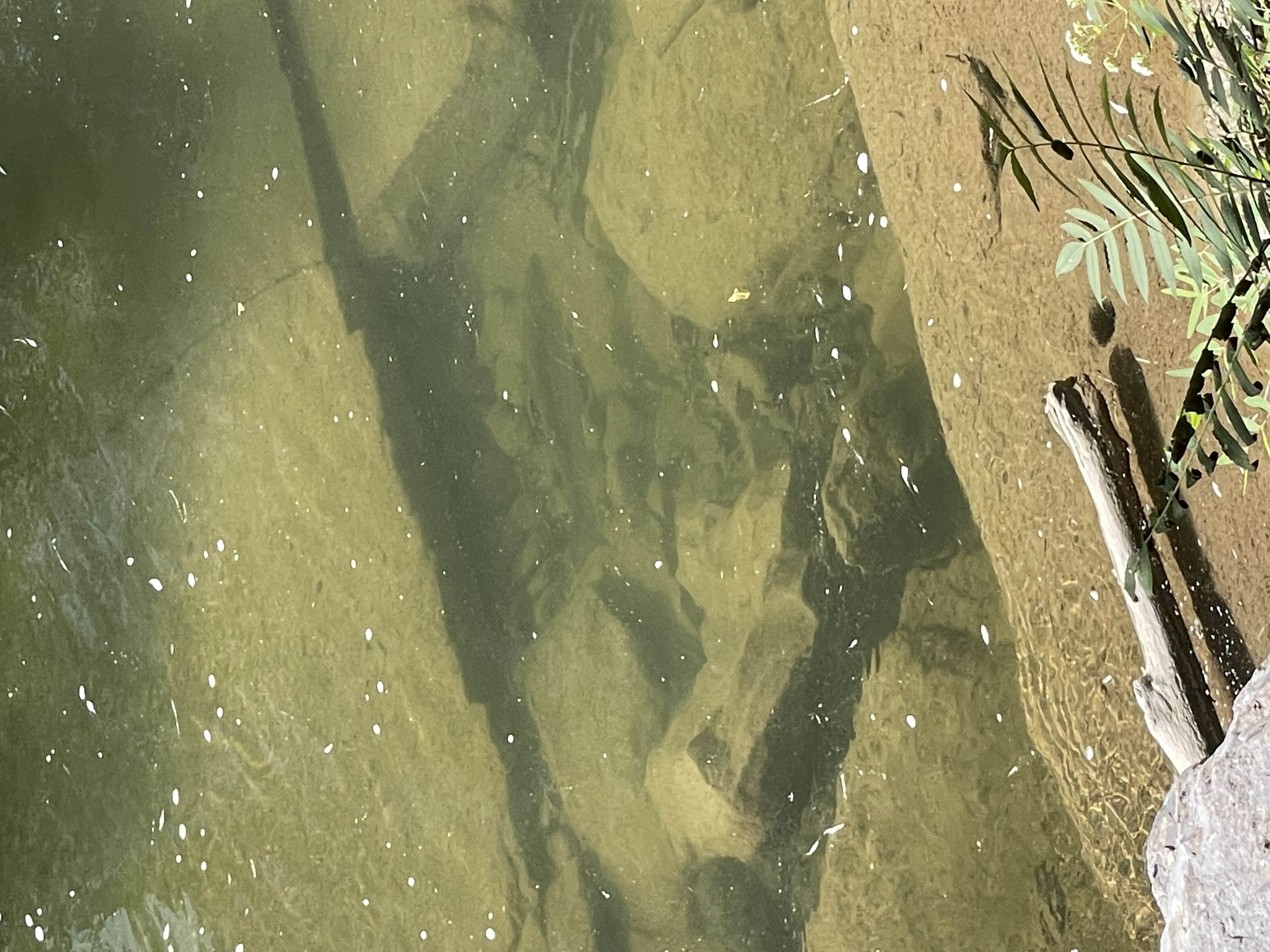 Check this guy out resting in a depression in the slate
Nope, didn't catch it. Just watched it. Saw this fish about a week ago in the lowest reach of a smaller creek. Usually this time of year smaller creeks with better canopy cover have ...
Read Full Post »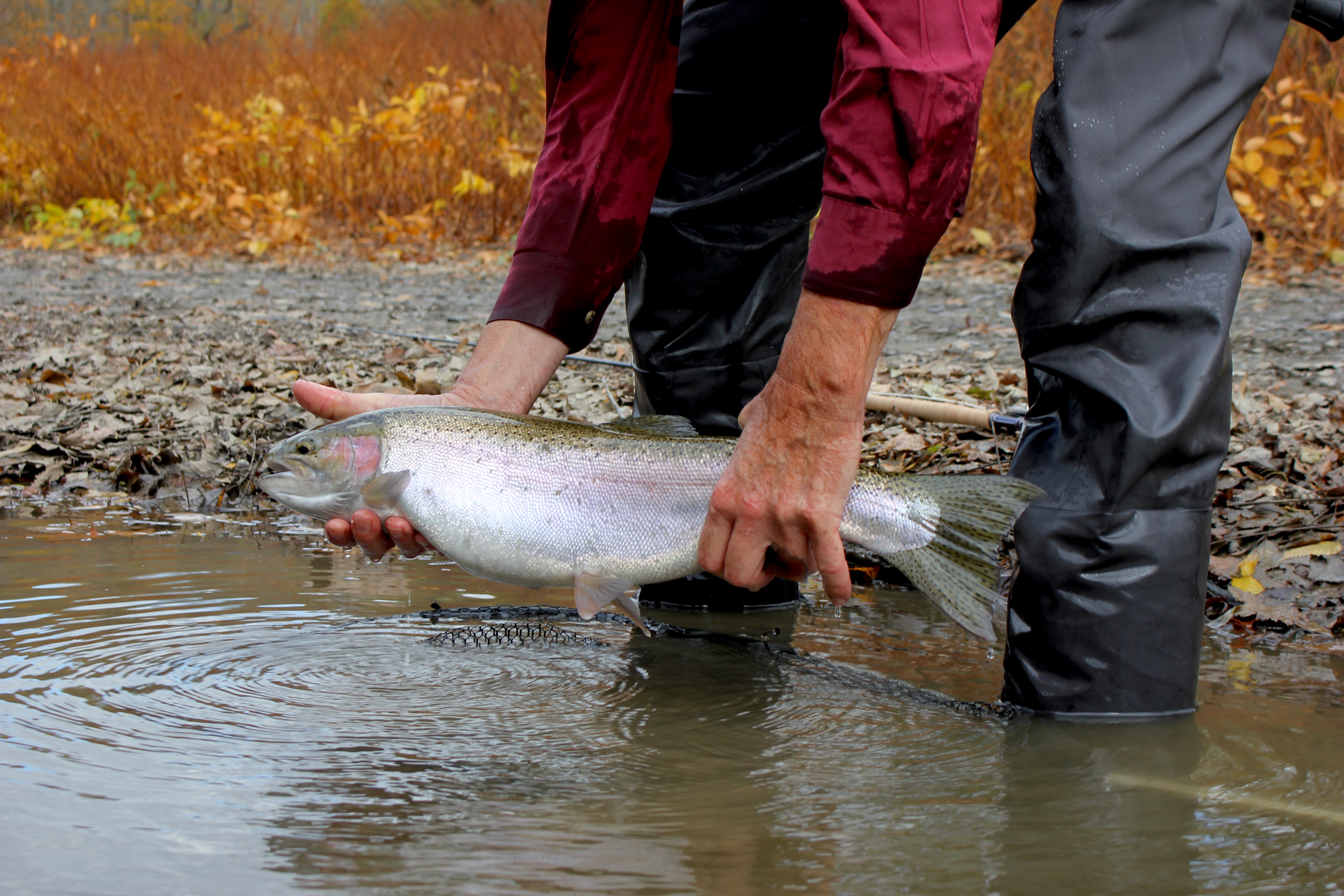 We'll be starting after these guys in a few weeks
It's getting to be that time where more and more my thoughts drift towards fall steelhead. To be fair, theres not really a time when they don't but especially this time of year- the few weeks before the start of the seas...
Read Full Post »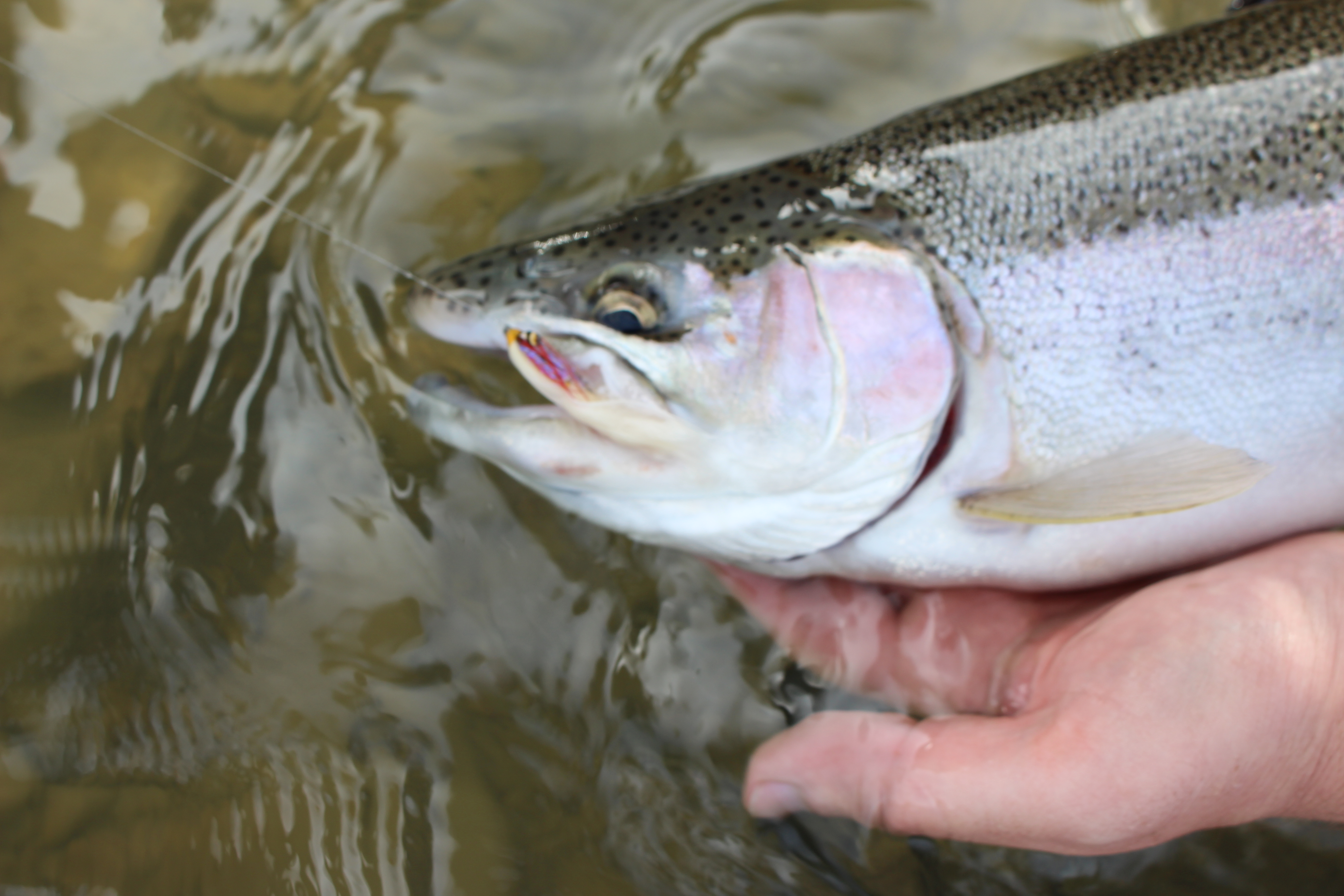 Everyone wants to connect with screamer early run steelhead like this one
Well, I've been hearing reports of steelhead already pushing into the creeks for the last few weeks. Not numbers but a fish here or there. Please leave those fish be until the weather gets more appropriate for fi...
Read Full Post »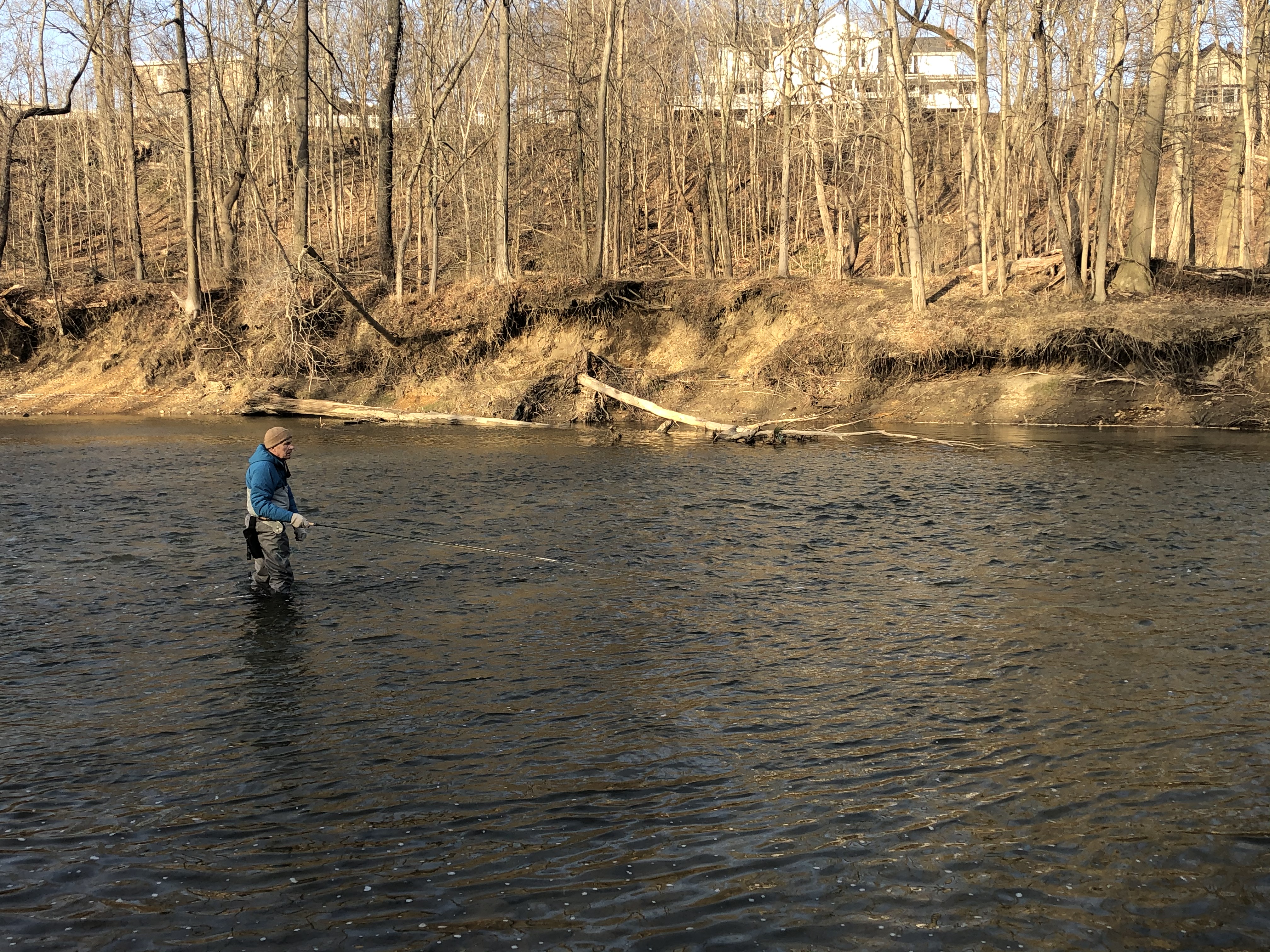 Jim working a really nice run
Well it is definitely that time of year. We're right at peak season on the Ohio steelhead fisheries, with great numbers of fish in most of the systems. If anybody out there is looking to get their feet wet (pun in...
Read Full Post »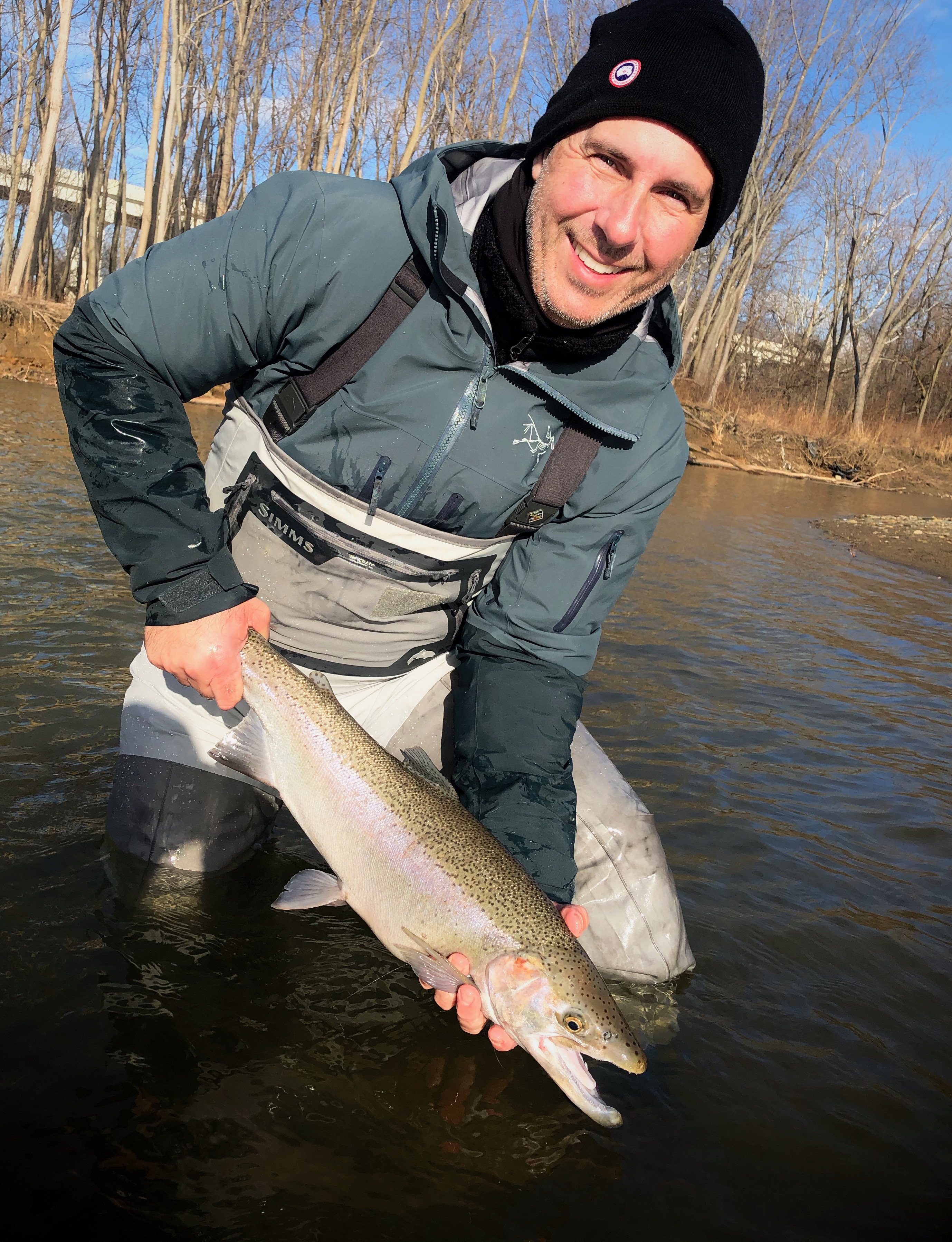 Gary holding the first spring steelhead after ice out!
Well it's official! It is spring steelhead time! We had about 5-6 weeks of solid winter where most of our rivers froze up. But that all changed about a week- 10 days ago with a combination...
Read Full Post »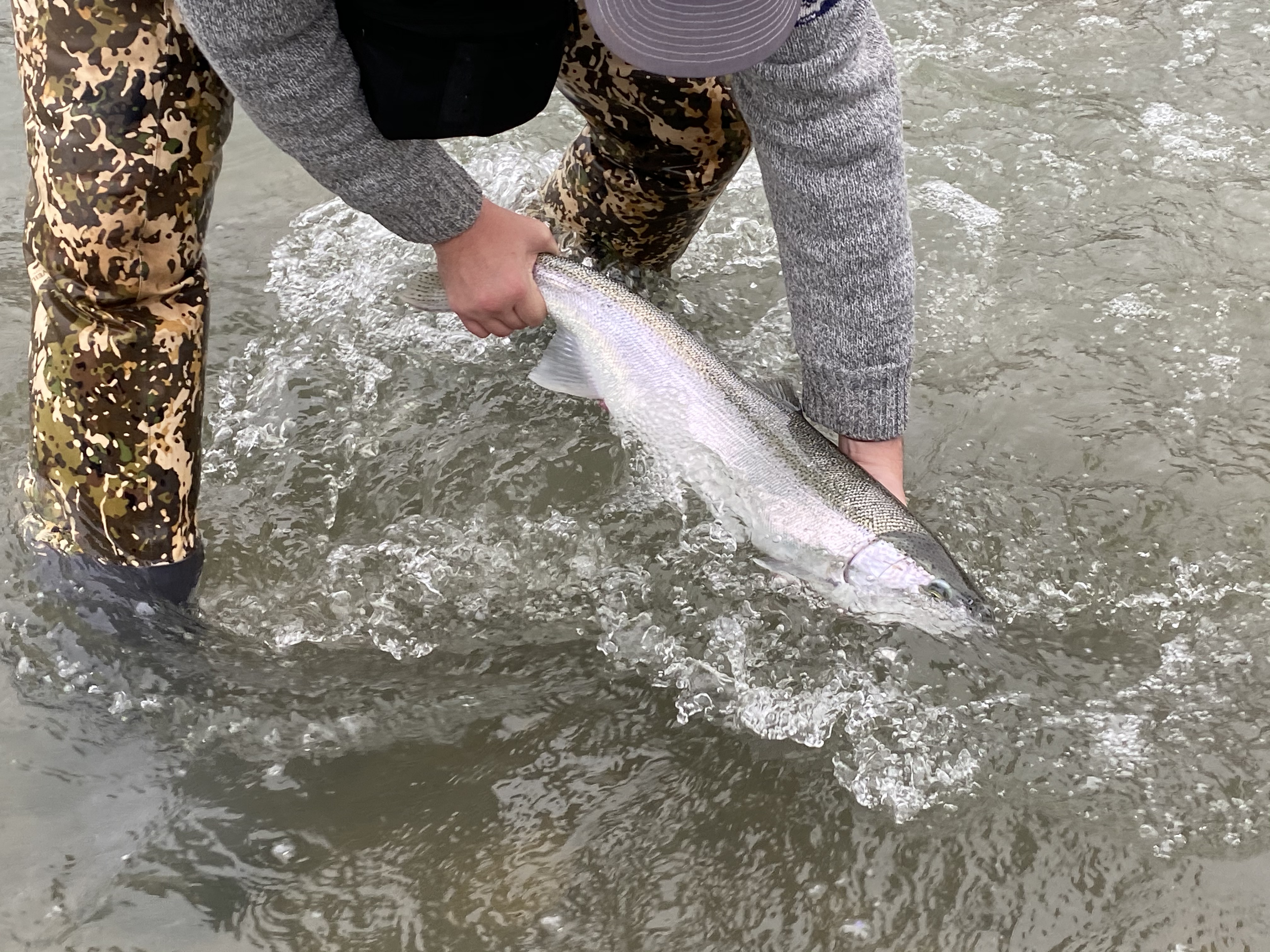 Beautiful chrome fish
The fishing remains very good, with a nice mix of fresh and holdover fish. The fish that have been in the systems a while have taken up winter lies, so dredging the deeper slower runs is often what it takes. Fresh fish can surprise you f...
Read Full Post »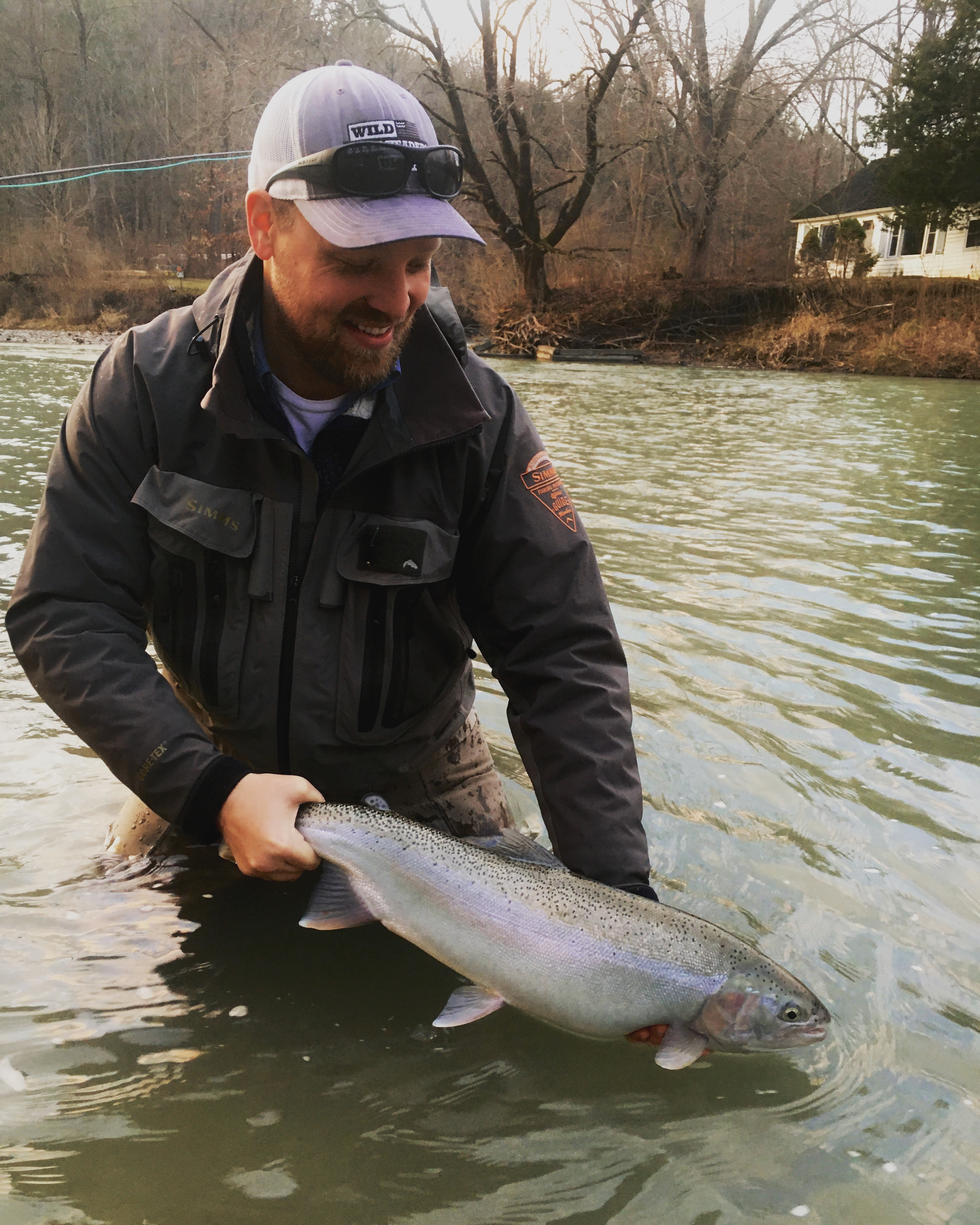 I got to swing up a nice bright fish way up on the Catt
Well soon 2020 will be in the books, and that can't come quick enough. It's just been a weird year all the way around and we're looking forward to better on many fronts. One thing that was really nice wa...
Read Full Post »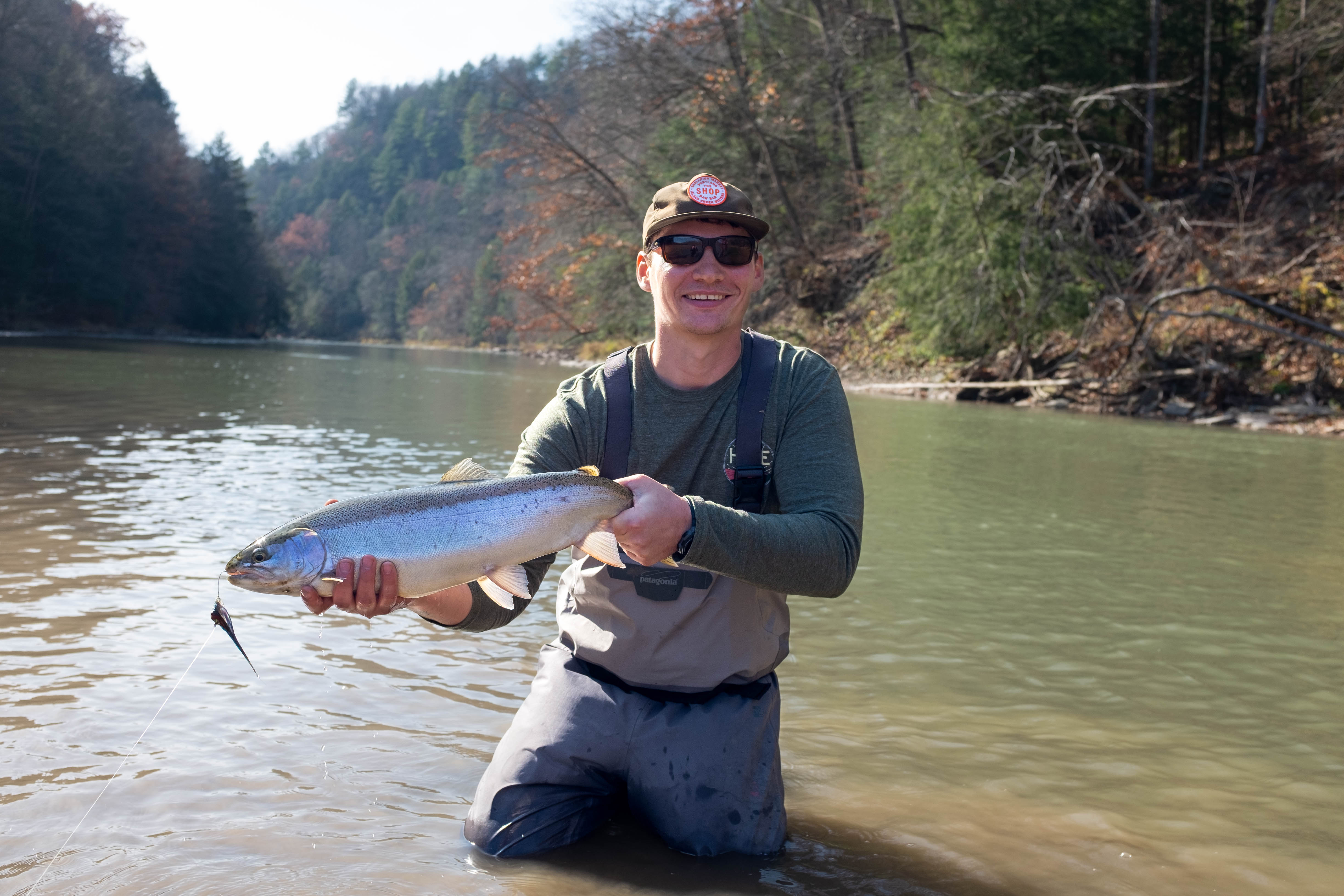 Tom with a great fish his first day spey fishing with guide Matt Rysak!
I'm going to keep this one short. Things are fishing very well. We had a bit of an unseasonably warm and dry spell for a minute that made fishing a little tough on sunny days. But other than that there a...
Read Full Post »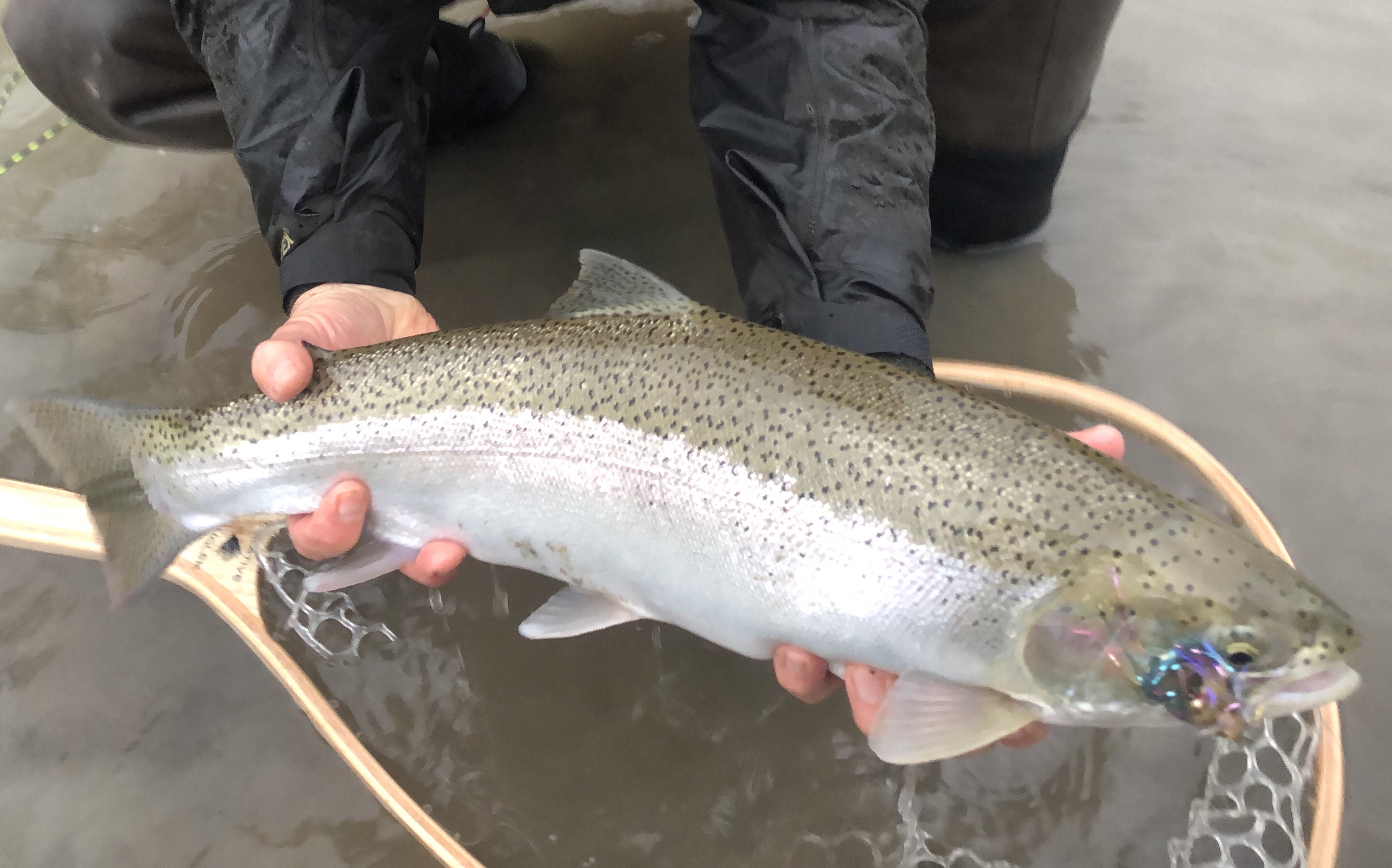 Solid fish on the hangover
Well we're marching along into fall. The fishing continues to be productive if you can adjust and know how to fish low, clear water. Over the past week, we've had ideal water temperatures for very active fish, along with the persistent low flows. I...
Read Full Post »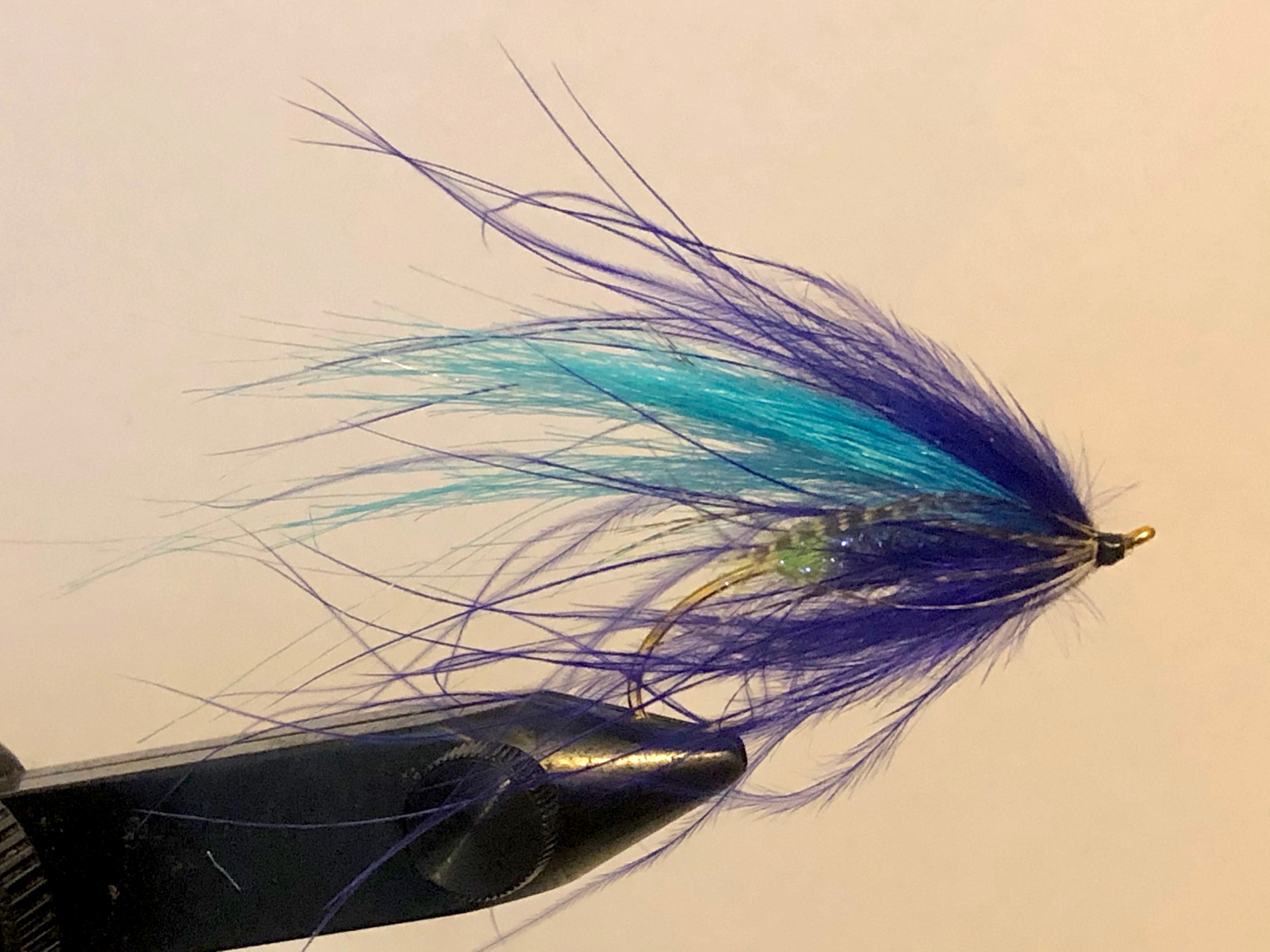 The Concord Grape is a quick tie that catches fish.
Check out the video to learn how to tie and fish this productive pattern:
Read Full Post »
0

/